23 Hottest African Print Skirts in 2023 (& Where to Get them)
This post may contain affiliate links which means I will get a commission if you make a purchase at no additional cost to you. As an Amazon Associate I earn from qualifying purchases. Please read my disclosure for details.
Other than ankara dresses, I feel as though African print skirts are one of the most sought-after African styles. And that's no surprise! The versatility of skirts lends itself well to be easily worn in the summer, during the fall and spring months with chic leggings, and even during milder winter months with a jacket outerwear.
Another great feature about African print skirts is that you can get them as maxi skirts, midi skirts, pencil skirts, mini skirts… you see where I'm going with this! So you can wear them to the club, cocktail parties, wedding ceremonies, graduation day, prom and even to church! How cool is that?


And if you're looking for a great way to stand out, a full African print maxi skirt or African ankara maxi dress will do the trick!


But if you're not family with African print clothes or patterns you might be wondering how to get started. For starters, African fabric comes in different styles; their original and pattern dictate the name they're called.


Without further ado, here is a roundup of the best African print skirts including a selection of high-waisted skirts, flare skirts, high low skirts, midi skirts, patchwork skirts, and pencil skirts to add to your wardrobe.


---
23 Hottest African Print Skirts for Women in 2023
Anyone who has done a simple search of African clothes on Google will surely come across D'Iyanu. This ankara skirt is unlike most African print clothes made with cotton. It was made using the stretchy D'Iyanu Onna fabric designed to mold beautifully to your curves.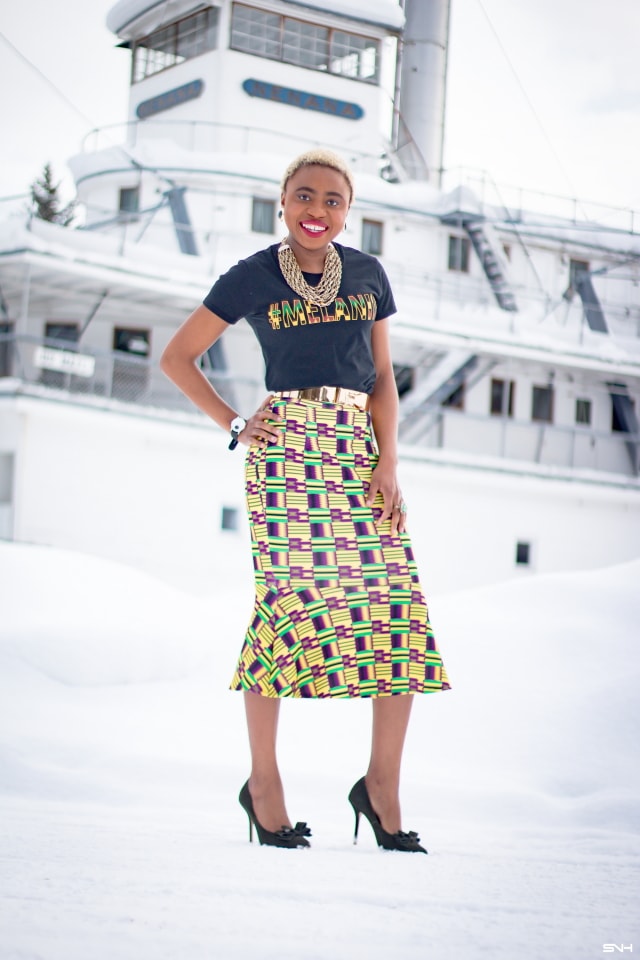 And yes, I have one 😀 This curve hugging beautiful African print pencil skirt is the ideal balance of class. Wear it for a daytime corporate look or a date with that special someone!


---
I recently raved about this beauty in my ankara skirt and blouse outfit post. But seriously, who would have thought that you could scoop of genuine, handmade, African print skirt from Amazon?! Yeah, not me either.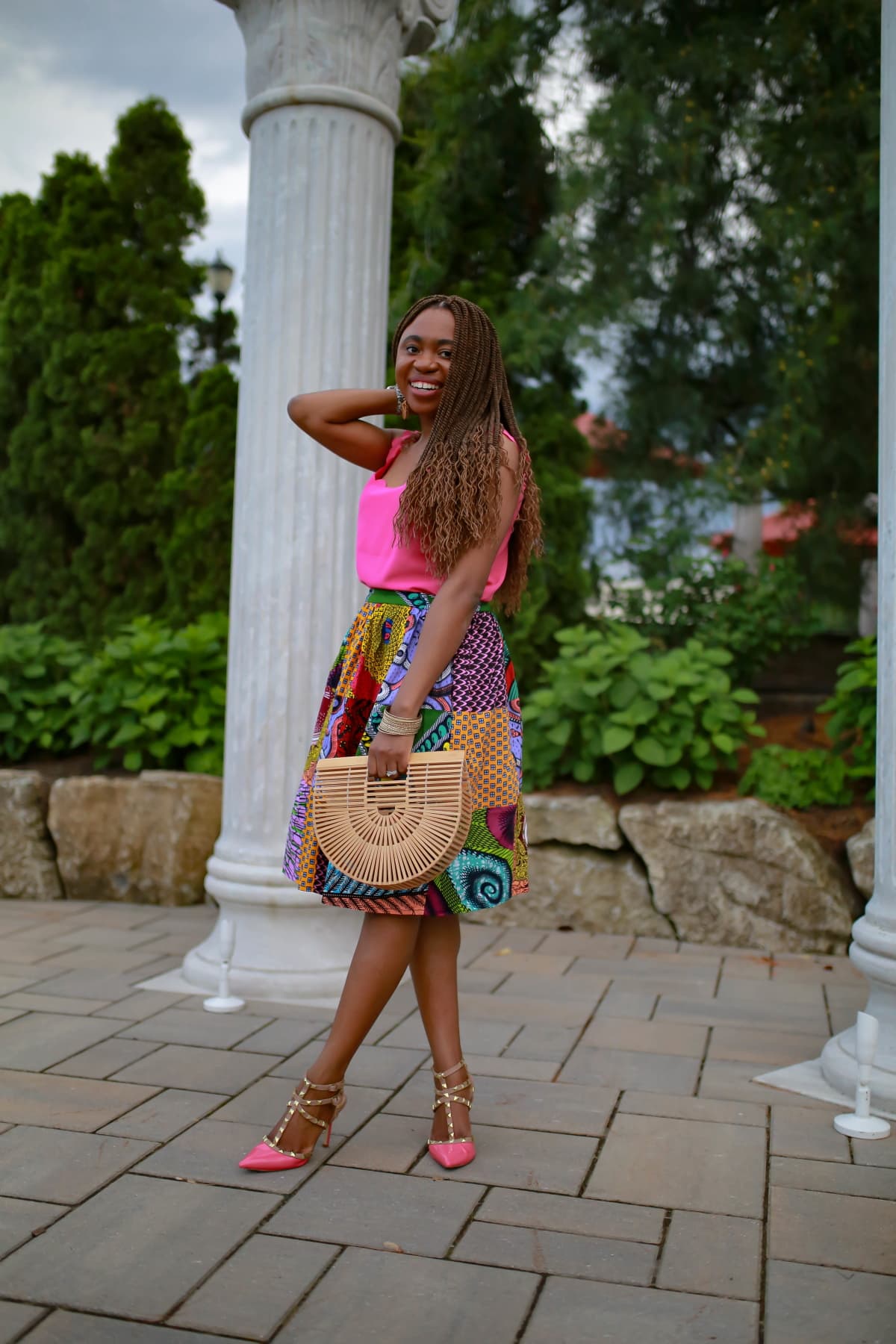 This patchwork skirt features two generous side pockets, elasticized waistband, and hidden back zip closure. The skirt is on a limited time sale and ships free (with free returns) with Amazon Prime! Looks like there are only a few sizes left.


---
Amazon delivers again with this 4-star rated ankara pleated skirt. The subtle and vibrant colors of the print make it versatile for almost any occasion. Wear it to work paired with a solid color blouse, to church and even to weddings.


---
Looking for an ankara skirt in a famous African print pattern? You'll love this flare skirt. This is a popular pattern that goes well with many African print styles. And the green color is a lovely option for this skirt.


The green and gold colors blend beautifully together. With an average 4.5-star rating this seller will surely deliver the best African skirt you own.


---
Oh yes! This ankara maxi skirt by L'Aviye is giving us that serious legs for days vibe. This high slit maxi is fully lined with two side pockets (gotta have those pockets), and elasticized waist for the best fit.


And with L'Aviye, it is guaranteed that you'll be getting genuine ankara style in a bold African fabric pattern. Discover more gorgeous styles from L'Aviye here.


---
This roundup would be incomplete without highlighting a piece by Ofuure. Upgrade your bland wardrobe with this chic wax print maxi skirt. The skirt features a distinctive kente pattern in prominent yellow and orange colors.


The skirt features two side pockets and elastic on the waist for your convenience. And in case you're in no mood to show off your hot legs, the invisible zipper allows you control the length of the slit. #genius!


---
One word about this ankara skirt, "stunning!" This is another beautiful African print skirt available on Amazon. Although I cannot speak to the quality of the wax cotton used, the asymmetrical cut and beautiful bow makes this midi skirt a lovely addition to your summer wardrobe.


And in case you're wondering, high-low skirts are trendy right now.


---
Seriously, I can't even handle this sexy ankara skirt. With Flare has mastered the art of beautifully matching African print patchwork pieces together. And this layered, knee-length skirt is no exception. Thoughts about that yellow waistband ♥️!


---
Did someone say Walmart and African print could go together? I know, I'm surprised. You're literally going to put your best foot forward while shining bright in this diamond print maxi skirt. Step up your style in this full length maxi skirt paired with a fitted tank top and summer sandals.


---
Next up is the Taye ankara midi skirt by Yetunde Sarumi. Yetunde is a force to be reckoned with in the African print market. My lightweight ankara chiffon top is one piece I pull out in the summer or when heading to a tropical destination.


But this skirt? Lord, have mercy! It's just too chic to ignore. And you already know that you can never go wrong with pencil skirts. This delicate mix of the rich blue ankara and geometric ankara fabric gives us a taste of luxury on a budget.


---
I still remember when Irony of Ashi launched her Flair by Ashi designs like it was yesterday. Her pieces are stunning, creative, versatile and noteworthy. I've even spotted a few copycats on Amazon.


If you have you mind set on a matching set of wax print outfit, this coordinating pieces is your best bet. It features side pockets and elastic waist line for the perfect fit. Rock this set separately or together to mix of you summer look.


---
It was less than five years ago that African print clothes made an appearance on Amazon Fashion. Today, stunning African print skirts and dresses like this knee-length skirt are a regular.


This gathered skirt comes in six distinctive colors with hidden back zip. Rock this lovely skirt all summer long for summer gatherings, weddings, and other special occasions.


---
Patchwork, wrap around, and reversible are just a few descriptors that make this beauty rank high on my list of the hottest Afrian print skirts. The patchwork squares made from the combination of a variety of ankara fabric adds to the uniqueness and versatility to this wrap skirt.


Add this skirt to your collection of staple summer clothes and get ready to receive nonstop compliments on your outfit. And let's not forget that it's reversible aka two skirts for the price of one just like my reversible African print prom dress (also by With Flare).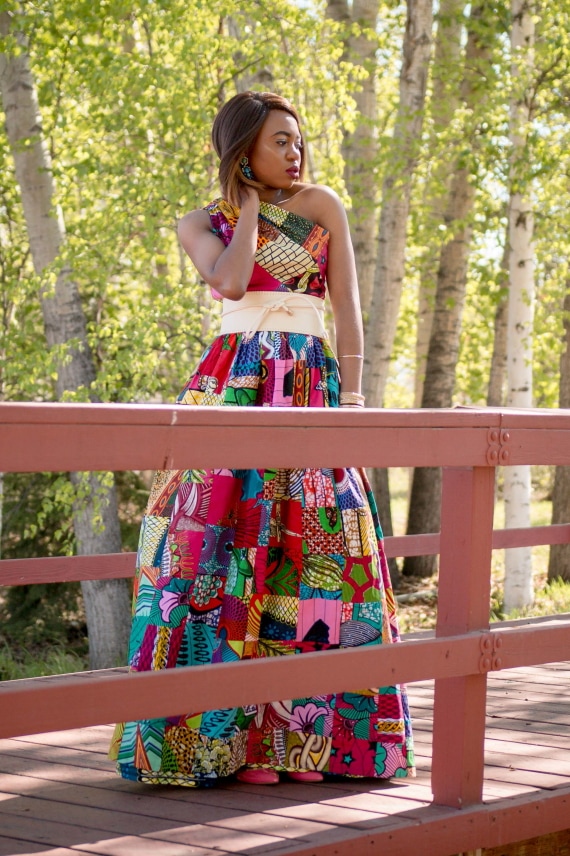 ---
I wish I had something better to do with my time. But you and I know that it's easy to get sucked into the trap of the beautiful allure of African prints and the phenomenal pieces made from just a few yards of these prints.


Case in point, the Funmi pleated satin skirt by D'Iyanu. It's not everyday you come across a pleated ankara skirt that gracefully bounces to your movement.


---
Did you really think that one skirt from Yetunde Sarumi was enough? Now, check out this ruffled goodness. Yes.Yes.Yes! This skirt is beautiful.


The faux, the pattern, the color, the style – so much sexiness in one skirt. Apart from accentuating your curves, you can expect to look like a million bucks in this skirt. Don't be surprised to see African print skirts like this style on tv.


---
Meet your new favorite wax print skirt from L'Aviye. The bright floral design has a subtle/understated african touch that cannot be ignored.


Plus you get a matching headscarf to complete your daily look with this coordinating set. Pair both the floral midi skirt and scarf with other articles in your wardrobe to extend the wear of each piece.


---
Can never get tired of African print skirts especially when a lovely pattern is used to make the cutest ankara style. This knotted bow skirt by African dress shop will boost your confidence and turn heads when you walk into a room.


---
Another 4-star rated ankara maxi skirt from Amazon. And guess what? This maxi ships free with free returns with Amazon Prime membership (free trial here). Described as made from 100% wax print, this cotton skirt is perfect for the summer heat. Like most ankara clothes, sizes on this African skirt is limited. Don't snooze!


---
I thought it would be fun to mix things up a bit by showing the another unique African print skirt option. Meet this stunning Ulo hi-low skirt. This sexy number is not for the faint of heart.


Be ready to have all eyes on you while rocking piece. For the the ultimate pow-wow, pair with the matching Ulo off shoulder crop top. This combination is too hot not to make an appearance in this roundup!


---
And you know an African print mini skirt had to make this roundup. Grass-Fields got Black Girls Killing It in this chic 17 inches mini skirt. This 100% African wax cotton skirt features an invisible back zipper and a sexy peek-a-boo side slit.


---
This is not the first time you've heard me rave about the fabulous ankara styles from With Flare. This designer kills it every time with the most gorgeous ankara patchwork clothes. And this fit and flare ankara skirt is no exception. The perfect mix of ankara fabric and that bold waist band will set you up for success.


---
One of the lesser known fabrics is Aso Oké worn particularly by the Yoruba people of Nigeria. This thick traditional material is not typically sewn into contemporary pieces like this midi skirt with fringe details.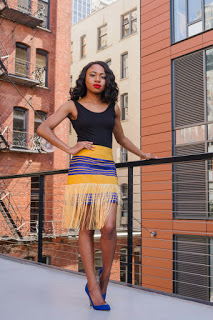 The lovely mix of colors and modern flair could make this limited edition skirt pass as a tapestry. I own the same skirt in a yellow and blue combination pictured below.


---
Ending this roundup with a bang! Meet the Naya dashiki print skirt. You might have noticed that this midi skirt looks a little different from the others.


That's because the print is a classic dashiki pattern and that red color adds a burst of color. In terms of styling, I'd probably style this high waist skirt like the model or pair with black tank or short sleeve top. Go with a solid color to keep attention on this winning piece!


---
The most notable African materials are notable fabrics are Ankara, Kente, Kitenge, Dashiki, Aso oke, and Batik. Out of all of these, ankara print is the most well-known and is often times used interchangeably to represent any African print (confusing? I know!)


As a side note, once these skirts are gone, they're gone for good a the designers only make a handful of these skirts at a time. If you want something, get it.


I'll also do my best to keep this post updated with new and available African skirts but I know from personal experience that there's nothing worse than finding a skirt you love with no way to buy it.


1 | 2 | 3 | 4 | 5 | 6 | 7 | 8 | 9 | 10 | 11 | 12 | 13 | 14 | 15 | 16
And there you have it my friends, an epic roundup of 2021 hottest African print skirts. If you kept reading to the end, I applaud you. To complete your look, check out this list of the best African Print Scarves you need in your wardrobe.


As I write this post, I've grown my collection from a big ZERO to six and counting. Ankara headwraps are a versatile, chic, affordable way to add African print clothes to your collection without breaking the bank.


Frequently Asked Questions about African Print
And since I know that not all my readers are familiar with African print, here are a few frequently asked questions about African print clothes.


GIVEAWAY
Time to treat yourself to a Summer Nordstrom shopping spree! I've teamed up with a group of bloggers to give you a chance to win a $750 Nordstrom Gift Card!


To enter: complete the steps in the rafflecopter below. The more steps you complete, the more entries you receive, and the better your chance at winning! This giveaway runs until Tuesday, July 2nd at 12am PST.
Winner will be announced here. Good Luck! This giveaway is in no way sponsored by Nordstrom.


Interested in more African print looks? Check out these popular posts:
PIN FOR LATER!