Genuine African Midi Skirt: The Cutest Ankara Skirt and Blouse outfit
This post may contain affiliate links which means I will get a commission if you make a purchase at no additional cost to you. As an Amazon Associate I earn from qualifying purchases. Please read my disclosure for details.
I know how frustrating it is when you find a gorgeous ankara piece like this African midi skirt only for it to be sold out before you got the chance to buy it.
Luckily, this genuine African print skirt is still available in sizes small through extra large (S-XL), has pockets, and is currently on sale!
Shop The Look


Plus the ankara patchwork skirt ships free with Amazon Prime membership (free trial) with free returns if you're not in love with it.


I recommend scooping up this 5-star rated ankara patchwork skirt available here while you can. My exact shoes are sold out, but this one is very similar with over 950 4-star reviews. And, I just ordered this kitten heel version in nude color; it's perfect! I love how well it fits.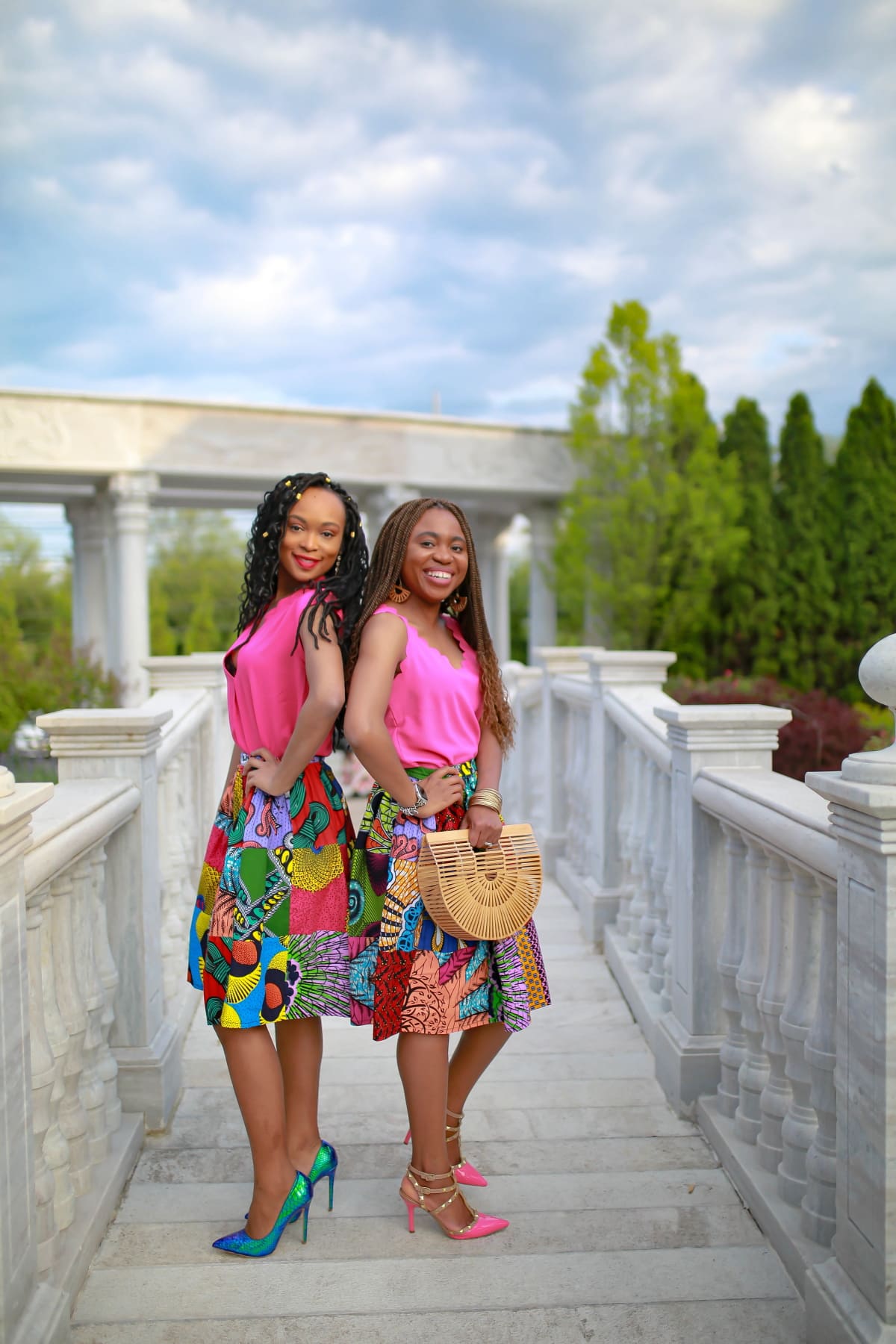 Peep my wooden bamboo bag, a fashionable summer 'it' bag, and my matching bamboo earrings.


But on a more serious note though, I'm so happy wearing more African print clothes. I left like the summer months were never long enough in Alaska to truly enjoy my collection of African wax print pieces.


My beautiful sister, Alco, was a willing participant of this ankara skirt and blouse photoshoot. Together, we did a dressed up version wearing this gorgeous Boriah African midi skirt.


Each piece of this locally sourced 100% wax cotton patchwork skirt was handsewn by artisan women employees in the bustling Eko market of Lagos, Nigeria. But if you want one, don't sleep on it. There are only a few of these skirts available on Amazon.


If you and I are buddies on Instagram or LIKEtoKNOW.it, you already got first dibs on this ankara skirt and blouse outfit. You guys loved it so much that it has quickly become my most-liked Instagram photo in 2019! That's just wild, you guys.


If you're not already following along on Instagram or the LIKEtoKNOW.it app, let's fix that 😉 By the way, the first LiketoKnow.it LTK Day is almost here, and I have a special giveaway for you (enter here!).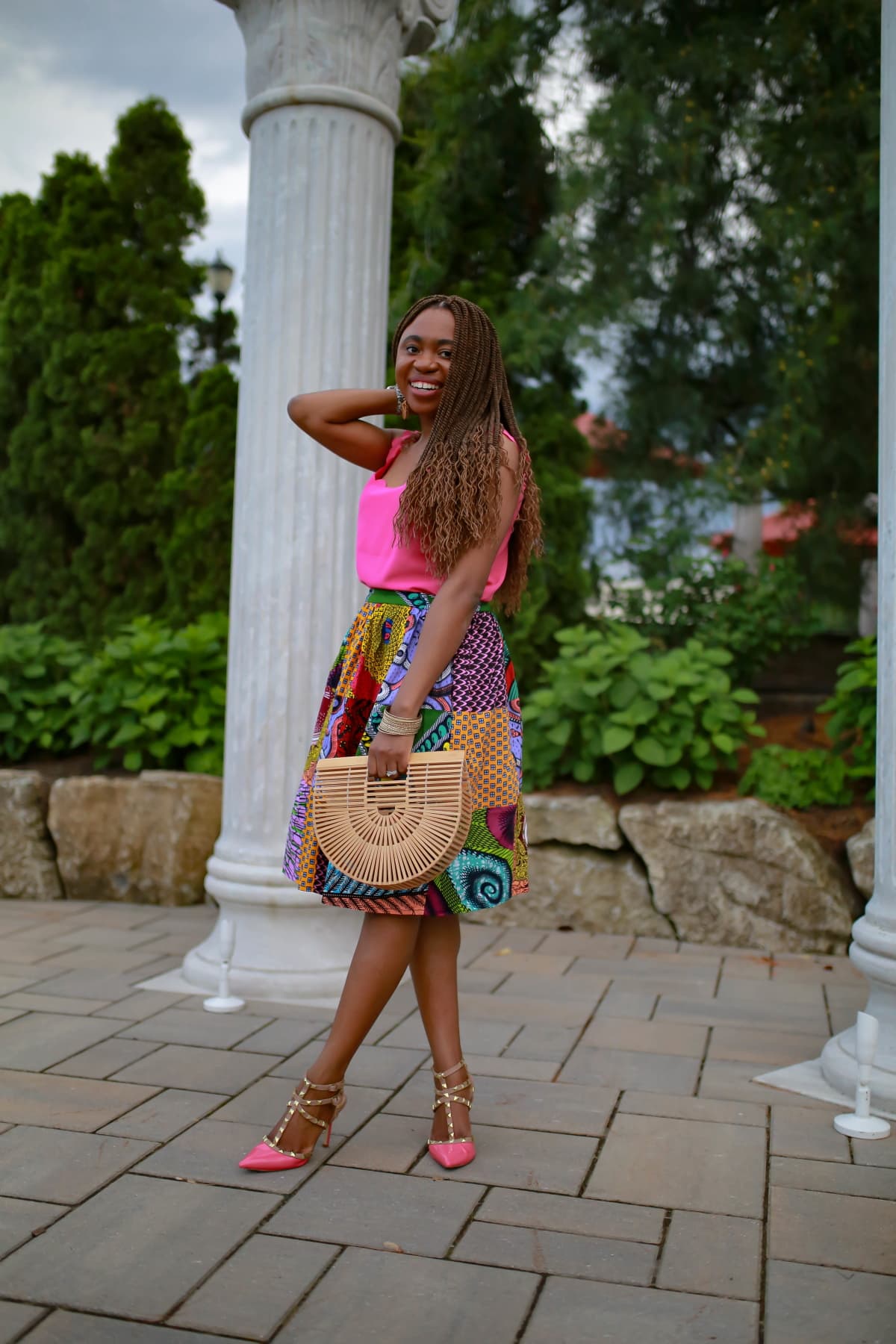 LiketoKnow.it LTK Day is an exclusive event allowing you to score huge savings on brands you already shop. The sale will be happening exclusively on the LIKEtoKNOW.it app.


So be sure to download the app and follow me "lapassionvoutee" for exclusive sale content. Learn more about LTK Day here + enter my exclusive LTK Giveaway.


By the way, you can also shop our complete ankara skirt and blouse outfit here on the LIKEtoKNOW.it app. But if that's not your cup of tea, don't worry.


I'm wearing a super lightweight scallop blouse (similar) from a few years ago. I bought it in pink and orange, but I find the pink to be more versatile with the pieces I already own. Here's a similar scallop hem blouse that's on sale.


My wooden bamboo bag comes with a removable purse insert. I removed the palm print insert to keep the outfit clean and focused on the hero piece, the African midi skirt. The strap detail of my studded rivet sandals (very similar) are a match with my wooden purse, and the patent leather matches the colors of my skirt and blouse.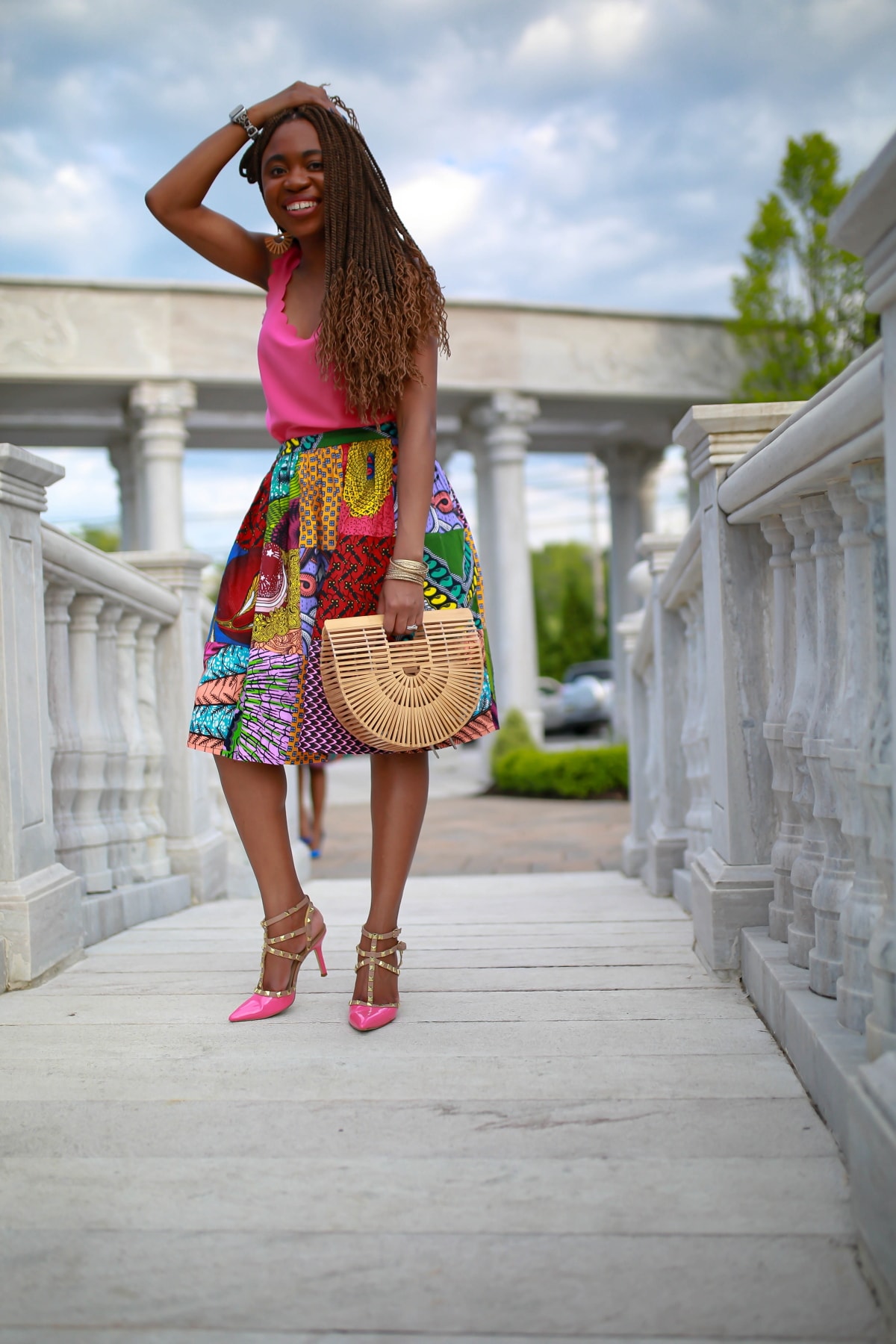 I completed my ensemble with stackable bangles ( under $10) and statement half-moon wooden earrings.


Alco allowed me to style her for this shoot. She's looking like a shnack aka a bombshell in that ankara skirt! Although I'm bigger than Alco, we are both wearing a size small thanks to the elasticized waist. The skirt also has a zip closure and hook at the back.


Alco is wearing a split neck blouse available in petite and regular sizes. She contrasted her outfit with a blue messenger bag, iridescent blue heels (similar), and champagne chandelier earrings.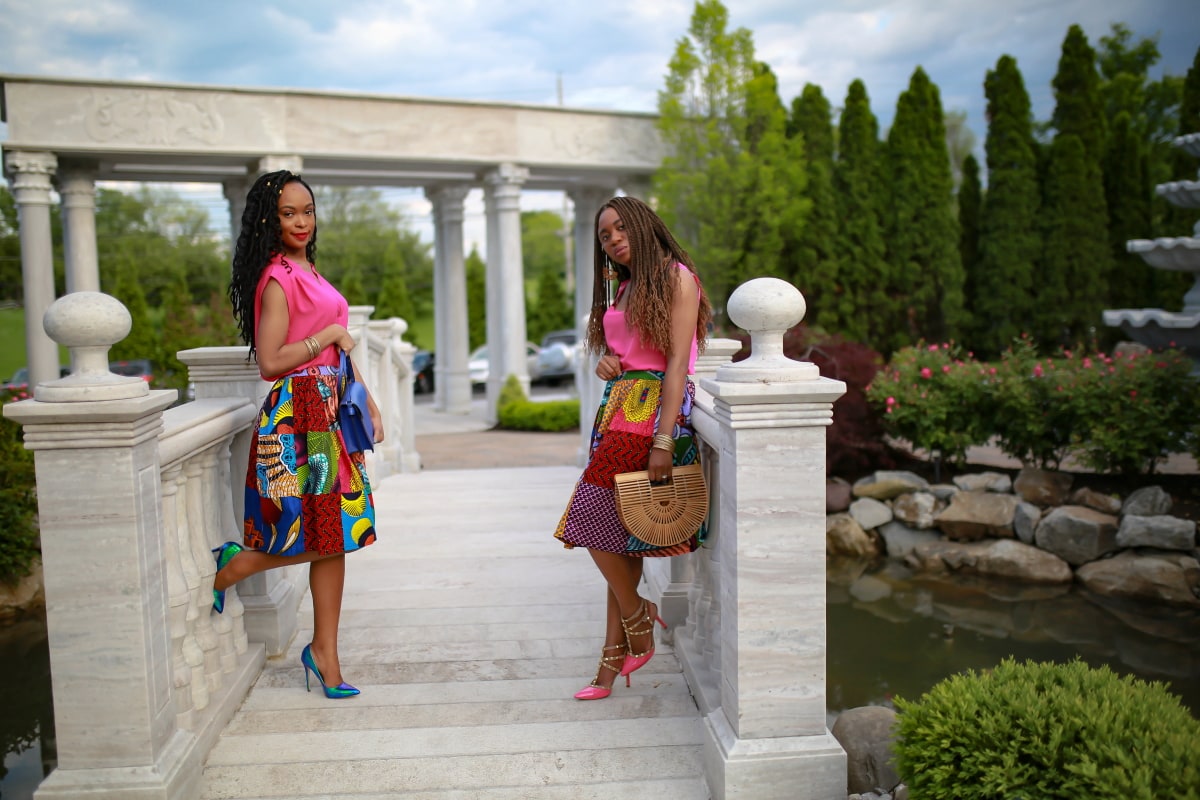 In terms of styling, I would trade the heels for this braided sandals or ballet flats for a dressed up but casual look. And the bamboo bag for a small wallet (this is hot right now); and the bamboo earrings for simple stud earrings. You can also wear a simple black tee to tone down your overall appearance even further (but, why would you? ;)).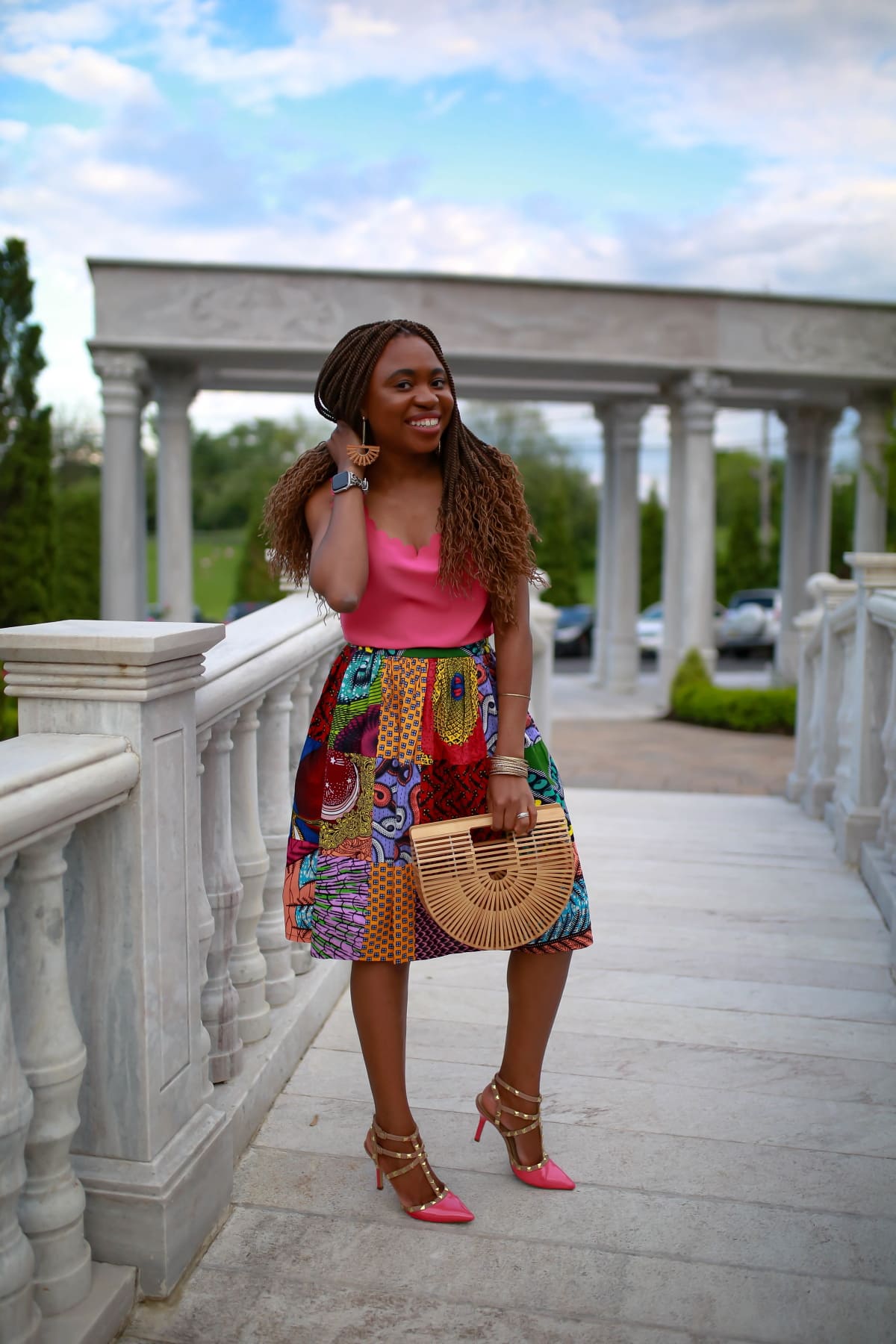 Once fall weather approaches, you can comfortably wear this African midi skirt with a pair of riding boots and cardigan or oversized sweater (yay for the elasticized waist).


These are my favorite pair of versatile riding boots. They are pricey but go great with so many outfits. You'd probably find a highly discounted version during the 2019 Nordstrom Anniversary Sale.


Want another ankara skirt and blouse outfit? Try a cold-shoulder crop top, open toe sandals, and a clutch. This look would be the perfect wedding guest outfit.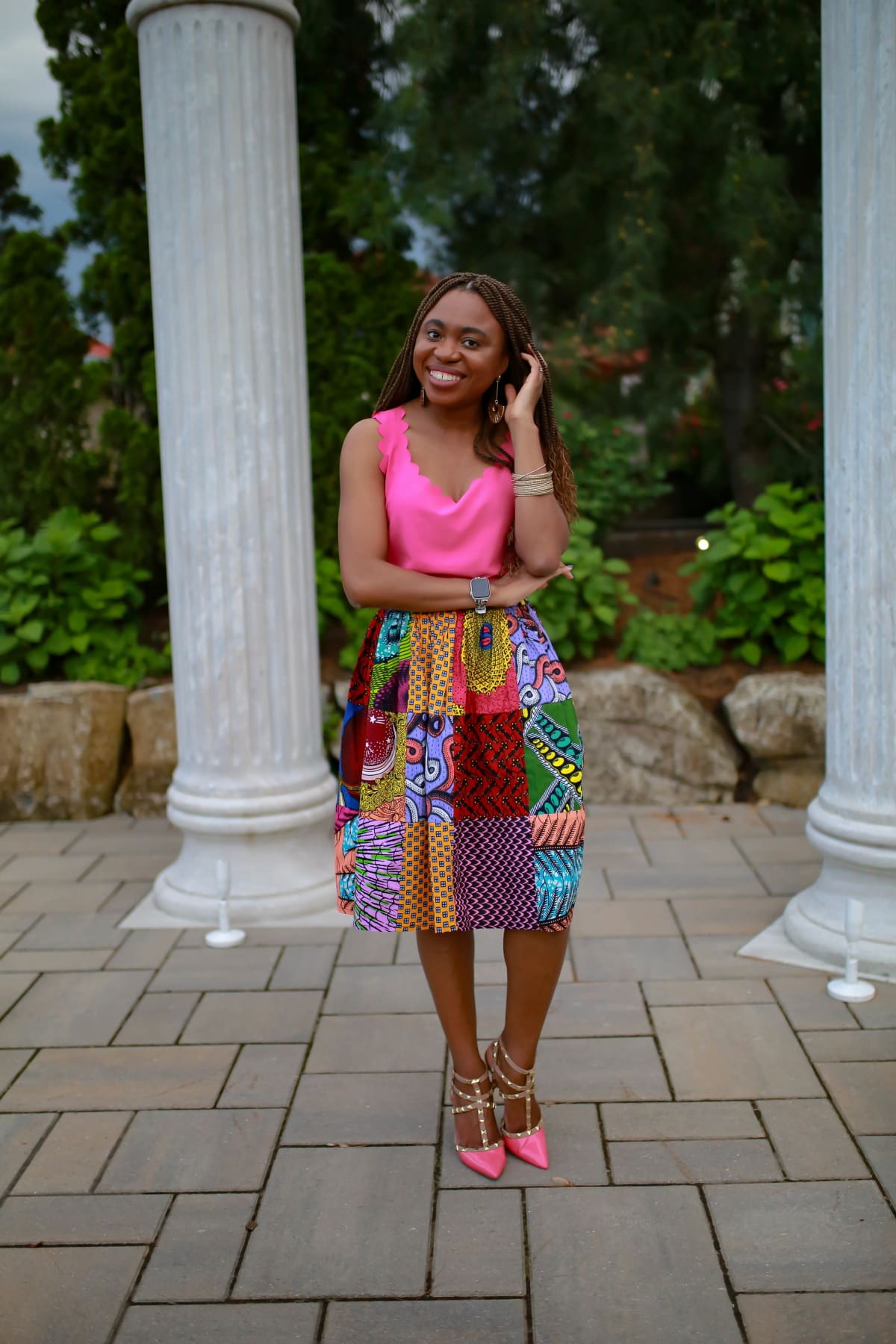 Or keep it casual with a chambray top, flat summer sandals, and an oversized tote. Maybe try styling the gathered skirt with a fitted blazer cinched at the waist with a belt for a modern take.


Do you see where I'm going with this skirt? Yes, you guessed right. This ankara skirt is a versatile piece! Grab one while you can and recreate these ankara skirt and blouse outfits with your unique touch.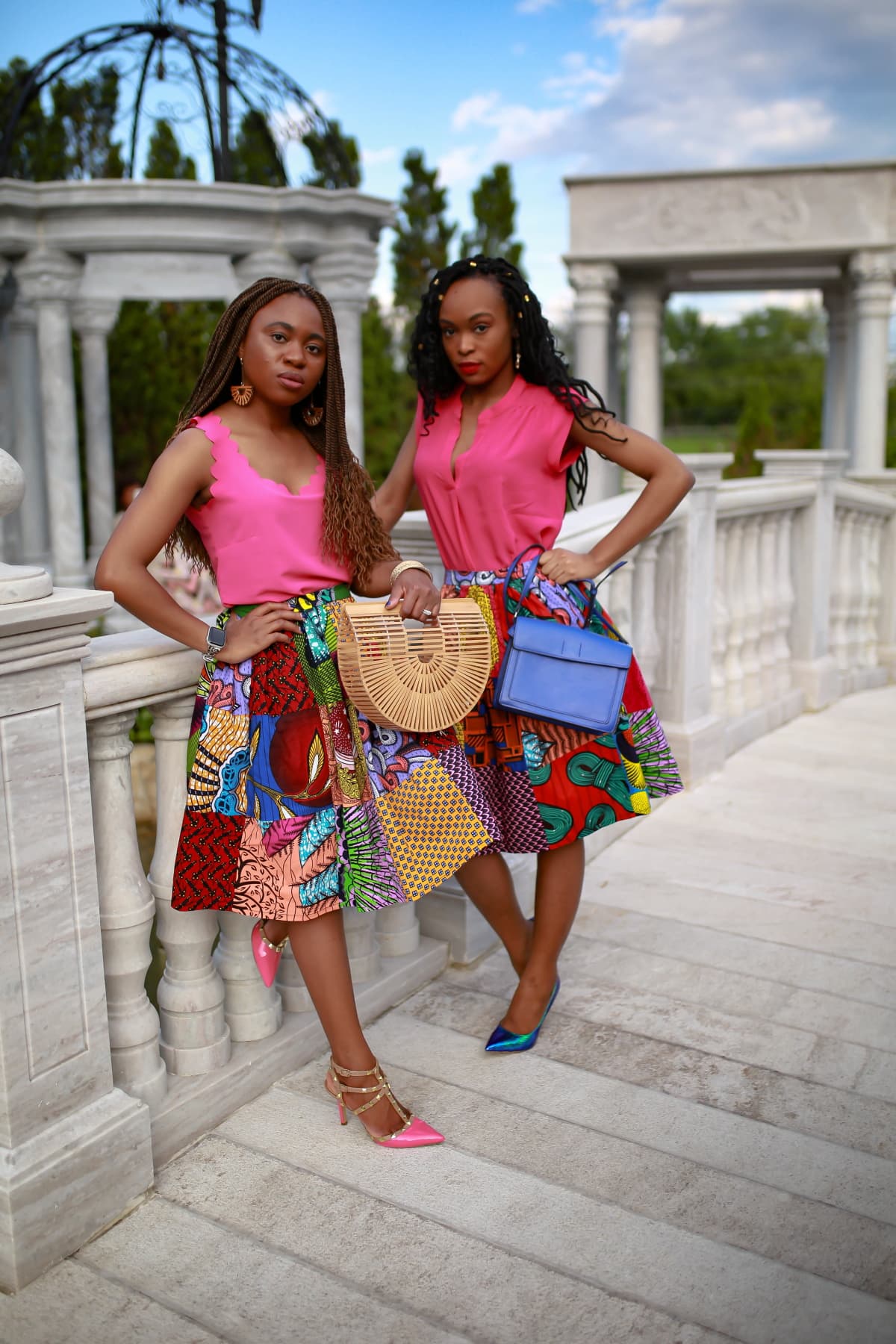 For a limited time, LPV readers can save $5 off their Amazon order of this skirt (discount applies once size is selected). You still get free shipping and return with your Amazon Prime membership or free trial.


As always, thanks for reading this post and I'll catch you on the next one.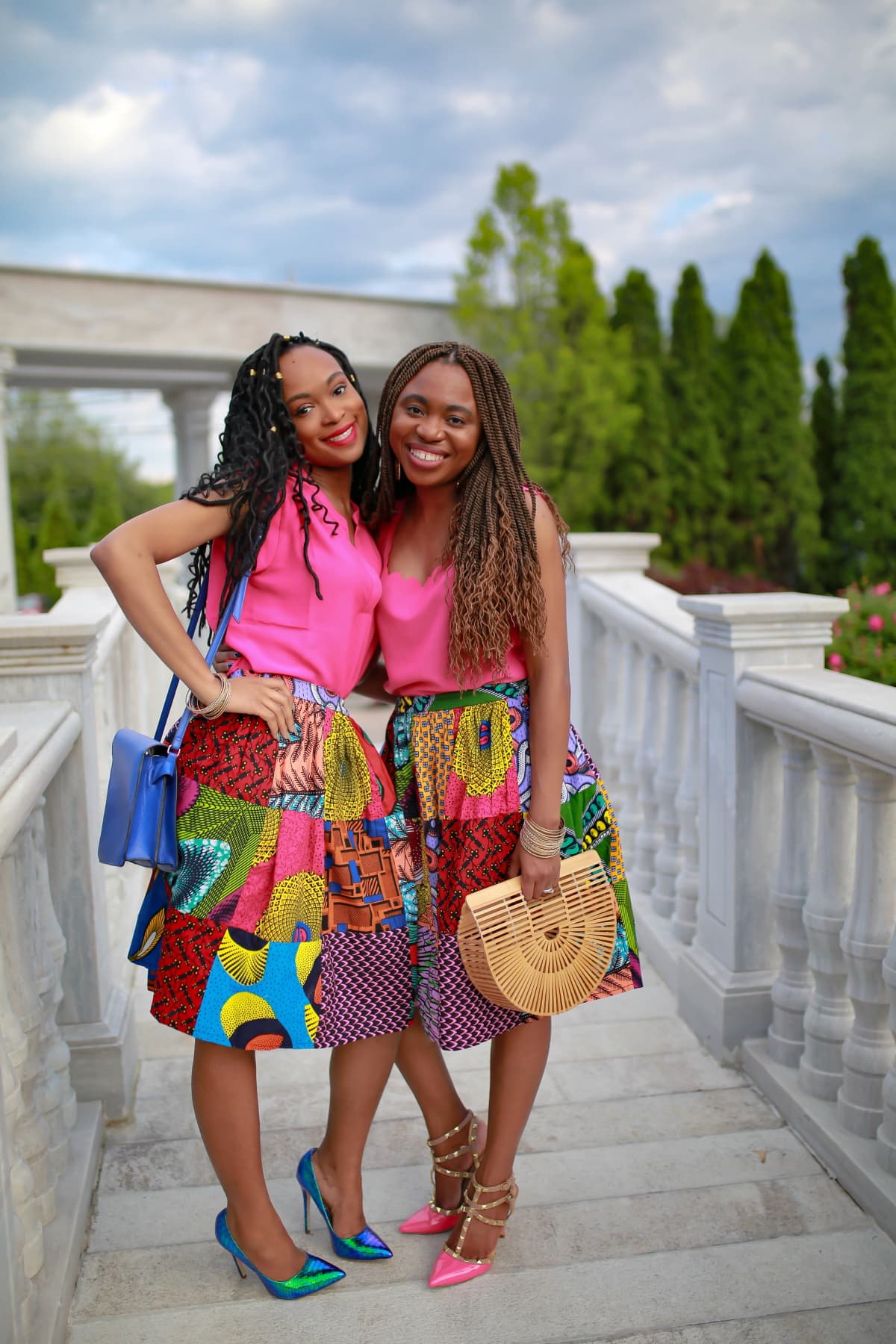 You may also like these post: The Best Ankara Jackets | 50+ Stunning African Print Dresses
Shop This Look