100+ NEW Early Access Nordstrom Anniversary Sale 2019 Preview Items
This post may contain affiliate links which means I will get a commission if you make a purchase at no additional cost to you. As an Amazon Associate I earn from qualifying purchases. Please read my disclosure for details.
If you're reading this post, there is a good chance that you're already familiar with Nordstrom's annual sale, the Nordstrom Anniversary Sale. If you're not, I go into detail about what the sale is and where there is so much hype around it in this Nordstrom Anniversary Sale 2019 post. You can also preview this year's catalog here.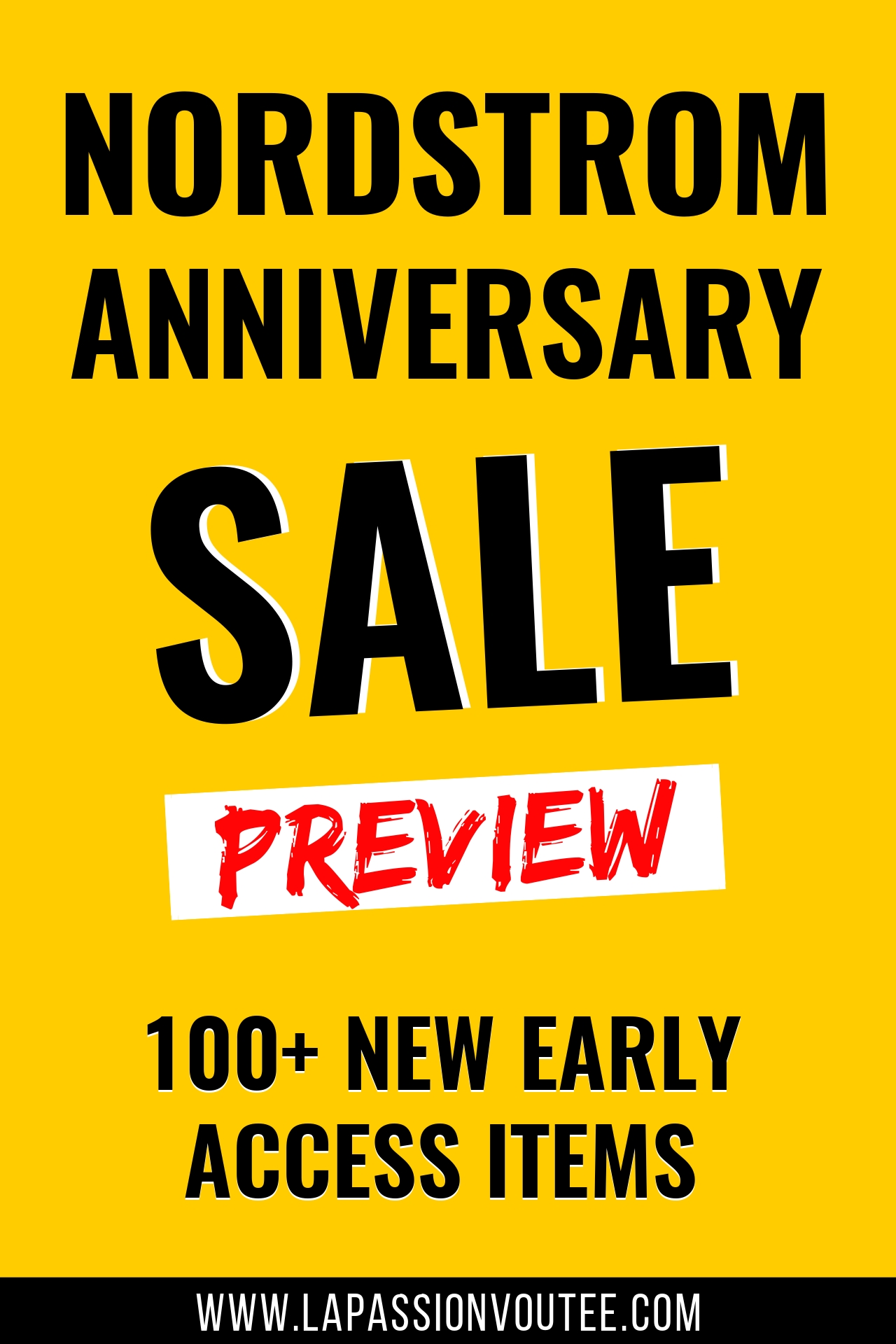 However, this Early Access Nordstrom Anniversary Sale 2019 Preview post is about almost 200 NEW items that will be on sale but were not included in the recently released catalog.


And it's not just any new item; it includes a roundup of some of the best-selling pieces from the 2018 NSALE refreshed for 2019. And more than 90% of the products in this roundup are affordable finds under $100.


EARLY ACCESS TO NSALE STARTS IN
Designers we have come to know, and love have brand new fall merchandise and everyday necessities highly marked down. Some notable ones include Barefoot Dreams, Chelsea28, BP., Caslon, Halogen, Natori, Tory Burch, Michele Watch, Rebecca Minkoff, Vince, AG Jeans, Rag & Bone, Frye, Kate Spade, Topshop, … to name a few!
---
What to Buy From Nordstrom Anniversary Sale
This year, we are seeing a lot of fall pieces like sweaters, boots, and cardigans as well as summer dresses and jumpsuits. That said, some of the best deals, year over year, from the Nordstrom Anniversary Sale includes:
---
Best Brands to Shop from Nordstrom Anniversary Sale
When I tell you the sale includes over 10,000 items this year, I mean it. There are so many brands to shop from. But I've noticed that the following brands make some of the best-selling and most affordable fashion each year.
And if you're not sure what to buy, I'll also highlight the Nordstrom bestsellers from 2018 at the end of this post.


---
Top 10 Best Nordstrom Anniversary Sale 2019 Items
If you prefer a condensed list of the top 10 pieces I predict will sell out first during Early Access from this Nordstrom Anniversary Sale 2019 Preview, here they are! I'll cut to the chase and tell that some of my wishlist items include this BP. jacquard cardigan, Halogen pleated skirt, UGG cardigan, and Zella leggings.


You can click through to get more information about each item, but nothing is available for purchase online until the #NSale opens to cardholders on 7/12 at 12:30 PM EST (7/11 @ 12:30PM EST for Icon and Ambassador status).


1 | 2 | 3 | 4 | 5 | 6 | 7 | 8 | 9 | 10
---
100+ NEW Early Access Nordstrom Anniversary Sale 2019 Preview Items
Keep reading for a roundup of 2019 Nordstrom Anniversary Sale picks from the best-selling brands (based on prior years).


Barefoot Dreams collection is a hit amount Nordstrom shoppers with early access to the sale because the brand features a variety of soft and luxurious cardigans, blankets and throws, children wear, and adult apparel. And the softness is no hoax. I've tried the Barefoot Dreams CozyChic Lite Circle Cardigan (also part of the sale).


And if you're looking for a high-quality moto jacket, BLANKNYC almost always discounts their suede moto jacket during NSALE. I bought my first moto jacket from the same brand last year and wore it on repeat during the spring and early summer. This sale this year includes lovely neutral color, but my favorite is the Next Level Suede Moto Jacket.


Shop This NSALE Collection

---
Starting on July 12, BP. will have a ton of great clothing marked down from their full price. While scrolling through the thousands of beauty products and sale items available, I handpicked almost 35 unique items from BP. alone! Click on each Nordstrom Anniversary Sale 2019 preview image below to view more details including the sale price for Nordstrom cardholders.


Shop This NSALE Collection

---
Just like BP., Caslon will not disappoint you if you plan on shopping early. From basics like crewneck tees, sweaters and cardigans, to modern animal print slides, chambray shirts, and sweater blazers. And from my prediction, the Caslon Hooded Cardigan and Long Sleeve Crewneck Tee will fly off the shelves.


Shop This NSALE Collection

---
One of my statements yet affordable sweaters last year was by Chelsea28. What I noticed while previewing the 2019 Nordstrom Anniversary Sale product list was that while many brands focused on fall pieces, Chelsea28 kept the heat with lust-worthy summer dresses, sizzling styles, and cute prints. What's not to love about this layering tee, asymmetrical dress, floral midi, or funnel neck sweater?


Shop This NSALE Collection

---
I recently discovered the Gibson brand this year after wearing some of the collections from bloggers they partnered with. While most of their pieces are under $100, you can scoop up some fantastic deals by shopping the sale. Combine that with the bonus note you've accumulated over the last month, and you've hit the jackpot.


From this 2019 NSALE, you'll find a few staple pieces and wardrobe essentials similar to what Gibson is known for. Many of these clothing can transition well from day to night pieces. As expected, Gibson has excellent options for my plus size girls too!


Shop This NSALE Collection

---
Oh boy! There's so much good stuff from Halogen! I feel as though Halogen and BP. deserve a separate blog post. The options are endless! This is my attempt at condensing over 480 Halogen clothing options available during the 2019 Nordstrom sale.


Halogen is a budget-conscious brand I shop every year. I still love and wear the Halogen sweaters I bought last year (related post What I Bought and Items I returned). Halogen is sparing nothing this year with its top-rated seamless, intimate collection. And I'm super excited about is getting a few once the sale opens.


You agree with my that VPL (visible panty line) should be a thing of the past. Aside from their intimates collection, you'll find fall must-haves like sweaters, tees, and pants to dresses and skirts for both work and play.


I'm a little salty because I was looking forward to their scallop sweater that sold out like pancakes last year. You'll also find some higher-priced pieces above $100.


Shop This NSALE Collection

---
Leith is another hot brand during the Nordstrom sale. Two top sellers last year were both the Leith Ribbed Shawl Cocoon Sweater and Rib Wrap Sweater. And guess what? The wrap sweater will be back again this year as well as an inspired version of the shawl sweater.


Shop This NSALE Collection

---
Still with me? Hang in there! The Nordstrom Anniversary Sale 2019 preview is seriously jam-packed with the best. Breaking it up with top-rated intimates. Three brands that do it big during NSALE are Natori, Spanx, and Hanky Panky.


Again, the Spanx faux leather leggings that I saw on almost every blogger (I tried it, it wasn't for me!), and the SPANX Power Short Mid Thigh Shaper are back another year in a row.


Shop This NSALE Collection

---
Year after year, AG Jeans always sells out during Early Access. I've never been a big fan of AG Jeans, but many people swear by it. The AG The Farrah High Waist Ankle Skinny Jeans is a hot number. I got my hands on a superb quality Madewell scarf last year (which a friend ended buying from me), and since then I've had my eyes on Madewell and apparently, many cardholders do too.


Shop This NSALE Collection

---
UGG shoes took us by surprise last year. Unlink the typical chunky and weather-insulated boots that UGG is synonymous for, Nordstrom had an incredibly hard time restocking the UGG Milani II Moc Loafers. I bought the loafers on sale early in black and subsequently stalked the Nordstrom website for the burnt orange color during public access to the sale.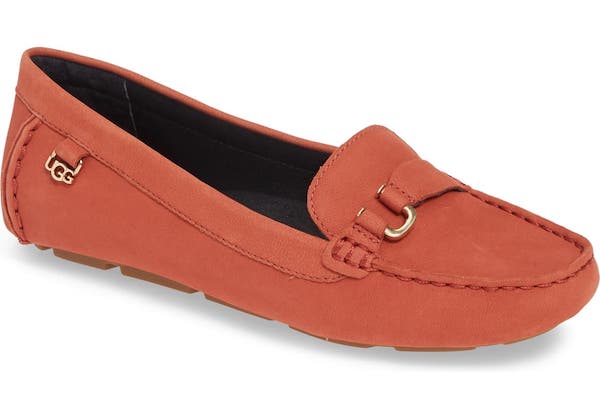 Vince Footwear also had some hot deals, and this year I guess that the Vince Ward Knit Slip-On Sneaker and the Vince Marley Venetian Loafer will be in many shopping carts.


Shop This NSALE Collection

---
I'll admit it, Zella leggings are one of the best leggings I own. And my introduction to the brand is no surprise. I now have the Zella Live in High Waist leggings in two colors, and I plan on adding one more to my wardrobe this year.


The legging is lightweight, moisture-wicking, and shape-smoothing. And the same leggings will be on sale again this year! But that's not all. Pick up a Zella wrap cardigan or tank to go with your leggings.


Shop This NSALE Collection

---
The Anniversary Sale does not lack a ton of shoes to choose from and neither should this Nordstrom Anniversary Sale 2019 preview. I bought my first pair of Tory Burch riding boots over two years ago and still wear it to this day.


It was no surprise to see a similar version in 2018 and this modified version for the 2019 Nordstrom Anniversary Sale. The boot's versatility makes it a match with pants, denim, dresses, and skirts. It's not cheap, but the boot is a one-and-done item available in classic black or brown leather.


Frye also ranks up there with Tory Burch for quality and price ($$$) with timeless Frye Melissa Knotted Tall Boot making a reappearance this year. The top rated Hunter Original Tour Gloss Packable Rain Boot will also be significantly marked down. Add this pair to your wishlist if you're searching for stylish rain boots.


For budget-friendly options, Converse has a few items what looking at.
Shop This NSALE Collection

---
Although the above brands are the most popular among Nordstrom Anniversary sale shoppers, many cardholders save up and buy luxury goods during the sale. A few that come to mind are Michele watches, Bony Levy fine jewelry, MCM, Rag & Bone, Treasure & Bond, Rebecca Minkoff, and Lafayette 148.


Shop This NSALE Collection

---
Whew! We did guys. The only other sale comparable to this is Amazon Prime Day, which will be happening on July 15 and 16. I hope you found this Nordstrom Anniversary Sale 2019 preview post helpful.


As a reminder, Nordstrom cardholders with Early Access benefit can shop this sale starting on July 12 at 12:30 PM EST while non-cardholders can shop the sale in stores and online starting on July 19.


2018 Bestsellers: What to buy from the Nordstrom anniversary sale 2019
Need some pointers on what to buy; these were the bestsellers from the 2018 Nordstrom Anniversary Sale. And as you might have read earlier, many of these exact styles are back or slightly modified. Keeping this in perspective, the 15 best things you can buy at Nordstrom during the Anniversary sale are:
Shop 2018 Bestsellers
---
FREQUENTLY ASKED QUESTIONS ABOUT #NSALE
When is the 2019 Nordstrom Anniversary Sale 2019?
All card members get to shop Early Access on July 11, 2019, at 12:30 PM EST. But that's not all, Nordy Club members with Icon or Ambassador status can shop the sale in-store up to two days early. The following is a breakdown of annual spend at Nordstrom and access to the sale.


If you found this post helpful, you'll love these related posts:
PIN FOR LATER!