Color Blocking Outfits the Simple Way | How To Guide
This post may contain affiliate links which means I will get a commission if you make a purchase at no additional cost to you. As an Amazon Associate I earn from qualifying purchases. Please read my disclosure for details.
This post is sponsored by Zappos. All opinions expressed in this post are mine.
Hey friends, happy Friday! Today, I'm sharing with you a few tips on color blocking outfits effortlessly. I'll be color blocking today's look with a pair of comfortable Keds sneakers (under $40), a pleated midi skirt, and a tie-front work-friendly blouse.


I'm not even going to lie; learning how to match wardrobe pieces together in a way that is pleasing to the eyes can be daunting. I found that keeping it simple to two or three colors made a lot of difference.


So, let's get started!


What is color blocking in fashion?
Color-blocking is the combination of colors together to create an outfit that is interesting and pleasing to the eyes.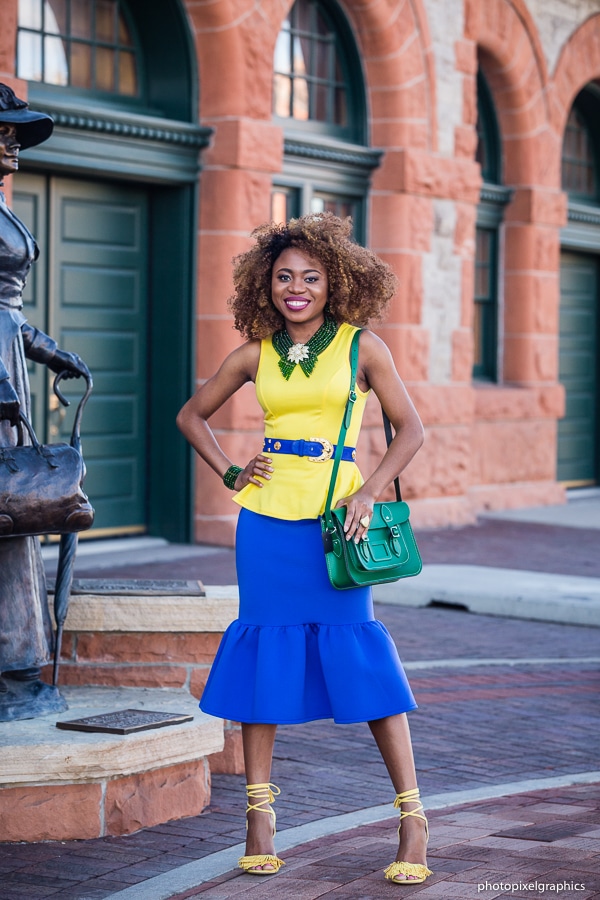 When did this color pairing start?
The art of color blocking in fashion is believed to have started in 1946 with a dress by Yves St. Laurent during the fall/winter show (source).
How can I color-block my outfits?
Follow these simple tips to get started color-blocking your outfits effortlessly.
Solid Colors
Pick solid colored outfits. Patterns and prints draw attention from the entire ensemble, which could result in a look with a riot of colors fighting to be noticed. The focus should be on the whole outfit.




Know Your Color Wheel
Choose two or three colors (I recommend starting with two colors) and stick to them. Complementary, triadic, and analogous colors are proven to go well together. P.S: I had a picture of the color wheel on my mirror for a few months while practicing this strategy.



Overall Look
If done properly, a color-block outfit is the sum of its parts. That is, the overall look of your ensemble go great together. This includes your jewelry, purse, shoes, glasses, headband, belt, and more.
Color blocking is a great way to let your personality shine through. You'll love this technique so much that it might become your signature style.


I've teamed up with Zappos and Keds to show you how to make a piece of clothing (or shoes) stand out from the rest of your look by color blocking.


I started with my shoes, the Keds Champion-Canvas in white color. It runs true to size with enough room for no-show socks if you prefer to wear one.


Since white is a neutral color, it pairs beautifully with any color. I chose to pair my Keds sneakers with articles of clothing to match my personality.


I picked a pink midi skirt for because pleats is a classic design and flow beautifully as you walk. Then I contrasted the ensemble with a trendy tie-front blouse. I finished the look with a matching pink tote (similar) with gold hardware and gold-tone chandelier earrings. See, creating color blocking outfits is not too hard 🙂


I ended up wearing this outfit to a brunch date with two blogger friends in Philly. And guess what? We ended up walking trekking for a while (long story). Thankfully, I was wearing the comfiest pair of shoes.


Did you know that Zappos.com carries an assortment of Keds shoes? I had no idea! I love that Keds canvas feel and look great, last a long time and don't cost a fortune.


And they are super versatile! I've already paired my Keds with a maxi skirt and crop top. Because the sneakers are lightweight, you can wear them on the go and switch them up when you get to your destination.


I've always known that Zappos.com offers free, fast shipping with an impressive 365 days return policy. Reading the book titled, Delivering Happiness, by Zappos.com CEO, Tony Hsieh opened my eyes to how far and beyond goes with their customer service.


The customer service representative that helped me with my order (I made a mistake with my order) went above and beyond. She was accommodating and courteous throughout the process. Zappos truly offers world-class customer service!


Two days later, my Zappos package containing a pair of Keds Champion-Canvas was at my doorstep!


Not sure which style to get?
Try the lightweight and breathable Keds White Champion for the lady on the go. It features a cushioned insole for support and comfort. Or the Keds Rise Jersey if you like a bit of a platform. Click here to see the assortment of Keds available at Zappos.com.


Thanks for supporting the brands that help keep this blog running. And to the awesome team at Collectively and Zappos x Keds for making this sponsored post possible.
Your turn! What's your favorite pair of Keds sneakers? Leave you thoughts in the comment section below.
You may also like these posts: 2 Cute Office Looks | Do SheIn Clothes Shrink? |
I am wearing:
Keds Champion-Canvas (c/o)
Pink pleated midi skirt (exact)
Waist knot summer blouse (exact)
Top-handle dome satchel (similar)