Amazon Haul: The Best African Print Clothes on Amazon with Review
This post may contain affiliate links which means I will get a commission if you make a purchase at no additional cost to you. As an Amazon Associate I earn from qualifying purchases. Please read my disclosure for details.
Welcome to another Amazon haul series. This post has been a long time coming. This time, I decided to group my purchase to African print clothes available on Amazon.


If you've been following me for a while, you know that ankara clothes are my bread and butter (literally speaking). But African print clothes are not cheap. In fact, a majority of these pieces are handmade, so they do tend to cost a pretty penny.


After scooping up my first dashiki dress from Amazon, I figured that it wouldn't hurt to try purchasing a few African print clothes from Amazon. I've spotted quite a few pop up on Amazon but was a little hesitant when I received a not-so-pretty African print polyester skirt.


AMAZON HAUL: BEST ANKARA CLOTHES
The saying goes, "once bitten, twice shy." I was hesitant and maybe a little harsh on these pieces when they arrived. However, I found a few potential that you might love.


And don't forget to take advantage of Amazon Prime free shipping and return benefit. If you're not already an Amazon Prime member (what are you waiting for?), you can try Amazon Prime free for 30 days or free for six full months (with a .edu email address).


1 | 2 | 3 | 4 | 5 | 6 | 7 | 8 | 9
As a disclaimer, I'm not a professional tailor (far from it) but, I've bought and worn enough African print clothes to know when a seller cuts corners.


I shared these Amazon try-on sessions on Instagram Stories, and received a lot of feedback on it! Some of you actually bought a few pieces based on my recommendations. I saved my latest Amazon haul on my Instagram highlight reel titled "Try-on Haul." You can also watch the YouTube video below.


For reference, I wear a size XS or S (US 4) and weigh about 125 pounds (depending on how much food I had for lunch/dinner ?).


1. High Low Asymmetric Ankara Dress
Wearing: Size small. Fits true to size (TTS).
Let's go ahead and start with the best, shall we? This dress was probably one of my favorite from the bunch. And to think that you can score this dress for $20 sounds and looks too good to be true.


Although it is not 100% African wax print cotton fabric, the 5% spandex makes the dress a little more flowy, which is a good thing for the asymmetrical layered details. As far as fit goes, the dress runs true to size without being too tight on the underarm.


The ankara dress also comes with a removable waist belt sash and back zip. Although the dress is unlined, it is not see-through. I would pair this gorgeous dress with a pair of simple ballet flats like this faux suede ruffle flats. Or trade the ballet flats for classic black pumps.


Wear this African print dress to weddings, graduation parties, church, and special events like luncheons, cocktails, and opening events.


Also wearing: Ankara head wrap | Ruffle ballet flats (on sale) | Classic black pumps (similar)
2. Orange/Blue Ankara Headwrap
Wearing: One size fits all (self-tie).
It took a hot minute to find a cotton African print scarf on Amazon. As you might have suspected, there are not many African print scarves available on the platform.


You also have to read the product description to confirm that your order would be for a cotton scarf rather than a polyester scarf. I feel an African print polyester scarf would be harder to tie and keep on your head for an extended time.


I love the print, color, and quality of this ankara scarf. The wrap measures 72 inches by 22 inches, which is the stand length of most ankara turbans. If you're looking for more African print scarves, I've rounded up 15+ more African print head wraps for you.


Also wearing: Black midi dress (50% off)
3. 3/4 Sleeve Two-Piece Pantsuit
Wearing: Size small. Runs large and is stretchy. Size down for a better fit.
Up next is this under $30 African print 2-piece set also called dashiki pantsuit. About three years ago, this menswear-inspired women's tunic and pants set was a must-have. I'll admit, I had my sister, Boriah Clothiers make a custom linen set for me.


A stunning African print pantsuit is perfect for work and dressy enough to be worn with sandals to church, weddings, and other formal events.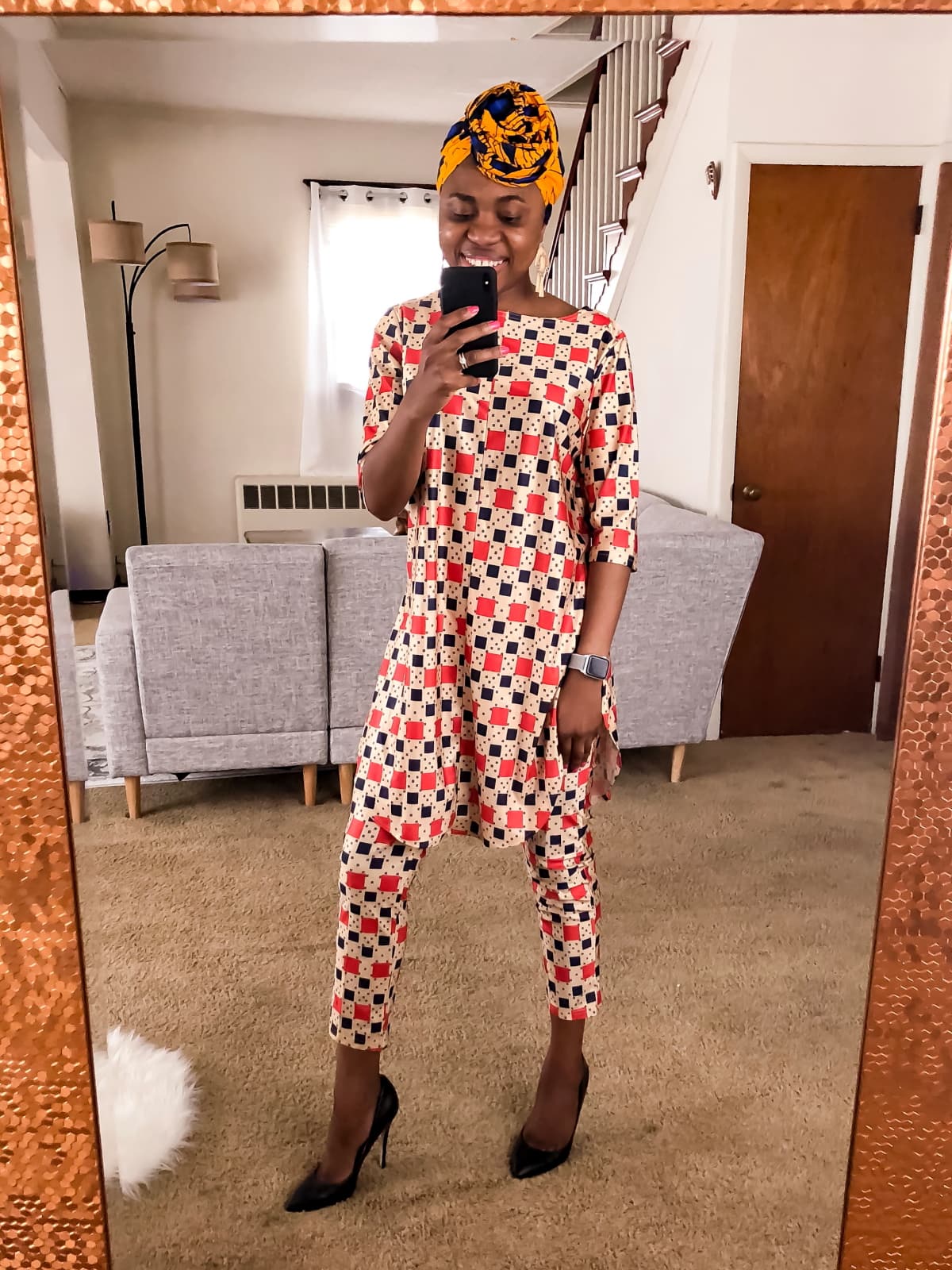 However, I was let down by the quality of this three-quarter sleeve pantsuit. This dashiki set is lightweight and super stretchy, but the trousers hung weird on my ankles. Because of how much stretch the fabric has, it ran a little big on me. And the colors were not as vibrant as I liked.


Although this dashiki set does not cut it for me, I bet it'd work for someone else.


Also wearing: Classic black pumps (similar) | African print ankara scarf | Gold earrings (similar) |
4. 3D Printed Multi-Way African Dress
Wearing: I ordered a size small, but the dress did not come with a label for verification. Runs true to size (TTS).
My first impression of this dress right after taking it out of the packaging was "cheap." I did not like the stretchy polyester fabric at all. The polyester fabric is non-stretchy and a little stiff. I'm quite surprised that this dress roughly a 3.5-star rating on Amazon.


I guess not many people share my sentiment. Or maybe you would if you knew that this polyester ankara gown was for either L'Aviye or Ofuure Infinity African print collection.


Criticism aside, it has super long straps that allow you to style this dress in six different ways. You also get a side zip for convenience. It took me a while to figure out how to tie this dress around my neck and waist.


My personal opinion is that this gown would look better on someone with bigger boobs as you have a lot of fabric to play with.


Regardless of the deja vu moment, the concept of this dress is lovely, especially at a price tag that's hard to beat. A few of you have already purchased this dress based on my InstaStory review; I hope this dress works out for you better than it did for me. Since this dress is not my cup of tea, I sent it back.


Also wearing: Lilac block heel slides (50% off) | African print ankara scarf | Gold earrings (similar) |
5.Ankara Traditional Casual Party Dress
Wearing: Size small. Runs true to size (TTS).
Undoubtedly one of my favorite African print dresses from this Amazon haul. This Shenbolen ankara dress is made from African print wax cotton fabric. It feels amazingly well with some wiggle room to keep you comfortable. As with all cotton material, it is non-stretchy.


The dress has two decently sized hidden pockets and a classy deep-v neckline. There is also a thick waistband that defines your curves. The lightly pleated design adds fullness to the bottom half of the dress without being bulky.


Although I cannot vouch for the quality of the ankara fabric, the dress is priced to sell with great Amazon reviews. As a side note, this dress is unlined.


You can style this dress with heels, flats, sandals, and even unconventionally with a pair of kicks. Throw on a beautiful waist belt and some jewelry for a stellar outfit. This midi dress runs true to size (I'm wearing a size small).


Also wearing: Fringe tassel heels | Ankara head wrap | Gold earrings (similar)
6. Waist Tie Ethnic African Dress
Wearing: Size small. Runs large and is stretchy. Size down for a better fit.
Outfit #5 is also a cute dress. Like some of the other pieces in this haul, this is a polyester African print dress, and I'm not mad about it. This dress does not have pockets, but it's under $25 and features a removable sash that you can rock as a belted bow.


The sleeveless dress has voluminous ruffle details that create some fullness. My thought about this dress is, there's a 70 percent chance you'll love it and a 30 percent chance you'll send it back. Either way, it's worth the try especially with the reviews it has on Amazon.


I'll add that the dress looks good on me, but for some reason, it doesn't resonate with me. The price makes this dress a bargain. Even with being polyester, it feels good on the skin. But if you're looking for authentic African wax print, this dress is not for you.


Also wearing: Fringe tassel heels | Ankara head wrap | Gold earrings (similar)
7. Sleeveless Ankara High Collar Dress
Wearing: Size small. Runs large and is stretchy. Size down for a better fit.
Next up is this Shekiss dashiki bodycon dress. I was drawn to this popular dashiki print because I loved the first short-sleeve dashiki dress I bought a year or so ago (worn here). I had ordered a size small. But I realized that I should have gone up a size because dress rides up with movement.


So this time, I ordered a size bigger, size medium. It never really occurred to me that different sellers of the same/similar products might have different sizing. So here I am, wearing a size medium that is obviously too big on me.


Sizing aside, this dashiki dress is made of a silky material that is a mix of polyester and spandex. The elastic fiber allows the dress mold to your curves without being uncomfortable or scratchy.


I was worried that the funnel neck might be constricting, but that's far from it. The neckline has enough breathing space that you'll forget that there's fabric on that area. Also, the high neckline and dress length paired with this fitted style is a lovely balance between sexy and conservative.


The fabric is a little thin, but the bodycon/form-fitting style reduces those unflattering see-through effects. Although traditional dashiki clothes are made with cotton fabric, this style works well. Compared to conventional cotton African wax print clothes, this dress is a steal.


Sadly, the hips measurement was cut out a little too generously for me. If you're interested in this dress (or the short-sleeve version), I recommend getting your usual size and a size up. Try both on and return the other with Amazon free shipping and return on this product.
Also wearing: Green ballet flats (on sale) | African print ankara scarf | Gold earrings (similar) |
8. Genuine Wax Print Head Wrap
Wearing: One size fits all (self-tie).
Also part of this Amazon haul is this super cute traditional African print head scarf. The headwrap measures 72 inches by 22 inches and is made with 100% cotton wax print. The actual color is red and yellow NOT pink and yellow as seen in the product image.


If you're already familiar with classic head wraps, you've probably noticed that those have some stretch allowing you to tie them snug. With ankara headscarves, you need to make sure that tie it tight from the start if not the scarf might fall apart the moment you're done wrapping it.


If you're uncertain, you can always use a safety pin to secure it. Here are a few pictures I've taken mixing African print with contemporary pieces.


Also wearing: Yellow dashiki bodycon dress | Gold earrings (similar)
9. Long Sleeve African Print Shirt
Wearing: Size small. Runs large and is stretchy. Size down for a better fit.
This blouse was the one piece I was super excited to buy. I don't know what happened, but the shirt could not pass over my head. Nothing I tried worked 🙁 See my Instastory to watch my dilemma putting on this top. The bottom line is that I could not get this gorgeous blouse past my shoulder #SadPanda.


It wasn't until after my dilemma that I realized that you might need to go up a size (or two) to get the blouse past your head. Seriously, this top should have buttons or elasticized ruching of some sort. Lesson learned!


If you're interested in getting this blouse, definitely read the reviews and go up a size or two. One reviewer who wears a size small ordered a medium (food for thought!).


That aside, the fabric is wax cotton and feels soft and non-itchy. The style is trendy and versatile to be worn to a variety of occasions like work, church events, wedding ceremonies, graduation parties, and even cocktail and luncheons.


Also wearing: Zella high waist leggings | Classic black pumps (similar) | African print head wrap | Basic spaghetti strap top (similar)
CONCLUSION
If you're still reading this Amazon fashion haul post, I applaud you for sticking with me. Overall, I realized that Amazon is a great start and an affordable option for African print clothes on a budget.


My opinion still stands that if you're looking for authentic, bespoke ankara and dashiki clothes, Etsy should be your first and ultimate stop.


Although there were a few misses in this try-on haul, there were many hits and potential keepers. It also made me realize that not all polyester and spandex ankara clothes are bad.


As always, it will be in your favor to read product reviews on each item as well as the sizing recommendation for guidance on quality and sizing of each item.


I will be doing more Amazon clothing haul try-on reviews and dishing my honest review, so keep watching this space. I've also created a unique Amazon Shop for you showcasing all of these items in one accessible location.


Want more? Follow me on Instagram, LIKEtoKNOW.it, or subscribe to my newsletter below to qualify for my monthly subscriber-only giveaway. As always, thank you for reading.
AMAZON HAUL TRY-ON STARTING AT $16
Interested in more fashion-related posts? Check out these popular posts:
Be sure to download the LIKEtoKNOW.it and follow me "lapassionvoutee" for exclusive, in-the-moment shoppable posts. Also, available on Android 🙂 It's also the fastest way I can keep you updated on the latest sales and newest styles since blog posts take a lot of time to create. Here's what you've recently missed!
PIN FOR LATER!