The Perfect Peplum Midi Skirt
This post may contain affiliate links which means I will get a commission if you make a purchase at no additional cost to you. As an Amazon Associate I earn from qualifying purchases. Please read my disclosure for details.
Where do I begin the story about this outfit? This peplum midi skirt (similar) has been a staple in my wardrobe for a few years now. The neoprene detail and dramatic peplum finish ensure that the skirt sways beautifully with each step I take.
Shop The Look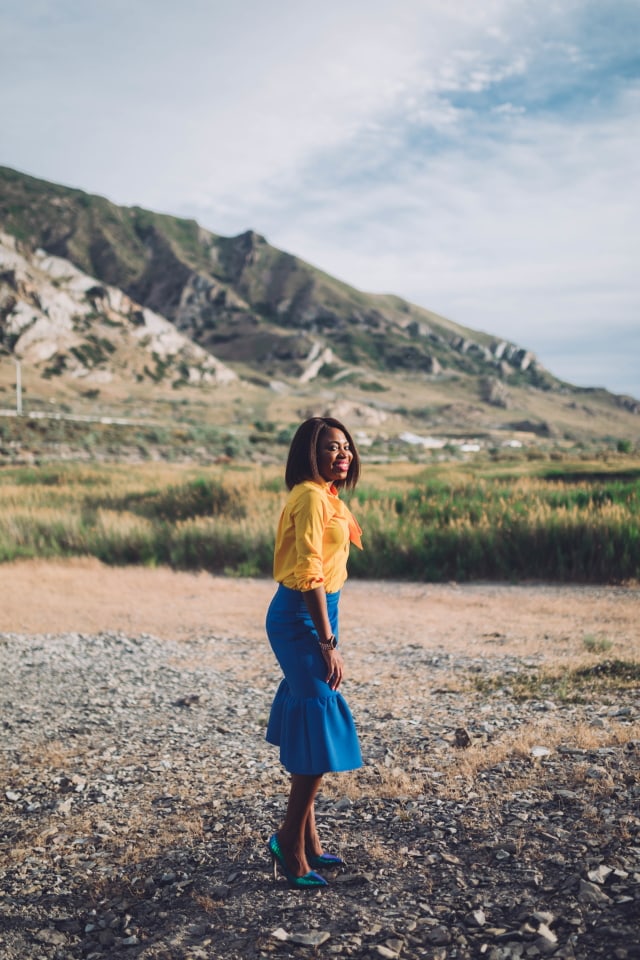 Knowing that I was going to Utah for the first time, this comfortable skirt and yellow pussy bow blouse (similar) are one of the few pieces I threw in my luggage. On my arrival to Utah, it hit me! The weather was extremely hot. If I was blindfolded, I would have sworn that I was in Nigeria.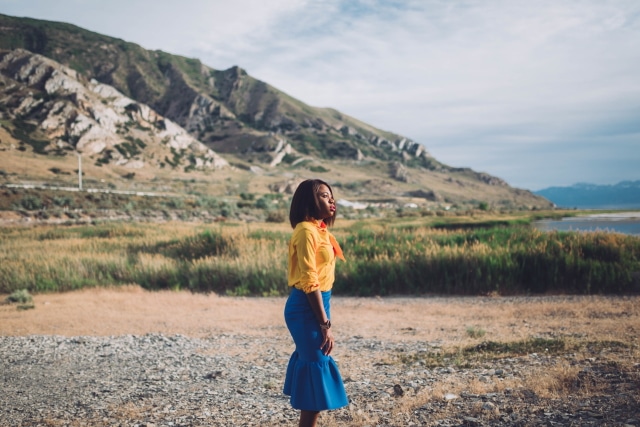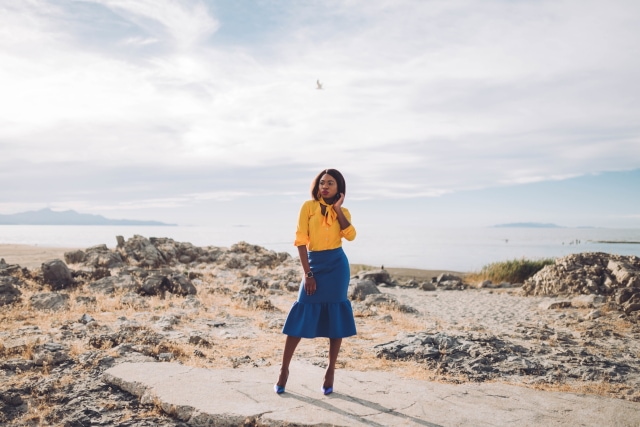 I'd already scheduled a photo shoot and was determined to go through with it regardless of what seemed like a heat-wave, in my Alaskan eyes. We met at a location. It was there that I quickly realized that I was far from prepared for my shoot. Now, I look at myself and laugh. This girl (i.e. me) wore stilettos to her shoot. Loose rocks to the left and sinking sand to the right. I looked ridiculous.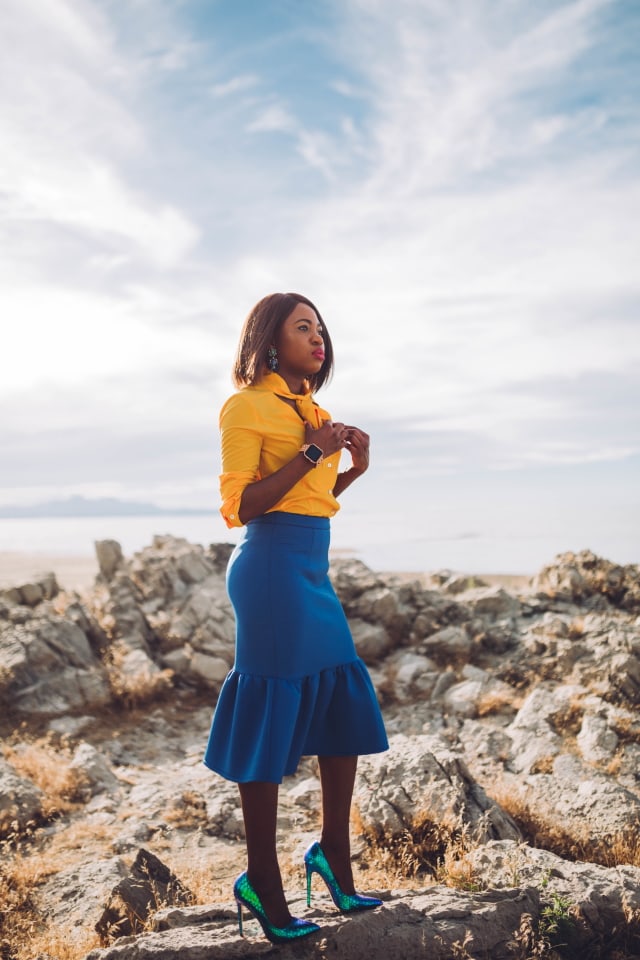 My amazing photographer held my hands. She assured me that it would all be worth it. Once the shoot was over, I couldn't wait one more second to put on proper shoes. Back in the car, I had the a/c on full blast!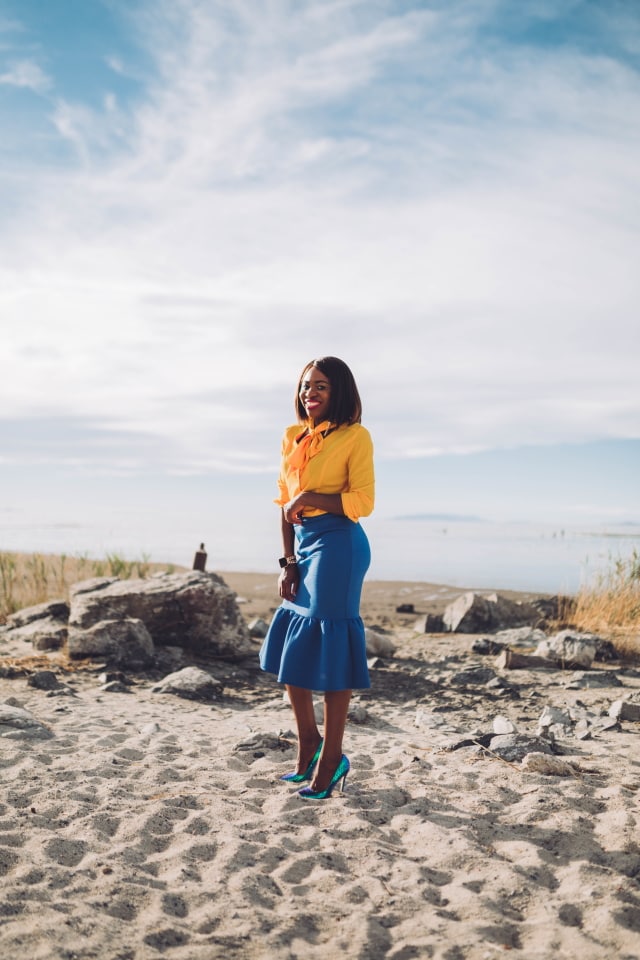 I really liked the way the photos turned out. The great Utah landscape camouflaged behind the perfect peplum midi skirt and rich yellow neck tie blouse. Completed the look with my go-to iridescent blue-green animal print pumps. The things we do for the 'perfect' shot!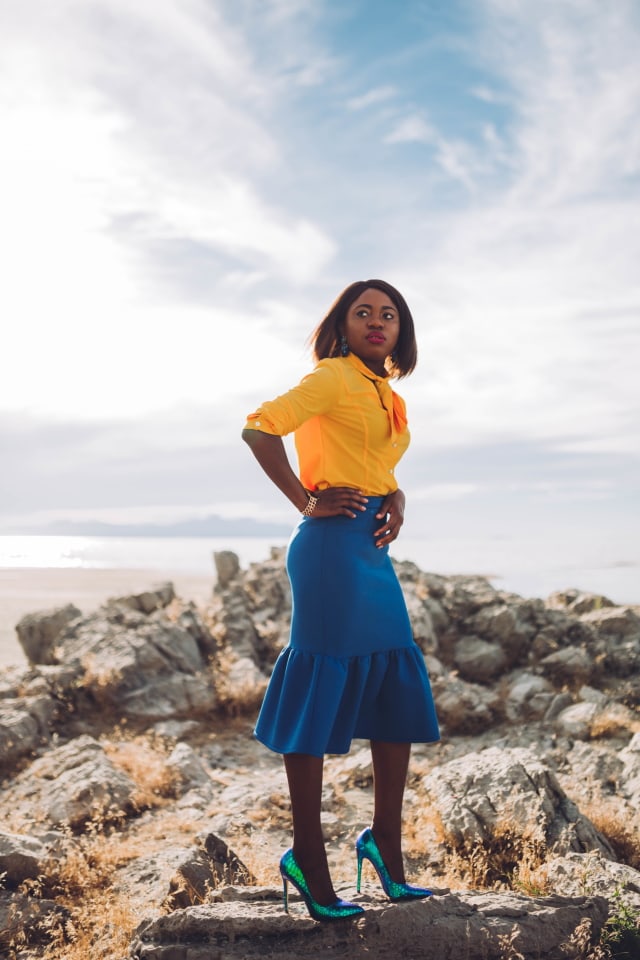 Often times, there's a story behind my looks and this happens to be one of those. I hope you found this look and post interesting. The moral of the story is that nothing is EVER as it seems. Wishing you a spectacular week!
You may also like these posts: Two-tone Monochrome Skirt | Analogous Peplum Skirt |
I am wearing:
Hologram heels (similar)
Pussy bow blouse (similar)
Peplum midi skirt (similar)
Photos by ShaiLynn Photography