Stunning African Print Sheath Dress for Special Events
This post may contain affiliate links which means I will get a commission if you make a purchase at no additional cost to you. As an Amazon Associate I earn from qualifying purchases. Please read my disclosure for details.
Hey friends! I feel like it has been a minute since I shared African print clothes with you. Today, I wanted to break that cycle and share this really cute African print sheath dress that would be a great option for special occasions.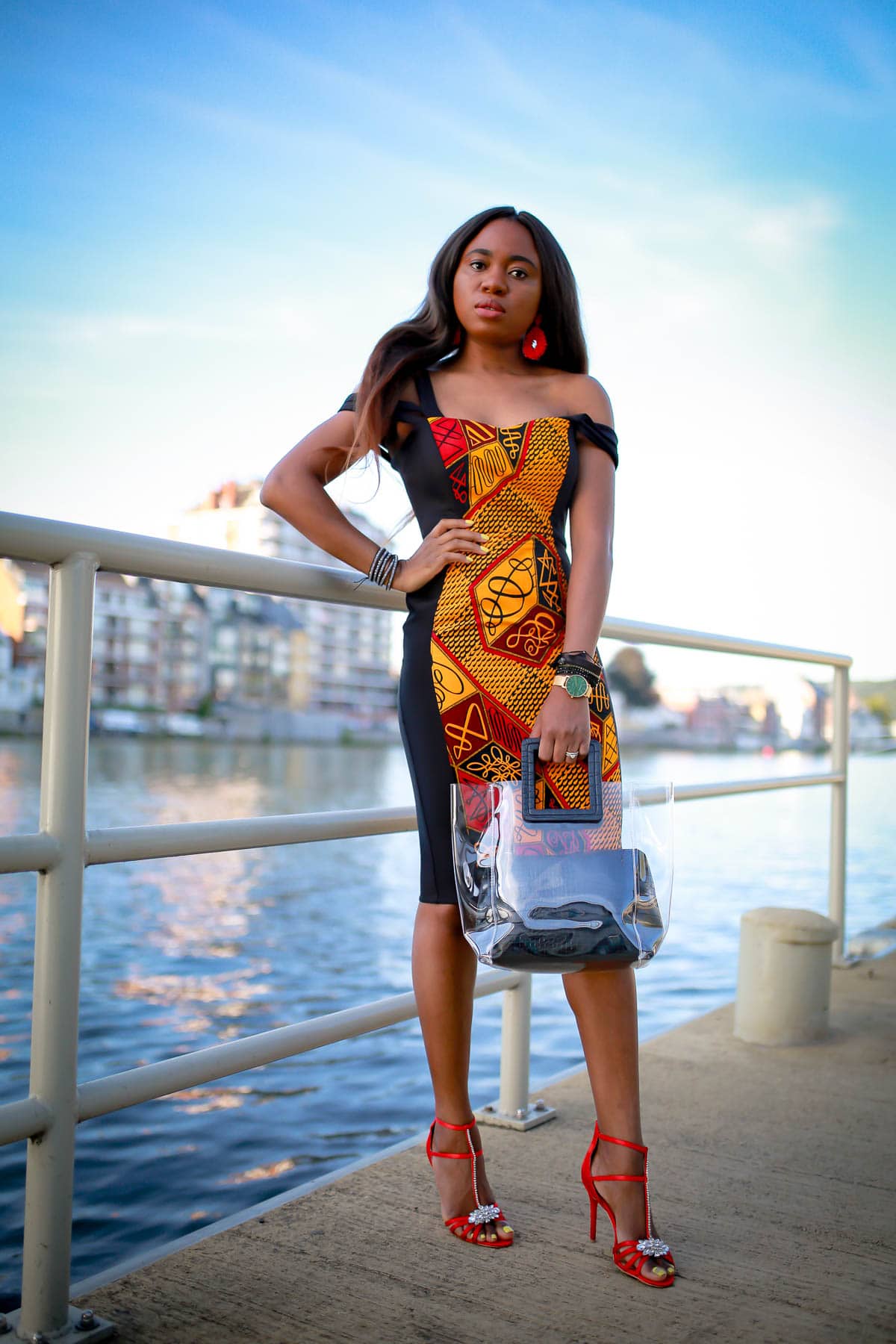 Just a quick heads up though! My dress is sold out 🙁 But my earrings, purse, wristwatch, sandals, and wrap bracelet are all still available. Ok, let's get right into it!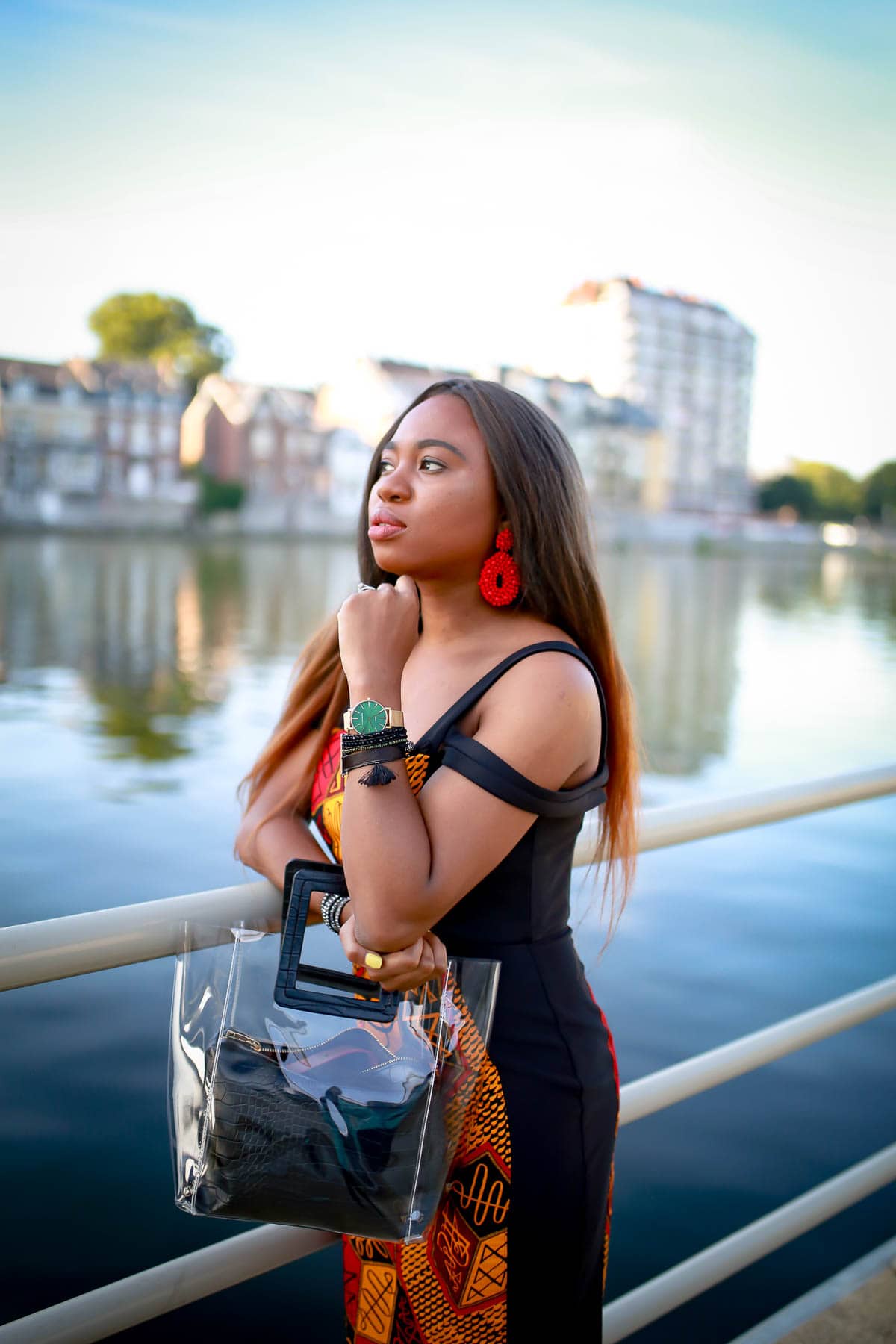 Shop The Look


If you've been following him for a while you already know that twin sis and I went to Belgium this summer. This African print sheath dress was actually one of the clothing I packed for a photoshoot there.


But many of you might remember that I styled this same dress last year during day 24 of my 30 days of African outfits for women series. Time needs to slow down!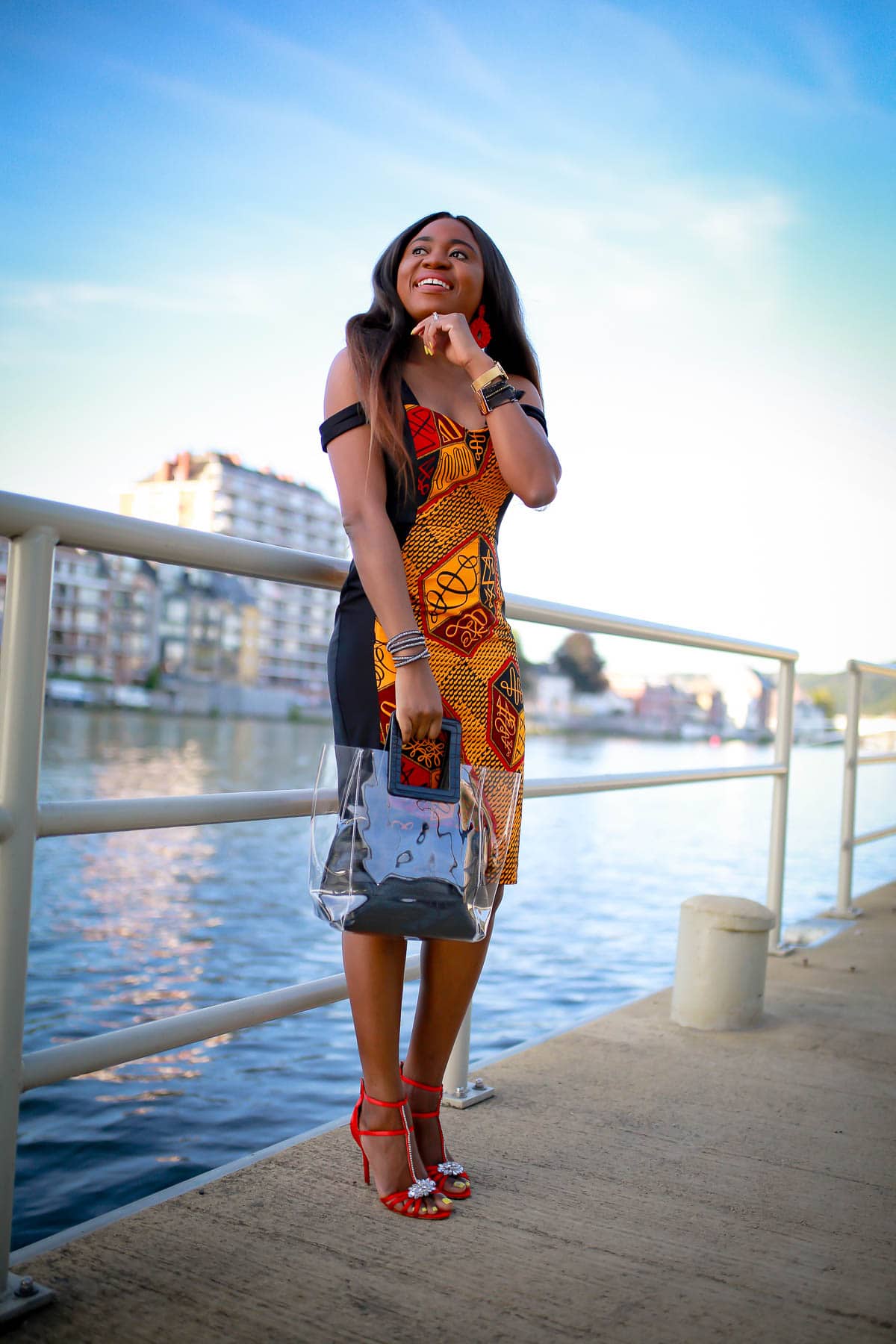 As is typical with African Print clothes this particular African Print sheath dress by Diyanu is already sold out. But I thought I would be doing you guys a disservice by not sharing this outfit. Because I know a lot of you either make your clothes by yourself or look for similar patterns of styles from your favorite retailers.


What I really love about this dress is that it has two stretchy black panels on the sides that mold to your body and create a slimming illusion. Also, the straps are fashionable features that prevent the dress from sliding down as you walk.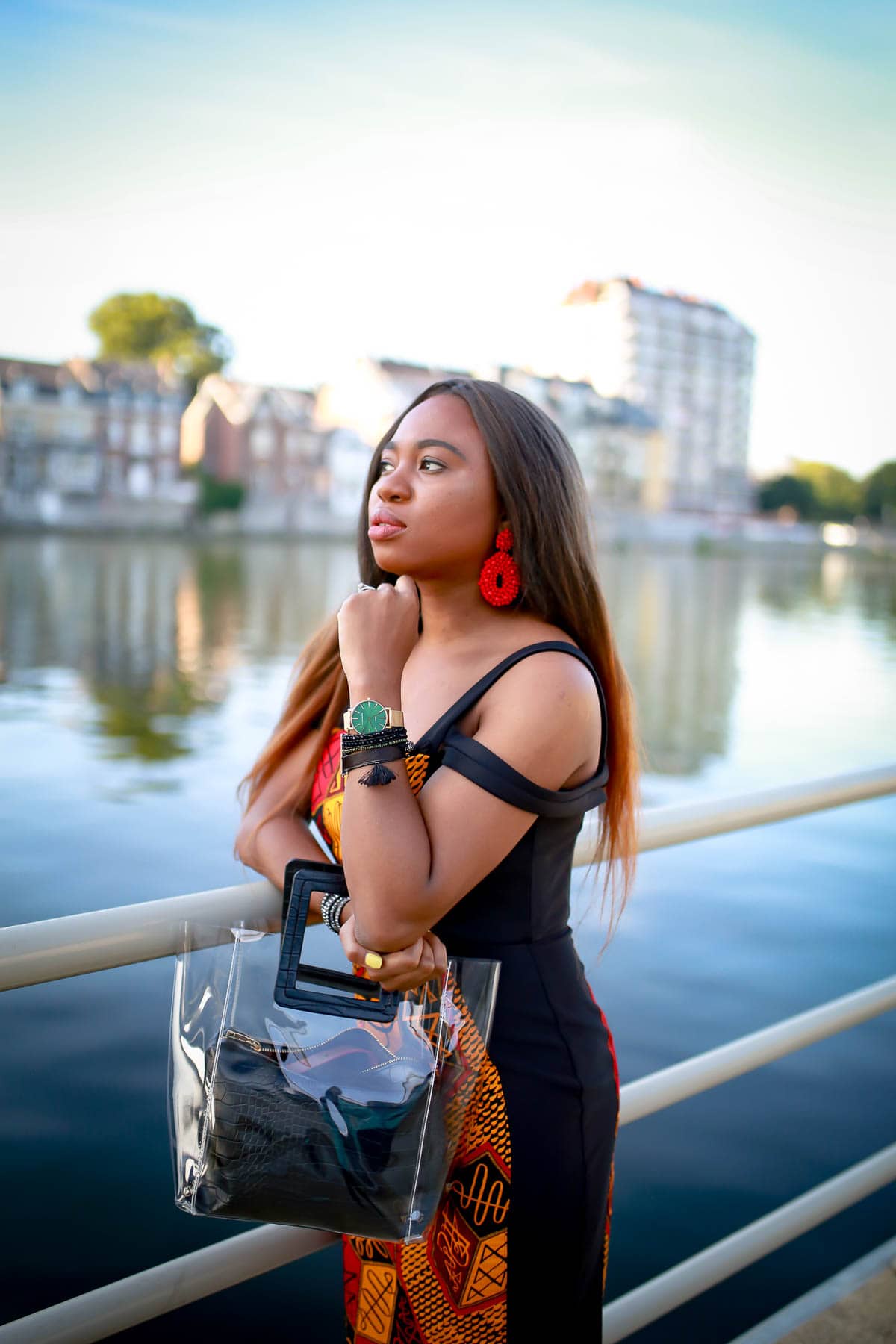 As you would expect, the front panels are African print fabric made from authentic ankara wax cotton.


The exact color of my sandals are sold out but they are still available in other colors here and here. They are a nice height that is comfortable to dance in. Also, my designer inspired clear tote bag is still available. The bag costs under $35 compared to paying over $200 for a similar pair from a designer.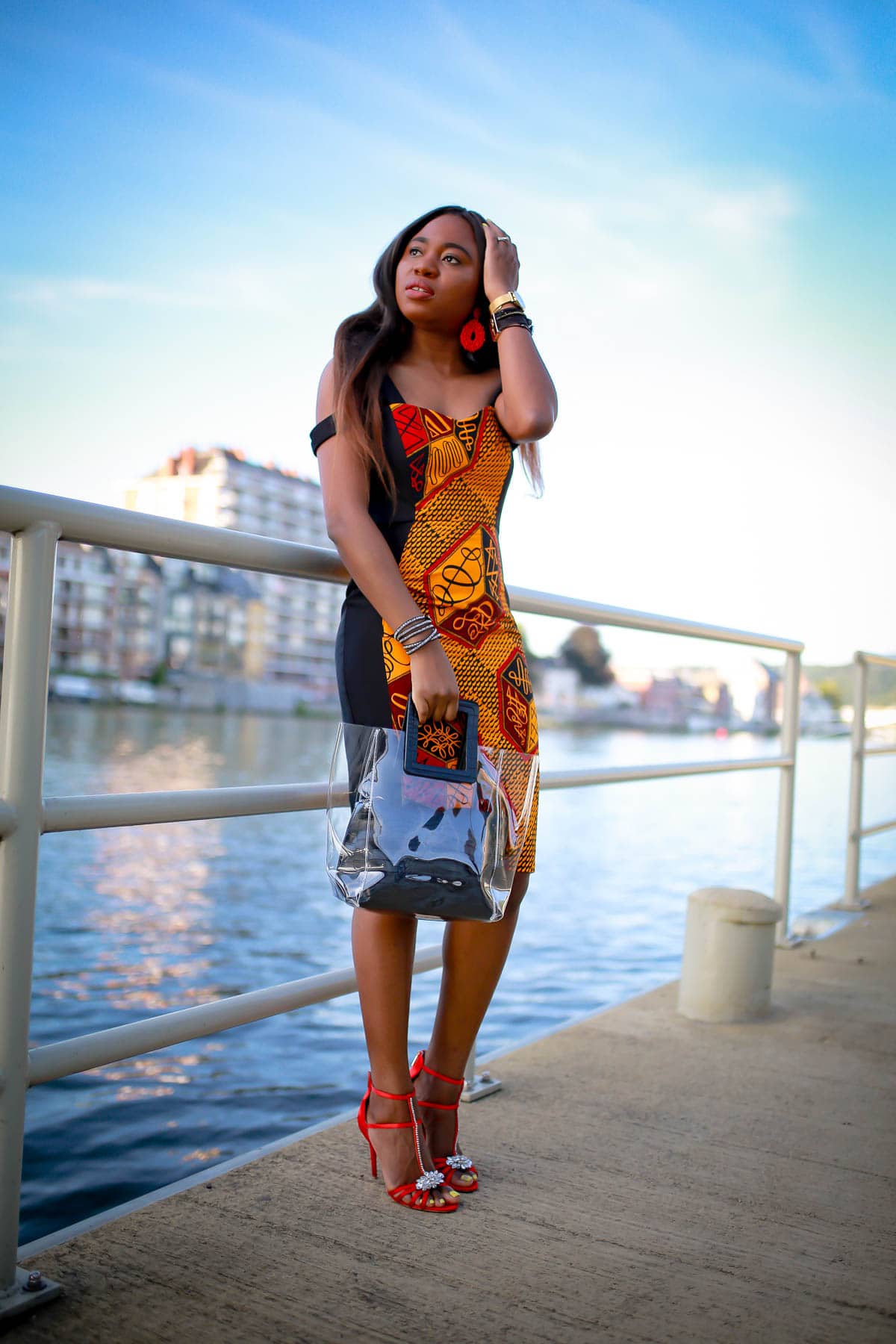 I've worn these earrings on several occasions and love how lightweight they are. I also have these statement earrings in blue but there are a plethora of colors available here. I think they are a designer-inspired style (under $10 vs. $45-50), but it's hard to tell these days with how fast styles and designs change from season to season.


I am wearing this Victoria Emerson gold mesh watch. I love the classic design: sleek and stylish. I paired the watch with a multirow boho cuff and wrap bracelets.


And major props to my twin sister, Odeon for taking me these photos. She played photographer for me in Belgium so I could share these photos with you guys. We now have a travel blog, Africa Wanderlust, that she manages. Definitely check it out for all your future travels to Africa 🙂 As always, thank you so much for reading.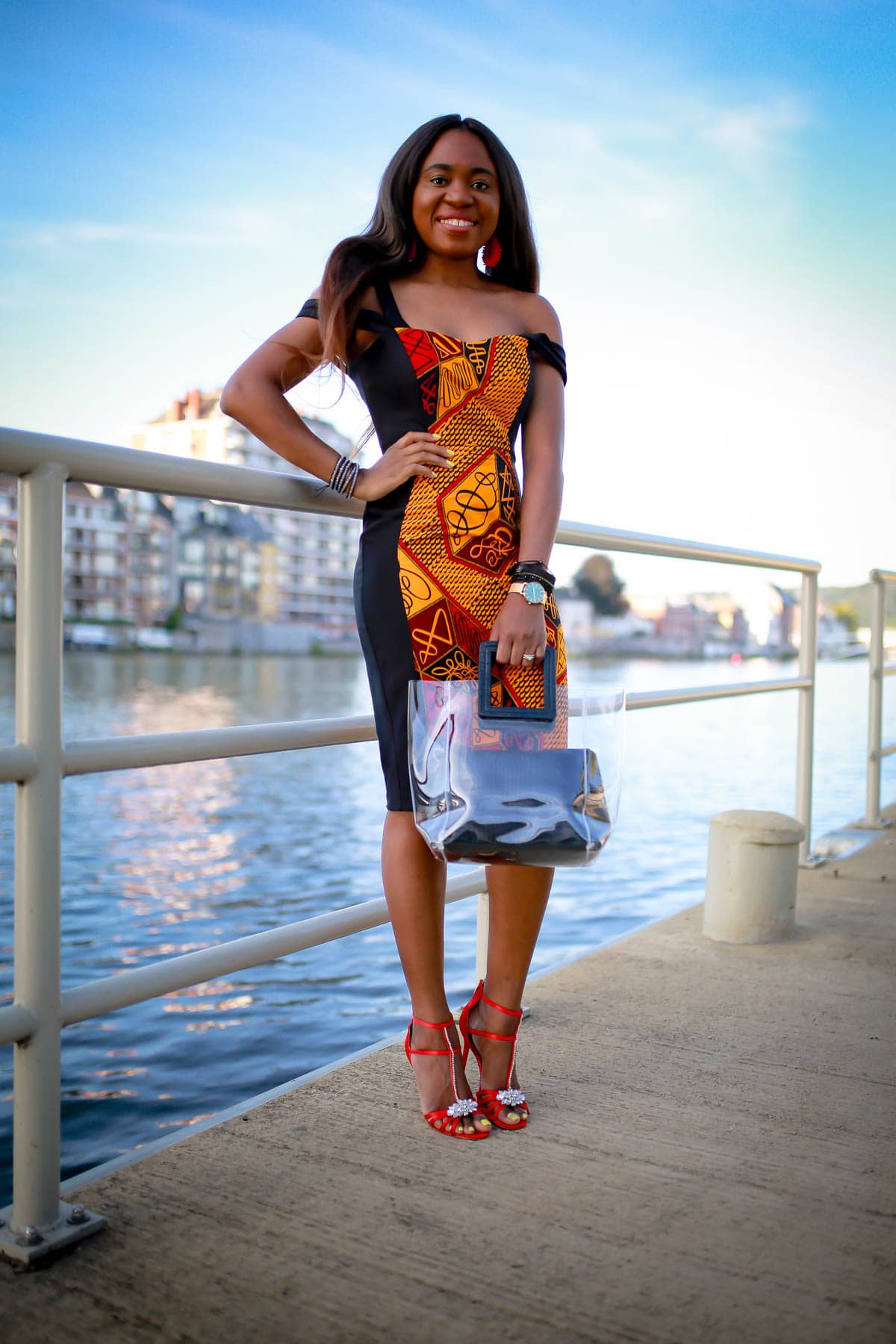 I am wearing:
Midi dress (similar) | Embellished sandals | Statement earrings | Mesh watch | Boho cuff | Wrap bracelet | Clear tote
You may also like these posts: 30 Days of Ankara Fashion | Victoria Emerson Bracelet Review |
Reading this post on mobile? Be sure to download the LIKEtoKNOW.it and follow me "lapassionvoutee" for exclusive, in-the-moment shoppable posts. Also, available on Android 🙂

It's also the fastest way I can keep you updated on the latest sales and newest styles since blog posts take a lot of time to create. Here's what you've recently missed!