Day 24: African Print Off-Shoulder Dress
This post may contain affiliate links which means I will get a commission if you make a purchase at no additional cost to you. As an Amazon Associate I earn from qualifying purchases. Please read my disclosure for details.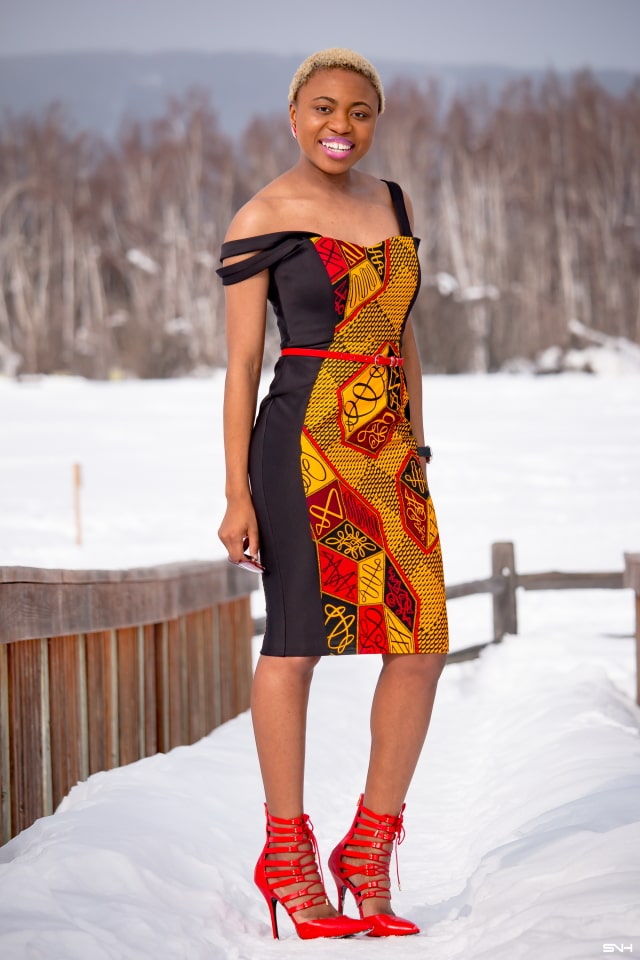 Happy Friday, friends. I am elated that the weekend is almost here. And today I'm sharing this African print off-shoulder dress from my 20+ days of African fashion series.
Shop The Look

Since starting restarting my fitness routine, this is the hardest I've ever pushed myself to work out. Sure, I've exercised for a stretch longer than 7 months but I've never pushed myself this hard.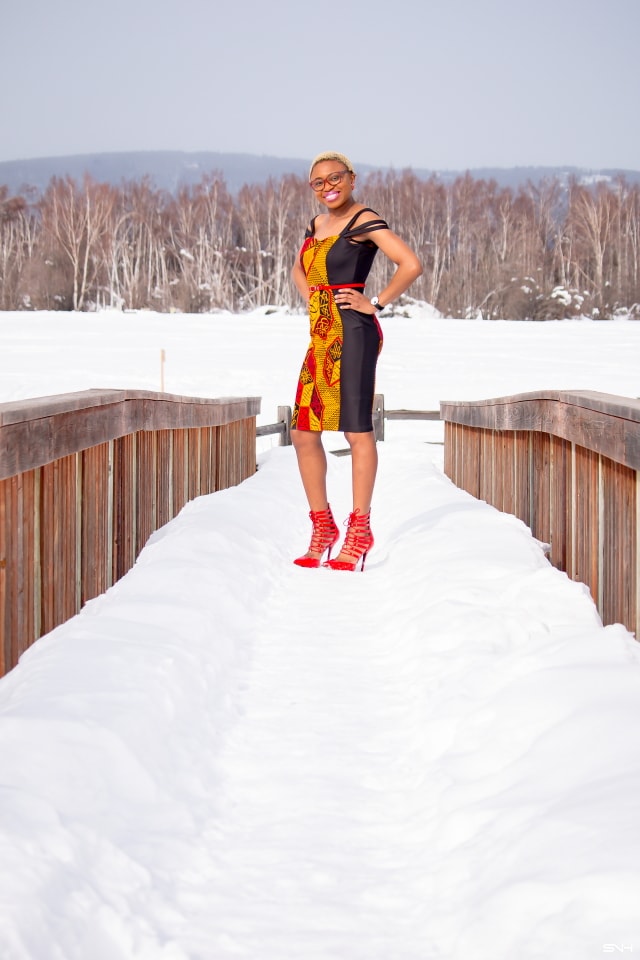 Staying consistent and eating healthy portions with occasional indulgences have been a part of the journey. One too many stares in the mirror often reveal the result of my actions: tighter core, cute biceps, and a peek-a-boo 6-packs.
Some days are a struggle. Like getting back to my routine after taking 2 weeks off for my trip back home. I eased back into my routine slowly, I think. I took a Strength class followed by a Refresh class (abs + stretch) on Tuesday.
Although every fiber of my body felt sore, I showed up at the gym for a Core class (abs) on Wednesday! The temptation was real to "just skip" Wednesday session and go grocery shopping.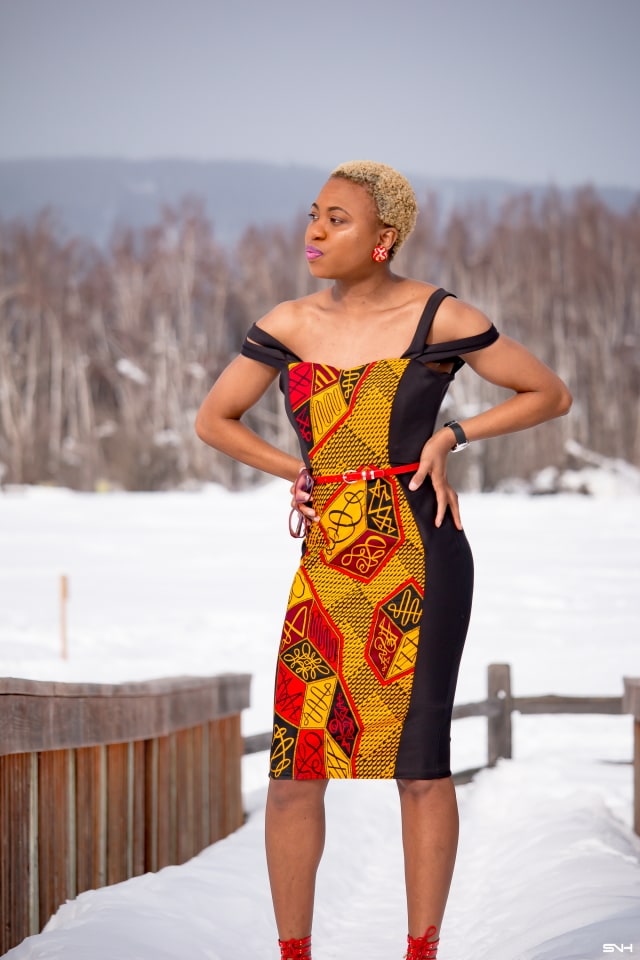 But I didn't. Again, I pushed myself even harder as I felt my arms tremble under the weight of my body. It was a killer but I pushed through.
I'm not a fitness junkie. I've never been one and probably will never be one. Like many, I can think of a million things I'd rather do than work out. But each day I show up to the gym is a day won over my excuses.
I took Thursday off to allow my body recover. I also had a fun shoot planned with my photographer but he had to reschedule.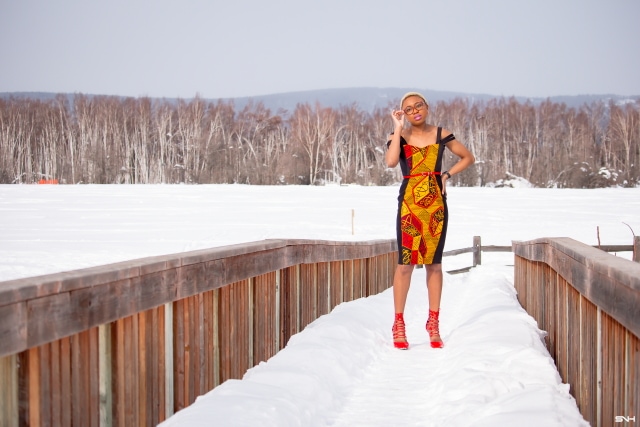 I'm definitely looking forward to our evening and nighttime photoshoot sessions. I get ecstatic knowing that we can take photos almost any time of the day during the summer. 
I've taken photos at 10PM and even closer to midnight before. Check out this 10 PM waterfront outfit and this one taken by the railroad station. It has been a while since I've taken photos for the blog so I am excited to get back to the rhythm.
But for now, here's outfit #24 of 30 from the African print series. This sexy number is by the one and only Diyanu spotted in day 12: kente mermaid pencil skirt of the series.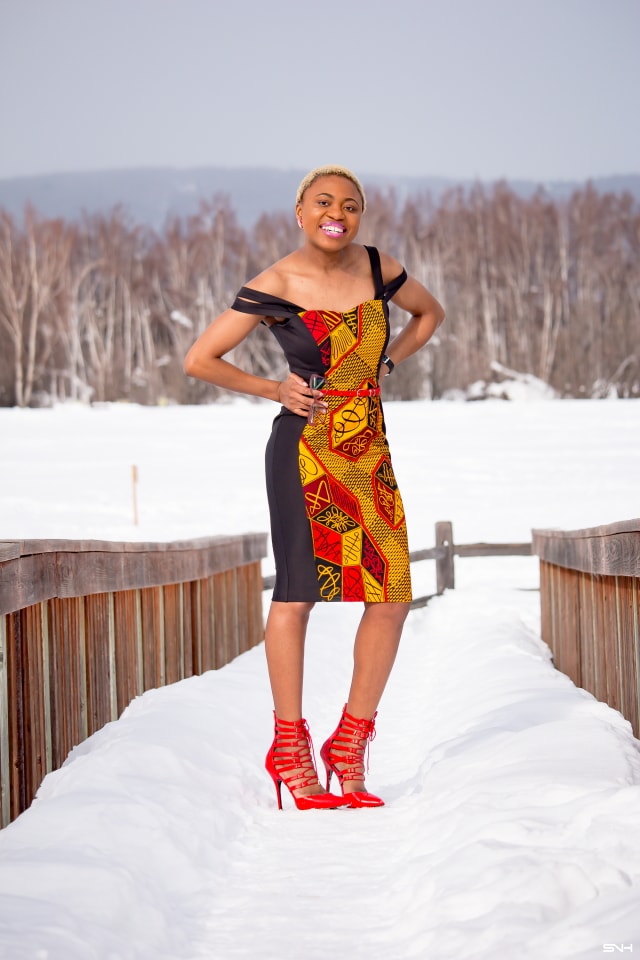 I raved about how excited I was about the Diyanu Onna stretchy fabric in that post. And I'm here to tell you that the fabric is truly revolutionary!
With how snug this African print off-shoulder dress fits, you'd think that I would have a hard time walking. Far from it! The Onna stretchy fabric allows the dress to conform to my shape and movement.
The boning around the chest and waist add structure to the fabric. I've added this African print off-shoulder dress to my rotation of formal dresses because it's that good. Diyanu definitely pays attention to the needs of its customers.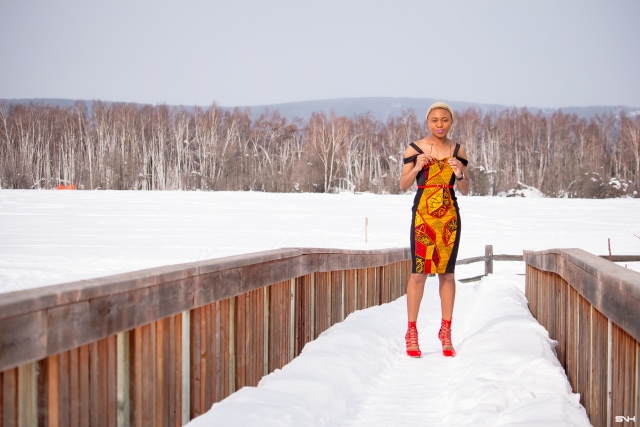 You can learn more about Diyanu from day 12's post, kente mermaid pencil skirt. And find the rest of the series, 20+ Days of African Print fashion here.  
Discover more eye-catching styles from Diyanu on Instagram and their selection of African print styles on Diyanu.com (also on Etsy). As always, thank you for reading.
You may also like these posts: Day 23: Ankara Chiffon Blouse + Tassel Sandals | Day 22: Preppy Ankara Printed Skirt |
I am wearing:
Skinny belt (similar)
Round clear glasses (similar)
Nokia activity and sleep watch (exact)
Steve Madden lace-up sandals (similar)
Dress c/o Diyanu African print off-shoulder dress
Photos by SNH Photos
MORE FROM DIYANU