Day 12: Kente Mermaid Pencil Skirt
This post may contain affiliate links which means I will get a commission if you make a purchase at no additional cost to you. As an Amazon Associate I earn from qualifying purchases. Please read my disclosure for details.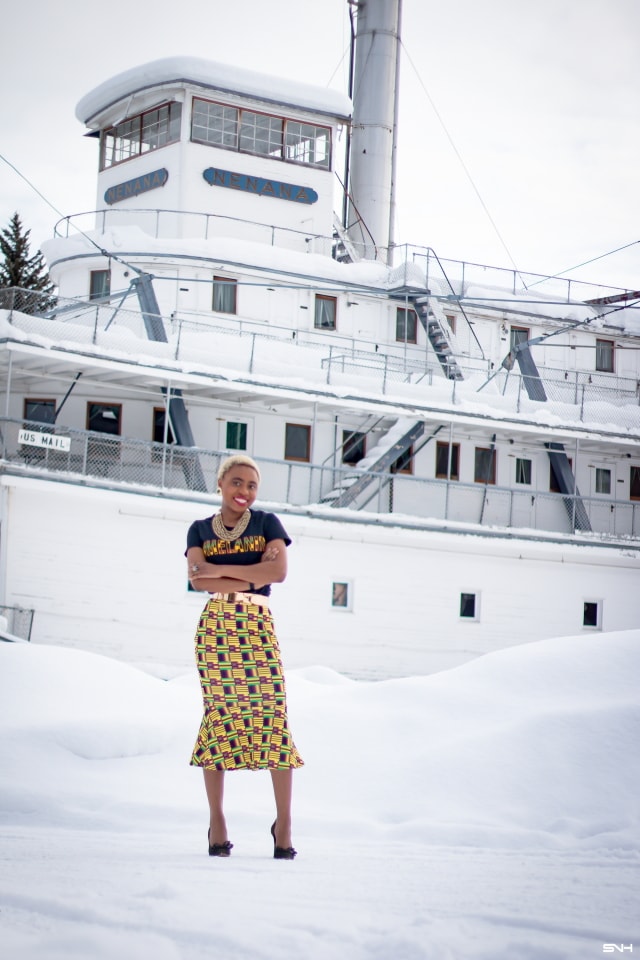 Happy Easter! What a beautiful day to celebrate the resurrection of Jesus. I'm continuing this fun African print series with this Kente mermaid pencil skirt and tee by D'Iyanu.
Shop The Look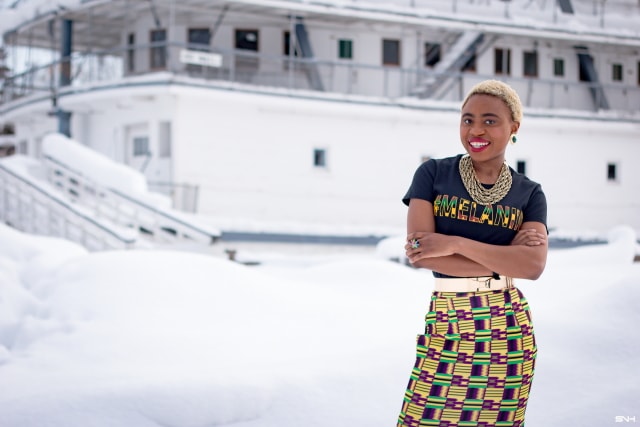 Oh the joy of having a few days to yourself! This series continues to receive so much engagement and interaction than I ever imagined. I ended last week's series of posts with a style I have never worn: kente print!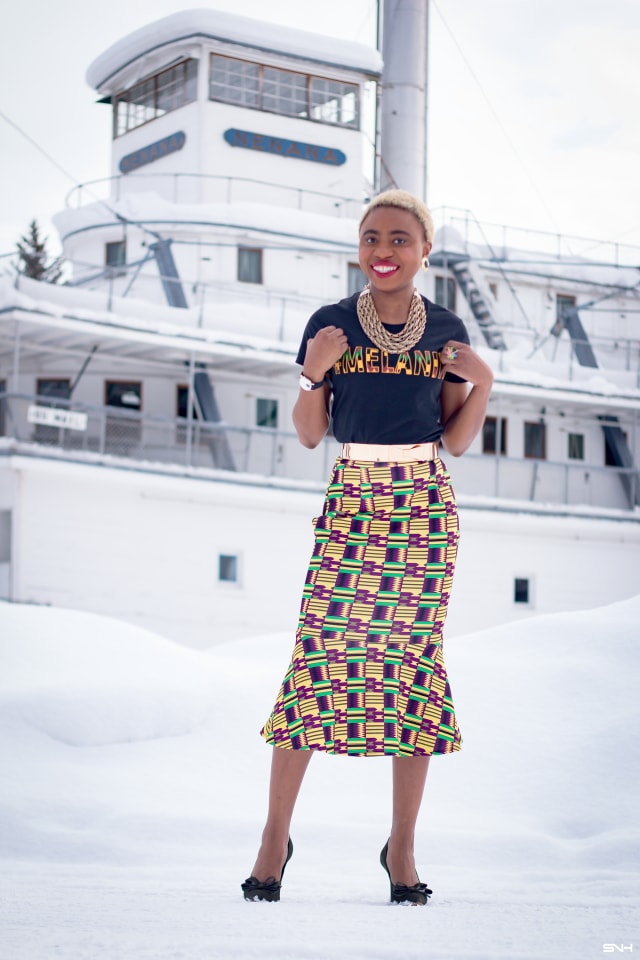 Over 300 years ago, the Ashanti people of Ghana conceived the Kente fabric which was later adopted as a royal cloth reserved for special occasions.
While I almost always wear ankara fabric, I've had deep love for Kente fabric for a long time. For this look, I"m styling this Kente mermaid pencil skirt by D'Iyanu.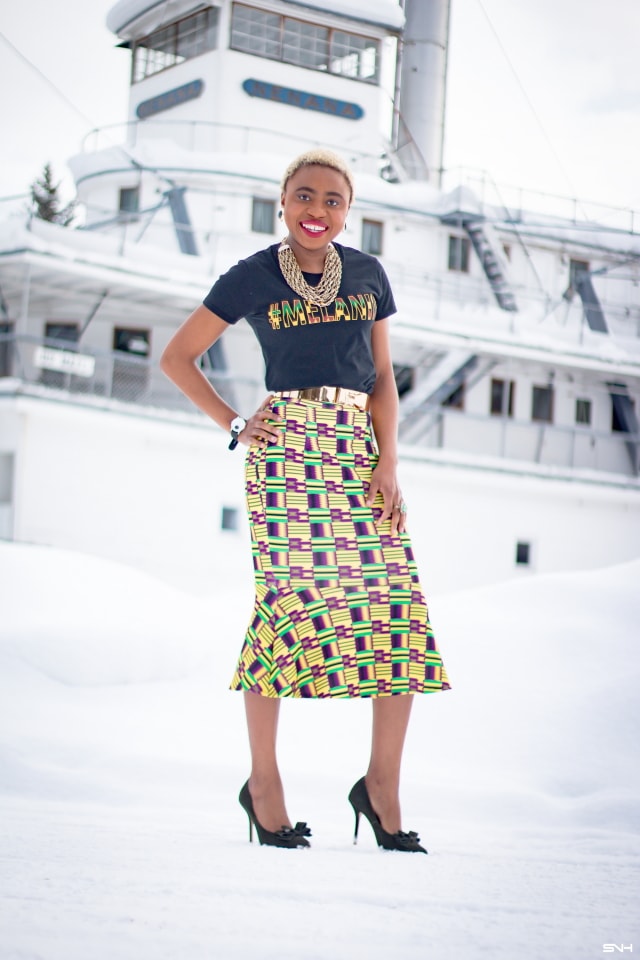 Nigeria-born Addie Olutola is the founder and creative mind behind D'Iyanu. Her ready-to-wear African inspired fashion line features fun, bold and chic pieces centered on inspiring individuals to dress confidently.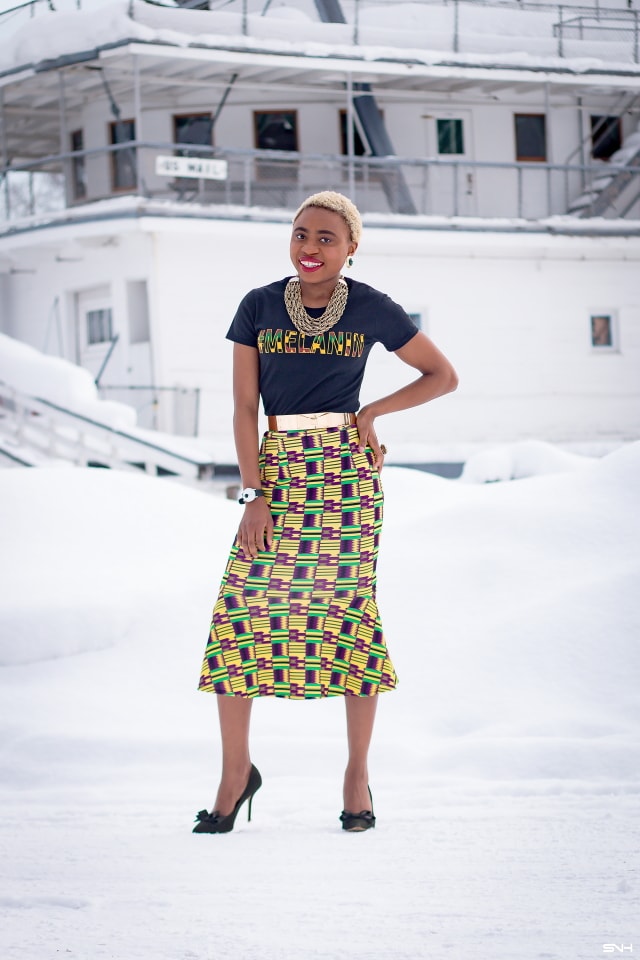 D'Iyanu label features a variety of clothing for women, men and children. One unique feature about this brand is their Onna Collection. African print clothes are traditionally made with cotton. For this reason, they have little or no stretch to them.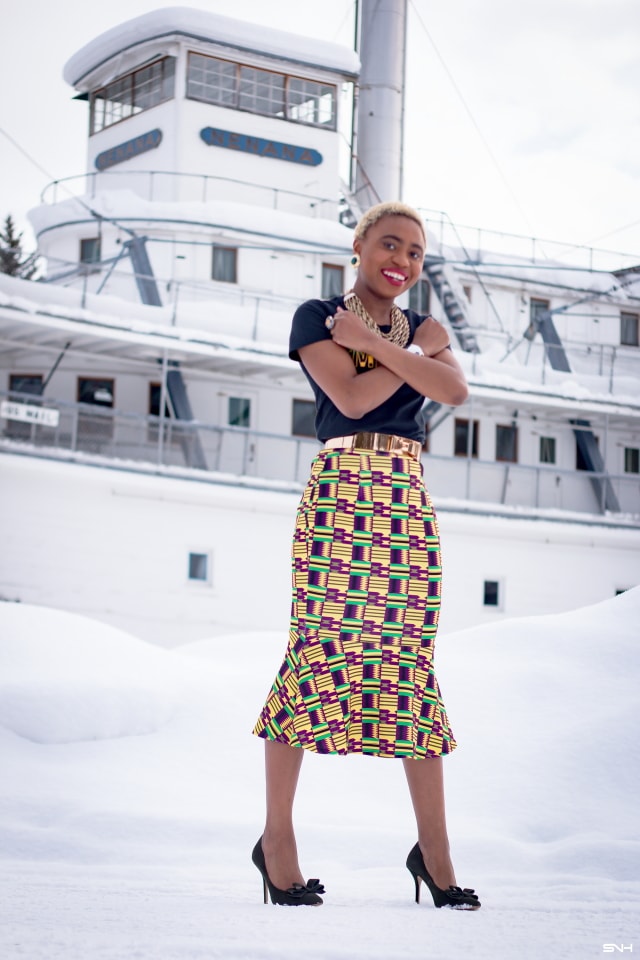 Addie solved this problem by creating the Onna Collection, which literally means "it stretches." The Onna African print stretch fabric is the first of its kind that conforms to your body.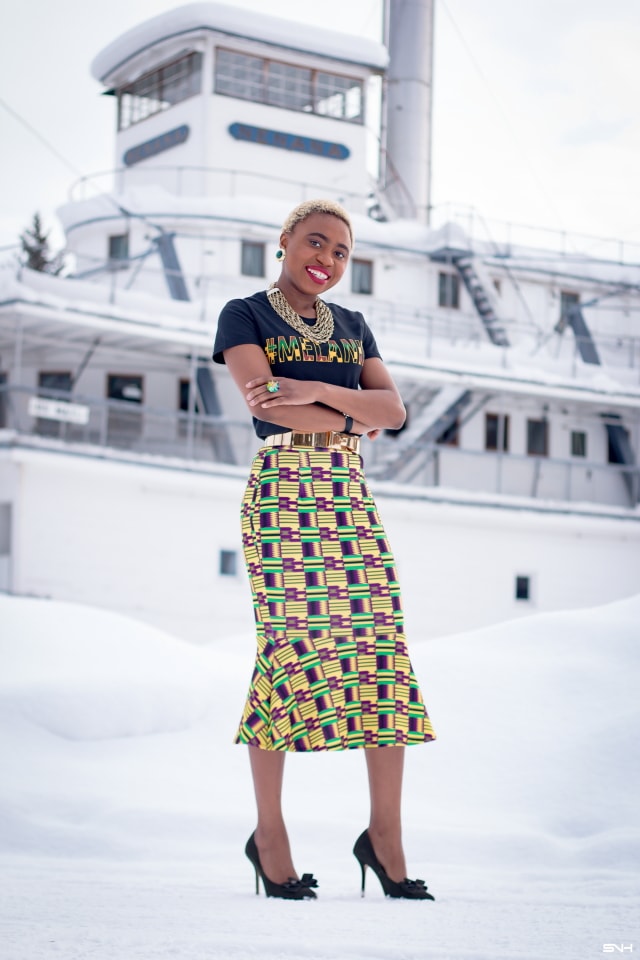 The Kente mermaid pencil skirt I am wearing is from the Onna Collection. The fabric feels amazing on the skin (non-scratchy) and it flows beautifully as I walk. The fabric is thick, a no-show material, and the vibrant Kente pattern maintains its form even when stretched out.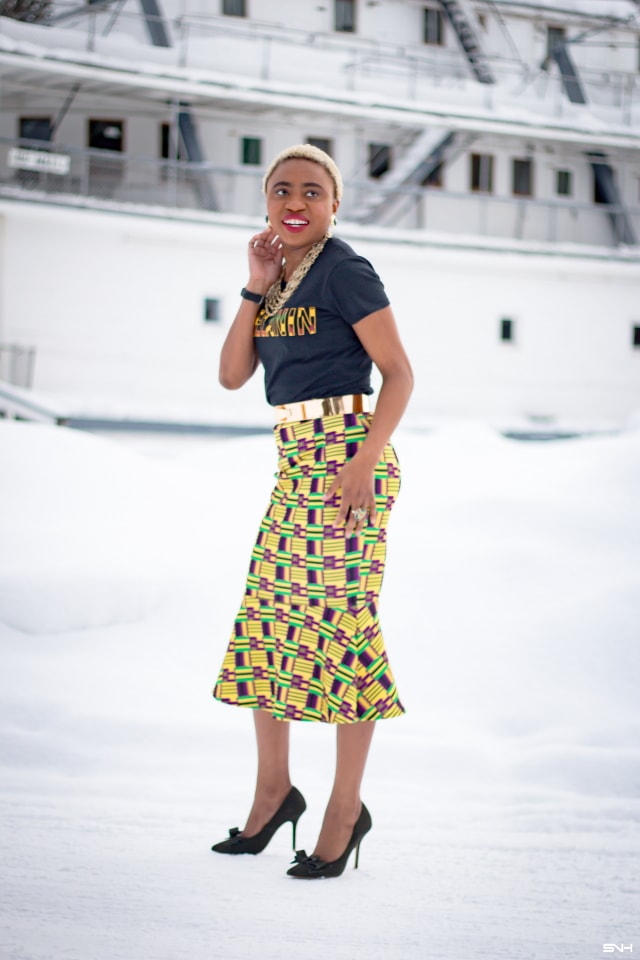 The peplum hem is super stylish and it adds a curvy flare to the look. This bold and classy skirt can be worn with a solid color or simple patterned blouse to work or night out. I paired the skirt with the Amma African print #Melanin t-shirt and a pair of bow-detail pumps (similar).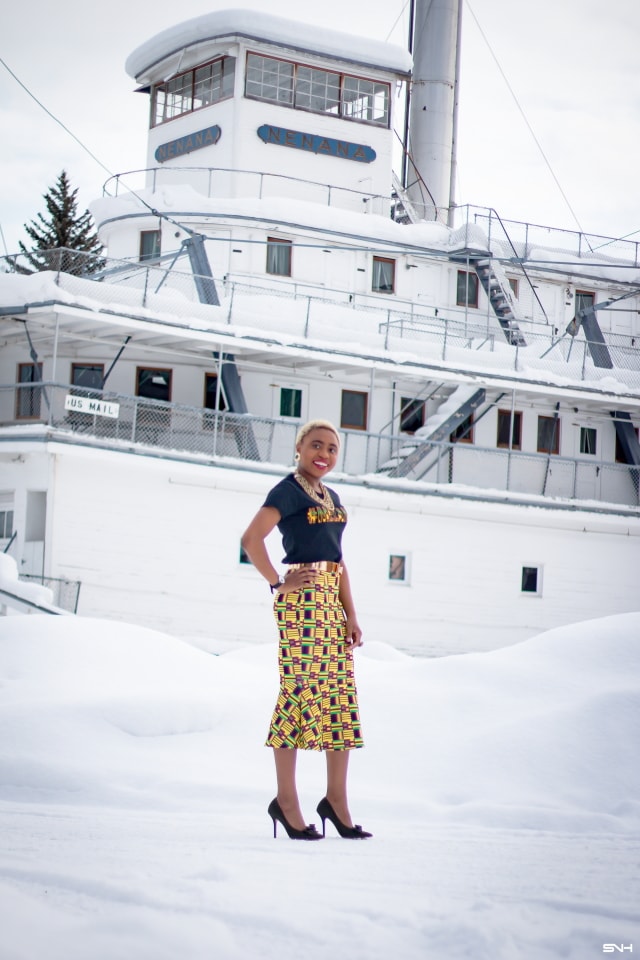 A few other pieces that I have on my radar from D'Iyanu are this Thema African Print Satin Wrap Skirt and the Meria Midi Pencil Dress. For some athleisure appeal, you'd love the Nadira Mesh Contrast Yoga Pants Leggings.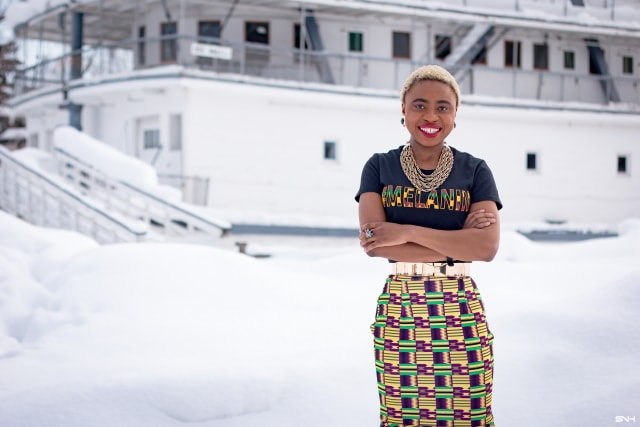 This outfit completes another week-long posts of African print looks. If you enjoyed this post, view more outfits from the 20+ Days of African Print Fashion series to get a mega dose of the culture and breathtaking styles behind African fashion. Also, join our newsletter below to get the tea on exclusive content, sales, fashion and beauty.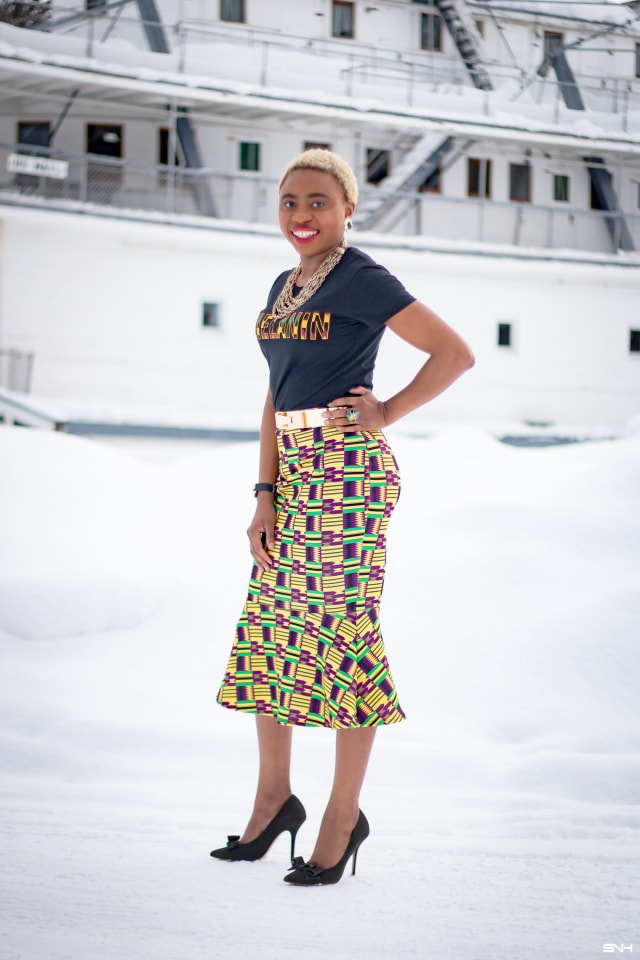 As always, thank you so much for reading. Connect with D'Iyanu (also on Etsy) on Instagram. 
You may also like these posts: Day 11: African Print Off The Shoulder Dress | Day 10: Regal African Print Wrap Blouse |
I am wearing:
Bow pumps (similar)
Metal bow belt (similar)
Nokia activity and sleep watch (exact)
Tee c/o D'Iyanu Amma #Melanin T-Shirt 
Skirt c/o D'Iyanu Kente Mermaid Pencil Skirt
Photos by SNH Photos
MORE FROM D'IYANU