How to Wear a Scarf with a Dress | Blanket Scarf Outfit
This post may contain affiliate links which means I will get a commission if you make a purchase at no additional cost to you. As an Amazon Associate I earn from qualifying purchases. Please read my disclosure for details.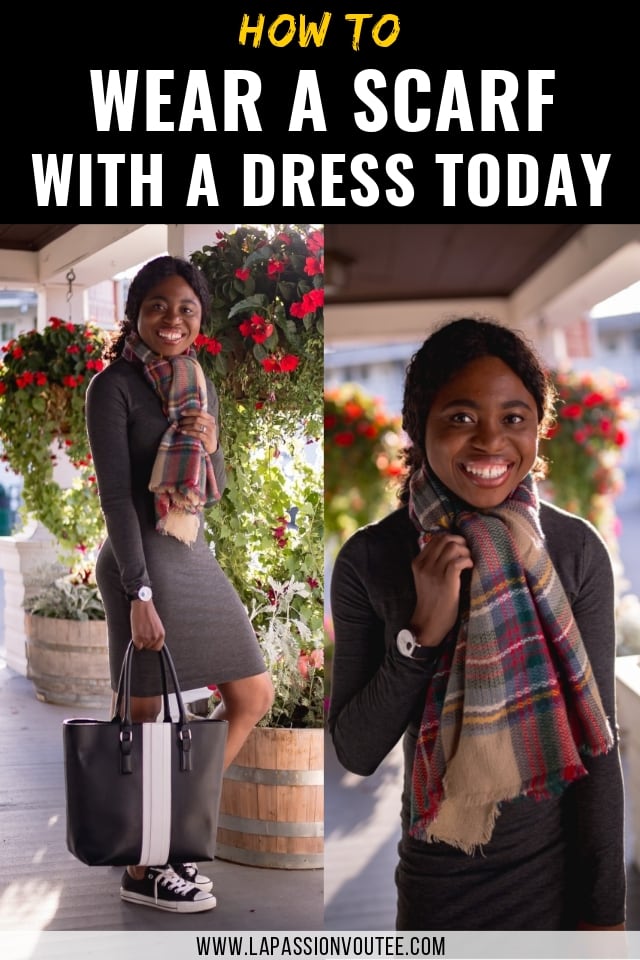 As I write this post, my twin sister and I are on a quick girls' trip to Hawaii for our birthday. Getting away from Alaska is a nice reprieve from the cold: step on the breaks winter! Today, I'm sharing with you how to wear a scarf with a dress.
Shop The Look: Click on Image to Shop

Pairing a scarf with a dress is a great transitional look from summer to fall.
I'll be the first to admit that the weather is much colder than it was when we shot this outfit. Once again, the magnificent birch trees have been stripped off their stunning yellow and orange leaves.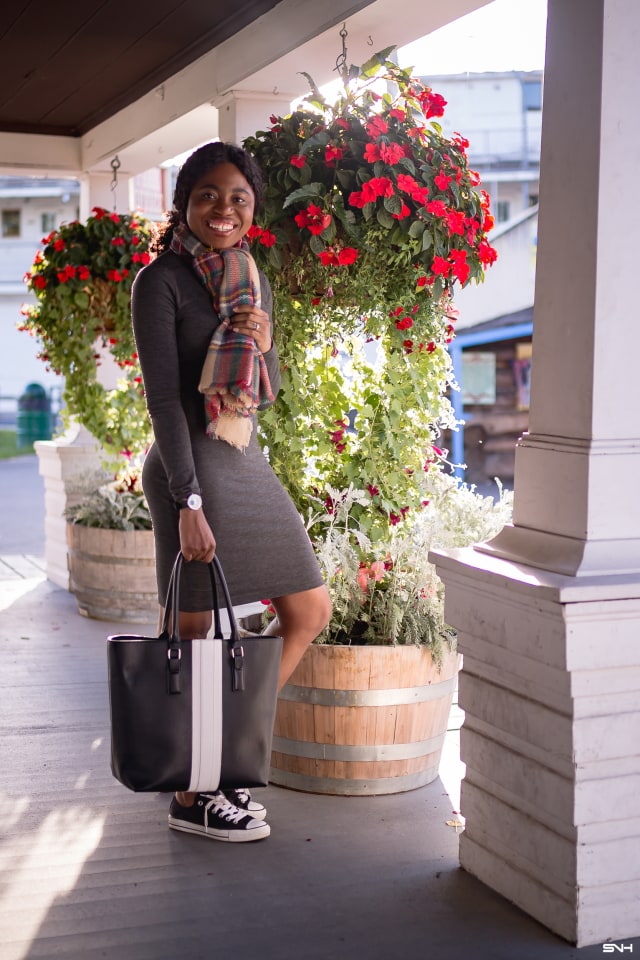 But for the readers who live in a warmer climate (hello Lower 48!), this might very well be your go-to outfit right now.
So, how exactly do you style a scarf with a dress? Glad you asked!
How to wear a scarf with a dress
For starters, there are a plethora of ways to wear a scarf with a dress. It all comes down to the type of scarf (blanket scarf, oblong scarf, skinny scarf, neckerchief…), the style of dress (midi, maxi, formal, cocktail…), and the occasion (everyday style, wedding, work..).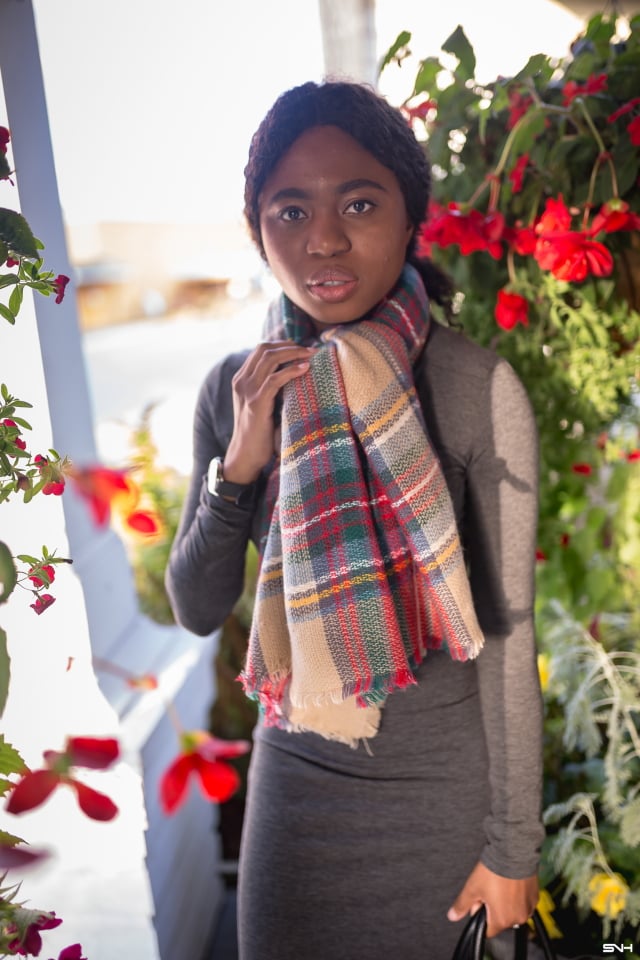 For this look, my choice was to dress for a casual, everyday look. Matter of fact, this laid-back scarf outfit is a style you can find me wearing on chilly days away from work.
While I think that the Converse low-top sneakers give this look a youthful appearance, I believe anyone (even if you're in your 50s) can pull off this casual look.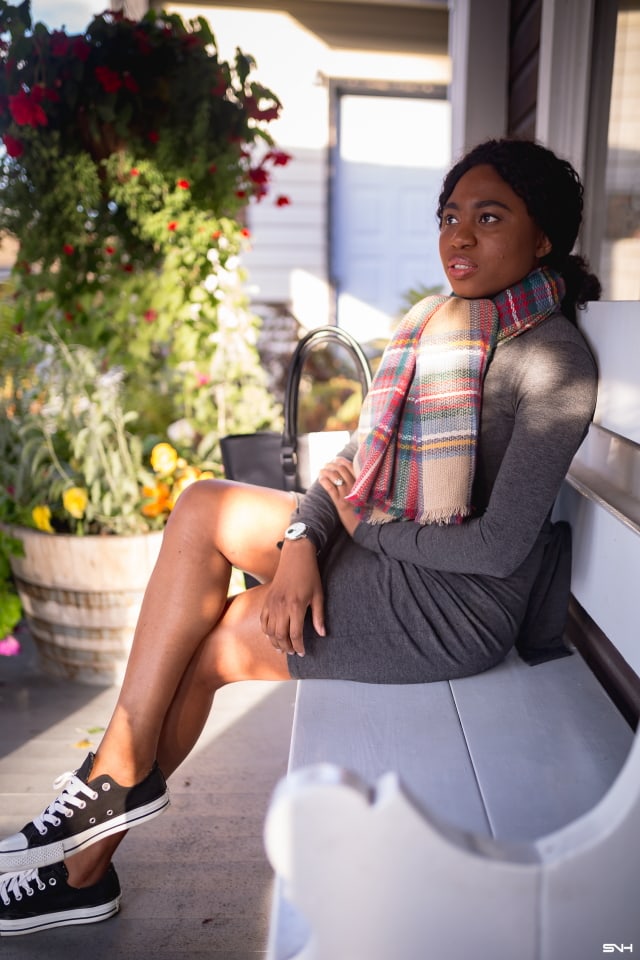 This outfit consists of a simple fitted jersey midi dress paired with All-Star Converse sneakers. Midi dresses are a wardrobe staple, and Converse sneakers have been around for a very long time that we could consider them a timeless piece.
My point is, what makes this outfit unique is not the midi dress or the sneakers but the accessories I've chosen to style the outfit with.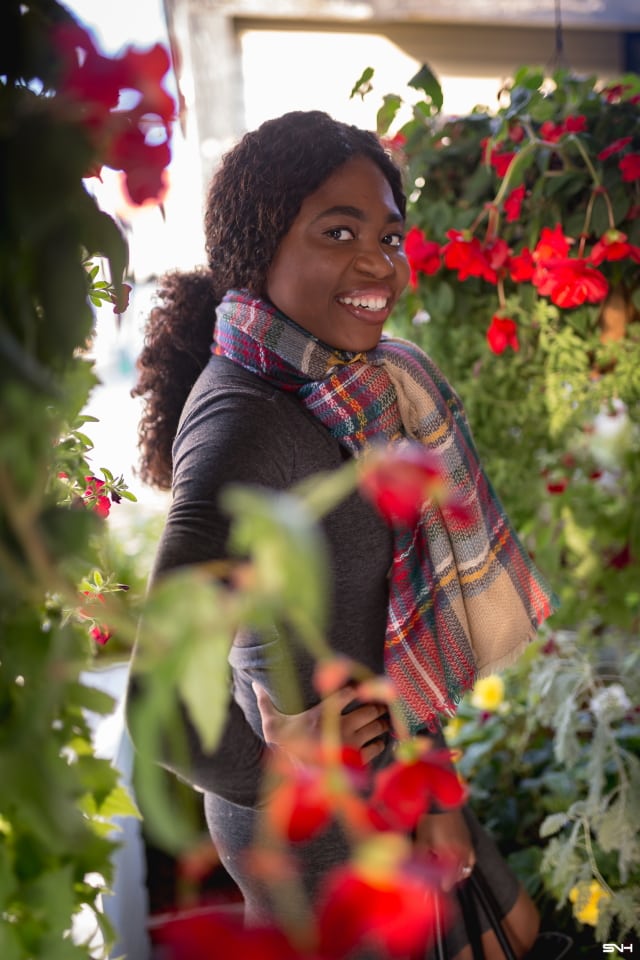 You'll notice that I played with the colors of my sneakers by going for a black and white tote bag. The two-tone purse brings the entire outfit together without being an obvious, matchy-matchy accessory with the sneakers. And a plaid blanket scarf with varying colors adds a burst of colors to this sterile outfit.
For reference, I am a size 4. 130-ish lbs, 5"5, and 8.5/9 in shoes.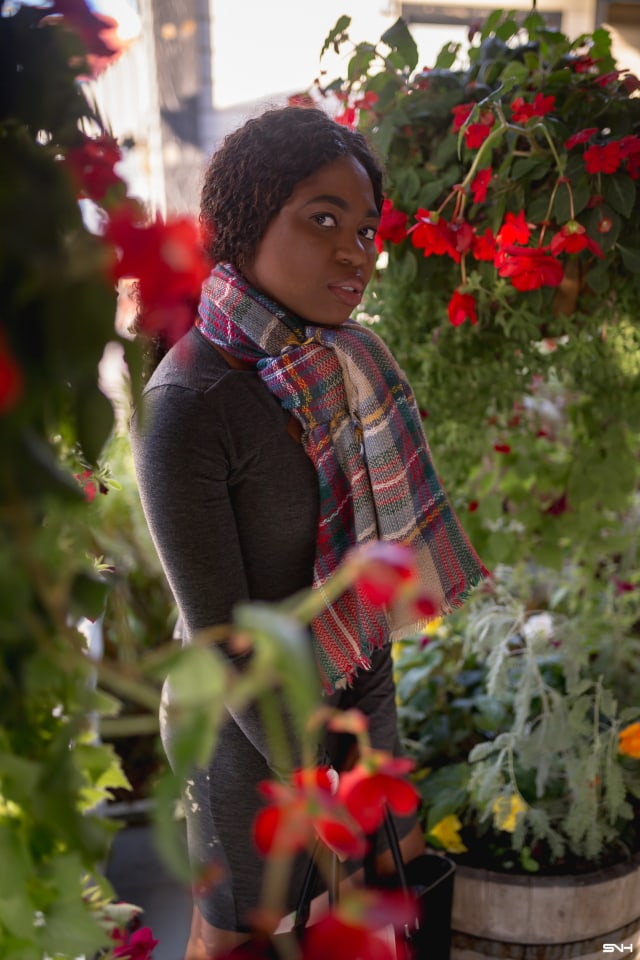 I used the blanket scarf as a neck accessory by tying a simple knot around my neck. There are many ways to wear a scarf around your neck, which I hope to cover in future posts. One of my favorite styles is to style a scarf with skinny jeans or a long scarf over a casual work wear.
Rather than opting for a print scarf that matches the shades of my outfit, I chose to go with a bright scarf for a pop of color. Choosing a colorful blanket scarf makes the scarf a focal piece of my look.
This particular plaid scarf has amassed over 1,200 four-star reviews on Amazon. And priced decently at under $20! The quality is comparable to the Madewell blanket scarf that I purchased during the Nordstrom Anniversary Sale that cost almost three times as much.
The Best Blanket Scarves on Amazon
If you're looking for a nice pair of sneakers for everyday outfits, I recommend these Converse All-Star sneakers. Once you break into them, they are comfortable enough to be worn almost all day.
The sneakers also have a cushioned insole to give your feet some relief. They are easy to clean and age well. I bought mine in 2015, and it still looks as good as new.
Here's an old but relevant video on how to wear a scarf with a dress:

Anyways, you'll notice that I barely have any jewelry on and minimal makeup to match the overall aesthetic I was going for. The classic dial watch is the only jewelry I wore. It is actually a smartwatch with sleep and activity tracking.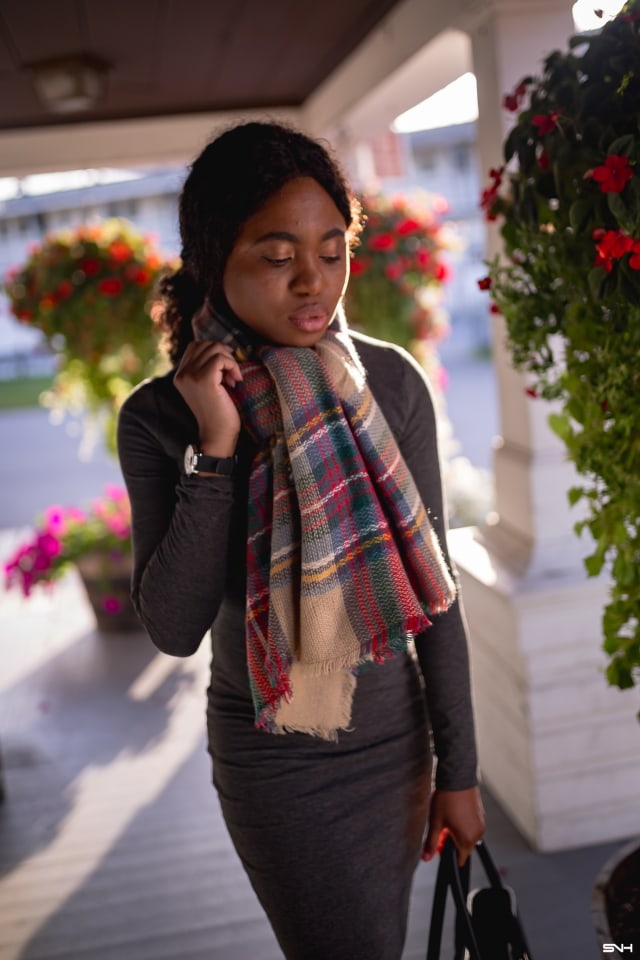 The battery life is phenomenal at over 20 days per charge. This is an excellent alternative to the FitBit Blaze and Apple Watch for those looking for something a little more classic, timeless, and inconspicuous.
My heather gray jersey midi dress (similar) is an oldie from last year, but I found some close alternatives for you. This one from Nordstrom was a hit last year, and it comes in a variety of colors.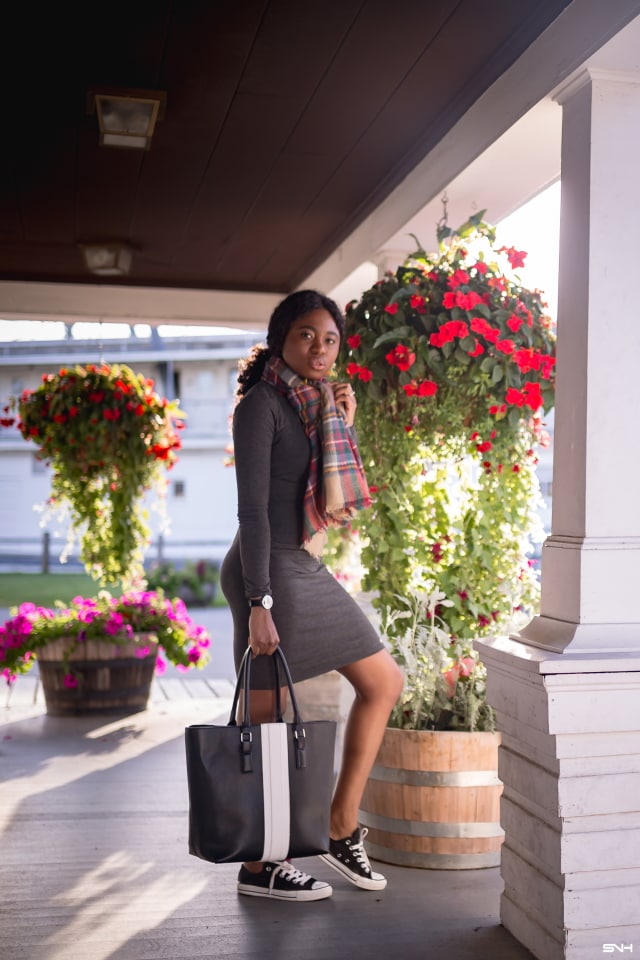 I've also bought a few midi, and maxi jersey dresses from Boohoo. You'd appreciate how inexpensive this one ($8!) and this one are. Plus Boohoo routinely has a promotion going on with free shipping to the US.
I hope you enjoyed reading this post on how to wear a scarf with a dress this season. I have more scarf outfits lined up as well as a how-to post on how to tie a scarf in many different ways. Thank you for stopping by.
I am wearing:
Jersey midi dress (similar)
Black & white tote (similar)
Nokia activity watch (exact)
Amazon square blanket scarf (exact)
Converse Chuck Taylor low-top sneaker (exact)
Photos by SNH Photos
Interested in more ways to style a scarf? Check out these popular posts:
PIN FOR LATER!