A Full Day Shopping at Anchorage 5th Avenue Mall
This post may contain affiliate links which means I will get a commission if you make a purchase at no additional cost to you. As an Amazon Associate I earn from qualifying purchases. Please read my disclosure for details.
Thanks to Anchorage 5th Avenue Mall for collaborating on this post. All opinions expressed in this post are my own.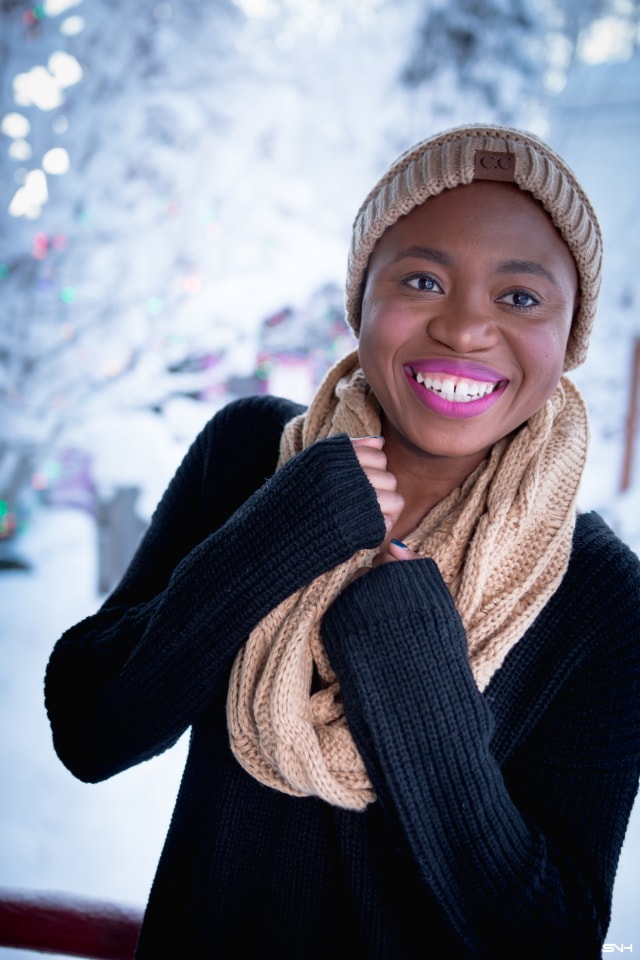 First thing first, Happy December! Today I'm taking you behind the scenes on a day out with me in Anchorage, Alaska. A couple weeks ago I spent a full day at Anchorage 5th Avenue Mall. I shared live updates on Instagram Stories including how I almost missed my flight because there were two moose on my street!


It was a short one hour flight from Fairbanks to Anchorage. On arrival, I picked up my rental and made my way to the gorgeous Sheraton Hotel on 6th Avenue. It felt good escaping the Fairbanks -20ºF for the 15ºF in Anchorage.


The next morning, I made the quick drive to Anchorage 5th Avenue Mall for some shopping. Ashlee, the Marketing Director, gave me a tour of the mall. If you're from out of state, you'd be impressed to find such a gem in Alaska. This huge mall hosts over 85 retail partners and even has an upscale restaurant with live performance (Sullivan's Steakhouse).


The 5 retailers/partners I spent most of my day (10 am – 7 pm) at were:
Starbucks

Sephora

Banana Republic

Aerie

Apricot Lane

Sullivan's Steakhouse
STARBUCKS
I started off my day with a cup of coffee at Starbucks. I was at Anchorage 5th Avenue Mall on Saturday, the day after Black Friday. The vibe at the mall was refreshing. There were people shopping but the crowd was not overwhelming. Starbucks was, as you would expect, busy. A treat to a Starbucks pumpkin latter was just the kick I needed to start off my day shopping and exploring (thanks, Ashlee!).
SEPHORA
My first stop was at Sephora. Like a ritual, I took a quick scoop of the store. I needed to refresh my beauty routine and stock up on some products that I was running low on. Since we don't have a local Sephora in Fairbanks, I took advantage of the opportunity to get a one-on-one makeup transformation. Chelsea totally upgraded my look with a flawless makeup.
I ended up with a basket full of products I wanted to take home with me! Take a look:

Feeling like royalty, I was ready to refresh my wardrobe.
---
BANANA REPUBLIC
After a quick detour to Victoria's Secret, I made my way to Banana Republic. I talking with staff to get some recommendations. They have firsthand knowledge of their bestselling products and suggestions on pieces that might work for me. Something often lacking in online shopping experience!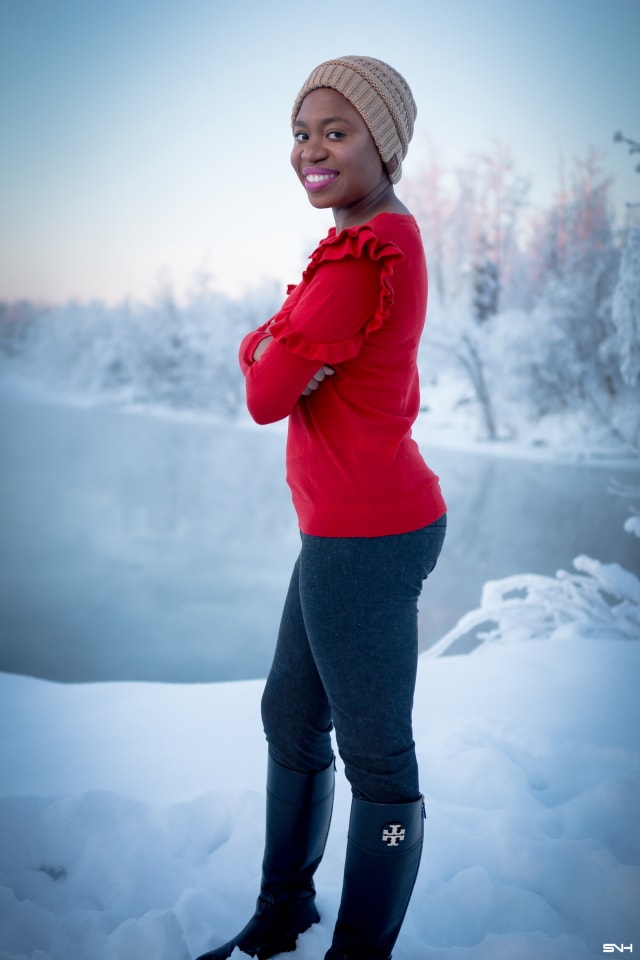 John gave me the lowdown on the hottest Banana Republic styles this season. From dramatic ruffles and scallop hems to cocktail dresses and workwear. Mary-Lo was really kind and she gave me great feedback on pieces I tried on.


I spent so much time at Banana Republic that my phone battery died. Here's an Insta Story wearing some of the items I took home with me. Watch me break into my happy dance! 🙂
Ruffles, off-the-shoulder, scallop and asymmetric hems were the IT products last summer. Not surprisingly, this trend has transitioned well to fall and winter. So when John told that this ruffle sweater (in black and red) were flying off the shelves, I wanted in on the action. Here's a quick look at the sweater, did a quick shot for you once I got back to Alaska.
The weather was bitterly cold (-7ºF) so I kept my look simple. I've already rocked this ruffle goodness a few times already. It is going to be on repeat for months to come. Sadly, the sweater already sold out online but you might be able to get it in store. Don't walk, run!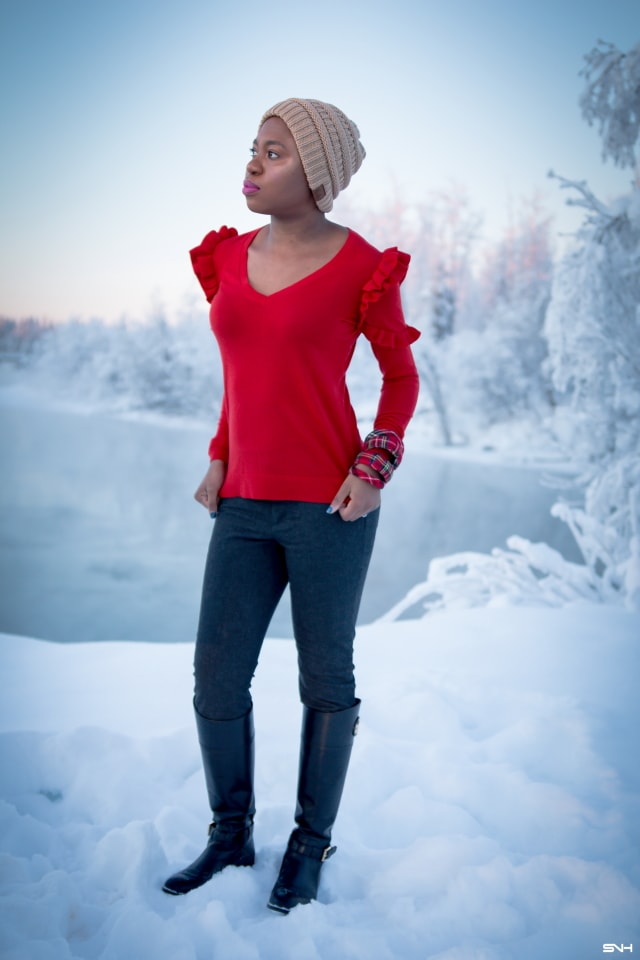 ---
AERIE
Feeling satisfied with my picks, I checked out and headed to Aerie after charging my phone for about 20 minutes. We all know that Aerie is loaded with a lot of cute and comfy pieces. From the first time I laid eyes on the in-store display, I had my eyes set on getting this loungewear set.
I literally wanted everything in the store but I had to hold myself back. I let Jolene pick out an outfit for me. She asked me what my preferences were before picking out a super soft side-tie sweater and a cozy pair of leggings. Immediately, I got excited about athleisure wear.
A quick fitting room Insta-Story:

Just as I stepped out of Aerie, I looked at my watch and realized that I was running short on time and still hadn't been to Aerie. I picked up my phone and rescheduled my flight. This is what happens when you're having a good time and lose track of time 🙂 Thankfully, Alaska Airlines has an accommodating flight change policy. Blame it on the fun I was having!
---
APRICOT LANE
My last retail stop was at Apricot Lane, a mother-daughter boutique known for its on-trend apparel and accessories for women of all ages at very affordable prices. I had the pleasure of meeting the owner, Ann Marie earlier in the day. She shared her personal story on how she was inspired to start her very own Apricot Lane in the heart of Alaska.
Apricot Lane is packed full with a ton of phenomenal products. From corner to corner, I was oohing and ahhing! Ann Marie and BEX were gone for the day when I returned but Pamela and Cheyenna were a delight. Pamela made a few amazing recommendations. She also brought my attention to this insulated leggings. I ended getting it in two colors 🙂
There was no shortage of pretty dresses and cozy sweaters to try on. With the subzero temperatures, I had my mind set on revamping my winter wardrobe. Take a gander!
Apricot Lane had me do a fun challenge for me. I was to create a complete look for $100. Initially, I assumed it'll be tough to do but once I explored the store's selection of items, it was a no-brainer. The hard-to-beat prices combined with their holiday discount made this a super fun activity. The result? TWO sets of outfit under $100 each!
This head to toe look (excluding the boots) from Apricot Lane cost a total of $92. I also bought a second pair of leggings, the grey peek-a-boo sweater, the tie front midi dress and a yellow scarf for a grand total of $220.80. Check out my under $100 outfit from Apricot Lane at Anchorage 5th Avenue Mall.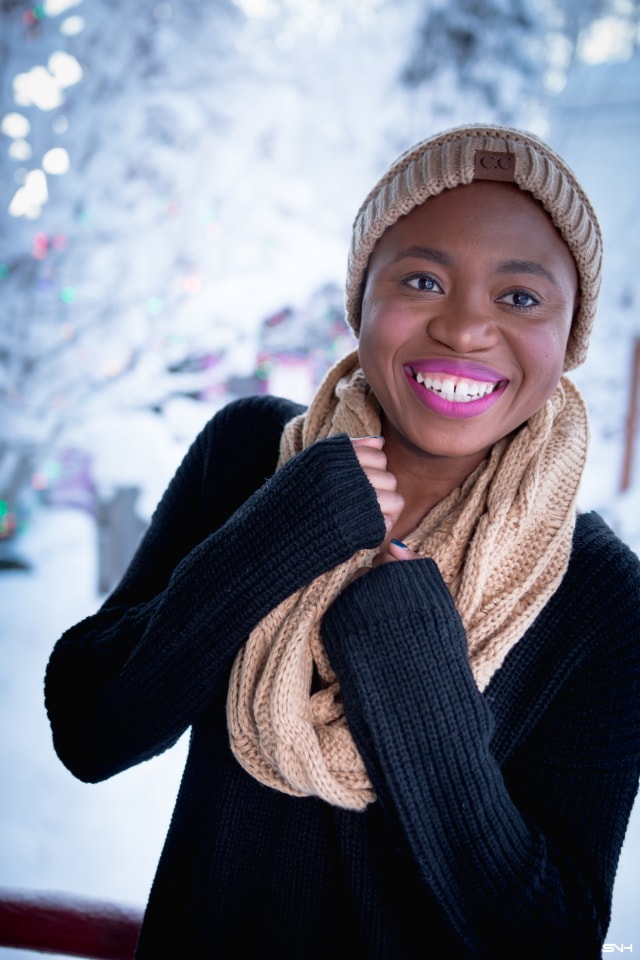 ---
SULLIVAN'S STEAKHOUSE
After hours of running on coffee and excitement, it was time to grab some food. I took a seat at the bar at Sullivan's Steakhouse. Not only was the food delicious, the staff was amazing! I took my time savoring every bite as I listened to live music.


Joe, the general manager was checked on me. The food was perfect. A bowl of soup, tender steak, and molten chocolate later, I was ready to head back to Fairbank, a little reluctantly if I might add.
BACK HOME
I had phenomenal time shopping at Anchorage 5th Avenue Mall. The atmosphere, the people, and retail options felt like a perfectly composed symphony. If you're visiting Anchorage, Alaska for the first time, you would be pleasantly surprised to see a mall of this magnitude in this winter wonderland.


If you are visiting from out of state, need a few items or need a break from the great outdoors, there's plenty to do and see at the Anchorage 5th Avenue Mall. I only visited a handful of retailers during my time there. I instantly knew that I was back to Fairbanks, Alaska when I checked the weather.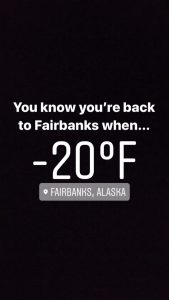 I can't wait for my next visit to Anchorage! Thanks to Anchorage 5th Avenue Mall (a Simon Hall) and all the retail partners for hosting me and for letting me run wide in their stores. Thank you for reading!
Professional photos by SNH Photos
Interested in more Alaska-related topics? Check out these popular posts: