19 Best White Elephant Gifts Under $20 For 2023 (Everyone Will Fight For These!)
This post may contain affiliate links which means I will get a commission if you make a purchase at no additional cost to you. As an Amazon Associate I earn from qualifying purchases. Please read my disclosure for details.
It's that time of the year again! This means your month just got several times busier shopping for everyone on your list. Now add that secret Santa or white elephant party to the mix.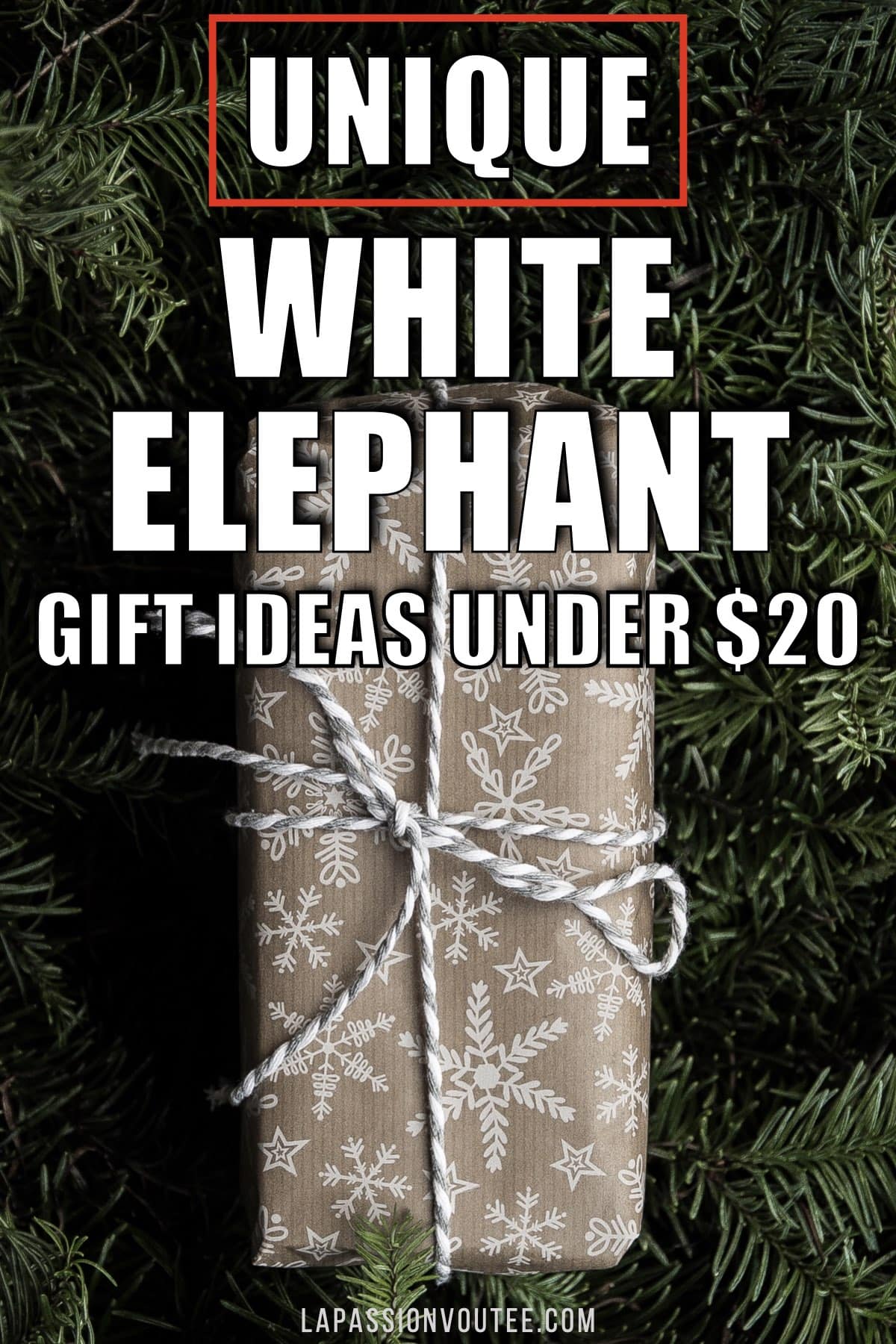 Introduction
You'll love this roundup of the best white elephant gifts under $20. With this list of unique, funny, practical, and gag gifts, your friends, colleagues, family, and even your boss will agree that you're the best gift (not that this is a competition).
No time to read? These are the 5 best white elephant gifts that'll make your coworkers, friends and family smile this season (under $20):
Last update on 2023-09-30 at 21:11 / Images from Amazon Product Advertising API
19 Fun White Elephant Gifts Under $20
Let's cut to the chase! Keep scrolling to discover our top recommended Yankee swap or white elephant gift exchange ideas. From adult coloring books, Scratch maps, and shot glass molds to sushi socks boxes and the "death wish coffee," these gifts will get you into the festive spirit.
Do you have a friend that can't put a filter on swear words? Or maybe a colleague that has "too much" filter? This under $20 white elephant gag gift will surely bring out their true colors (no joke intended). Also worth checking out is this Drinking Animals Adult Coloring Book perfect for the party animal.
And in case you needed to know, neither the Drinking Animals Coloring Book nor the People of Walmart Coloring Book are for kids. Don't forget coloring pencils too!
What's not to love about this silicone tea infuser? It's the perfect way to kick your morning to the "tropical" vibe. The playful animal design will put a smile on your face.
Got a grumpy coworker? Gift them this BPA-free, reusable silicone tea infuser for loose-leaf tea. It's easy to clean (dishwasher and microwave save) and comes ready in a colorful gift box. The Llama tea silicone infuser is a fabulous alternative.
With so many of us working from the confines of our homes, this cactus humidifier would be a secret Santa gift that anyone would be happy to have.
And what's even more exciting is that this cactus humidifier fits right into a USB outlet and shuts off after 4 hours, making it a perfect reminder to take a break midway into your workday.
The silent feature of the humidifier prevents any interruptions/noise during Zoom calls. Plus, let's be honest, this is one cute yet functional gadget.
Ever met that person that can't live without Sriracha? I know, I know! Gift them this under $20 Sriracha keychain set so they'll never run out of this hot sauce again.
Plus this travel-save, TSA-friendly hot sauce keychain can go wherever they go even if it's 10,000 feet above land. A fun and useful white elephant gift that'll put a smile on someone's face.
Ever heard someone say, "everything tastes better in a glass?" This stylish glass tumbler will remind your secret Santa about what it tastes like to drink odorless, clean-tasting water.
The silicone sleeves add a pop of color while providing a non-slip surface for the perfect grip. And it's perfect for tea, smoothies, and juices.#versatile
How about these edible Ningerbread cookies? These right here would be the perfect crowd-pleaser. And what's even better is that this kit is a gift that'll keep on giving long after secret Santa/white elephant gifting is over.
There's no better way to lighten the mood than with this funny gag gift. Although the Potty Putter toilet golf is not new to the world of funny gifts, this is one gift that'll keep on giving.
Whether the recipient is an avid golfer or not this unique White Elephant party gift will get your friends riled up. And if we're keeping it real, there's no harm getting some extra putting practice during this holiday season. Or alternatively, try this Potty Fisher Toilet Fishing Game!
Summer has made way to fall and fall to winter. It's only natural that most people gravitate towards things that'll keep us warm and/or cozy. And this coffee mug warmer fits the bill for a practical white elephant gift idea.
And a can't-beat price, this top-rated one-touch button will keep their drink (tea, milk, coffee, or even hot chocolate) warm to the last drop. And the automatic shut-off feature knows when to stay on or off. How cool is that! The compact design makes it fit almost anywhere.
If you love this post about the best White Elephants gifts under $20, you'll love these related posts:
Talk about a small prank or gag gift/white elephant gift idea! Seriously no words to explain this reversible sequin throw pillow. It looks benign on the first inspection.
Just move your fingers through the sequins to reveal the face of Keanu Reeves or Nicolas Cage.
Seen in major movies like The Matrix IV, Keanu Reeves has made a name for himself just like Nicolas Cage so it's no surprise to see their face imprinted on a household item. Now here's to hoping that whoever ends up with this gift from your white elephant party is a big fan of Keanu Reeves.
This mini waffle make is seriously small but mighty. You can whip up paninis, hash browns, biscuit pizzas, and mini waffles with this handy tool. The compact and lightweight design makes this best selling Dash mini waffle maker perfect for small kitchens and campers.
Do you have an avid traveler in your midst? This scratch-off travel map is all the rave right now. The map features colorful, richly detailed drawings with highlights of each state that are fun and interactive. While social distancing, you can reminisce on the travel memories you created in the past.
Nothing screams movie night or relaxation time more than popcorn. Your secret Santa can make fresh-tasting gourmet popcorn in no time with this compact-style hot-air popcorn popper. It's easy to clean and store when not in use.
Why not buy that secret Santa gift that you'd love to get? This is so much better than giving a hard-to-use gift like a toilet light.
Looking for more best white elephant gifts under $20? This little cat night light a practical, energy-efficient way to provide soothing, soft-lighting to a room. Pet-owners would appreciate this functional decorative piece as they fall asleep. This 3D-style night lamp is also a fun alternative.
Here's another under $20 White elephant gift idea that will surely get some good laughs. And if you have a sushi-loving friend or coworker, this secret Santa gift will resonate with them.
These colorful food socks are also practical (can be worn with casual clothes or even suits) and are made with 80% cotton.
Described as the "World's Strongest Coffee," only a self-proclaimed coffee addict (aka a cafephile) can survive the full intensity of the bold and smooth flavor of The World's Strongest Coffee.
One sip of this Death Wish Coffee will get your secret Santa saying goodbye to traditional coffee. I mean it! This Death Wish Coffee will give anyone a serious boost.
It is also USDA-certified organic so you know that you're serving your lady the best of the best. The Death Wish Coffee Pods are an alternative compatible with Keurig, Cuisinart, and other coffee machines.
Are some of the people coming to your secret Santa party a connoisseur of alcohol or knowledgeable in the art of prepping shots? These shot glass ice molds are the perfect gifts.
Once the molds are ready, they look like miniature beer steins. And the fun part is that you can fill the cool shooters with water or juice and fill it up with chocolate, jello, and more.
Who doesn't like the sound of clean and clear music? This little wonder will get everyone turned up and ready to party.
No party? No problem! Your secret Santa can listen to their favorite music, stream YouTube, and even listen to their favorite podcasts with a "surround system."
With a near 5-star rating and an incredible battery life, you won't need to charge this wireless Bluetooth speaker often. Plus, it's compatible with any Bluetooth-enabled device with a connection up to 33 feet away.
And the built-in mic makes it ideal for hands-free calls. Mic drop!
Another handy item that most people don't have but would really appreciate is this portable fabric defuzzer. Heck, I did not even know this was a thing until I discovered them on Amazon.
It's the perfect solution to pilling, sweater fuzz, and unsightly matted fibers. Gift this affordable find as a stocking stuffer. This travel-friendly fabric defuzzer is one of the best white elephant gifts under $20. See what others are saying!
Looking for an awesome white elephant gift that will get used a lot? Try this top-rated handheld fabric steamer.
For those people that don't want to pull out an iron and ironing board, this steamer is a fantastic alternative that gets the job done quickly.
This is one tool I had no idea I needed until I bought one. It should have been a no-brainer since I hate ironing and tend to burn clothes😬.
The best part is that the steamer can be used on more clothing items than irons (think rumpled sweaters and gowns).
The lightweight design and small size make this gift the perfect travel companion for business and leisure. I travel with mine. See what others are saying!
Scrolled to the bottom of this post? These are the best White Elephant gifts ideas under $20 (that literally everyone will be happy to receive):
How Do You Make Your White Elephant Party More Fun?
There are a few things you can do to make any white elephant gift exchange party more fun.
First, set some ground rules about what kinds of gifts are acceptable. This will help to prevent any hard feelings if someone receives a gift that they don't like.
Second, make sure everyone understands the rules of the game before you start. This will avoid any confusion and help to keep the game moving smoothly.
Finally, have a few jokes or funny stories ready to share during the gift exchange. This will help to lighten the mood and make the experience more enjoyable for everyone involved.
By following these simple tips, you can ensure that your next white elephant gift exchange is a success.
Frequently Asked Questions about White Elephant Gift Exchange
Are white elephant gifts supposed to be used?
Typically, a White Elephant gift should be something without value (gag gift). But in recent years, we've seen a movement towards funny, practical, and useful gifts.
What is a good budget for white elephant?
When it comes to white elephant gifts, it's important to find something that is both affordable and humorous. A good budget to keep in mind is $20-$25. This will allow you to find a gift that is sure to get a laugh without breaking the bank.
Is a throw blanket a good white elephant gift?
A throw blanket is a decent choice for a white elephant gift. It's not the most exciting option, but it is practical. If you're looking for a gift that will really stand out, though, I recommend getting one of the suggestions listed above.
Do you put your name on a white elephant gift?
No, you do not put your name on a white elephant gift. One of the best things about a white elephant gift exchange is the element of surprise. Since each gift is anonymous, you never know what you're going to get.
How do you do the white elephant Christmas gift?
Glad you asked! The way it works is as follows: each participant in your secret Santa party brings a wrapped but unaddressed gift and adds it into a pile discreetly (so nobody knows who brought each gift). Each participant draws a number, which determines the order gifts will be picked. The first person grabs a wrapped gift, opens, and reveals the content to everyone. Now it gets interesting! The second person can either "steal" the gift from the first party-goer or pick a new gift to open.
Conclusion
As you might have noticed, White Elephant gifts do not have to be expensive. And if you're going to a holiday party, this roundup of the best and most affordable holiday gift ideas will have you prepared to put your best foot forward. Everyone will fight for these cool gift ideas!
Found this post helpful? You'll love these related posts about amazing gift ideas for this season:
Holiday Shopping Giveaway: $1,000 Cash or Gift Card
I have teamed up with an amazing group of bloggers to give YOU a chance to win: a $1,000 Amazon Gift Card or PayPal Cash to kick off the holiday season!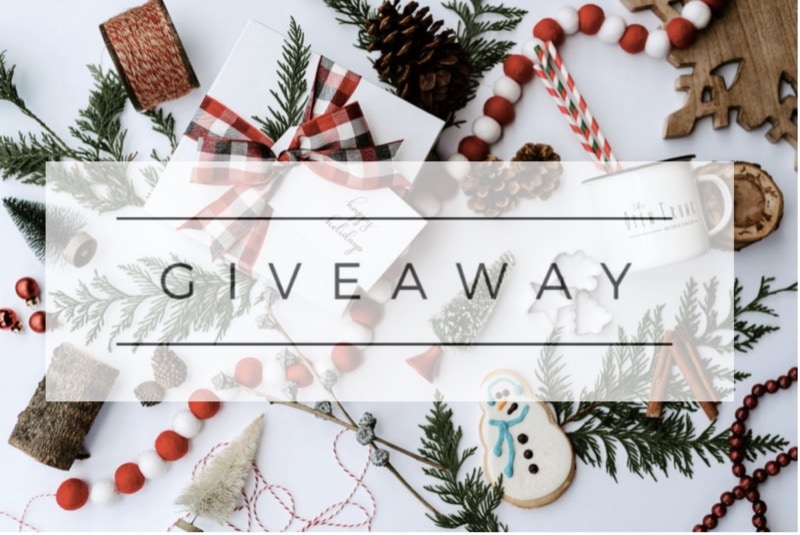 Simply enter below by completing the rafflecopter. You'll receive one entry per completion. This giveaway is open to the U.S. and Canada only and runs until EOD 12/16. Winner will be announced here. Good Luck!
Void where prohibited. By entering the giveaway you acknowledge that you are agreeing to complete each task, which involves following, liking and subscribing to newsletter's.
a Rafflecopter giveaway
PIN FOR LATER!