Best Christmas Gifts for Her under $20
This post may contain affiliate links which means I will get a commission if you make a purchase at no additional cost to you. As an Amazon Associate I earn from qualifying purchases. Please read my disclosure for details.
Hey friends, with only weeks left till Christmas, the pressure to wrap up your holiday shopping is on. You have to start prepping as early as possible so you won't have to experience the peak of the busy season of every store.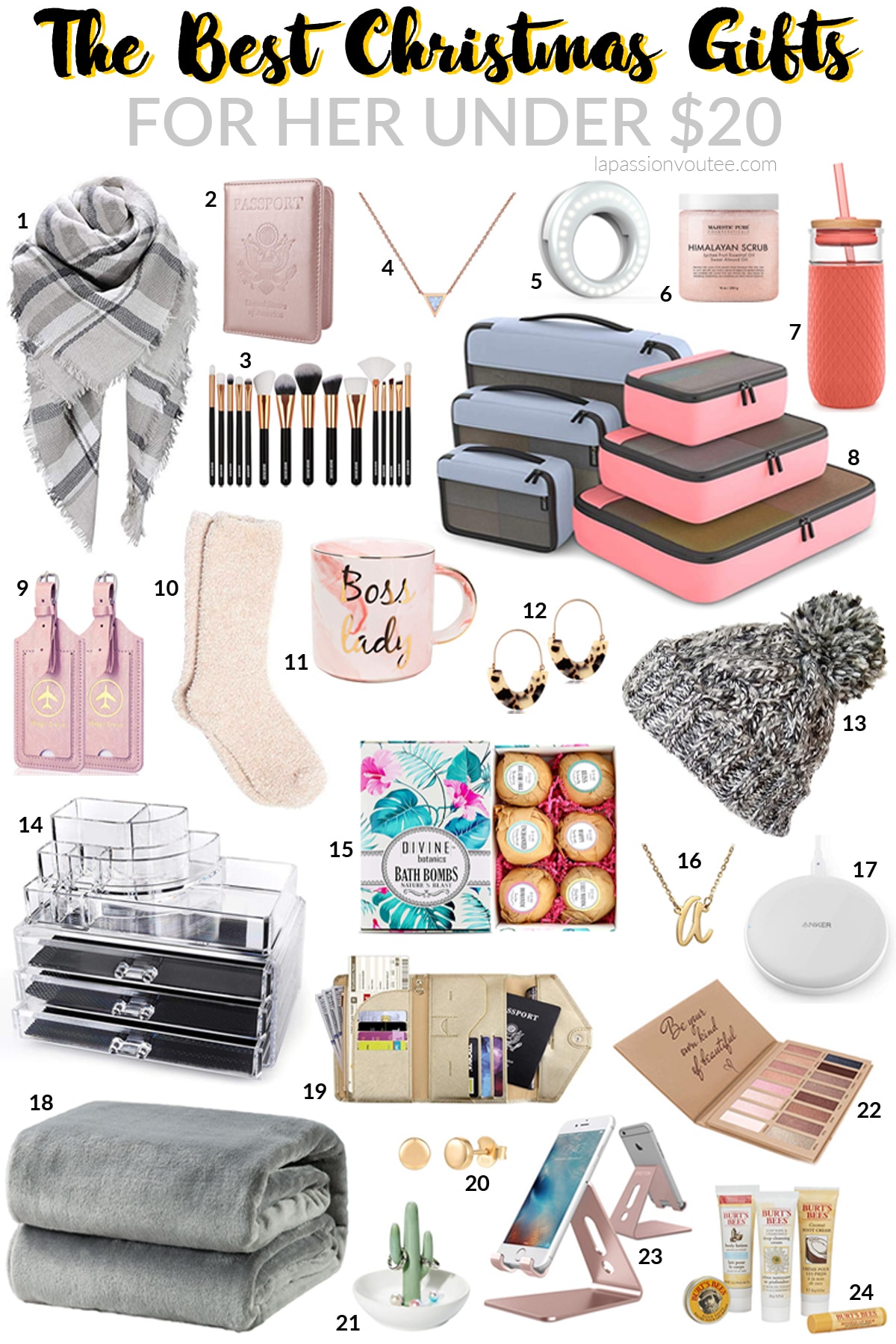 And if you're unsure what to get for women this year, this roundup of the best Christmas gifts for her under $20 might just be what you need.
If you're on the search for an amazing gift for family, friends, and colleagues that will not break the bank, you're gonna want to keep reading.
I bet you've spent more money than you'd like to admit on holiday decor, party prep and hosting, and Christmas shopping from the weeks leading to Black Friday and even up till this month.
But gifts don't need to be extra expensive to make it special. Check out these affordable Christmas gifts for her under $20 that I've rounded up just for you:
23+ Best Christmas Gifts for Her under $20
We can officially say that November and December are two of the most expensive months and the months that put a damper on your monthly budget goals. But it doesn't have to be that way.

These top-rated best Christmas gifts for her under $20 will be a hit while saving you some moolah.
And you know what? These unique gift ideas look way more expensive than they are. Double-pat on the back for you!
For a classic gift that she'll use over and over again, this soft and cozy blanket scarf will be put to great use. And guess what? She can wear this blanket scarf in many ways while staying warm this season.

And once you get her this gift, share this 6 easiest ways to tie a blanket scarf post here 🙂

---
Is she a solo traveler and a wanderlust? This premium RFID-blocking travel wallet and passport holder would make an awesome gift. Versatile, lightweight, unique, and practical with multiple card slots, this wallet is available in various colors and under $15!
How much of a steal is that for the price, don't you think? And peep the cute airplane logo at the upper left that's just so chic!
---
There's no need to spend over $100 on makeup brushes. This 15-piece kabuki foundation brush set will step up her makeup game.

It's amazing that this set also includes a makeup sponge, a brush cleaner (so she'll never have dirty brushes), and a carrying case. Plus, it ships free with Amazon Prime. This deal is almost unbelievable!
---
Jewelry is almost always a hit among ladies. This uniquely crafted 14K layered necklace is arguably the best gift for her under $20, especially if she loves jewelry.
The minimalistic layered design and classic touch make this necklace an easy pick day in and day out. Honestly, I want to add this to my layered necklace collection! 🤭
---
5. LED Rechargeable Selfie Light Ring
Is she all about the "perfect selfie," an aspiring fashion Instagrammer, or just a girl who appreciates a properly lit photo? Say no more and gift her this QIAYA Selfie Light Ring.
This rechargeable LED selfie light with adjustable brightness will be her new companion. With over 3,500 ratings, it's no wonder this on-camera video light is a #1 bestseller. And yes, it's under $20!
---
I don't know any lady who would turn down the opportunity of pampering themselves. This cruelty-free exfoliating salt scrub infused with essential oil and sweet almond oil exfoliates while moisturizing the skin.
It will be any woman's number 1 assistant in removing build-ups like dead cells, toxins, dirt, and all other harmful particles from the pores for a smoother appearance.
Who would say no to that?!
---
If you remember the days when almost every liquid was bottled in a glass jar, you might be of the school of thought that everything tastes better in glass (stain and odor-free).
But if you're looking for a stylish tumbler that would be a great gift, this sleek glass tumbler with an FDA food-grade silicone sleeve will give you peace of mind. It ships free with Prime and is available in 4 different colors.
---
I love, love, love my packing cubes. These organizers would make the perfect gift for the woman always on the go.
Besides helping compartmentalize your belongings, the cubes keep your perfectly packed clothes in place so they stay in place until your final destination. And what's even better is that this high-quality set includes 6 packing cubes.
---
This travel-lover babe won't have to worry about having to write her name on airport-provided travel tags again. These leather tags are durable, stylish, and can be used repeatedly.
Plus, it comes with a lifetime warranty. For a price tag under $10, it's also a unique white elephant gift idea.
---
I can't even begin to tell you how incredibly soft and cozy these Barefoot Dreams socks feel on your feet. If you've ever tried Barefoot Dreams, you can relate. Trust me, this is a pair of socks she'll wear repeatedly.
And if you want to get her a cardigan, I highly recommend this cardi. It's slightly over $20, but it's worth the money. Read my Barefoot Dreams cardigan review to see if this is right for her (and your budget).
---
11. Boss Lady Entrepreneur Coffee Mug
You either have a coffee mug, a tumbler, or both. Gift this affordable, marble-inspired boss lady mug to your boss lady friends this holiday. With its handmade design, no two mugs are the same. The gold text is a classy touch, too.
12. Tortoise Hoop Statement Wire Resin Earrings
And here's a fun set of earrings for the jewelry snob. All things leopard print (or animal print) are huge this season. Show the lady in your life that you know what's up by gifting her a set of this best Christmas gift for her under $20 today.
---
Although this knit beanie hats might not be the most out-of-this-world gift you can get for a woman this year, you're certain that she'll get many uses out of this winter hat before summer comes around.
With a near-perfect rating, you have your t's crossed and your I's dotted.
---
14. Clear Acrylic Makeup/Cosmetic Organizer
This acrylic makeup organizer is the ultimate gift for makeup lovers. I absolutely love the stackable set I bought a few years ago.
The difference is with how well she'll be able to organize all her makeup and makeup brushes going forward.
---
Yup! Bath bombs are here to stay. I love this set, which includes relaxing and intensely moisturizing organic coconut oil, shea butter, eucalyptus, and lavender. Gift this as a set or as individual stocking stuffers.
---
16. Initial A-Z Stainless Steel, Silver and Gold Necklace
There are necklaces, and there are initial necklaces. Show your thoughtfulness with this unique Christmas gift for her in a playful font. Small enough to layer with other necklaces and large enough to be seen from a distance.

And if you're looking for a necklace with more character, check out this Victoria Emerson state map necklace (currently on sale under $15). Get her a map of the state she calls home or where she was born!
---
17. Anker Wireless PowerWave Pad Charger
If she's the lady who can't stand wires, never has her charger, has multiple devices, or appreciates life without the attachment to a charger, she'll love this fast-charging wireless pad charger. It's compatible with both Apple and Android devices. More details below.
---
18. Lightweight Super Soft Cozy Luxury Bed Blanket
This time of the year, it's hard to have too many blankets. And it is better if those blankets are soft, cozy, and feel great on the skin. This fleece throw promises all the good stuff and then some. The price and over 50,000 reviews agree!
---
19. Multi-purpose Rfid Blocking Tri-fold Travel Wallet
A one-and-done travel wallet that keeps her valuables organized and within arms reach. Plus it's equipped with RFID blocking technology for peace of mind.
---
20. 14K Gold Plated 925 Sterling Silver Earrings
These simple gold-plated sterling silver earrings stand out as a great Christmas gift for women who have everything. The minimalist and timeless style makes this earring a great choice for holidays, birthdays, and special occasions.
---
21. Cactus Ceramic Ring Jewelry Holder
Now, this is a gift I can get behind for the lady who has everything. You already know that she loves jewelry. This ceramic ring holder doubles as a ring dish and a decor piece wherever she keeps it. She'll be off to the races showing off or organizing her wicked ring collection.
---
22. Professional Cosmetic Eyeshadow Palette
Is she obsessed with the latest and greatest makeup releases? Although you might not be able to beat her in this field, this top-rated, bestselling eyeshadow palette will be a cherished gift.

The collection of nudes, warm, neutral, and natural tones will be her go-to for everyday use. Also ships free with Prime.
---
23. Adjustable Tabletop Cell Phone/Tablet Stand
I had no idea there was such a thing until I discovered this stand on Amazon. Small but mighty, this stand will allow her to use her phone and tablet hands-free.
She can easily find her phone while it's charging, hop on a video call without needing to hold or balance her hands, watch her favorite shows, or look up recipes in the kitchen.
This stand is something you didn't know you needed until you received it, which makes this portable stand a great Christmas gift for her under $20.
---
24. Burt's Bees 5-Piece Essential Gift Set
Some ladies swear by their Burt's Bee products. This gift set is thoughtful if she falls into this category, appreciates soft, moisturized hands, or uses her hands a lot (cooking, artists, cleaning).

This Burt's Bee collection includes deep cleansing cream, hand salve, body lotion, foot cream, and lip balm. She's covered in every department.
---
Show your concern for her well-being, especially in colder months, with the popular Aquaphor Lip Repair Ointment.
The craze over this ointment has been astonishing. Ladies all over the globe have been obsessed with how great it locks in moisture! So, don't let her miss out on this holy grail and purchase one for her.😉
For a more relaxed, self-pamper session in the shower, let her enjoy her favorite wine without worrying about where to put her glass with this Silicone Wine Glass Holder.
It's the ideal gift, especially if you know she's a wine enthusiast. This wine holder can even be moved wherever you want; peel it off and stick it to the desired location. You'll have to wait 24 hours before using it, though.
Another beauty product that has the ladies in a chokehold is the COSRX Snail Mucin 96% Power Repairing Essence.
Help her achieve that Korean glass skin effect with this hydrating serum. It is made with 96% Snail Secretion Filtrate (Mucin) that helps keep your skin moisturized throughout the day.
This is just the perfect gift for skin care enthusiasts girlies out there!
Still here? Well, looking for a gift in any gift exchange can sometimes really give you a hard time. But, always remember that our favorite gifts to receive are something practical and useful in our everyday lives, just like this Grillaholics Stuffed Burger Press.
Why keep making plain burgers when you can make something creative and delicious with the help of this burger press? It helps you stuff your burger patties with your favorite ingredients as easy as 1,2,3!
29. Mini Maker for Individual Waffles
There's a wide variety of kitchen tools, but the DASH Mini Maker for Individual Waffles makes breakfast classics easily made and enjoyed.
If you're a student looking for gifts for friends, this waffle maker is perfect for any dorm. With its size, you can easily store it in kitchen cabinets or bring it to your friends' dorm if you plan on having a sleepover.
It's a practical gift that not only students will appreciate but across all genders and ages!
Tech gifts are amazing, but if the lady you're planning to gift is fond of mystery cases, put their detective skills to the test with The Murdle: Volume 1.
Help hone their minds with 100 original murder mystery logic puzzles. It is an addictive, fun game that will surely keep them seated for hours trying to solve as many puzzles as they can!
Conclusion
And that was it! I hope you found this hand-picked roundup of the best Christmas gifts for her under $20 helpful. 😊
Regardless of your search for gift ideas for women (friends, mothers, wives, granny), this gift guide has you covered with budget-saving ideas and stocking stuffers she'll love and use.
Interested in more related posts? Check out these popular posts:
PIN FOR LATER!