New In + ShoeDazzle Summer Sales
This post may contain affiliate links which means I will get a commission if you make a purchase at no additional cost to you. As an Amazon Associate I earn from qualifying purchases. Please read my disclosure for details.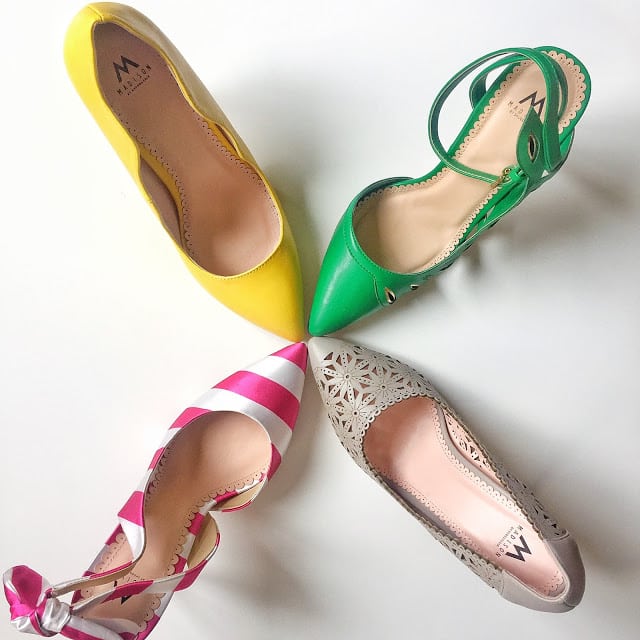 As a fashionista on a budget, I cringe when I spend over $50 on a piece of clothing unless it is a luxury item, which only happens once in a blue moon. On the daily, I'm always on a mission to stretch my budget as far as passible.

Recently on Instagram, I talked about how I was drooling over a pair of a Gianvito Rossi 3-strap pumps that cost $1,015. So I relentlessly searched all my favorite stores until I found a very similar pair on Asos for $54 and on Gilt for $45 (now on sale for $24.99). I ultimately bought the one from +Gilt.com because it obviously cost less and was made from real leather. I'm happy and so is my wallet.
This brings us to our talk of the day. Meet Nena (pink/white strap), Alessandra, Cheska (grey), and Tora (yellow) from the ShoeDazzle Madison collection ($39.95 each). Similarly to the 3-strap sandals, I fell in love with a Taylor Says stripe sandals around this time last year. The price of $149 was a lot more tantalizing than the Miu Miu alternative I was dreaming about. Long story short, I chose to pass up on it. One year later, +ShoeDazzle came out with a very identical style for $39.95 (Nena). My point is:
Shop around if you want something so bad
Find cheaper alternatives to brand name items
Use coupons (one of the beauties of online shopping – you try every coupon code until one works)
Add what you love to you cart and close out of the browser to take time to think it over. Often times, you will get a reminder email to complete your purchase with an additional discount (say 20% off)
Capitalize on sales
As I write this post, ShoeDazzle is having a summer sale. So many of the styles I love have been discounted to as low as $12.95. The sale started on August 7th and runs through August 26th, 2015 and is available to VIP members only. Non-VIP members can get discount by joining VIP at checkout. Discount cannot be combined with VIP credit, store credit or referral credit. You can sign up for VIP HERE and shop the complete sale HERE. These are the current items on my wishlist. Click on shoe image to be taken directly to product. Happy shopping!