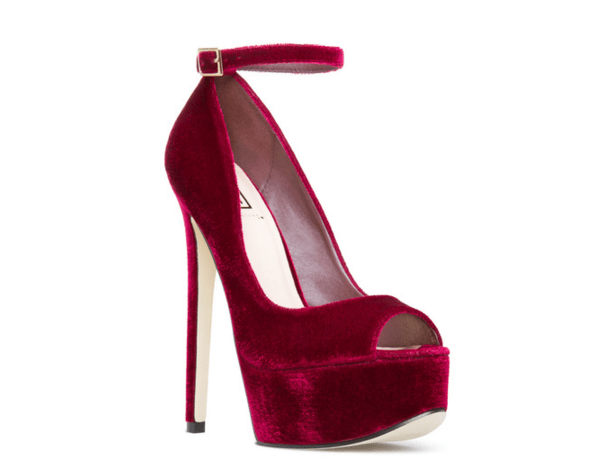 Towards the end of last year, I began to notice a lot of velvet pieces seeping into mainstream fashion. Before long, I started craving to add a few velvety pieces to my collection. And then I spotted this Signature Terrina platform pumps on ShoeDazzle. This open-toe, ankle strap platform sandals with buckle closure definitely reminded of red velvet cake without the calories so I had to get it.

Similar Styles: Option 1 $70 | Option 2 $89 | Option 3 $60 | Option 4 $249
Price: For ShoeDazzle VIP members, Terrina is priced at $39.95 (Reg. $49.95). The quality of the shoe is well above average. Very comfortable, neat workmanship on the suede portion of the shoes. Fairly sturdy to walk in given that Terrina stands tall at 6 inches with a 1.75 inches platform (making it 4.25 inches). A great buy for the style and velvet trend.
Size: With platform heels, I like to size up by half. So I ordered this ShoeDazzle platform sandals in a size 9 and it fits perfectly. The ankle strap also helps to keep the shoes 'glued' to my feet taking off the pressure of walking in heels this high. Product reviews on the website also agree that Terrina is true to size.
Pros: This platform sandals was the best I could get in my price range. It fits well and it is mostly comfortable (don't expect to wear something this high for 8 hours). The color is a rich velvety red and the suede feels really soft (especially the straps) on the skin. There is also a good amount of cushion on the balls of the foot for more comfort. If you are searching for blue velvet sandals, you're in luck as Terrina also comes in saturated blue color.
Cons: Terrina is a little taller than what I was hoping for even though I read the product details. I also had to create an extra hole on the ankle straps to make it fit more snugly. This shoe also takes a little bit of practice to walk in so do not plan to go walking on rough terrain in Terrina.
Buying Advice: This ShoeDazzle Terrina heels (and any shoe this high) is best for special occasions (birthday, graduation, etc) or a sit-down-and-look-pretty event. If you don't have experience walking in 4-5 inches pumps, I'll recommend you buy Terrina with caution or go with the cute chunky and lower heels of option 1 or option 2. Terrina is great for petites looking to add 6 extra inches to their height and ankle straps provide additional support to your ankles. P.S if you decide to get Terrina just make sure you read the VIP monthly membership fine print on ShoeDazzle.