Sweet and Sassy Little Black Dress: Mossman Prim and Proper Dress
This post may contain affiliate links which means I will get a commission if you make a purchase at no additional cost to you. As an Amazon Associate I earn from qualifying purchases. Please read my disclosure for details.
Hello, friends! Today I'm styling this sassy little black dress paired with the cutest strappy sandals and pearl-embellished small tote.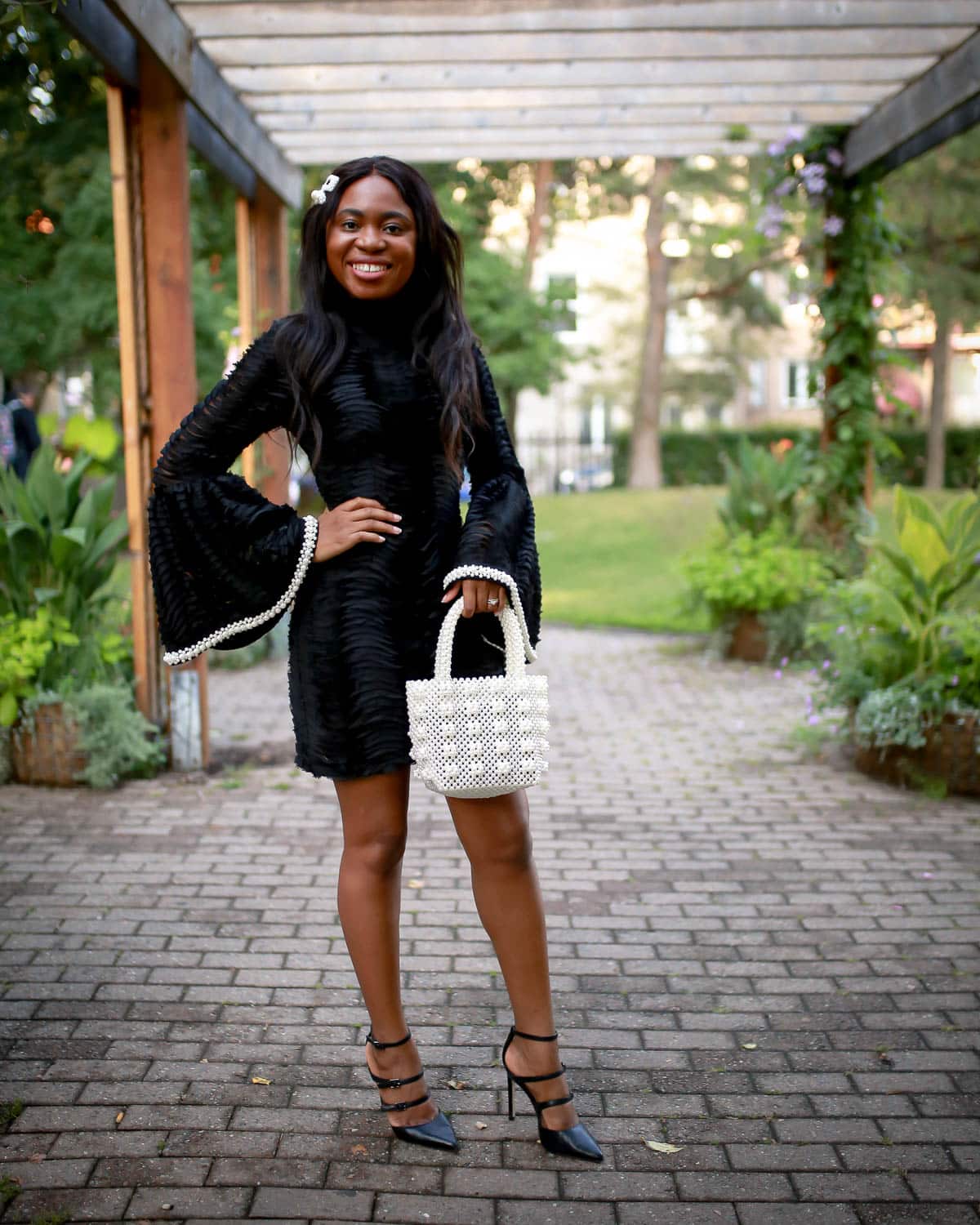 Shop The Look


This Mossman Prim and Proper dress made a debut on LPV last year, but you did not get to see the full details of the dress styled for an event. If memory serves me right, I polled my Insta fam to help me decide.


This sassy little black dress is an oldie, but I found a couple here and here if you're looking for a stunning cocktail dress that has a kick to it. This was one of the few pieces that the folks at Circular Boutique in Anchorage picked out for me.


I tried it on and was like, "wow!" this Mossman Prim and Proper dress is everything and then some.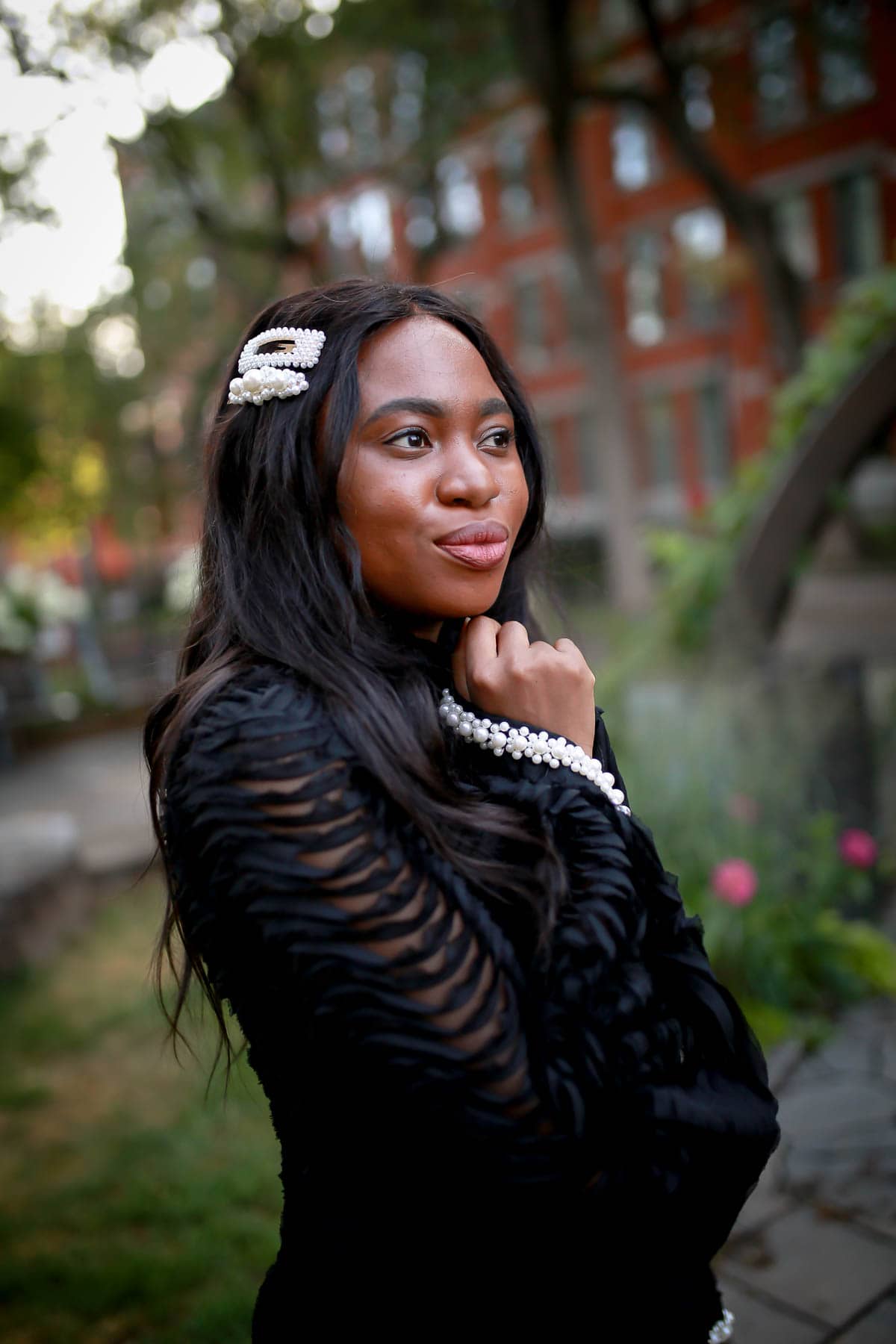 The classy pearl embellishments on the hem of the bell sleeves, the subtle ruffle texture, and the style make this the perfect mini dress for special events like cocktails, holiday parties, weddings, and more.


I finally got to put this dress on full display on my recent trip to Montreal for a wedding.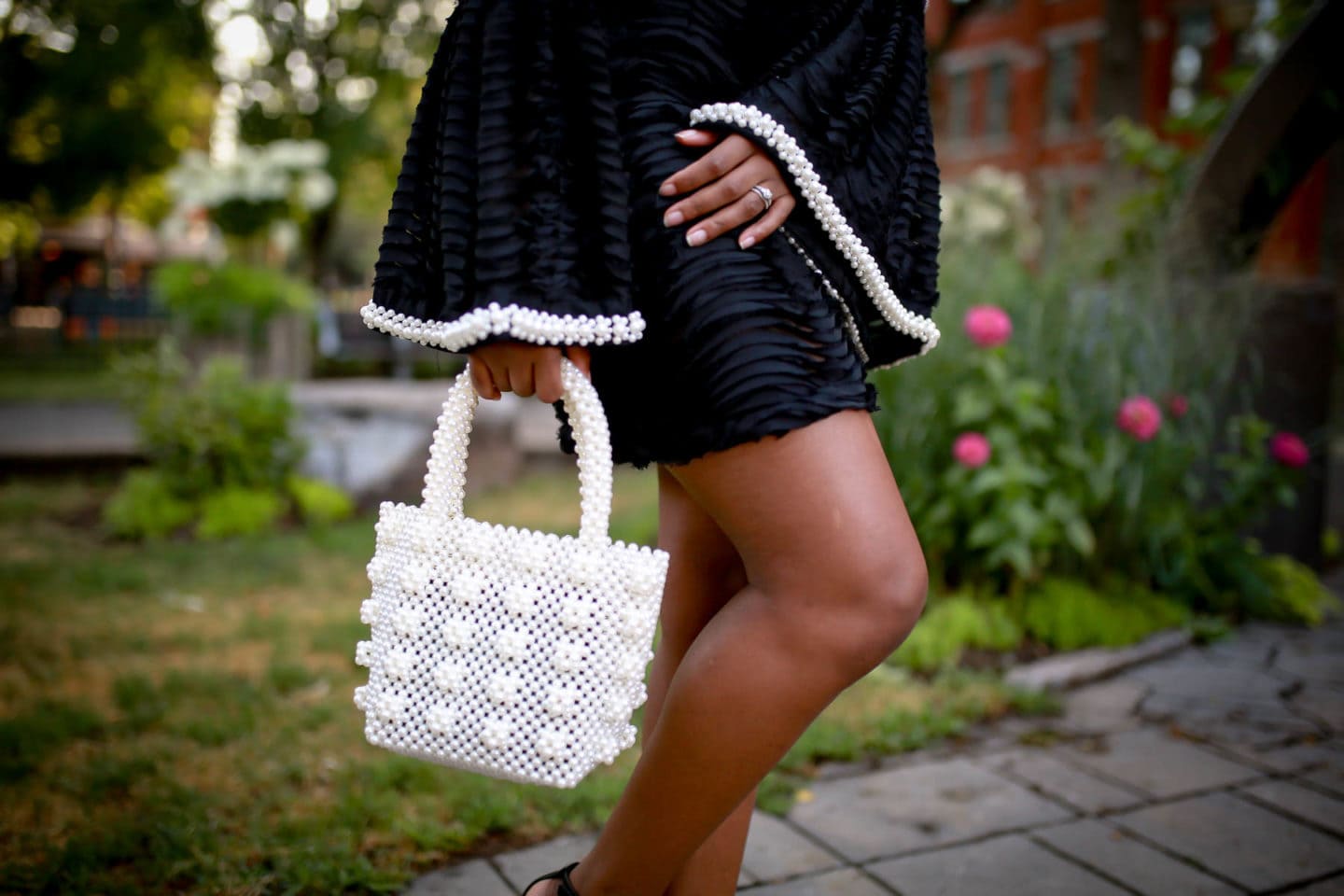 I decided to pair this dress with a chic pearl purse that has been my go-to pearl this summer, a designer-inspired handbag, a couple of pearl clips (these exact ones) for a sweet touch, and multi-strap sandals (similar) that I've had for years.


A simple search on Google will pull up an endless supply of little black dresses. But when you find a unique black cocktail dress like this Prim and Proper dress, it literally speaks to you.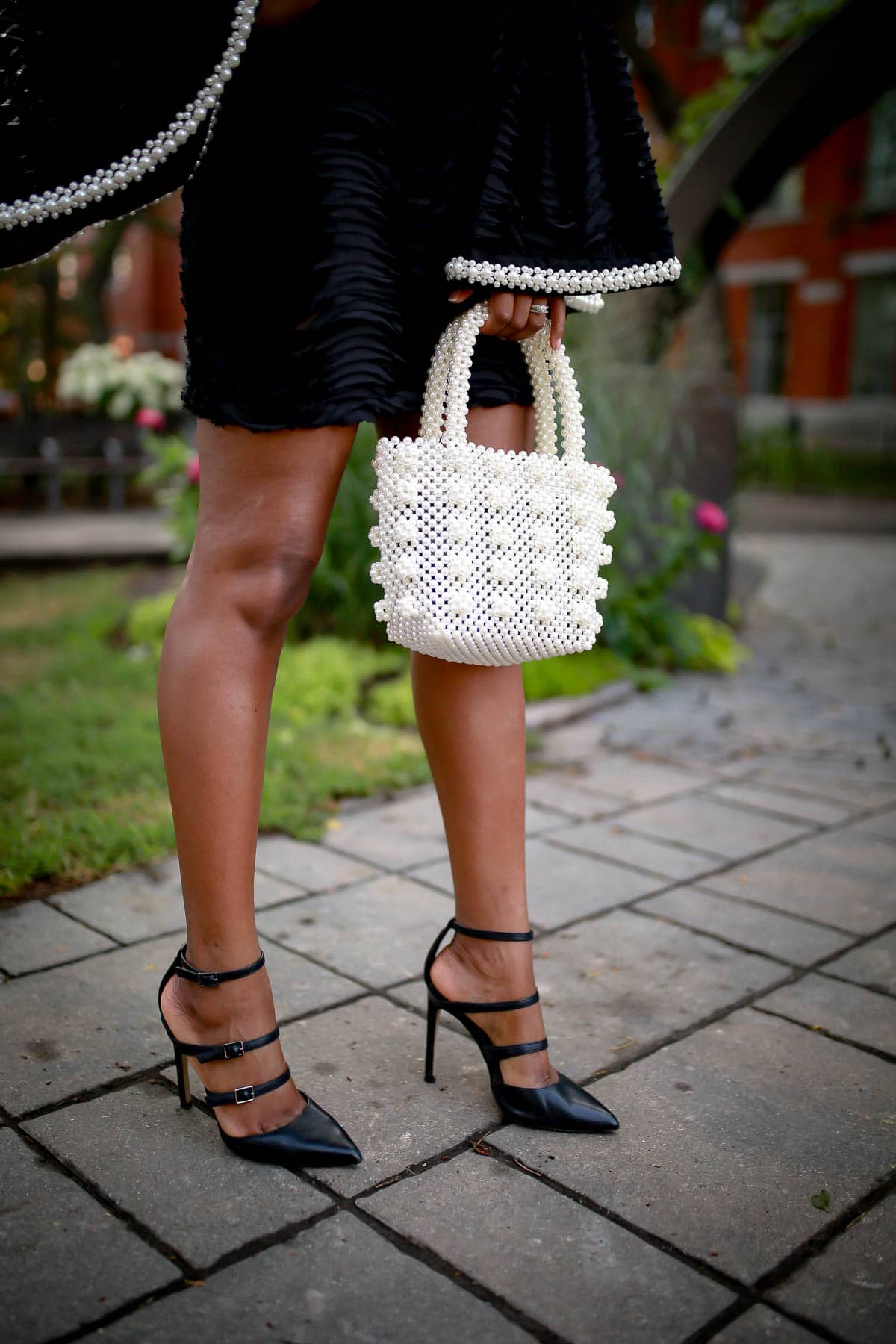 Although the "expected" way to style this dress would be with a pair of sandals like I did here, OTK boots with kitten heels and pointed toes would be another great option this season.


Or show your cute pedicure with timeless high-heeled sandals (like this pair).


While I do think less is more with this dress, you can spice up this outfit with a necklace or skinny belt to accentuate your waistline. I would probably choose a metallic belt over a pearl belt, which I think might be a little much given the ample pearl details.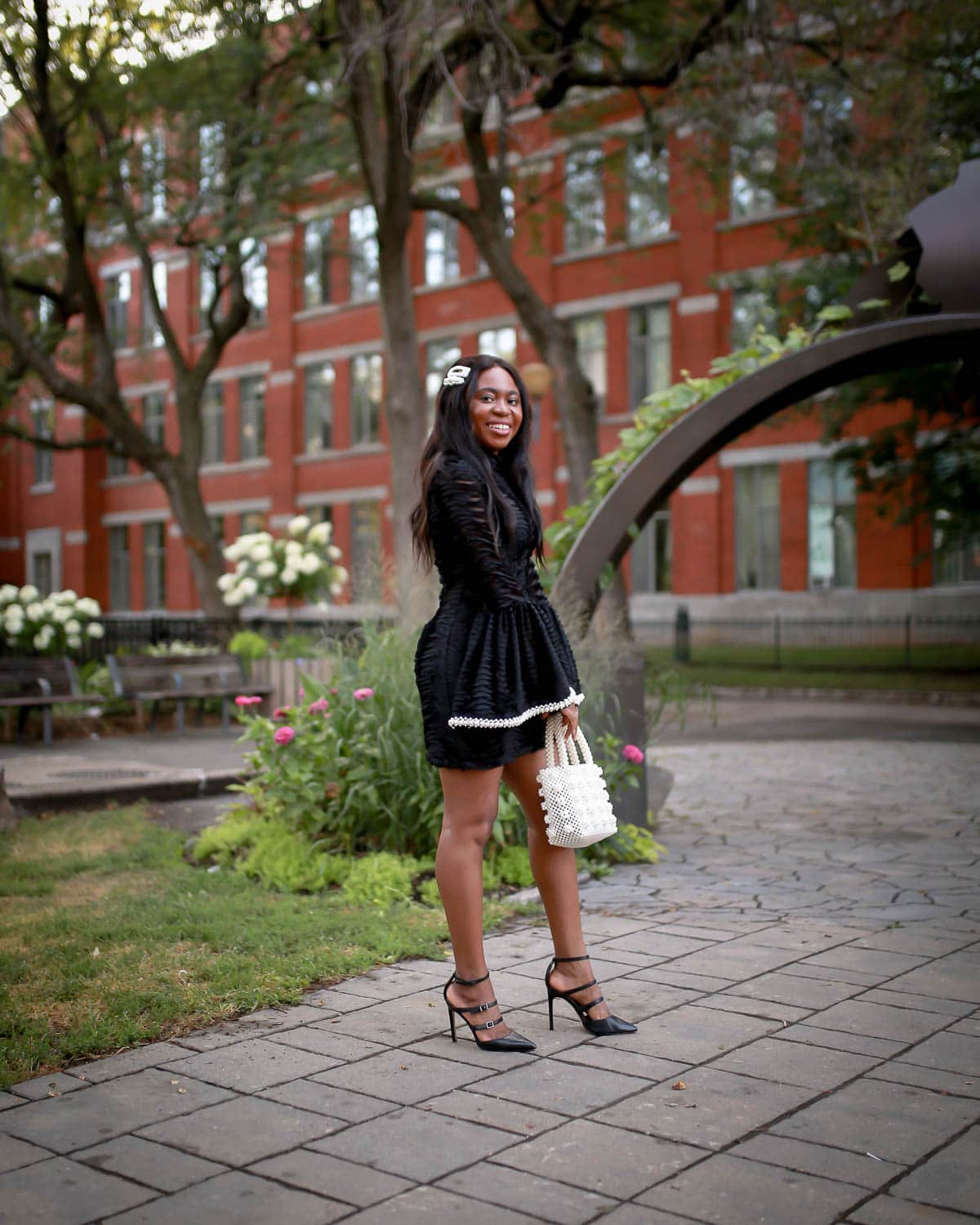 This Mossman black dress with the classic sandals is a modern take to a classic look that's stylish without being over the top. I think this look has a delicate balance between youthful and mature that's sometimes hard to get.


Above all, rocking your look with confidence is what matters. You radiate the vibes you want people to give to you. As always, thank you so much for reading!


I am wearing:
Black mini dress c/o | Pearl tote | Strap sandals (similar) | Pearl clip set
You may also like these posts: Cutest Black Lace Midi Dress | Black Dress for a Summer Wedding? |
Reading this post on mobile? Be sure to download the LIKEtoKNOW.it and follow me "lapassionvoutee" for exclusive, in-the-moment shoppable posts.


Also, available on Android 🙂 It's also the fastest way I can keep you updated on the latest sales and newest styles since blog posts take a lot of time to create. Here's what you've recently missed!