The Cutest Black Lace Midi Dress [+ 15 Amazing Lace Dresses for Every Budget]
This post may contain affiliate links which means I will get a commission if you make a purchase at no additional cost to you. As an Amazon Associate I earn from qualifying purchases. Please read my disclosure for details.
Hey friends, happy new week! I just wanted to pop in to share this cute lace dress outfit with you. I shared it a couple of weeks ago on my Instagram and LiketoKnow.it profiles since those are faster to update than creating a blog post.


I am sharing this black lace midi dress with you because the dress is a winning piece this summer and at a fantastic price that I'd hate you to miss out on.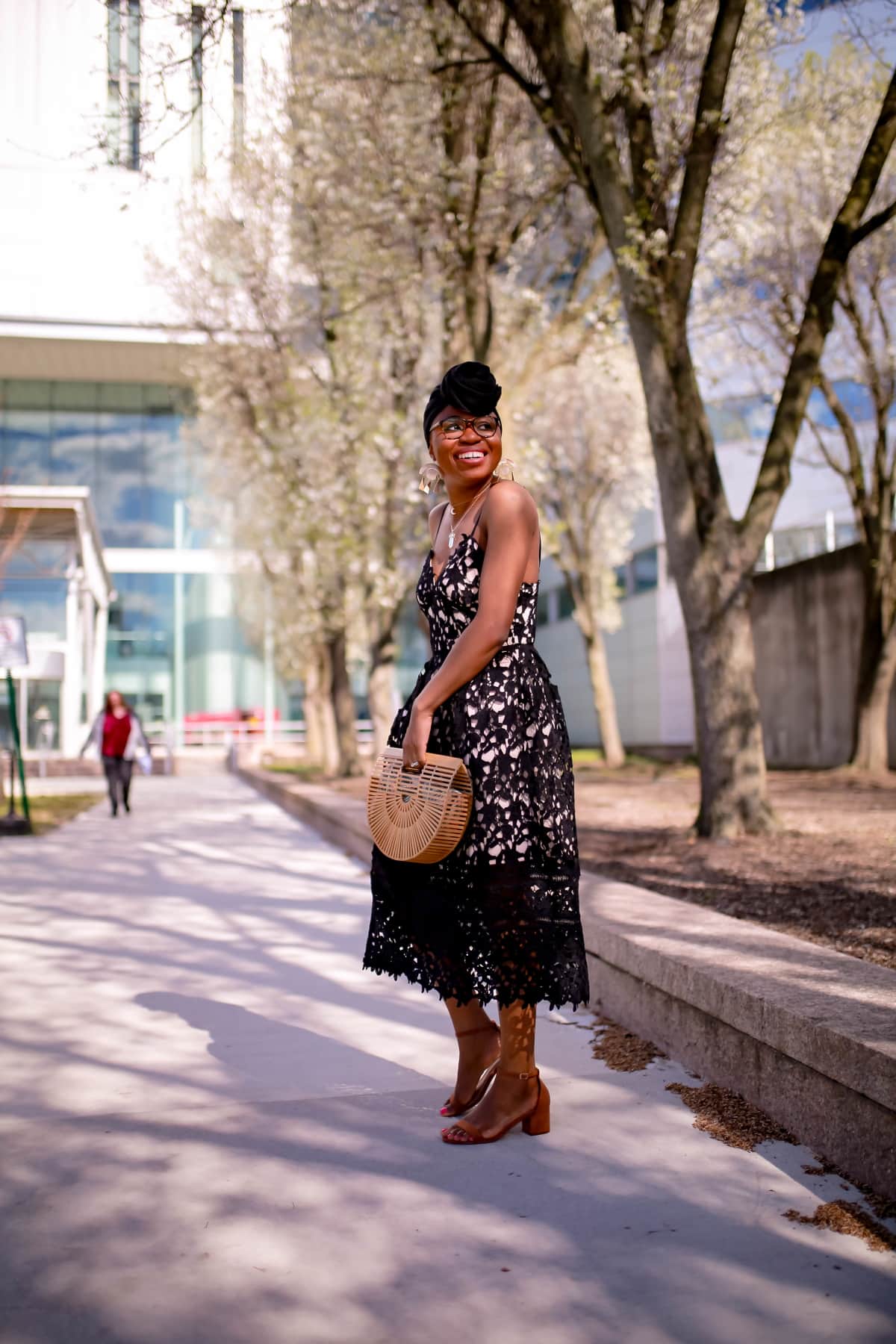 Shop The Look


With Mother's Day, Graduation day and wedding season fast-approaching, this dress will be a hit. If you keep up with the fashion industry/landscape, lace dresses are the new "little black dress."


This silhouette was introduced (or re-introduced depending on how you look at things) to the market a few years ago by Self Portrait. The dresses literally caught fire because they were not only beautiful but layered lace fabric refreshingly.


But the catch was that each dress cost upwards of $300! Now, that's a lot of coins to spend on a dress. So, fast-fashion retailers like SheIn, Amazon, and ShoeDazzle seized the opportunity to create affordable fashion finds like lace dress.


I bought my first Self Portrait lace from SheIn (also known as SheInside) last year. You can view that dress in this post or read my full review to find out if SheIn is a scam or legit.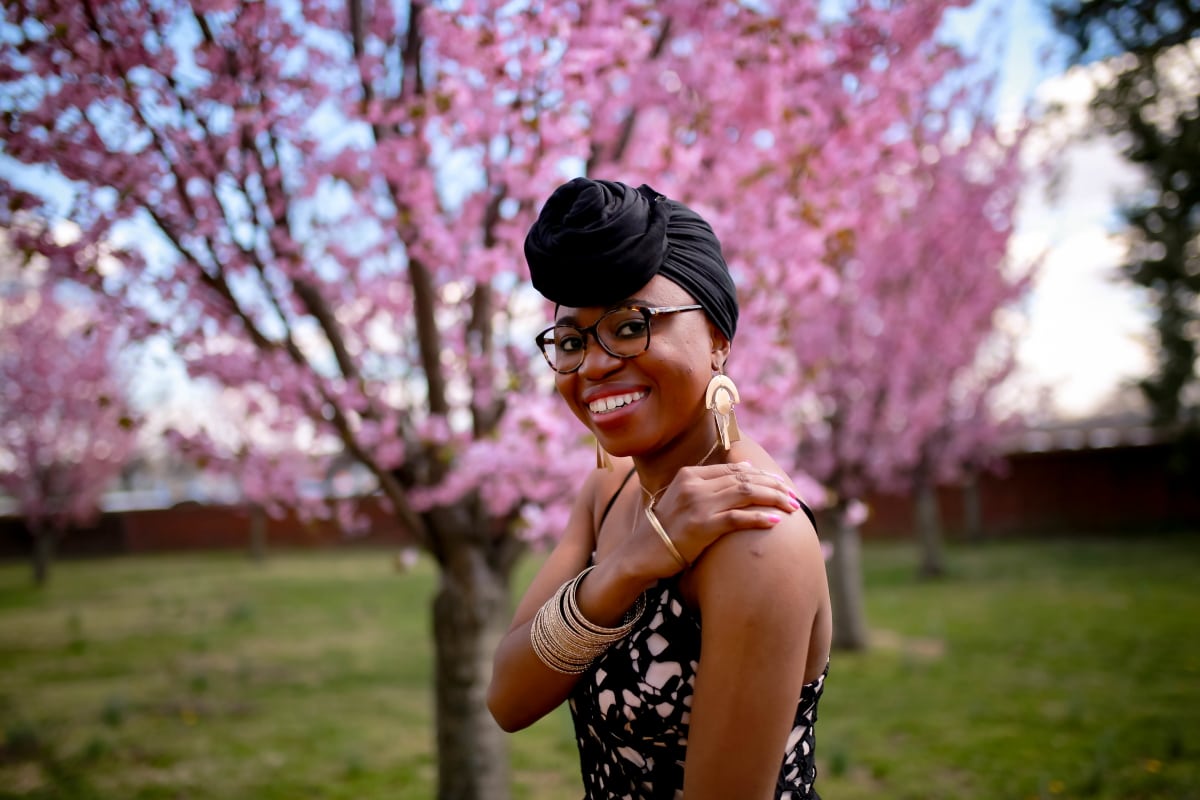 When I spotted THIS black lace midi dress, I just had to get my hands on it. And I'm glad I did! It's far from being a 100% organic Egyptian cotton dress, but I have no complaints. The fabric feels fantastic on the skin.


And you know what? It has pockets, generously-sized pockets. So if you're not in the mood for a purse like I did here, you can fit your phone, keys and small personal effects in the side pockets. And because the dress has some ruffles, any puffiness will be hidden underneath.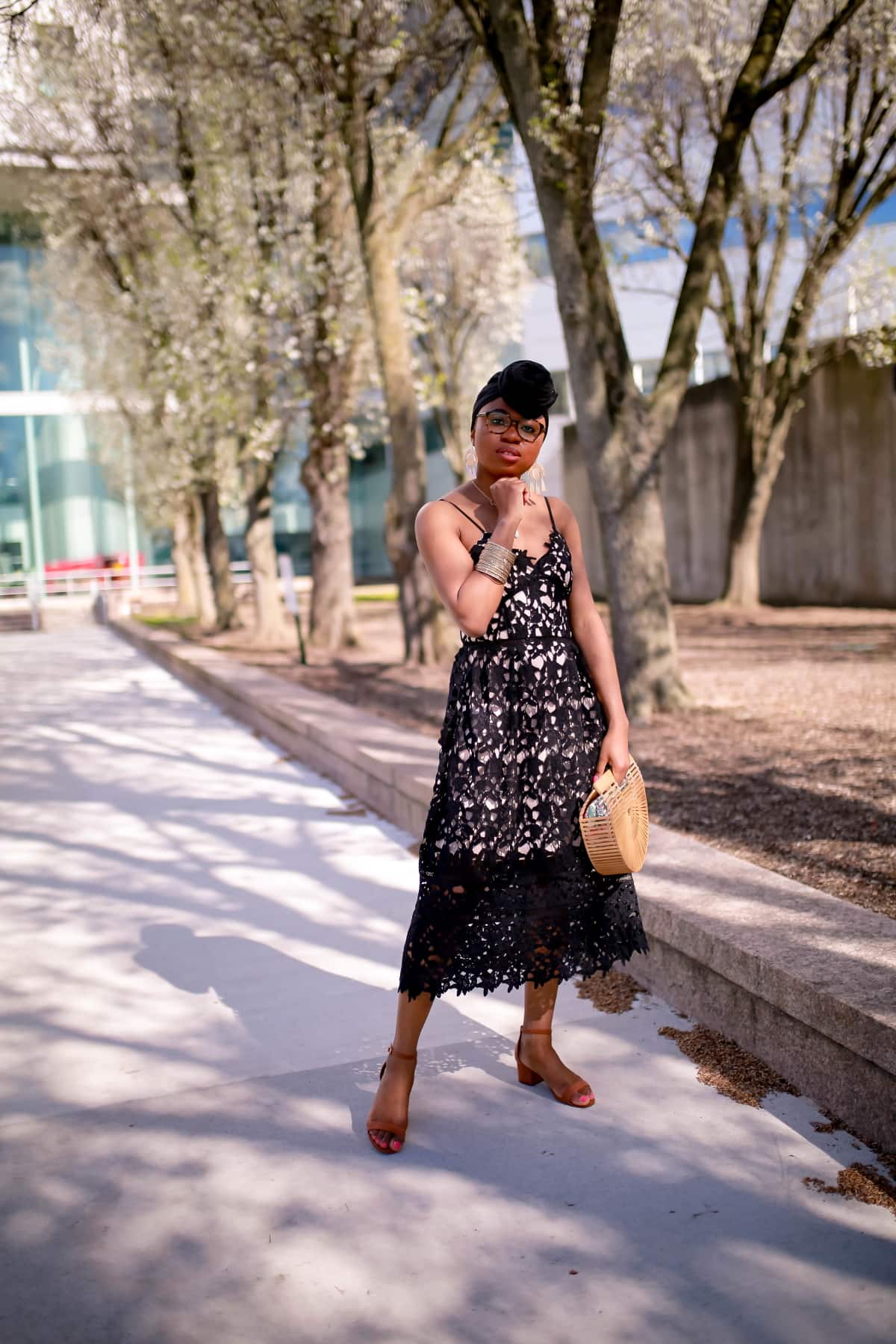 There are some cute little gorgeous hollow details on the lace fabric defining the waistline. It's a fun peek-a-boo touch that shows a little bit of your skin. It's soft, comfortable and far from itchy. The lace dress also has some allowance, so you don't feel constricted while eating or partying. You're covered with this dress.


I styled the dress with an opal double-chain necklace that has a crescent moon. Necklace layering is a thing right now. Guess how much this lovely necklace costs? The necklace also comes in different stones and detail like this blue one and this pastel pink one.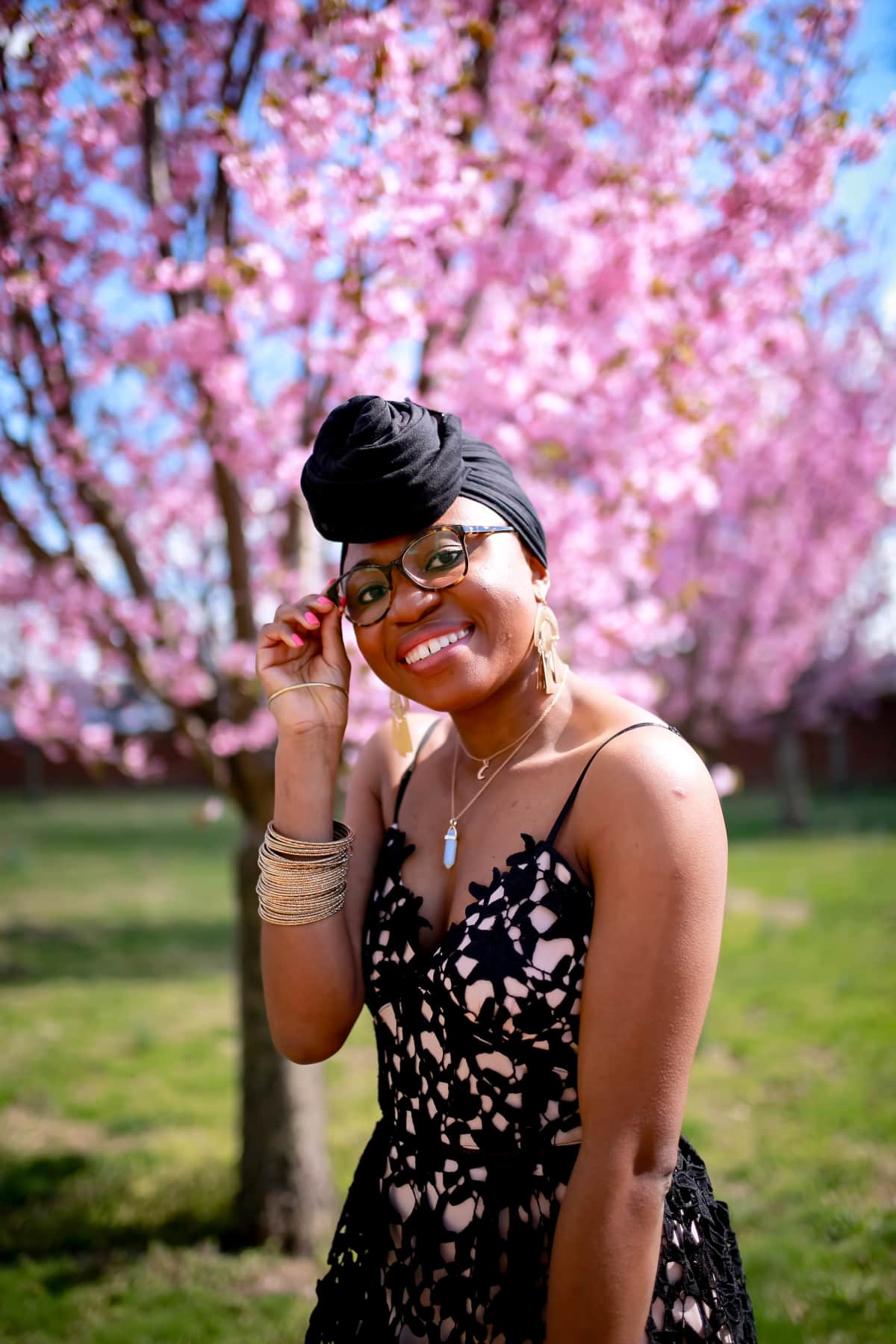 I'm wearing the same solid black turban you've seen in previous posts. I bought it here, but you can find similar ones on eBay and even Etsy for about the same price or less. Learning to tie a scarf is super easy. I found this less than 4 minutes YouTube video helpful in mastering the art of the donut wrap I'm wearing.


Head scarves are great on bad hair days because they are lightweight and can be worn in many different ways. The donut wrap remains my go-to style as I figure out what I'm going to do with my hair.


I'm wearing a set of Sole Society earrings that are sold out, sorry. I bet you'll like this similar version or one of these on sale. I also just bought this lightweight statement earrings that is a hit (+ under $10). I also added in a set of stackable bangles available at a bunch of retailers.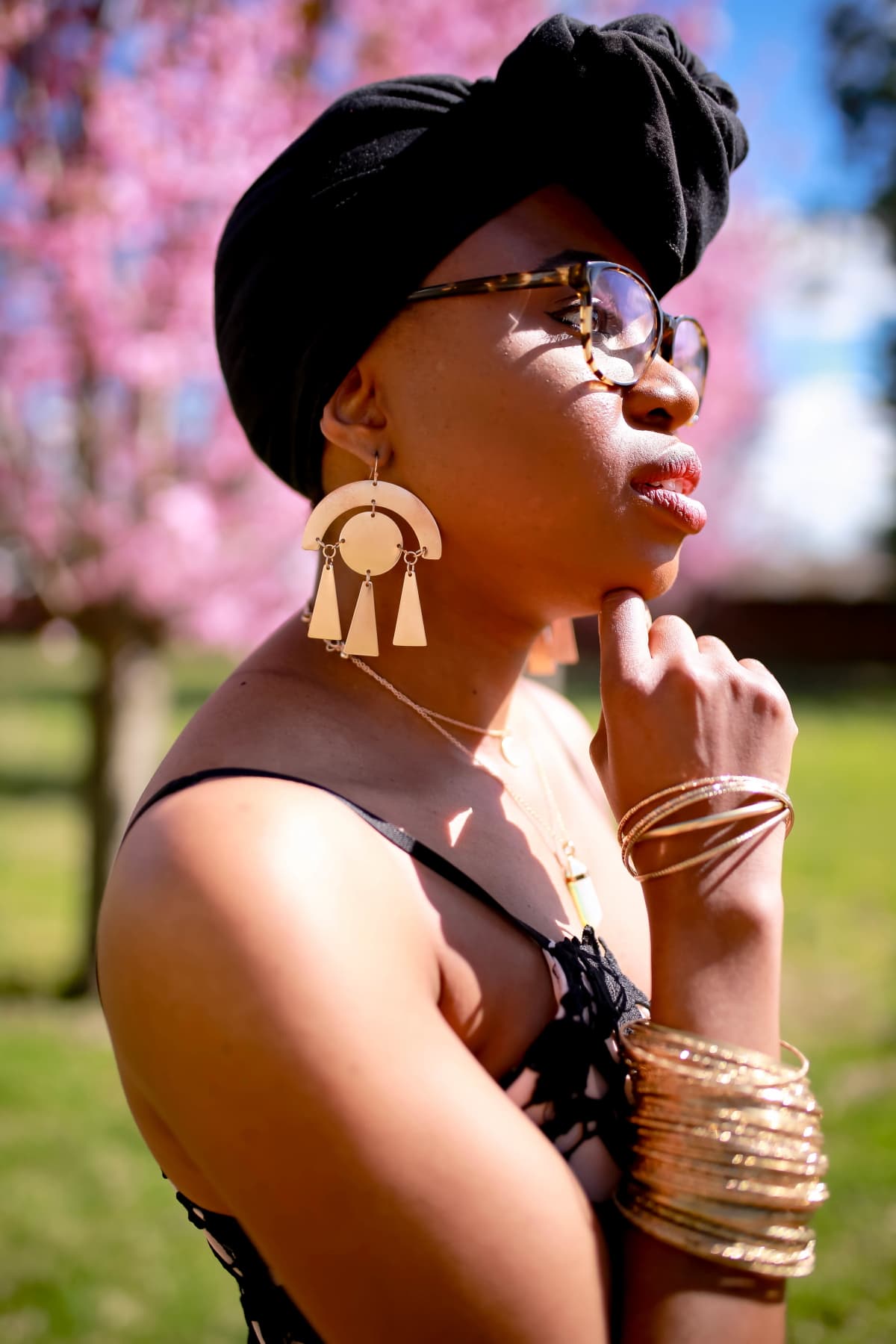 Speaking of Walmart, did you know they have some unique and affordable stylish pieces? Yeah me neither! Walmart has been my go-to for large furniture since moving to New Jersey over Amazon because they offer free returns and fast shipping that does not require a "Walmart Prime" subscription. Just select "Walmart.com" as the retailer when sorting your results.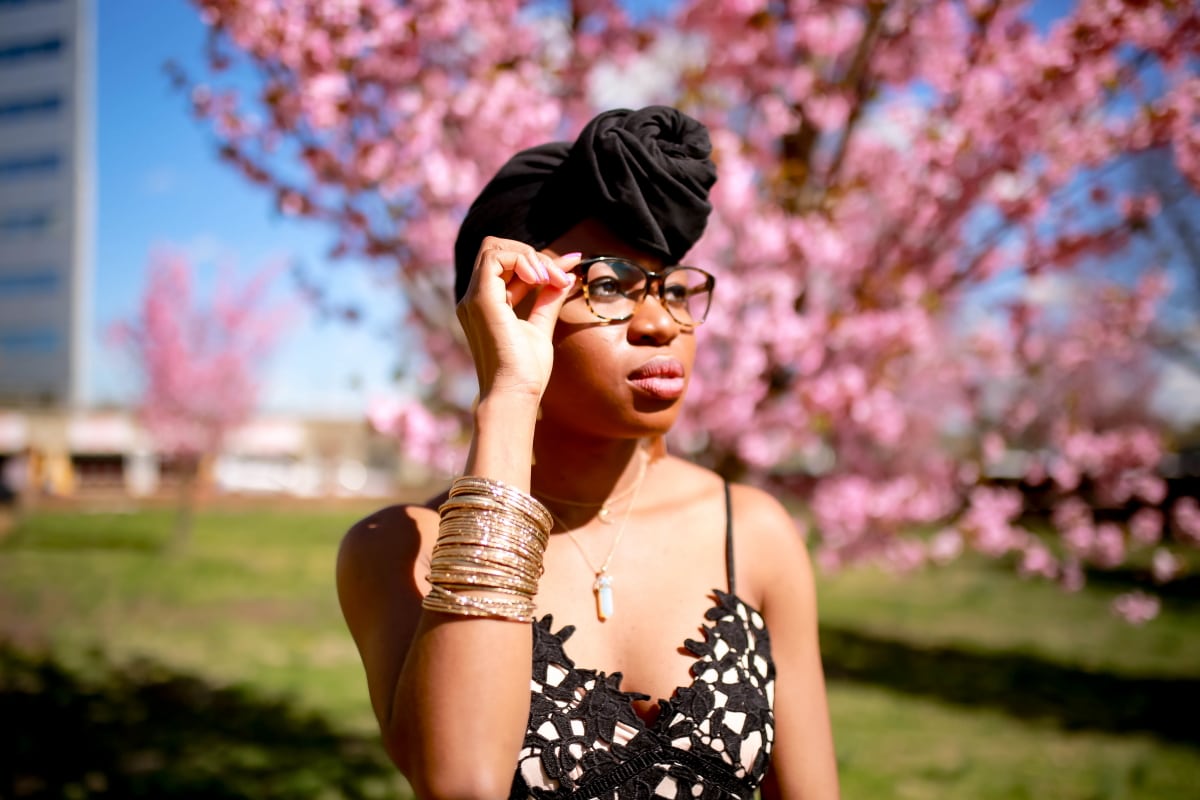 But I never considered shopping at Walmart.com for clothes. Then I noticed a bunch of bloggers I follow sharing some amazing fashion finds from Walmart. Of course, I needed in on the action.


So a few days ago, I ordered my second piece of clothing from them. The first was this apron. I discovered this headwrap on Walmart, and the price was music to my ears, so I ordered it (comes with free shipping too).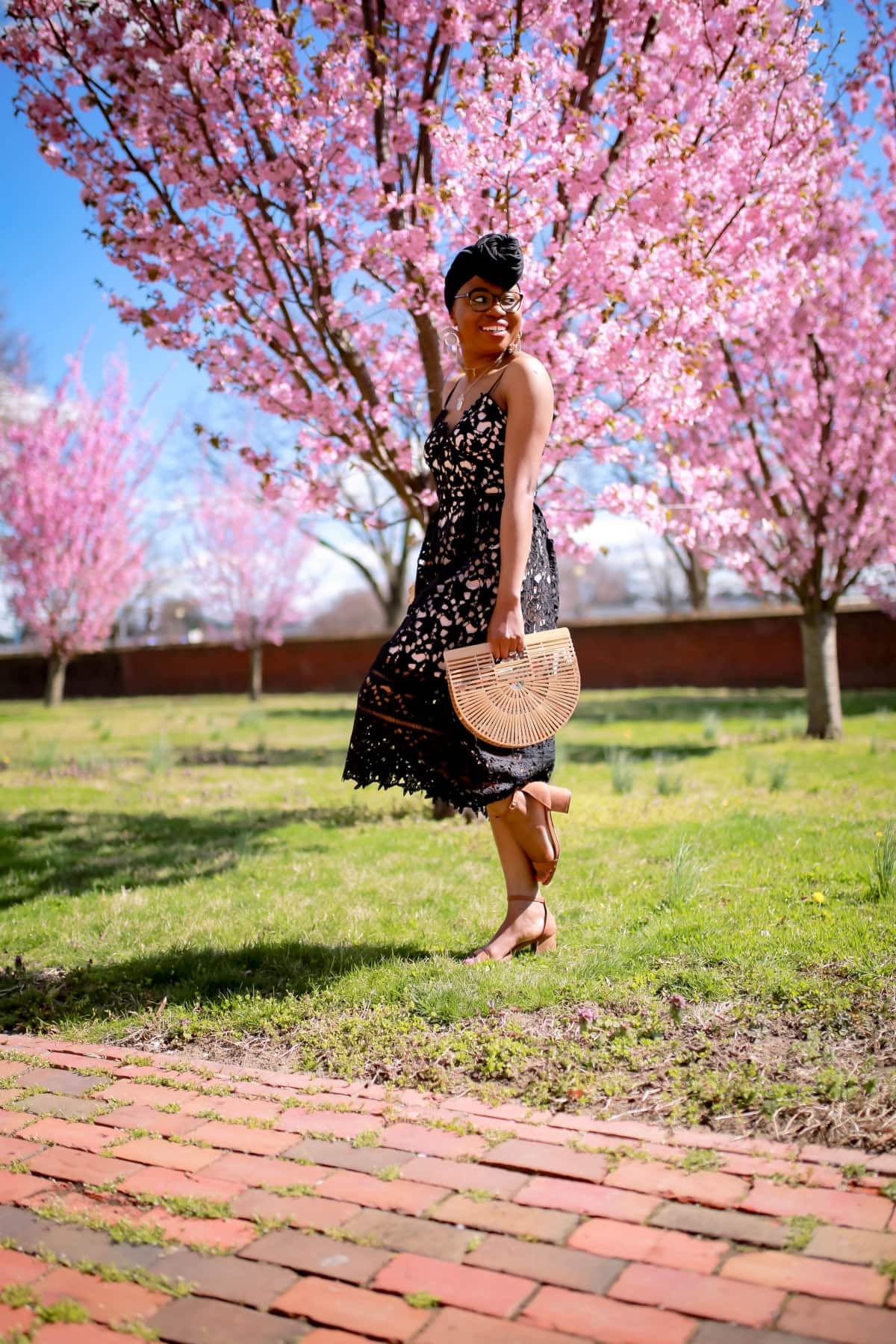 For accessories, I'm rocking the uber fancy and this season's "it" purse, available on Amazon, and Etsy, and Nordstrom.


Mine is under $40, and the unique thing about this bag is that it has a functional purse insert that the original do not have. So you can keep your belongings protected from prying eyes. This is the definition of fashion meets function 😀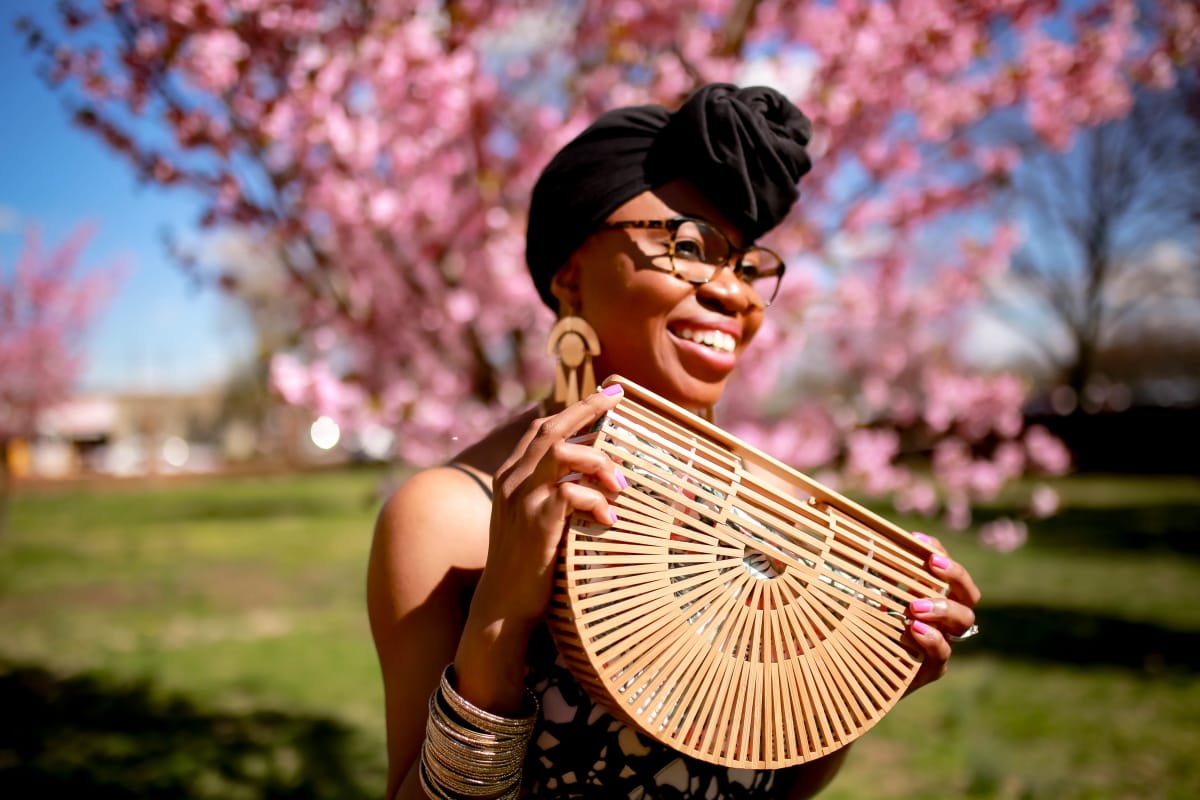 The palm print design on the removable purse insert makes the insert a standalone bag that is perfect for spring and summer. I completed the look with a classic pair of nude pumps. I am wearing a size 8.5 (I'm usually an 8.5/9), and it fits great and comes in many other color options. I can run in these sandals; it's that comfortable.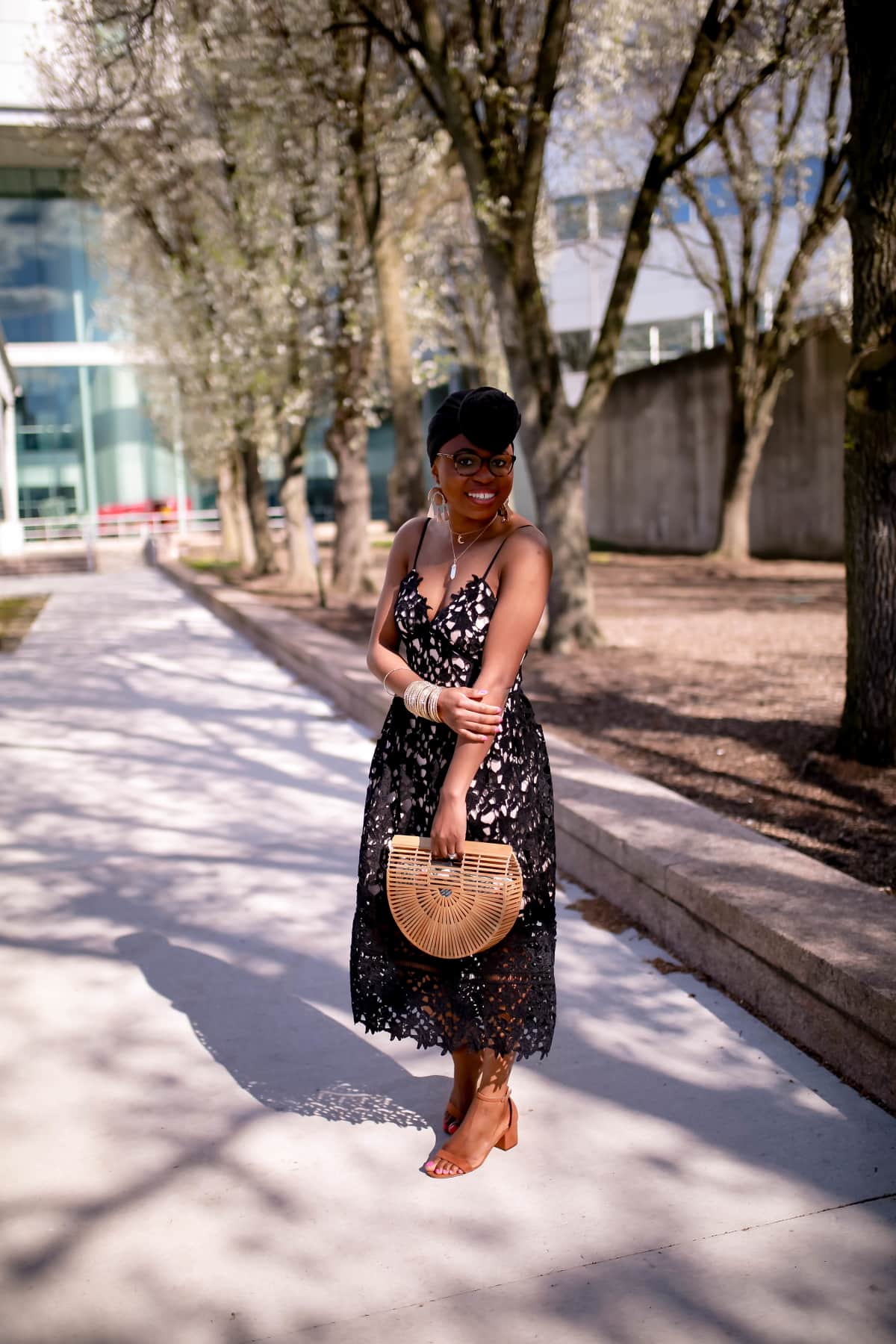 You can throw on a scarf, bolero or sweater if you don't want to show your shoulder or arms. In case you're wondering, my clear, non-prescription glasses is solely for fashion. Here's a similar set that is under $10 and has excellent reviews and free shipping.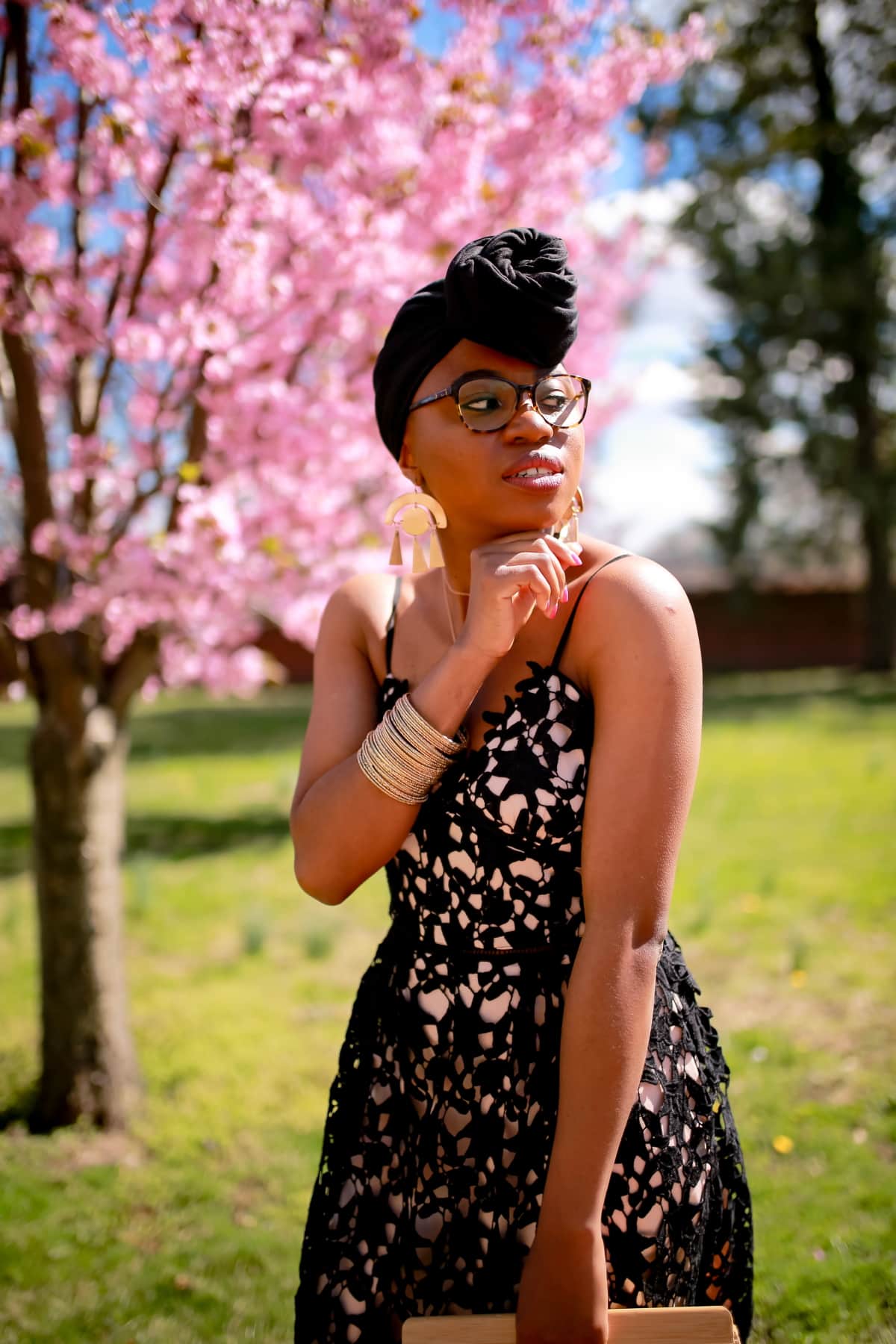 Wishing you a wonderful week, summer, and end to April. I hope you liked this cute black lace midi dress. And if you're on the search for a lovely black lace midi dress for graduation, wedding, or special occasions, I've rounded up a few fantastic options for you below.


You may also like these posts: Is SheIn Legit? | My JustFab Review! |
I am wearing:
Heeled sandals (exact)
Lace hollow dress (exact)
Head scarf (exact, similar)
Opal layered necklace (exact)
Clear classes (similar, similar)
Bamboo wooden purse (exact)
Stackable bangles (similar, similar)
Photos by Emmalyn Love
Click on image to shop each dress