Cute Ankara Head Wrap and Floral Dress Outfit
This post may contain affiliate links which means I will get a commission if you make a purchase at no additional cost to you. As an Amazon Associate I earn from qualifying purchases. Please read my disclosure for details.
Hey friends! I just wanted to stop by quickly to talk about this ankara head wrap outfit. Before we jump right into the details, you should know that this African print head scarf is (thankfully) still available ?. The price will tickle your fancy especially for an authentic wax print! Also, my floral dress is still in stock and under $30 here!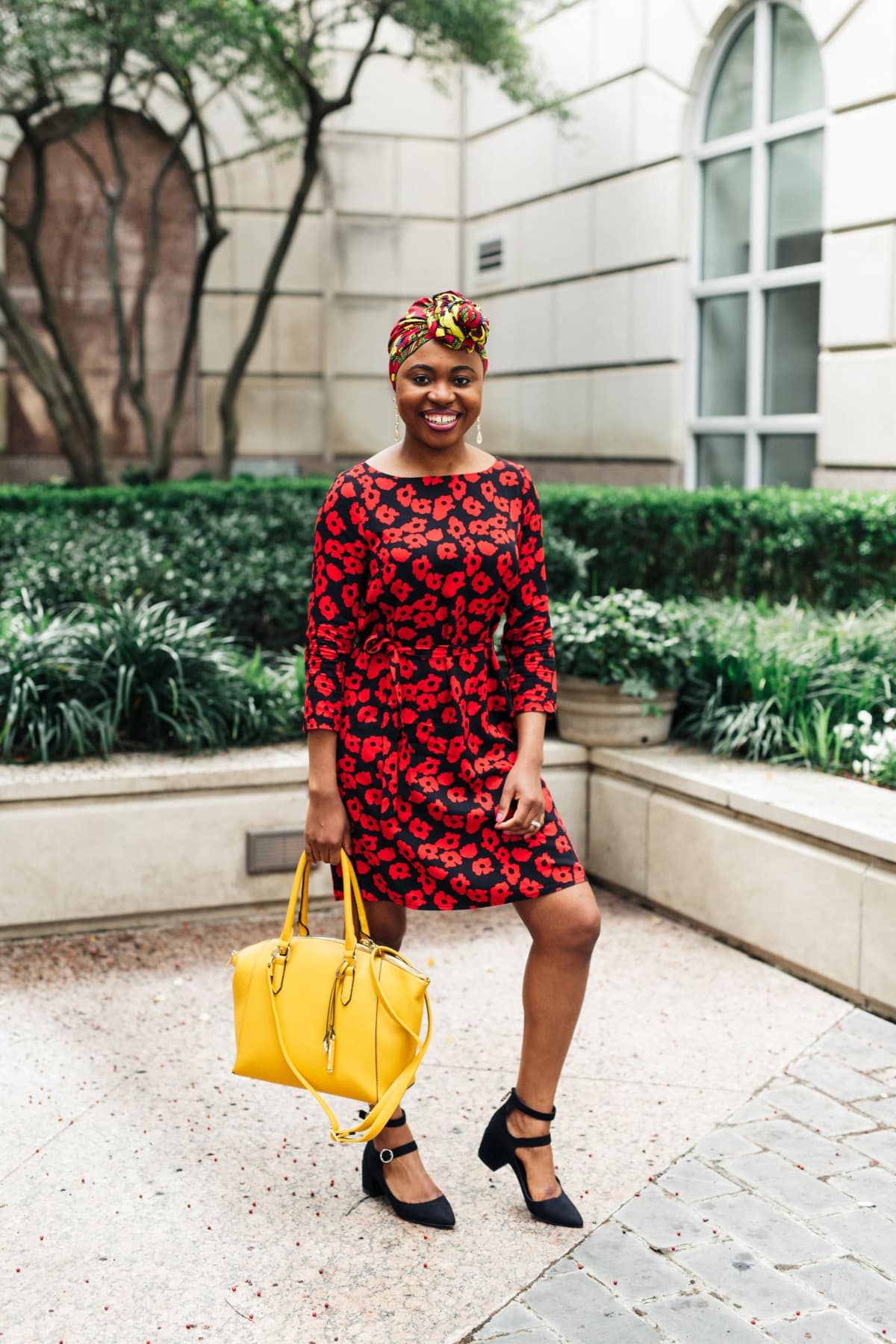 Shop The Look


I know you guys appreciate and love my African print clothes, but sometimes the pieces sell out before or shortly after I've published my post because the seller only makes a few of these handmade ankara styles.


Because of the quick turnover, I don't always have the opportunity to share these shoppable pieces with you.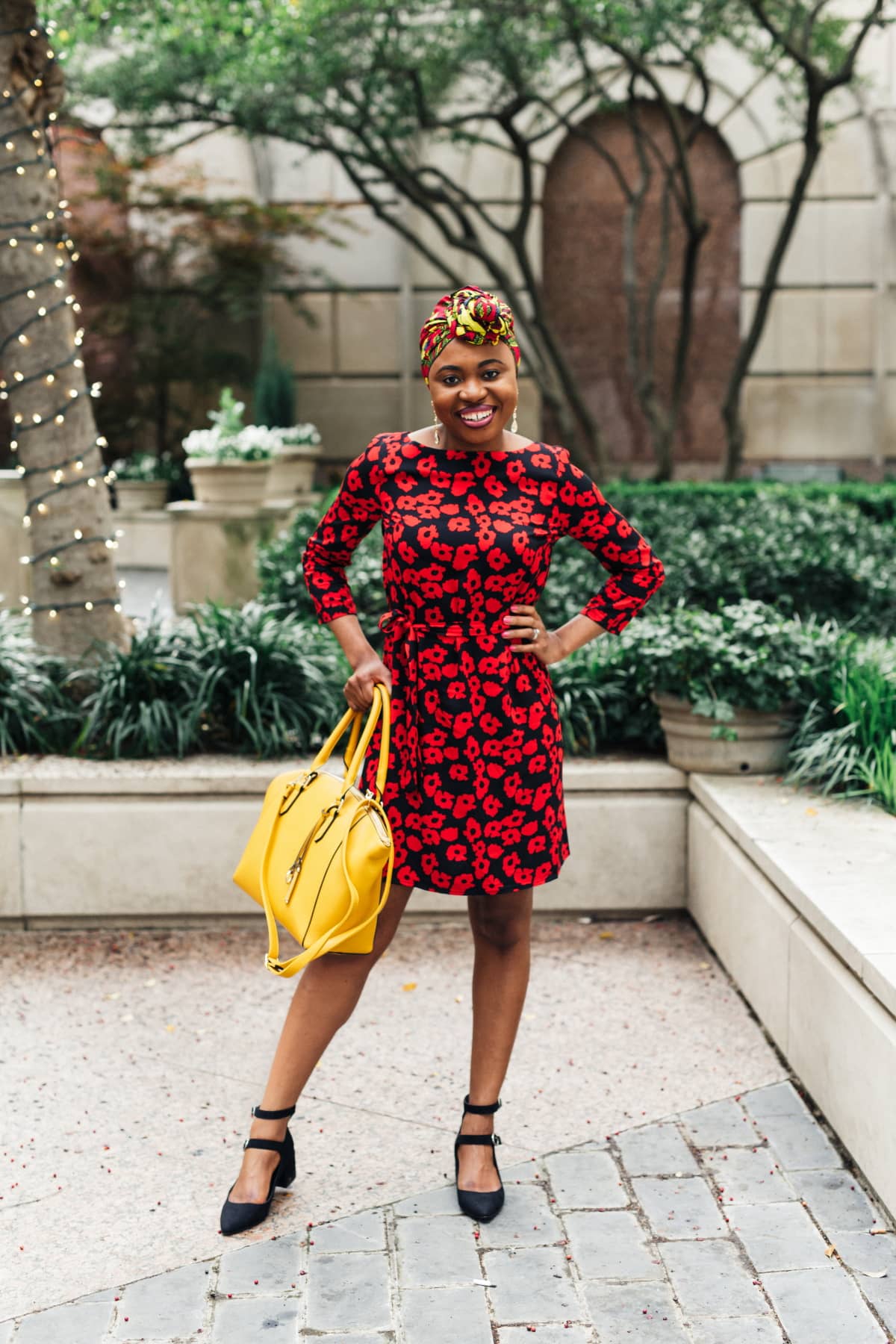 However, my recent ankara obsession is ankara head wraps. I recently got into printed head wraps out of necessity. They give me more flexibility in mixing and matching African print styles with everyday clothes that I wear.


So this outfit is an example of how I would wear an ankara head wrap with other pieces in my closet. If you remember from a few posts back, I went on a trip to Dallas, Texas on my first ever blogger conference.


It was the highly talked about rewardStyle #rsthecon conference that most bloggers in the network aspire to get invited to. Why? It's an invitation-only conference for top rewardStyle and LiketoKnow.it earners. Imagine how delighted I was to get one of the roughly 300 invitations that went out? There are over 17,000 influencers in the network!


It was a phenomenal experience! This floral dress paired with an African head scarf was the outfit I wore on the second day of the conference. I believed it would be a terrific way to stand out while portraying a bit of my cultural background.


And besides that, the last thing I wanted to worry about was my hair. I don't have the time to think about what was going to do with my hair. Sure, I could have worn a wig. But I felt like a head wrap was a cheaper and more stand out piece than a $400 wig.


That aside, I'm wearing this JustFab belted shift dress that I talked about in my JustFab Shopping Haul and Store Review post from a couple of posts ago. It has a chic red and black floral detail that makes it perfect for spring and summer.


I love the 3/4 sleeves, and the wide (but not deep) boat cut neckline. It also has a conveniently hidden side zip, which makes it super easy for you to wear this dress over your head. And the dress zips up without being uncomfortable.


The belt is a great addition that helps define your waist. So if you gravitate towards a looser/free form style of clothing, you'd love this dress. And if you fancy a more fitted style, like I usually lean towards, this is a great style too.


The belted dress gives you the freedom to adjust the fit to your desire, so you don't feel constricted by your outfit. The belt is removable too! The shift dress is also available in a deep vibrant blue color if you want a solid print.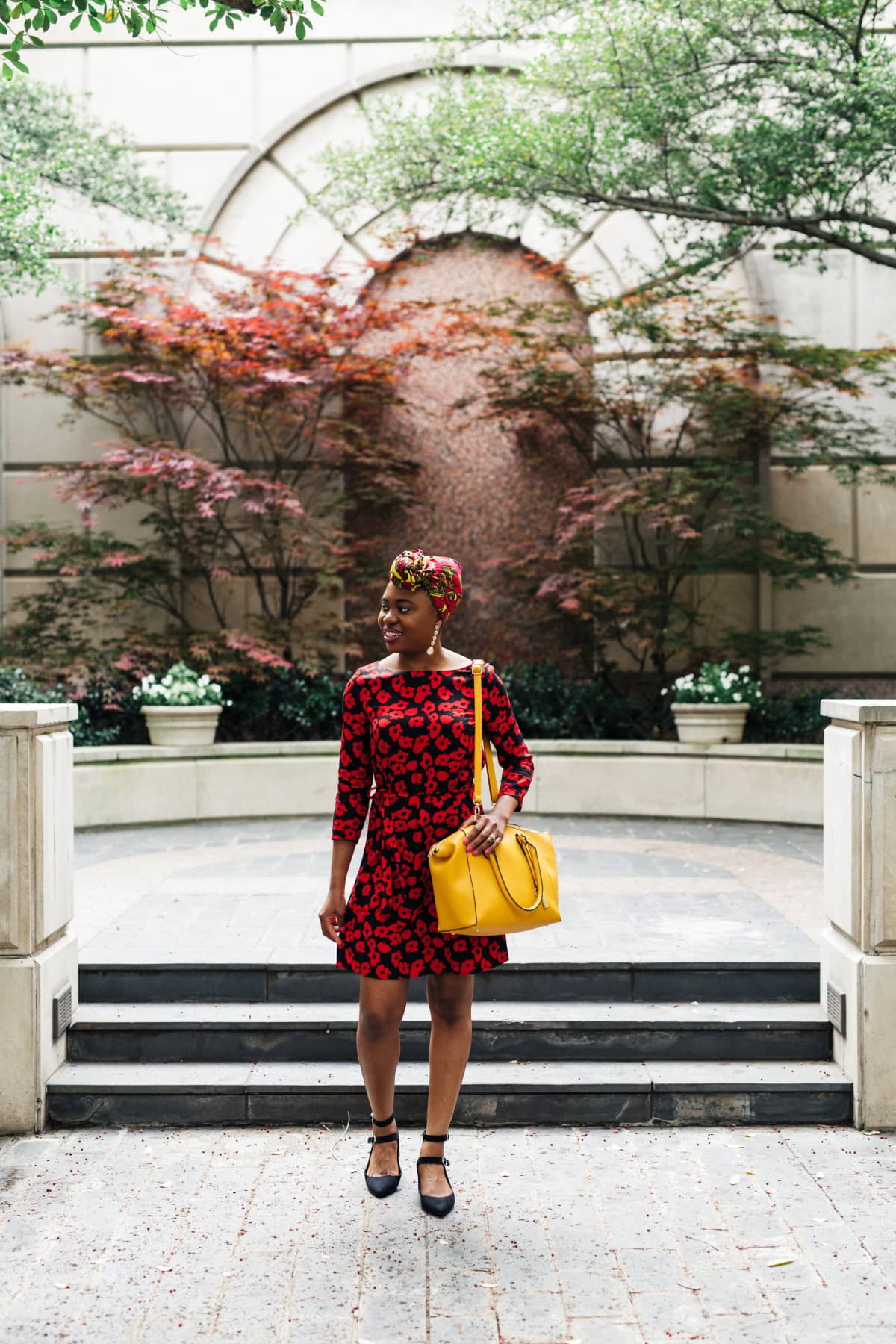 It's worth checking out, but sizes are limited though. Sizing options run from extra-small to extra-extra large (XS-XXL). It's lightweight, and the quality feels great and non-irritating on the skin. I recommend this style.


If you're not familiar with how JustFab works, I suggest reading my JustFab Review to avoid any surprises — or paying the regular price if you're not interested in a JustFab VIP membership subscription. Either way, it's a lovely dress that I have not seen elsewhere (like Amazon). But it's spring season so you can scoop up other floral dresses from Amazon (like this and this) and SheIn (like this flared dress and this tie front dress).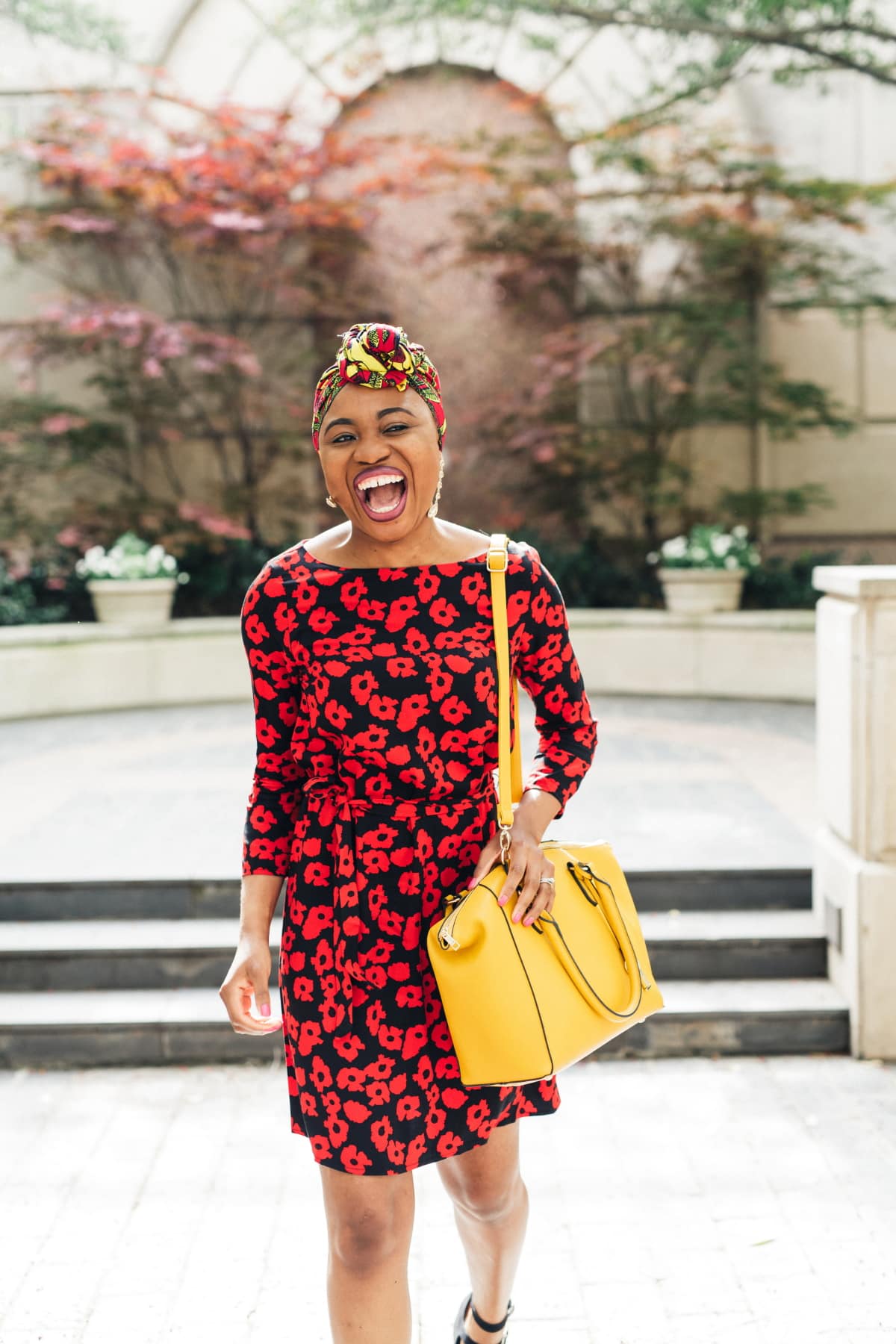 The dress hangs just above the knee making it perfect for work, church, school, meetings, errands… the styling options are endless.


I wore the spring floral dress during the conference with a kitten heel pump that is now sold out. This one strap sandal is very similar and is right around $30 ?. You know I'm all about quality at a great price. I chose a pair of kitten heels shoes because I find high heels difficult to wear for an extended period of time.


The last thing I wanted on my mind while networking with brands was thinking about how sore my toes were. I was able to wear kitten heels (less than 3-inch heel-height) all morning and through the afternoon. Then I switched into this kitten heel sandals for the pool party.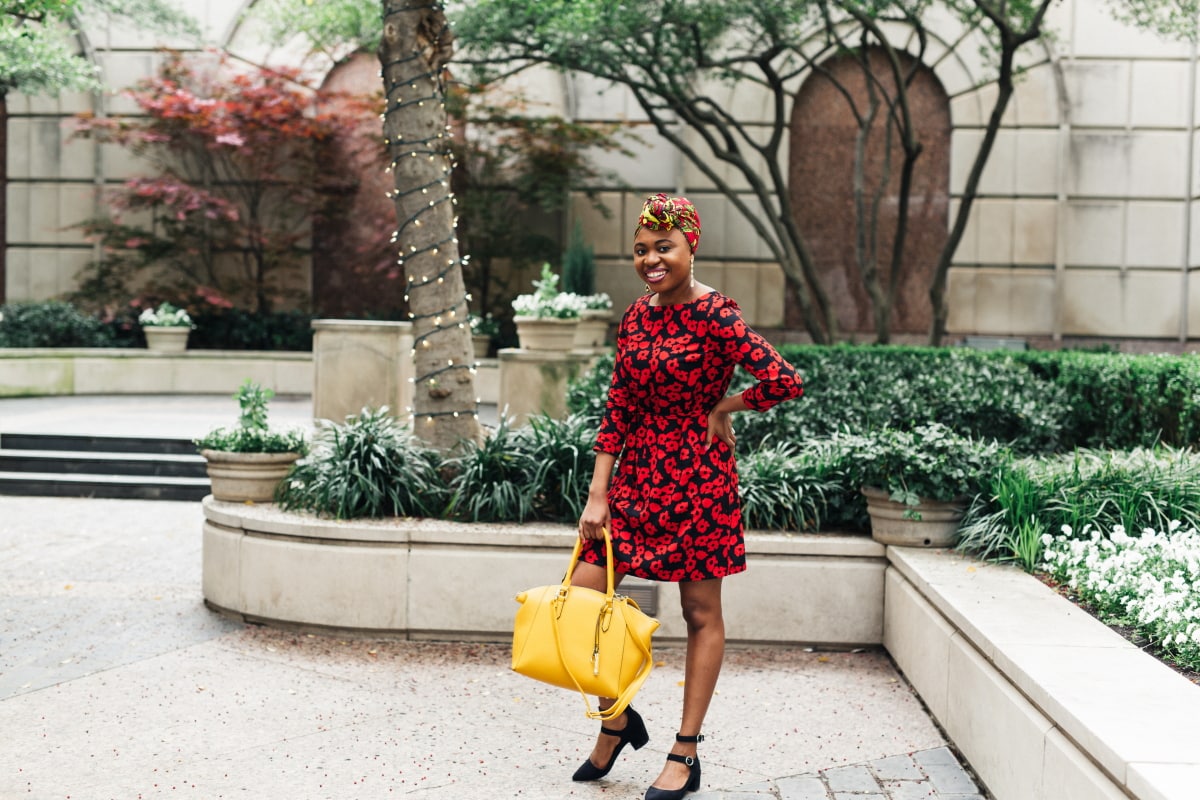 Although my legs got a little tired from all the walking I did that day, my toes were very happy. Those with a high heel arch could get away with wearing over 4-inch heels without dying of pain. Mine are not that high, and I'm not getting any younger. So I'm learning to embrace comfort over style or both ?


As far as jewelry goes, I'm wearing this affordable chandelier earrings that are a cute champagne color. Although it's long and dangly, the earrings are lightweight and very on-trend. It has some lead-free, nickel-free crystals around the circumference of each stone that you cannot see from my photos (sorry!). Check out this closeup photo.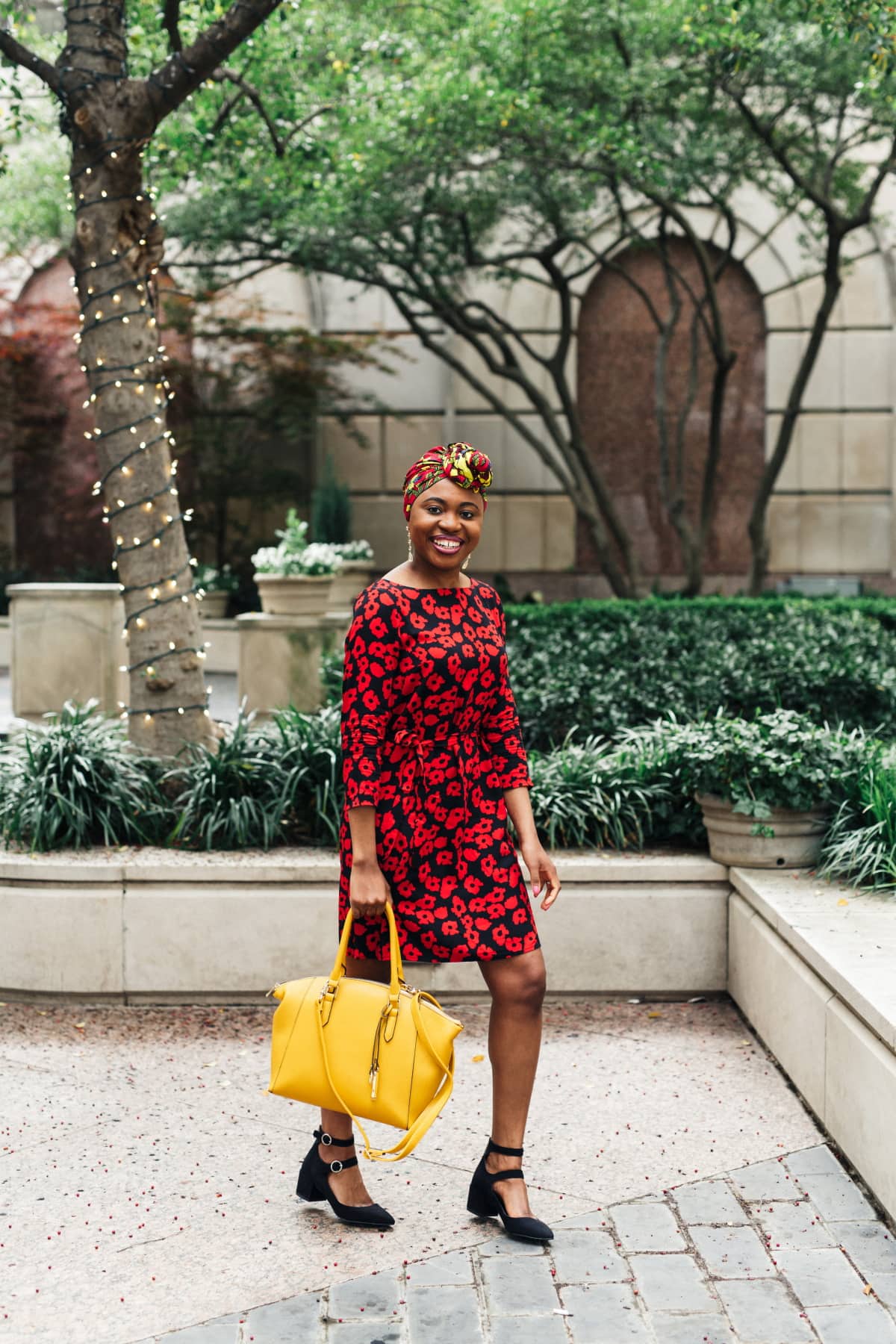 I chose larger earrings over studs or smaller earrings because I already had my hair tied with the ankara head wrap. I wanted a piece that would pop and bring some more attention to my face. Yes, the African print scarf draws some attention to my head. But my ears are kinda hidden; the earings show that I still have them, ya know!


I played with the red and yellow colors of my scarf and the red and black colors of my JustFab floral dress. So I picked out a yellow purse. This top handle handbag (very similar) is a few years old and sold out, but I also got it from JustFab. Here's a similar satchel from JustFab.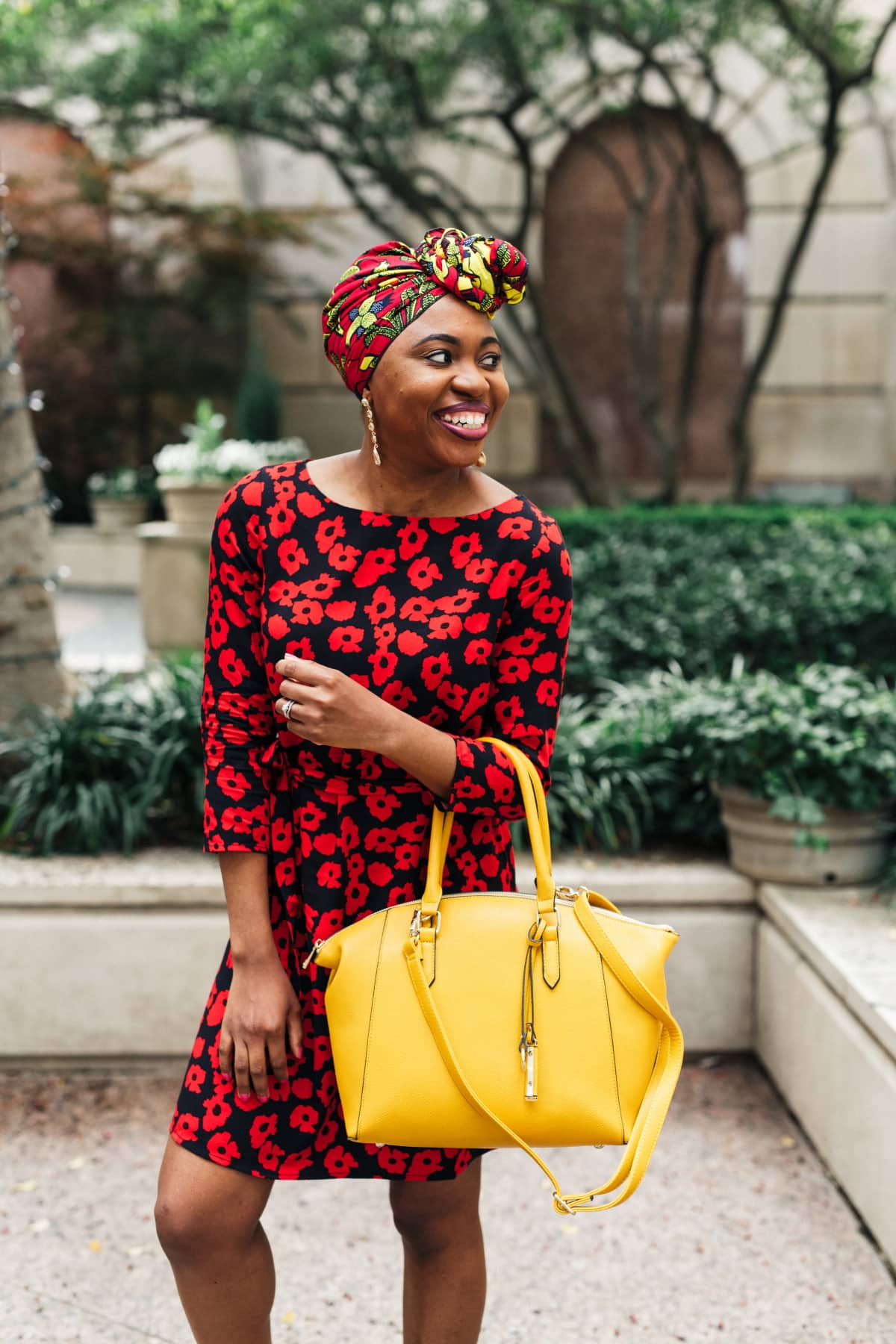 The purse is soft and supple and comes with many compartments to keep you organized. And when you reach in to grab something, you'll find it in the same area you put it. The bag has a set of top handle straps and a crossbody strap for versatility.


I could have dressed up this ankara head wrap outfit with a necklace, a set of bangles or bracelet like this one (on sale) I wore on repeat during the conference, and maybe a pair of sunglasses for some more bling.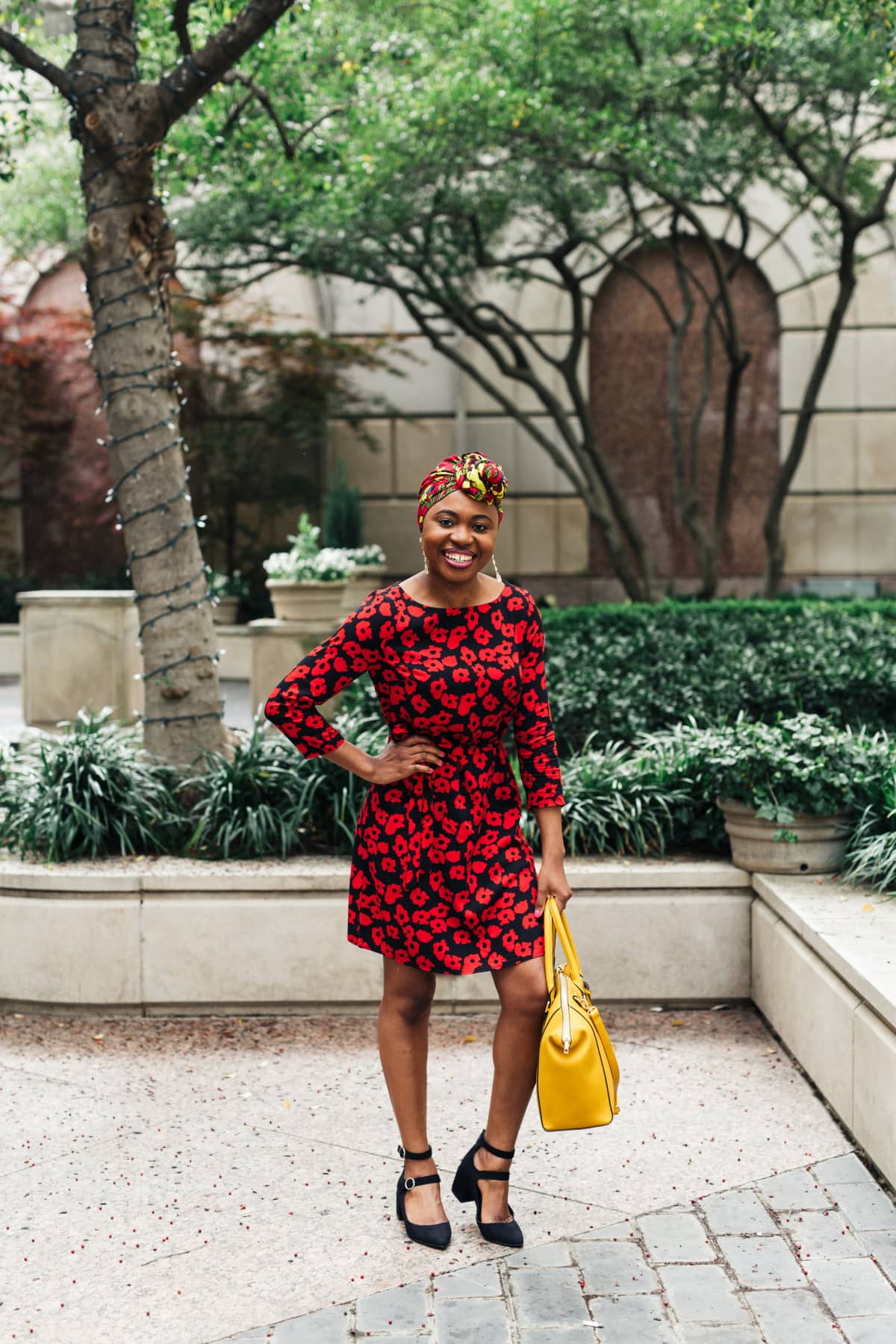 I hope you like this African print scarf paired with a floral dress as much as I did. I will catch you on the next post. As always, thank you so much for stopping by!
You may also like these posts: My JustFab Review | Epic Amazon Shopping Haul |
I am wearing:
Floral shift dress (exact)
Beaded teardrop earrings (exact)
Top handle bag (similar | similar)
Ankara scarf (exact | also love this)
Pointed toe pumps (similar | similar)
Photos by Crystal Nicole Photography
The Best Ankara Head Wraps
Click on image below to shop the best collection of affordable and 100% wax print African head scarves.


P.S: Reading this post on your mobile device?

Be sure to download the LIKEtoKNOW.it and follow me "lapassionvoutee" for exclusive, in-the-moment shoppable posts. Also, available on Android 🙂 It's also the fastest way I can keep you updated on the latest sales and newest styles since blog posts take a lot of time to create. Here's what you've recently missed!