Stylish T-Shirt and Jeans Outfit for Fall [Not One Type]
This post may contain affiliate links which means I will get a commission if you make a purchase at no additional cost to you. As an Amazon Associate I earn from qualifying purchases. Please read my disclosure for details.
Today's look is about how to not look frumpy in a t-shirt and jeans outfit this fall. And a spin on my "usual" outfit posts to share a campaign that has been on my mind over the past month.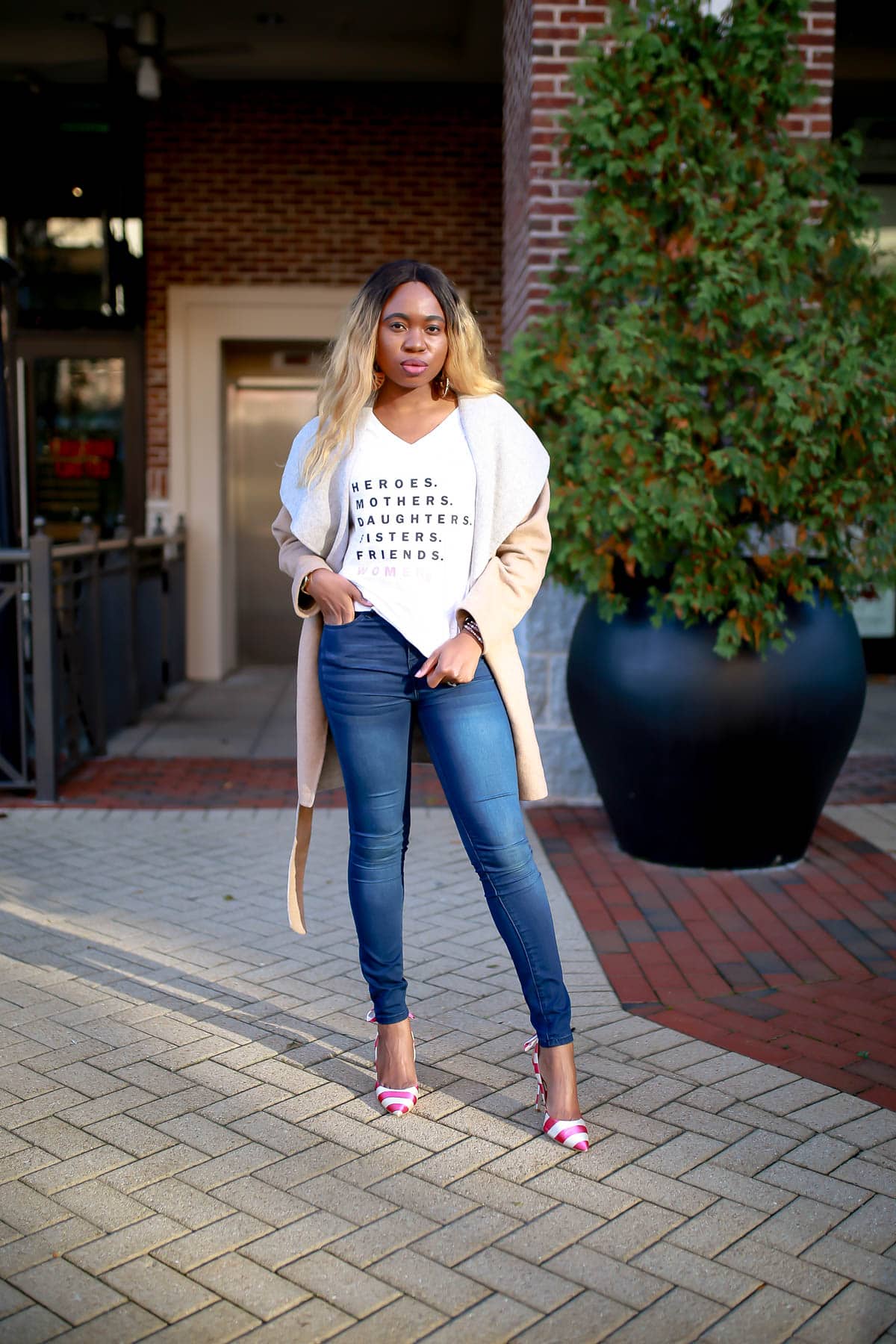 Shop The Look


A few weeks ago, I had the opportunity of attending a special October event, one geared towards women of all races, Not One Type. But before attending this exclusive event, I flew up to Fairbanks, Alaska, to visit some of my good friends.


I was invited by my Alaskan mom to attempt my first 5K run centered on making strides against breast cancer in preparation for breast cancer awareness month. Hesitantly, I agreed.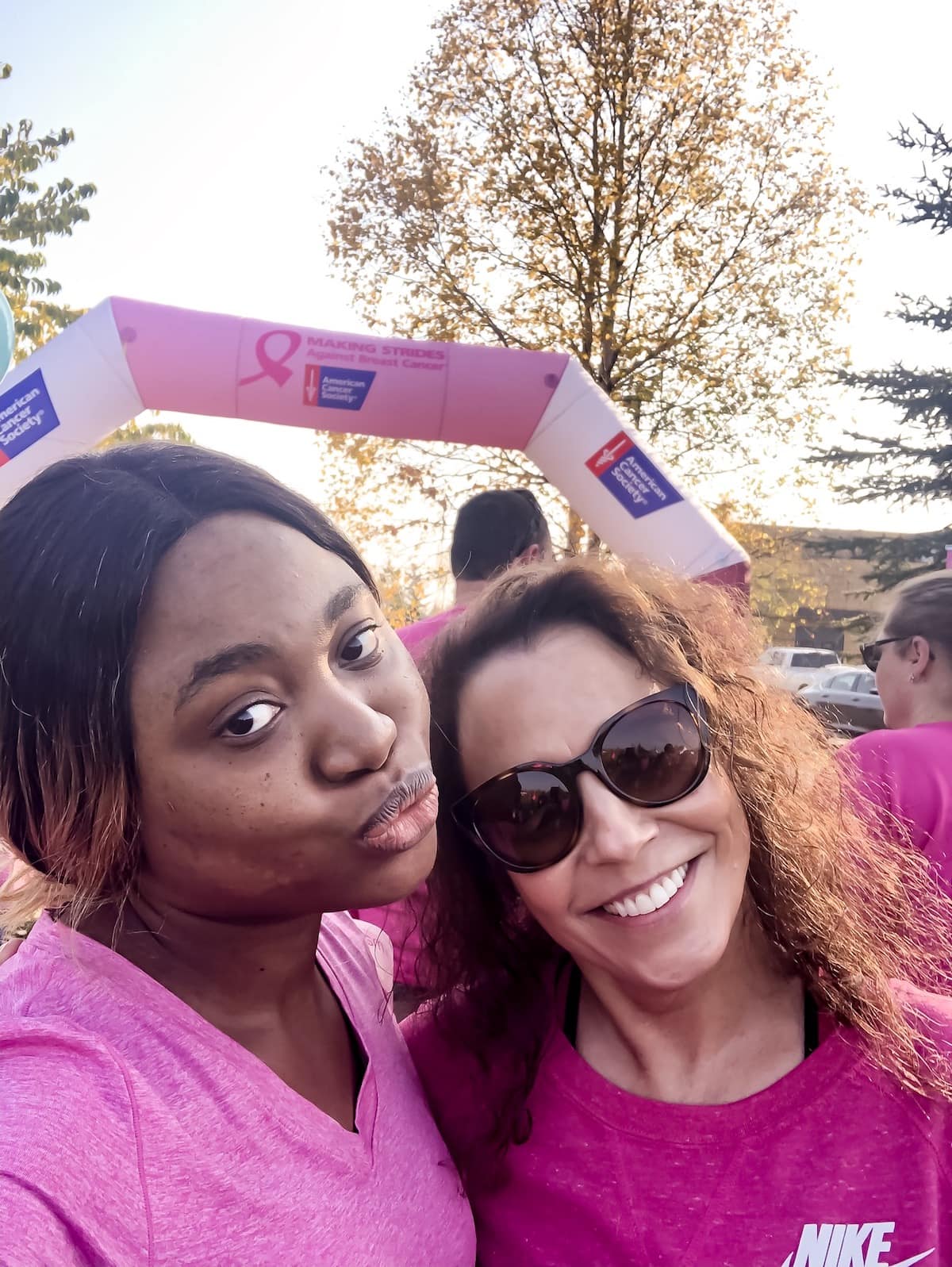 Why? You ask.

I have never run a 5K.

And I do not have any family members who had gone through this ordeal. I felt weird like I did not belong.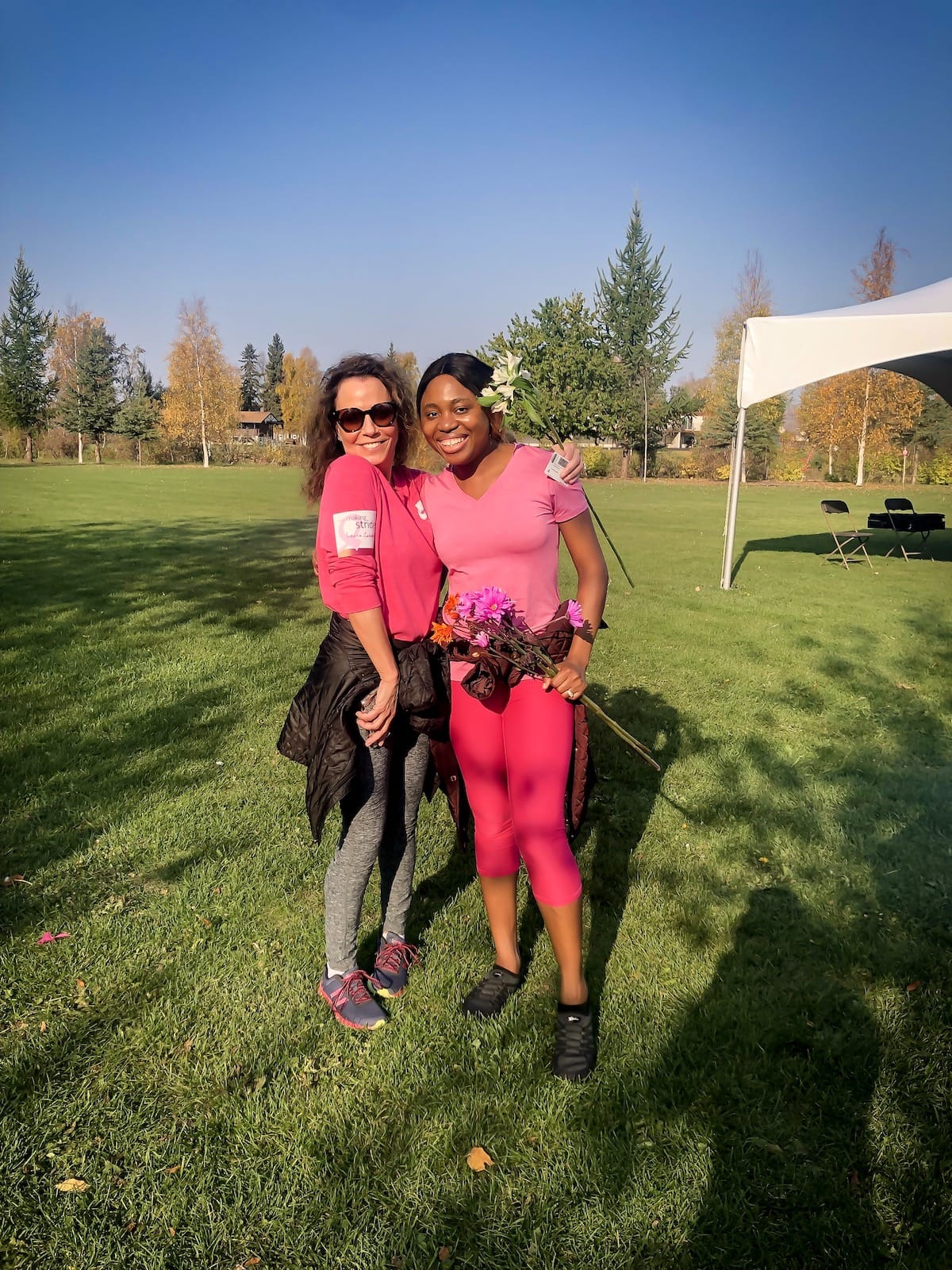 Fast forward a few weeks later, I was sitting amid strong women and content creators at the Not One Type campaign.


That's when it hit me.


I grappled with the fact that as a health care professional and a woman without a personal connection to breast cancer, this nastiness has some connection to me as a woman and person of color, whether I like it or not.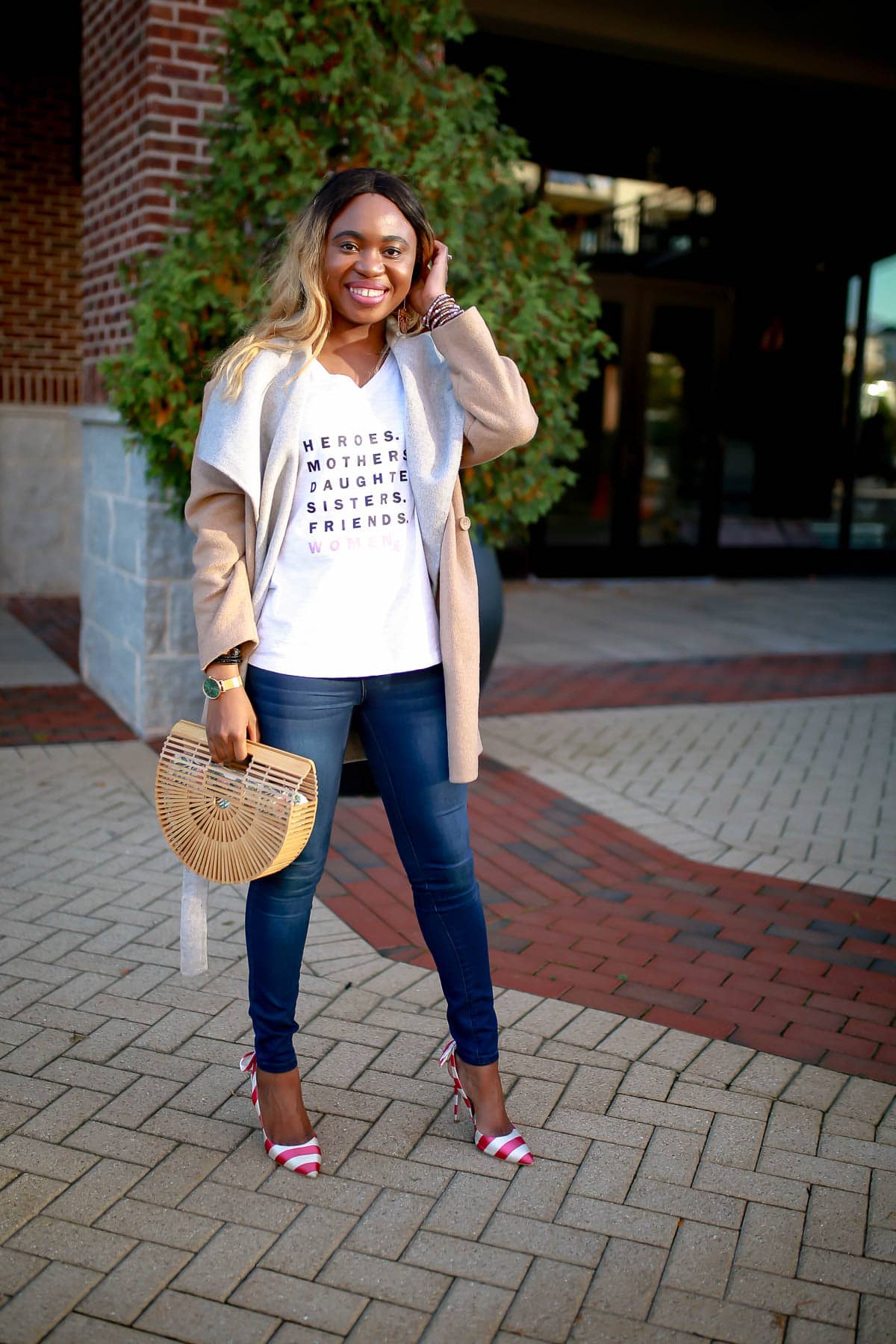 After weeks of sleeping on it and consulting with the "universal intelligence," I couldn't quite shrug it off. So, I put a lighter approach to promoting this campaign by rocking this Not One Type t-shirt, to inspire you to think beyond pink.


Because just like a bra isn't one-size-fits-all, neither is breast cancer. The goal of this campaign is to change the narrative that breast cancer is simply breast cancer.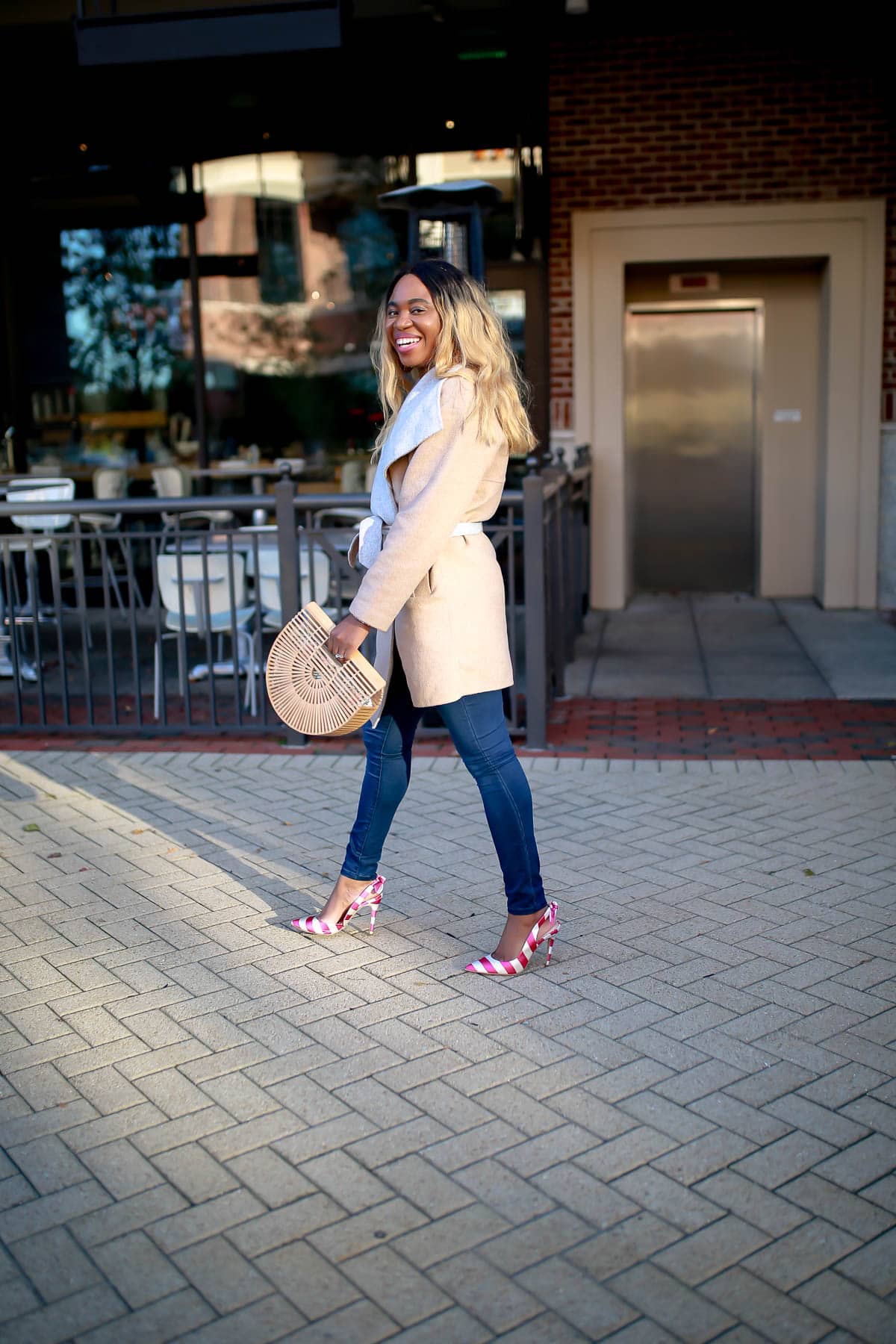 Sure, I may not have a close experience with breast cancer, but being a woman and a colleague of breast cancer survivors, the truth of the matter is that awareness of breast cancer is an important message for ALL women.


Ok, I'm done talking about this heavy topic. For more specifics about the Not One Type campaign, my girl Erica of Coming Up Roses delved deep. She couldn't have summed it up better. Read her post here.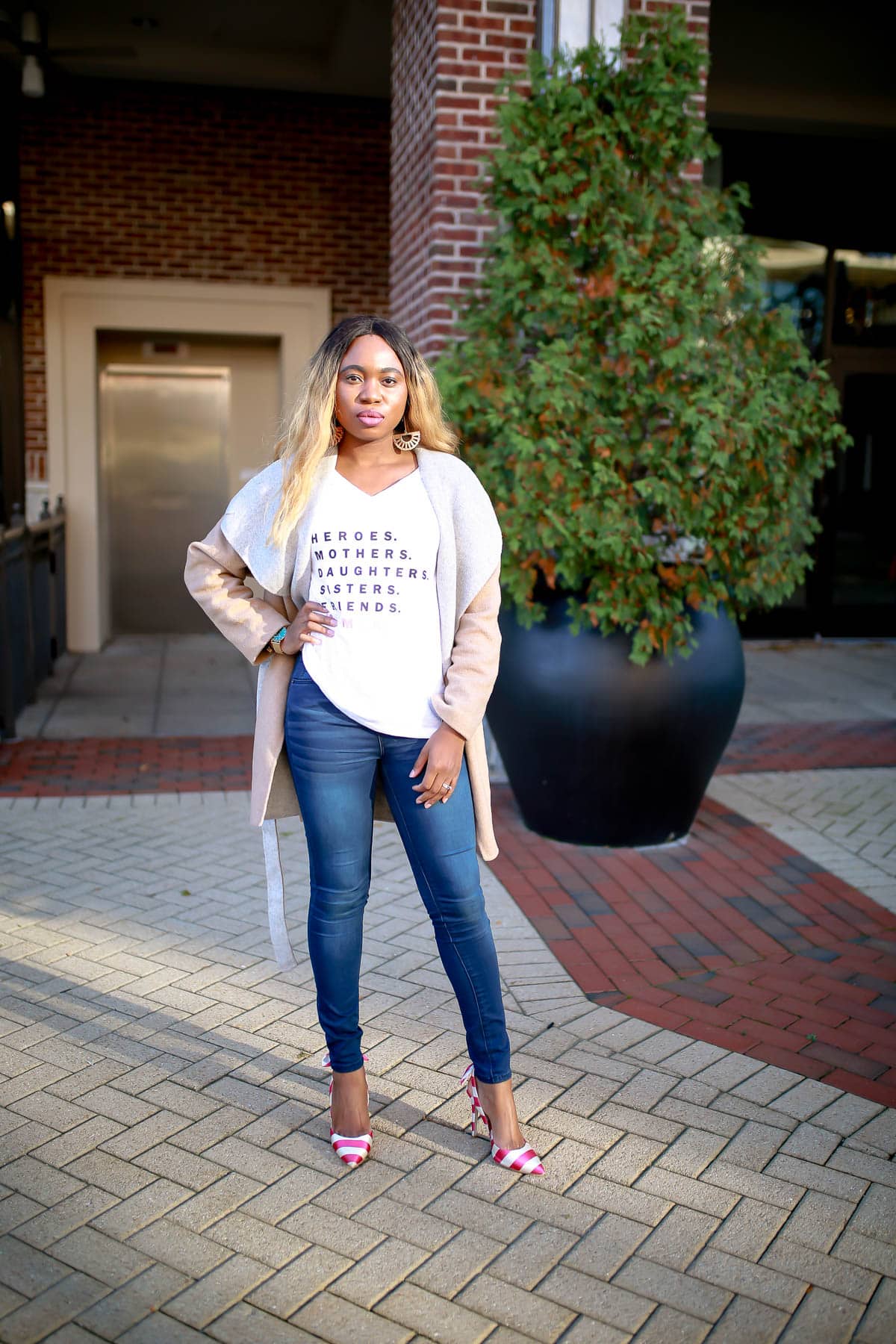 I employed the help of my friend, Emmalyn of Emmalyn Love to shoot these images a few days before I took off to Alaska.


I'm of the school of thought that you can look put-together in a simple t-shirt and jeans.


Although 8 out of 10 times I'd rather live in my Zella leggings and Betabrand work pants, it's hard to resist the allure and timelessness of a good pair of jeans.


The key to looking polished is without a doubt the compounding effect of the style of jeans, the pair of shoes, and the fit of your t-shirt. And to some extent, your hairdo.


You can get away with a messy bun, but not everyone can easily pull off a messy bun paired with a casual t-shirt and jeans outfit without looking like an overworked woman.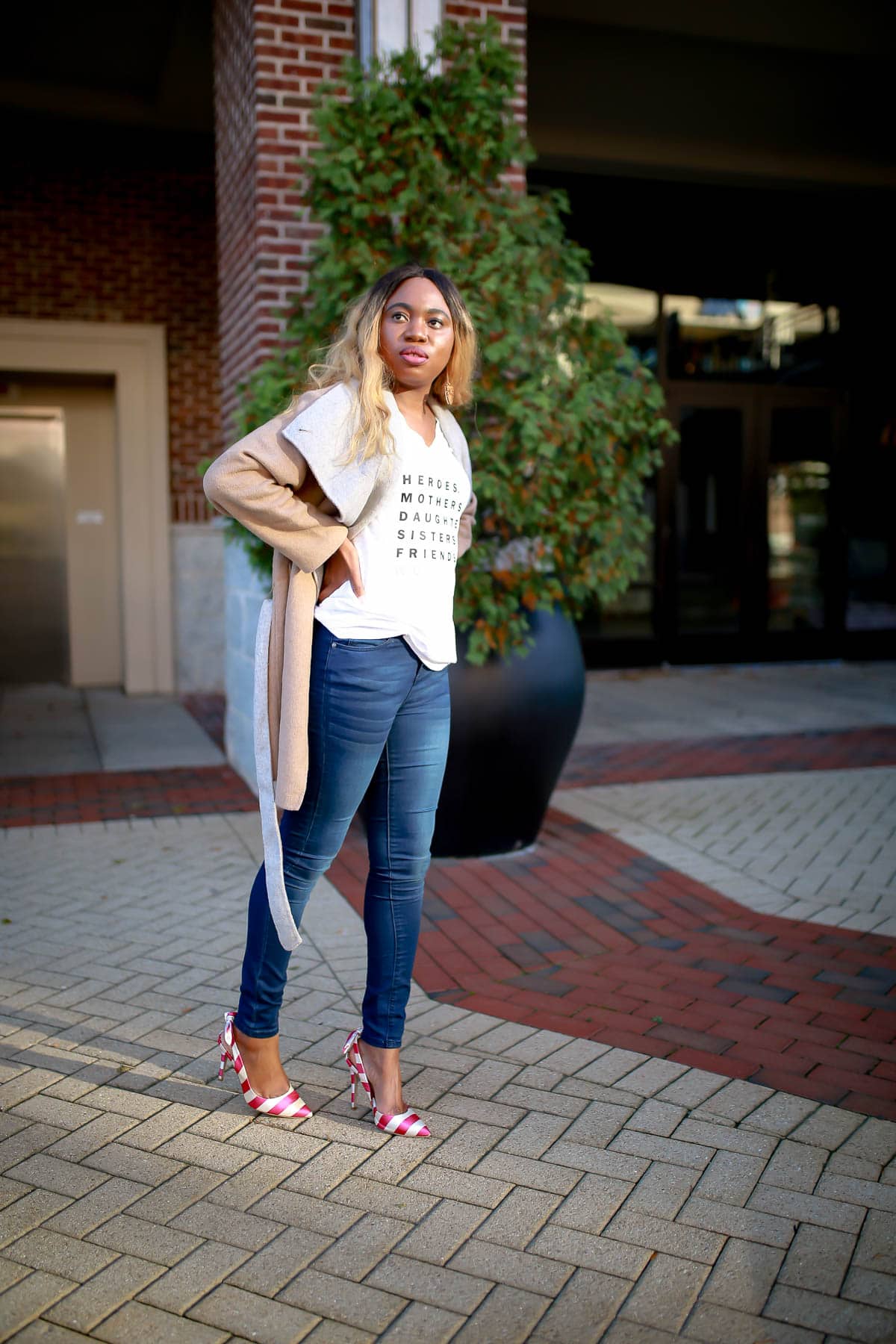 My frumpy-free solution? A simple hair-do, fitted t-shirt, clean jeans, and footwear.


Hairdo: Self-explanatory. A timeless hairstyle even you go-to style should do. A few that come to mind are ponytail, neat bun, works too.


T-shirt: A fitted tee is the way to go. Please save those oversized one-size-fits-all t-shirts for bedtime or to perform household chores. They make you look box and bigger.


Jeans: Darker wash jeans form a great contrast against lighter-colored shirts and verse versa. Light wash jeans combine well depending on the cut, distress detail, and style (e.g., mom jeans, bell-bottoms, wide leg, skin jeans). The goal is to know what looks best on you.


Footwear: Have fun with your shoes. For an athleisure vibe, sneakers create a youthful vibe. Ballet flats like this chic leopard print flats are a smart work option. Heels and platform wedges create a dressier t-shirt and jeans outfit.


Slides provide a more casual approach. Booties, riding boots, and sandals. For fall, booties, riding boots, or a pair of classy thigh high boots create an impressive combination this season!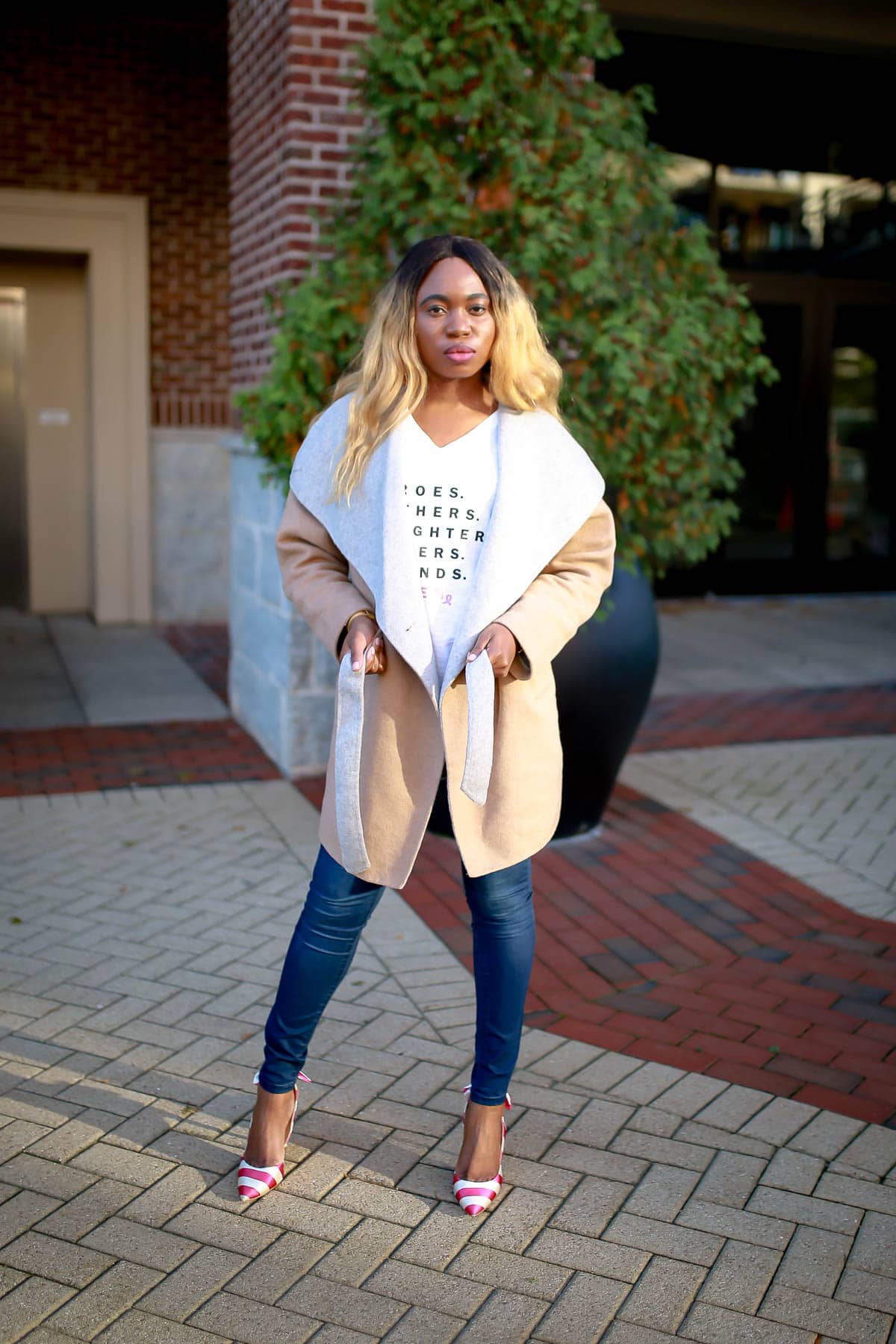 Jewelry: Take it home with your jewelry and accessories. A clutch, crossbody bag like this quilted purse, statement earrings, stylish bracelets (stackable bracelets and chunky bracelets are cool), and cute pin earrings or fashion earrings make you stand from the crowd.


Outerwear: Biker jackets, trench coats, blazers, or cozy wool coat works. I'm wearing this top-rated release double face wool coat.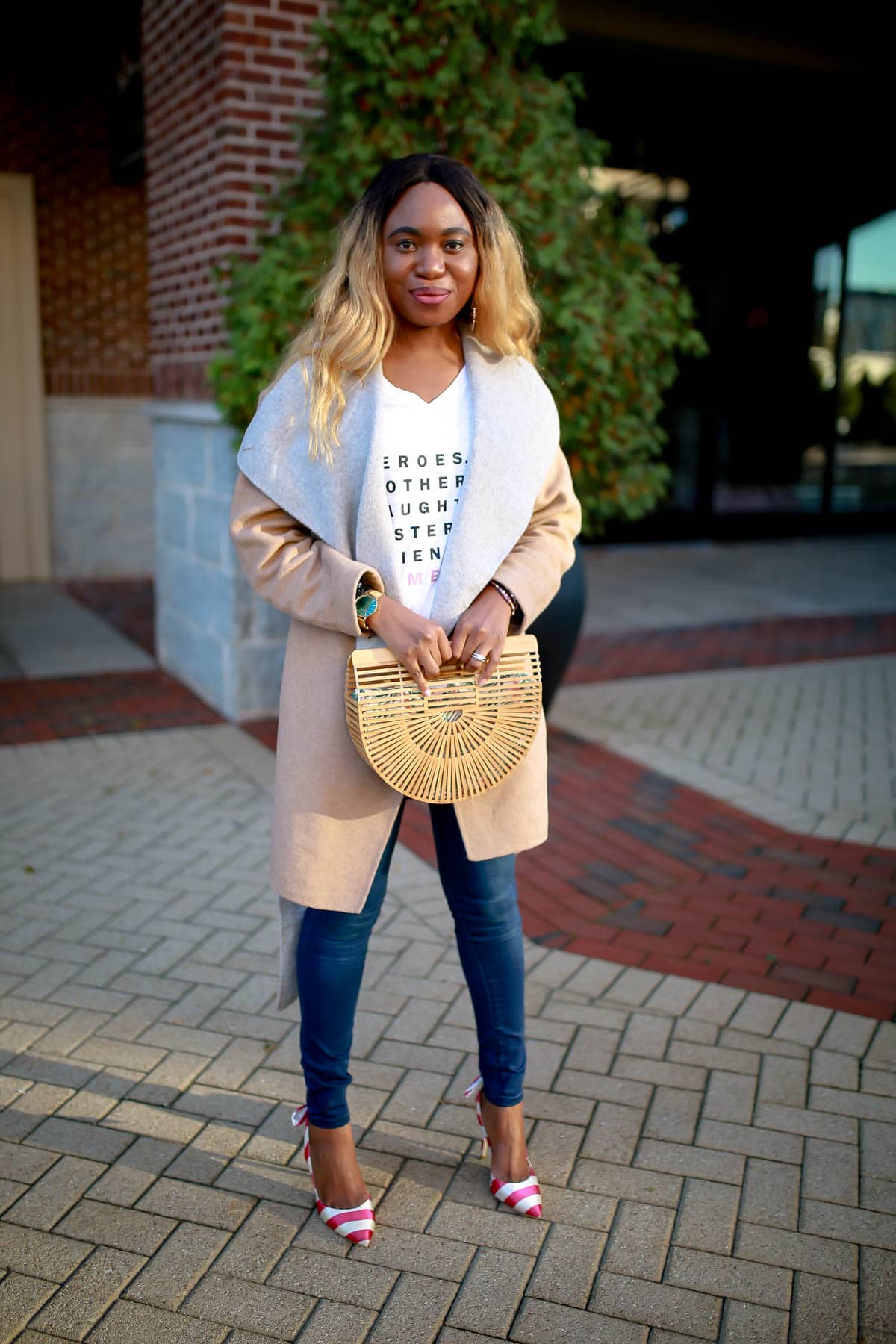 I am wearing:
LBBC t-shirt c/o (similar) | Mesh watch | Wool coat | Victoria Emerson wrap bracelet (product review) | Bamboo bag | Denim (similar) | Slingback sandals (similar) | Bamboo earrings
See, there are many ways to combine of t-shirt and jeans to create an outfit that is far from frumpy. I hope you found this t-shirt and jeans outfit fun and lighter way to spread awareness around the Not One Type campaign. As always, thank you so much for reading.


Heros.
Mothers.
Daughters.
Sisters.
Women ?
You may also like these posts: Old Navy Jeans Review | Barefoot Dreams Cardigan Review
Reading this post on mobile? Be sure to download the LIKEtoKNOW.it and follow me "lapassionvoutee" for exclusive, in-the-moment shoppable posts.


Also, available on Android 🙂 It's also the fastest way I can keep you updated on the latest sales and newest styles since blog posts take a lot of time to create. Here's what you've recently missed!