Exactly What to Wear Horseback Riding: 70+ Outfits Ideas
This post may contain affiliate links which means I will get a commission if you make a purchase at no additional cost to you. As an Amazon Associate I earn from qualifying purchases. Please read my disclosure for details.
Horseback riding is an adventure that calls for style, comfort, and a dash of daring. If you're wondering what to wear horseback riding, our handpicked equestrian essentials will make you feel both chic and secure.
Horseback riding is not just an exhilarating adventure; it's a dance with nature that thrills the soul. But let's face it, choosing the right attire for this graceful escapade can be a bit daunting, especially if you're saddling up for the first time.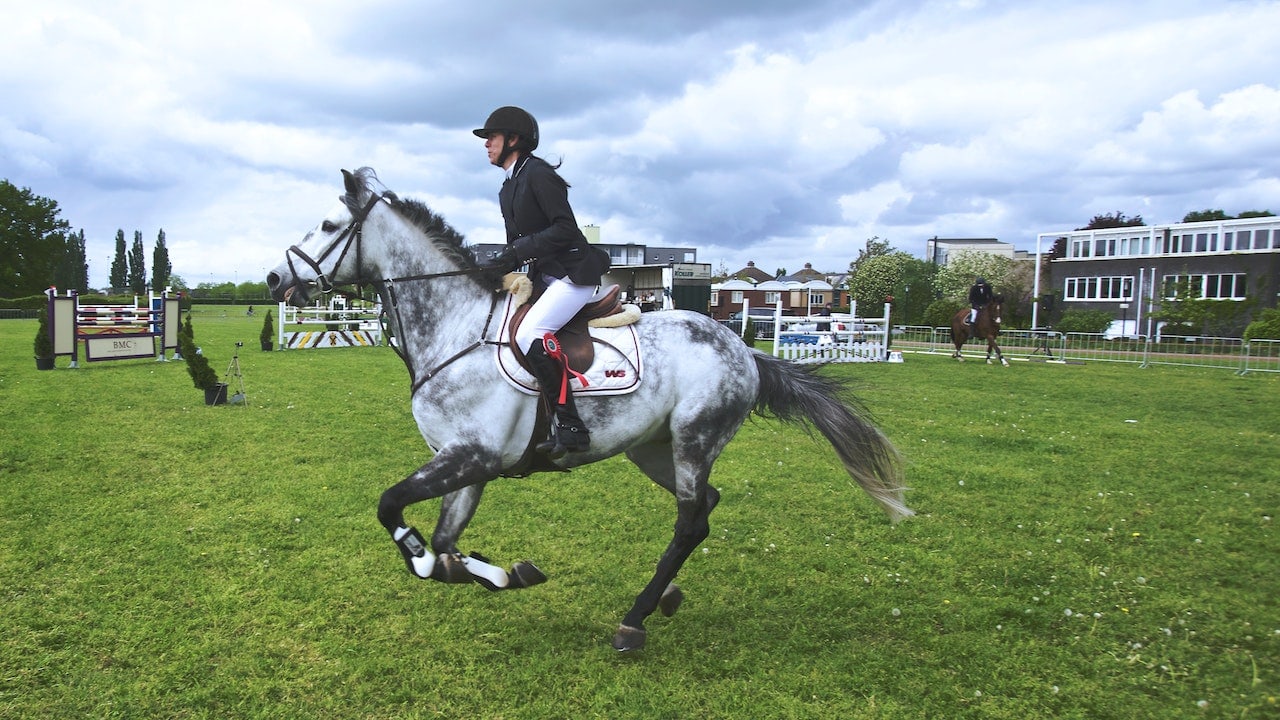 If you've found yourself here, you're likely one of those eager first-time riders or perhaps an experienced equestrian looking for a fresh take on riding fashion.
Either way, this master guide is tailored to enlighten you on what to wear horseback riding, ensuring that you look as fabulous as you feel on your equine adventure.
Ready? Let's giddy up!
Understanding Horseback Riding
For quick mind enrichment, there are several types of horseback riding. The most common ones are English, Western, and beach horseback riding.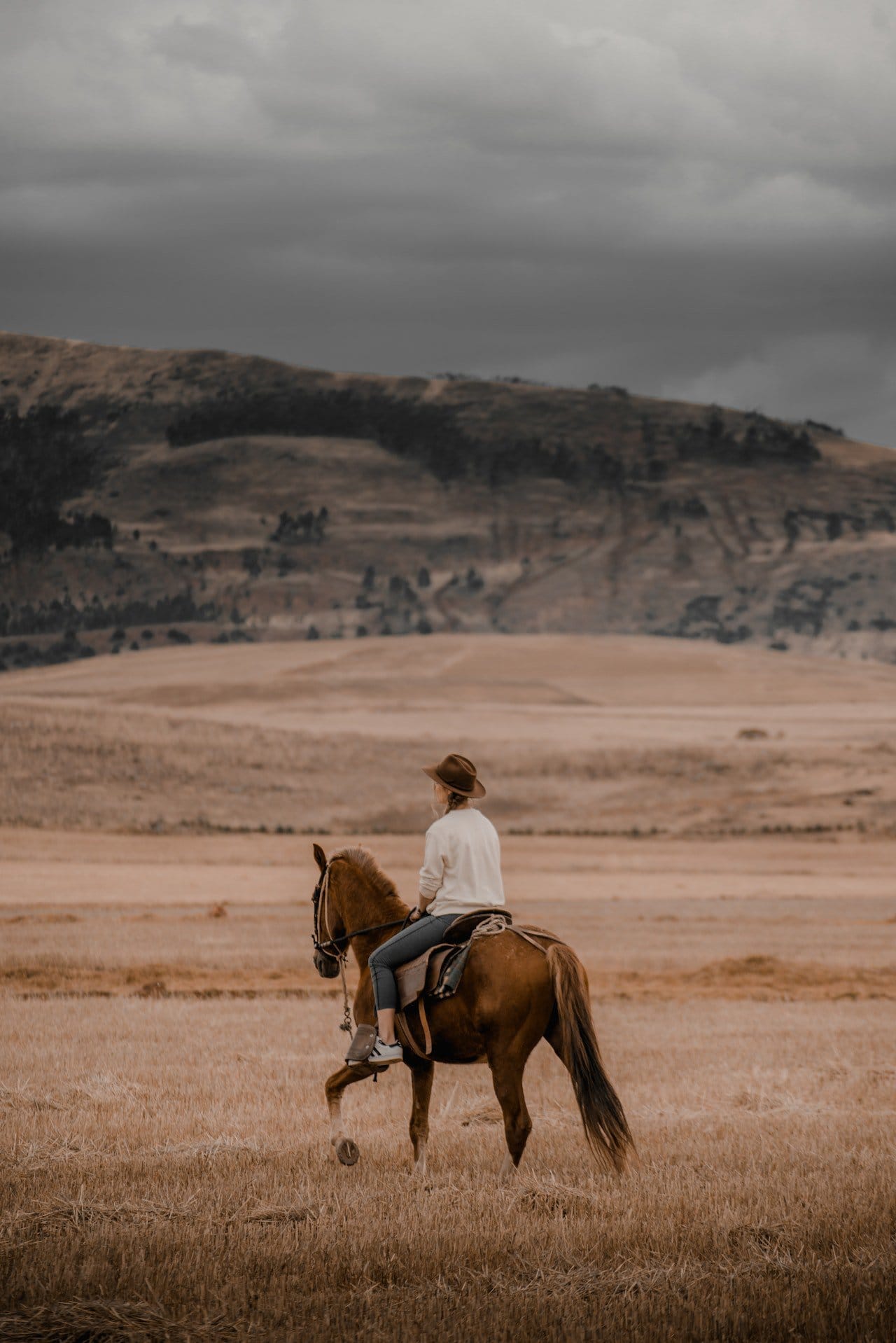 Read this article for a more comprehensive comparison between English and Western horseback riding.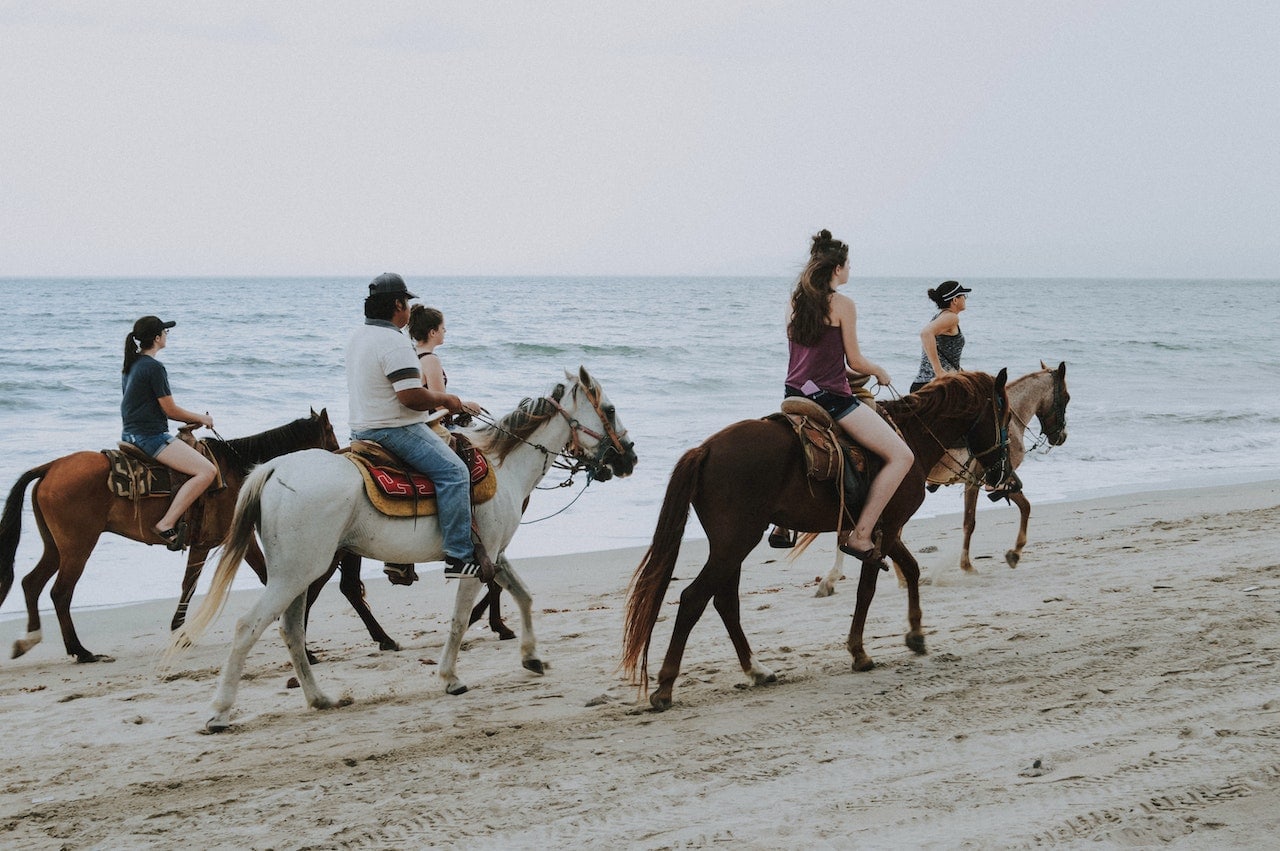 What to Wear Horseback Riding in the Summer
Horseback riding in summer is definitely a challenge. You must keep your focus on riding, so uncomfortable clothing should be the least of your worries.
You should remember only one thing when riding in hot weather conditions; VENTILATION. You have to choose clothes with very good ventilation and sweat-wicking properties.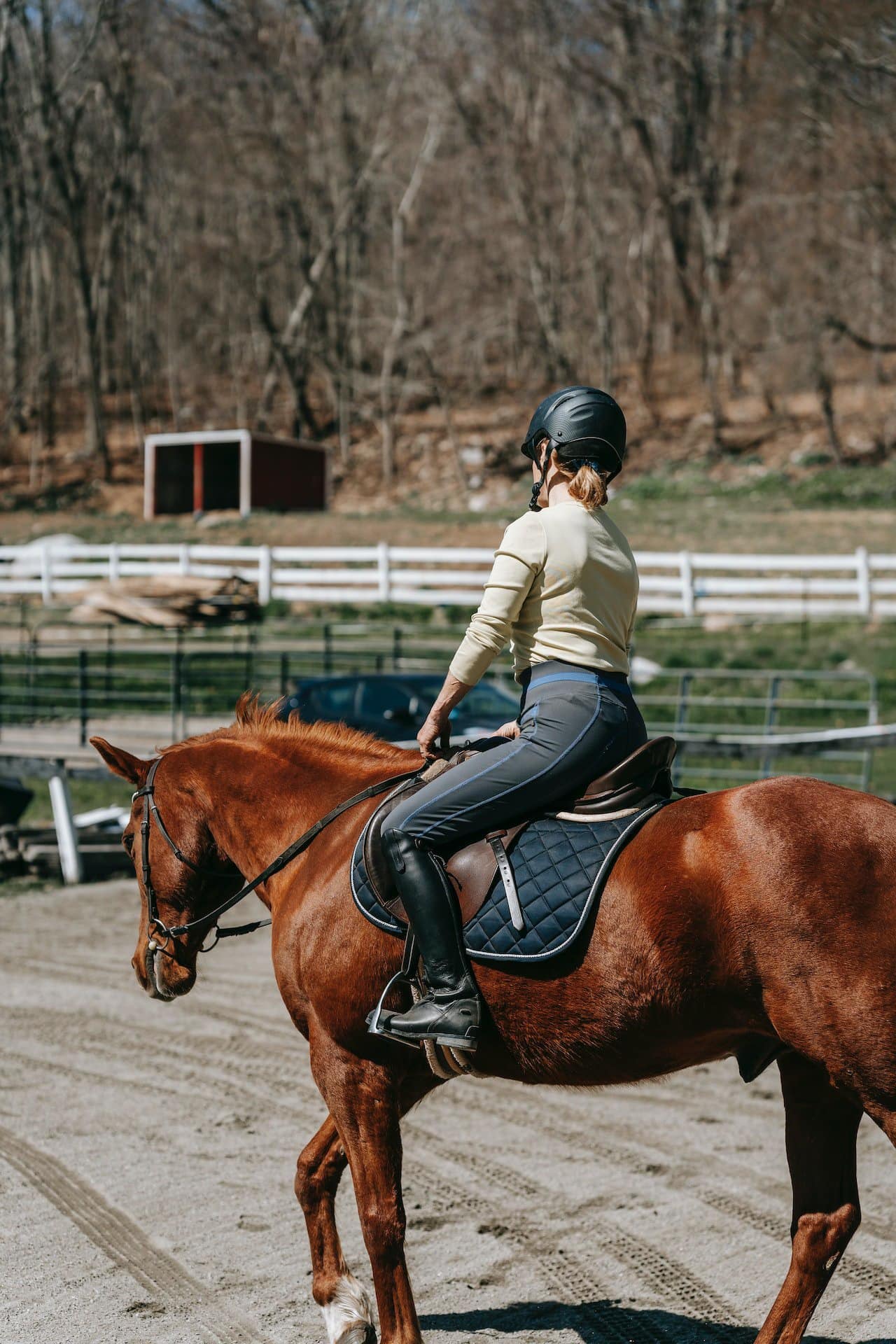 Here's a list of what to wear for horseback riding in the summer to make it easier for you:
Horseback Riding

Outfit Ideas
English Riding
Going off strong with one of the two common types of horseback riding, the English riding. As it is rooted in European horsemanship, it is all about combining athleticism and grace in a timeless tradition.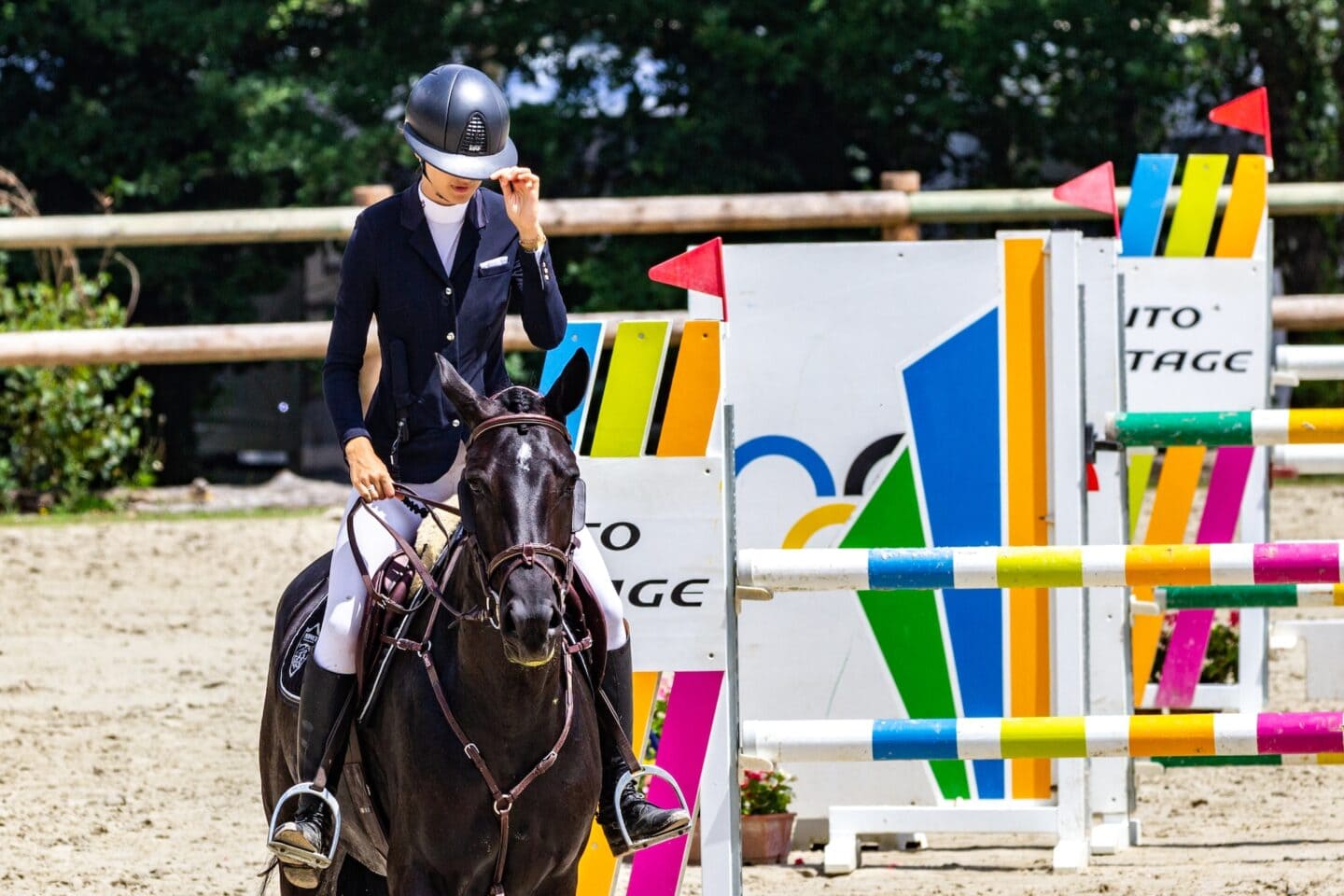 English riding has a disciplined and classical approach to equestrian sports. That's English riders must also keep their clothing classy and distinguished.
Here's a simple English riding outfit combination:

Western Riding
Western riding is about the American cowboy's spirit and ranch work traditions. It showcases the adventurous spirit of the American West.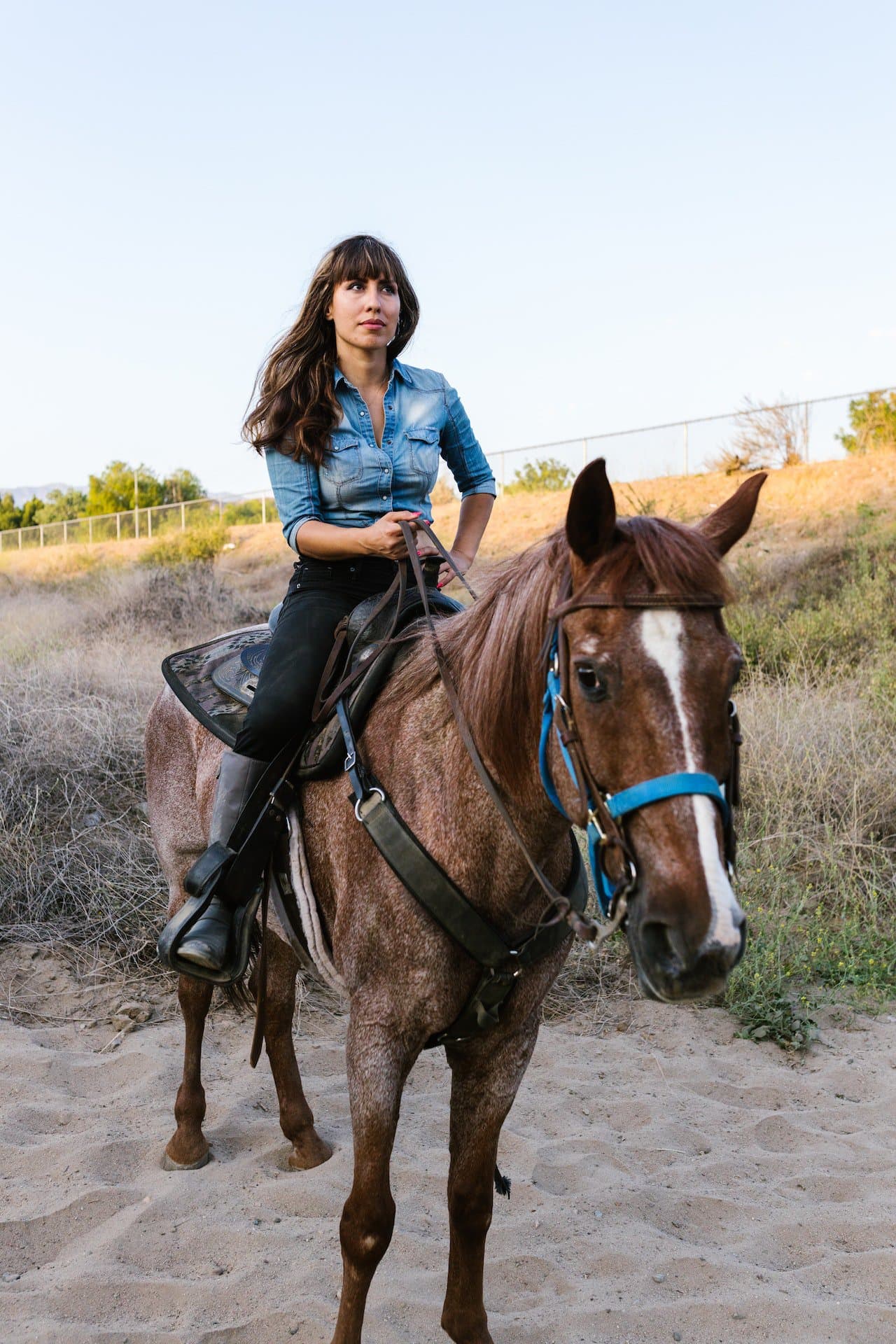 Western riders have to go all rugged and free-spirited for this rustic type of riding. They can opt for the following ensemble:

Casual Trail Riding
Want to experience that laid-back equestrian activity? I got you! You can also go casual for your outfit for a casual trail ride.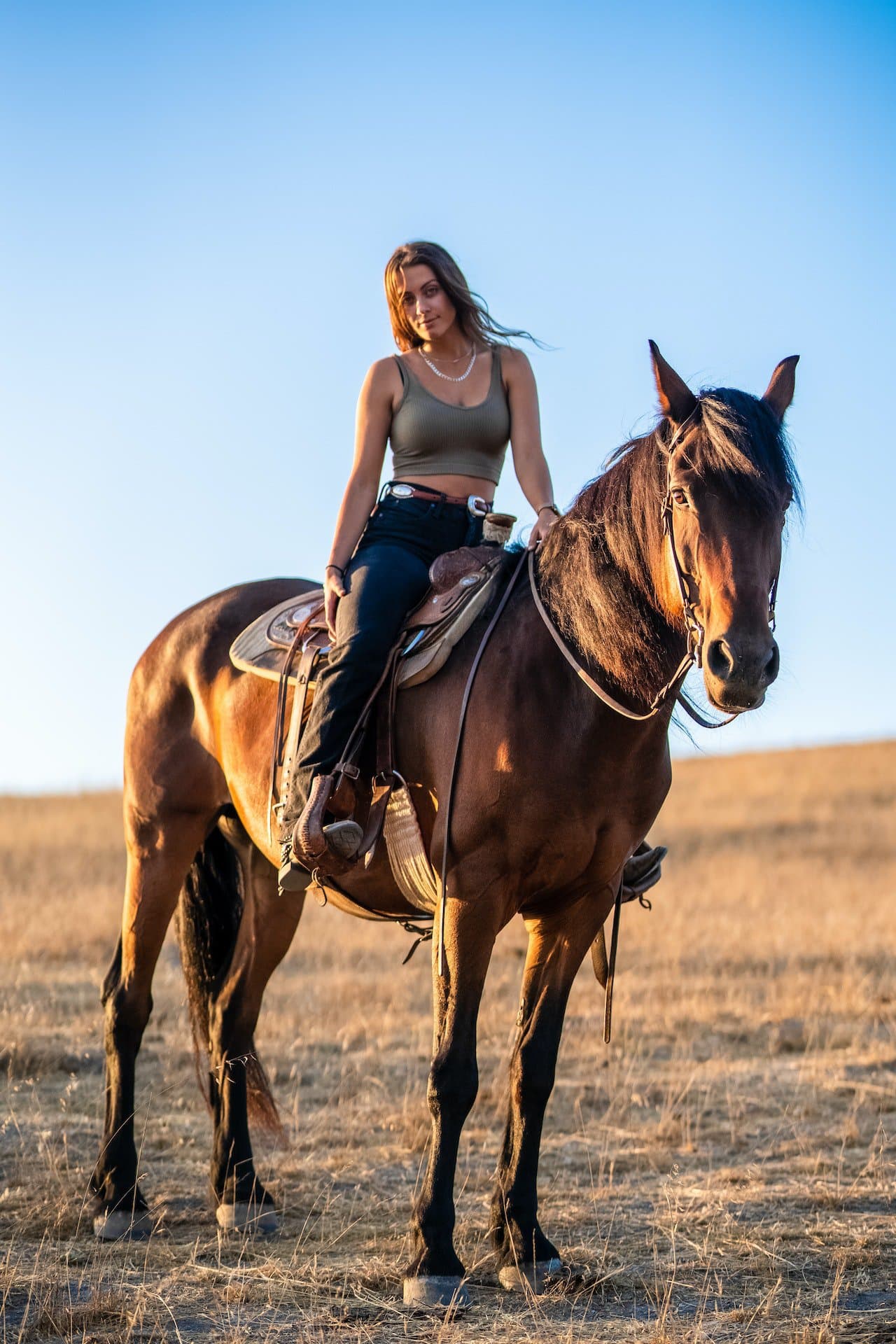 Whether riding solo or with friends, I bet you would be taking pictures, so you might as well make your casual outfit as chic as possible.
Check out this casual combo:

Dressage Riding
When talking about elegance in equestrian activities, dressage riding will surely be one of them. It is associated with grace and elegance between the rider and the horse.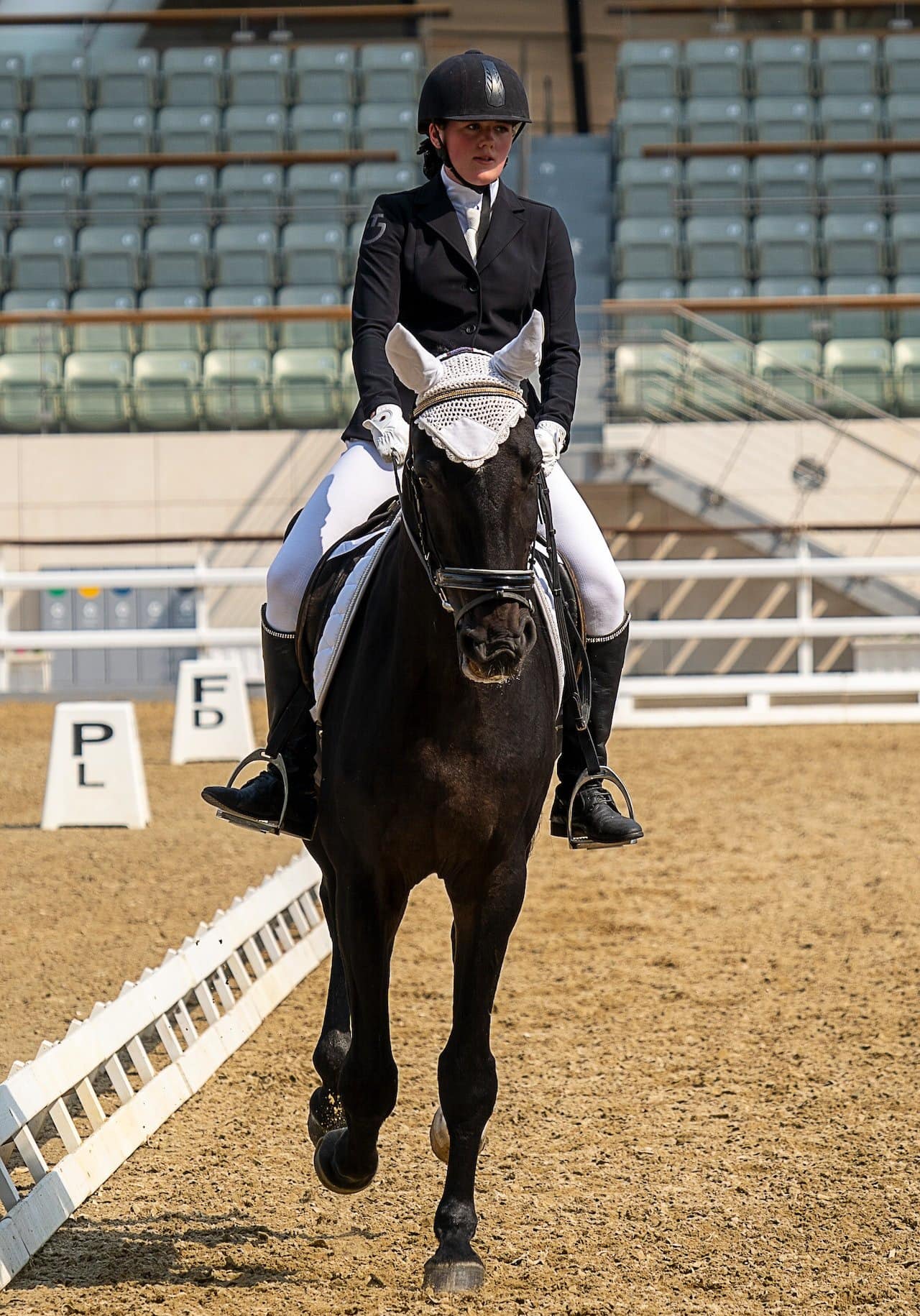 For that refined and sophisticated riding attire, go for the following combination:

Western Pleasure
When it comes to Western Pleasure show, it's either go big or go home! You and your equine companion will be showcasing the skills and bond you have fostered throughout time in front of a crowd.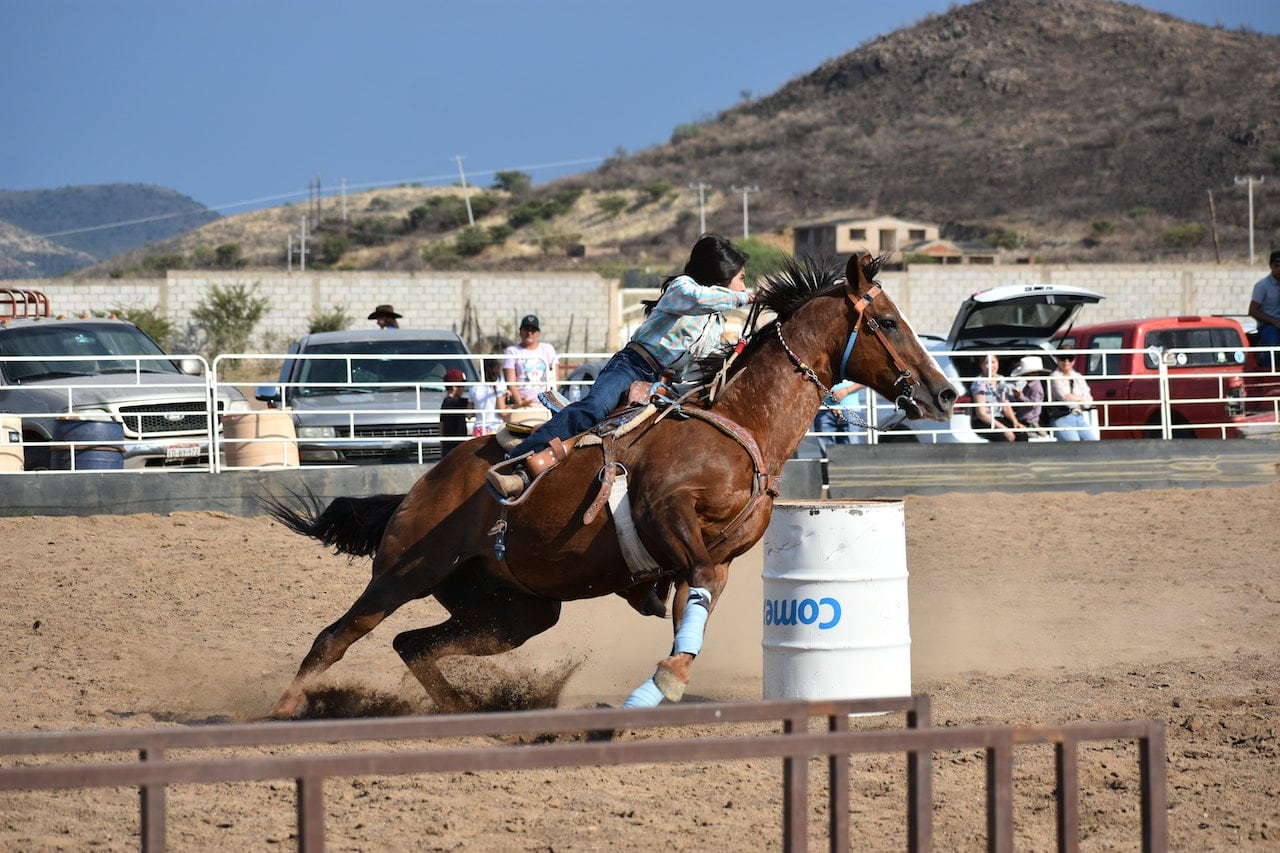 Horse enthusiasts, riding instructors, trainers, and spectators will be present, so better give them a good show and a good outfit to check out.
I took the job of rounding up this ensemble for you:

Endurance Riding
Getting ready for an endurance ride? No problem! This equestrian sports activity will traverse various terrains, so you must dress appropriately for that.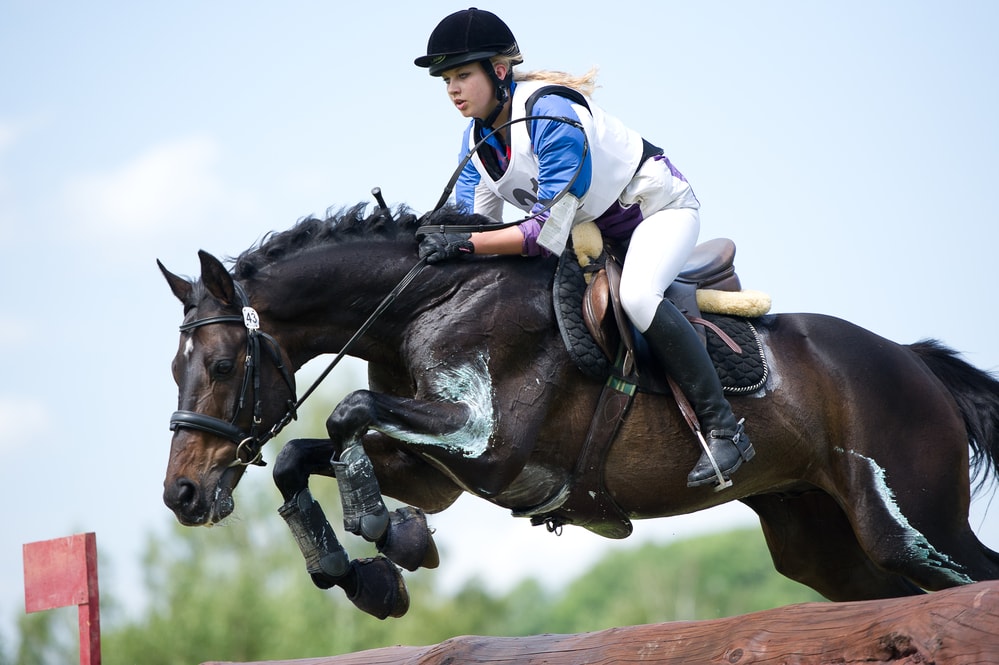 For an exhilarating endurance ride, you can consider this combo:

Polo Riding
We have another sports type of horse riding; polo riding. This is a fast-paced equestrian sport that is a combination of skillful horsemanship with a competitive team dynamic.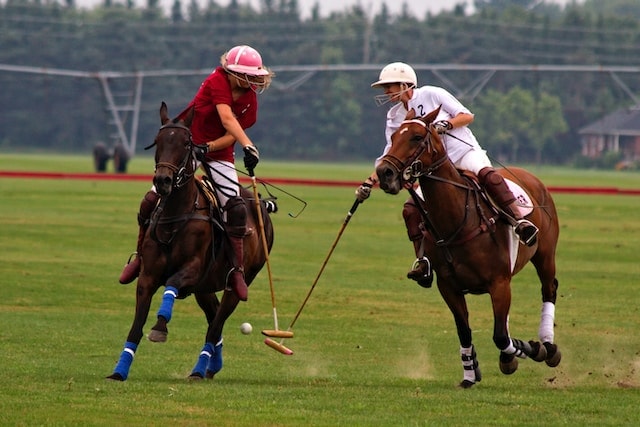 You must wear stylish and functional attire for this intense horse riding type. Choose the following:

Show Jumping
Show jumping is an event where a rider and horse showcase impeccable agility and tenacity in colorful fences and obstacles.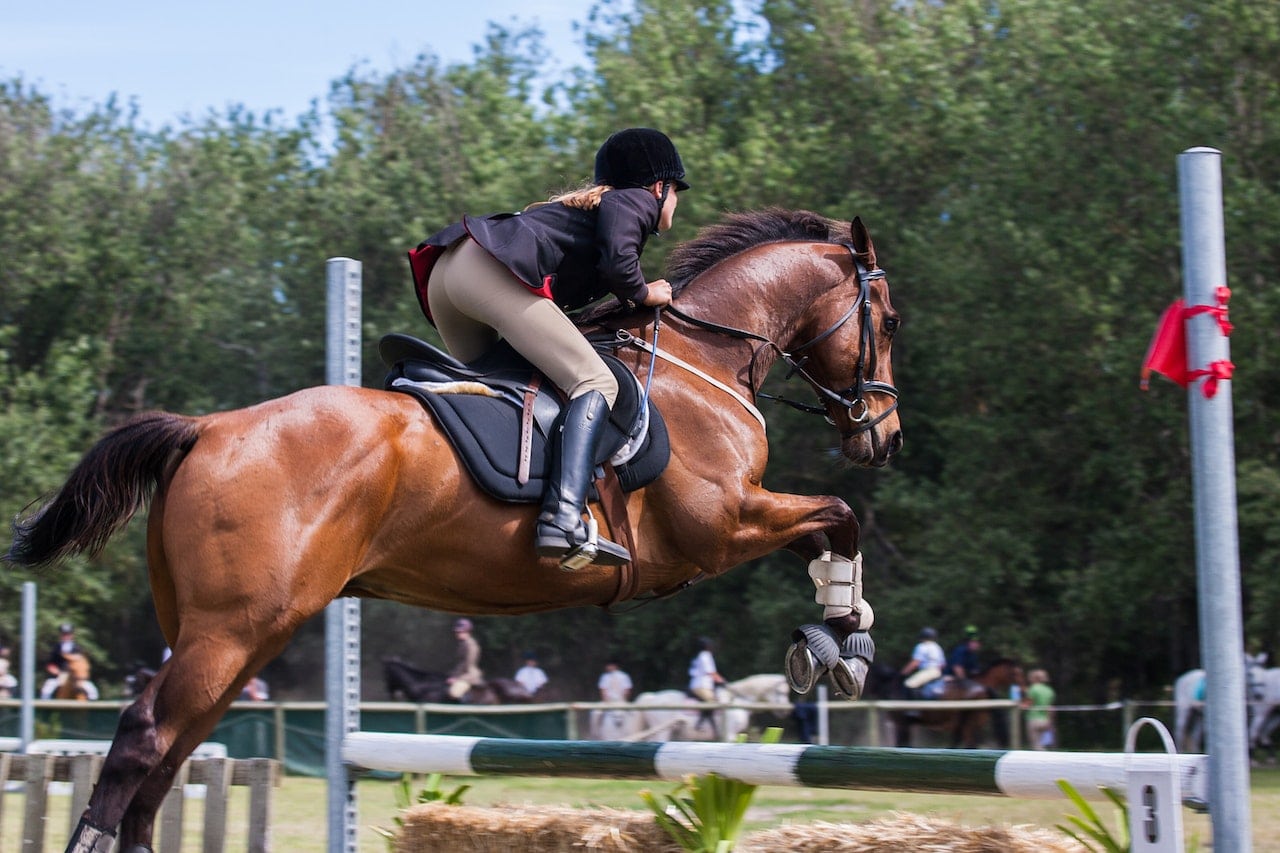 For this type of horse riding, you can for this ensemble:
Last update on 2023-10-01 at 03:41 / Images from Amazon Product Advertising API
Last update on 2023-10-01 at 03:41 / Images from Amazon Product Advertising API
Barrel Racing
For that thrilling, high-speed rodeo event known as barrel racing, horseback riders can go all-out for their looks.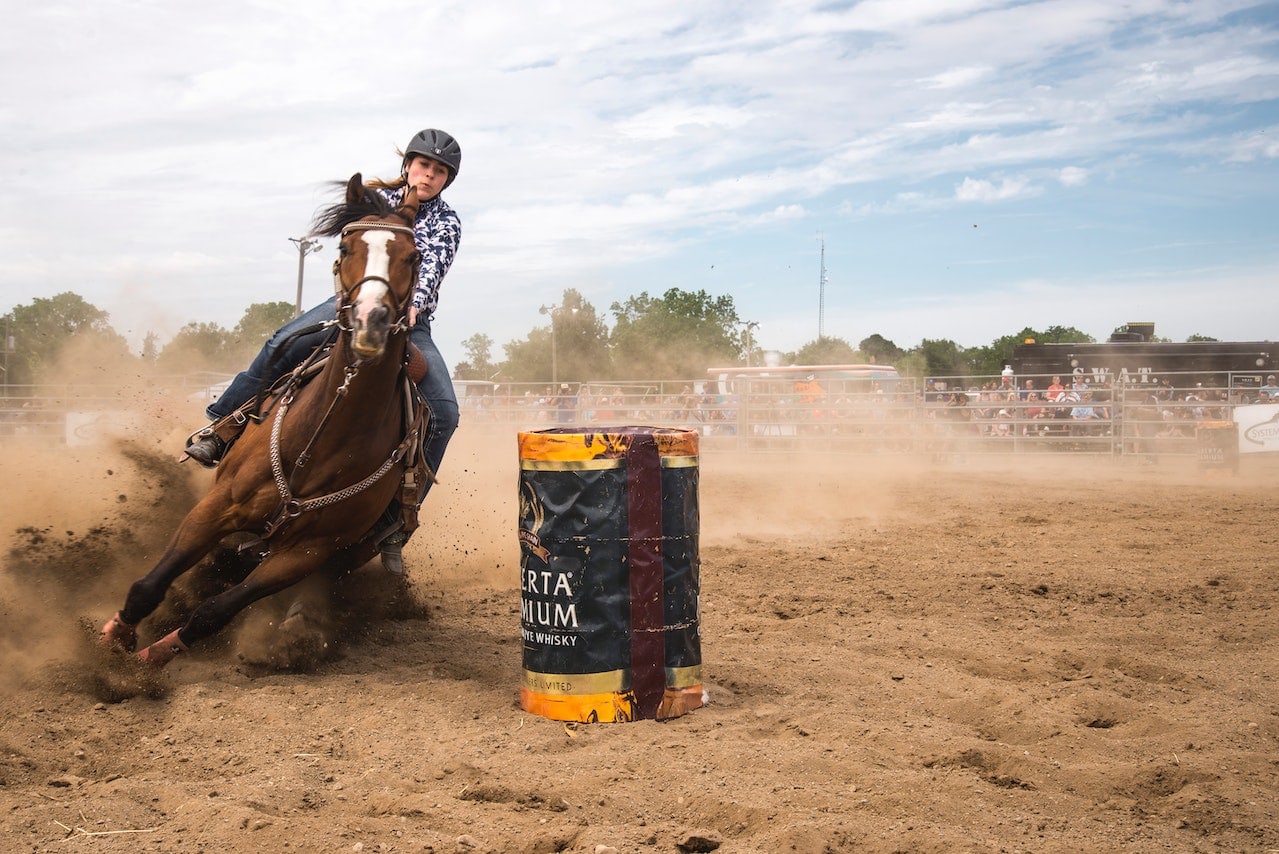 Barrel racing is an equestrian sport to complete a precise cloverleaf pattern while avoiding knocking the barrels set up. Since you'll be there anyways, you might as well show them how one can be good with guiding horses while looking good simultaneously.
Rock this event with this get-up:

Vaulting
We have another captivating and artistic equestrian sport, vaulting. It is a mixture of gymnastics and dance on horseback. Sheesh!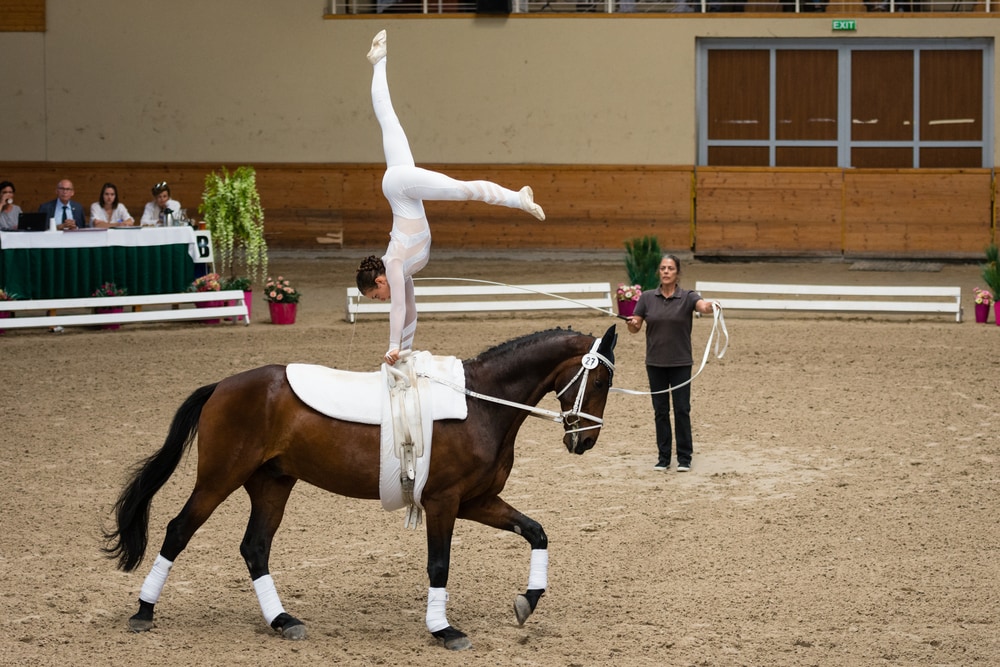 If you're a first-timer in vaulting, I recommend having this ensemble:
FAQ About What to Wear Horseback Riding
Should I wear leggings or jeans horseback riding?
It depends on preference and what type of horseback riding you'll be doing—leggings and a pair of jeans are the two most classic choices in horseback riding. Opt for stretchable and breathable materials when choosing these garments to ensure your comfort in the saddle.
Are jeans OK for horse riding?
Are horse riding pants necessary?
No, horse riding pants are not necessarily mandatory but can enhance your riding experience. Riding pants designated for horseback riding, such as riding tights or breeches, are designed with features like knee patches or full seats that offer better grip in the saddle.
Do you need sneakers for horseback riding?
No, a pair of sneakers is a bad idea for horseback riding. Sneakers mostly have rubber soles with extra grip, making it challenging to free your foot in case of an emergency. Always choose to wear appropriate, quality pair of footwear designed for horse riding.
Can I ride a horse in sweatpants?
Yes, you can, but for safety and comfort purposes, I recommend not to. Its soft and loose material may cause chafing and discomfort during riding sessions. Wearing comfortable pants with better flexibility, support, and protection is ideal.
Can you wear gym leggings for horse riding?
Yes, certainly! You can wear a comfortable pair of gym leggings for horse riding, especially if they are made from moisture-wicking and stretchy fabric. Gym leggings offer flexibility and can keep you comfortable during casual rides or riding lessons, especially for beginner riders.
What shoes to wear horseback riding?
Horseback riding boots come in various designs, including tall boots for English horseback riding lessons and Western boots for Western riding. It is vital to wear proper riding boots to avoid accidents on your ride.
Key Takeaways About What to Wear Horseback Riding
Horseback riding is indeed fun and exciting. It only takes a couple of appropriate clothing to make your riding experience comfortable and memorable.
For a quick recap, when choosing what to wear to horseback riding, always remember the type of horse riding you're going into.
The rule of thumb is always to wear proper garments such as helmets, riding boots, ventilated shirts, fitted jeans or leggings, and sweat-wicking underwear.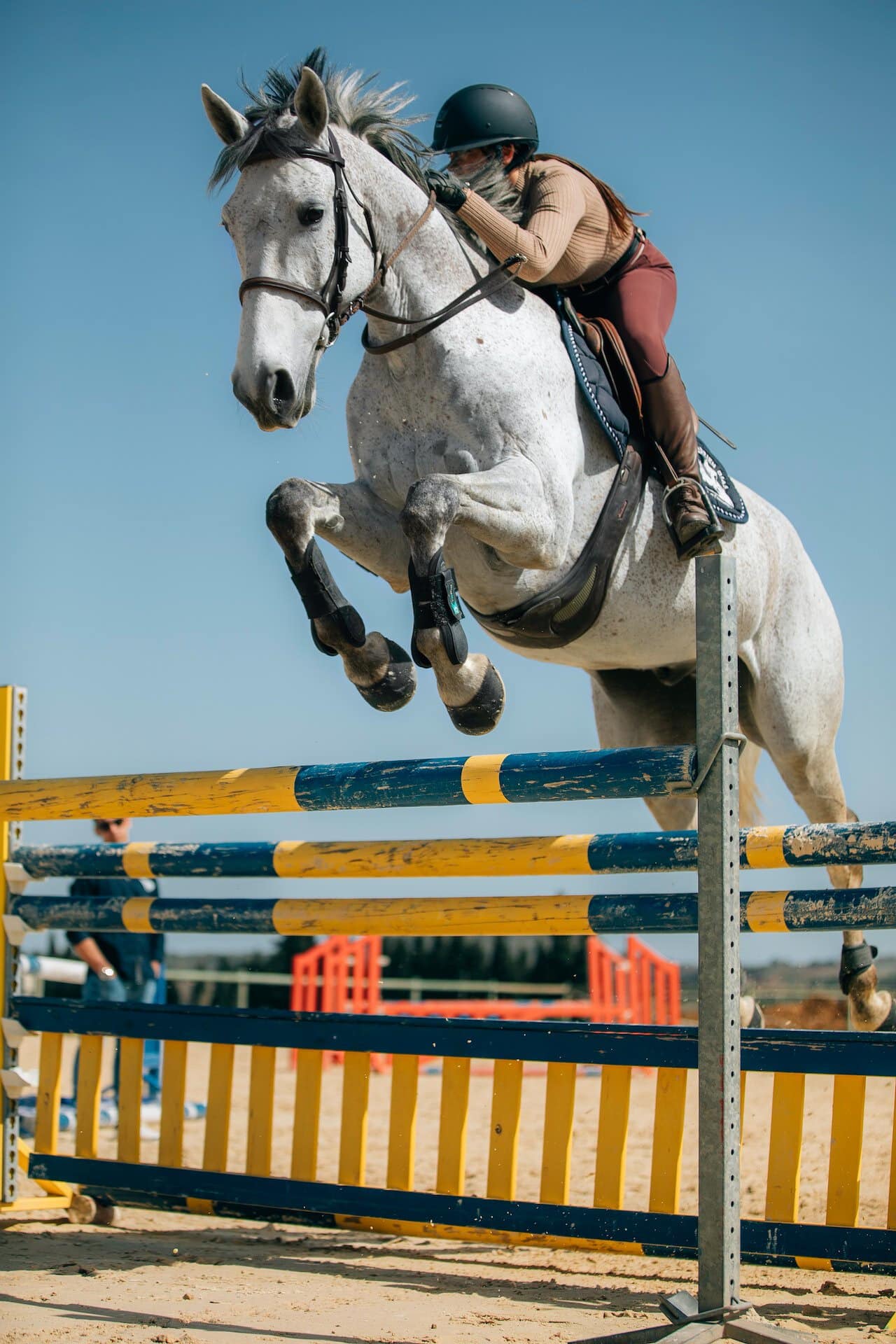 Whether it's equestrian training or just a casual stroll, it's important to be mindful of possible injuries you'll get if not dressed appropriately for a horseback ride.
If you enjoyed this post about what to wear to horseback riding, you'd love these related blog posts: