Advanced Clinicals Reviews: Vitamin C Serum, Coconut Oil Cream, and Rosewater Mask
This post may contain affiliate links which means I will get a commission if you make a purchase at no additional cost to you. As an Amazon Associate I earn from qualifying purchases. Please read my disclosure for details.
If you're all too familiar with the beauty industry, you know that many skincare brands make promises that they can't deliver. That's why I love writing product reviews on things I've tried.
And this Advanced Clinicals reviews on the Vitamin C Serum, Coconut Oil Cream, and Rosewater Mask is no exception (p.s: they're all on Amazon!).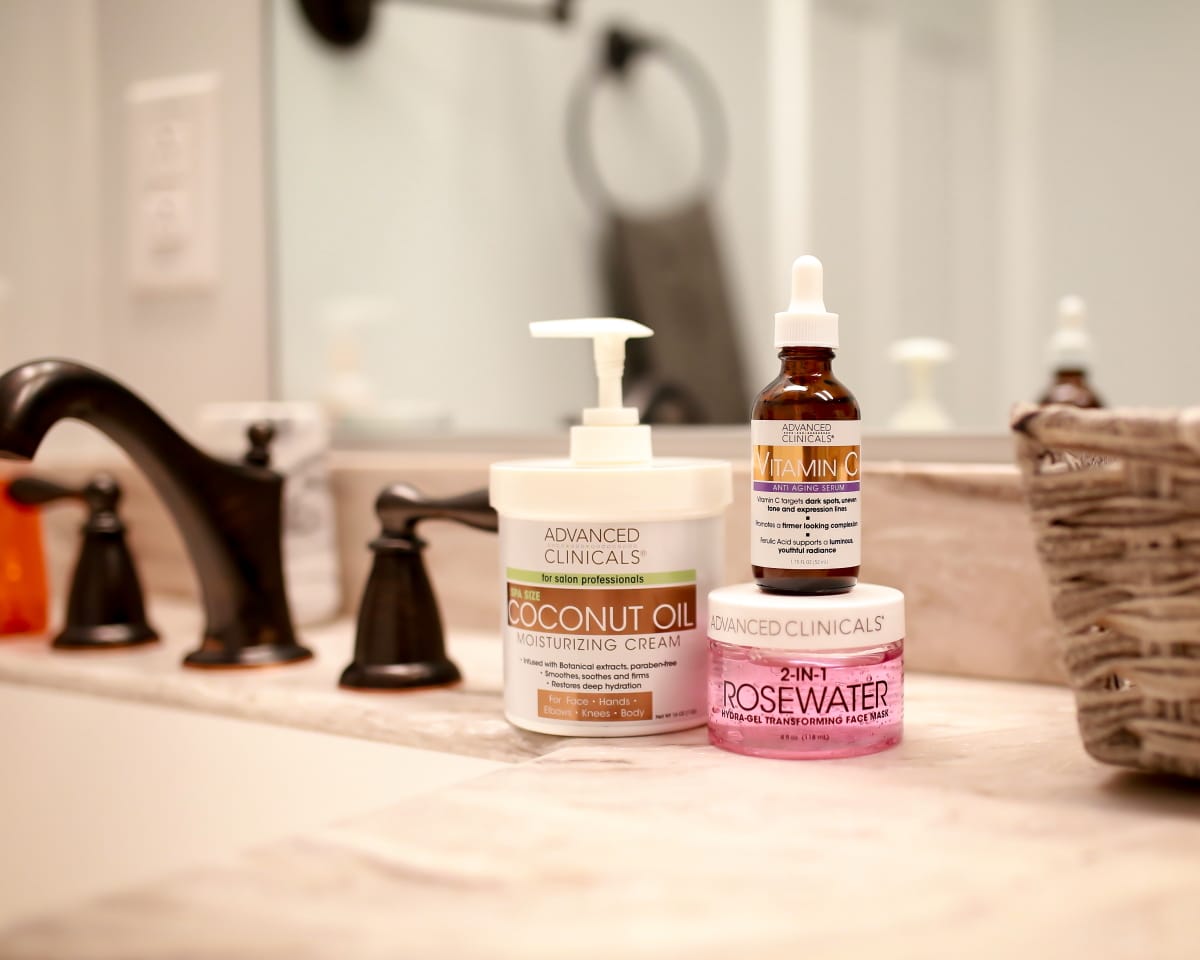 In honor of National Self Care Awareness Month, I want to share this inspiring quote:
"Caring for myself is not self-indulgence, it is self-preservation, and that is an act of political warfare."

audre lorde
In full disclosure, I've seen, heard, and possibly tried Advanced Clinicals cream many years ago.
But, I did not use the product long enough to have an opinion about their skincare solutions. So when they reached out to me to try out some of their products, I jumped on the opportunity.
I knew that the Advanced Clinicals retinol serum and retinol advanced firming cream had rave reviews. Instead, I decided to try products that I was currently using, or I had some experience with. I chose:
Advanced Clinicals Vitamin C Serum
Earlier this year, I noticed dark circles around my eyes. To get rid of them, I started using Vitamin C. Over a few weeks, the dark spots reduced significantly. But I had a hard time using the serum before my makeup.
That particular serum product left my already oily skin looking super shiny. Since I've had great results with vitamin c formula, I was most excited to try the Advanced Clinicals Vitamin C serum.
And for the Amazon lovers, this vitamin c serum is available on Amazon from Advanced Clinicals with free prime shipping.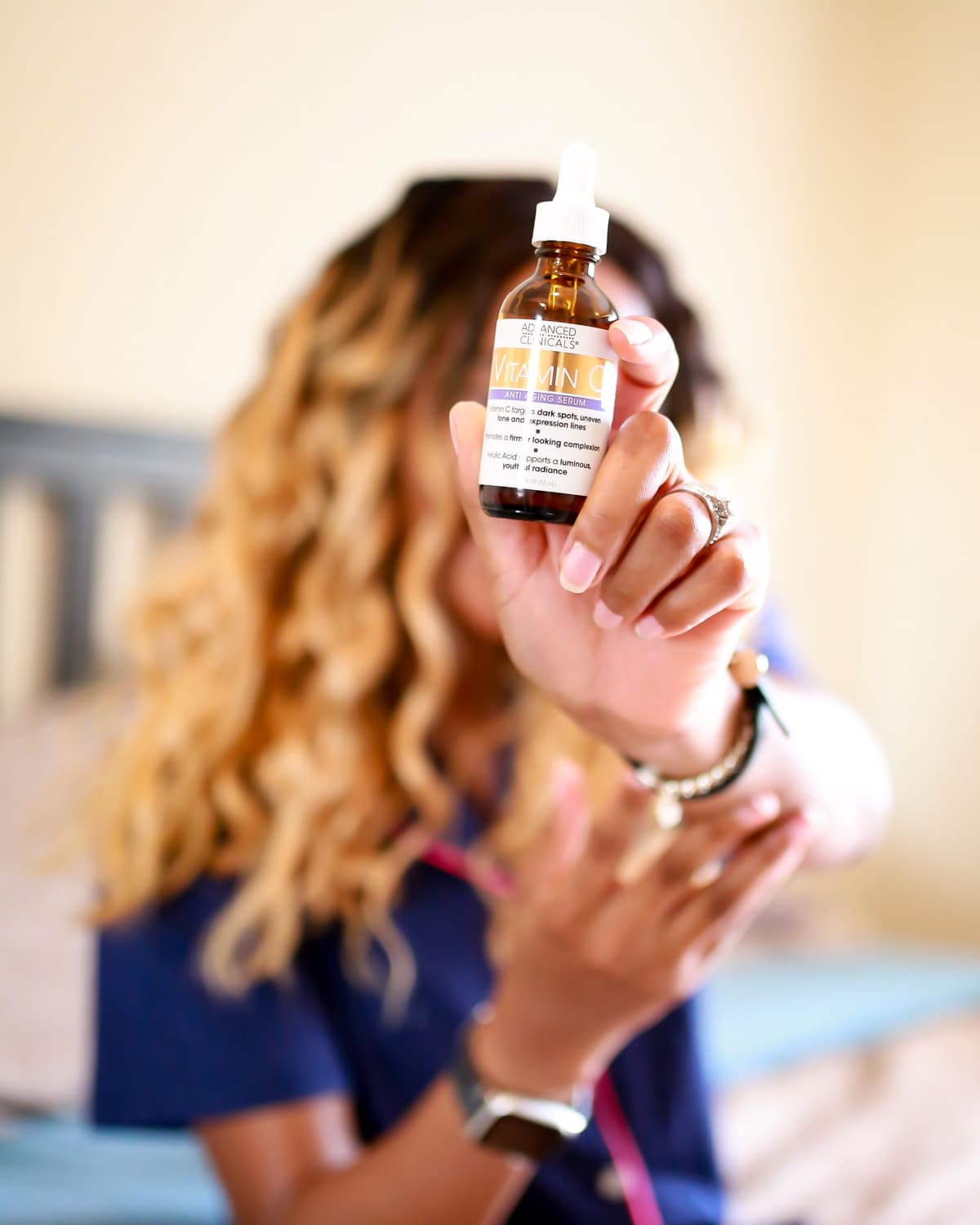 First Impression
It is less watery than other items I've used. Then I had concerns that the Advanced Clinicals serum would feel like a serum layer of skin.
But surprisingly, a few drops were all I needed for my face and neck. The product absorbed well without leaving any shiny residue on my face.
The serum also smells terrific without being overwhelming. And it is infused with aloe vera to help soothe your skin. Here's what people are saying about this serum on Amazon!
Benefits
Decreases the signs of aging
Targets dark spots and uneven tone
Diminishes expression lines (deep wrinkles)
Promotes firmer-looking complexion
Supports more youthful glow
Does not contain paraben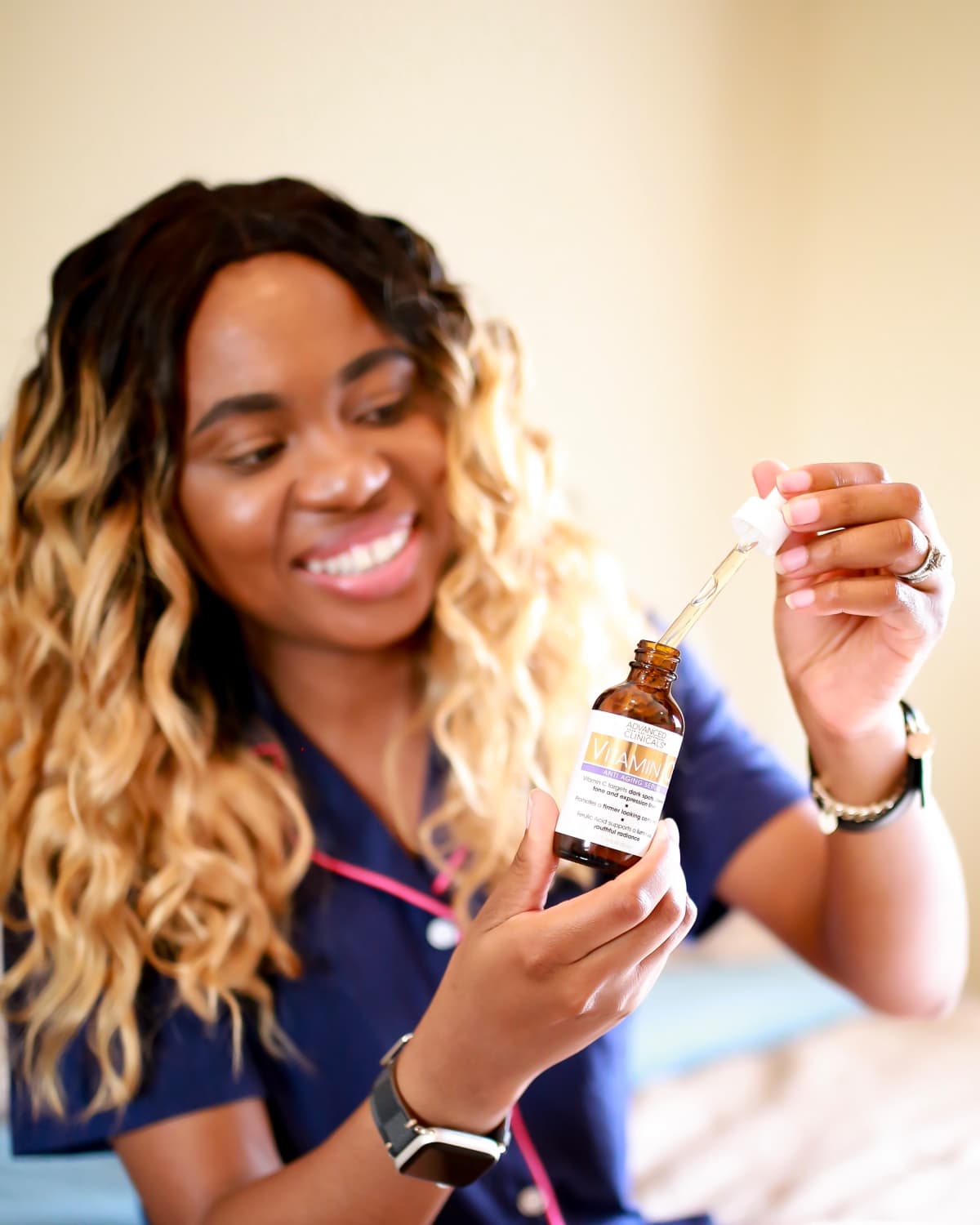 Active ingredients
Potent vitamin c serum and Ferulic Acid (a natural antioxidant)
How to use Advanced Clinicals Vitamin C Serum
After cleansing face, drop serum onto fingertips for application. Gently pat product onto skin, focusing on problem areas.
Allow several minutes for the serum to absorb. Follow with moisturizer. May be applied daily, day or night.
P.S.: This product contains Alpha Hydroxy Acids which increase your skin's sensitivity to sunlight, use sunscreen and limit your exposure to the sun while using this serum (and for two weeks afterward) to prevent sun damage.
---
Advanced Clinicals Coconut Oil Cream
As a woman of color, I feel as though I was inducted into the world of coconut oil from birth. Over and over again, you'd hear about the benefits of coconut oil, black soap, and charcoal-containing products.
The harsh Alaska winters left my skin begging for mercy. However, there were only a handful of products that I liked using during those months.
Although I did not use it during that time, I took this cream with me on my trip to Alaska. And guess what, it held up to the challenge. I used this moisturizing cream everywhere except on my oil face (I used the vitamin c serum on my face).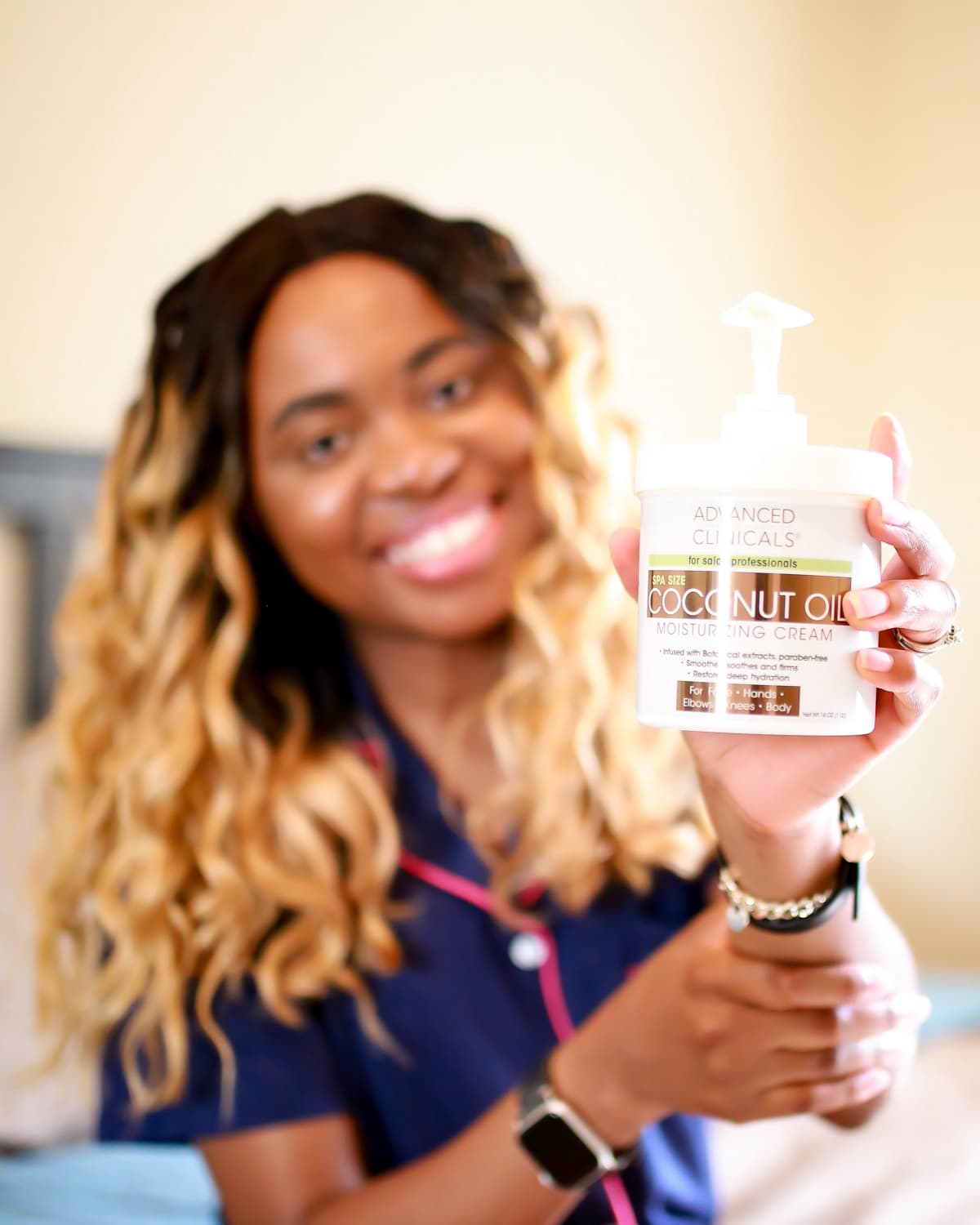 First Impression
The Advanced Clinicals Coconut Oil cream felt buttery smooth without being greasy. It was easy to apply and absorbed quickly leaving behind glowing skin and a hint of coconut scent.
The cream is a lightweight alternative to the body lotion I swear by and is paraben-free! However, the scent might be a little strong for some people.
Regardless, this product has amassed almost 1,900 customer reviews on Amazon and has earned the coveted Amazon's Choice badge as the best value for "coconut oil body lotion." Here's what people are saying!
Benefits
Infused with botanical extracts
Smoothes, soothes, and firms
Restores deep hydration
Great for face, hands, elbows, knees, and body
Free of Paraben
Not tested on animals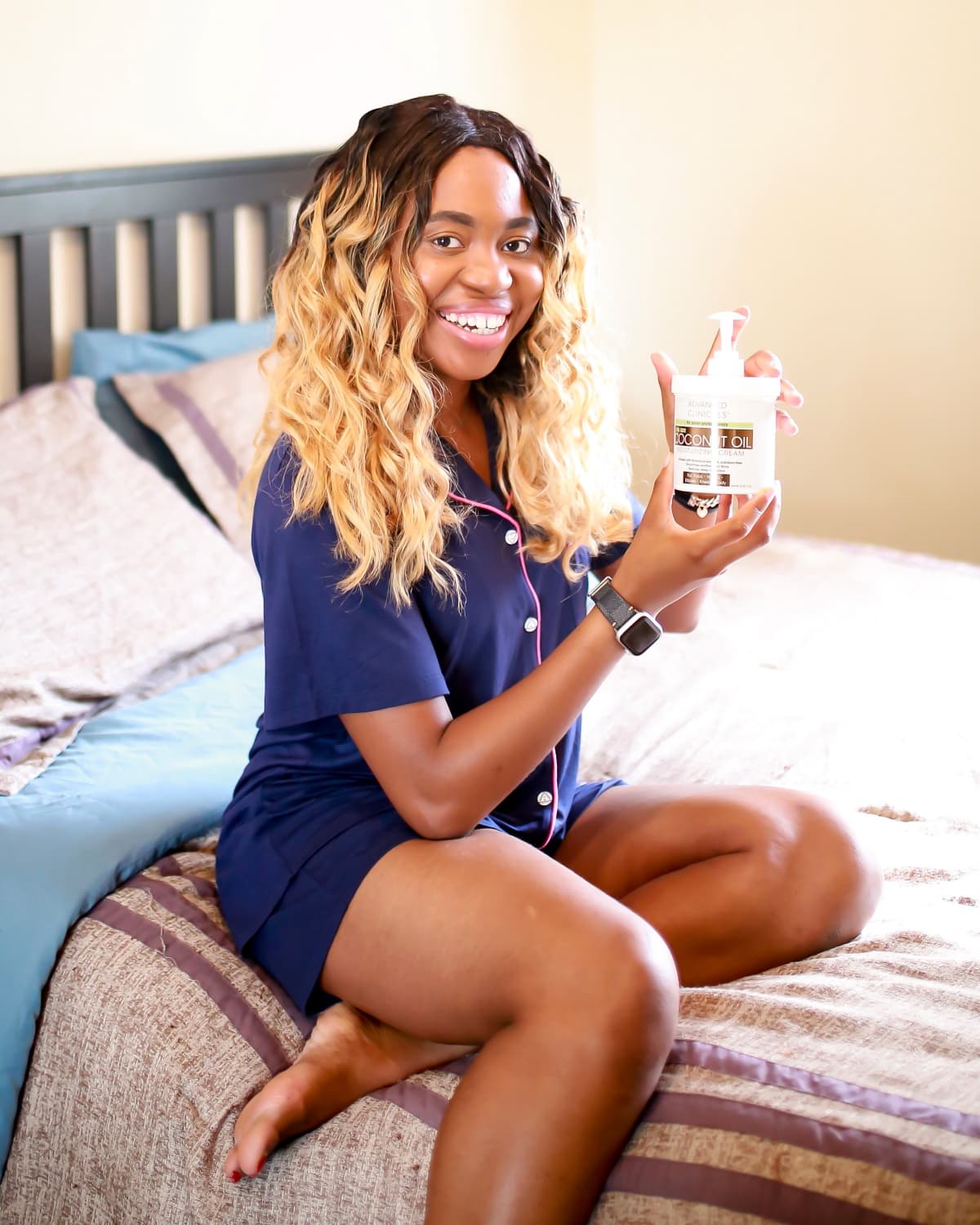 Active ingredients
Coconut oil whipped with Organic Lavender Extract, and Chamomile. Natural Glycerin, and concentrated pure Aloe Vera.
How to Use Advanced Clinicals Coconut Oil Cream
Apply a sufficient amount of the cream onto cleansed face, neck, and hands. Gently massage into skin using upward circular motions, paying particular attention to the wrinkles, until fully absorbed. Use daily.
---
Advanced Clinicals Rosewater Mask
As I write this post, I have a light layer of the Advanced Clinicals Rosewater Mask on my face. I do have a nostalgic memory of using my mom's rosewater body mist as a child.
The smell, lightness, and the after effect are hard to describe. The promise of hydrating facial mask that targets fine lines drew me this Advanced Clinicals Rosewater Mask.
The reviews on Amazon are insane! A near-perfect 5-star rating and an Amazon's Choice for "hydrojelly mask."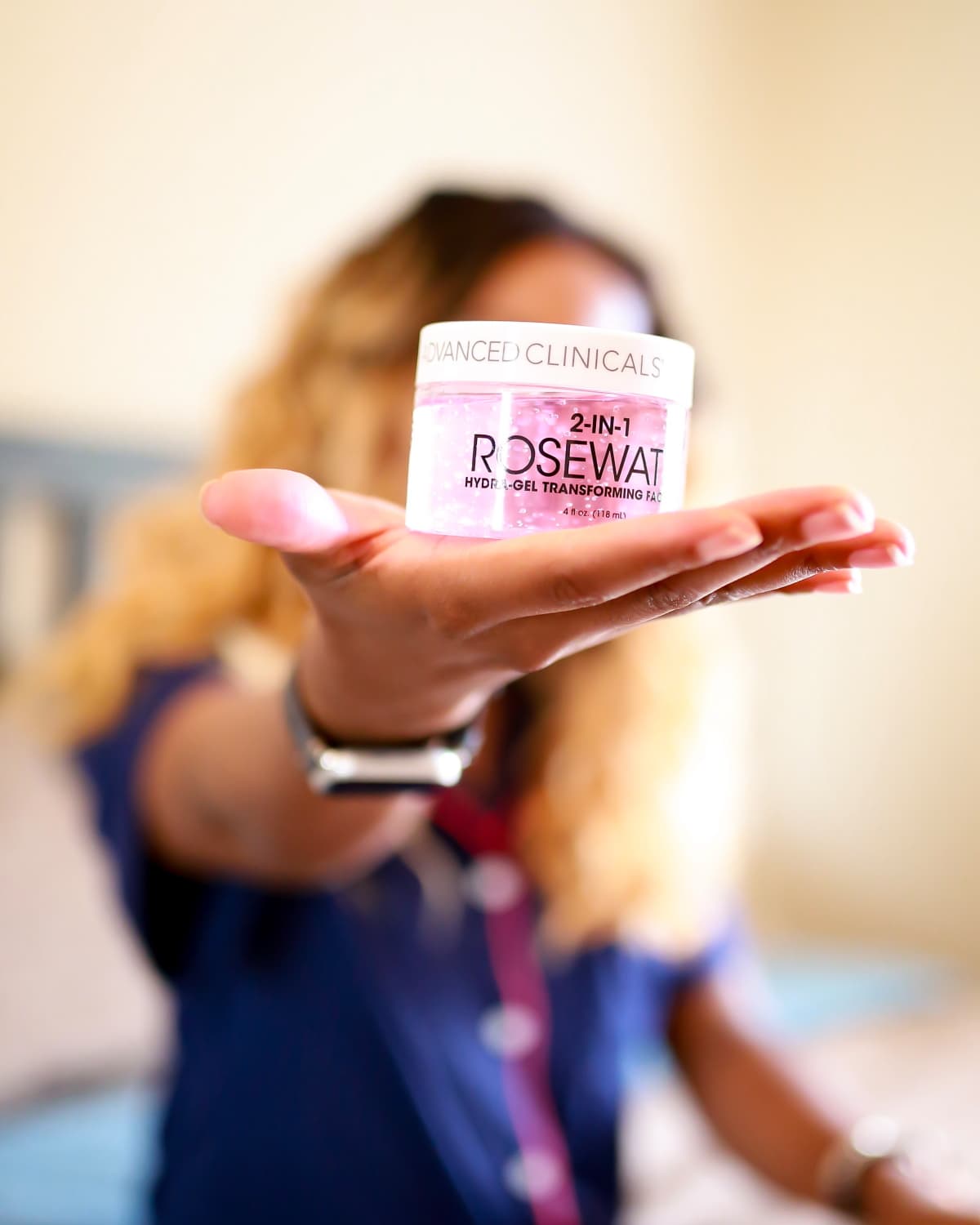 First Impression
It has a fresh, slightly minty feel in the skin that instantly makes you want to relax. The smell of rosewater infused with fruit and bamboo extracts is welcoming.
The mask has a gel-like texture that is easy to apply. And it is non-sticky on absorption. I "wore" it to bed and forgot that I had something on the next morning because it absorbs and disappears within 30 minutes.
An excellent option for those that don't like the messiness that comes with peel-off masks.
Benefits
2-in-1 hydro-gel formula
Super hydrating
Plumps the appearance of fine lines
Made with Bulgarian Rose
Does not contain drying alcohols
Does not contain parabens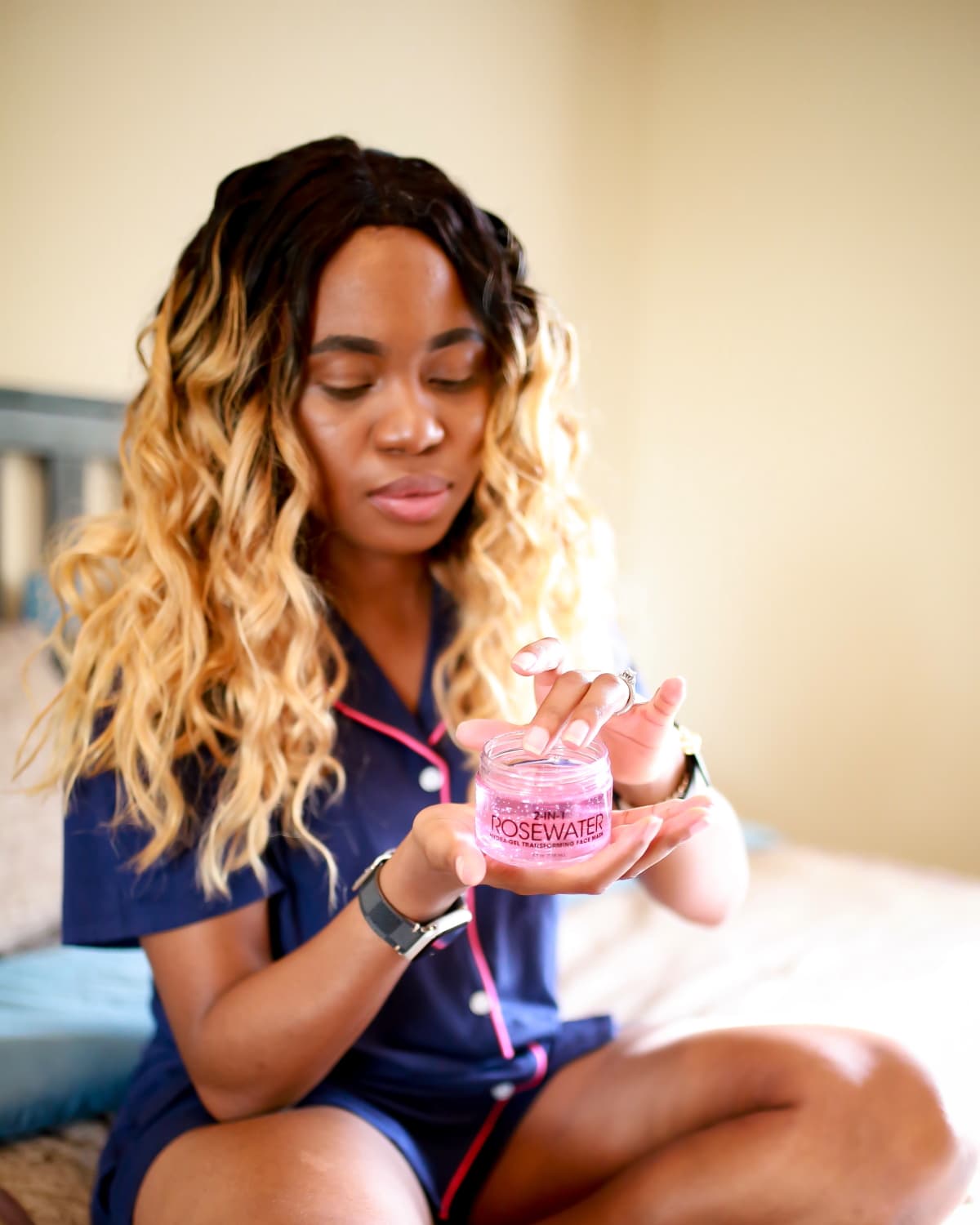 Active Ingredients
Infused with Vitamin E, Ginger, Blackberry, Green Tea, and Pomegranate extracts to plump up the look of fine lines. Bulgarian Rose infused with Vitamin E, Ginger, Blackberry, Green Tea, and Pomegranate extracts.
How to Use Advanced Clinicals Rosewater Mask
As a quick treatment: Start with clean, dry skin. Spread evenly over face and neck and let it sit for 30 minutes. Rinse clean and follow with your favorite serum (like the vitamin c serum) and/or moisturizer.
As an intensive overnight treatment: Apply to face and neck as the final step of your routine before bedtime. Gently spread over skin in a thin, even later. Allow to fully absorb before going to bed.
If using this in combination with treatments such as serums, always use this mask as your last and final step.
Where to Buy Advanced Clinicals
A great thing about Advanced Clinicals products is that each item costs $15 or less and are available at Amazon, Walmart, and the Advanced Clinicals official website.
For a limited time, you can save 20% off a purchase of Advanced Clinicals Rosewater Mask with promo code 20ROSEWATER.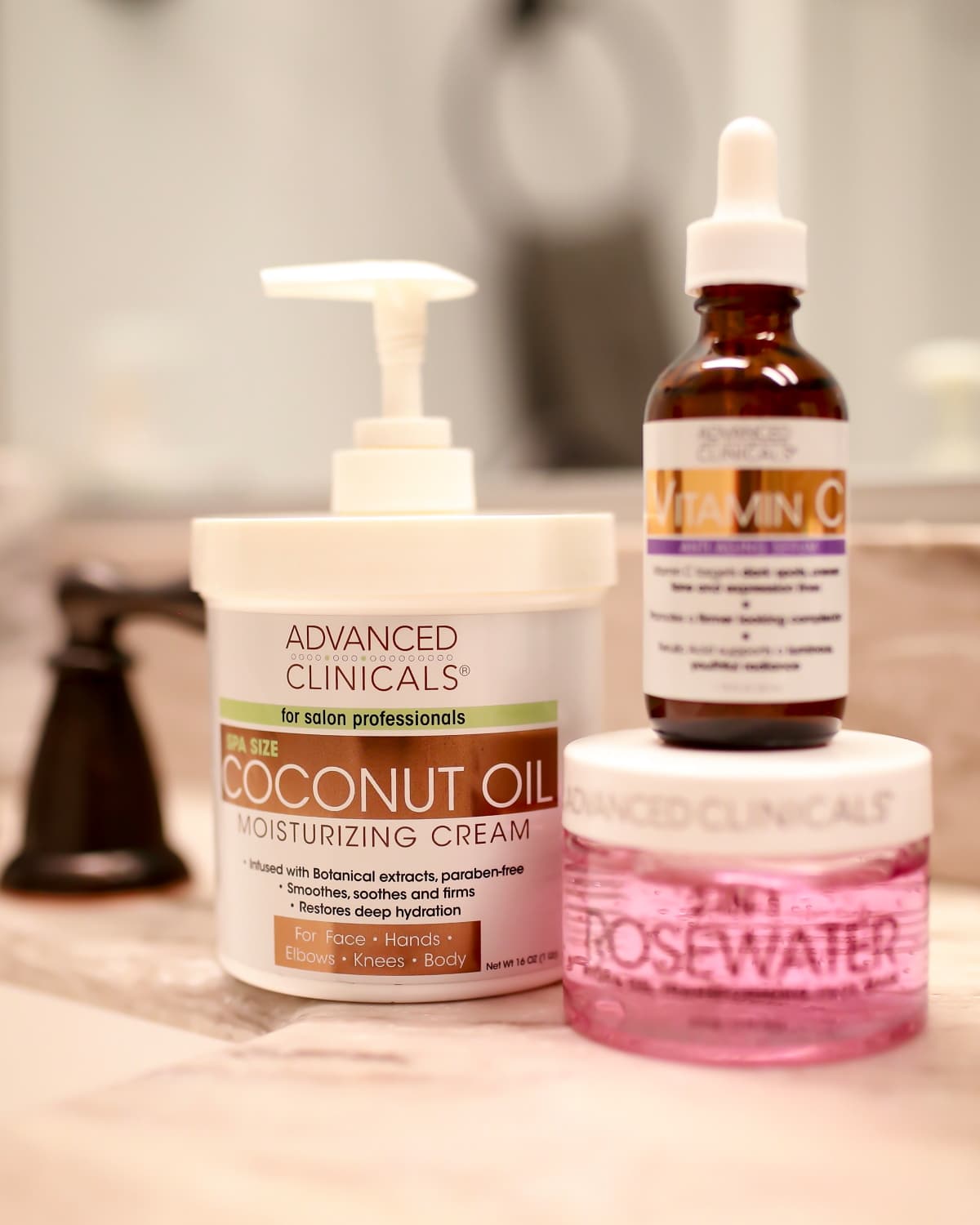 Advanced Clinicals Ingredients
For those interested in knowing the ingredients contained in each bottle of Advanced Clinicals, you'll find this helpful.
Vitamin C Serum: Water (Aqua), Aminopropyl Ascorbyl Phosphate, Ferulic Acid, Ergothioneine, Aloe Barbadensis Leaf Juice, Glycolic Acid, Lactic Acid, Tocopheryl Acetate, Ginkgo Biloba Leaf Extract, Polyvinyl Alcohol, Xanthan Gum, PEG-12 Dimethicone, Fragrance, Maltodextrin, Phenoxyethanol, Caprylyl Glycol, Ethylhexylglycerin, Hexylene Glycol, Sodium Hydroxide.
Coconut Oil Cream: Water (Aqua), Cetearyl Alcohol, Mineral Oil, Glyceryl Stearate S.E., Isopropyl Myristate, Cocos Nucifera (Coconut) Oil, Glycerin, Butylene Glycol, Ceteareth-20, Caprylic/Capric Triglyceride, Aloe Barbadensis Leaf Juice, Acrylates/C10-30 Alkyl Acrylate Crosspolymer, Anthemis Nobilis Flower Extract, Lavandula Angustifolia (Lavender) Flower/Leaf/Stem Extract, Phytic Acid, Phenoxyethanol, Caprylyl Glycol, Hexylene Glycol, Sodium Hydroxide, Fragrance.
Rosewater Mask: Water (Aqua), Glycerin, Pyrus Malus (Apple) Fruit Extract, Polysorbate 20, Aloe Barbadensis Leaf Juice, Rosa Damascena Flower Extract, Bambusa Vulgaris Leaf/Stem Extract, Rosa Damascena Flower Water, Pisum Sativum (Pea) Extract, Rosa Canina Fruit Extract, Zingiber Officinalis (Ginger) Root Oil, Camellia Sinensis Leaf Extract, Punica Granatum Extract, Rubus Fruticosus (Blackberry) Fruit Extract, Cocos Nucifera (Coconut) Oil, Coffea Robusta Seed Extract, Vaccinium Macrocarpon (Cranberry) Fruit Extract, Vitis Vinifera (Grape) Leaf Extract, Euterpe Oleracea Fruit Extract, Arctostaphylos Uva-Ursi Leaf Extract, Lycium Barbarum Fruit Extract, Morinda Citrifolia Fruit Extract, Rubus Idaeus (Raspberry) Fruit, Aristotelia Chilensis Fruit Extract, Vaccinium Angustifolium (Blueberry) Fruit Extract, Glucosamine HCl, Tocopheryl Acetate, Brassica Oleracea Acephala Leaf Extract, Hydroxyethylcellulose, Fragrance, Phenoxyethanol, Disodium EDTA, Ammonium Acryloyldimethyltaurate/V.P. Copolymer, Sodium Hydroxide, Caprylyl Glycol, Ethylhexylglycerin, Hexylene Glycol, Red 33.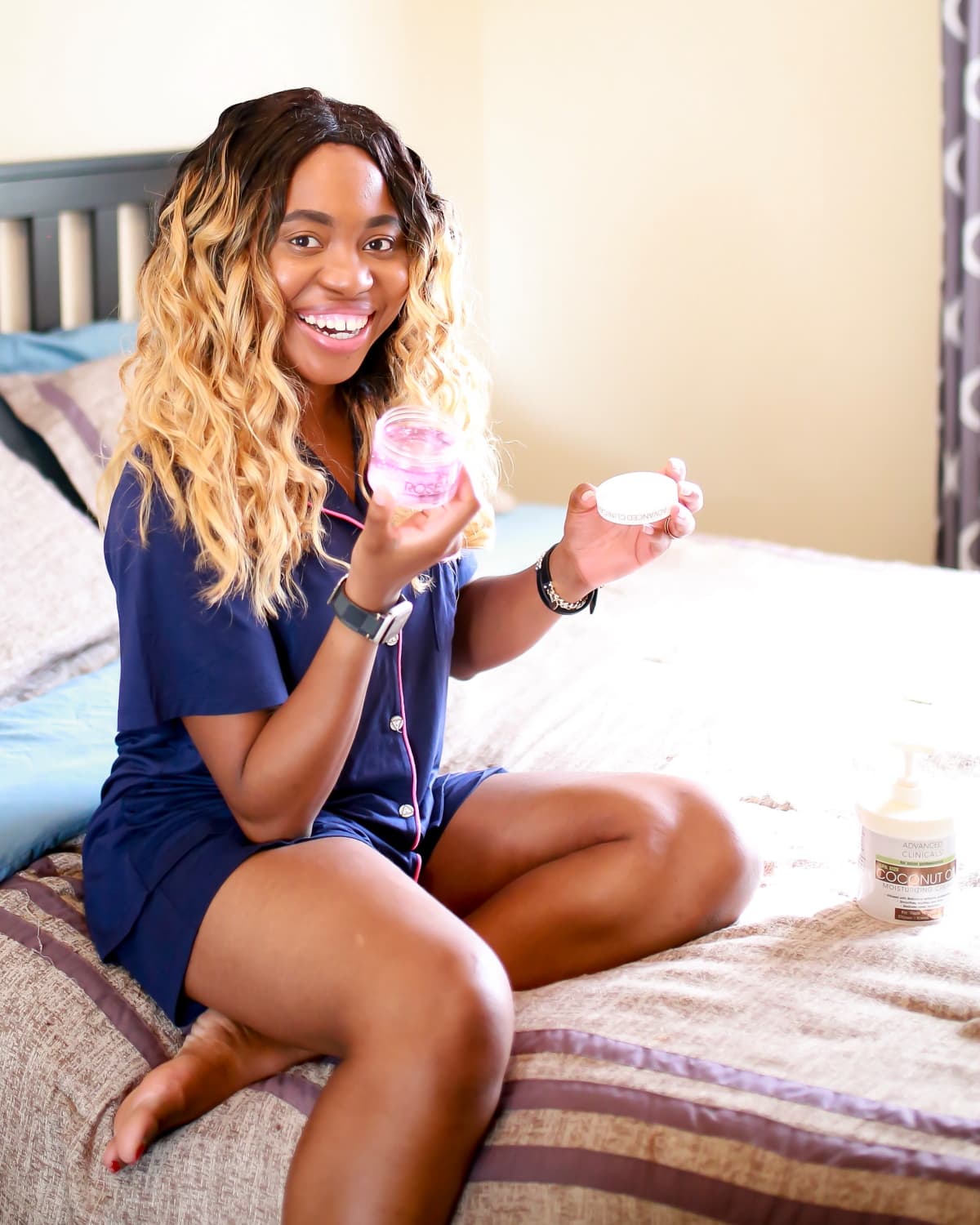 Regardless of this month being National Self Awareness Month, it is important to take some time to treat yourself, rest and relax a little. You're your best self when your body and mind is at its best 😉
Frequently Asked Questions About Advanced Clinicals Reviews
How much retinol is in Advanced Clinicals?
Is Advanced Clinicals cruelty-free?
Although not explicitly written on their website, Advanced Clinicals is cruelty-free. The Coconut Oil moisturizing cream says, "not tested on animals." And each product is made in the USA. According to Lucky Vitamin, Advanced Clinicals is cruelty-free.
Is Advanced Clinicals a good brand?
Yes, Advanced Clinicals is a good brand. Their products are formulated and manufactured in their FDA-inspected lab located locally in Chicago with the goal of getting affordable and effective skincare products to its customers.
Top Picks from Advanced Clinicals
Conclusion
Overall, I am impressed with all three Advanced Clinicals products reviewed in this post. I will continue to use them and update this post if anything comes up.
If you're struggling with dark or uneven skin tones, the Advanced Clinicals vitamin c serum is a great product to try. I've had amazing results with using vitamin c for my concerns.You can read the reviews of Advanced Clinicals suite of products on Amazon. There's something for everyone.
If you're like me and need all the dry skin remedy you can get, the Advanced Clinicals Coconut Oil Moisturizing Cream get you looking radiant without feeling greasy. And the 2-in-1 Rosewater Hydra-gel Transforming Face Mask will get facial puffiness and fine lines under control.
I love using this product before bed (save 20% off here: limited-time discount).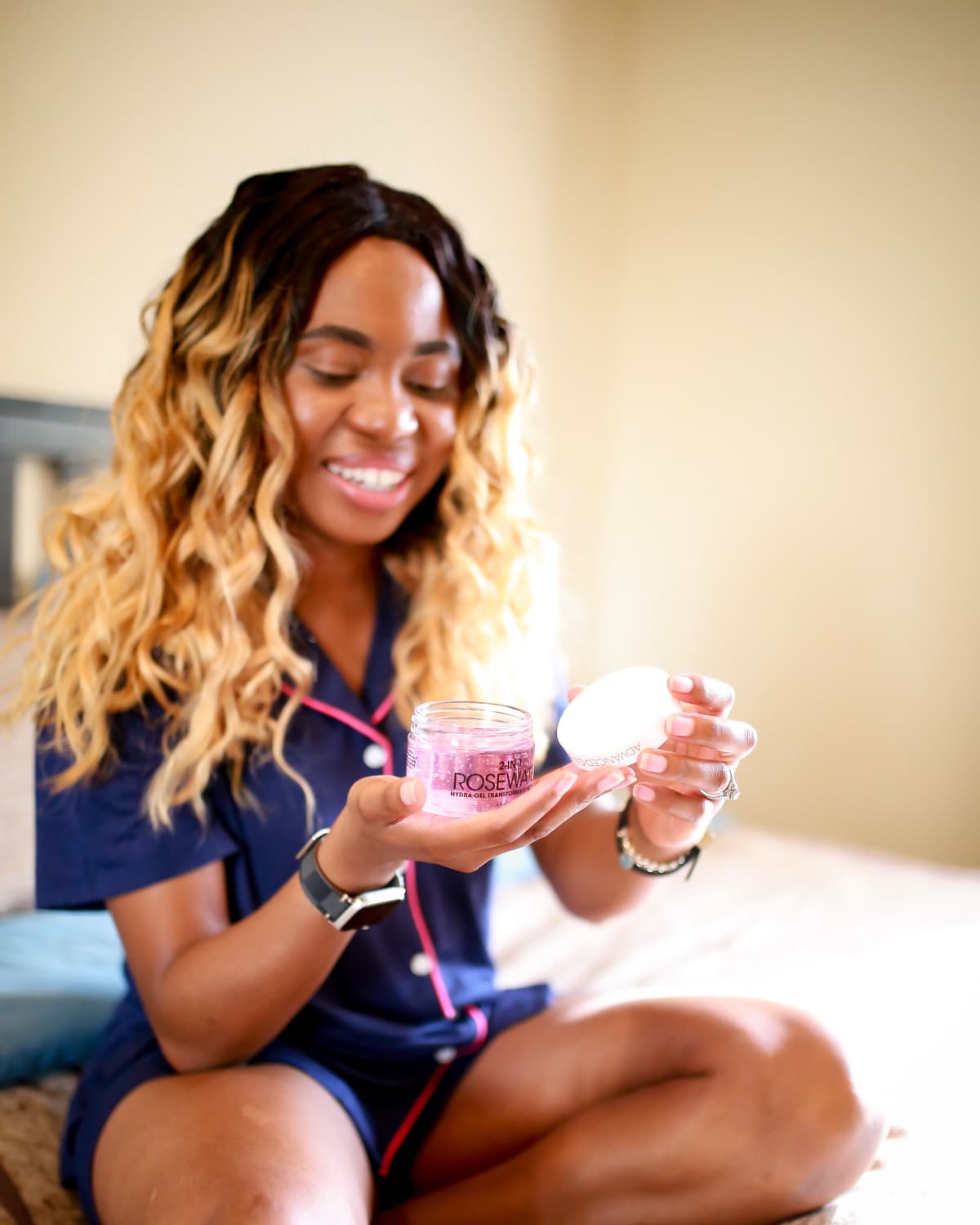 And remember to take some time to pamper yourself and care for your skin. Your health is just as important as how hard you work for your family.
I hope this National Self Care Awareness Month gives you the boost to get started. And hopefully, this Advanced Clinical reviews points you in the right direction. As always, thank you for reading.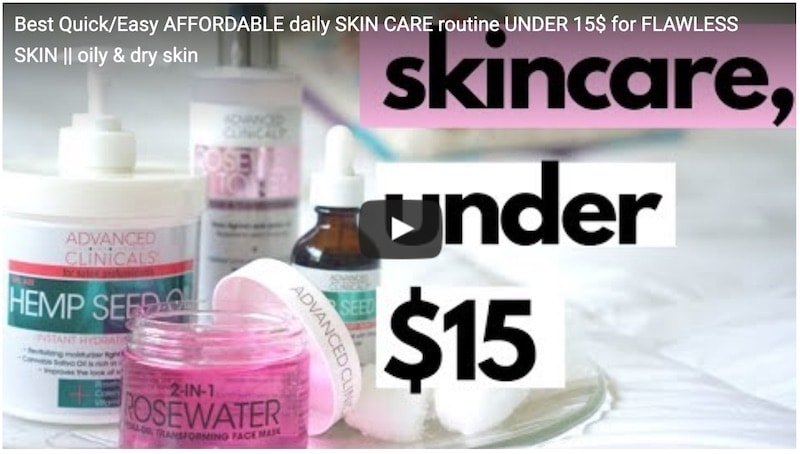 This Advanced Clinicals reviews post is a sponsored conversation written by me. All opinions expressed in this post are mine. Thank you for supporting the brands that keep this site running.
Interested in more beauty posts? Check out these popular posts:
PIN FOR LATER!
Reading this post on mobile? Be sure to download the LIKEtoKNOW.it and follow me "lapassionvoutee" for exclusive, in-the-moment shoppable posts.


Also, available on Android 🙂 It's also the fastest way I can keep you updated on the latest sales and newest styles since blog posts take a lot of time to create. Here's what you've recently missed!