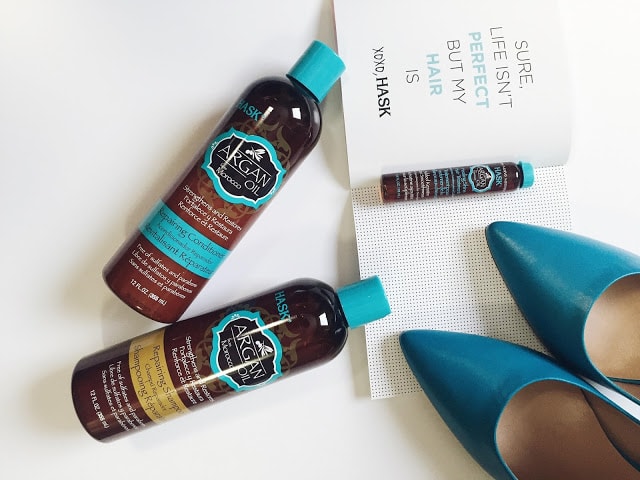 Hello beautiful!

Well, my hair is on her way to redemption, i.e, perfection. It has been a long journey of a love-hate relationship. Ignorance, negligence, and I-don't-care attitude has gotten me over-processed damaged hair with lots of split ends. I was literally shedding hair like a furry animal. It was that bad. An intervention occurred, my hair was trimmed, I was scolded, and started making strides to achieving my hair goals. Just when I thought things were looking better, I made a stupid decision that pushed me back 3 steps and cost me almost two inches of my hair line, ouch!
I first tried the
Hask
Macademia line as a sample that came with one of my shoe packages. I loved it! If you think like me, you believe that manufacturers make sample better than the actual product itself (guilty). It wasn't until I was sent the
Hask Argan Oil
product line did I realize how completely awesome the product is. Let's break it down:
Hask Hair Collection is free of sulfates, parabens, phthalates, gluten, drying alcohol and artificial colors.
Argan Oil Repairing Shampoo
$5.99: The Repairing Shampoo helps restore the luster of damaged hair. Argan oil is great for dry, damaged, over-processed hair (like mine) and it left my hair feeling soft and alive. For a domino effect, use with Hask repairing conditioner. The light scent of this product had me ballet-dancing in the shower [literally].
Argan Oil Repairing Conditioner
$5.99: Revive and restore the look of your hair with HASK Argan Oil from Morocco Repairing Conditioner. Combined with the reviving power of the repairing shampoo, this conditioner soften and detangles while moisturizing and protecting against breakage for a super soft and silky hair. This product is way better than the drugstore conditioner I have been using.
Argan Oil Repairing Deep Conditioning
$2.99: This small but mighty 50g deep conditioning treatment contains Keratin, a super strengthening treatment that is great for over-processed hair. The Argan oil component increases penetration and absorption of the product into the hair shaft. I noticed a big difference in the texture and 'life' of my hair after using the Macadamia oil deep conditioner. Can't wait to try this one too.
Argan Oil Repairing Shine Hair Oil
$2.99: I use this product almost daily to restore the lost moisture back to my hair and partly because I love the scent and texture of the product. It comes in a small 18ml bottle but all you need is coin-sized amount. This is a huge contender against the
Olive Oil ORS hair polisher
that I have been using for many years.
Girls/gents listen up! This product really works. Feel free to check out Hask's other collection:
Keratin Protein
,
Macadamia Oil
,
Coconut Oil
,
Almond Oil
, & Essential Stylers. Want to see more? P.S check out my other beauty posts
HERE
. As always, thank you so much for stopping by.