Day 3: Stunning Ankara Cape Dress with Polka Dot Sash
This post may contain affiliate links which means I will get a commission if you make a purchase at no additional cost to you. As an Amazon Associate I earn from qualifying purchases. Please read my disclosure for details.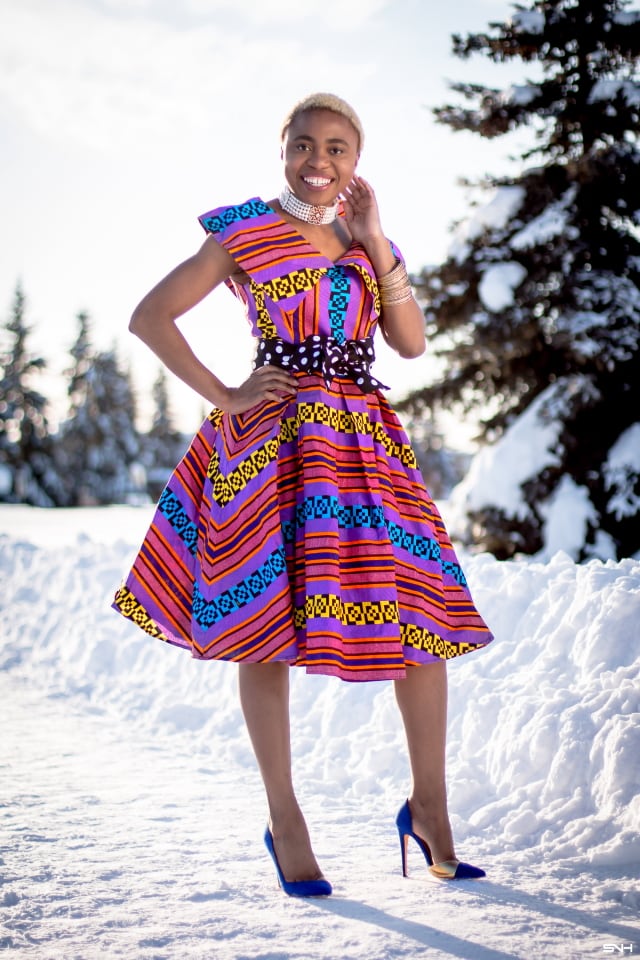 Keeping up the momentum with this vibrant Ankara cape dress for day 3.
Shop The Look
D'Orsay pumps (similar)
Stackable metal bangles (similar)
Amrita Singh choker necklace (75% off)
Dress c/o Tribe of Dumo Zola ankara dress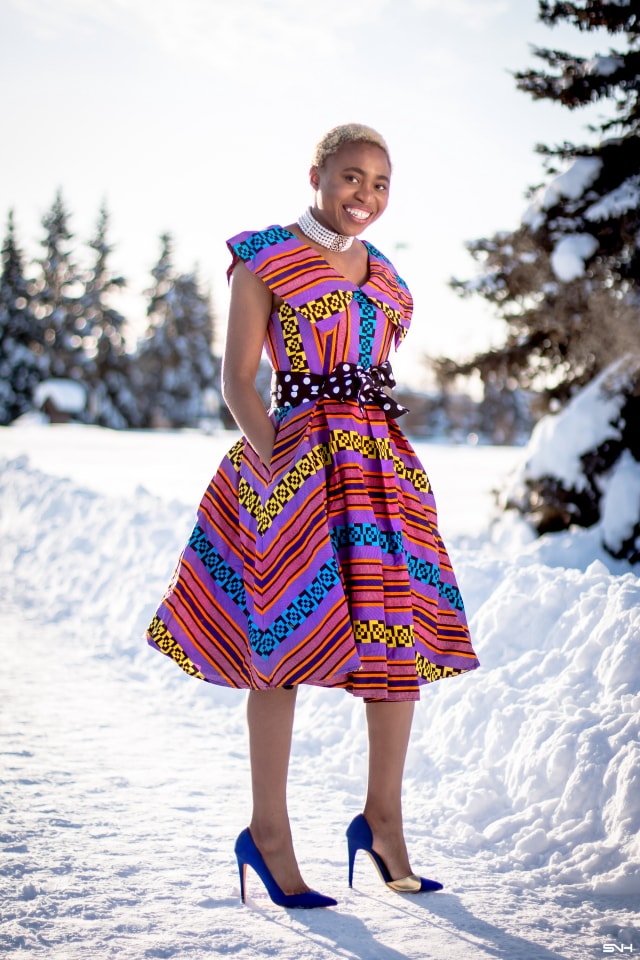 This gorgeous African print dress with a stunning cape neckline and polka dot tie-around sash is the work of Tribe of Dumo. Chioma and Ijeoma are the masterminds behind this amazing brand. Their designs feature bold, daring and uniquely combined authentic cotton fabric.
If this is your first time visiting or shopping at Tribe of Dumo, you're in for a treat. I first learned about the duo when Ijeoma reached out to me. They carry a great selection of never-seen-before African print styles. If my ankara cape dress is not convincing, check out the Tolani skater dress or this fierce Nzinga dress. Both of these dresses would be perfect this spring and for dressy occasions.

Although my love for African print is like bread and butter, I'll admit that I did not know the history about this stunning textile. Tribe of Dumo shared a brief background on the theorized history of ankara. According to this theory, the Dutch enlisted the help of West African men to reinforce their army in Indonesia.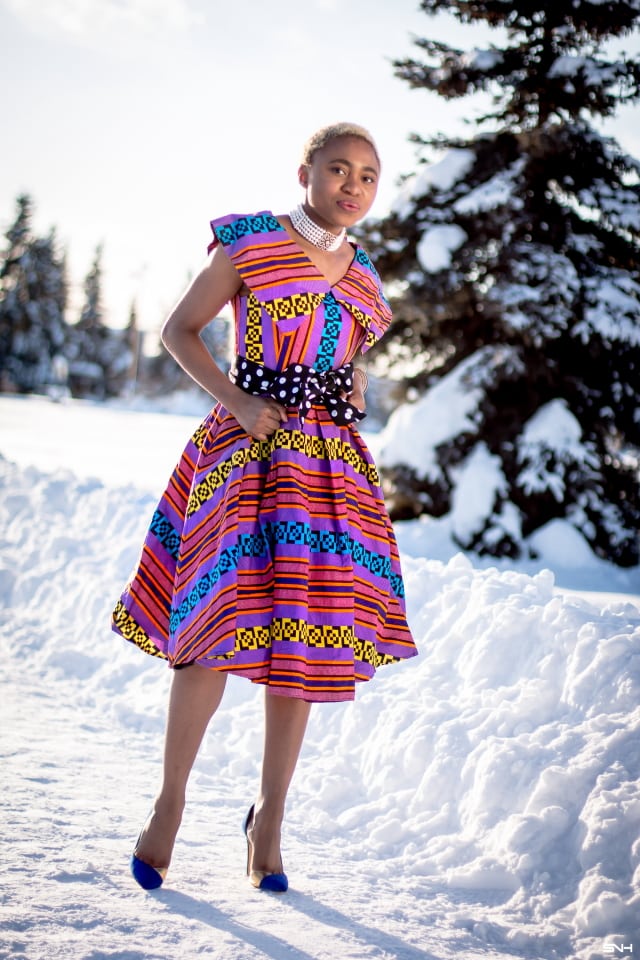 The enlisted men loved these Indonesian prints and took them back to West Africa. Now, this vibrantly enchanting prints are known as ankara. I love learning about the ankara prints and what particular prints mean in different cultures. Did you know that, some patterns were strictly for royalty, marriage, traditional rites/sacrifices or burial ceremonies? This custom is still practiced, to some extent, today.
If you're curious on why or how I take winter pictures in the cold, check out my Day 1 look, Mixed African Print Maxi Dress. I shared details on how I shoot outfits in the cold. You can also find every outfit in this 20+ Days African Print Fashion here. I'll be featuring some of the best African print designers around the world, particularly Nigeria, US and Canada.
My ankara cape dress was the featured piece in this look. I opted for a multi-row choker necklace from my favorite statement jewelry designer. I did this to keep the main focus on the dress and to avoid crowding my neckline. Then I completed my accessorizing with two sets of stackable bangles (similar). For my shoes, I went for a d'Orsay cut two-tone pumps (similar). And that's all! Sometimes less is more 🙂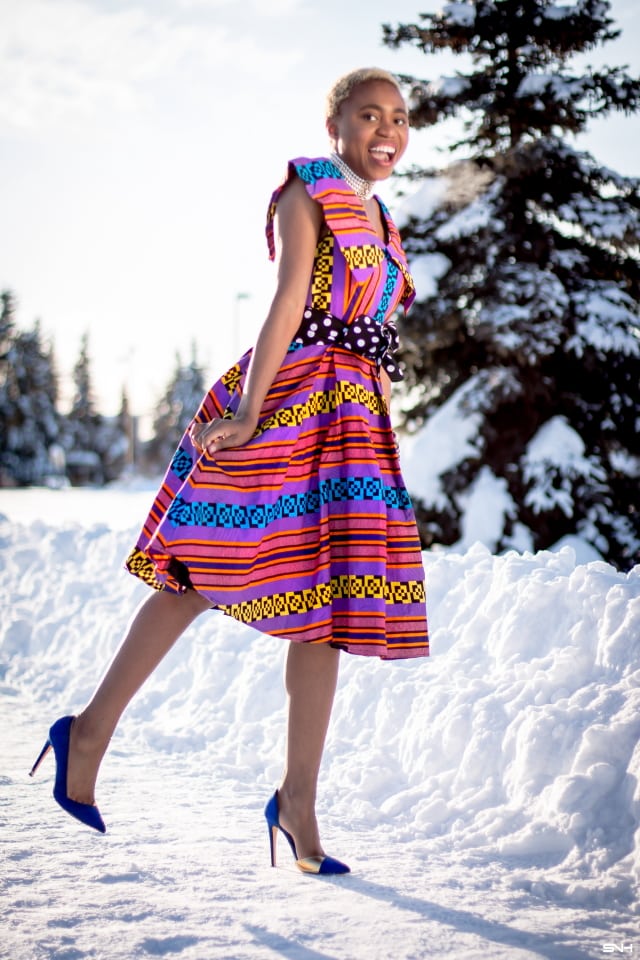 This Zola ankara cape dress made it easy to put my look together. I really did not have to do much. The below knew length makes it functional for a variety of occasions. You can wear it to church, weddings, special events, and even to work dressed down with flats and a black waist belt. What's not to love about this dress?
With summer fast approaching, I suggest you place an order for this dress soon if you have it on your radar. And hey, it comes in plus size too! Thanks Chioma and Ijeoma for thinking about plus sizes. Two other pieces I'm peeping at are the Dolly dot dress and the Bongani maxi dress. These chic pieces would be a hit this summer.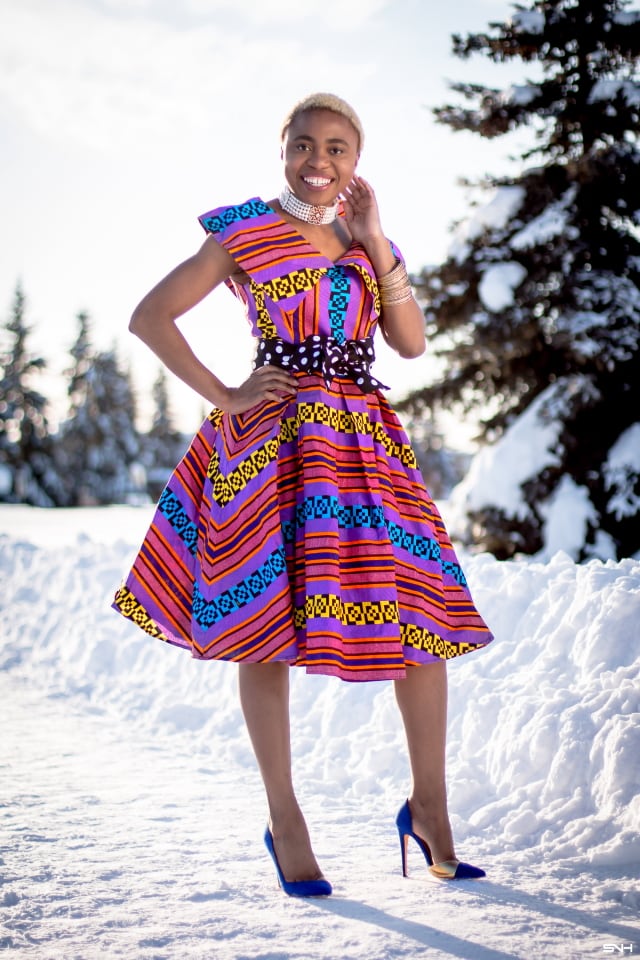 As always, thank you so much for reading. Get your hands on this beauty at Tribe of Dumo or connect with them on Instagram.
You may also like these posts: Day 1: Mixed African Print Maxi Dress | Day 2: Patchwork African Print Peplum Top |
I am wearing:
D'Orsay pumps (similar)
Stackable metal bangles (similar)
Amrita Singh choker necklace (75% off)
Dress c/o Tribe of Dumo Zola ankara dress
Photos by SNH Photos