Day 4: Contemporary African Print Peplum Dress + Exaggerated Sleeves
This post may contain affiliate links which means I will get a commission if you make a purchase at no additional cost to you. As an Amazon Associate I earn from qualifying purchases. Please read my disclosure for details.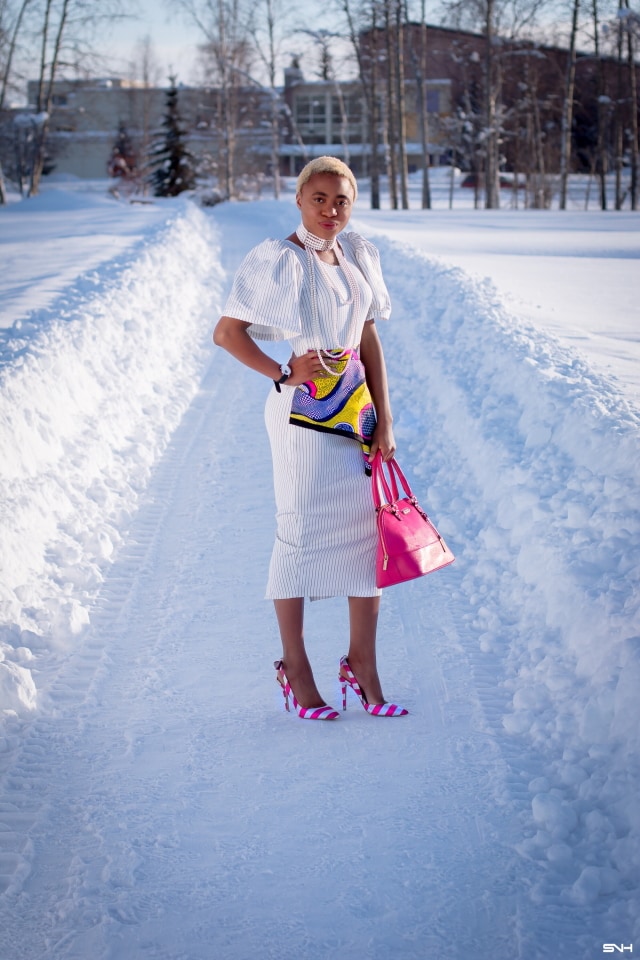 Hello Tuesday! What better way to kick off this fine morning than with this contemporary African print peplum dress for day 4.
Shop The Look
Slingback stripped pumps (similar)
Anne Klein structured dome satchel
Amrita Singh long pearl choker necklace
Dress c/o SGTC Clothing stripes x ankara peplum dress
Is it only me or did Monday seem to drag on foreverrrrr? I'm glad yesterday is behind us and even more elated to feature a new designer, SGTC Clothing, for today's post. It was instant love when I spotted this striped bodycon African print peplum dress on their Instagram shop. I was drawn to the exaggerated sleeves and asymmetrical peplum.
You'll agree with me that the African print peplum finish was all this fitted dress needed to be transformed for casual to statement. And this is not the only modern and on-trend African print piece available on SGTC Clothing. Take a gander at this layered panel ankara skirt that I'll be styling later in the series.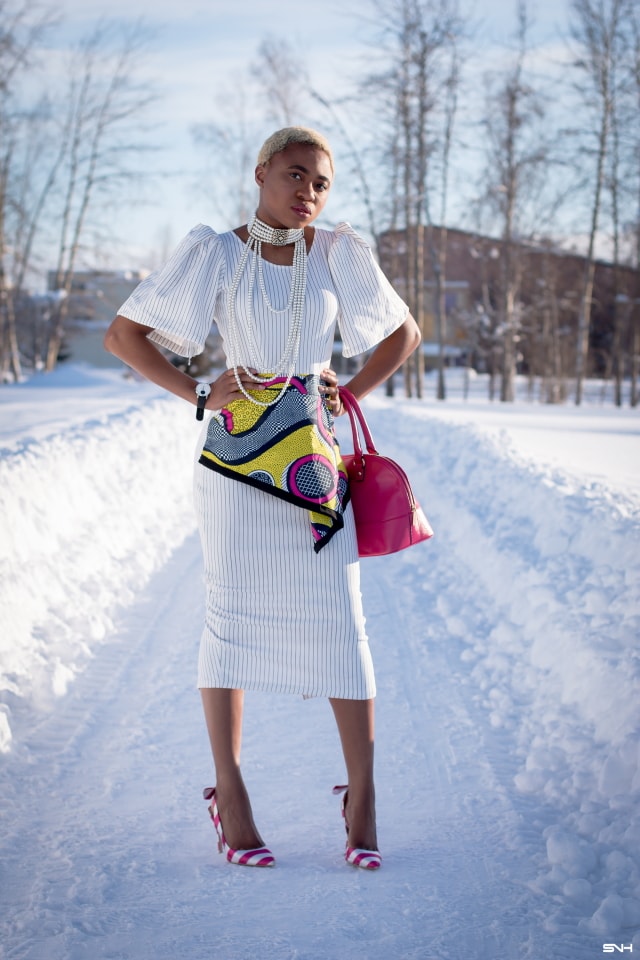 Adetoke was the sweetest soul when I reached out to her to pitch the idea about this 20+ Days of African Print Fashion. Adetoke is the badass Creative director of SGTC Clothing, TV Producer, International Reporter and Content Producer. She's a hot sauce! The styles on the Instagram-only store truly reflects Adetoke's believe that fashion is liberating. I couldn't agree more!
Speaking of this, I frequently get questions about how I survive shooting photos in the winter. I shared some fun facts about how I do it "effortlessly" in day 1 post, mixed African print maxi dress. Take a read! P.S: it is far from effortless 😉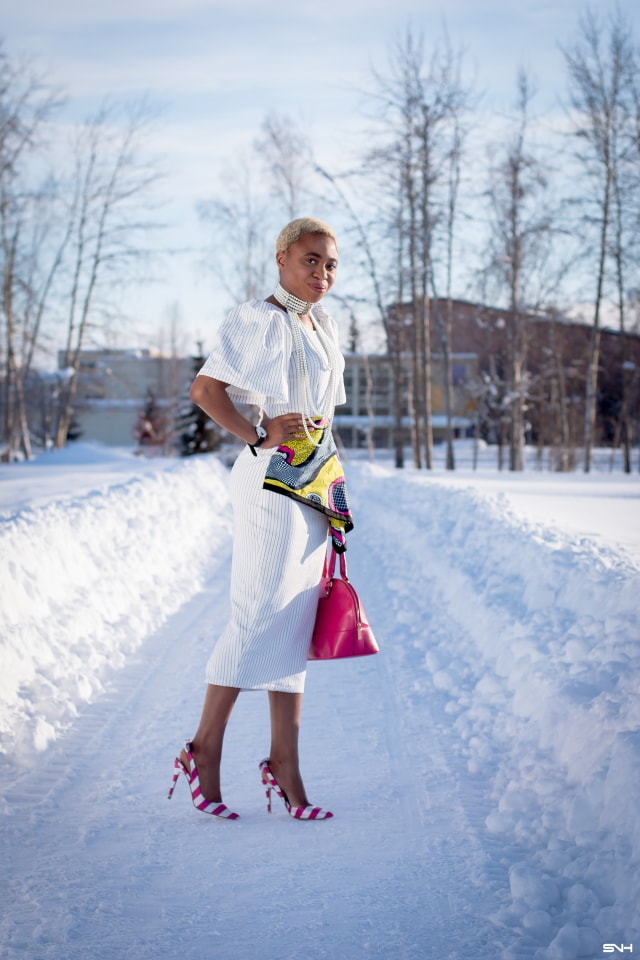 As a millennial living in diaspora, I have the urge to share a little bit of my African heritage. An appreciation of my culture and the subtle nuances that make my traditions different from another intrigues me.
Clothes like this African print peplum dress that is the perfect Yin-yang of two totally different cultures tell my story. And these pieces make it easy to infuse a little bit of my culture anywhere I go.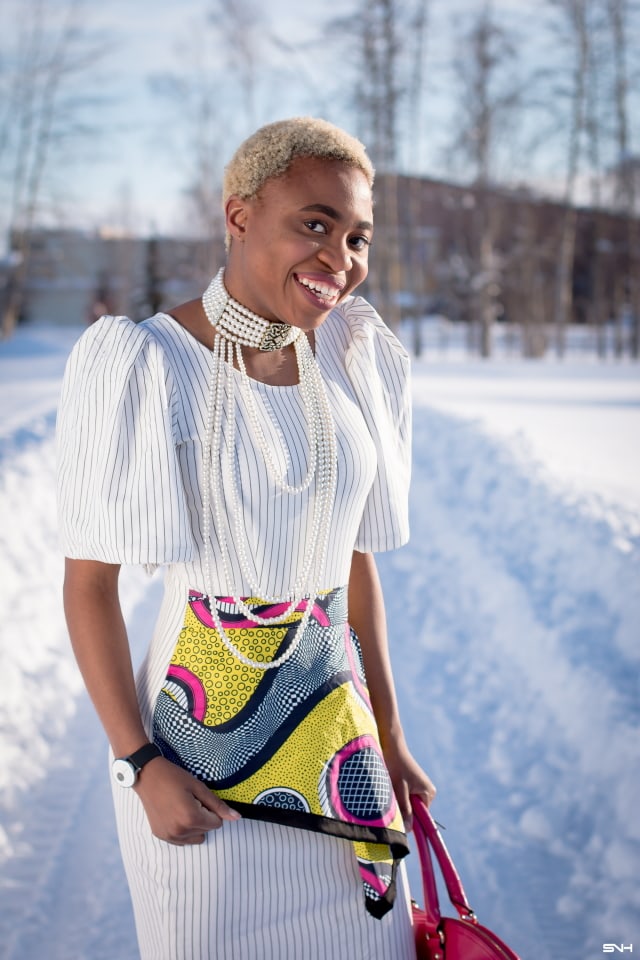 Accessories can make or break your outfit. And you know my love for statement pieces. Once again, I chose this statement necklace from my favorite jewelry brand, Amrita Singh Jewelry. This necklace is on the pricier side of the spectrum but it's made with good stuff. 
The necklace features a multi-strand layered glass pearl choker with antique gold-brass embellishment encrusted with Austrian crystals. You can also save extra 20% off and get free shipping when you join their email list.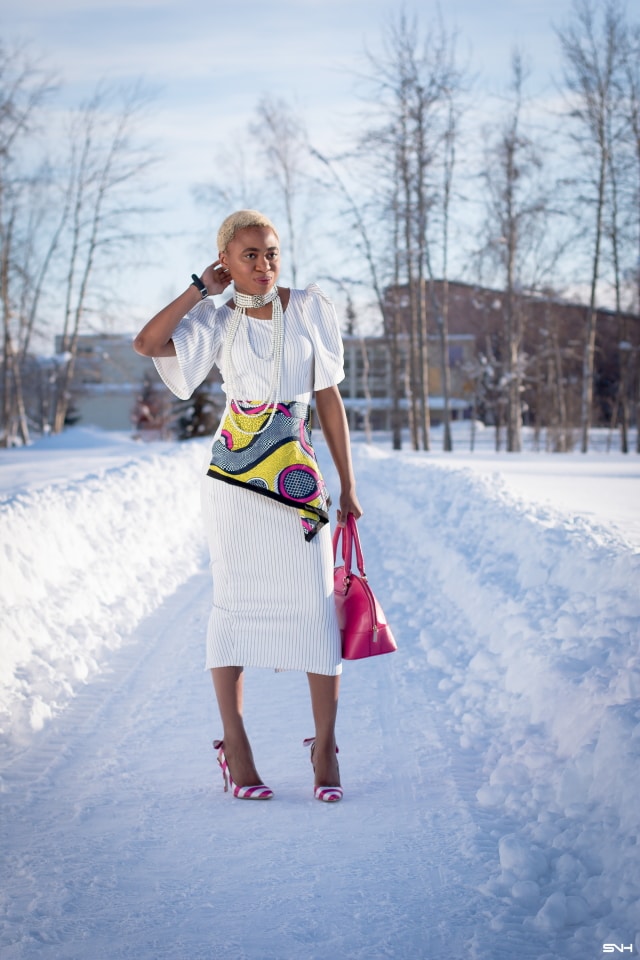 For a fun contrast with the blinding white snow, I chose a vibrant pink dome satchel. I thought the striped slingback heels (similar) compliments the stripes on the bodycon dress. This African print peplum dress is a functional piece that you can wear for dressed-up casual and dressy events. I wore it on a girls night out to a fancy restaurant two weeks ago.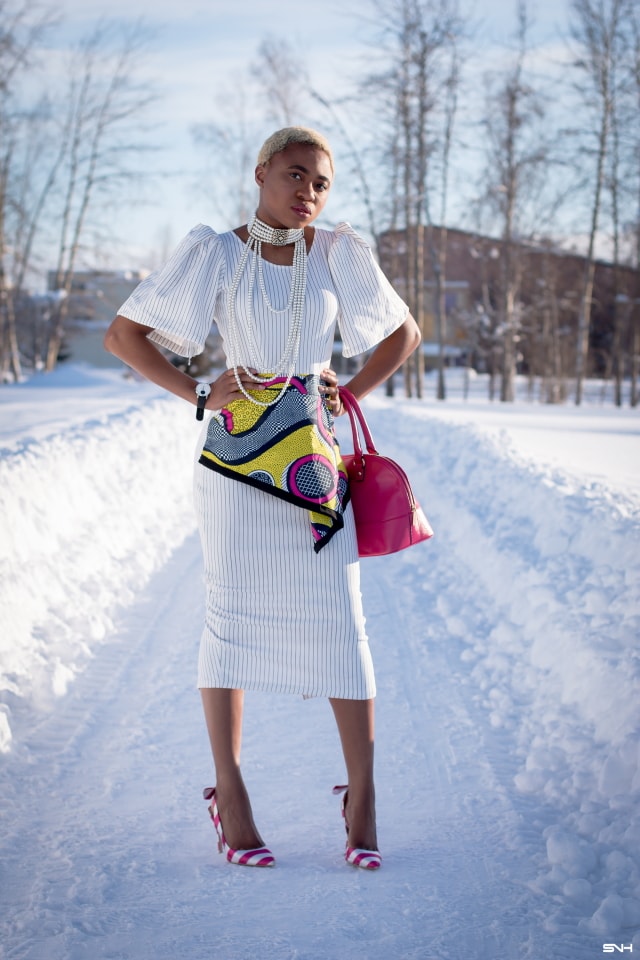 As always, thank you so much for reading. Get your hands on this beauty from SGTC Clothing and connect with them on Instagram.
You may also like these posts: Day 2: Patchwork African Print Peplum Top | Day 3: Stunning Ankara Cape Dress with Polka Dot Sash |
I am wearing:
Slingback stripped pumps (similar)
Anne Klein structured dome satchel
Amrita Singh long pearl choker necklace
Dress c/o SGTC Clothing stripes x African print peplum dress
Photos by SNH Photos