Day 2: Sleeveless Patchwork African Print Peplum Top
This post may contain affiliate links which means I will get a commission if you make a purchase at no additional cost to you. As an Amazon Associate I earn from qualifying purchases. Please read my disclosure for details.
And here goes day 2! I still can't get enough of this African print peplum top by Valerie of With Flare Designs. 
Shop The Look

I discovered With Flare Designs sometime last year and I was immediately hooked. Patchwork pieces are intricate and time-consuming but Valerie makes them look so easy. Besides her attention to detail and impeccable eyes for groundbreaking statement pieces, I'm obsessed with the execution of her work.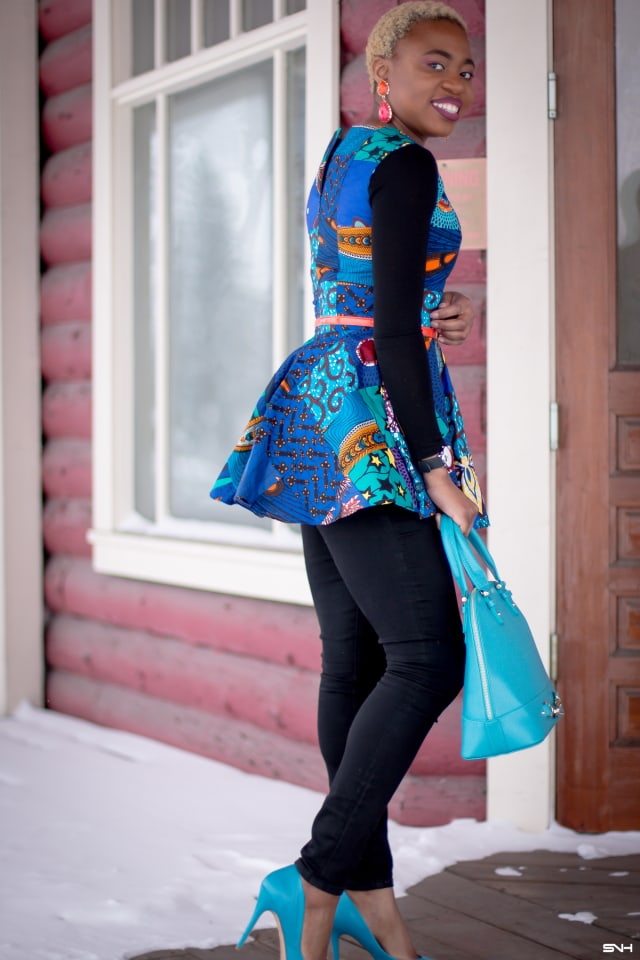 I grew up wearing handmade ankara pieces but it's not everyday you come across a designer that nails it every.single.time. Check out her Etsy reviews to see what others are saying.
What I love about With Flare Designs is that no two pieces are the same. It takes someone with a unique perspective to be able to combine ankara prints together to create such work of art. Valerie's pieces hover on the pricier side but believe me, you get more than what you pay for.
I've since styled several of her pieces on the blog. Check out this jumpsuit Valerie custom-made for me in record time for New York Fashion Week. Oh, and this reversible ankara maxi dress worn for my Northern Lights photoshoot (reverse side) and during the summer (patchwork side). See what I'm talking about?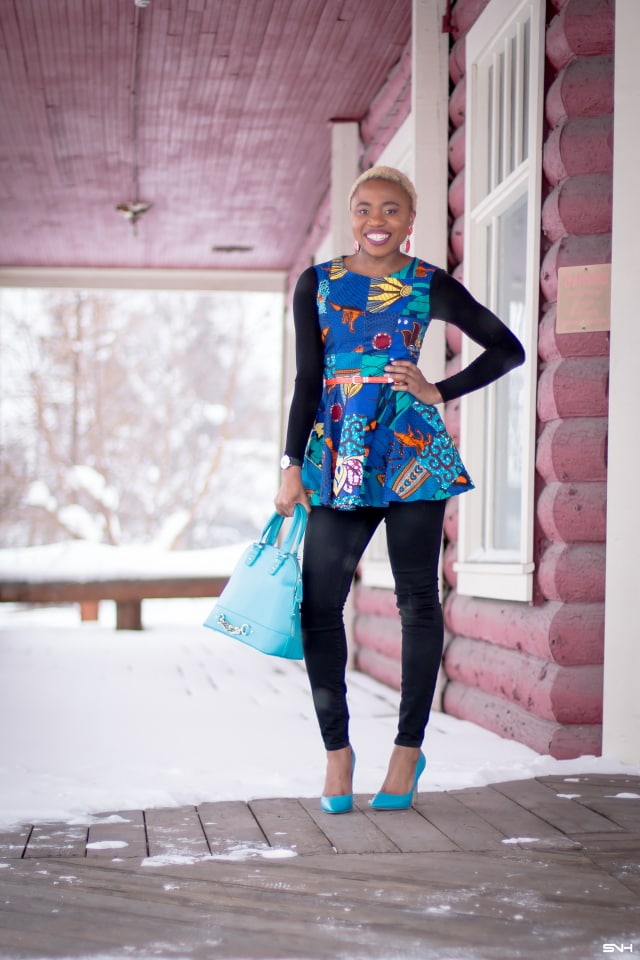 If you're curious on why or how I take winter pictures in the cold, check out my Day 1 look, Mixed African Print Maxi Dress. I shared about how I make it work in Alaska 🙂 You can also find every outfit in this 20+ Days African Print Fashion here. You'll find fashionable styles from over 12 African print designers once this series is complete 🙂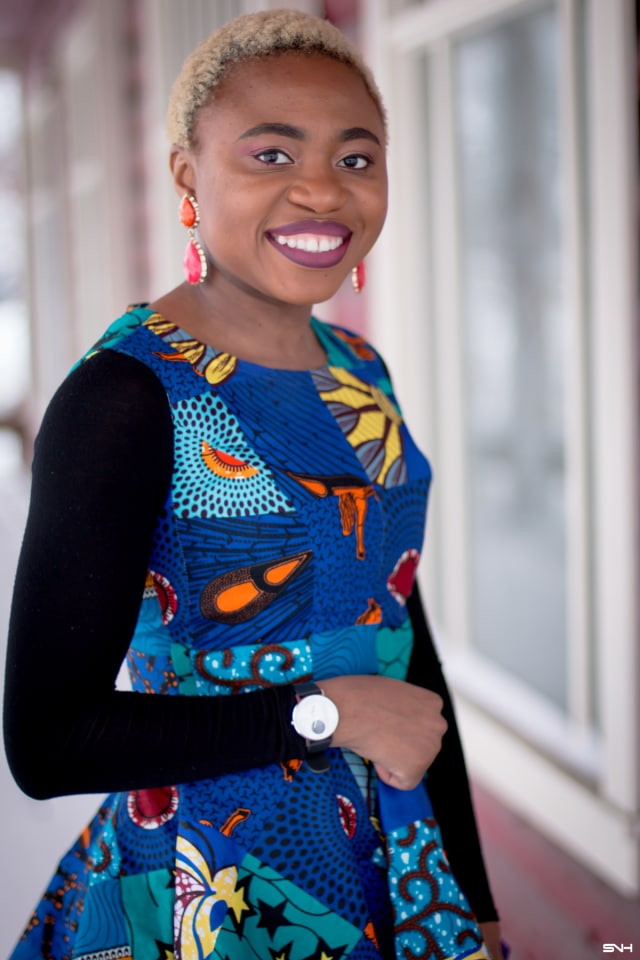 For this look, I chose to pair the patchwork African print peplum top patch with a comfortable pair of black denim and a long sleeve bodysuit worn under the top. To define my waist, I picked a skinny belt that matched one of the subdued colors on sleeveless peplum top. For a bold statement, I chose to wear a statement Amrita Singh earrings.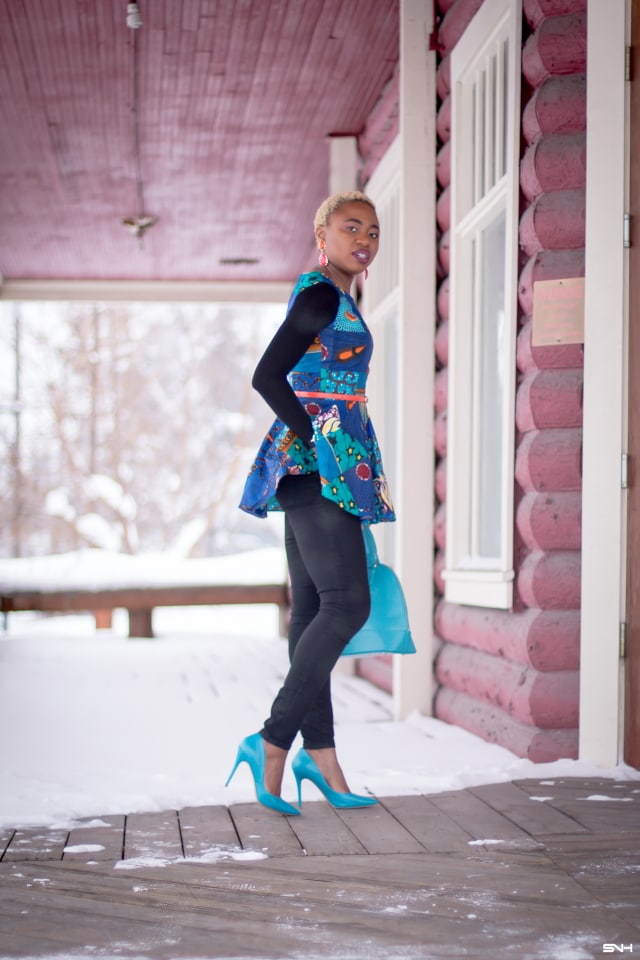 I purposely did not wear a necklace so that would not detract from the overall appeal of the outfit.You've probably spotted this dome satchel (similar) and Charles David classic pumps worn together previously on the blog. Again, they were the perfect accessories to accentuate the colors of the African print peplum top.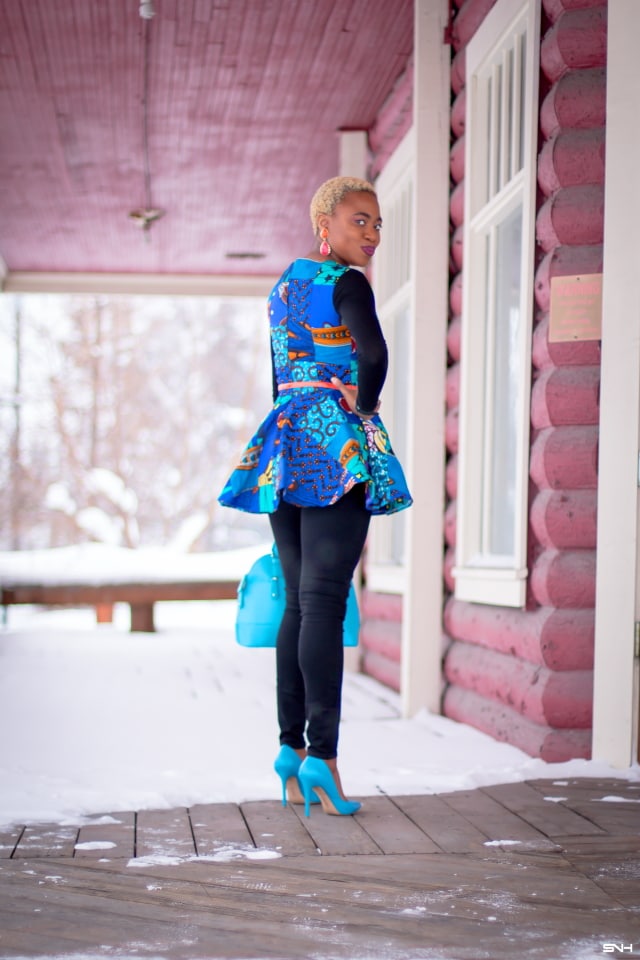 This peplum top can be worn in a variety of ways for everyday casual styles. Or dressed up as pictured for more formal events. You'll get a lot of use out of this top. 
With Flare Designs makes every piece (top, skirt, dresses, and jackets) from 100% cotton African wax print. You can be sure that you'd be receiving a product made from 100% genuine wax print fabric. I also have this asymmetric skirt and kimono wrap top on my radar. You can't go wrong with these stylish options.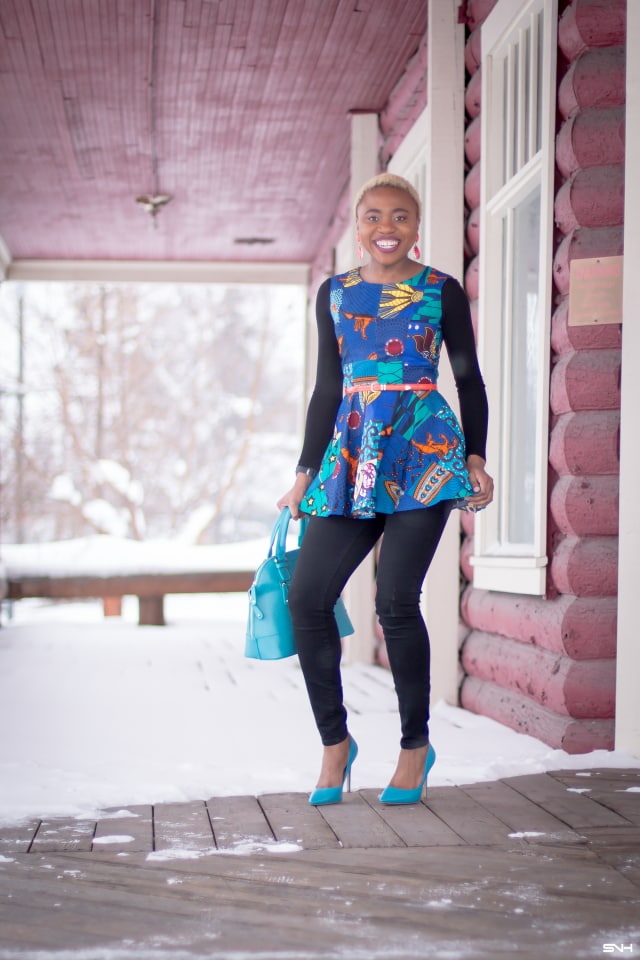 With Flare is a without a doubt a top seller on Etsy with over 3,100 sales and 1,700 5-star reviews on the platform. Valerie is an inspiring femtreneur who crafts one of a kind African print styles right here in the US. And this African print peplum top is one of over 80 styles available on With Flare Designs.
As always, thank you so much for reading. You can connect with Val/With Flare Designs on Etsy or Instagram.
You may also like these posts: My New York Fashion Week Ankara Outfit | Day 1: Mixed African Print Maxi Dress |
I am wearing:
Dome satchel (similar)
Boohoo bodysuit (exact)
Orange skinny belt (similar)
Charles David pumps (similar)
Black high-waisted jeans (similar)
Nokia activity and sleep watch (exact)
Amrita Singh teardrop earrings (similar)
Top c/o With Flare African print peplum top
Photos by SNH Photos
MORE FROM WITH FLARE DESIGNS