Day 5: Fashionable Ankara Print Duster Coat
This post may contain affiliate links which means I will get a commission if you make a purchase at no additional cost to you. As an Amazon Associate I earn from qualifying purchases. Please read my disclosure for details.

It is officially the start of spring but it sure doesn't look like spring around here. Today, I'm sharing this fashionable ankara print duster coat from the mother and daughter duo, Simone and Delores of Lady Chang.
Shop The Look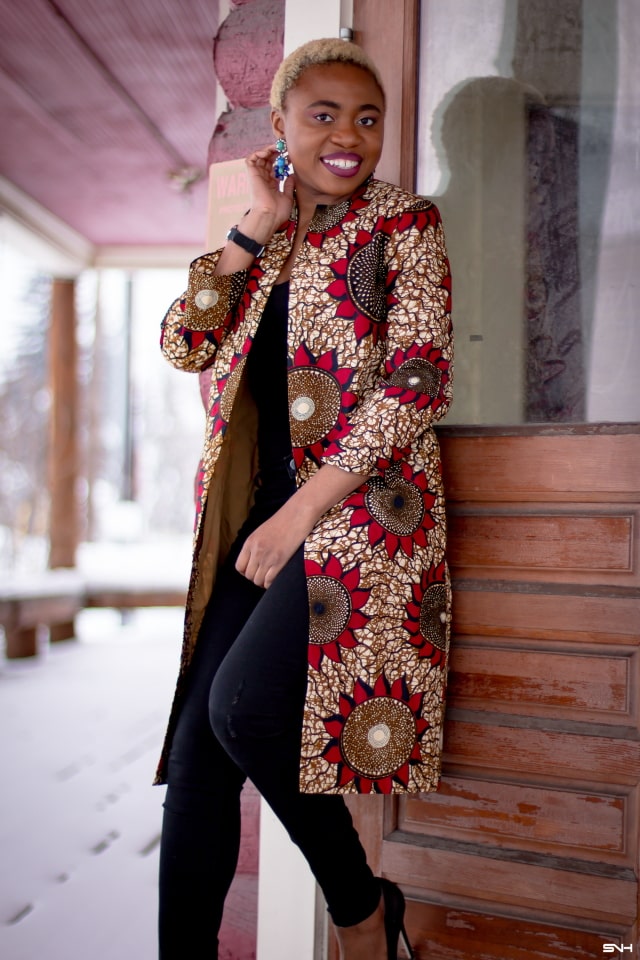 I came across Lady Chang designs while I was searching for stunning African print styles on Etsy. The brand's eyes for elaborate pieces featuring mixed prints drew my attention.
I quietly stalked their pieces and shared a lot of their ankara print styles on my Pinterest account and on roundup posts (like this and this) on my blog. To my excitement, Simone and Delores were interested in being one of the featured designers in this 20+ Days of African Print Styles.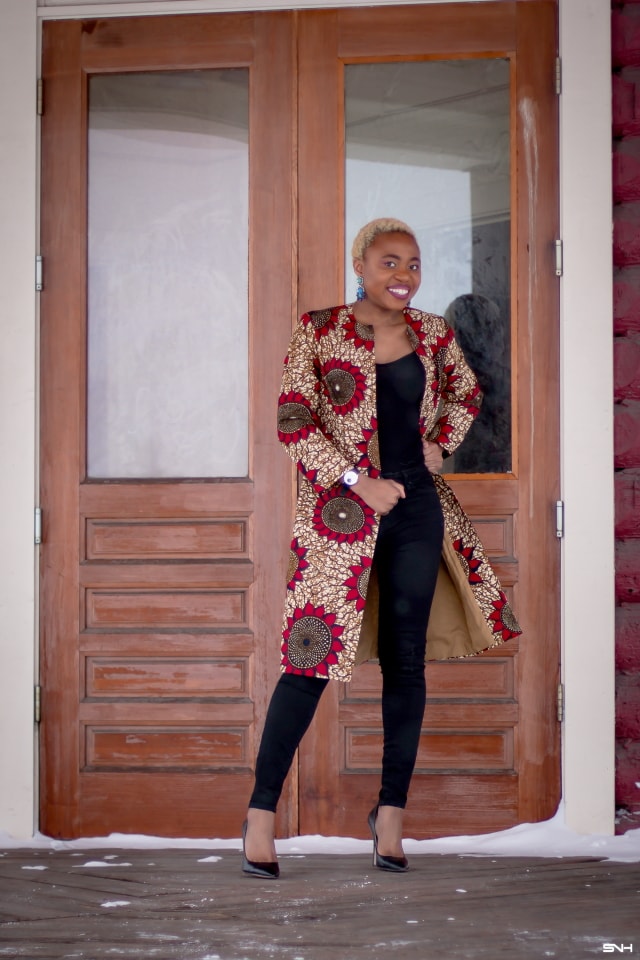 I might not be an expert but I know good African print fabric and craftsmanship when I see one. And this ankara print duster coat is one of them. This duster coat features premium cotton ankara fabric, a clean and spring-ready design, and top notch craftsmanship. It's no surprise that that Lady Chang's tagline is "Fashion that Fits your Style"!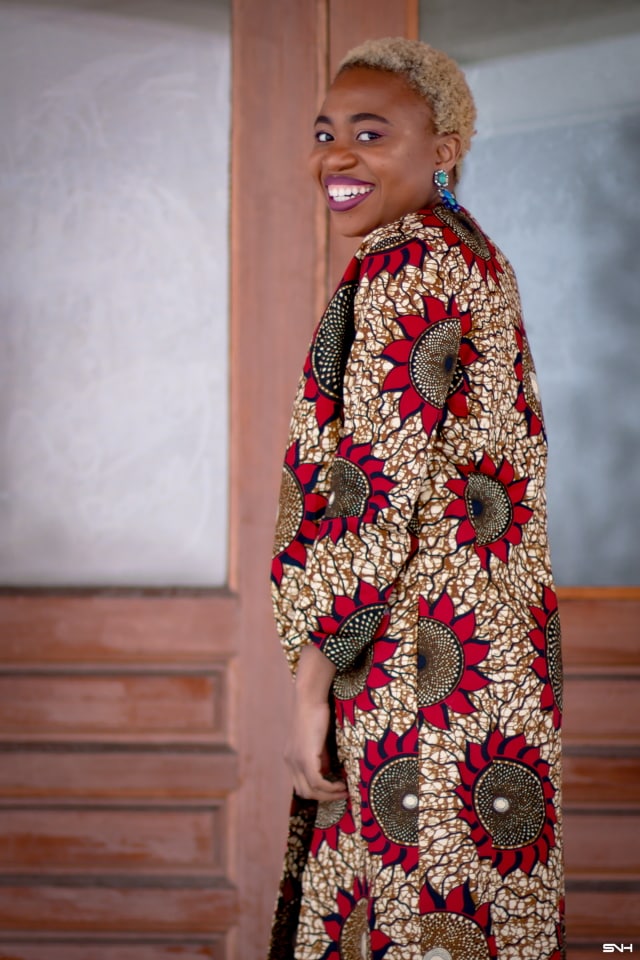 As a matter of fact, I actually two more ankara print pieces from Lady Chang that I'll be sharing later on in this series. And they too were made to perfection! First time shopping with Dolores and Simone? You will not be disappointed. Their reviews are solid with a perfect 5-star rating on Etsy. This level of excellence is rare to find for handmade African print clothes.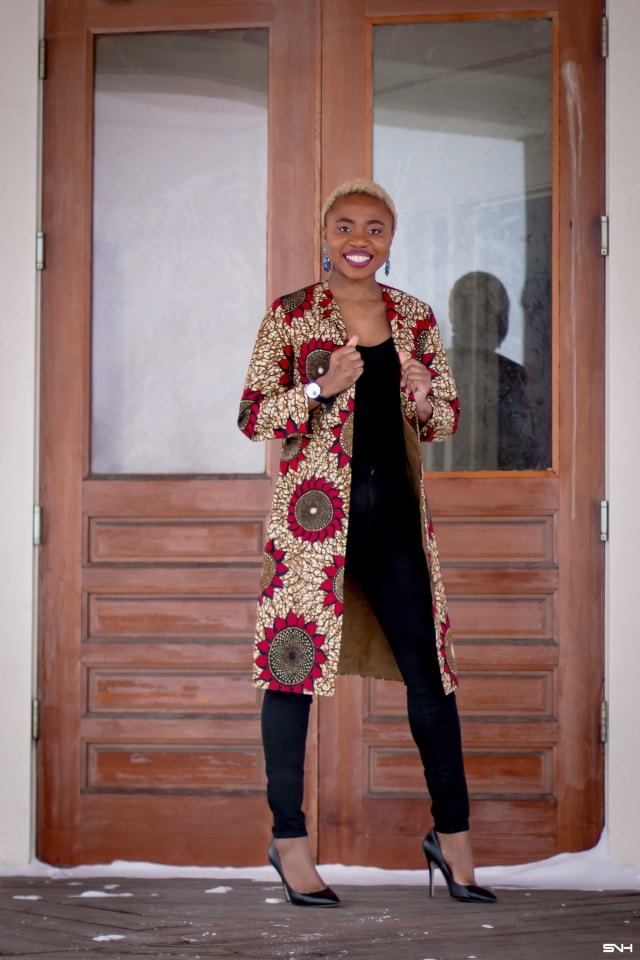 With spring in mind, I paired the ankara print duster coat with an all-black look. Styling my outfit like this keeps the core focus on my statement lightweight duster. This is definitely a simple yet fashionable outfit with a basic black bodysuit, fitted skinny jeans (similar), and a classic pair of black heels. For depth in color, I wore a pair of blue earrings.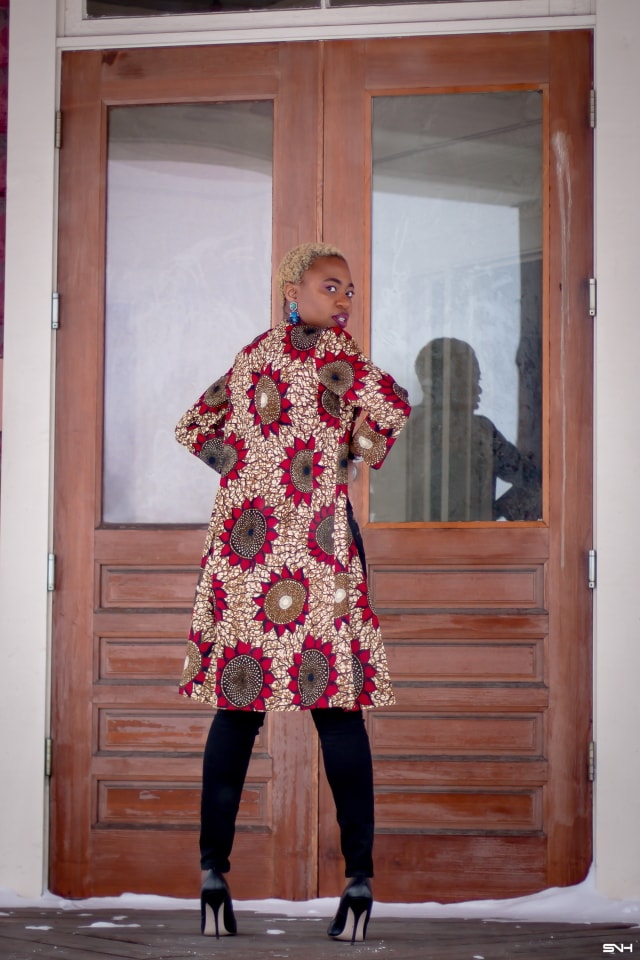 This ankara print duster, African print in general, makes it easy to dress up without trying so hard. Of course you can dress down the look by switching the pumps for a pair of flats (like this one) and the bold earrings for studs. Turn heads when you rock this look to your next outing or event.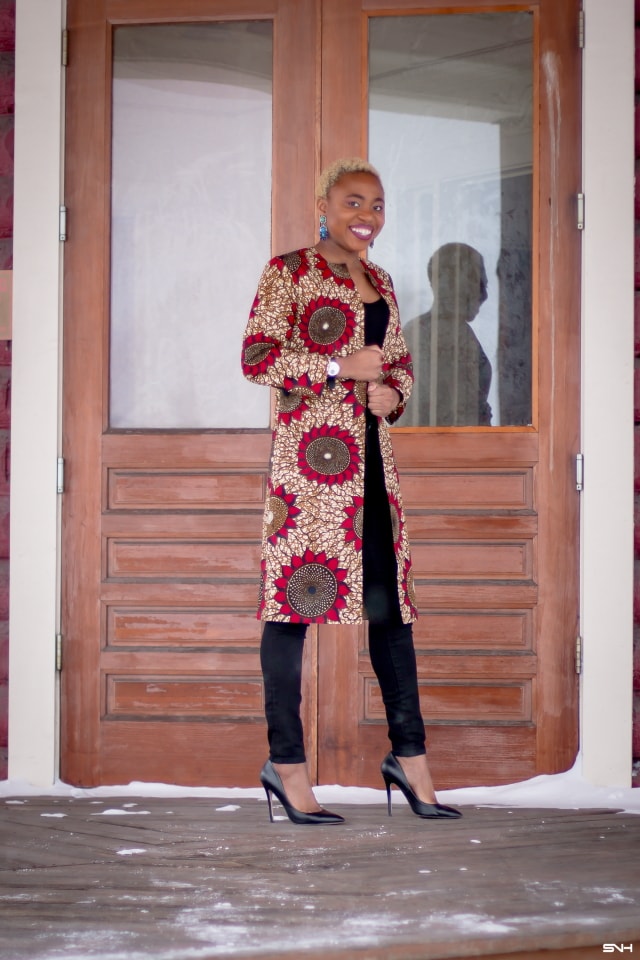 As always, thank you so much for reading. You can connect with Simone and Dolores of Lady Chang boutique on Etsy or Instagram.
You may also like these posts: Day 4: Contemporary African Print Peplum Dress | Day 3: Stunning Ankara Cape Dress |
I am wearing:
Boohoo bodysuit (exact)
Classic black pumps (similar)
Black high-waisted jeans (similar)
Nokia activity and sleep watch (exact)
Outerwear c/o Lady Chang ankara print duster coat
Photos by SNH Photos
MORE FROM LADY CHANG