This post may contain affiliate links which means I will get a commission if you make a purchase at no additional cost to you. Please read my disclosure for details.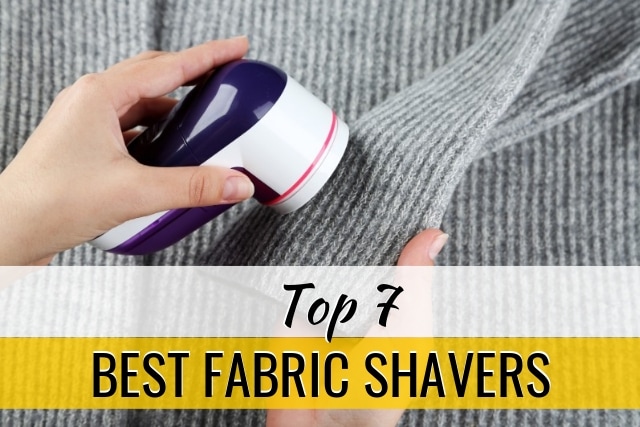 I thought this post about the best sweater shavers was a great transition from the last post, Pullover Sweater and Zella Leggings outfit I shot with my Alaskan mom. I had no idea that sweater shavers even existed until I crossed paths with one in 2015.
You might think that lint rollers were the best invention since sliced bread. That's until you find hundreds of lint and tiny little fabric fuzz on your most cherished clothes. The sheer thought of literally wasting your life away hacking at those suckers. #annoying
Small fabric fibers like lint and fuzz stick out of your clothes making them appear old and shabby. Sadly, this is a natural course that happens with repeated use of clothing pieces. The best way to get your sweaters looking as good as new is by investing in one of these best fabric shavers.
Regardless of whether your sweaters are brand new or many years old, it is always smart to invest in an affordable and excellent quality fabric shaver to revitalize your most-loved pieces.
Save your money splurging on new clothes by running one of these fabric pill removers over your sweaters, blankets, and upholstery. I've spent hours researching and reviewing these top battery-operated and electric shavers for you.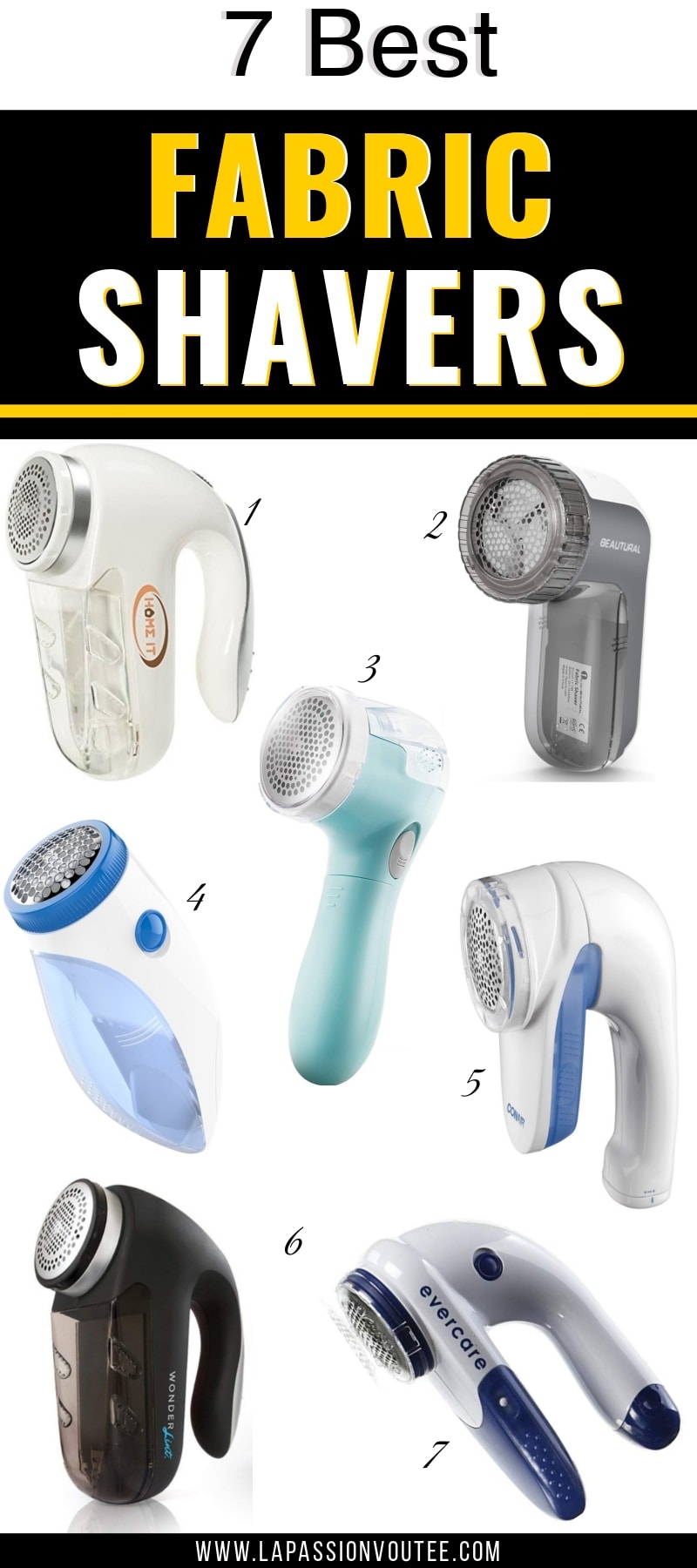 Best Fabric Shavers Reviews: 2019 Ultimate Buyers Guide
1. Conair Fabric Defuzzer
The Conair Battery Operated Fabric Defuzzer is one of the talked about and highest rated fabric shaver out there. The large shaving head and ergonomic grip handle make removing lint and fuzz quick, easy and comfortable.
Let's not forget about the adjustable 3-setting distance control for a customized fabric shave that will leave your knitwear and upholstery renewed.
FEATURES
• Portable/great for travel
• Rechargeable or battery operated
• 8 color assortments
• 3 shave settings for convenience
• Easy to clean & maintain
SPECS
• Brand: Conair
• Model: CLS1
• Weight: 3.36 oz.
• Power: 2 AA batteries
Conair Fabric Defuzzer Shaver; Battery Operated; White
If you're looking to defuzz more than a sweater or pants, you're going to love the House of Wonderful Wonder Lint Fuzz Pill Bobble Remover for Fabric, Fleece, Curtains, and Clothes.
As the name implies, this is one of the best fabric shavers with premium stainless steel precision rotary blades and a powerful motor to get the job done in no time. And yes, this fabric shaver works on curtains, drapery, upholstery, sheets, blankets…
FEATURES
• Large 2.5-inch shaving head
• Free plush bag + cleaning brush
• Bonus spare blades for a perfect shave
• Powerful 5-watt motor
SPECS
• Brand: House of Wonderful
• Model: qwe01
• Weight: 5 oz.
• Power: Corded with AC or 4*C# batteries
WonderLint Sweater Shaver by House of Wonderful.
3. Home-It Fabric Shaver
The Home-it "Professional" Fabric Shaver was the first fabric defuzzer that introduced me to the world of lint-free, renewed clothes back in 2015. It's no surprise that this is one of the best fabric shavers on the market today.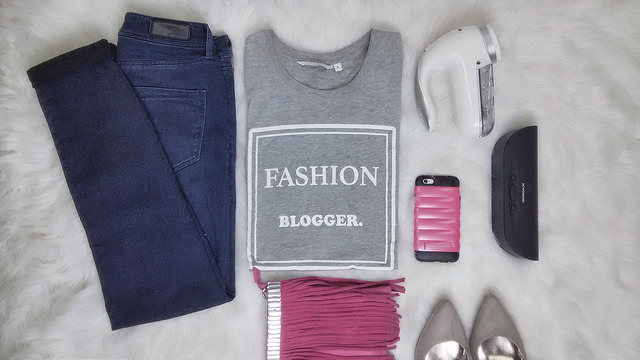 This defuzzer renews clothing, carpets, upholstery, curtains, and more by removing pills, lint, and fuzz from the surface. The outer 2.5-inch shaving head merely trims the top of the desired item and then suctions the shavings off into a detachable storage.
You never have to worry about dead batteries affecting the usability of this motor-driven device (power cord). Want more? The home it fabric shaver reviews on Amazon got you covered!
FEATURES
• Covers a large shaving surface
• Works on drapes, blankets, carpets, and clothing
• Powerful, continuous shave with included power cord
SPECS
• Brand: Home-It
• Model: B00FKANXTU
• Weight: 1.32 pounds
• Power: Electrical power cord
Home-It Fabric Shaver Review
4. Evercare Fabric Shaver
For the best on a budget, look to Evercare's highly rated fabric shaver! With triple blade action, this product is able to cleanly and safely de-fuzz smaller areas of bedding, clothing, or furniture in need of a touch-up.
The super portable and lightweight design of this lint remover makes it a great open for travelers. This Evercare Fabric shaver has an ergonomically hand-sized design that ensures precision grip and comfort with use.
Included in the package is a cleaning brush which makes basic maintenance of the motor a breeze.
FEATURES
• Available in two sizes
• Great for travel
• Most affordable fabric shaver
• Comes with a cleaning brush
SPECS
• Brand: Evercare
• Model: 88618
• Weight: 4 oz.
• Power: Battery-operated
5. BoJia Lint Remover
First impressions say a lot, and this little BoJia wonder is cute, compact, and capable! Remove fuzz, pills, and the likes with ease as the BoJia Lint Remover works through items like cashmere, and wool with ease.
The blades are made from stainless steel, working across a large shaving head point for maximum efficiency and flawless results. This fabric shaver will protect your clothes from the harsh chop of an inferior shaver, and won't weigh your hand down.
FEATURES
• Stainless steel blades for precision cuts
• Comfortable grip handle
• Fast & efficient with dual fabric protection
SPECS
• Brand: BoJia
• Model: BJ-930
• Weight: 8.8 oz.
• Power: Battery-rated
6. Beautural Portable Fabric Shaver
Meet Beautural Portable Fabric Shaver and Lint Remover, Amazon's Choice for sweater shaver with a 4.4-star rating. Breathe new life into your wardrobe, and revitalize with one of the best fabric shavers!
This defuzzer combats lint on clothing, linens, upholstery, and many other fabrics with accuracy that leaves them looking brand new. You also get an instruction manual, a cleaning brush, protective cap, 24-month warranty, and 90-day full refund should you find any issues with your shaver.
Using the Beautural Portable Fabric Shaver and Lint Remover is as easy defuzz, dump, and repeat as necessary!
FEATURES
• Stainless steel design with dual protection casing
• Customizable settings
• Easy to clean
• Mixed mesh holes for small and large lint
SPECS
• Brand: 1byone
• Model: 719NA-0001
• Weight: 5.8 oz.
• Power: Battery-operated (2 AA batteries)
7. Remington Fuzz-Away Fabric Shaver
The Remington Fuzz-Away Fabric Shaver is perhaps the smallest shaver on the market that still delivers a phenomenal result. At a mere 2 in. x 2 in. x 5 in., this fabric shaver fits perfectly into the palm of your hands.
This defuzzer has a precision safety design for a high-performance cut. And a clear blue lint storage space to allow you visibly gauge how much space you have left until the next clean is due. Don't believe it? Check out one of the 3,400+ Remington fabric shaver reviews here.
This small but mighty lint remover works on just about any type of fabric leaving a clean, fresh look in its wake.
FEATURES
• Small and easily transportable
• Works on any fabric
• Blade guard for safety
SPECS
• Brand: Remington
• Model: RTFS2 CDN
• Weight: 4 oz.
• Power: 2 AA batteries
Did you know that about 26 billion pounds of clothes and textiles end up in landfills each year? (source). Yup! That's about 81 pounds of clothing per person each year. Save your money on buying new clothes due to fuzz, pill, and lint with one of these top-rated best fabric shavers.
FREQUENTLY ASKED QUESTIONS ABOUT FABRIC PILLS AND LINT REMOVERS
What is the best way to remove pills from sweaters?
Without a doubt, the best way to remove pills from sweaters is to use a lint remover like one of the best fabric shavers available. To manually remove fuzz, use a small pair of sharp scissors to cut little balls on the top of the sweater carefully.
What is the best fabric shaver?
The lint removers and best fabric shavers in 2019 are:
Conair Fabric Defuzzer
Wonder Lint Fabric Shaver
Home-It Fabric Shaver
Evercare Fabric Shaver
BoJia Lint Remover
Beautable Portable Fabric Shaver
Remington Fuzz-Away Fabric Shaver
How do you remove fuzz from fabric?
There are many ways to remove fuzz from fabric. Here are a few options:
Fabric shavers: Without a doubt one of the most reliable ways to remove lint from clothing.
A pair of scissors: Trim the fuzz balls with a pair of scissors being careful not to cut too close to the fabric.
Lint roller: Great for removing lint, dirt, and hair from clothing.
How do you stop leggings from pilling?
If you're up for it, gently hand wash your leggings
Always turn clothing inside out before placing them in the washer
If using a washing machine, opt for the delicate cycle
Hang your washed laundry to dry
* More tips and suggestions available on WikiHow.
Is fabric pilling a defect?
According to Magnolia Fabrics, fabric pilling is caused by abrasion on the surface of the fabric. However, fabric pilling is not a fabric defect or fault. To prevent or reduce pilling, follow the suggestions described above like investing in one of the best fabric shavers.
Shop the best fabric shavers on Amazon
You might like these popular posts:
PIN FOR LATER!
---
NEVER MISS A POST!
Join LPV email list to get the latest blog posts, beauty hacks, outfit tips & ideas, PLUS special sale alerts, exclusive giveaways, and behind the scenes peeks!