Are These the 7 Best Gymshark Leggings for Your Butt and Workout?
This post may contain affiliate links which means I will get a commission if you make a purchase at no additional cost to you. As an Amazon Associate I earn from qualifying purchases. Please read my disclosure for details.
There are a lot of leggings on the market these days. So, how do you know which ones to buy? If you're looking for the best Gymshark leggings, then look no further.
I'm sure you've come across the game-changing fitness and sportswear brand: Gymshark. You've probably also noticed that some of your favorite influencers love to wear it.
The millennial and zoomer-focused brand has made its workout clothing more affordable than the top-tier workout brands, and for most of us, it's pretty easy to find a few prizes in their catalog.
And since the search for the best leggings is an endless life pursuit, I'll be taking a look at the best Gymshark leggings to make your leggings journey a little simpler.🙌
Introduction
When it comes to one of the most fashionable and unique leggings you can try, Gymshark creates some of the best-fitting pastel leggings out there.
Not only do they provide great support for a regular gym routine, but they're great for casual outings.
And again, for the price you pay for these leggings, you have a bit of change leftover for that monthly gym membership.
Why Gymshark Leggings?
Designed with workout enhancing fabrics (at no cost to your fashion sense) it's no wonder Gymshark leggings have channeled a large social media presence and gained a reputation as THE brand to splurge on for comfy fashion-friendly fitness wear.
The 7 Best Bum-Enhancing Gymshark Leggings in 2023
Gymshark leggings are super trendy, stylish, and very comfortable for all fashion fitness enthusiasts. Gymshark leggings can be a great addition to your workout collection, with various options ranging from design to colors and a decent size selection.
Here are my top 7 absolute best Gymshark yoga pants to splurge on this year.
The Gymshark Cameo Seamless Leggings are the best-selling of the leggings collection. It's no coincidence that they're also the overall best Gymshark leggings.
This particular collection has been a top fave for Gymshark leggings lovers as the pair to have, and so what makes these leggings worth the talk?
The first thing that makes this legging hype-worthy is the camouflage pattern. It's fashionable to have for a gym day or just a regular day in the park.
Available in various sizes and colors such as Black, Berry Red, Sage Green, Lavender Grey, and Lilac, these long high-waisted leggings give a flattering fit, and its scrunch detailing is subtle.
It accentuates the butt and figure, giving you an impressive look. You can choose to style it with the Camo Seamless Sports Bra or the Camo Seamless Long Sleeve Crop Top.
The black cameo seamless leggings are top-notch and have a lifestyle of their own.
When it comes to fit, versatility, and comfort: these are a no-brainer buy. If I really like a pair of leggings I usually grab a second pair in a different color to keep them in rotation.
---
All across the board, the Vital Seamless Leggings are the best squat-proof leggings in the Gymshark Leggings collection.
Because these are squat proof, these Gymshark Seamless leggings are one less thing to worry about during those gym sessions.
This high waist legging compresses well so to accentuate your flat tummy look. Plus the waist fit is secure, not too tight, and won't require much adjusting during a workout.
If you are on a hunt for a pair of gym-worthy leggings that are squat proof and sweat proof (thanks to the patented DRY technology) then the Vital Seamless Leggings are the ones to get.
A few additional details that bring out the best in the design:
The ultra-lightweight seamless fabric gives you a second-skin feel.
It also has subtle designs around the legs, making it a little more unique than other designs.
Color options! Available in eleven marl shades and four other colors and sizes from small to large, the Vital Seamless leggings offers you more color options to choose from for your workout.
It is very stretchy, flattering on all body sizes, and suitable for strength training. It's sure to give you the sweat and squat-proof workout that you want.
Amazing workout leggings to get and another high-ranking bestseller on Gymshark.
---
If one of your main workout routines is running at the track, hitting the sidewalks, or heading out into the woods on a trail run, the Flawless Knit Tights are your best bet for a "flawless" cardio day.
Not only is it one of the most fashionable design pieces from Gymshark, but it is also designed for peak performance.
I love the silhouette look from the open mesh design that's detailed on the side legs and the brush contouring that highlight the most prominent features.
Examining further, the Flawless Knit Tights allows a four-way stretch that keeps you grounded while doing your workout thanks to the diamond-shaped gusset.
The open mesh ventilation detailing is impressive, and the fabric is lightweight, allowing this tight breathability for an intense, sweaty workout and a super stretchy feel.
This high rise tight comes with a ribbed waistband to prevent any "slippage" during training. The under bum contouring is quite flattering and chic as well.
It has a good body shaping effect and tummy control. The tights are true to size and come in all sizes and there are seven amazing colors to pick from. If you're looking for a great pair of running leggings without breaking the bank, give these a try.
---
I'm a huge fan of these for how squat-proof they are. This mid-rise legging is one of the most popular of the Gymshark bottoms collection with rave reviews.
The best leggings for making your booty look at its best (pronounced and confident) and suitable for your squat or yoga routines, the Flex Leggings by Gymshark, are the ones to try out.
With beautiful shades and sizes to choose from, you are sure to make that booty pop in these Flex leggings. I also love the fact that this legging features the DRY technology for those sweatier workouts.
Unlike many leggings that are high-waisted, these leggings sit just above the hip and would look good on girls whose curves meet up at a slimming waistline.
This legging is one of the more iconic Gymshark yoga pants on the market, and it is very affordable at just $38.
---
These Fit Leggings pack a little extra punch for your HIIT routine. Made with 20% elastane, they are one of the most stretchy leggings from Gymshark which make these excellent for high-intensity interval training and an excellent option for plus size women.
The fabric is super soft on the skin and comfortable to wear and move in. They are available in more than enough stunning colors, though I prefer charcoal, pink and black for a more feminine and versatile look.
As a bonus, these are one of the more affordable sets of leggings, costing just $35.
---
---
Ooh, look at that red! These Energy + Seamless Leggings are H-O-T. Perfect for power-enhanced heavy workouts these leggings give you a workout-friendly physique boost.
Just because they look hot doesn't mean they won't keep you feeling cool throughout your gym sesh.
Following a lot of reviews from fitness lovers about the original Energy leggings, Gymshark revamped the Energy leggings to create the Energy + Seamless Leggings to combine the power of the Energy leggings with the features of the seamless leggings.
The Energy Seamless Leggings remain one of Gymshark's most fashionable leggings with beautiful open-hole mesh details that run through the leggings and fit-to-wear features.
A fresh breed of fitness wear that is true to size and squat proof? Yes, please. The Energy + Seamless leggings have a super high waist fit and ankle grazer length that keeps the leggings in place when working out.
Another feature that makes this legging different from the rest of the Gymshark pants is the gluteal contouring and the fact that it doesn't show off anything you wouldn't want it to.
The Energy Seamless Legging is a butt sculpting legging that not only enhances the butt features, making them perkier, but has a very breathable, flexible, and effortless fit.
---
If you've been on a big search for squat proof and soft leggings, take a look at these Dreamy 2.0 Leggings. They are some of the softest high-waisted leggings available from this brand and make a perfect partner for your lifting routine.
The Gymshark Dreamy 2.0 Leggings are a recreation of the original Dreamy Leggings but with a more supportive superior workout session.
Made with 67% polyester and 33% elastane and a soft fabric blend, they are incredibly stretchy and true to size and fit like a dream for your regular workout routines.
They are also fantastic for lifting thanks to their super-stretchy high waist fit that enhances and accentuates the curves and butt.
A feature that I particularly like in leggings are pockets, and these leggings have concealed pockets around the waist that makes them appear more functional and super chic.
I also love the fact that it is reinforced with a gusset so the material doesn't bunch up in the wrong places. These come in black and five other eye-popping colors. Plus, they don't leave a muffin top look and have reasonable tummy control.
You can't get more dreamy leggings than this. A legging that not only offers a squat-proof appeal and softness of fabric on skin, these are super comfy and fit to the body, making them tug-free while working out.
---
What Size Gymshark Leggings Should I Get?
Gymshark leggings come in various sizes from extra small (XS) to extra large (XL), so there is a size available for every body type.
When it comes to leggings, it is vital to choose a pair that fits your body correctly. We're all different shapes and sizes so it's always helpful to double-check.
Go for sizes that are snug on your butt and thigh (not too tight) and feel supportive at the waist. The best leggings for you should feel like a kind of second skin.
If you get a legging and they keep slipping down when you wear them, you will have to size up 1-2 sizes.
Need sizing suggestions? These are the available size measurements for Gymshark (here):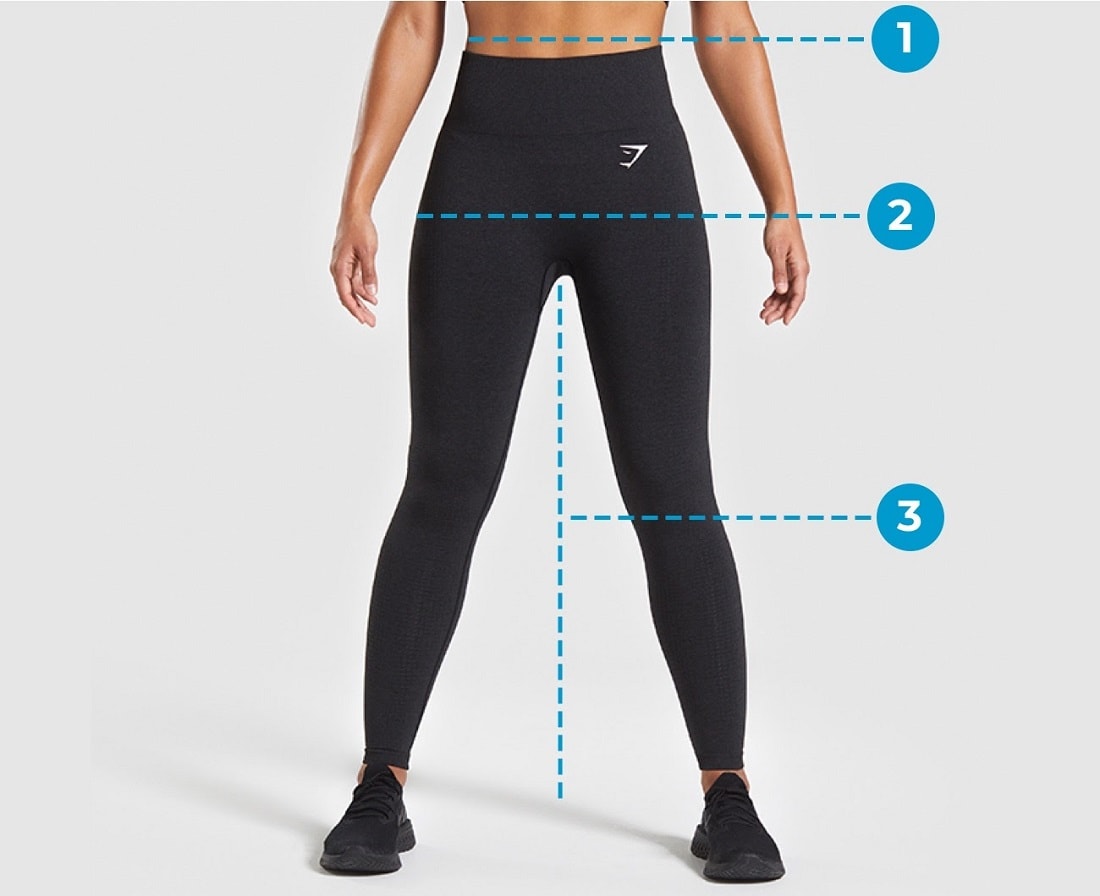 How to Wash Your Gymshark Leggings
Take the best care of your Gymshark leggings! For that to be possible, you should know how to wash and maintain them.
Here are some of the tips on how to clean your leggings.
Cold water is essential. Wash your leggings using cold water to prevent the colors on the leggings from fading. Washing in cold water also helps maintain the color and stay brighter. If you use a washing machine, make sure you use a delicate cycle to clean your leggings.
Since washing machines can vary, you might prefer to handwash your Gymshark yoga pants. Do so gently with cold water and a light to mild detergent. Handwashing gym clothes can be a chore but you'll definitely get more out of your leggings for the effort.
Inside out. Flip your Gymshark workout pants inside out to more effectively attack sweat and bacteria. After all, that's where you sweat!
Do not wash with clothes that might cause friction within the washing machine like denim, zipper trousers, towels, and jackets. Wash either on its own or with similar material for a more frictionless wash.
Make sure you wash your colors separately to prevent run in from other fabrics that might stain your leggings. I usually wash all my workout clothes together to avoid any unfortunate mistakes.
Avoid the dryer. Air drying is the best way to maintain your leggings. The dryer's dry heat can damage your leggings over time. Not good!
According to VaporFresh, it is advisable to use detergents that are free of fragrances, dyes, softeners, and brighteners as they may clog the pores of your Gymshark leggings and alter the fabric in a way that hinders their wicking properties and ends up making them rough and uncomfortable.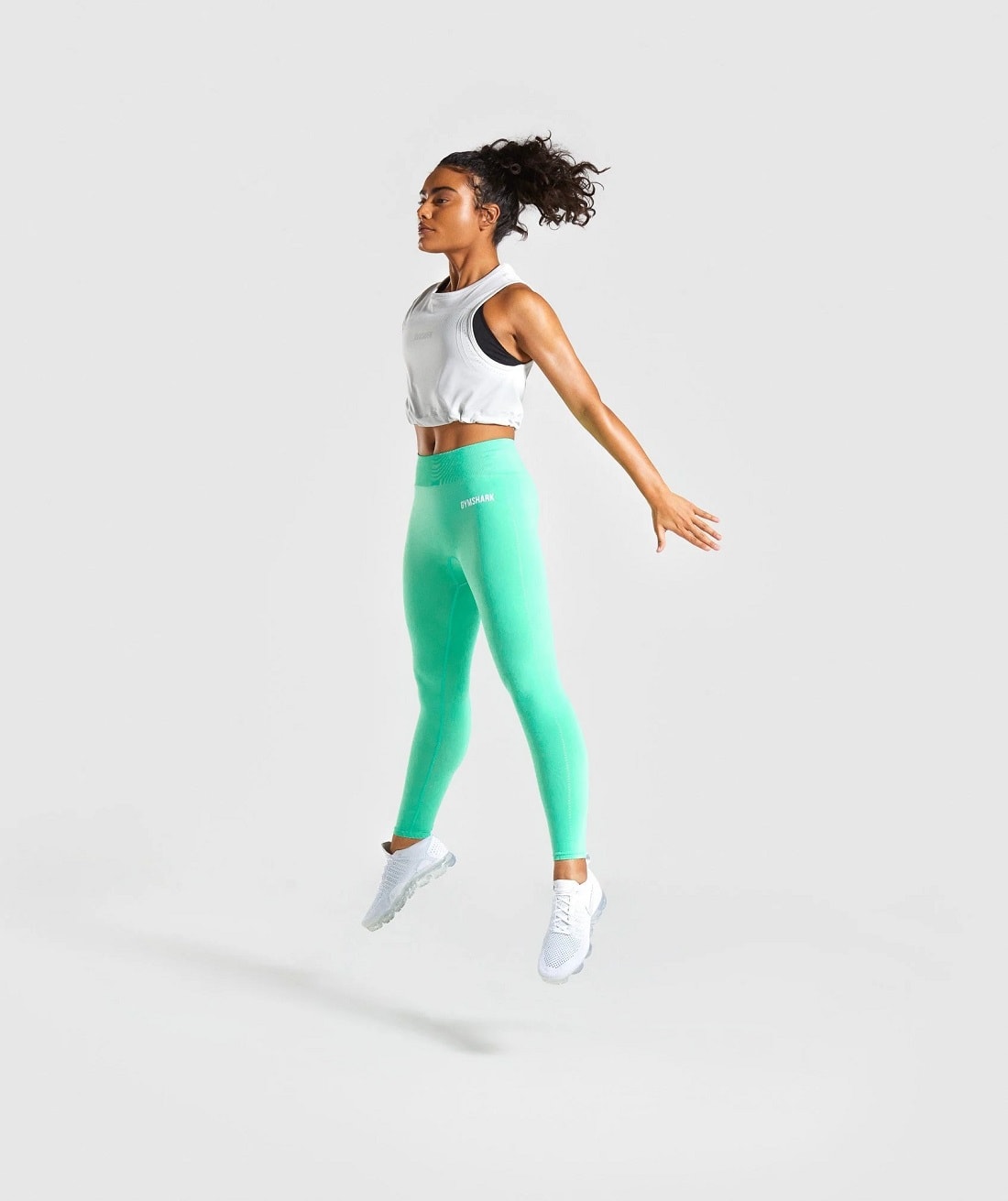 Are Gymshark Leggings Worth It?
Well, this depends on who you ask. As someone who finally caved and splurged on a pair of Lululemon leggings, I can say that Gymshark leggings are worth it. A less-expensive option but perfect for the gym.
Bum-enhancing perks aside, Gymshark leggings are stylish and functional (i.e. sweat-wicking, squat proof, made with high-quality fabric, super stretchy, and best of all: comfortable).
Gymshark pants are workout essentials and you'll definitely feel good wearing them on errands around town. What more can you ask for?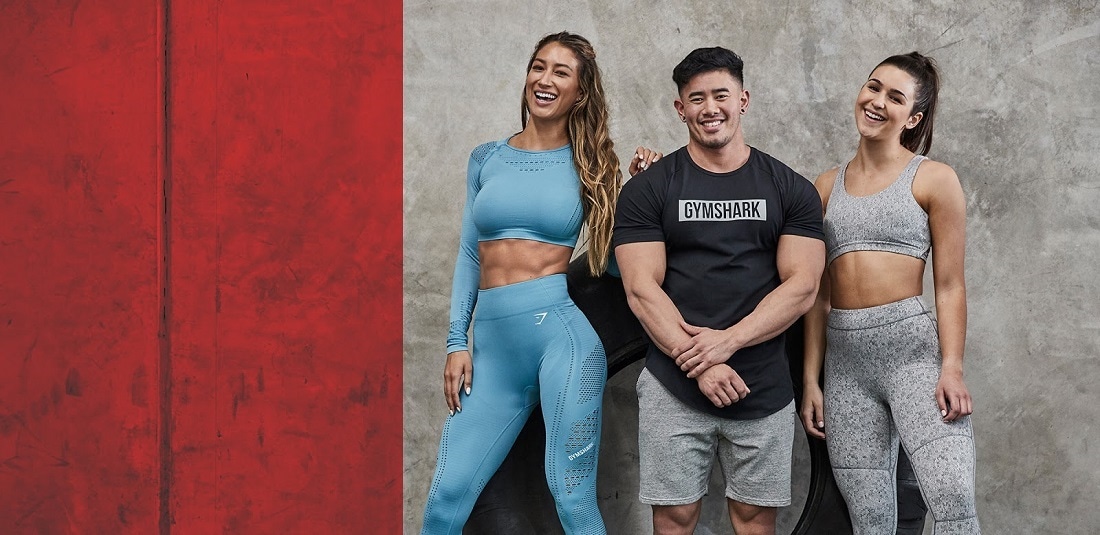 Compared with some other leggings, Gymshark workout pants are very trendy and very affordable than some fashionable leggings, and you still get quality at these prices.
There is a legging for every kind of workout session and the range of options to choose from in terms of designs, color, and sizes, the Gymshark leggings are worth it to splurge on.
When is Gymshark having a Sale?
I love a sale! The last Gymshark Summer Sales happened on June 3rd, 2019, and it lasted until June 11th, 2019, while stocks lasted. You can expect to save up to 70% off your purchase online during the Gymshark Summer Sales from the company's website.
It's here! And it's here early. Gymshark's early Black Friday is here. Score up to 50% off Gymshark selected lines during their Big Deal Energy sale for a limited time.
The 2022 Gymshark Summer Sale is Live! Save up to 70% off over 1,000 items. Go directly to the sale here. Bookmark this page for updates on future sales.
You might also be interested in the Gymshark Black Friday and Cyber Monday sale, which kicks off sometime in November this year.
Other Frequently Asked Questions about Gymshark
Conclusion: Best Gymshark Leggings For Women
Like a breath of fresh air, Gymshark workout leggings are a crisp and refreshing addition to your gym-wear collection. They are fashionable, comfortable, easy to wear, squat proof, and supportive of any workout routine.
Leggings are a staple in any woman's wardrobe, and Gymshark leggings are some of the best on the market. They're squat-proof, sweatproof, and more comfortable than ever before.
Additionally, they come in a variety of colors and styles to suit any taste. If you're looking for a new pair of leggings to add to your collection, then look no further than Gymshark!
If you enjoyed reading this post about the best Gymshark leggings, you'll love this post about the most-wanted Sweaty Betty leggings and this post about a deep dive into faux leather leggings.