This post may contain affiliate links which means I will get a commission if you make a purchase at no additional cost to you. As an Amazon Associate I earn from qualifying purchases. Please read my disclosure for details.
This post about the best Lululemon leggings was not sponsored by Lululemon nor was I compensated for writing this article. All opinions expressed in this post are my own.


UPDATE: The 2020 Lululemon summer warehouse sale is live. As of right now, there are over 800 items included in the sale with new markdowns added daily, July 9 through July 13, 2020. Shop the sale here. Scoop the best deal on Lulu leggings while you can (Lululemon sales do not happen often)!



Before I spent my hard-earned money on Lululemon, I had to make sure I was getting nothing but the absolute best Lululemon leggings. Are these super hyped leggings worth it?


Or are you better off getting a Lululemon alternative? Keep reading to hear all about my thoughts and experience about these yoga pants turned work-from-home daily essential.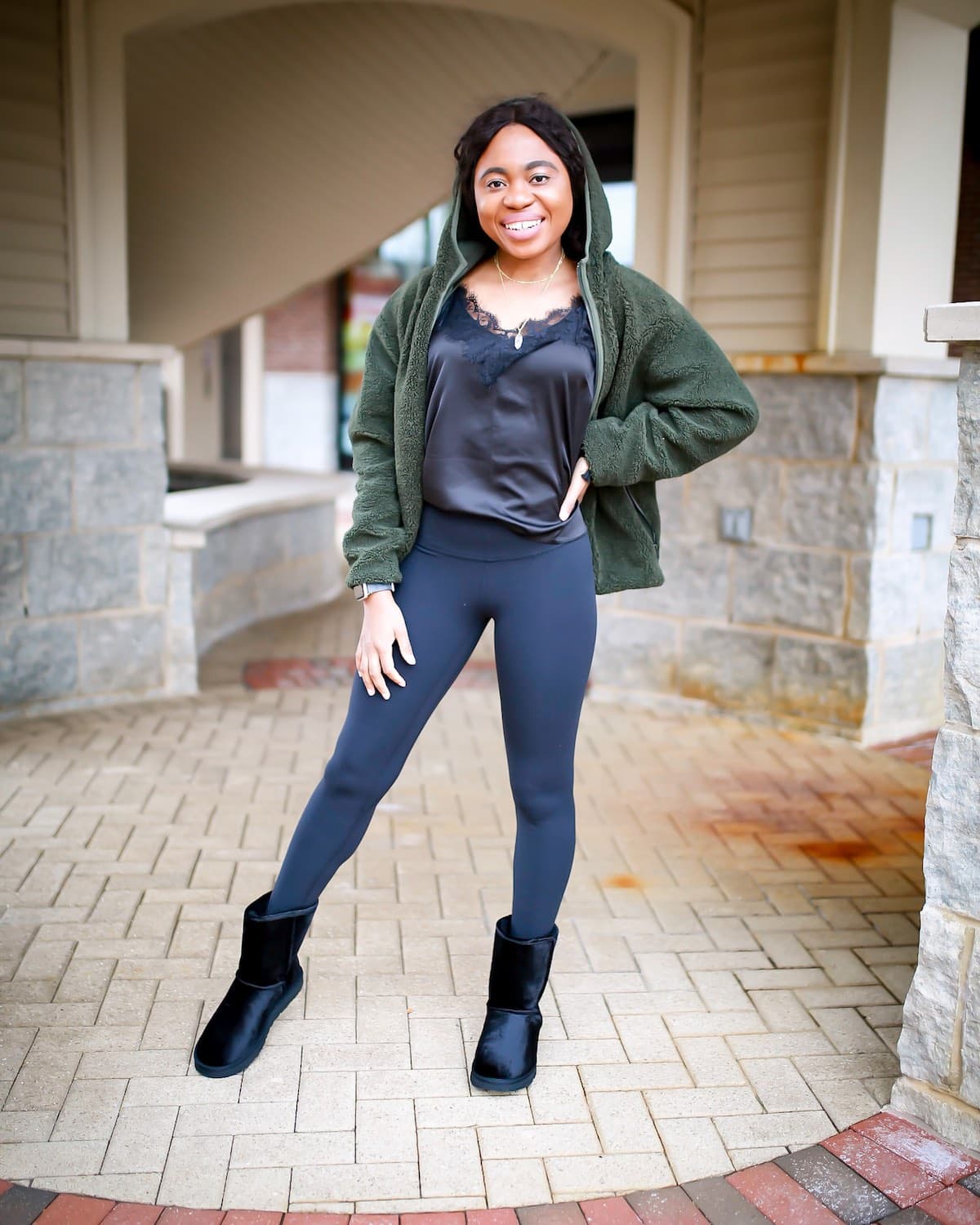 Perhaps one of the most notable brands in the realm of fitness clothes and sportswear, Lululemon has created an empire around high performance athletic and workout clothes. Not sure what you want? I've rounded up the best Lululemon leggings for you.


Honestly, I was a skeptic too. I had tried every legging under the sun until I crossed paths with two of the best Lululemon leggings.


But what makes Lululemon so special? Glad you asked! From buttery soft leggings and yoga pants to high-impact sports bra and fitness tops, Lululemon pumps out the best fitness and athleisure products in the business.


Not only are these pieces designed to withstand extreme movement, but they're also super fashionable with some of the hottest new trends incorporated in them to spark a new fashion wave.


Case in point, the Lululemon Align leggings, and Wunder Under leggings which have garnered a loyal following with fitness fanatics creating dedicated Facebook groups (like the Lululemon Bidding Battles and Lululemon Amuurica) to buy and trade authentic Lululemon goods.


The top 7 Lululemon leggings in no particular order, are:

The Absolute Best Lululemon Leggings in 2020
When the price tag starts to hit triple digits, you give it a second thought. But lucky you, check out the "We Made Too Much" section (aka sale section) to get your hands on the best Lululemon leggings and other merchandise at a steal. This section gets updated every Thursday 😉


If you've ever felt the touch of buttery soft fabric on your skin, then you'll understand why every girl and her mother is obsessed with the Lululemon Align leggings. Seriously, is there truly anything better than being cute and comfortable?


What makes this yoga pants worth its weight in gold is its non-stiffening durability, and its ability to mold to your body like silk. Score this exact pair for $98 or check out the entire Align Collection for more options. Oh, hey that's me trying on the Align pants #mirrorselfie! I caved and bought a Lululemon legging – it's that good!


Soft, stretchy, and suitable for a vast myriad of occasions, these are the multi-purpose pants to take to yoga, the gym, or a simple brunch out with the girls.


---
The Lululemon Align crop is designed to stretch every way you bend, and made with the proprietary Nulu™ fabric, arguably the softest material. The crop yoga pants are an everyday essential for fitness fanatics looking for minimal distraction and maximum comfort.


These high waisted workout pants are also a plus for petite ladies, and they come in different cuts, colors, and sizes to meet your needs. Lululemon babies love this crop pants because it molds to your body like nothing you've ever felt – a fit like a second skin.


It's the ultimate no-show pants even through squats and does not slide down as you exert yourself. Score this exact pair for $88 or check out the entire Align Collection for more options. Once you get a pair, you'll never buy leggings from another place.


---
Adding some flair to your sportswear, Lululemon's Wunder Under High Rise Tights is all about making a statement, a functional statement. This tight features the Four-way stretch Full-On® Luxtreme fabric, and it's superior moisture-wicking technology with slashed mesh fabric for some see-through action.


This stylish cut creates a bold body art appeal that feels smooth and comfortable. Score this exact Wunder Under leggings for $98 or check out the entire Wunder Under Collection for more options.


---
Built with one of the best run and train fabrics, the Nulux™ Fabric, the Lululemon Fast and Free full length tight offers quick-drying, near-weightless coverage for a seriously smooth stride. This barely-there, sweat-wicking tight is made for running, walking, yoga, CrossFit and It's perfect for any exercise and activity.


Having a similar soft, silky, naked feel of the Align Pant, they are thicker and yet super soft. The Lululemon Fast and Free Tight also have pockets giving it a more functional appearance and the stitching accentuates the curves.


Apart from the fact that these leggings are great for your daily exercise, they are super flattering. Rock these athleisure leggings for a stroll, to brunch and even indoors.


This $128 Lululemon leggings might be quite expensive but the investment is worth it if you work out a lot or just love to wear activewear and remains one of the best selling classics from Lululemon worthy of making the list. You can score this exact Free and Fast Tight for $128 or check out the entire Fast and Free Collection for more options.


---
Training just more exciting with the Lululemon In Movement Tight. One of the reasons why this In Movement Tight is because of the proprietary Everlux™ fabric designed to fight the heat, moisture, and decreased airflow.



The Everlux Fabric is thicker than Nulu and Luxtreme fabrics and well-suited for intense workouts. Like most Lululemon leggings, the In Movement Leggings will feel like a second skin the first time you put it on.


---
Created specifically for running and hiking, one favorite feature of this awesome Lululemon Speed Up Tight is that it comes with pockets. Going for a run and need a place to keep your phone or keys? You're covered with this legging.


The four-way stretch Full-On® Luxtreme fabric is sweat-wicking and offers great support and coverage with a cool, smooth feel that keeps this legging breathable and comfortable even when wet. The added Lycra fiber help with stretch and shape retention.


Designed with a spandex blend, The Lululemon Speed Up Tight conforms to your body in a non-restrictive way. Score these amazing leggings in 10 different colors or discover the rest of the Speed Up Tight Collection here.


---
Last but not least on this list of the best Lululemon leggings is the Lululemon Pace Rival High-Rise Crop. Designed with runners in mind, the cropped legging is constructed with four-way stretch Full-On® Luxtreme fabric.


they are sweat-wicking, the fabric fits tightly, holds everything in and stays in place effortlessly, and still has a smooth soft finish on the body.


This legging is a versatile high-rise crop suitable for long and short running sessions, rock climbing, hiking, and more. Do you live for athleisure pieces? The Pace Rival will be your best friend. Rock this winner to run errands, grab a cup of coffee, grocery shopping, or quickly squeeze in a workout session.


The Pace Rival features three brilliant pockets – two side pockets big enough to carry your phone and a zipper-free pocket large enough for your keys and other sundries. How cool is that?


---
How to Wash Lululemon Leggings
You can hand wash your leggings in a bucket with soap and water. However, to extend the life of your Lululemon garment, machine wash your Lululemon in cold water and lay flat to dry (source). Doing this protects the life of the unique Lycra fabric and retains the shape of the Lululemon clothing.


General recommendation is to turn your Lululemon leggings inside out and avoid washing the with anything coarse and avoid mixing Luon with anything cotton.


Avoid using fabric softeners as they impede the wicking capabilities that make Lululemon leggings every other premium leggings on the market. Lay flat to dry is the best way to preserve your Lululemon because the heat from the dryer reduces the lifespan of the leggings.


Are Lululemon Leggings Worth It?
A 100% affirmative yes!!! Lululemon leggings are worth the investment. You can't go wrong with any of these 7 Lululemon leggings. The Lululemon Align and Wunder Under are my personal favorite. They are soft yet supportive, feel and look great on the body.


Whether you're a corporate professional or a yoga instructor, every lady needs a pair of Lululemon leggings.


And if we're keeping it real, what is there not to love about the Lululemon leggings? From the use of high-quality fabric that stretches four-ways to super absorbent moisture-wicking technology, Lululemon leggings are breathable and comfortable for various high impact and fashionable athleisure activities and available in colors that are irresistible.


Will Lululemon Replace Leggings with a Hole in Them?
Lululemon is seen as a worthy investment by its fans and the brand stands behind its customers. This simply means that whatever happens to your favorite leggings pants within its practical lifespan, will give you a replacement. I haven't had any issues with my pair of Lululemon leggings.


According to PopSugar, "Lulu will take almost anything back even if it's outside the return and exchange policy window. Did the item stretch out? Snag? Maybe it just didn't fit right? No problem! They will take it back and swap it out for something new. They also offer free repairs if it's something irreplaceable."


Other Frequently Asked Questions About Lululemon Leggings
When is the next Lululemon sale?
Lululemon summer sale is on right now (here). This warehouse sale runs July 9, 2020 through July 13, 2020 with new markdowns added daily. To be the first to shop the sale, bookmark this page.

Do Lululemon leggings ever go on sale?
Hardly ever! I scooped a pair of the Align pants during their Black Friday sale. Other than that, bookmark and check the We Made Too Much section every Thursday to get your hands on a pair of Lululemon leggings and other garments that might have been overstocked in your size. Members of the exclusive Lululemon Sweat Collective get 25% of their orders. Active military members, their spouses, and first responders also qualify for this 25% discount in-store only with ID (more here).



What's so special about Lululemon leggings?
Price aside, the quality of Lululemon leggings, four-way stretch, and proprietary technology make Lululemon leggings stand out from the pack. Think function and style!


What is the best Lululemon legging?
All entire Lululemon leggings collection is a fair game. But if I had to narrow it down, the Lululemon Align Pants, Wunder Under Mesh Tight, and Align Crop are the best Lululemon leggings to add to your wardrobe.


How much are Lululemon leggings?
Lululemon leggings range between $69 and $158 depending on the pair of leggings in its various collections you desire. This pair I own has a price tag of $98.


Without a doubt, Lululemon offers unrivaled quality and comfort for yoga enthusiasts around the world. And with such phenomenal quality and first-class customer service, Lululemon leggings have revolutionized the way we work out and our thoughts about athleisure clothing in and outside the gym.


The 7 best Lululemon yoga pants:
Scrolled to the bottom? You seriously only need one or two of these leggings.
If you enjoyed reading this epic roundup post featuring the best Lululemon leggings, you would love this review post about the most-wanted Nordstrom Zella Live in Leggings, and perhaps this Old Navy Rockstar Jeans Review. As always, thank you for stopping by.


---