Gymshark Flex Leggings Review – Overhyped Or Amazing?
This post may contain affiliate links which means I will get a commission if you make a purchase at no additional cost to you. As an Amazon Associate I earn from qualifying purchases. Please read my disclosure for details.
This Gymshark Flex Leggings Review post was not sponsored by Gymshark nor was I compensated for writing this article.
Working from home and working out is pretty much a few of the only things we can do right now. And if you've had your eyes on the sexy Gymshark leggings, maybe this Gymshark Flex leggings review might be EXACTLY what you need.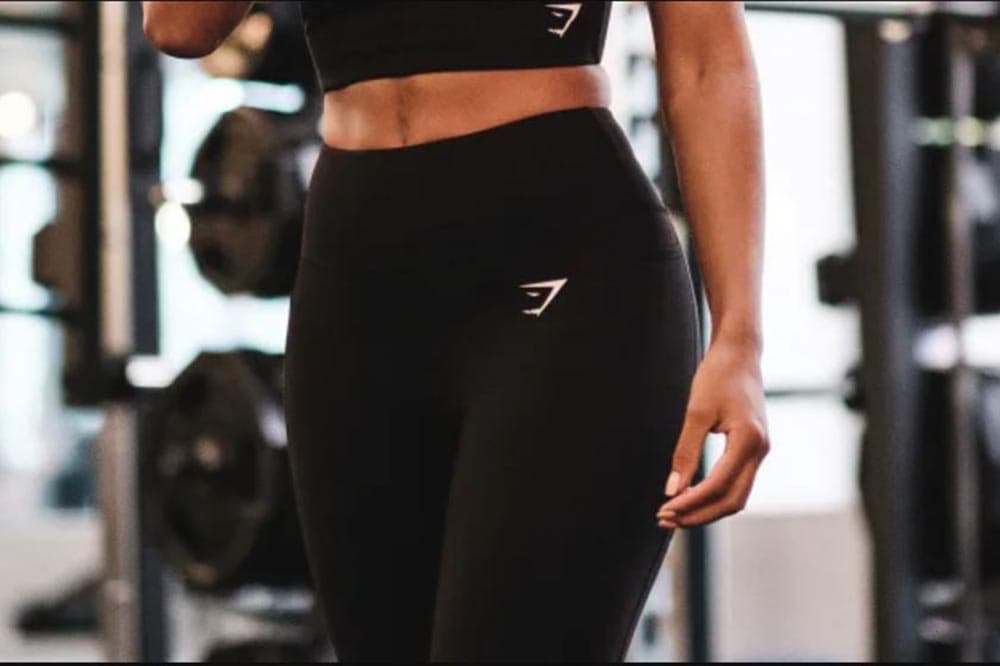 Introduction
Not to age myself, but have you noticed your socials exploding? Many of the fitness brands are going h.a.r.d right now. There's no better time to get on your fitness kick while looking damn fine while you exercise.
One such athleisure brand that's booming lately is Gymshark.
Enter the Gymshark Flex leggings!
I mean, I'll be honest, I was a little hesitant. But this compression legging complete with its ribbed waistband has shown no signs of stopping.
From everything to heading out to the store, getting in your squats, or sitting at the desk for five hours, this is the comfortable pair of pants you want to be wearing. Apparently.
Are the Gymshark Flex leggings really as good as everyone says? Well, I own a few pairs. So here's the skinny (no pun intended) on these workout clothing.
Gymshark Flex Leggings Review: Fit Details
Style: Gymshark Flex Waisted Leggings
Material: 56% Nylon, 41% Polyester, 3% Elastane
Price: $40
Sizes: XS, S, M, L, XL
Pros
Naturally sweat-wicking
Seamless shading
Gorgeous embossed branding
Good, lasting quality – wear again and again
Plenty of colorways to choose between
Flattering fit, high-rise
Available in low-rise, mid-rise, and high-waisted fit
Won't slide down as you work out
Cons
Tighter than average waistband can be uncomfortable
Thicker material – could be too much for those really intense sessions
Are Gymshark Flex Leggings Worth It?
If you're in a hurry, you want the short answer – yes! Just as they're described, in these workout leggings, you are definitely flexy – and you certainly know it.
I am of the opinion that spending your hard-earned dollars (or pounds, or euros – we have a lot of international fashionistas reading!) at Gymshark is an excellent idea.
Most if not all Gymshark leggings are absolutely are worth it in my opinion, especially those from the Flex range.
Want to know more? Let's break things down together….
Flex is one of Gymshark's original ranges, and it has seen a huge overhaul since its original debut. Many returning customers are astounded by the improvement in quality and fit of this new, better design.
First things first, it's a seamless and sculpting legging, with specifically shaded contouring patches that work to draw the eye to your best bits and keep onlookers away from areas you're self-conscious about.
Don't worry about fitting your impressive muscles into a pair of Flex leggings – the fabric is incredibly breathable, as well as packing plenty of stretch for a full range of movement and no constriction of your body.
Just a perfect fit, every time!
Soft to the touch, I often spend ages running my hand up and down the supple, buttery-smooth texture of these leggings. They will make your behind pop while smoothing out any rough edges.
---
Loving this Gymshark Flex leggings review? You'll love these related posts:
---
Thanks to an elasticated, jacquard-style waistband, highly stretchy but very form-fitting, these bad boys stay right where they should be, even during the most intense workouts.
Forget stopping mid-count to re-adjust your leggings: that's a thing of the past.
One of the most versatile pairs in my wardrobe, you can bust out your Flex leggings for pretty much any activity. Socially distanced coffee? ✅. Yoga? ✅. High-intensity cardio? Weight Lifting? Running? Check, check… and check.
Like co-ords and matching sets? There is a range of Flex sports bras, workout tops, and T-shirts to pair the leggings up with, in a huge variety of color palettes and styles. Offering so many choices, one is sure to take your fancy.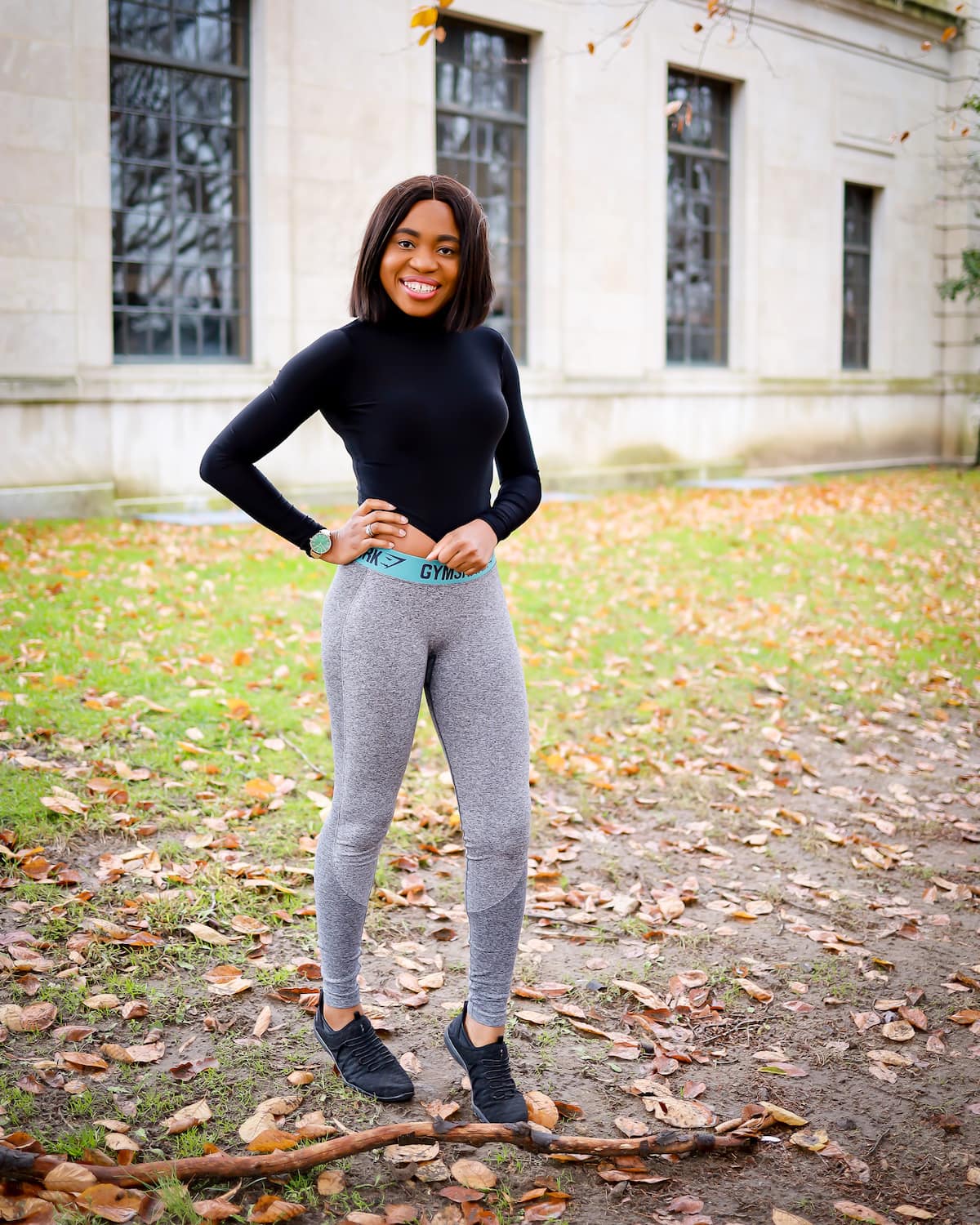 Where To Get Gymshark Flex Leggings
The best place to pick up authentic Gymshark leggings brand new is their official website. Yeah, it's expensive, but that's how they last so long. Look at Lululemon prices – why do you think some ladies have had their Lulus for decades?
For a discounted authentic pair, hit up Facebook resale groups, Poshmark, or an old favorite, eBay, though be sure to watch out for scammers. Only shop from verified sellers, and if someone's bundle sounds too good to be true… it probably is!

How To Care For Gymshark Flex Leggings
The easiest way to ensure your new Flex leggings last for years is to follow the recommended maintenance guidelines outlined by Gymshark. Can't be bothered reading 'em? Let me spell it out for you.
Always turn your leggings inside out before tossing them into the machine, as this ensures all of that sweat you produced will actually be washed away (ew)
Stick to washing at a cooler temperature – you might be tempted to boil away any bacteria, but this causes fast fading and wears away at the fabric.
Avoid washing with regular laundry – put all your athleisure in its own wash, as the harsher materials of other items can rub against leggings and cause tears or stretching/sagging
Air dry where possible – though a quick spin in the dryer can be tempting, if you have the time, this will guarantee your leggings keep their shape and a contoured fit for all of your future workouts.
What Size Gymshark Leggings Should I Get?
According to the Gymshark fit guide, the Flex leggings are always true to size, but if you're worried, you should consider going up by one from your usual choice.
You should also have a look at their Women's Sizing charts, which show you exactly where to measure and how best to get an accurate measurement.
Their seamless knit style is incredibly stretchy, with that shaded contour pattern that accentuates all of your beautiful curves, swerves, and muscles. 
One thing to note though is the particularly tight waistband. This means there's way less chance of annoying fabric rolling, and having to stop mid-workout to adjust when they've slipped down.
Although the band should sit just above the hips in a mid-rise style, you can pull them higher if you prefer that look. Be aware, ladies with wider hips, that your jiggly bits will be squished by this band!
| SIZE | WAIST | HIPS | INSIDE LEG |
| --- | --- | --- | --- |
| XS | 60 cm (24 in) | 99 cm( 39 in) | 75 cm (29 in) |
| S | 70 cm (26 in) | 104 cm (41 in) | 76 cm (30 in) |
| M | 75 cm (28 in) | 109 cm (43 in) | 77 cm (30 in) |
| L | 80 cm (30 in) | 114 cm (45 in) | 78 cm (31 in) |
| XL | 85 cm (32 in) | 119 cm (47 in) | 79 cm (31 in) |
What Are Gymshark Flex Leggings Designed For?
Pretty much anything! Thanks to the DRY technology and stretchy fabric used, they are ideal for medium-impact cardio exercising, as well as working with heavyweights.
Yoga, Pilates, jogging, ballet… you can flex on everybody (especially any haters) in your gorgeous leggings.
Are Gymshark Flex Leggings Squat-Proof?
This is one question I hear regularly, and I'm here to give you a definitive answer: hell yeah they are! Want to show off your peachy butt, without the opportunity for see-through embarrassment? 
Get yourself a pair of Flex leggings – their super stretchy material (a combination of Polyamide and Elastane) is more than capable of withstanding however many squats you throw at it, even if you throw weights into the mix!
Lift and bend to your heart's content, with no danger of any rips, tears, over-stretching, or other damage to your expensive athletic investment.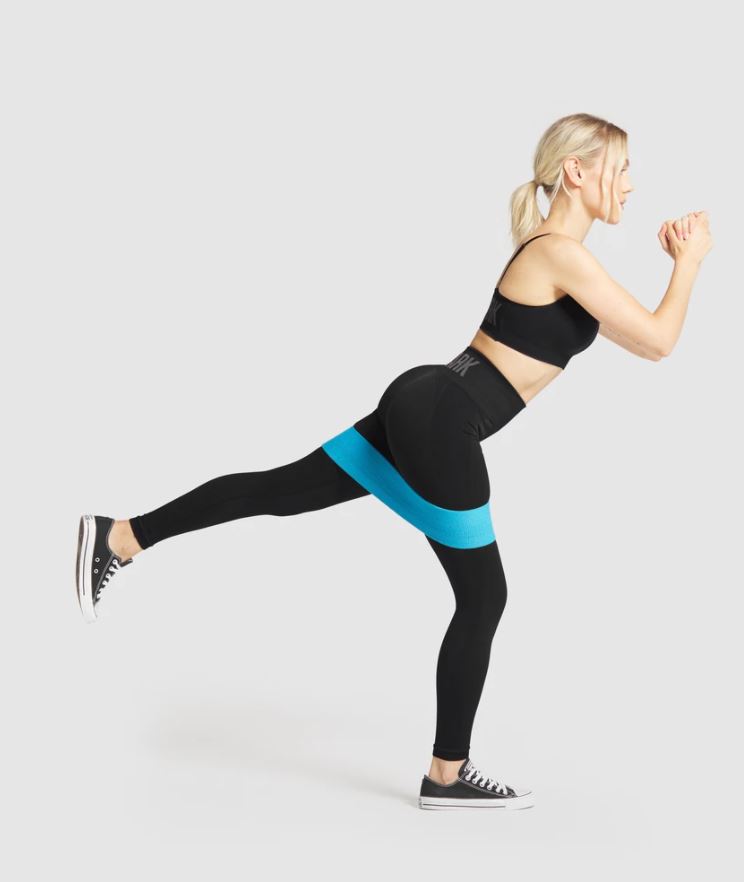 Do Gymshark Leggings Go On Sale?
Like most top-rated athleisure brands, snagging a Gymshark bargain with a discount code or sale is always worth it if you can.
By shopping directly from the Gymshark Outlet, you can find hundreds of their products at up to 50% off the original retail price, which is a fantastic way to save at least 10 to 20 bucks on your purchase. Bookmark this page for when the Outlet Sale goes live.
It's also worth bearing in mind that Gymshark tends to have two major sales a year – one around Black Friday, and another in honor of its anniversary as a brand, which takes place in July.
If you can wait to stock up on fitness gear 'til then, the savings are immense and impressive!
Are Gymshark flex leggings stretchy?
Yes, the Gymshark Flex leggings is very stretchy and has a lot of wiggle room. I found it a little bit like a mix between the softness of Lululemon and the contour of Spanx. See the full collection here.
Do Gymshark flex leggings run big?
NO, Gymshark Flex leggings do not run big. They run true to size. I ordered my usual size small and had no problems wearing the Flex leggings.
Do Gymshark flex leggings show sweat?
The darker shades of Gymshark Flex leggings do not show sweat but the lighter shade has a tendency to show sweat marks. The lighter shades are not ideal for intense workouts.
Are you a student? Students save an additional 10% off their Gymshark order via Student Beans. Click here to verify your student status.

Vets are not left out! Those who are serving or have served and their families also get a 10% VetRewards savings from Gymshark via Veterans Advantage. Click here to claim your discount.
Summary
There we have it. Gymshark Flex leggings absolutely live up to their hype. From the seriously sexy designs available to the way they sculpt and shape your body, there's a reason ladies all over the world are investing in a pair – and you should join them!
As I've pointed out, it's worth going up one size if you're worried about fit, and the waistband is pretty tight so a high-waisted fit is best if you don't want to accidentally draw attention to your squidgy bits. But hey – love those love handles! They're part of you.
Should the Flex still not take your fancy, then why not have a look at some of Gymshark's other ranges? They have so many different shapes and fabrics available, some being targeted for specific activities and wearers.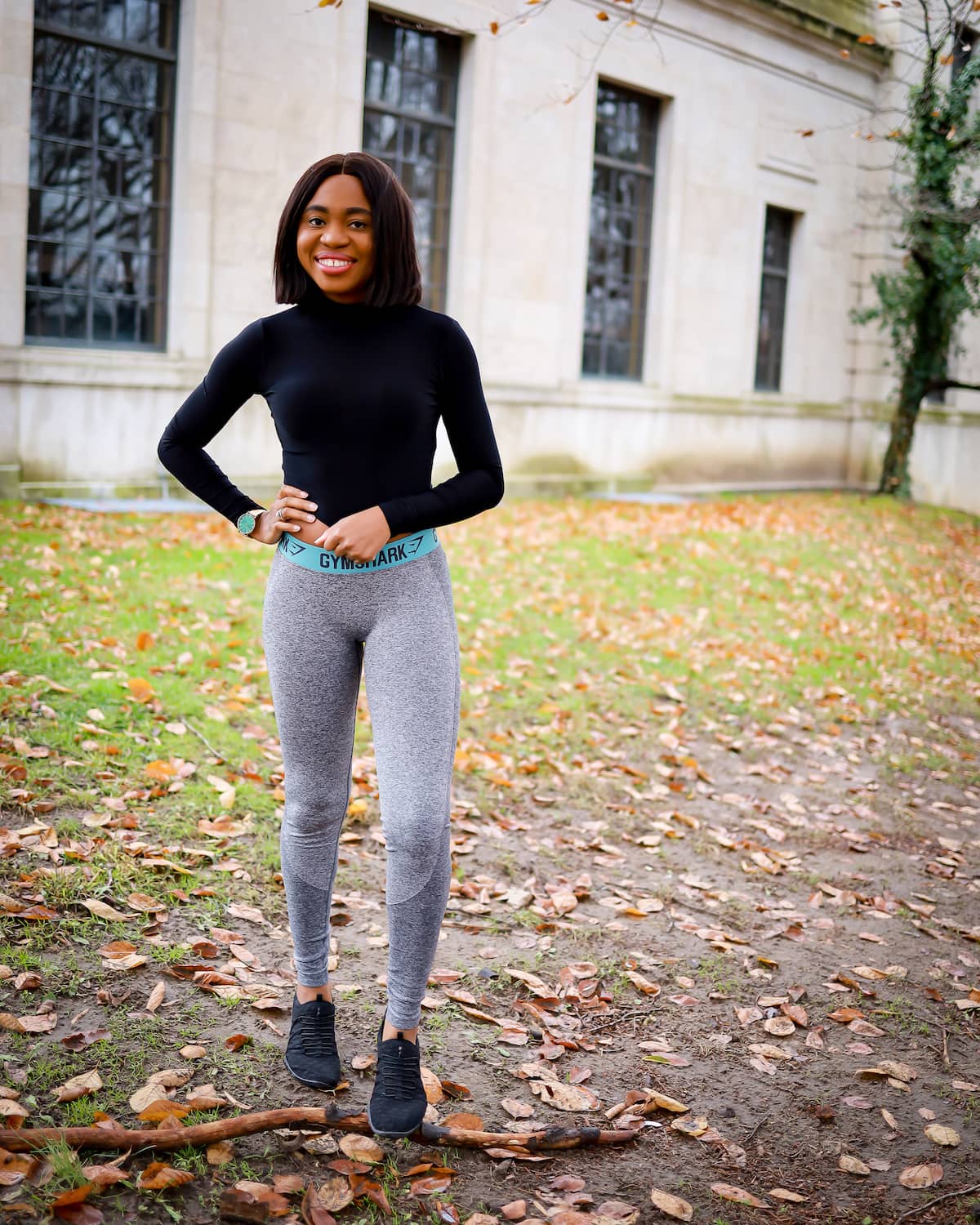 For instance, if you're serious about bodybuilding, then you should check out their Legacy range, which is dedicated to the ladies who are really trying to get seriously buff, and therefore can withstand a way more intense workout.
Likewise, being lightweight, non-inhibiting, and perfect for yoga or ballet, the Studio Collection rivals Lululemon's collection of athleisure for bendy, stretchy sports and fitness activities.
Basically, there's a whole world of fitness, gym, and exercise-wear out there, and there's absolutely nothing wrong with exploring. You certainly won't go wrong with Gymshark in terms of quality, and if you follow their sizing advice, you'll feel like a million bucks with the fit, too.
Prepare for your booty to become the focal point of your Instagram feed – nobody will be able to take their eyes off it!
I hope you found this Gymshark Flex leggings review helpful. If you liked this product review post, you'll love these related posts: