3 Cute Outfits from Walmart Perfect for Spring
This post may contain affiliate links which means I will get a commission if you make a purchase at no additional cost to you. As an Amazon Associate I earn from qualifying purchases. Please read my disclosure for details.
Just yesterday, we were talking about stylish winter outfits. Today, it's finally time to put away those winter layers and start exploring all the stylish new trends that spring has to offer!
If you want to stay on-trend with an eye on your wallet, Walmart is a great place to shop. From casual basics and timeless classics to statement pieces, there's something for every fashionista at Walmart.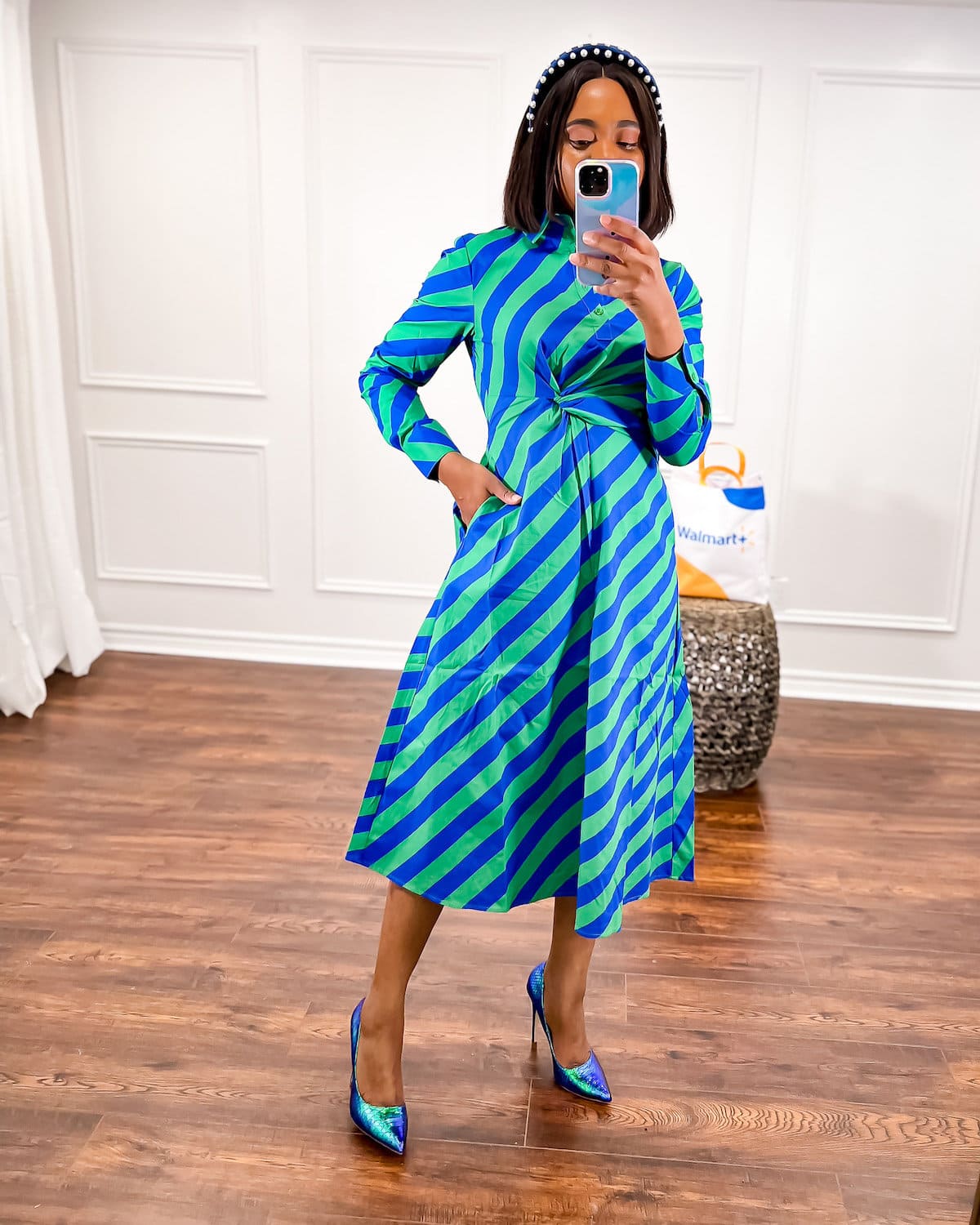 But don't just take my word for it! Today I'm sharing three cute outfits from Walmart that are perfect for spring and summer.
And I even styled them for you!😉
Why is Walmart a Great Place to Shop for Affordable Clothing?
With the start of spring, there's no better time than now to refresh the wardrobe! But why shop at the same store's everyone else does when you can get cute and stylish outfits from Walmart?
Their collection is constantly being updated with new styles and at amazing prices so that no matter what your budget is, you can still look cute and fresh this season.
And if you have a Walmart+ membership as I do, the savings stake up even more #freeshipping.
So, I've put together three of my favorite spring styles from Walmart that are perfect for getting ready for a fun and fashionable season ahead.
Cute Outfits from Walmart
Outfit #1: Wear This Cut Out Midi Dress with Puff Sleeves
This first must-have look comprises this cute Cut Out Midi Dress with Puff Sleeves, some stylish gold Platform Heeled Sandals, and a Mini Structured Bag from Walmart.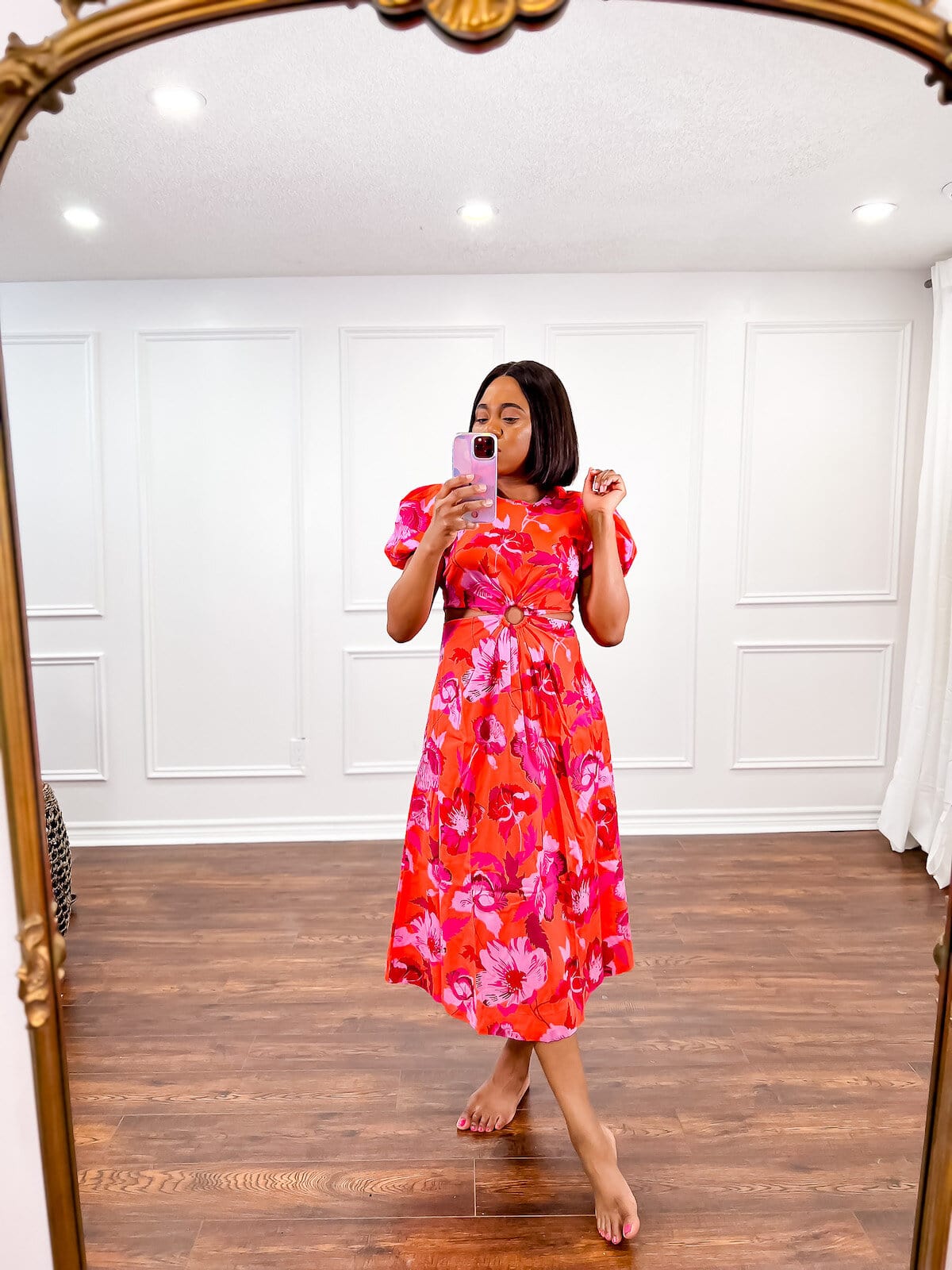 This outfit is perfect for all occasions – go out on a date night or brunch with the girls, and you'll definitely be the talk of the town!
The main feature that attracted me to this dress was the fun cut-out detail. It's so beautifully done too! The dress is also lined, and the quality is top-notched.
For a better look at how well the dress fits, check out the Reels I made on my Instagram account. Psst! This dress is totally Instagram-worthy, so don't forget to take pics for your feed.
Walmart Dress Review
I'm wearing a size small (US 4-6) in the dress, which fits true to size. If I had to choose, this dress would be my favorite from all of the Walmart pieces featured in this post.
The midi style is perfect on my frame (5'5), and the puff sleeve gives it a nice 80s vibe.
Walmart does an amazing job with bold colors and prints. I have another pink/red dress that is also from Walmart – great quality and fit. And it flew off the virtual shelves.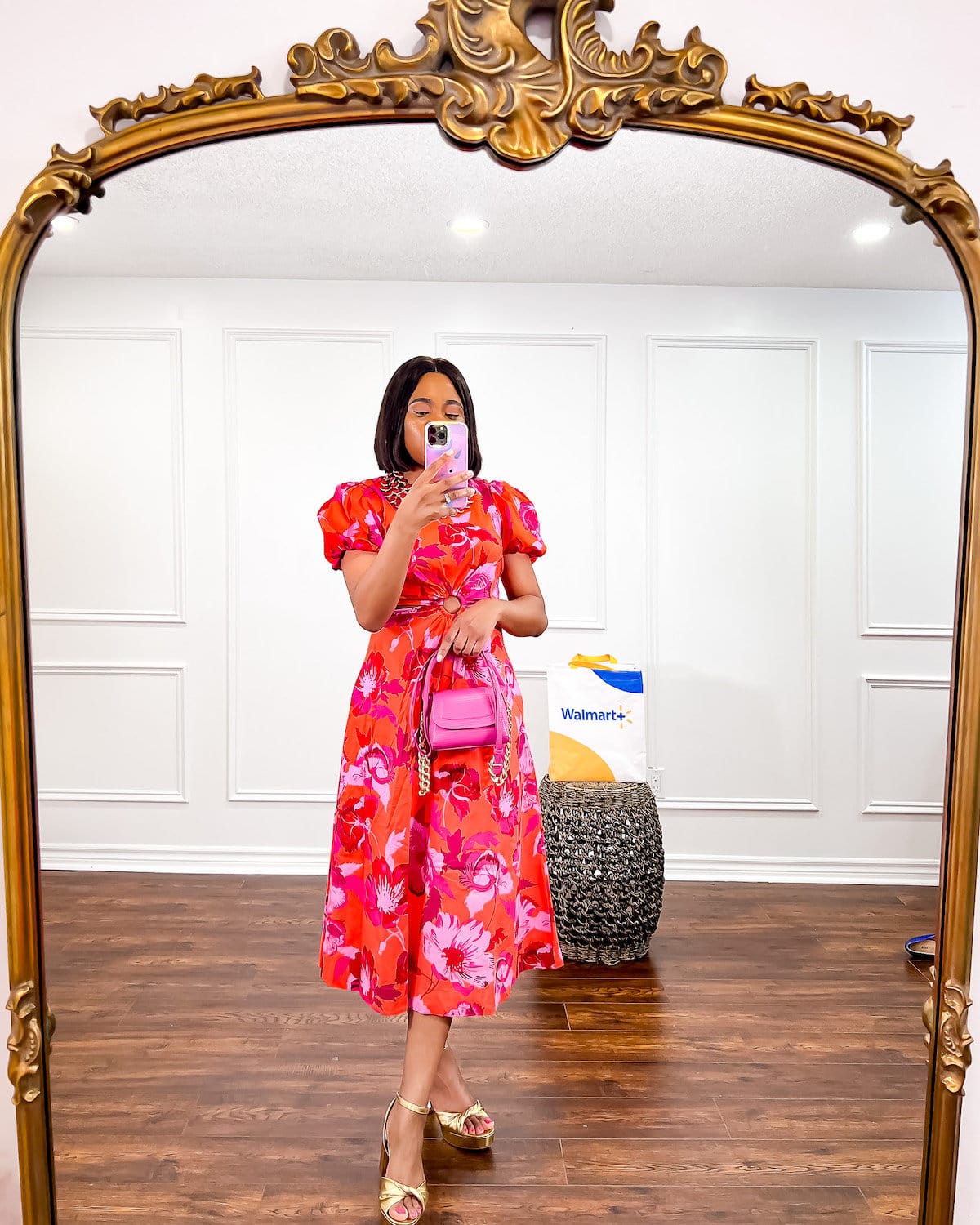 I feel like this dress would sell out fast. It also comes in solid black for those that want something understated. And it's available in sizes XS to XXL.
I styled the dress with these gold platform heels I also picked up from Walmart. It runs true to size and is super comfortable.
My mini bag is also from Walmart, and it's almost sold out. My reversible necklace is an oldie from Amrita Singh.
Outfit #2 – Show off This Side Knot Poplin Midi Shirt Dress
Outfit number two is sure to make a splash this spring! The second spring outfit consists of this Side Knot Poplin Dress and statement heels for the perfect sophisticated-yet-trendy look.
Walmart came through with the perfect look for showing off these statement heels. For real, this Walmart dress was made for these statement heels!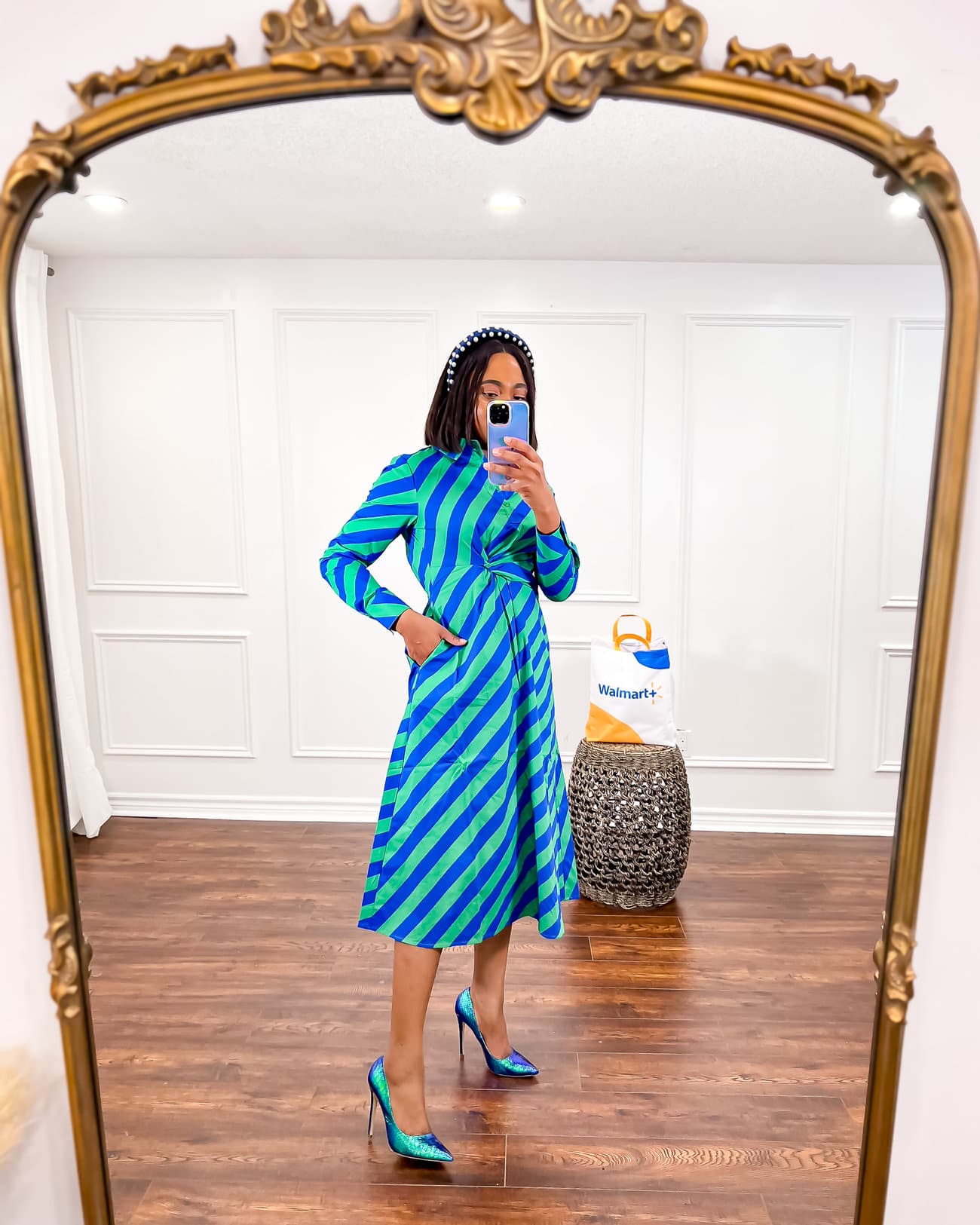 I could have added a purse, jewelry, sunnies… But the dress, statement heels, and pearl-embellished headbands were all I needed to pull this outfit together.
And the side knot detail is a cute touch that elevates this classic style.
With plenty of comfortable and fashionable options, Walmart has the most stylish pieces to help you create a unique, eye-catching wardrobe this season.
And their collection of spring fashion means you can stay stylish, on-trend, and even show off some of your own personality – all without breaking your budget!
Walmart Dress Review
I surprisingly really love this side knot midi dress. There are only so many ways you can wear a classic print.
The fact that this dress comes complete with functional pockets and a button-up style speak volume. I don't always like to carry a handbag, and my head is on emmm the bigger side. So both of these are huge pluses for me.
Outfit #3 – Rock This Halter High Low Maxi Dress
Ok, outfit number three is one of the numerous spring dresses from Walmart I had my eyes on.
I had too so many spring dresses in my shopping cart, and I knew I'd get in trouble if I ordered all of them – adulting is hard!
So this sexy number did not make it cut for me. My loss is your gain!

Outfit number 3 is perfect for spring and a great way to show off your style! It's a simple combination of this halter dress and a pair of comfy sandals.
What I like about this outfit is that it brings together an airy dress that still feels chic and modern. The delicate halter tie front detail enriches the femininity of this outfit.
Looking cute and fashionable doesn't have to break the bank. Shopping at Walmart is a great way to save money while still looking stylish.
Whether you're searching for special occasion dresses or everyday outfits, Walmart has got your back with cute items that won't cause a dent in your wallet.
Conclusion
With spring upon us, there's nothing better than refreshing your wardrobe with some cute outfits from Walmart – you'll be surprised by how much fashion and style you can find for an affordable price!
A few places to start your search on Walmart.com when looking for cute outfits are:
Free Assembly, Scoop, Sofia Vergara, Love & Sports, Sam and Libby, Terra and Sky, and Madden NYC. Nine out of ten times, you'll find the best outfits and accessories from these Walmart-exclusive brands.
But if I'm not entirely sure what I want, I start at the new arrivals page and then slowly narrow my search.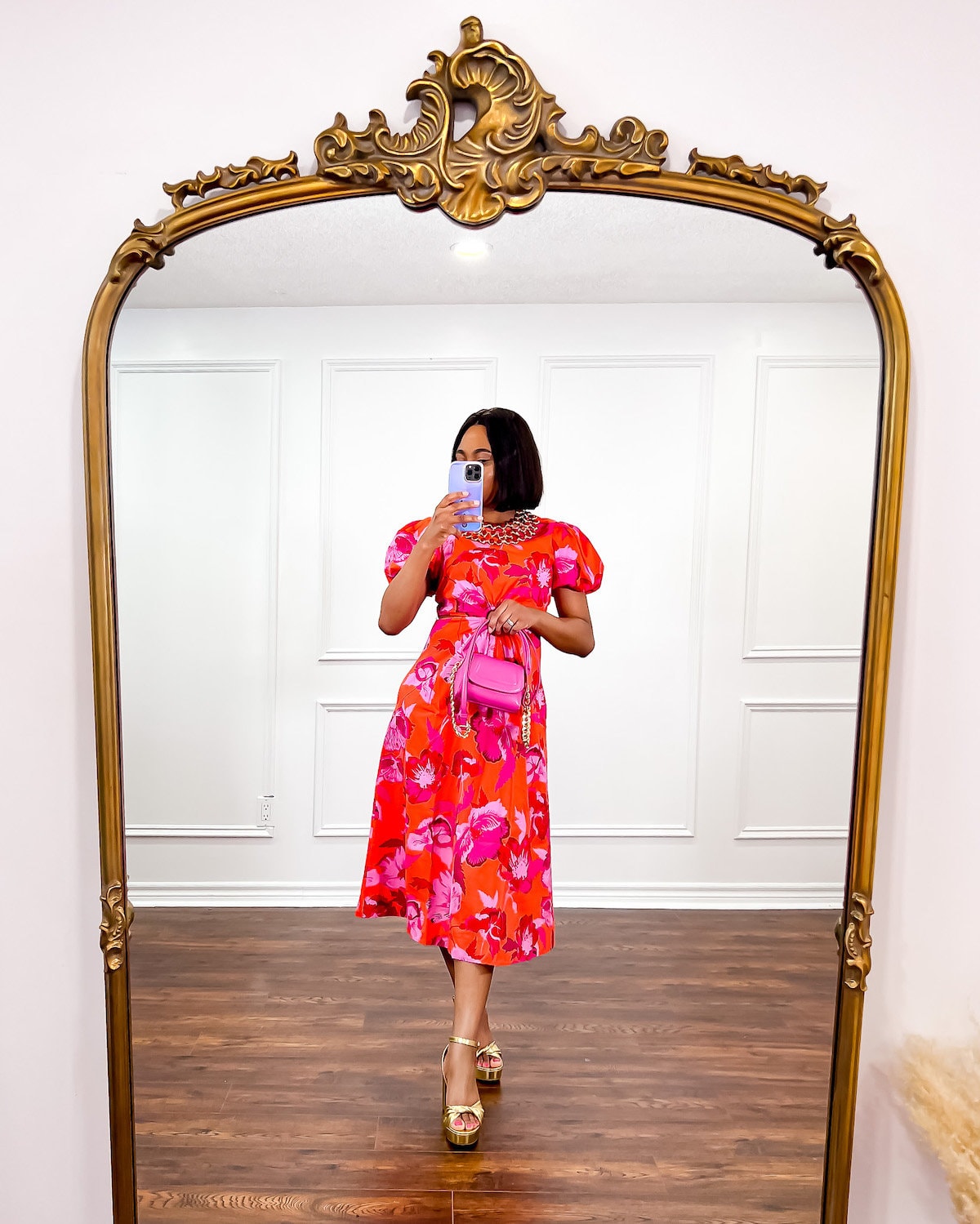 The colors of the cut-out dress and the cute details of the poplin midi dress make it easy to look fashion-forward at an unbeatable price.
And don't forget the high-low halter dress—this style is on trend right now! Try out all three looks this season, and get ready to turn heads everywhere you go.
With the outfits and styles I shared above, you can look amazing without putting a huge strain on your finances.
Whether it's for a day at the beach, a night out with your friends, or just relaxing at home, these styles from Walmart are great choices for spring and beyond.
If you liked this post, you'd love these related posts:
And if you want more fashion inspiration? Just click the links or images below!