Does Nordstrom Restock Anniversary Sale Items? Fight The FOMO [Here's the 411]!
This post may contain affiliate links which means I will get a commission if you make a purchase at no additional cost to you. As an Amazon Associate I earn from qualifying purchases. Please read my disclosure for details.
If you're reading this post, chances are that you're not as excited as you previously were about the Nordstrom Anniversary Sale. Because as the saying goes, "Sold Out is the worst nightmare ever!" But more than anything, you REALLY want to know, "Does Nordstrom restock Anniversary Sale items?"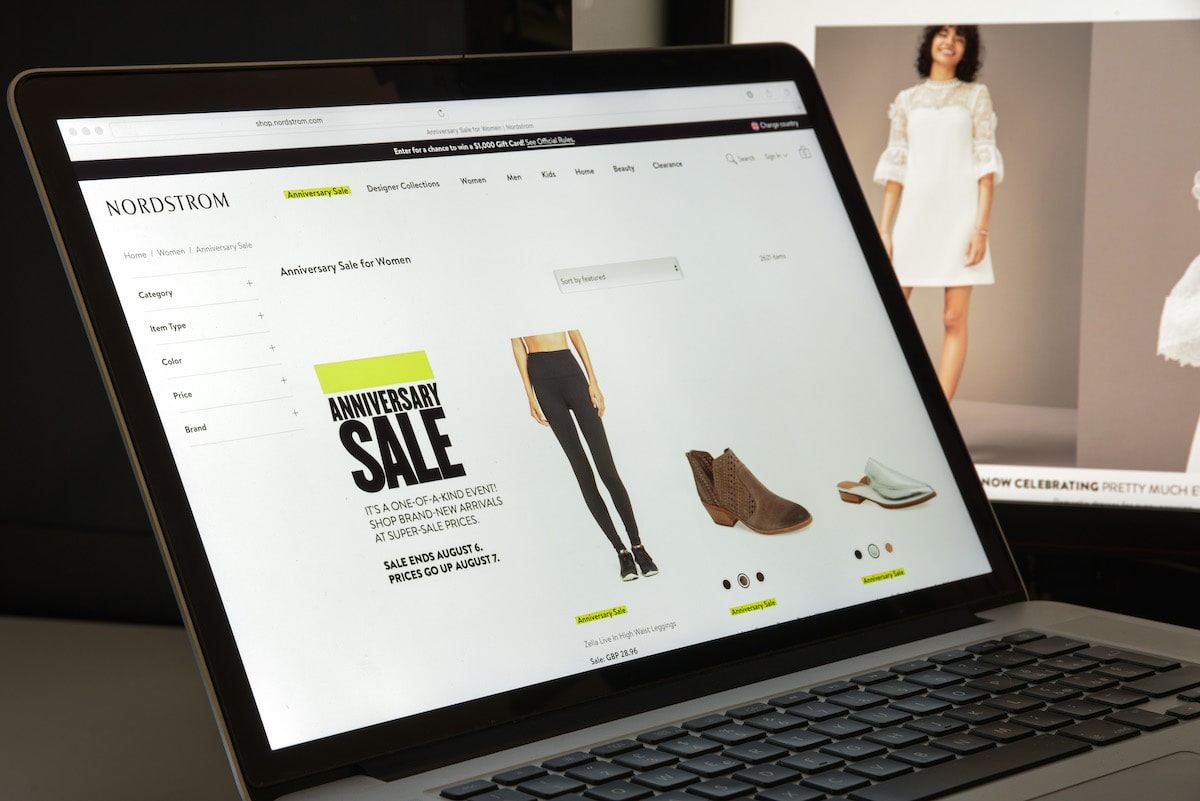 I have answers to all of your questions, so read below to find out more about this year's sale and how to get your hands on that elusive item.
The Nordstrom Anniversary Sale is here, and it does not disappoint. Top sellers from last year have made an encore this year alongside new favorites and never-seen-before styles.
It is true that there might be a lot (maybe a little too much) of hype around Nordstrom's biggest annual sale. But, a girl wants what she wants: it is what it is!🤷‍♀️
The Nordstrom Anniversary Sale does sell out of some products fast, so it's important to know how to get your hands on them when they are restocked.
Here's the 411 and some shopping tips about your questions and how to avoid the dreaded FOMO!
Does Nordstrom restock Anniversary Sale items?
Yes, the Anniversary Sale is well-known for selling out very quickly. Even on the first day of the sale, popular items do sell out. Thankfully, Nordstrom does restock most (not all) of the popular sale items throughout the sale.
And if you're tired of having to search for your most wanted styles, bookmark this page to see all the DAILY restocks below.
Need a particular style? Drop a comment with a link to the sold-out product you need (+ size/color, if applicable), and I'll send you an email once it's back in stock.
You're more than welcome to sign up for my email list to get updates about the sale, and other fashion finds. Nordstrom does not have specific restock dates for its products.
How often is Nordstrom Anniversary Sale?
The Nordstrom Anniversary sale only happens once a year during the summer months of July and August.
The sale lasts for 3 weeks for certain Nordstrom cardholders and one to two weeks for the public. If you miss the shopping window, you'll have to wait till next year.
This year, the Anniversary Sale catalog preview opened on July 6th for everyone. Nordstrom cardholders with Icon level status got Early Access to shop the sale starting July 6th, Ambassadors July 7th, and Influencers July 9th.
Public Access to non-cardholders starts July 15th and ends July 31th at 11:59 PST. This brings the NSale shopping window for 2022 to a total of 26 days (16 days for non-cardholders).
Does Nordstrom Anniversary Sale sell out?
Yes, Nordstrom Anniversary Sale items tend to sell out quickly. Bestsellers and high-end brands that rarely ever go on sale are typically first to disappear.
Your best bet is to create a wishlist of items you want so you can quickly check out once it's your turn to shop.
Alternatively, bookmark this blog post for daily updates on restocks of best-sellers and most popular styles. Need something specific? Leave a comment below with a link to the item + sizing/color details you're interested in.
Here are a few of the bestselling Nordstrom products with high sell-out risk:

Does Nordstrom open early for the Anniversary Sale?
No, Nordstrom does not open early for the Anniversary Sale. The sale starts online at 3 AM ET/12 AM PT on July 15th for everyone. Or in person during regular store hours. Click here to verify your local store hours.
Do you need a Nordstrom card for the Anniversary Sale?
No, you do not need a Nordstrom card to shop the Anniversary Sale during Public Access. However, the Nordstrom card's the key for Early Access to the Anniversary Sale.
All credit card holders and card levels get Early Access. Go here to apply for a Nordstrom card to shop Early Access.
Follow this hack to shop early access without a Nordstrom credit card!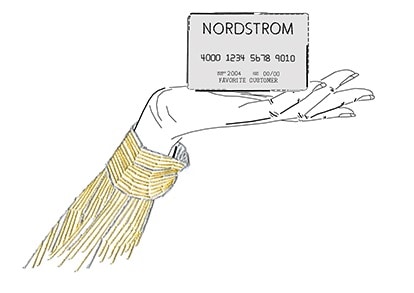 What are the different levels at Nordstrom?
The 2022 Nordstrom's membership levels are divided into the following club status tiers (by annual spend):
Members: $0-$499 (free to join)
Influencer: $500+/card members automatically unlock Influencer status
Ambassador: $5000+
Icon: $15,000+ using a Nordstrom credit card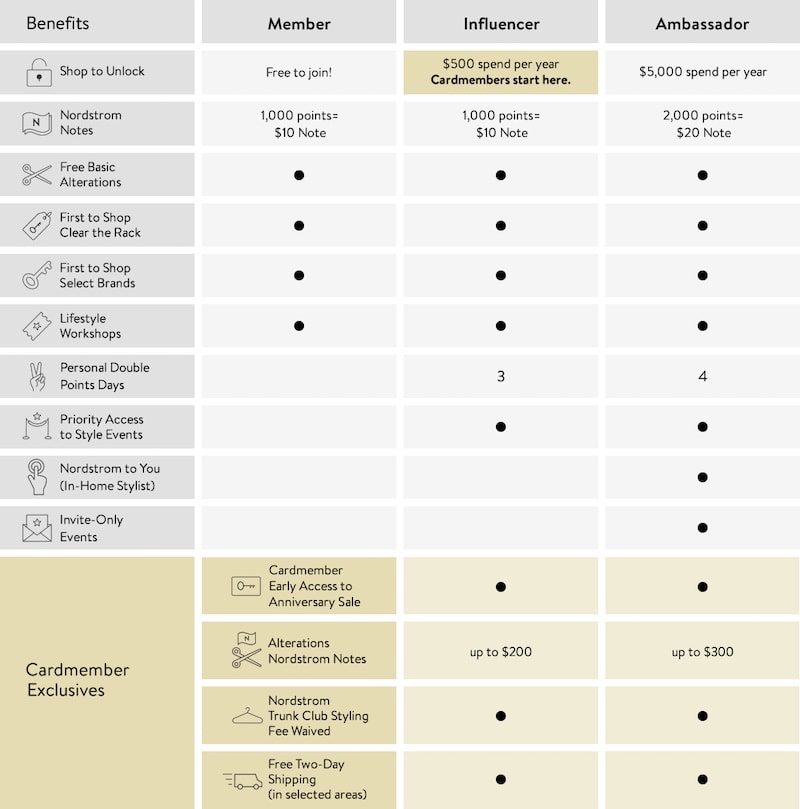 Can you shop the Nordstrom Anniversary Sale in store?
Yes, you can shop the Nordstrom Anniversary Sale in-store during regular store hours starting July 6th (cardmembers) or July 15th (non-members). Keep in mind that some products might not be stocked at your local Nordstrom.
Do I need a promo code to shop the Nordstrom Anniversary Sale?
Unlike many sales, you do not need a promo code to shop the Nordstrom Anniversary Sale. The promotion is reflected on the product page and will automatically be added to your order when checking out.
What brands are included in the Nordstrom Anniversary Sale?
During this one-of-a-kind sale, expect to see many of your favorite brands on sale like Club Monaco, La Mer, Spanx, Zella, UGG, Barefoot Dreams, Nuna, NuFace, Kiehl's, Natori, Vince, Mother, Good American, Olaplex, Wacoal, Diptyque, Veronica Beard, Steve Madden, Charlotte Tilbury, and more.
When are the 2022 Nordstrom Anniversary Sale Dates?
The Anniversary sale will begin this year on Wed, July 6th, 2022 – Sun, July 31st, 2022. This is the public access date.
Will Nordstrom restock for Public Access?
Nordstrom keeps closed lips on restocks, which is what makes the sale highly sort-after. They restock items throughout the sale, and I've noticed a flux of restocking just before Public Access. Get what you want ahead of time. FOMO is real!
Does Nordstrom Rack participate in the Anniversary Sale?
Many shoppers get confused, thinking they can get NSale products at Nordstrom Rack. Although you'll find amazing deals at Nordstrom Rack, the Anniversary Sale is exclusive to Nordstrom stores (but NSale returns can be done at Nordstrom Rack stores).
Does Nordstrom Anniversary Sale start at midnight?
Yes, the Nordstrom Anniversary Sale starts at midnight pacific time or 3 AM eastern standard time.
Do you have to pay with a Nordstrom card for Early Access?
No, you do not have to pay with your Nordstrom card for early Access. But your Nordstrom card must be linked to your profile while shopping online. You can also present your card or phone number while checking out in store to verify your status.
Does Nordstrom carry Lululemon?
No, Nordstrom does not carry Lululemon, but they have some amazing leggings brands that are comparable to Lululemon like Zella, Alo, Beyond Yoga, and Sweaty Betty.
What to do if a product is out of stock?
If a Nordstrom product you want is out of stock or sold out, add it to your wishlist and check back often for restocks. Many Nordstrom shoppers tend to buy two of the same product to gauge fit and avoid missing out. Restocks happen frequently.
A few insider tips
To increase your chances of getting your purchases, opt for in-store pickup, curbside pickup, or express delivery. When you choose any of these options, particularly express shipping,

your order gets prepared first

using available inventory.
Yes it is true that the Nordstrom card is key. However, shopping the sale as soon as it is open to you as a cardholder is your next best shot of getting everything on your wishlist.
Everyone gets access to a digital preview of the sale at the same time. Use the Nordstrom sale roundup below to guide you on the best Anniversary Sale products to shop.
Major beauty brands and luxury skincare offer beauty exclusives just for the Anniversary Sale. Get your hands on discounted La Mer, Charlotte Tilbury, Kiehl's and NuFace if you can.
Clothing staples, luxury handbags, winter items, and transitional shoes rank high as must-haves during this epic sale.
Conclusion
The sale is an incredible time to score amazing brands for less for year-round staples and luxury items.
Although many shoppers complain about missing out on some of their favorites, there's a good chance that their picks will be restocked throughout the sale and even during public Access.
If you find it a little tedious to keep checking for your must-haves, simply bookmark this page for daily updates on Anniversary Sale popular products across clothing, shoes, designer handbags, beauty tools, baby, men, and more.
I hope this post answered your question, "does Nordstrom restock anniversary sale," and all related questions. You'll find these relevant posts helpful:
2022 NSALE Products With High Sell-Out Risk / Restocks
Skincare & Home
Bags & Accessories
Shoes
Loungewear & Lingerie
Clothing