How to Get Early Access to The Nordstrom Anniversary Sale: Insider Tips + More!
This post may contain affiliate links which means I will get a commission if you make a purchase at no additional cost to you. As an Amazon Associate I earn from qualifying purchases. Please read my disclosure for details.
It's the time of year again when you can shop your heart out at Nordstrom Anniversary Sale. But if you want to be first in line, you need to know how to get early access to Nordstrom Anniversary Sale.
One thing that many people don't know about this company is how Nordstrom offers early access to their anniversary sale to those who have a Nordstrom credit card.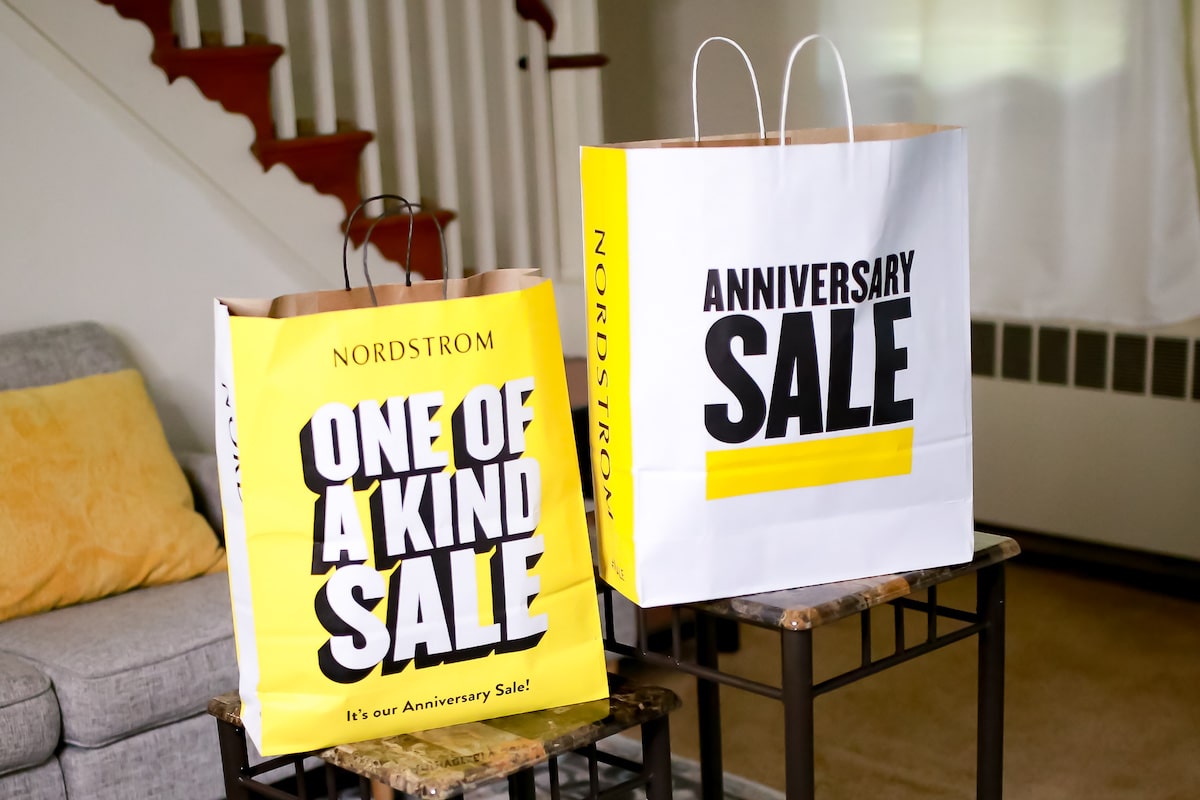 Introduction
If you're looking to get your hands on some of these amazing deals before anyone else does then read on because I've got all the details you need!
In this post, I'll be sharing an insider tip on how to get early access to the biggest sale of the season and make this one of the make sure that this is the best shopping experiences of your life!
How do I receive early access to the Nordstrom Anniversary Sale?
To receive early access to the Nordstrom Anniversary Sale, you need to sign up for the Nordstrom credit card. There are two different card types, a Visa credit card and a Retail credit card, with some key differences in how you can use your points or rewards earned through each type.
Both of these cards give you instant upgrade from Member Status to Influencer status (or above) so you get early access to the sale.
The big difference between the two is that the Visa Credit Card can be used anywhere Visa card is accepted AND at Nordstrom. While the Retail Credit Card can only be used at Nordstrom.
The Visa credit card appears to be the more popular option and gives you more perks and has no foreign transaction frees or annual fees.
Apply for a Nordstrom credit card through the company's website (here). The card is the key!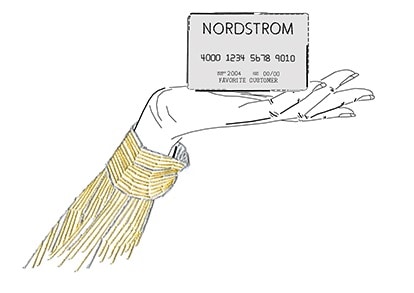 INSIDER TIP:
Not interested in getting a Nordstrom credit card but knows someone that does? Friends or family of someone who is a Nordstrom cardholder could use the cardholder's access to shop the sale.
All you, the non-member, has to do is add your own credit card to the cardholder's account and start shopping.
We all know that last year was an unprecedented year in terms of global events. I said yes, when my friend asked me if she could accompany me to our local Nordstrom to shop the sale (she's not a cardholder).
I only had to present my Nordstrom card (or phone number) to the cashier when Emmalyn was ready to checkout. She paid with her own credit card.
When does Nordstrom Anniversary Sale 2021 Early Access start?
This year, the 2021 Nordstrom Anniversary Sale starts on July 12, 2021.
Here's a quick breakdown of key sale dates:
Catalog Preview: July 6 (view here)
ICON Early Access: July 12
AMBASSADOR Early Access: July 14
INFLUENCER Early Access: July 16
Public Sale: July 28
Sale Ends: August 8
As you can see, your early access to the Nordstrom Anniversary Sale depends on your membership status.
Those with Icon status get access on July 12, Ambassador status gets access on July 14 and Influencer Status starts shopping two days later. Public access (i.e. non-cardholders) to the sale opens on July 28, sixteen days after early access.
*Note: You must be a Nordstrom credit card holder to get early access.
How does Nordstrom early access work?
Nordstrom offers early access to some of its popular products. Each year, Nordstrom cardholders get to shop the Anniversary Sale before it opens for everyone else.
The pre-sale starts with 12 days of exclusive access and gives cardholders a chance at all the best deals!
The most popular items these go out of stock quickly so keep your eyes on restock alerts (sign up below to get notified) if you missed out the first time around.
What brands are included in the Nordstrom Anniversary Sale?
Some of the biggest and most popular fashion brands included in this year's Nordstrom Anniversary Sale are: Tory Burch, Kate Spade, Michael Kors, Rebecca Minkoff and more! Paige, AG Jeans, and Kut From The Kloth are some of the most popular denim brands. While La Mer, Kiehl's, Veronica Beard, and Diptyque are amongst the most sort-after beauty brands. Activewear brands to consider include Zella, Nike, Alo, and Sweaty Betty.
What Nordstrom Anniversary Sale deals should I look out for?
Amazing deals included in this year's Anniversary Sale include awesome discount on brands that rarely ever go on sale. Keep your eyes glued on AG denim, La Mer skincare, Michele jewelry, stock up on lingerie (Natori, Hanky Panky, Spanx, and Wacoal) and scoop up anything Barefoot Dreams.
For a detailed breakdown of the hottest finds and coveted picks, curated by yours truly, check out this roundup of the featuring the best of the Nordstrom Anniversary Sale 2021 sneak peek and preview.
What time does the Nordstrom early access Anniversary Sale start online?
The Anniversary Sale online starts at 3am ET/12am PT, or in-store during regular hours.
When can I shop the Nordstrom Anniversary Sale?
When you can shop the Nordstrom Anniversary Sale depends on your cardholder status. For the general public, the Anniversary Sale starts online at 3am ET/12am PT on July 28, or in person during regular store hours. Check your shop day here.
Does Nordstrom Anniversary Sale start at midnight?
No, the Nordstrom Anniversary Sale does not start at midnight. The Sale starts at 3am ET/12am PT. This year's NSale will start on July 28th at 3am ET/12am PT. Nordstrom Cardholders can shop early access on 12 am PST on Jul 6.
How long does Nordstrom Anniversary Sale last?
The 2021 Nordstrom Anniversary Sale is the best time of year to get discounts on clothes, shoes, and accessories for every member in your family. The sale lasts only 12 days—July 28 through August 8—but if you have Early Access then you can take advantage of great savings during the nearly four week long event (running July 6th-August 8).
Do Nordstrom Anniversary Sale items restock?
The answer to this question is "it depends." Nordstrom does not disclose when sale items are restocked. I've noticed that restocks usually happen a few times during Early Access, immediately when the sale goes live to the public, and again before the sale ends.
Check out these other relevant Nordstrom posts curated just for you:
So back to the topic of the Nordstrom Card…
How Does The Nordstrom Credit Card Work?
With a Nordstrom Debit Card, you accumulate points that get converted to Nordstrom Notes (shopping credits) when you use your card at Nordstrom, Nordstrom Rack, Hautelook, and Trunk Club.
A real attraction to the card is that there are no annual fees and the brand offers competitive APRs.
I'm no financial accountant or CPA, but as long as you plan on paying off your card before your due date, then you have nothing to worry about paying interest on this discretionary expense.
As a Nordstrom Cardholder, you also get free alterations on regular-priced store purchases. I remember using this benefit to the fullest while shopping for interview suits right after college (gosh! I'm totally aging myself here).
You now have the option to choose between a Nordstrom Visa Credit Card and a Nordstrom Retail Credit Card.
Visa credit card
Earn points anywhere Visa is accepted and at Nordstrom.
Retail credit card
Shop and earn with your favorite brands at Nordstrom.
Notes
Unlock a $40 Bonus Note*
√
√
Exclusively for new credit cardmembers.
No annual fee
√
√
Instant upgrade from Member Status
√
√

This gives you Early Access to the sale.

24/7 Customer Service
√
√
Up to 3 points per dollar
√
√
Based on your Nordy Club status.
1 point per dollar (anywhere else)
√
x
On all other purchases, wherever Visa credit cards are accepted.
Pay with a single tap
√
x
with Visa contactless payment at many of your favorite merchants.
No foreign transaction fees
√
x
So Does Shopping Early Access REALLY Matter?
Yes, it matters! Although Nordstrom routinely does restocks on popular items when Early Access opens up to each tier of Nordy Card Members (and frequently processes returns from the #NSALE), there's really no way to know if the product you saw during the sale preview will still be available when the sale finally opens to the public.
The best way to get your hands on that must-have item is to be one of the first to shop the sale and that involves shopping via Early Access as a cardholder. Click the button below to verify when you can shop the same (must be signed into Nordstrom).
What's The Deal About Different Levels of Early Access?
It might come as a surprise but having a Nordstrom card is not a done deal to shopping the sale early. How early you can shop the limited time #NSALE depends on your cardholder status and your status depends on your annual spend at Nordstrom.
This is Nordstrom's way of rewarding its most-loyal shoppers by giving them first dibs to shop the sale.
Early Access to the Anniversary Sale happens in this order:
Icons
Ambassadors
Influencers
Public (Everyone else)
In this order, Icon status members get to shop first, and non-cardholders get to shop last during the public access.
P.S: Legacy Nordstrom Debit Card Holders also start at the Influencer tier.
What Is Nordy Club?
Nordy Club is Nordstrom's new reward program that is free to join. One of the perks of Nordy Club is that for every 2,000 points you get, you'll earn a free $20 Nordstrom Note (gift card) to spend on anything at Nordstrom.
You can even stack up your Nordstrom Notes throughout the year and use them during the Anniversary Sale on fashion deals, beauty deals, kitchen deals, and more.
But Early Access to the Nordstrom Anniversary Sale is exclusive to cardmembers (Icon, Ambassador, and Influencer).
Click here for a snapshot of the Nordy Club and Cardmember benefits:
Now that you know how to get early access to Nordstrom Anniversary Sale, it's also important to know how you can get your order as soon as you need it.
Nordstrom offers two delivery options. For items I need right away, I prefer to buy online and pick up in store or curbside.
For products that are not available for curbside pickup, I option for one of the shipping options (free shipping, ship to store, or expedited shipping).
Last year, I got a $50 giftcard for using the curbside pickup option. Worth giving a try if you place your order online. For more information, check out this page.
Best 2021 Nordstrom Anniversary Sale Blog Posts
Found this post on how to get Early Access to the Nordstrom Anniversary Sale helpful? You'll love these related 2021 Nordstrom posts:
Sneak Peek: ANNIVERSARY SALE Best PickS
Here's a sneak peek at some of the hottest offers up for grabs this year. Click on image to get more information about the product and sale price.