The Hype About Fenty Beauty by Rihanna
This post may contain affiliate links which means I will get a commission if you make a purchase at no additional cost to you. As an Amazon Associate I earn from qualifying purchases. Please read my disclosure for details.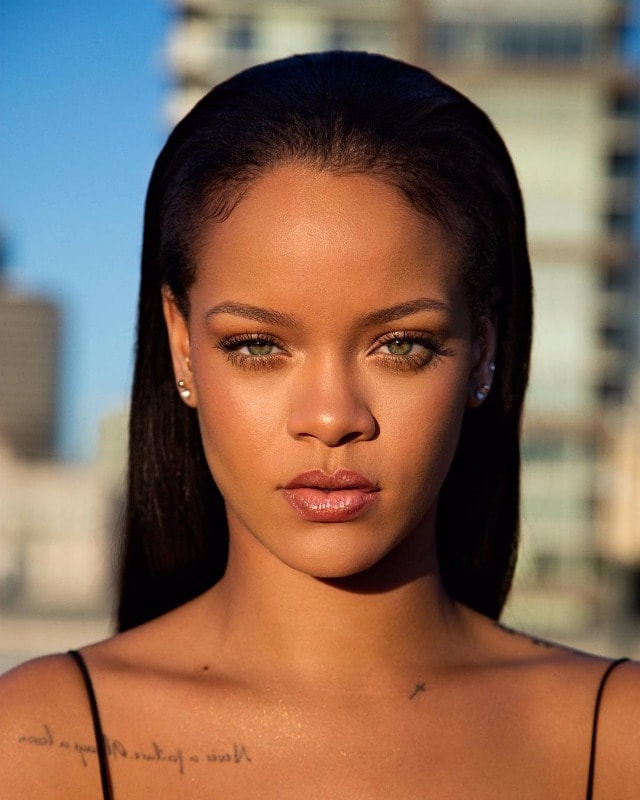 Last Friday, Rihanna's Fenty Beauty collection officially launched at Sephora and at Fenty Beauty websites. This launch is undoubtedly the launch of the year boosting of over 40 shades of foundation for ALL skin types. Like literally, this collection is throwing all kind of shades and giving established beauty lines a run for their money!
Shop The Collection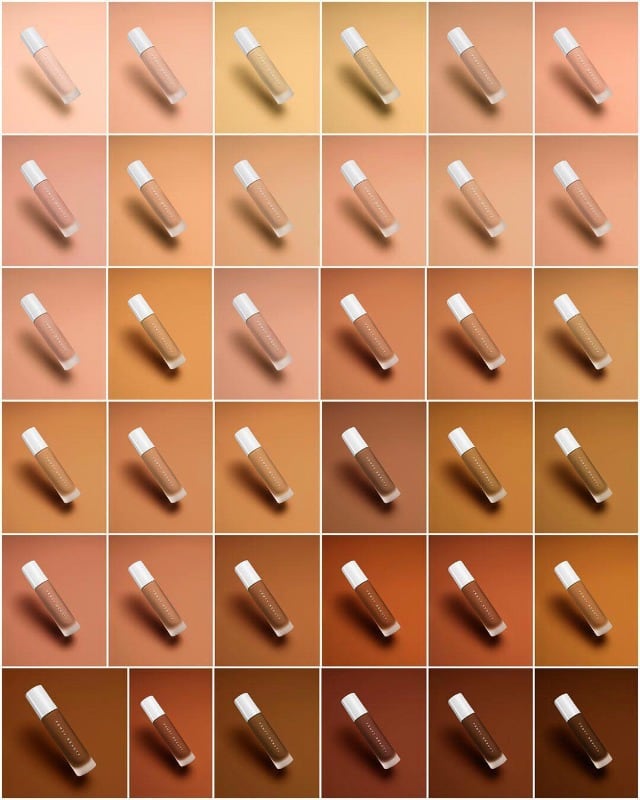 Why Fenty? Fenty is the singer's last name, Robyn Rihanna Fenty. So it makes total sense. Word on the street is that every woman of color and her friend were eager to get their hands on this all-inclusive collection.
In Rihanna's own words, "Fenty Beauty was created for everyone: for women of all shades, personalities, attitudes, cultures, and races. I wanted everyone to feel included." Not matter how much melanin you have there's a shade for you. Bravo Riri!
This cruelty-free brand took social media by storm since it's launch. As of yesterday, eight of the 40 shades of foundation had sold out at Sephora and Fenty's website. Makeup gurus on YouTube and beauty fanatics call Rihanna's makeup line a game-changer.
The collection has shaken the beauty world. Since the launch, from several beauty brands have been posting swatches including people of color. Here are a few examples from Hourglass Cosmetics, Cover FX, L'Oreal and Estée Lauder.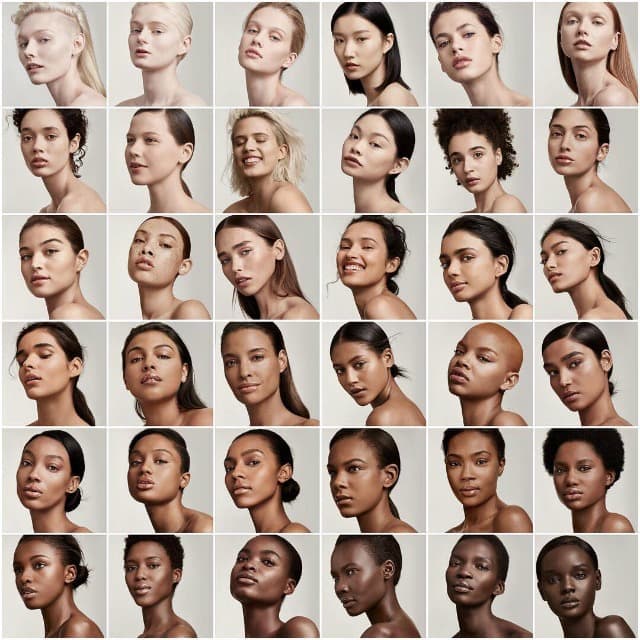 Also part of the collection is a variety of concealer & highlighter combos, primer, brushes, lip gloss, setting powder, makeup blending sponge and blotting paper. Not sure what to get? We've got you covered! Based on reviews and top ratings, here are the 4 products you should get before they sell out:
THE ONLY FOUR FENTY BEAUTY PRODUCTS YOU NEED RIGHT NOW
PRO FILT'R Soft Matte Longwear Foundation $34 – Finally — the ultimate photo filter in foundation form. Born in 40 boundary-breaking shades, Pro Filt'r Soft Matte Longwear Foundation gives skin an instantly smooth, pore-diffused, shine-free finish that easily builds to medium to full coverage.The oil-free formula is made with climate-adaptive technology that's resistant to sweat and humidity, and won't clog pores so that wherever you are, it's going to work on your skin. Best of all, this long-wearing, light-as-air texture is undetectable on skin — so you always look like you.

"Foundation is one of those areas in the beauty industry that has a big void for women at extreme ends of the shade spectrum. There's this middle ground that's covered really, really well. But then if you're very pale or if you're very dark, there aren't a lot of options. And so, I wanted to make sure that women of all skin tones were covered so they could be included in what I created." – Rihanna
PRO FILT'R Instant Retouch Primer $32 – Nothing is sexier than touch-worthy skin: Pro Filt'r Instant Retouch Primer is the first step to getting there. Paired with Pro Filt'r Foundation, this oil-free primer smooths away the look of pores, visibly evens skin tone and texture, and instantly absorbs shine without feeling dry or chalky.

That means smoother foundation application and longer makeup wear. Unlike a basic mattifying primer, Pro Filt'r's cushiony, touch-me-now texture mattifies skin with the lightest-possible feel, for a full-on sensorial experience. And the universal invisipink formula?

It's not just pretty—it creates a filter-like blurring effect and melts instantly into all skin tones without a trace. Pro Filt'r works all day to help makeup last longer, feeling lightweight and comfortable, so you don't have to worry about your skin—and you'll be ready for anything.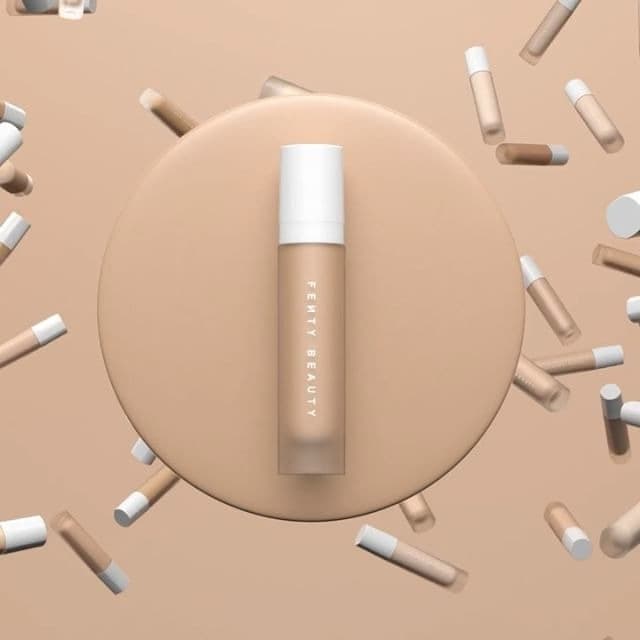 For Rihanna, creating the perfect soft matte base is the most important part of any look—and the first step to the Fenty Face, her real-life method for killer radiance. "I wanted this primer to feel soft and moisturizing at the same time, as well as do the job of keeping makeup on." – Rihanna
Match Stix Trio Conceal, Contour, Highlight $54 – A magnetized trio of longwear, light-as-air makeup sticks curated by skin tone, with two Match Stix MATTE Skinsticks to conceal and contour, and one Match Stix SHIMMER Skinstick to highlight.Each set comes with two Match Stix MATTE Skinsticks (conceal, contour), and one Match Stix SHIMMER Skinstick (highlight)—all of which are weightless, easy to blend, and stay put. The ultra-smooth formulas melt at first touch to a powder-soft finish that's so seamless, it's impossible to tell where skin ends and makeup begins. They're buildable, creaseproof, and LIVE to be layered in a range of combos that light up all skin tones.
"I wanted to create a product that would be flexible, to give you your concealer, your contour, and your highlight. Match Stix lets you choose your best matches, and best of all, they're magnetic, so they click together and are easy to find in your bag. Match Stix Trios were customized to make it easy when doing your makeup: There are three steps and they're all in here." – Rihanna
INVISIMATTE Blotting Powder $32 – A universal blotting powder that absorbs shine and diffuses the look of pores for an instant filtered look on the fly. Invisimatte's translucent powder is completely traceless against all skin tones and won't cake, creep into pores or fine lines, or disturb makeup.And get this: It extends the wear of your foundation, too. Invismatte's sleek, magnetized compact attaches to its perfect partner, the Portable Touch Up Brush, meaning that it's easy to keep your shine-stopping essentials within reach.

Rihanna believes that being photo-ready means being shine-free. "Every red carpet you see me on, this has been in my clutch. I hate being greasy or getting caught oily in pictures—we all hate that—and this is the cure."
SHOP THE ENTIRE COLLECTION

These amazing products do not cost as much as high-end luxury beauty or as low as drugstore beauty products. Yet, they are comparable to luxury makeup. Thanks Rihanna!
Still wondering where eyeshadows, lipsticks, eyeliners, and mascaras are? Well, the collection is currently focused the toughest job in the beauty industry, a foundation for all skin types. Hence a huge selection of base products (primer, foundation, concealer, and setting products) for all complexion. Fingers crossed that her eyeshadow palettes and lipsticks make an appearance in the future.
Check out this Fenty Beauty first impression video and makeup by Ms Deb Deb.
Interested in more beauty-related posts? Check out these popular posts:
PIN FOR LATER!