Girl Gang: African Fashion
This post may contain affiliate links which means I will get a commission if you make a purchase at no additional cost to you. As an Amazon Associate I earn from qualifying purchases. Please read my disclosure for details.
Adulting is hard! I never really believed this statement until I went through a series of rude awakening these past few years. Feeling independent and adventurous, I moved 2,900 miles from Wyoming to Alaska.
Shop The Look

Alaska is not for everyone. I saw it simply a means to an end.Haha, I did not think it was for me. That was until I met these amazing ladies. Over the past year, Gracelynn, Pomi and I have become great friends. It's so much harder making new and genuine friends in adulthood!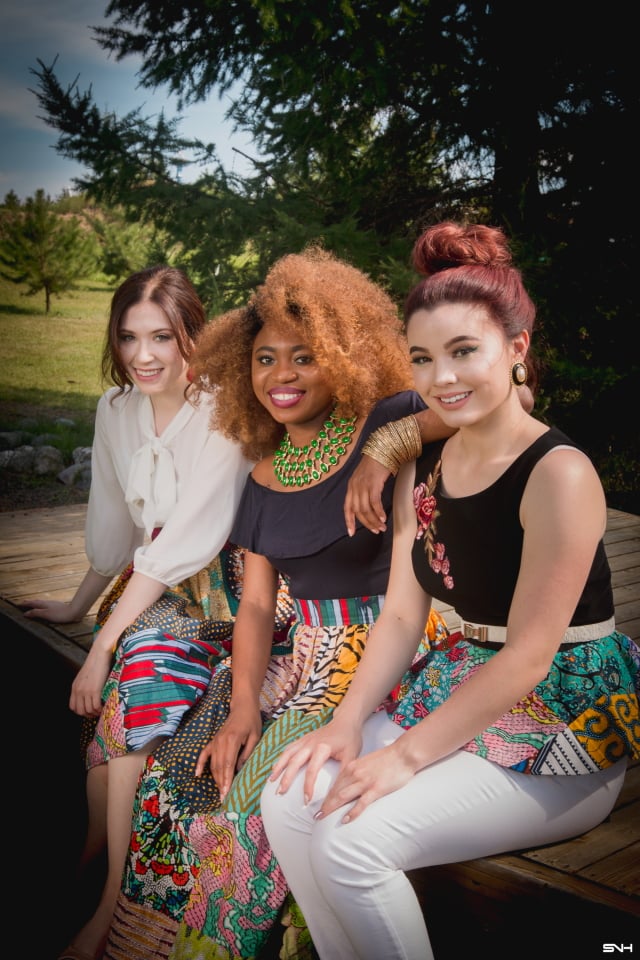 We look nothing alike but share similar experiences and beliefs. Sometimes it feels weird. I hold my culture near and dear to my heart. They too have a culture and family traditions that they uphold.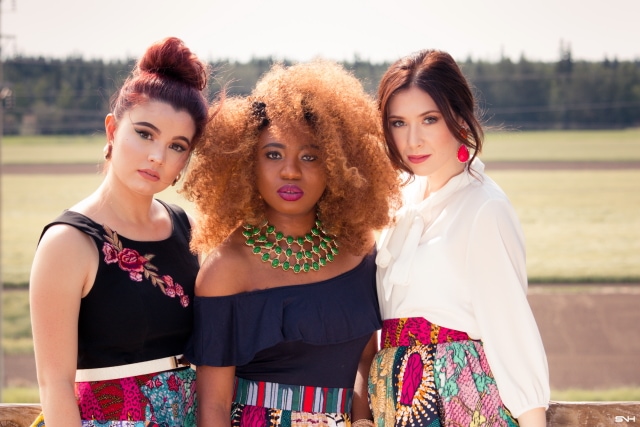 I may be the oldest of the pack but I learn a lot of things from these girls. A couple months ago, we decided to have a sleepover at my place. It was a night of epic fun. Who knew that Pomi would be scared watching a "fake" horror movie? I call it fake because effects and acting did little to scare Gracelynn and I. Pomi, on the other hand, was ready to pass out. We stopped the movie. I love you Pomi!
Gracelynn? Well, this damsel turned B.I.G 21 this summer! She came with our favorite liquor, Moscato. After munching on some Nigerian delicacies, desserts and a couple malt beverages we decided to conclude the night with a toast. I'm a light sleeper. Let's just say I could hear Gracelynn's angry stomach from my room. Blame it on the Moscato. I love you Gracelynn!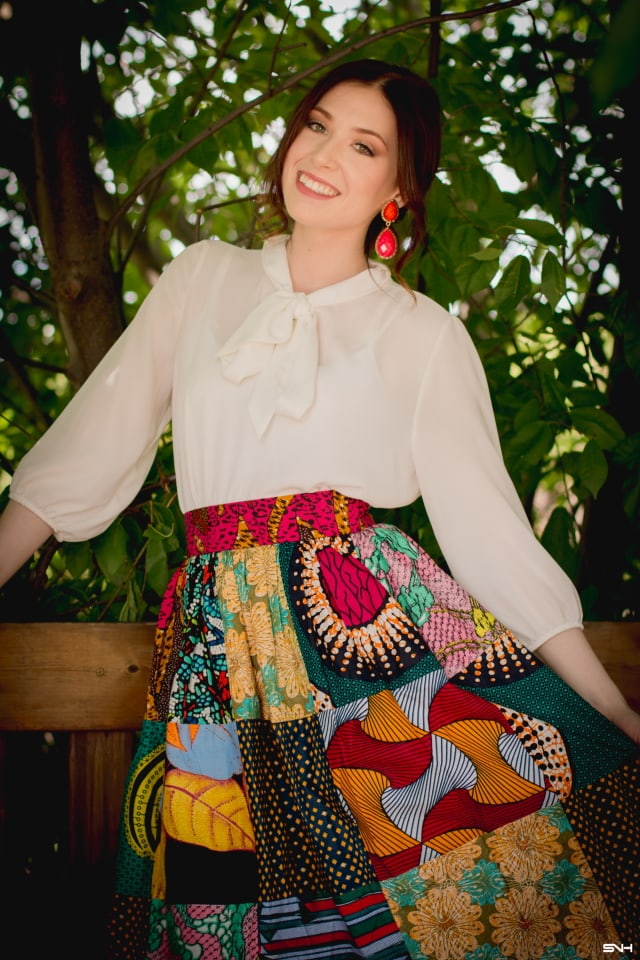 We had a girl squad photoshoot planned for the next morning. This was the first shoot that we'd done together. On a previous sleepover, Pomi and Gracelynn got to see and try on some of my African print clothes. They were instantly hooked on African fashion! My sister, the owner of Boriah Clothiers, designs bespoke African styles and was kind enough to hook us up.
Pomi and Gracelynn were ecstatic to wear their handmade African clothes. Here, Gracelynn is wearing the Edo ankara patchwork midi skirt. She went for a classic look by pairing the skirt with a pussy bow blouse and open-toe espadrilles. Don't let Gracelynn's conservative look fool you. She is the most social person in our squad. She's the girl that can confidently walk up to a stranger and strike a meaningful conversation like she's known the person for 10 years.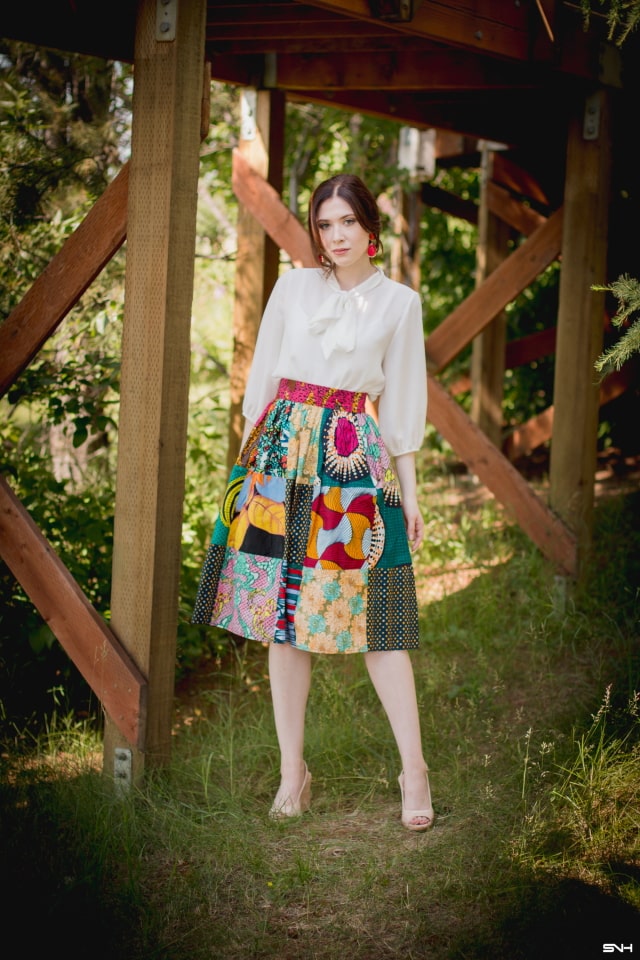 Pomi is wearing the Delta ankara patchwork peplum blouse from Boriah Clothiers. She dressed up her look with white chino pants, statement earrings, and tie-up tassel sandals. Pomi is shy but this girl knows how to make a bold statement. Don't believe me, check out her makeup tutorials. Yes, Pomi is also a beauty blogger. Wherever she goes, her winged-liner goes! Check out Pomi's blog, Posh Pomi for more inspiring looks and tutorials.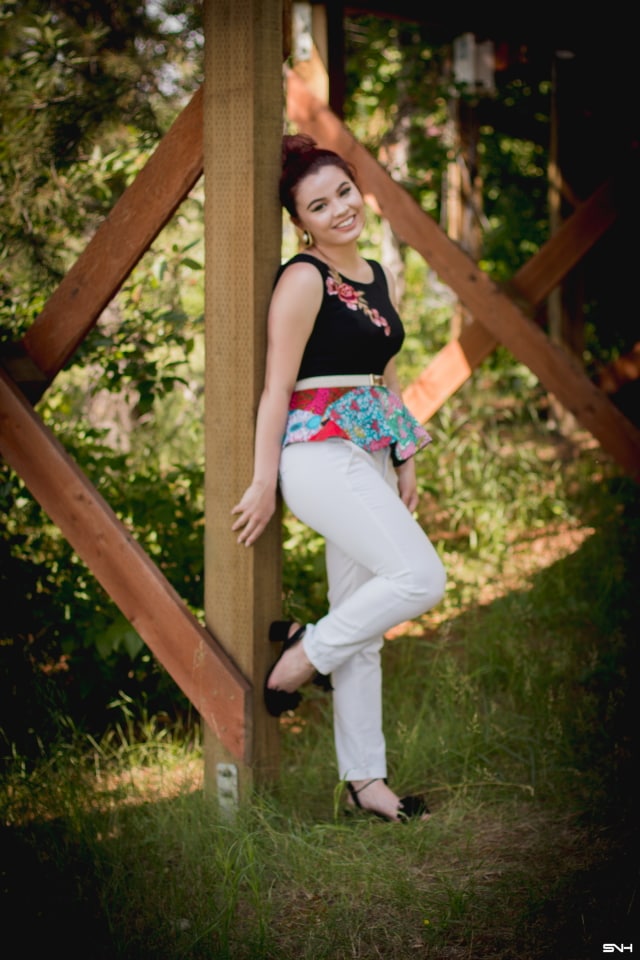 And then you have me. I am wearing the Edo ankara patchwork maxi skirt. It is the longer version of Gracelynn's skirt. Since I have so much of my skin covered up, I opted for an over the shoulder crop top with ruffle details. I'm no stranger to African fashion but I must add that patchwork pieces take the cake for me. They are intricate and phenomenal! Only talented designers dare take on a style of this magnitude.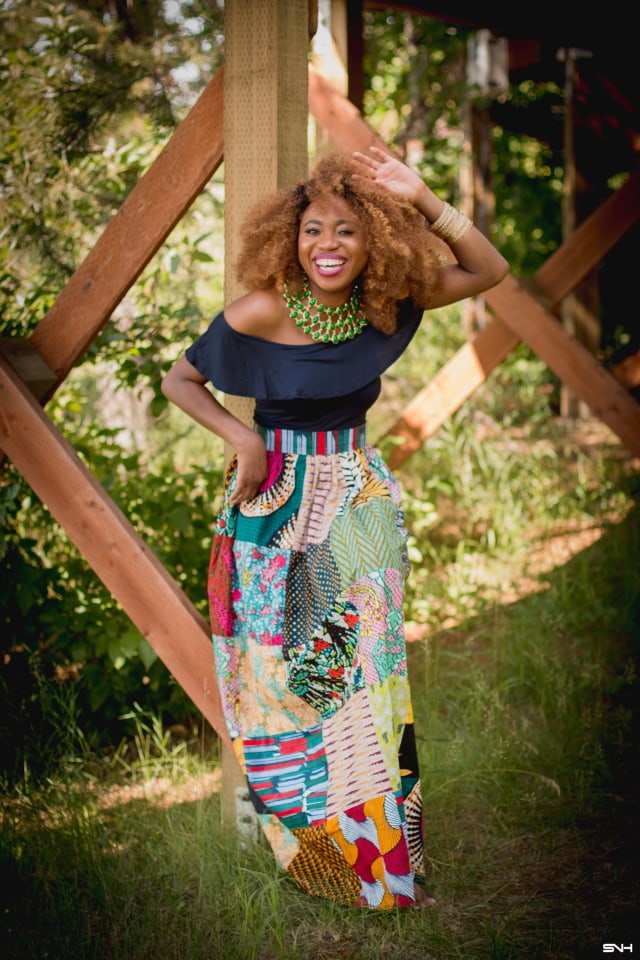 I sealed the look with an Amrita Singh reversible bib necklace. Amrita Singh is one of my favorite jewelry brands. I love the quality and uniqueness of their jewelry. I've had some of their necklaces for over 4 years! My girl squad is also rocking a few pieces from my jewelry collection 🙂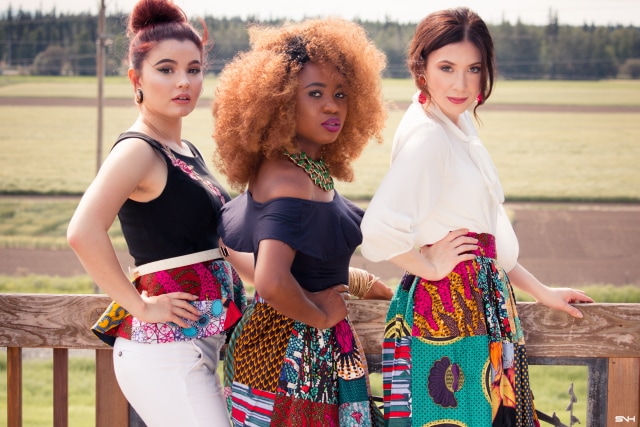 I am ecstatic that I could share a piece of my culture with these gorgeous ladies. They were concerned that they would not be able to pull off African fashion. Once they looked into the mirror, it was a different story. These photos are evidence that ANYONE can rock African fashion well.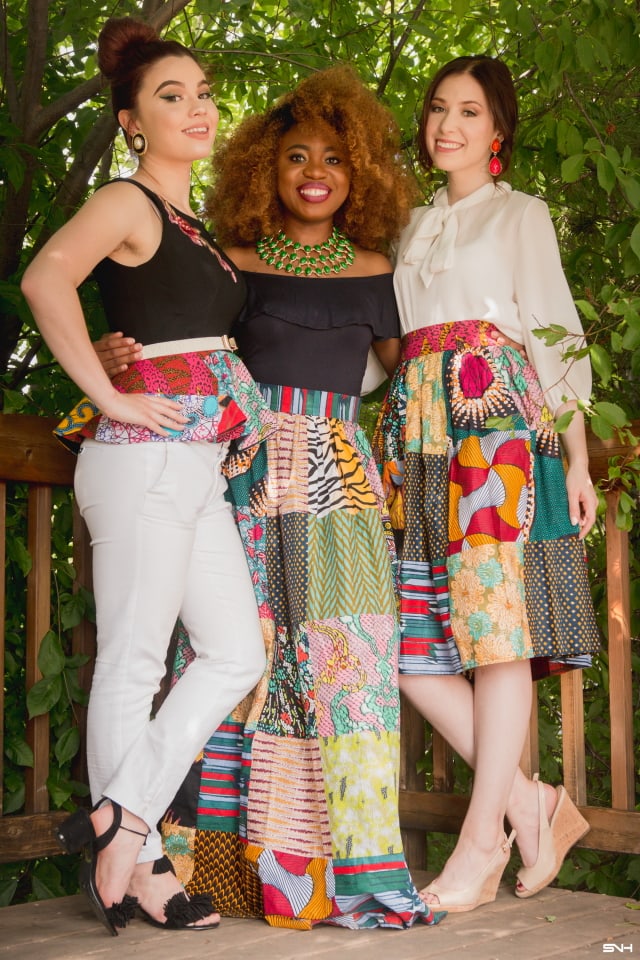 As for my girl gang, we are planning a fall pajamas sleepover and photoshoot session. I'm thinking fun games, food, and drinks. There's a lot of catching up to do with my squad. Never would have thought that I would grow so close to Pomi and Gracelynn. The future is female!
You may also like these posts: African Wax Print Hi-Lo Outfit | #TeamMelanin Bold Colors |
I am wearing:
Boriah patchwork maxi skirt
Amrita Singh reversible necklace
Pomi: c/o Boriah patchwork peplum top
Gracelynn: c/o Boriah patchwork midi skirt
Photos by SNH Photos