Mizani 25 Miracle Milk Review: 25 Things You'll Love About This Leave-In Conditioner
This post may contain affiliate links which means I will get a commission if you make a purchase at no additional cost to you. As an Amazon Associate I earn from qualifying purchases. Please read my disclosure for details.
This year has been something else. While most of us are ready to usher in a new year, I'm here searching for the best products like the Mizani 25 Miracle Milk to keep my 4C natural hair under control (and my edges for as long as possible).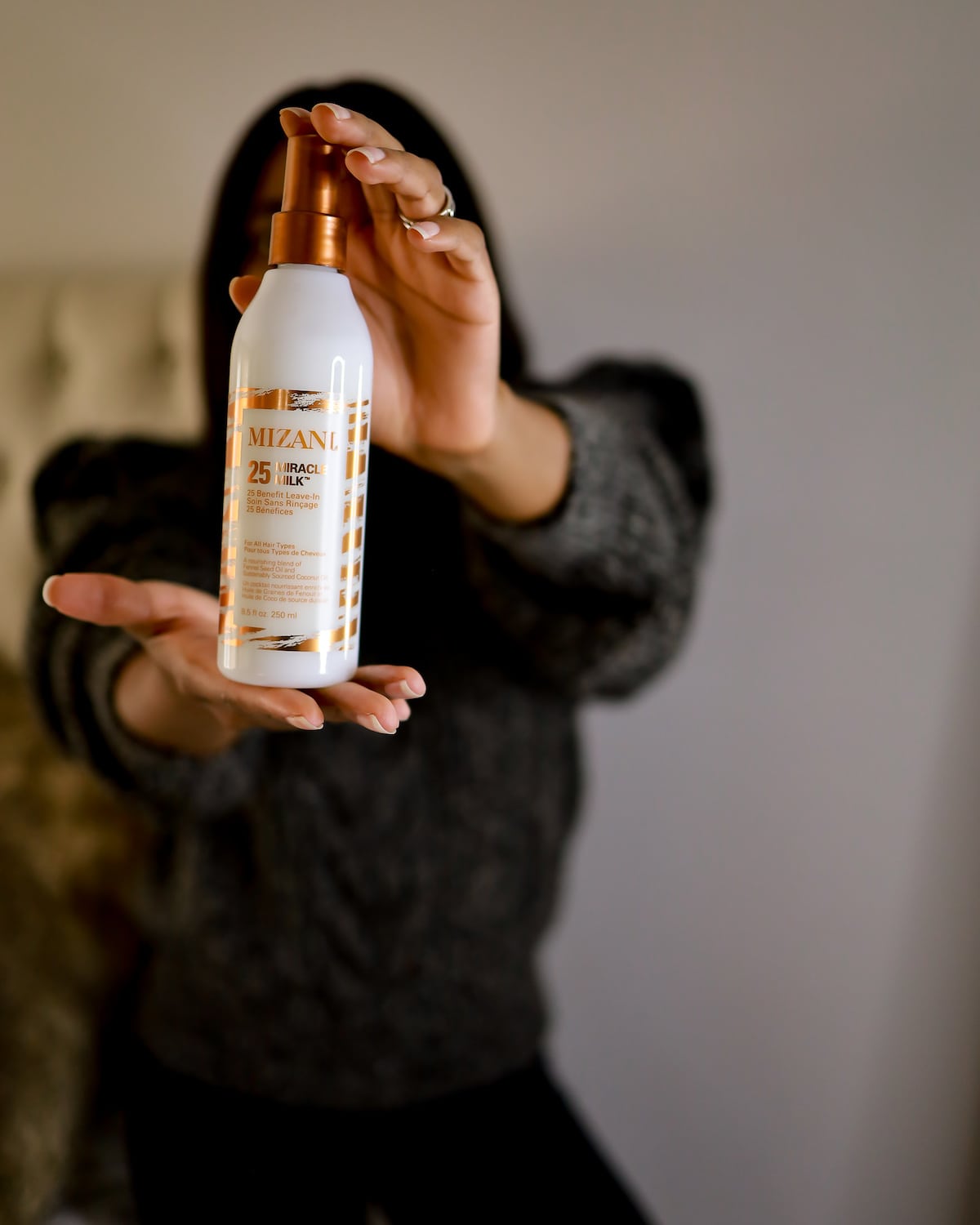 I'm still feeling a little bummed that my go-to hairstylist no longer offers her services close to my house. So I'll patiently wait for her to open her spanking new salon. In the meantime, I'm bringing you this Mizani 25 Miracle Milk review.
Who knows, it might be the product your hair needs through this season and next.
What is Mizani 25 Miracle Milk?
According to the official Mizani 25 product listing on Amazon, the Mizani 25 Miracle Milk is:
A lightweight leave-in conditioner with heat protection that detangles, repairs damage, treats dryness and controls frizz.
A great product for straight, wavy, curly, and coily hair.
The formula enhances curls, protects color, straightens, and smooths.
This leave-in conditioner is ideal for all curl and texture types.
Contains a blend of transformative ingredients giving you 25 benefits in a single spritz
The perfect primer spray for any style.
A conditioner that penetrates deep down to the follicle to prep, protect, and restore moisture.
Leaves hair feeling more manageable, shinier, and softer.
Now if you ask me, this is a hefty claim for one small bottle of leave-in conditioner. Does the Mizani Miracle Milk leave up to its claim?
For context, I have thick 4C hair and my poor edges are holding on for dear life. Before my hairstylist, I rocked the wig life 24-7 without care. Until I realized that the dry Alaska weather had done major damage to my hair. Imagine combing your hair and seeing strands of hair falling off and waking up to a handful of broken hair.
I learned a few things from Tilsa, my hairstylist. Regardless of whether I was rocking my color-treated hair or my rocking my kinky natural hair, one thing remains a constant: keep my hair conditioned and moisturized.
Before getting all hyped about the "25 benefits" of the Mizani 25 Miracle Milk, it's always nice to know what we're actually putting on our hair.
Mizani 25 Miracle Milk Review: Ingredients
Major props to Mizani for making it painlessly easy to find the ingredients contained in this little bottle of magic. If you're familiar with the skincare and makeup space, you already know that some products require extensive digging to find the complete list of ingredients. Mizani is different!
Aqua/Water, Cocos Nucifera Oil/Coconut Oil, Amodimethicone, PPG-5-Ceteth-10 Phosphate, Polyquaternium-37, Phenoxyethanol, Propylene Glycol Dicaprylate/Dicaprate, Acetamide Mea, Parfum/Frangrance, Lactamide Mea, Dimethicone PEG-7 Phosphate, Butylene Glycol, PPG-1 Trideceth-6, Trideceth-6, Behentrimonium Chloride, Xylose, Ethylhexylglycerin, Helianthus Annuus Seed Extract/Sunflower Seed Extract, Sodium Hydroxide, Linalool, Benzophenone-4, Cetrimonium Chloride, Tocopherol, Olea Europaea Oil/Olive Fruit Oil, Camelina Sativa Oil/Camelina Sativa Seed Oil, Ascorbyl Glucoside, Benzyl Alcohol, Geraniol, Citronellol, Benzyl Salicylate, Hydrolyzed Vegetable Protein PG-Propyl Silanetriol, Isoeugenol, Foeniculum Vulgare (Fennel Seed Extract), Melanin.
Since I'm a pharmacist (not a chemist), I can't tell what half of those products do. But the other half looks promising/familiar. And the Mizani "Truths" promises to use "kind ingredients" that care for our texture and the earth. Now, that's a brand I can stand behind.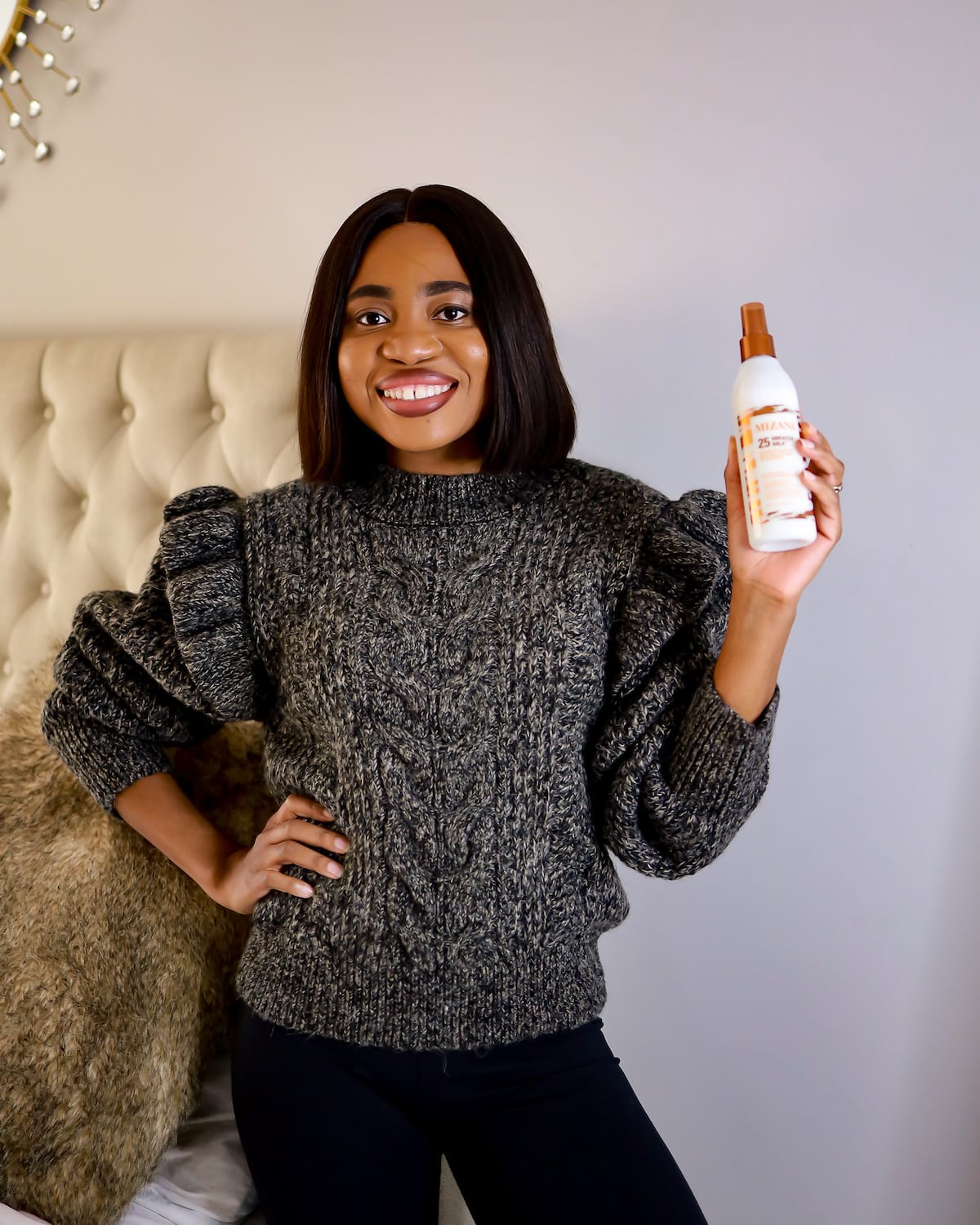 25 Reasons You'll Love Mizani Miracle Milk [Benefits]
Moisturizing Benefits
1. Nourishing leave-in conditioner
2. Lightweight Results
3. Controls Fly-aways
4. Reduces dryness
5. Helps condition transitioning hair
6. Adds smoothness
7. Aids in restoring Softness
8. Gives a silky touch
9. Helps control frizz
Strengthening Benefits
10. Helps protect hair during brushing
11. Help prevent heat damage
12. Helps shield against external aggressors
13. Helps prevent split ends
14. Improves manageability
15. Primes hair for styling
16. Helps seal the cuticle
Professional Benefits
17. Ideal cutting lotion
18. Helps even out porous hair
19. Improves quality of relaxed hair
20. Detangles
21. Makes blow-drying easier
22. Adds shine
23. Safe for color-treated hair
24. Style refresher
25. Instant results
Where to Buy Mizani
Amazon
Price: $ 22
8.5 FL OZ
MIZANI 25 Miracle Milk Leave-In Conditioner
Leave in Conditioner for Curly Hair: 25 Miracle Milk is a multi-benefit detangling spray that strengths & primes hair for styling....
Lightweight Formula: Without weighing down hair this leave-in is enriched with coconut oil and fennel seed oil, will leave curls...
Key Benefits: Detangler spray that provides heat protection, repairs damage, treats dryness, and controls frizz improving...
Suggested Use: Apply this leave-in conditioner whenever needed to clean, damp hair, gently combing through to easily detangle and...
25 Miracle Collection: For a complete curl strengthening routine, use along with 25 Miracle Oil and Wonder Crown Foaming Scalp...
Last update on 2023-10-01 at 02:21 / Images from Amazon Product Advertising API
I'm not surprised to see so many 5-star reviews on this best-selling professional beauty product. If you can only try one Mizani product, start with this leave-in conditioner.
I suggest getting your bottle from the brand's official Amazon store (with Prime you get free shipping and return).
First Impression of Mizani 25 Miracle Milk
It's not always easy finding a product for my hair type that addresses many of my hair concerns so I was stoked to give this product a try. A few of my biggest concerns:
Dry hair/scalp
Heat damage
Lack of shine
Difficult to manage
Tangles easily
A nightmare to manage
My hairstylist had helped me treat and trim most (if not all) of my split ends and color-treated hair. But with everything that happened this year, I was not on top of my game with keeping up with my hair appointments. Plus you know that the cost of meeting with a professional stylist adds up quickly.
After washing my hair, a sprayed a few sprits of this lightweight product on my damp hair. Then slowly, I used a comb and brush to detangle my curly hair. The product definitely helps create soft, manageable hair.
Although my results were not "instant," it shortened the time I usually take to get all the knots out of my hair. I'm guessing this has something to do with the fennel seed oil and coconut oil.
This time, I did not blow-dry my hair. Instead, I braided my hair into a protected style (cornrows). I also love that this product is free of paraben, salt, mineral oil, and drying Alcohol.
I'll definitely report back in a few months on the other benefits when I can speak more specifically to each of the "other reasons you'll love this product).
---
Finding Mizani 25 Miracle Milk review post helpful? You'll love these related posts.
---
What I Did Not Like About This Mizani Leave-In Treatment
Honestly, it's a little expensive at $20+ for a 250ml (8.5 fl. oz) bottle. But it's only a fraction of the cost of paying for a stylist.
I can wait a little longer between hair appointments by using this product. And as long as Mizani 25 continues to leave up to its promises, it's a pretty good deal.
What's Next?
I'd love to try some other complementary Mizani products as well as best-sellers like:
Have you tried Mizani 25 Miracle Milk? Drop your thoughts below!
Frequently Asked Questions About Mizani 25 Leave-In Conditioner
How do you use Mizani miracle milk?
Apply this leave-in conditioner whenever needed to clean, damp hair to easily detangle and style. Start with a few sprays and add a few more pumps as needed. Do not rinse out.
Is Mizani good for natural hair?
The product is designed for both natural and chemically-treated hair. I use it on my natural hair and I'm satisfied with this product. It makes your hair soft, tames fly-aways, defines your curls, and makes my hair more manageable.
What does Mizani mean?
In Swahili, Mizani means balance.
Where are Mizani products sold?
According to the brand's website, Mizani products are sold at Amazon, Sephora, Hair.com, and Salon Centric.
I hope you found this Mizani 25 Miracle Milk review post helpful. You'll also love these related posts:
PIN FOR LATER!