Cute + Simple Nordstrom Thanksgiving Outfits [2020]
This post may contain affiliate links which means I will get a commission if you make a purchase at no additional cost to you. As an Amazon Associate I earn from qualifying purchases. Please read my disclosure for details.
It's hard to believe that Thanksgiving is almost here. You'll agree with me that this year has been one for the books. If thinking about what to wear on this special day has been the last thing on your mind, you're in good hands. Today, I'll be sharing two simple cute Nordstrom Thanksgiving outfits you can easily shop online (and pick up in-store) or recreate using clothes you already own.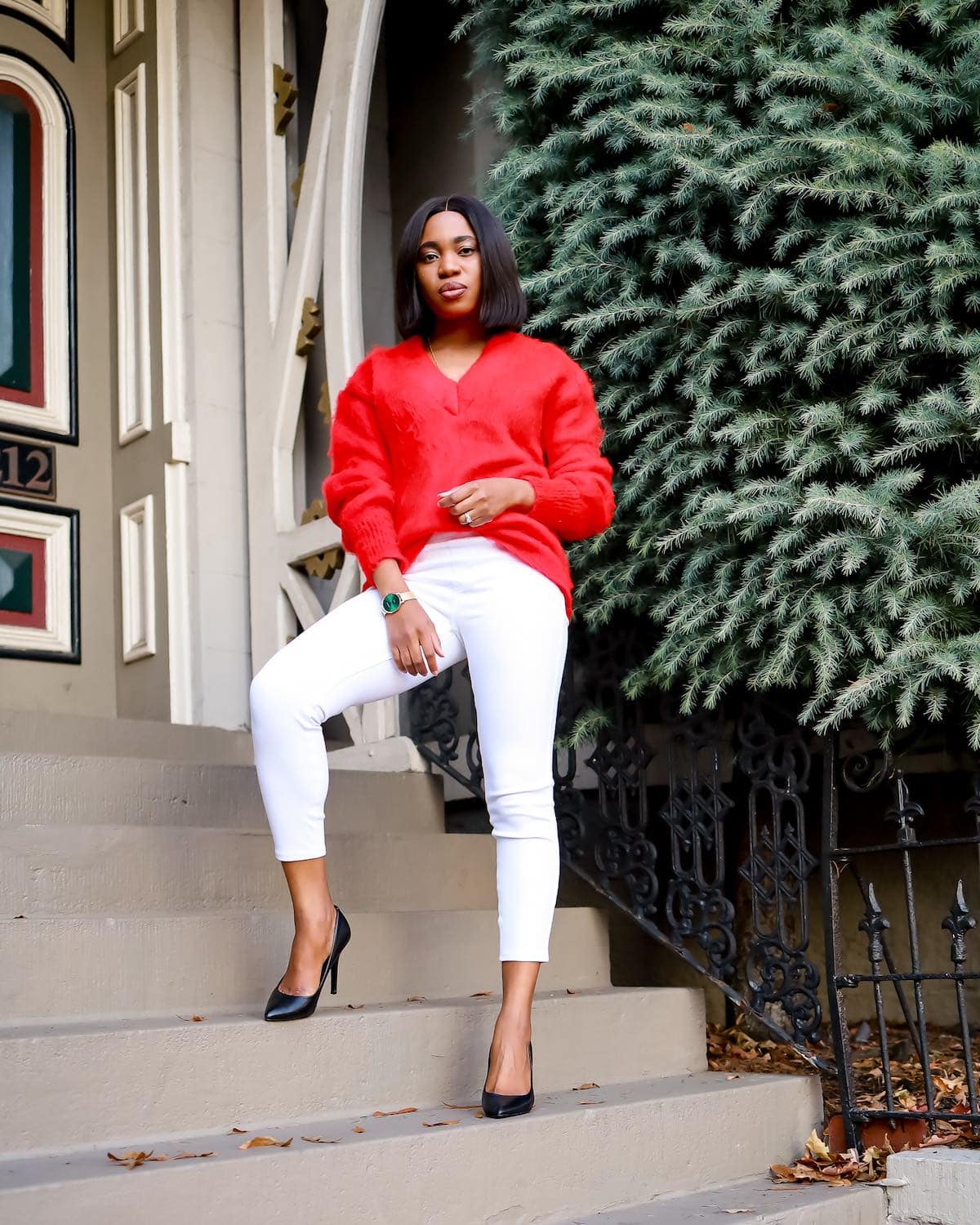 Shop The Look


Long time blog readers know that my style revolves around wearable styles that can easily transition across seasons and occasions with an occasional sprinkle of dressy-dressy looks.
Depending on how you celebrate Thanksgiving, you might prefer a casual style, dressier outfits, or something in-between. Three pieces that almost anyone (if not everyone) can relate to during this season are sweaters, comfy denim, buttery soft leggings. Since my current day job involves wearing scrubs, I relish any opportunity to dress up.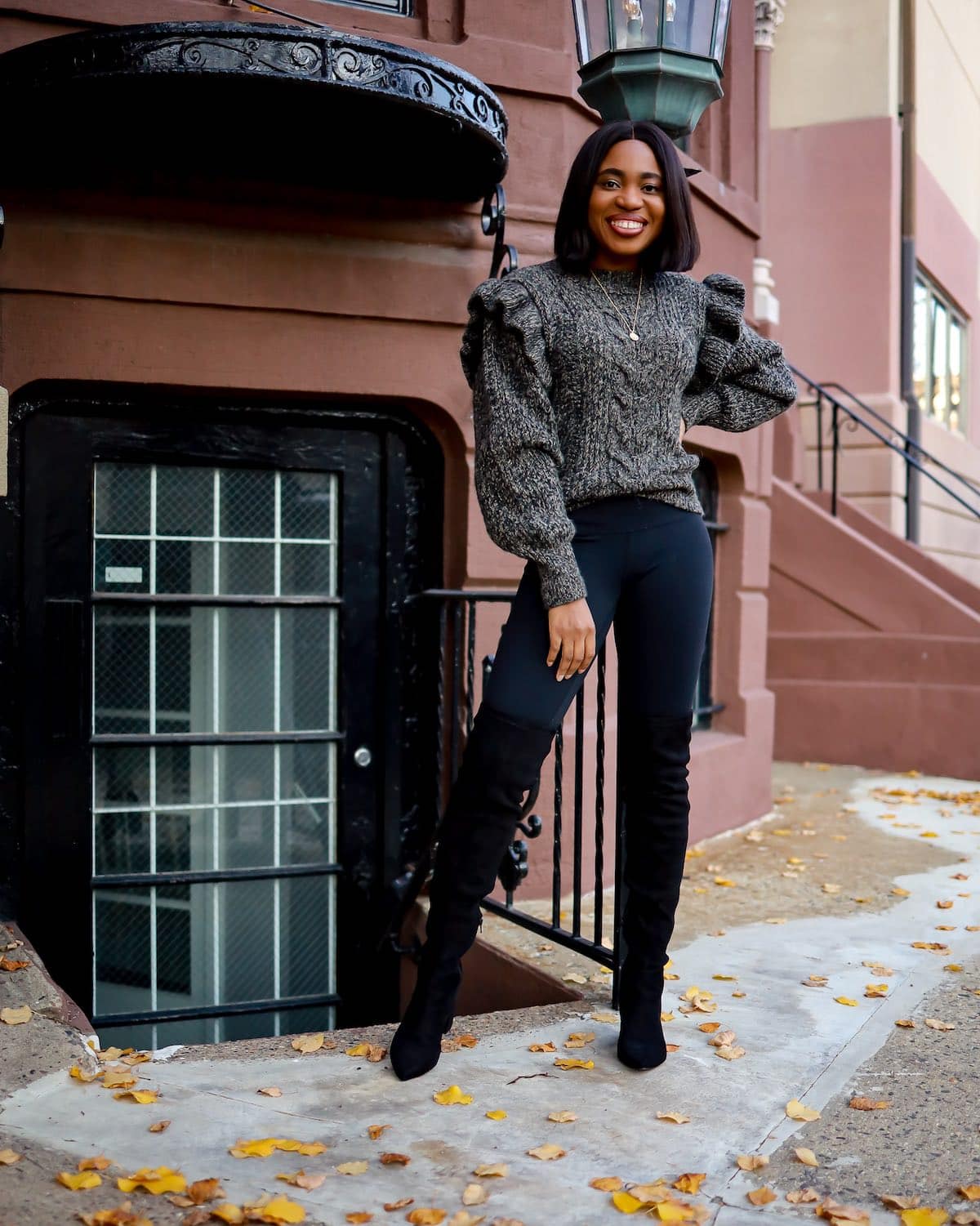 Shop The Look


Let's get right into the outfits and my thought process while picking out each item!
Easy Thanksgiving Outfit Ideas with Nordstrom
Tunic Sweater and Spanx Denim
I went with a festive color combination with this Nordstrom outfit idea. The three C's I strive for with my outfits are cozy, chic, and comfy. So when I spotted this cozy sweater on the Nordstrom website, I knew that I needed it.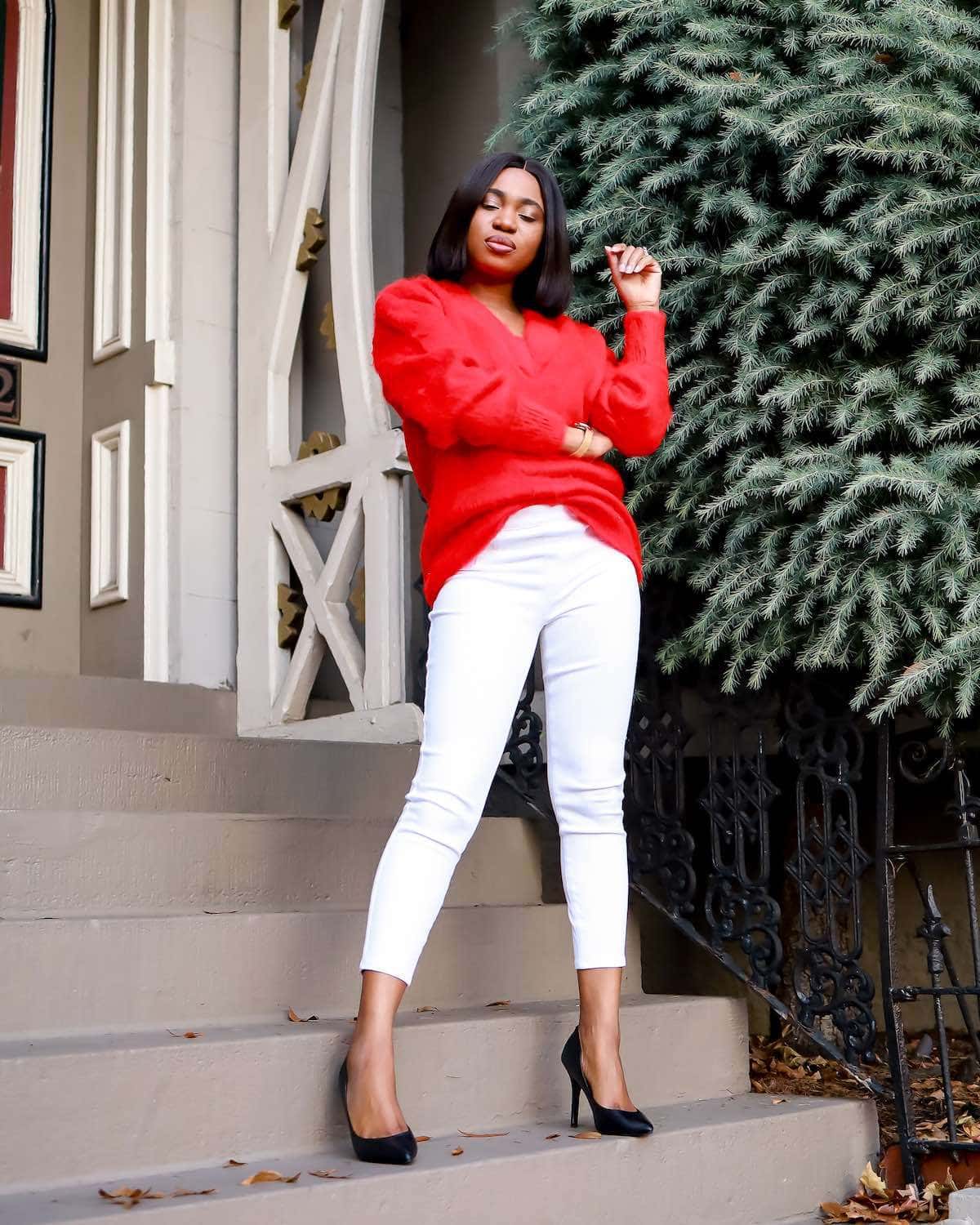 I am wearing:
SWEATER | DENIM | PUMPS | NECKLACE
My only problem? I couldn't decide what color to get. I eventually narrowed my decision down to orange slice and red poinsettia. I ultimately settled on the vibrant red to give me more wardrobe options.
Plus keeping the season in mind; Thanksgiving and Christmas, I'll be able to get more wears out of this sweater in the immediate future. I'm also one of those people that consider reviews before making a purchase. As this is a newer style on Nordstrom, there are less than a handful of reviews on this item.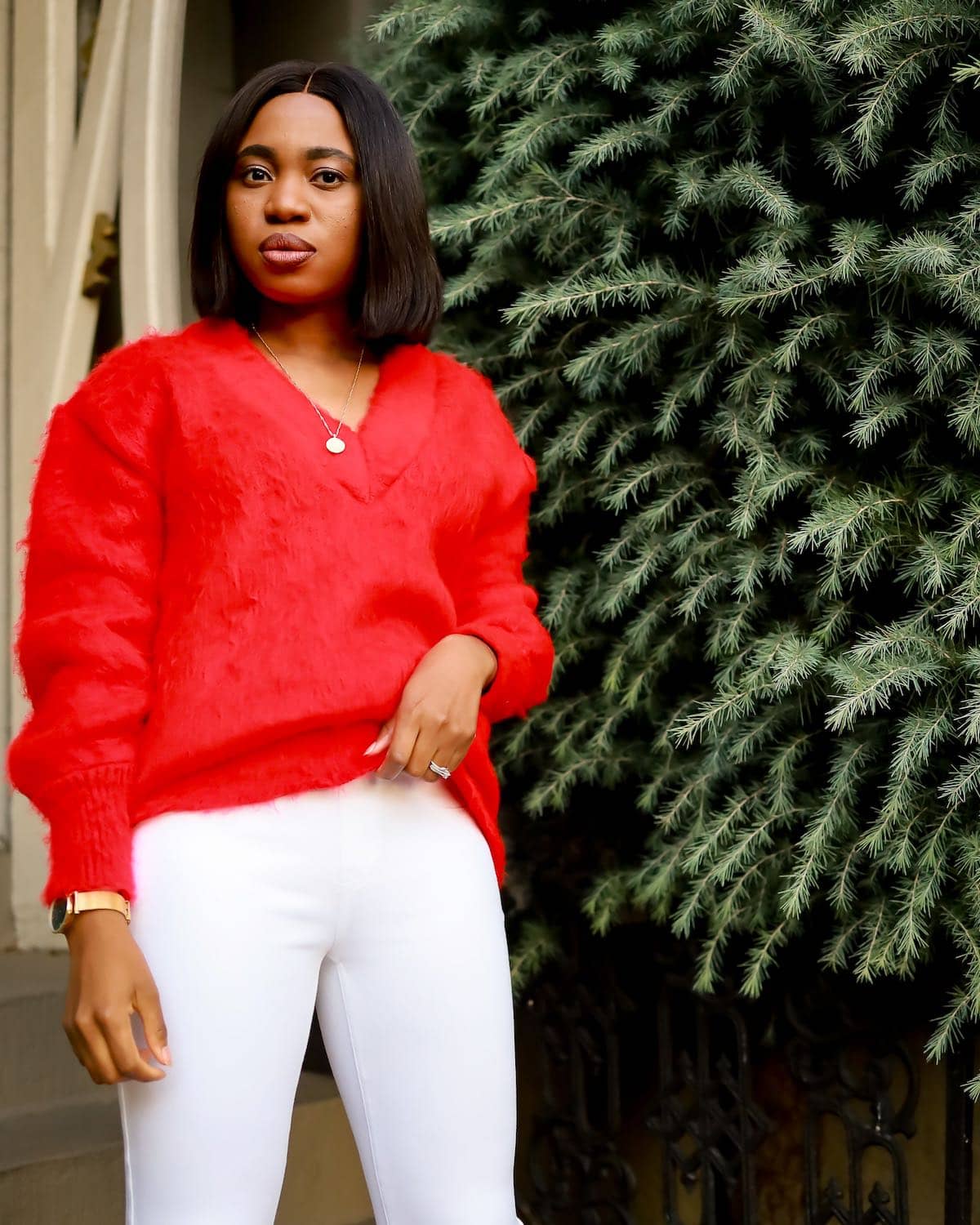 After reading the reviews, I went with my gut and ordered this sweater. And I'm so glad I did. The sweater I got was super soft and cozy (contrary to the reviews). I definitely recommend this sweater.
You might be surprised to see me wear white pants. Haha me too! I worry about getting them stained. But the white Spanx Jean-ish leggings against the vibrant red color of the sweater nailed this look for me.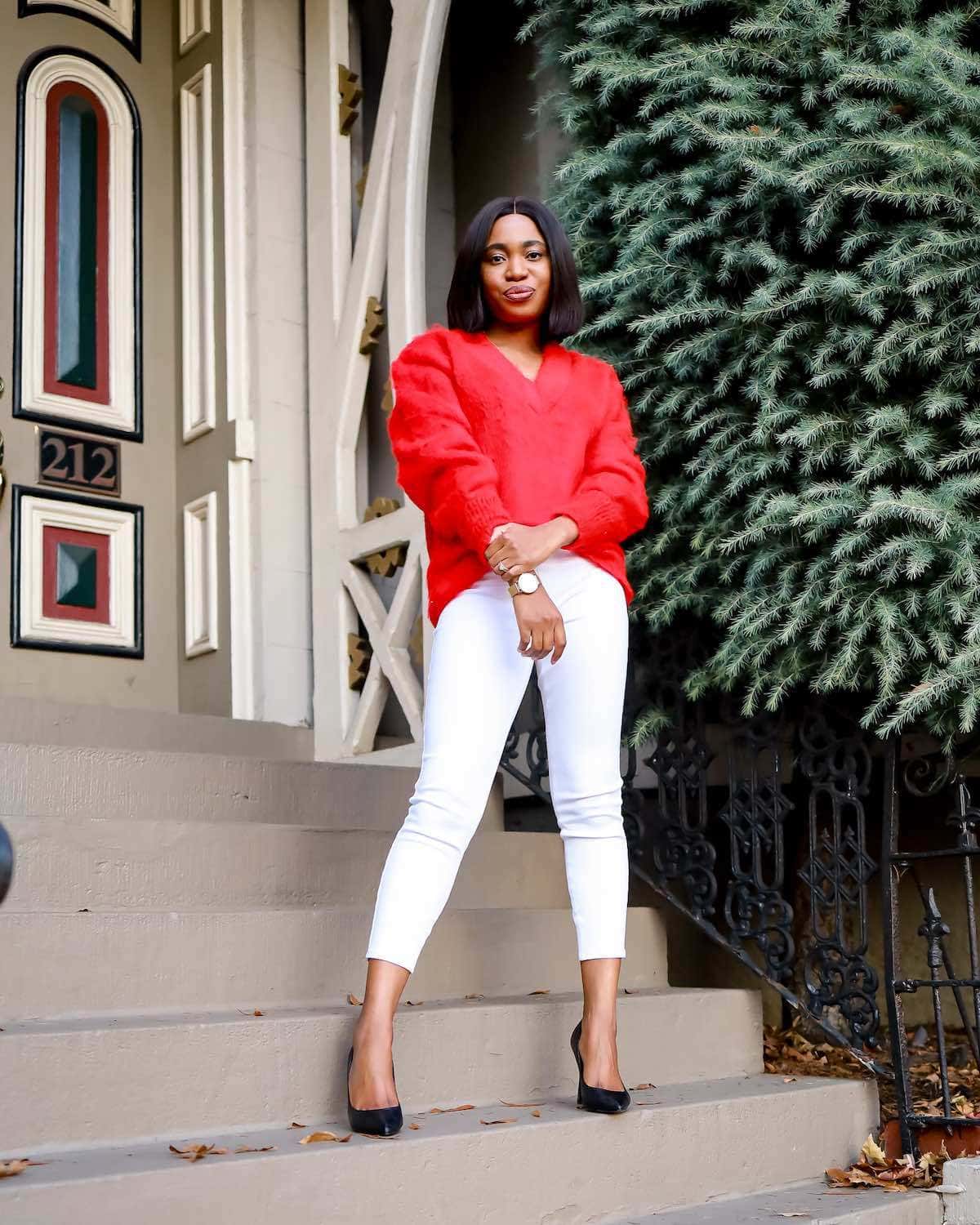 If you're looking for a pair of pants that look like jeans but feel like leggings, these Spanx leggings should be on your radar (Read: Honest Review of Spanx Jean-Ish Ankle Leggings).
I completed this simple Nordstrom outfit idea with a pair of Nordstrom pumps (available in several colors) and one piece of my stackable necklace. Alternatively, you can dress this look up with a statement necklace and a purse.
---
Cable Sweater and Zella Leggings
This second outfit will appeal to anyone who loves a cozy look but without the vibrant colors. With this look, you're letting the puffy sleeves of the cable sweater do the talking. Just like the tunic sweater and Spanx Jean-ish leggings combination, this outfit embodies the three C's.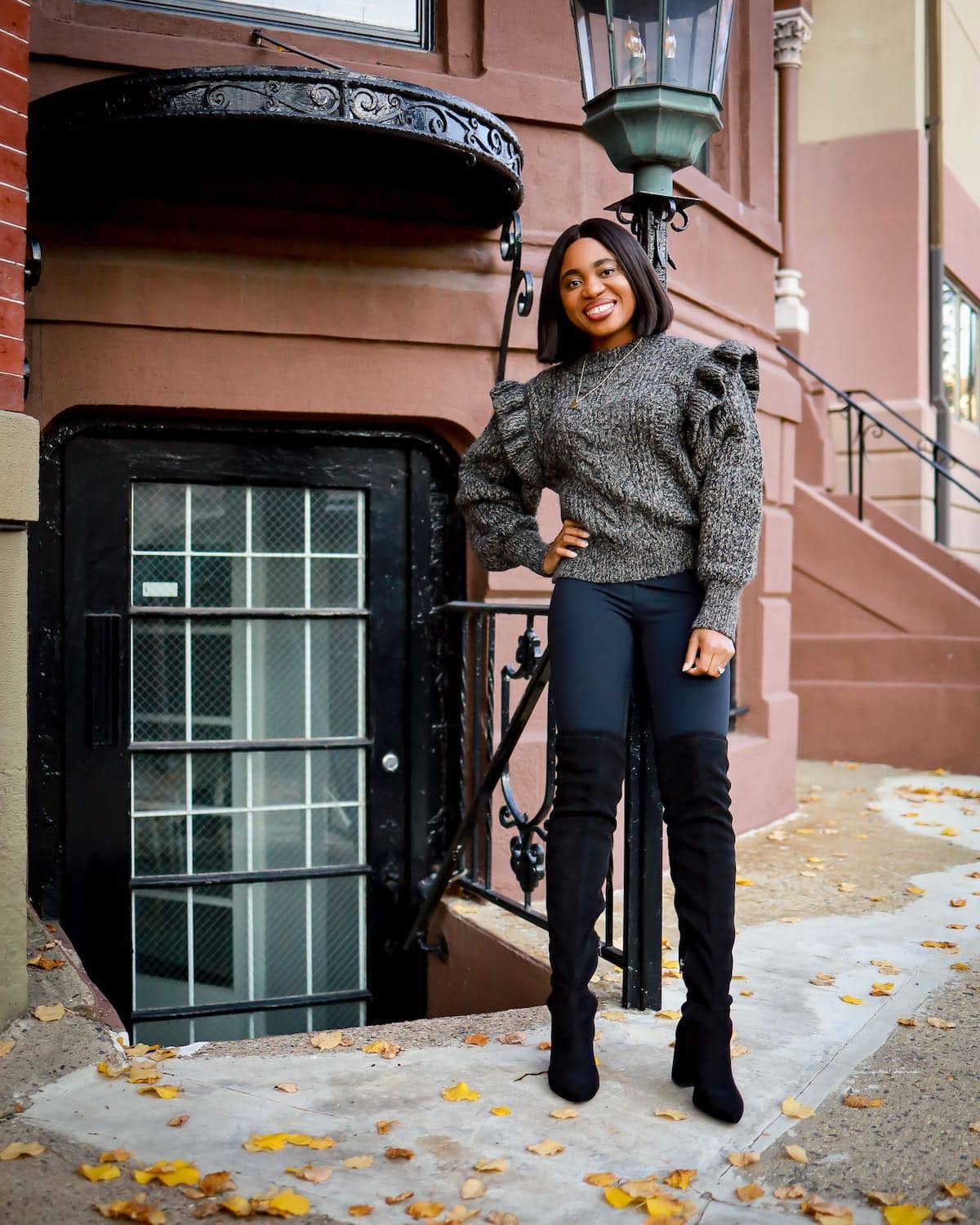 I am wearing:
SWEATER | LEGGINGS | NECKLACE | OTK BOOTS
The bold sweater is equally cozy (although not as plush as the tunic sweater). I traded the Spanx pants for my dependable Zella leggings. Every lady needs a pair of Zella high-waisted leggings in her wardrobe.
It's squat-proof, moisture-wicking, non-see-through, soft, and offers medium compression.I completed this simple Nordstrom Thanksgiving outfit with a pair of OTK boots I purchased during the Nordstrom Anniversary Sale.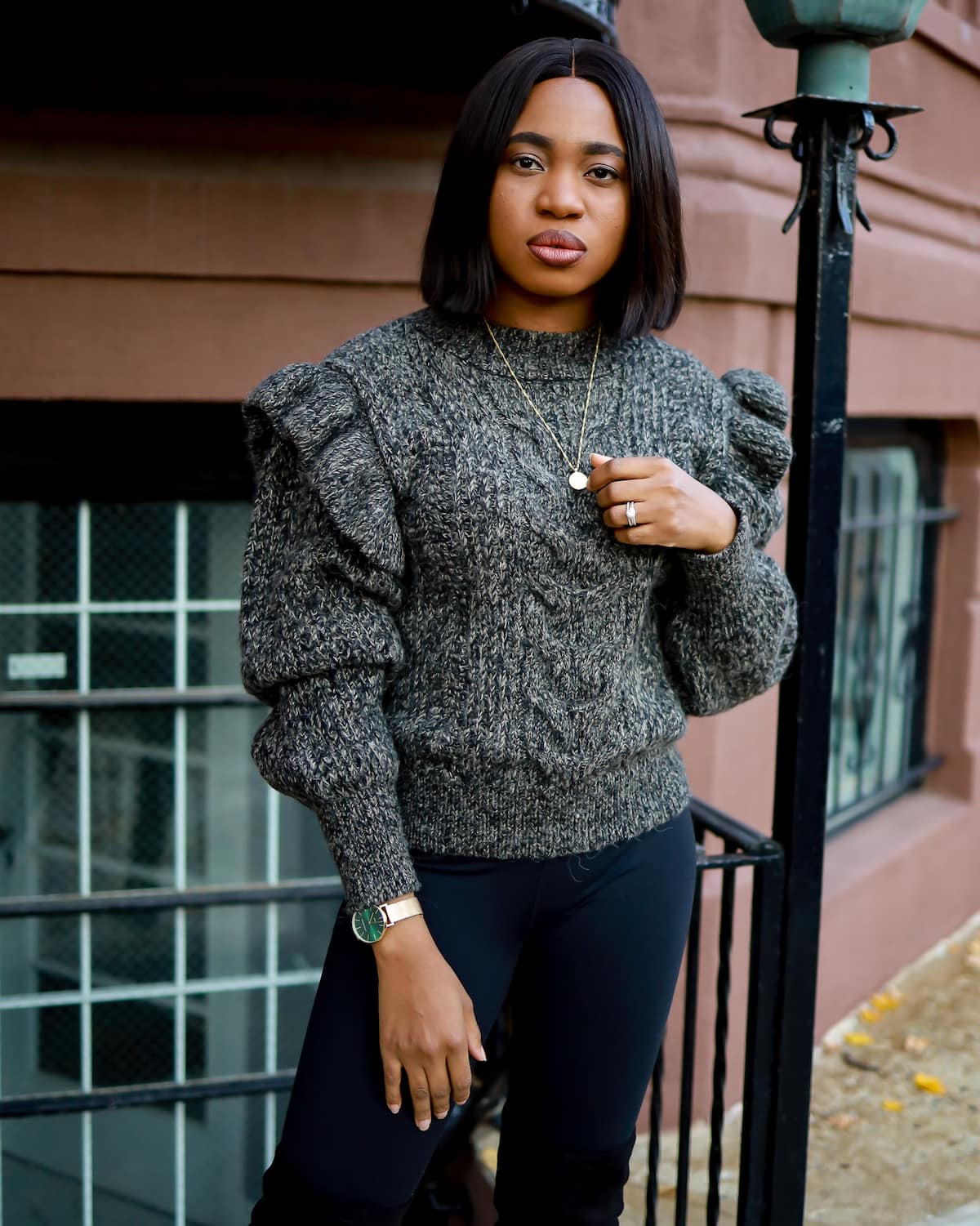 For ladies that have small to medium calves, these boots were made for you. I never ever have to pull or tug on these boots to keep them up. You'd also think that the presence of heels would these over the knee boots uncomfortable after an hour or two (at best). But you'd be wrong.
These boots are very comfortable. And the pointed-toe style still leaves enough room for your toes to not feel squashed. And right now, you can score my OTK boots on sale from Nordstrom's Black Friday Sale happening right now. I hope you love these Nordstrom Thanksgiving outfits as much as I do :).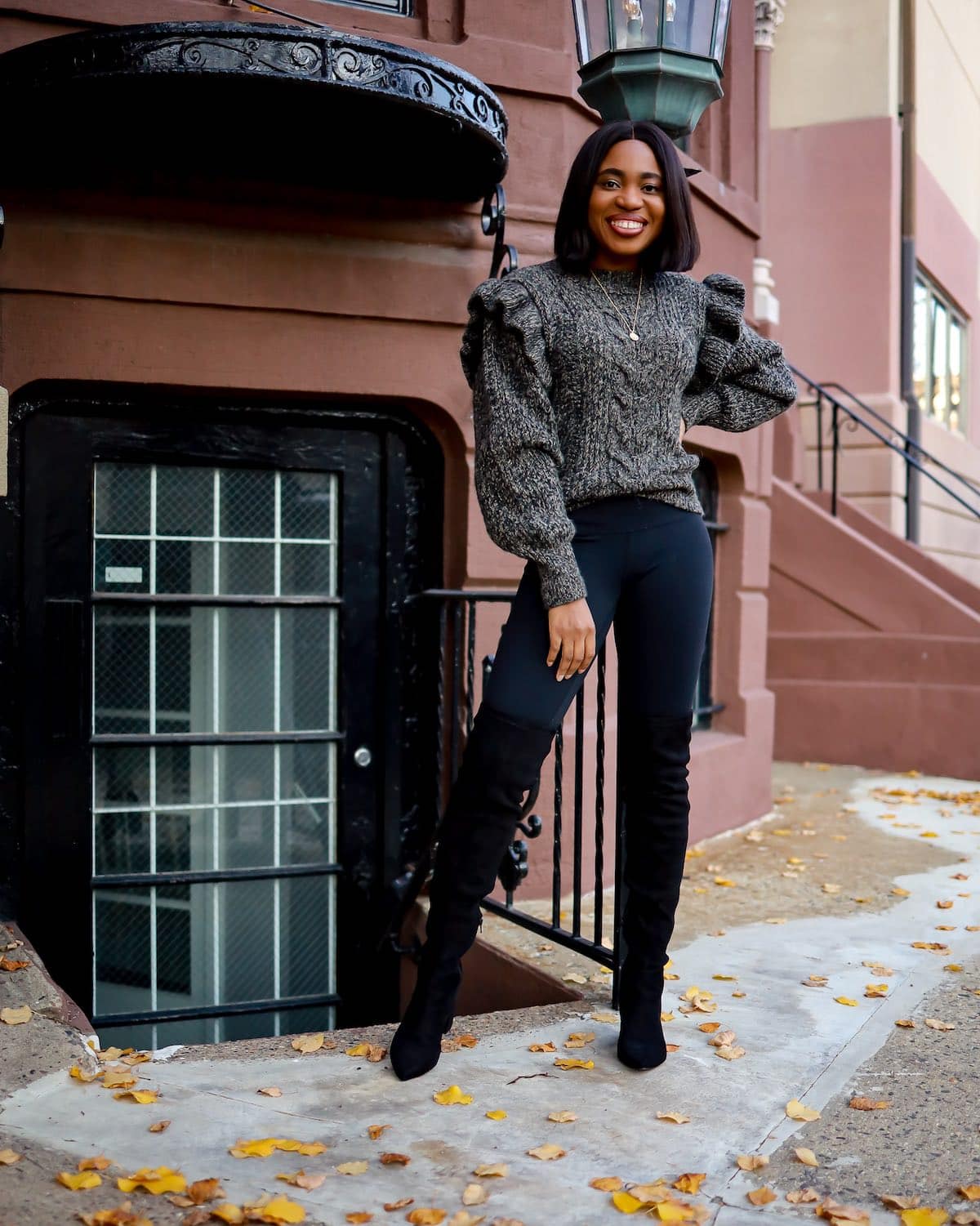 If you liked this cute and simple Nordstrom Thanksgiving outfits? You'll love these related posts:
This is a sponsored conversation written by me on behalf of Nordstrom. All opinions expressed in this post are mine.