30 Best Outfit Ideas for Summer That Will Surely Turn Heads!
This post may contain affiliate links which means I will get a commission if you make a purchase at no additional cost to you. As an Amazon Associate I earn from qualifying purchases. Please read my disclosure for details.
Finally, finally, finally! My favorite season is here. And when we say summer, how could it be complete without our summer outfits?
In this article, I will show you a great selection of outfit ideas for summer fashion that will surely up your fashion game.
Ready? Let's go!
Outfit Ideas for Summer to Up Your Fashion Game
Get your pen and paper ready; this will be quite a ride. I can't just show you ten summer outfit ideas now, can I?
Let's do this with a bang since we're already doing this.
Tank Top and High Waist Shorts
Starting off with one of the most basic but classic outfits that anyone could wear in the summer season, the tank top and a pair of denim high waist shorts combination.
This summer casual will be your go-to get-up when going out and about in this sunny weather. Paired with sneakers and a chic white bag, you're now ready to face that summer craze.
Ribbed Top and Denim Overalls
This combo is perfect for those who love a casual outfit with a touch of indie magic in their wardrobe.
Cami Tank Top and Wide Leg Pants
This combo right here is one of my faves. Whenever I wear this, I really feel that classy vibes envelop my whole being.
I know that's a bit exaggerated, but you get what I mean.
Add a bangle or two and a big hat; nothing could stop you from having a perfect summer.
Knitted Crop Top and Printed Trousers
You know how when we go on a summer vacation, and you want to have a casual stroll to buy necessities but don't want to look that casual in case you bump into someone hot? 🤭
Oh, don't even try to deny that. We've all thought of that at some point in our lives. Well, this combo is your answer.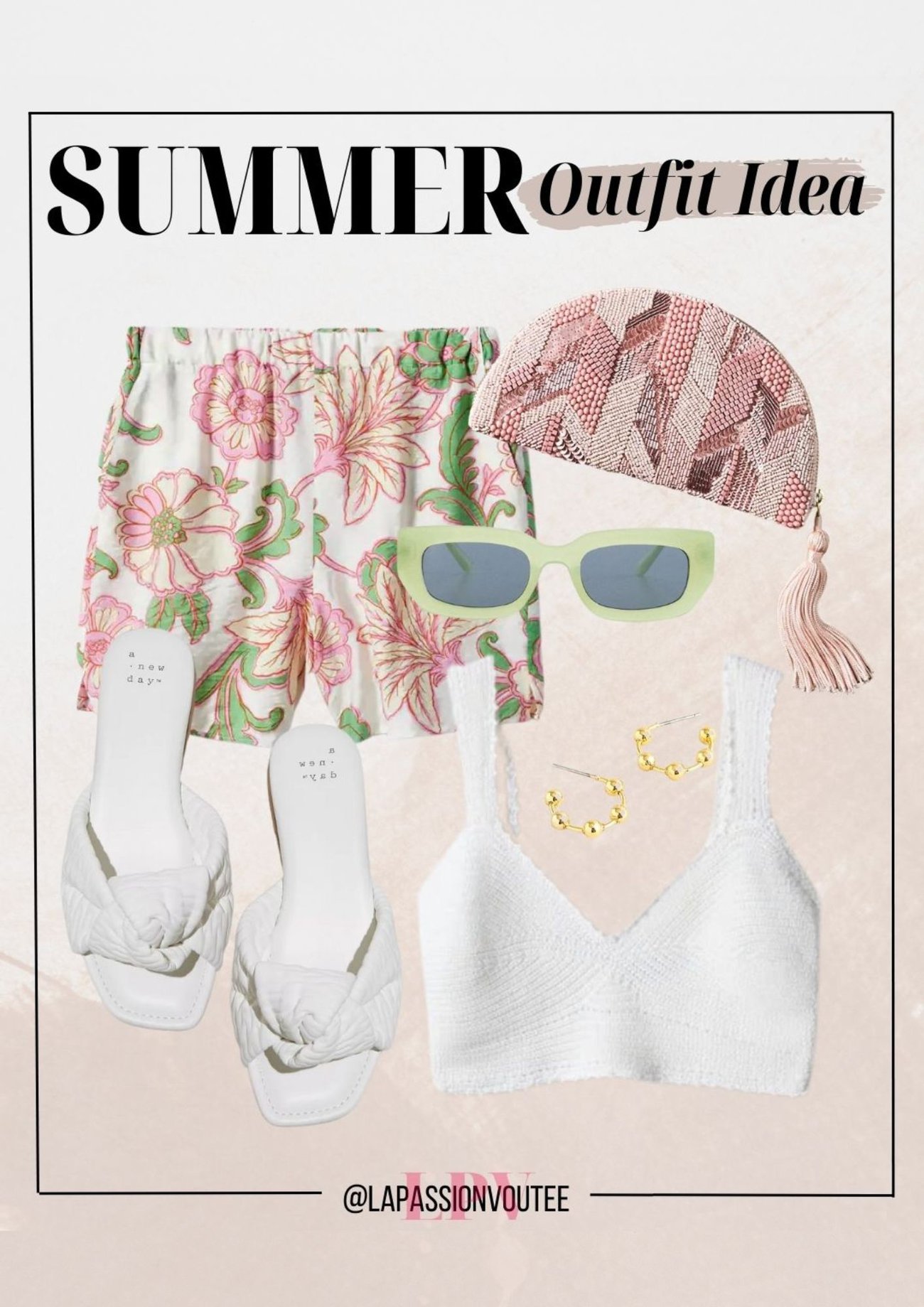 The simplicity and elegance it gives are simply a chef's kiss!
Knitted Top and Denim Midi-Skirt
When discussing summer, personal style aside, it's important to consider the breathableness of your outfit. A great example of that is the knitted top below.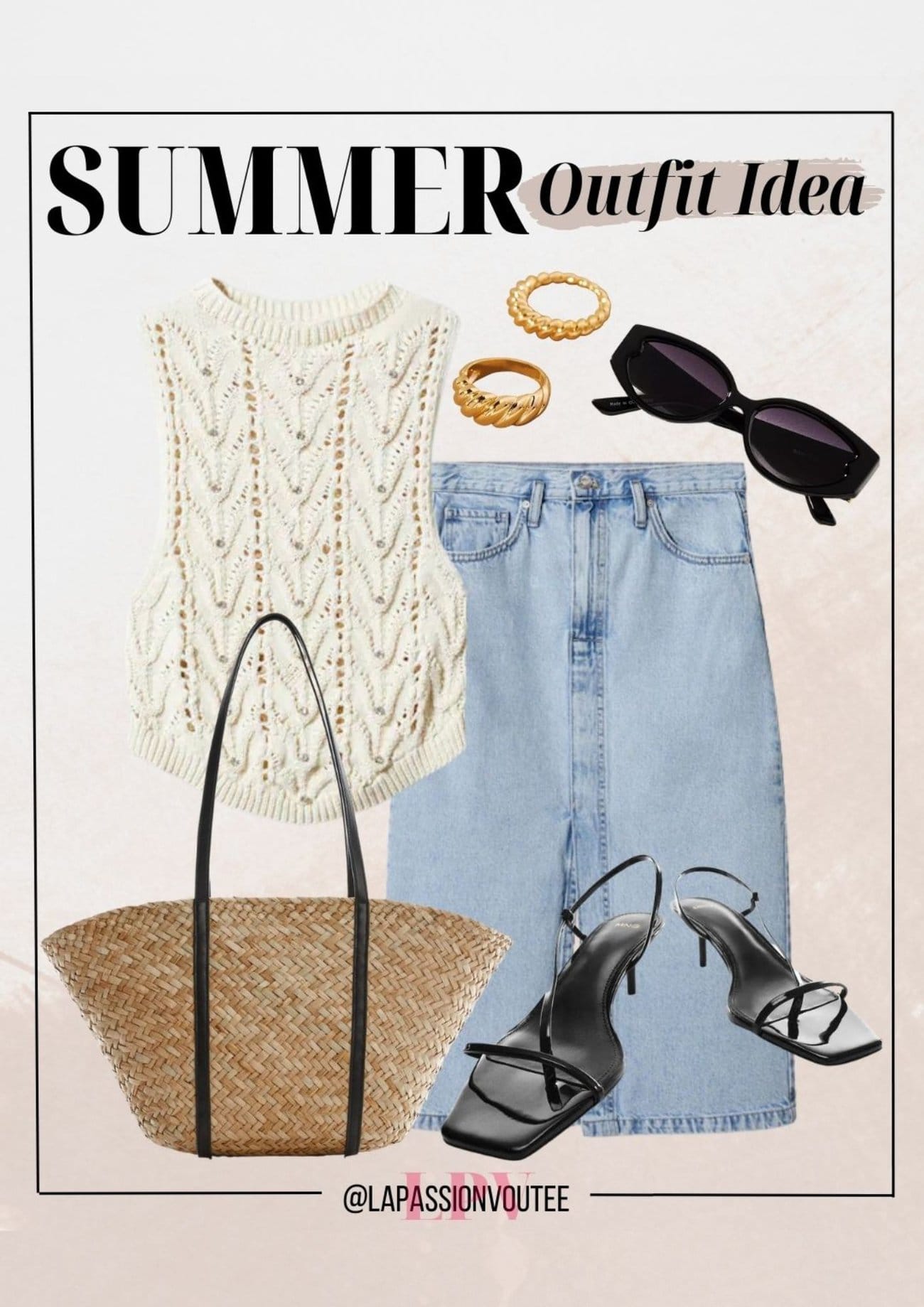 We must follow summer dress codes but be comfy simultaneously, am I right? In that case, our best friend is our knitted top and a midi skirt.
Mock Neck Top and High-Waisted Skirt
Right next is the mock neck top and high-waisted skirt duo.
Another classy chic combo that is perfect for sightseeing in your summer escapade. Add a pair of dangly earrings to elevate the look, and voila! You're good to go.
Rib-Knit Top and High-Rise Jeans
This set is another fave of mine. Although I get frustrated every time I see how my arms look so big in tops with fitted sleeves, I really like wearing this fit!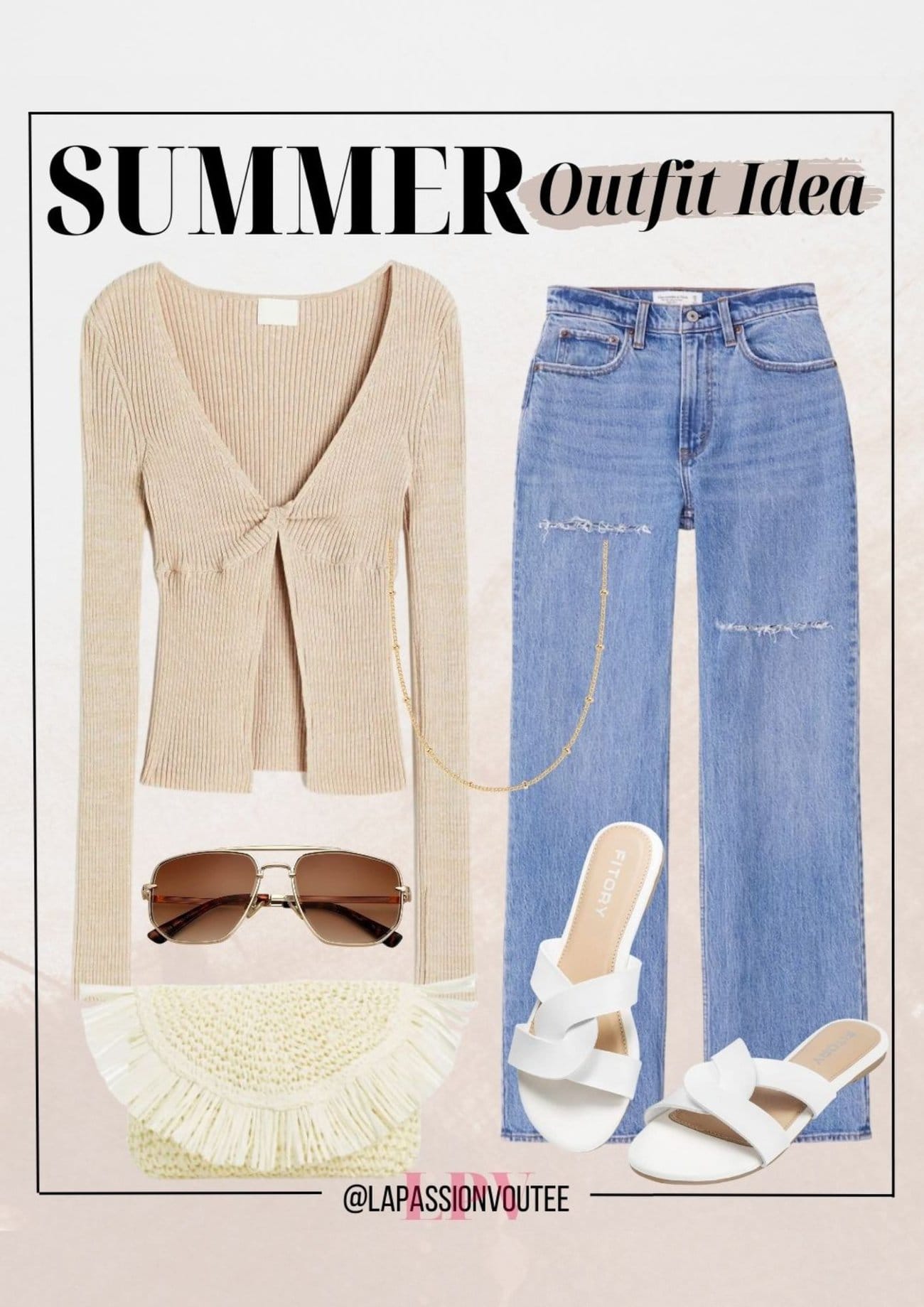 What I usually wear is not cut open like in the picture, but that definitely suits the summer season better.
The high-rise jeans completed the look, adding that sense of demureness if you're too shy to show off too much skin.
Maxi Dress
If you're like me, who sometimes gets too lazy to think of a combo, then summer dresses will be your best buddy.
I actually own more dresses in general for the summer season than sets of outfit combos. It just feels right to wear flowy dresses that dance in the wind when that summer breeze hits you, you know?
Just imagine how bomb your pictures would turn out.
Tank Top and Wide-Leg Pants
Next, we have another casual summer outfit that I believe everyone has worn at least once in their summer journey; the tank top and wide-leg pants combo.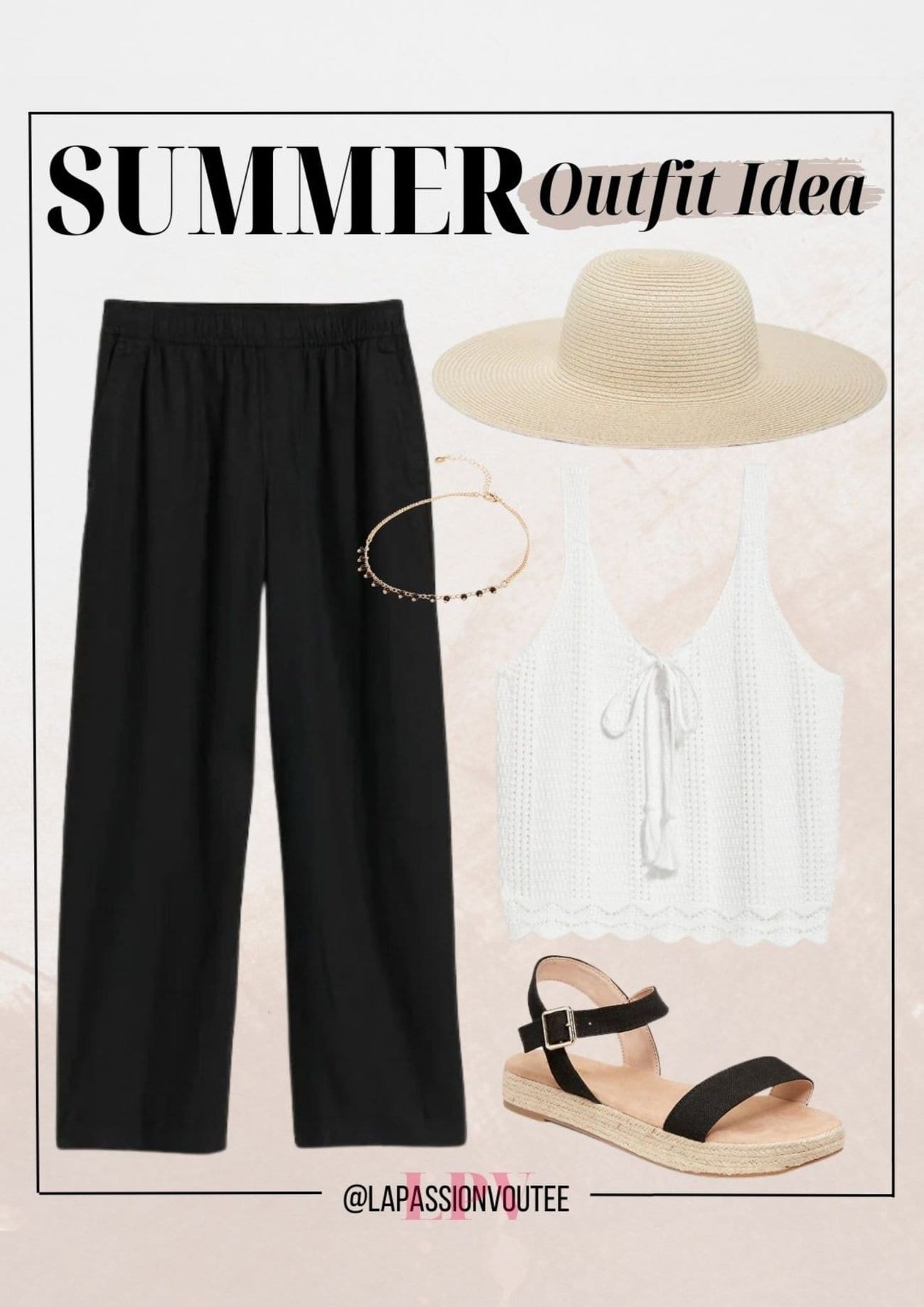 This fit could be worn as it is if you want to take a stroll on the beach or use it as a cover-up for your swimsuit if you're still hesitant to take a dip. (That's what I usually do, LOL)
V-Neck Tunic
As I've mentioned earlier, the breathableness of the outfit should always be considered when discussing warmer months. And what else would be more breathable than dresses?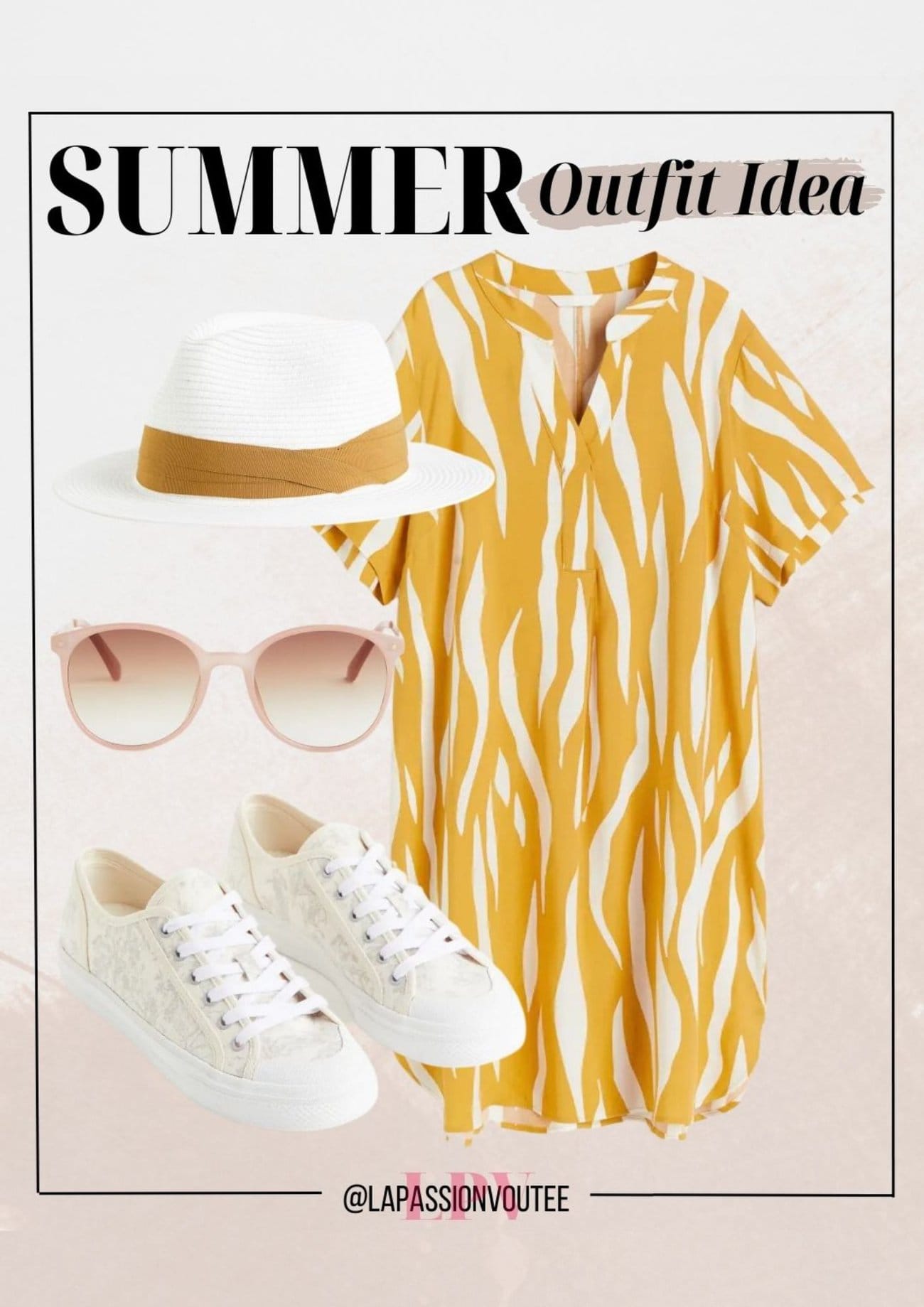 I usually wear dresses that I can tie in the waist because dresses like these make me feel like wearing an overly-oversized shirt (if that makes sense).
I included this because my mom wore something like this on our last outing, and I see the hype now. It actually looks cute if styled properly, trust me.
Wide-Leg Jumpsuit
Aside from dresses, I find a romper or jumpsuit easy to grab when summer hits.
You can spice this casual look by tying the shirt to one side, back, or front or tucking it entirely to the shorts. That's entirely up to your taste.
Spaghetti-Strap Tube Top and Mid-Length Jean Short
Tube tops are one of the most versatile tops out there, knowing how we can style them with different combinations.
This combo is paired with mid-length white jean shorts, allowing your legs to feel free and cool during the warm weather.
You can leave the shirt buttons open or remove them entirely; you'd still slay either way.
Graphic T-Shirt and Straight Leg Jeans
This graphic shirt and jeans combo is effortlessly cool and can be easily styled.
I like how flowy dresses dance when blown by the wind, especially when you're on beaches. I can guarantee you'd definitely capture that summer spirit with dresses like these.
Crop Top and Leggings
Another basic but chic pair is up next, a crop top and leggings combo.
And when you put that hair in a bun or ponytail to complete the look, you're fully equipped to take on the world this summer.
Tank Top and High-Waisted Shorts
A simple tank top and high-waisted white shorts are where it's at if we talk about summer coziness.
Perfect for a walk on the beach, strolling in food stands, picture-taking, and all that summer fun we're talking about.
FAQ About Outfits for Summer
In Summary…
There you have it—the ultimate summer outfit list to level up your fashion game this season.
I hope this article helped you with what outfits to add to your summer wardrobe to give it a little oomph for the season.
Go do your thing and enjoy summer!