30+ Best SHEIN Swimsuits Perfect for the Beach [2023 Guide]
This post may contain affiliate links which means I will get a commission if you make a purchase at no additional cost to you. As an Amazon Associate I earn from qualifying purchases. Please read my disclosure for details.
Summer is here, and the call of the beach is irresistible. Now, what's summer without flaunting the perfect swimsuit?
If you're still on the hunt, fret not, as today we dive into the ocean of the best Shein swimsuits to elevate your poolside glam game.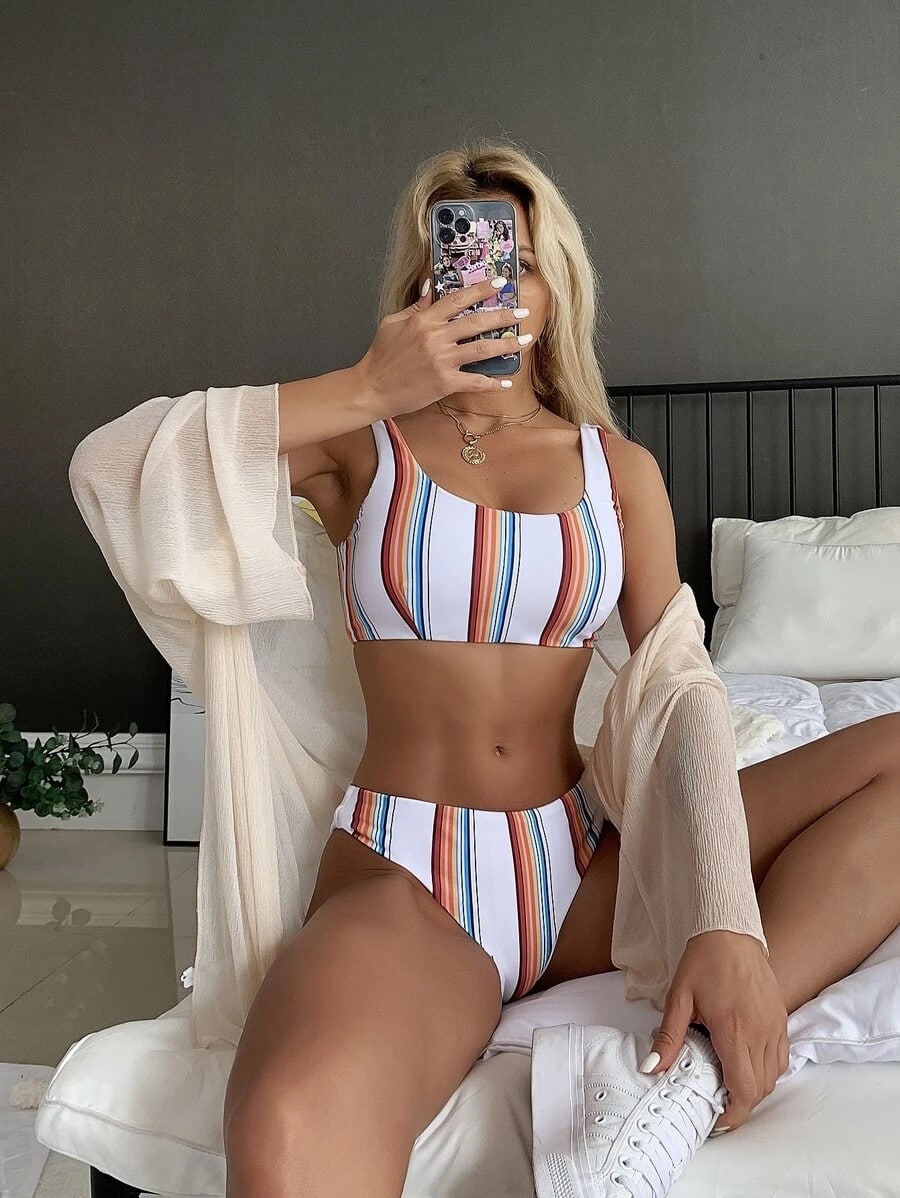 Shein, a brand synonymous with affordable style, offers an array of swimsuits that seamlessly fuse quality, style, and comfort. Ready for the big reveal?
Let's go!
Best Shein Swimsuits for Summer
Summer is a season I take very seriously. It's a time when I ensure my wardrobe is updated with the most popular styles, preparing myself for the sun-soaked days ahead.
However, the real excitement begins when it's time to choose the perfect swimsuit for the beach season. The anticipation of selecting the ideal style that will make a splash is truly exhilarating.
Summer-themed Swimsuits
We'd like to coordinate our swimsuits with the vibes and theme of summer, am I right? That's why I've rounded up some of my best finds for you.
The summer theme includes prints and patterns such as flowers, leaves, waves, trees, etc.
Check out some of them:
I can read what you're thinking. Do you want more? I got you!

I even have a selection of one-piece swimsuits ready for you. You're welcome.

Stylish Two-Pieces from Shein
This next set of swimsuits will still be coordinated based on summer vibes and patterns but more stylish this time.
Swimsuits with moderate coverage but are fashionable, or swimsuits with high-waisted bottoms, removable straps, etc. You name it, Shein will provide it.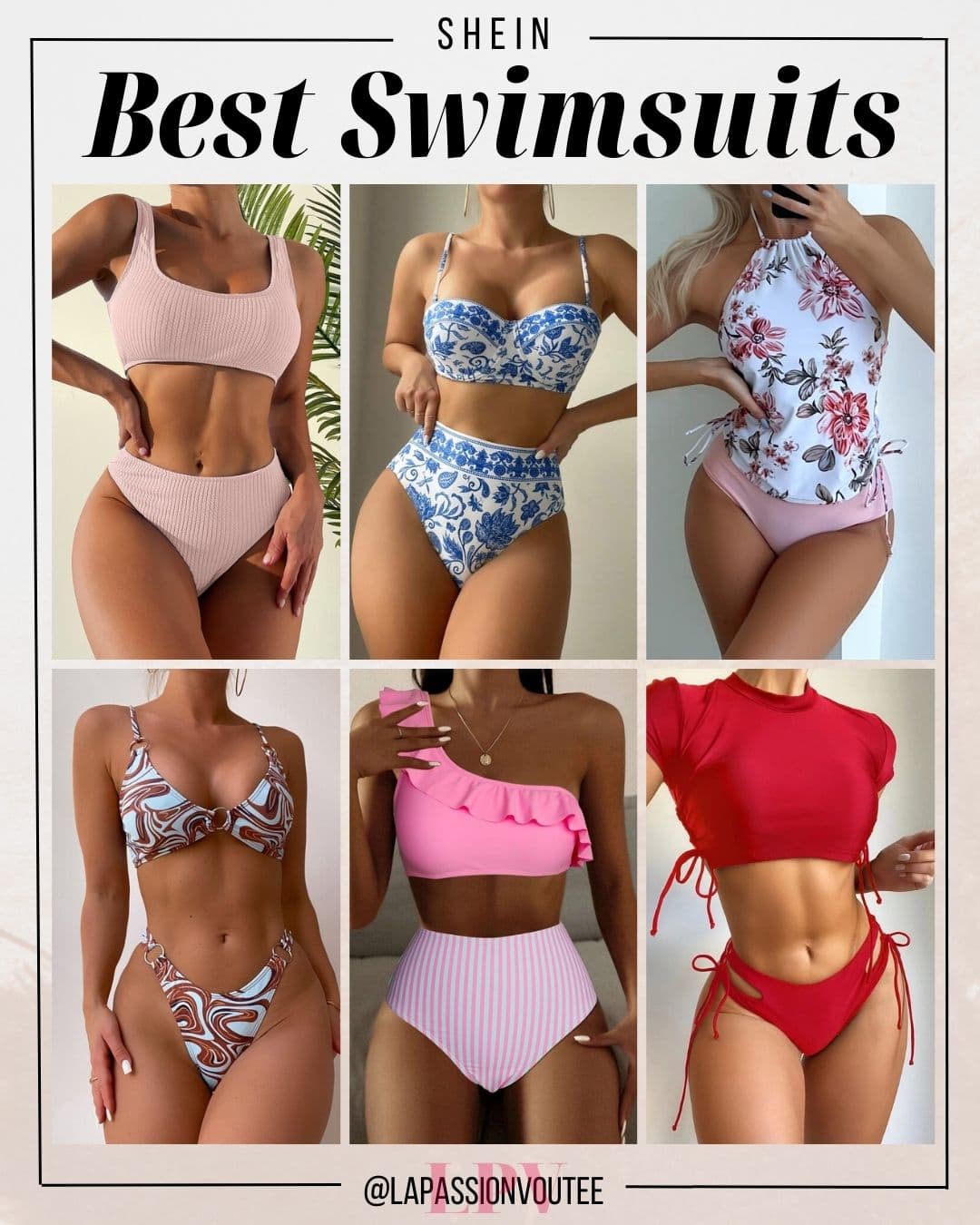 How else to rock summer without wearing stylish swimsuits, am I right? As trends are quickly changing every day, fashion will always evolve.
A simple bikini has evolved now into something more stylish and fun. With some of them having adjustable straps and a range of sizes, it is perfect for any beach vacation or pool party.
Look me in the eyes and tell me if those aren't bomb-looking.

Pink Swimsuits from Shein
Patterns aside, sometimes we like to choose based on our favorite colors or what colors match our skin well, right? Leave it to me.
First off, pink Shein swimsuits.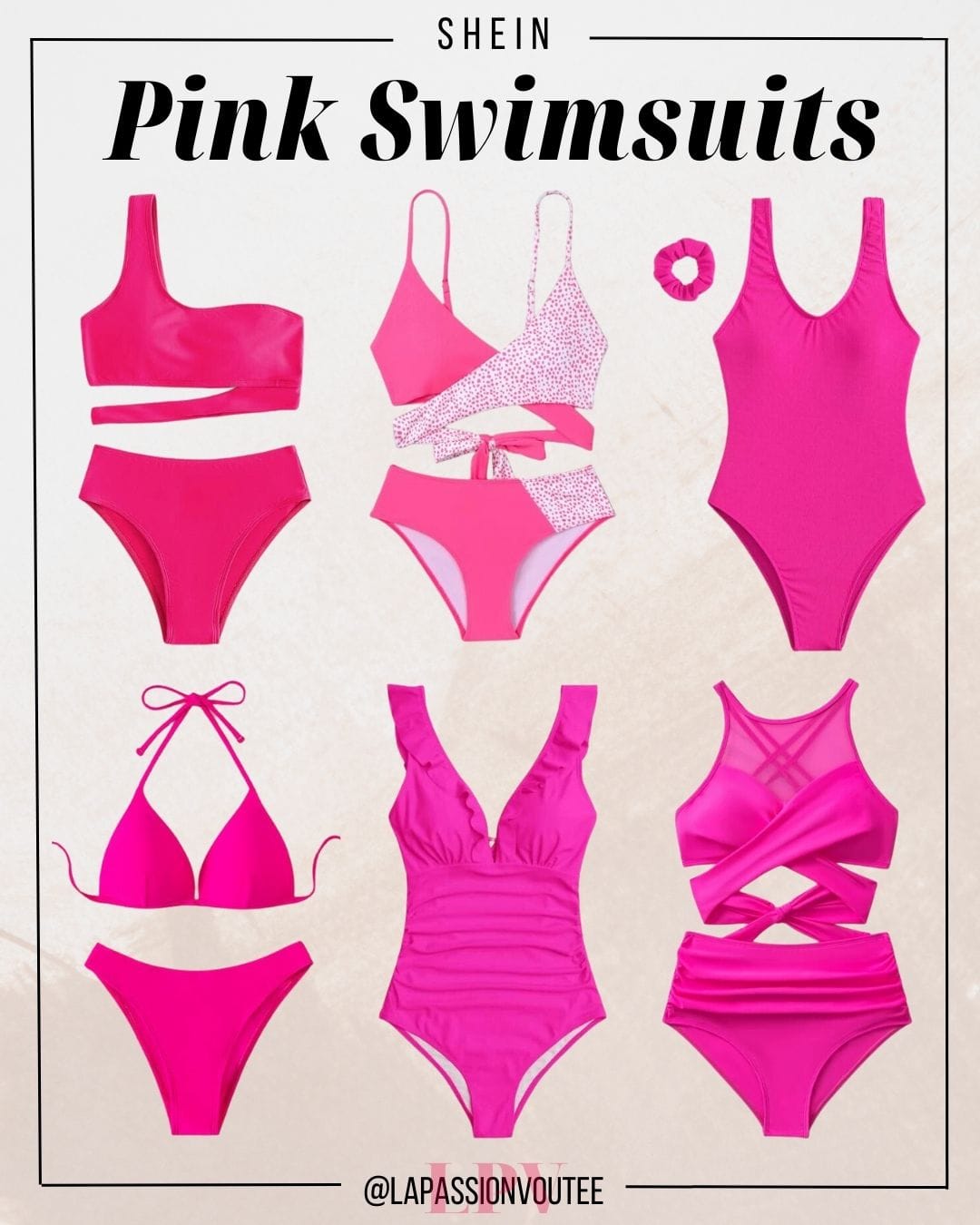 Pink gives off that Barbie vibe that we all adore, especially hot pink. Its captivating hue turns the heads of everybody straight to you.
Here's some more:

Yellow Swimsuits from Shein
Up next, we have the happy color, yellow.
You could say that this color suits the season well since it can be related to warmth, sun, and positivity. So, let's get right into it.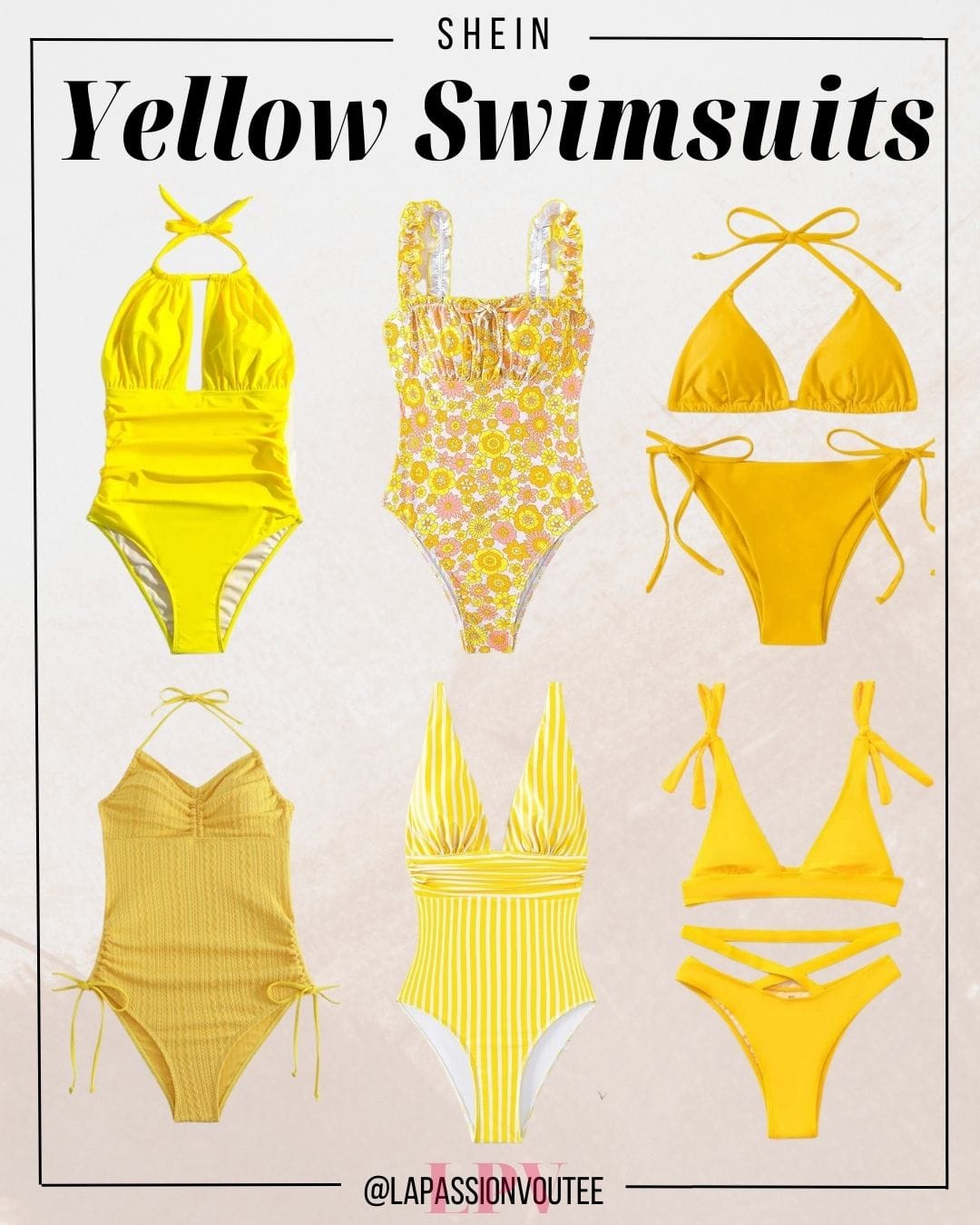 When we see anything yellow, it's as if we're energized and filled with cheerfulness, which is what we certainly want in the summer season.
Summer is a season of adventure and excitement. We have to keep that energy up till the season ends!
Take a look at some more:

Black Swimsuits from Shein
Now, we have my favorite color, black.
I do believe that black, indeed, is the definition of elegance. There's just something about the color that exudes sexiness and sophistication.
Now, that's hot, am I right?
I've collected more black swimsuits for you:

I can't leave you hanging with other colors now, can I? I hear you. Here it is:



FAQ About Shein Swimsuits
Do Shein swimsuits fit well?
Yes, the brands give if you choose the correct size in the size guide. Shein offers a wide range of designs and cuts for their swimsuits and bikini sets, so it's best to be vigilant when checking the sizing.
Are Shein and Cupshe the same?
Where do influencers buy swimsuits?
What patterns can I find in Shein swimsuits?
Shein offers animal prints, floral prints, stripes, polka dots, tropical prints, leopard print, and many more.
What kind of straps do Shein swimsuits have?
Shein has swimsuits with wide straps, tie straps, and shoulder straps for everybody.
Even those with larger chests or size XS wouldn't have to worry about not fitting in the swimsuit since the brand prioritizes inclusivity. View more swimsuits here.
In Summary…
Whew! That was quite a ride. Did you have fun?
Summer season is here, and we'd like to have a blast and look stylish with our swimsuits on. That's why I made this post for you.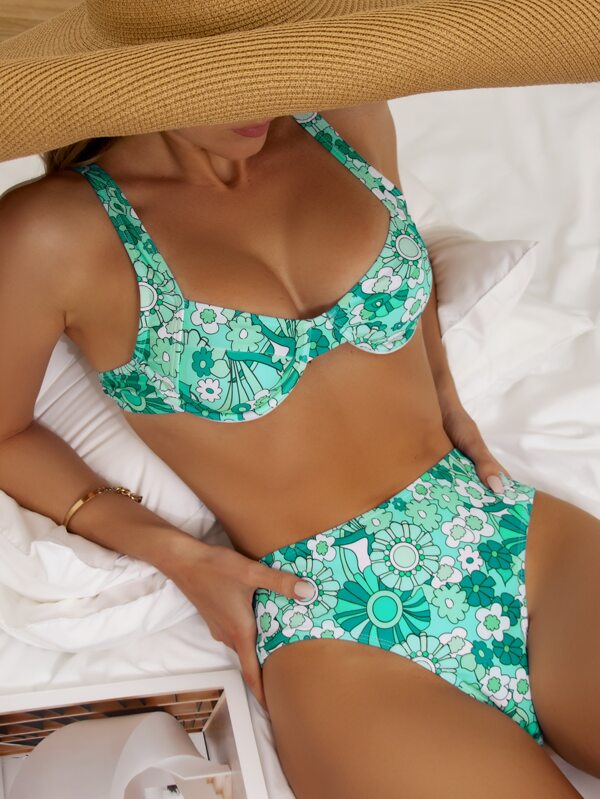 Shein definitely offers a great selection of swimsuits you could choose from. From chic color combinations to three-piece sets, they have it all.
And what makes it cooler is that it comes at affordable prices for its decent quality.
But please still be reminded to be cautious when purchasing. Take time to check product reviews of these bathing suits to manage your expectations.
Enjoy this summer season with a swimwear collection from Shein, and tell me about your experience below.
Was reading this "Best Shein Swimsuits" fun? You're gonna like these articles from the blog as well: