What is Walmart+ Membership? How Does Walmart's New Membership Stack Up?
This post may contain affiliate links which means I will get a commission if you make a purchase at no additional cost to you. As an Amazon Associate I earn from qualifying purchases. Please read my disclosure for details.
If there's one thing I'm super excited about it is my Walmart+ membership. The launch of this flagship membership has everyday Walmart shoppers like myself ecstatic about getting routine, necessary, and, dare I say, boring tasks done in less time.
What is Walmart Plus membership?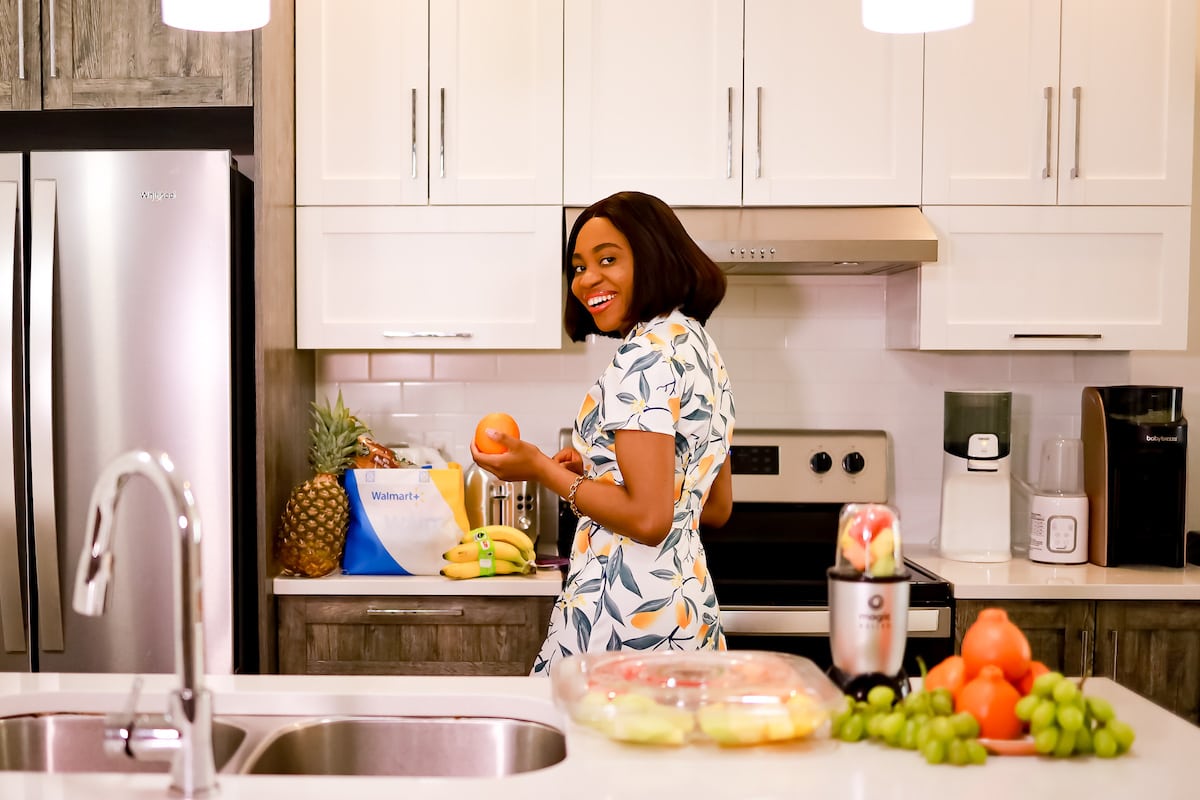 What is Walmart+ Membership?
Walmart+ is a relatively new membership program that gives customers access to time and money-saving benefits.
You know and love Walmart for the value it adds to your life. But I'm sure you're wondering how much more you can get with a Walmart+ membership.
If this is exactly how you feel, I can relate! Unlike other memberships and services, Walmart+ has more added benefits, including free sameday delivery on fresh groceries & more ($35 order min. Restrictions apply.) and member prices on fuel (ahem!).
But that's not all! Keep reading for a full breakdown of the expanded benefits and exciting offerings that come with my Walmart+ membership.
When Did Walmart+ Launch?
Walmart+ launched on September 15th of 2020 and is now available all across the US. Although I had other memberships, I immediately signed up for a free Walmart+ trial when the service rolled out to my area (check your location).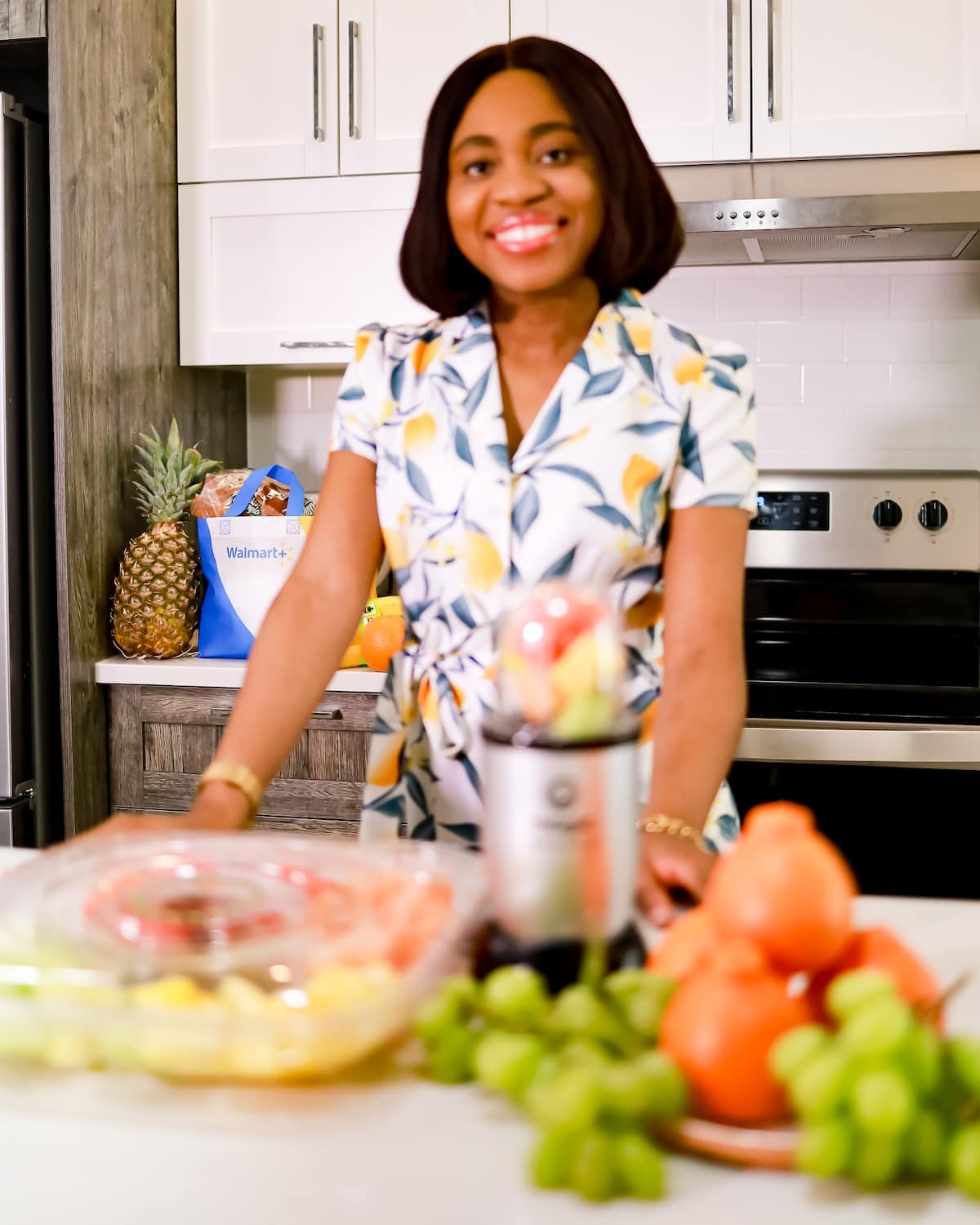 I encourage you to sign up for a free trial here to see if Walmart+ is right for you.
And since there's no commitment, you can compare Walmart+ to any other memberships or services you use. This way, you can see which one serves your needs better.
What is a Walmart+ Membership?
Walmart+ membership is the Walmart+ subscription that extends the benefits we get from shopping at Walmart and Walmart.com.
What Does Walmart+ Include?
Here's a full breakdown of the Walmart+ membership benefits:
Free same-day delivery from your store on groceries and more with a $35 order minimum (restrictions apply). Say hello to fresh produce!
Access to exclusive member shopping events (Not available to trial members. While supplies last.)
Free shipping from Walmart.com with no order minimum (Excludes most Marketplace items, location, and freight surcharges). I repeat, no order minimum! This benefit beats many other memberships and services.
Rx for less (select prescriptions for as little as $0) at over 4,000 Walmart pharmacies. This benefit helps members save up to 85% on prescriptions. Not available in all states. The program is not insurance and cannot be combined with insurance. Savings off of the overall regular nationwide retail pharmacy prices based upon 2020 national program savings data from MedImpact: average savings are 65%. No longer available.
Member prices on fuel at over 2,000 14,000 Exxon, Mobil, Walmart, and Murphy stations and member prices at Sam's Club fuel centers. I bet you've seen the recent spike in gas prices. Walmart+ to the rescue!
Mobile scan & go when you decide to stop at your local Walmart. Grocery shopping is one of my least favorite errands to do. Mobile scan & go gets me in and out of the store quickly. Plus, I can see the total price of items in my cart before I even get to the checkout kiosk. #amazing
NEW 6 Free Months of Spotify Premium so we can listen to ad-free music on the go.
NEW Item Rewards on all our online and in-store Walmart purchases redeemable on future Walmart orders that never expire!
NEW Benefit: Free video streaming with Paramount+ so we can enjoy blockbuster movies, exclusive series, and live spots for free, which would normally cost $59 per year.
On February 24th, Walmart+ stepped it up a notch by rolling out a new benefit. What? You ask.
Now Walmart+ paid members get access to an exclusive members-only shopping event (not just during Black Friday).
This really means that Walmart+ members can now save up to 40% on hundreds of items on Walmart.com reserved exclusively for them, including gaming consoles, electronics, fitness, home, apparel, and more.
This Exclusive Access Event features new deals launching each week, while supplies last, including:
Play Station 5 Console
Xbox X Console
Hoover Air Steerable Upright Vacuum Cleaner for $89 (Savings of $100)
Samsung Chromebook 4 11.6" for $139 (Savings of $26)
HART 215-Piece Mechanics Tool Set for $98 (Savings of $61)
10L Chefman Multifunction Air Fryer for $79 (Savings of $50)
Igloo 56-can Reactor Soft Sided Cooler for $44 (Savings of $30.99)
Lenovo IdeaPad 3 15.6" for $399 (Savings of $100)
You can preview the Exclusive Access Event here.
When you compare Walmart+ to other memberships, it's obvious that all others pale in comparison to Walmart+.
How Much Does Walmart+ Cost?
Now that you understand what Walmart+ is let's talk about how much Walmart+ costs. While other services and memberships are increasing their prices, Walmart+ has stayed at $98 per year or $12.95/month since its launch.
All this is to say that Walmart+ is significantly cheaper (up to $41 less) than other memberships while offering an incredible value to its members.
And while we are on the topic of membership prices, take a moment to double-check how much you're currently paying for other memberships and services. They sometimes sneak in a price increase without you knowing.
How To Use Walmart+ For Gas
There's no better time than now to use your Walmart+ membership for gas. Follow these steps to get your member prices on gas:
Sign in to your Walmart+ account in the Walmart app on your mobile device.
Click on Account (on the bottom right corner of your device), then select Walmart+ in the Subscriptions & Plans menu.
Next, click on Benefits and scroll down to Member prices on fuel.
Then click on the Get started button under Member prices on fuel.
Proceed with Walmart Pay or enter the discount ID displayed on your screen to get pumping.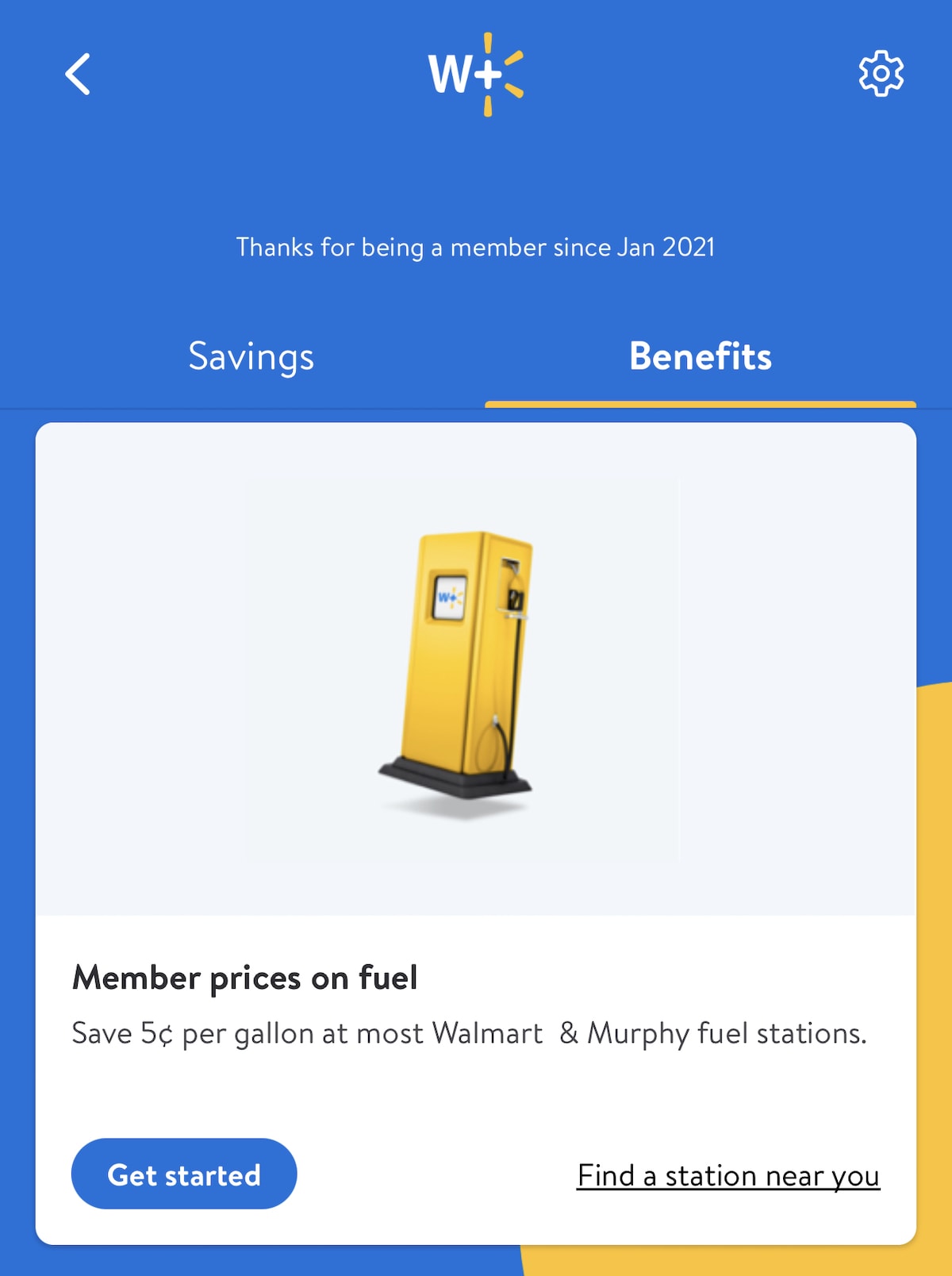 Find your nearest participating Walmart station here.
Can Walmart+ Be Shared With Family?
Yes and no. Walmart+ can be shared with family members living in the same household and sharing the same account. At this time, I don't believe there's an option to share Walmart+ with family members who have a different account.
This works out perfectly for me since my family shares one Walmart account. Plus, if I have a personal purchase, I can always swap out my card on file while completing my purchase.
Walmart+ vs. Other Comparable Membership: Which is Better?
A few things to consider when comparing Walmart+ to other membership services include:
Price – An annual Walmart+ membership is up to $41 less than other comparable membership
Convenience – You have the option to shop both online and in-store.
Restrictions – Compared to other memberships, you don't have any order minimum when you buy products sold by Walmart on Walmart.com. Although there's a $35 grocery order minimum for free grocery delivery, this minimum is not hard to meet. In comparison, many other memberships charge a $9.95 service fee for grocery delivery alone.
Other exclusive benefits – Rx for less and member prices on fuel are two unique features of Walmart+ that make it a major attraction for certain demographics. Others might have video streaming and photo hosting that you find important.
Added Perks – With Walmart+ Exclusive Access Event, you don't have to wait for any special day to get Black Friday-type prices.
My 14 Months Experience with Walmart+: Honest Review!
Although it might come down to your preferences and needs, Walmart+ knocks it out of the park for me. The free grocery delivery means I don't have to sweat it if I forget to purchase an item I need.
And the same-day delivery of fresh groceries also means that I can whip up a dish at a moment's notice. I'm enjoying the process of introducing my baby to different fruits and vegetables.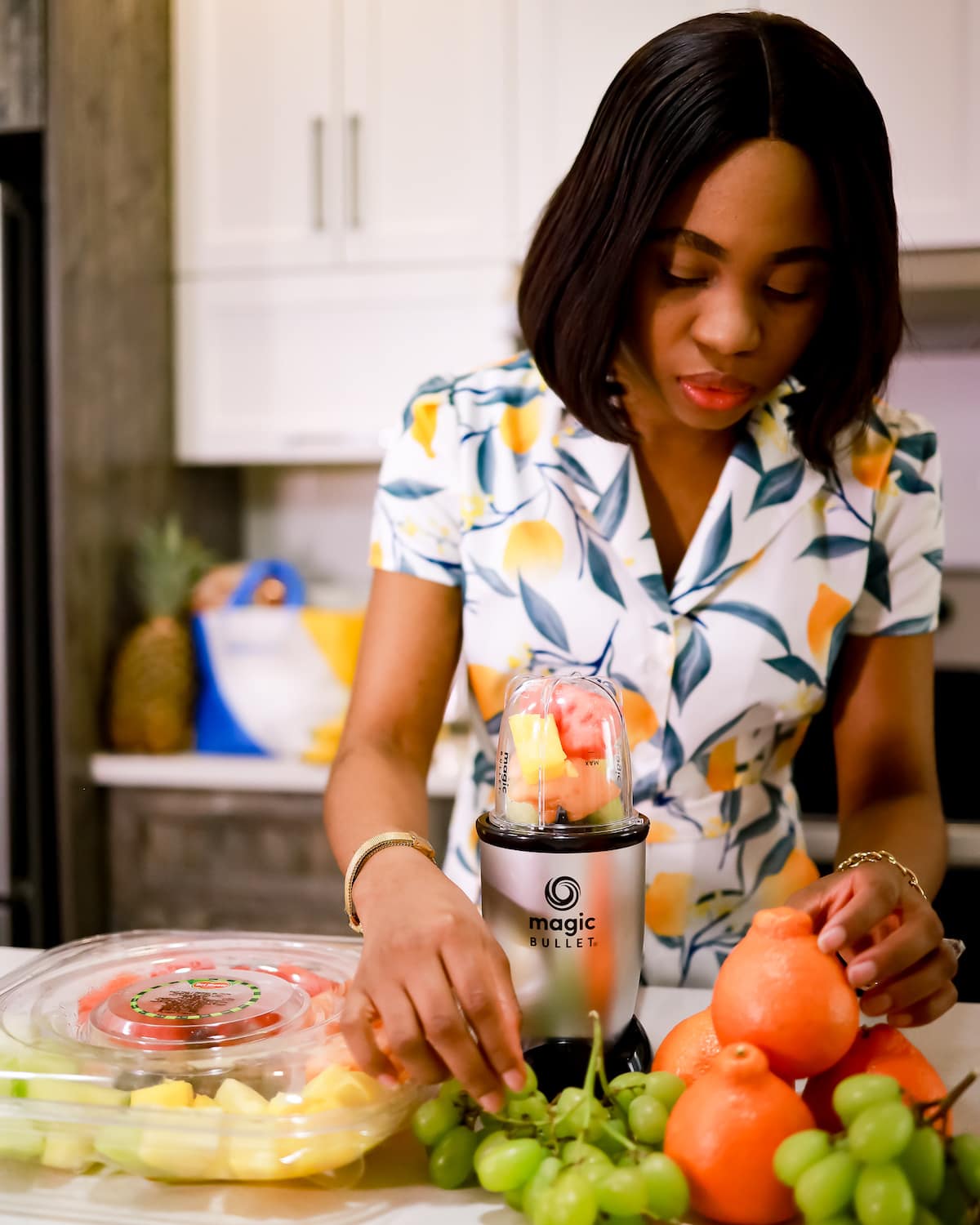 As a self-professed online shopper, I shop with peace of mind knowing that my Walmart.com order will ship free and fast with no order minimum. This excludes most Marketplace items, location & freight surcharges.
And while we are on the subject of online shopping, can we talk about the endless selection of products on Walmart.com?
Enter -> Walmart Fashion.
Walmart carries some amazing fashion brands like Scoop, Sofia Vergara, Time and Tru, and Free Assembly to name a few. My dress is actually from Walmart Fashion.😁
I ordered this under $30 dress and other stunning pieces for a vacation. Here are a few pieces from Walmart Fashion worth checking out. All of these pieces ship free with Walmart+.

Although a Walmart+ membership might not be right fit for everyone, Walmart+ offers unbelievable value that other memberships and services do not.
For this reason, Walmart+ membership is a no-brainer for my family (100% worth it!).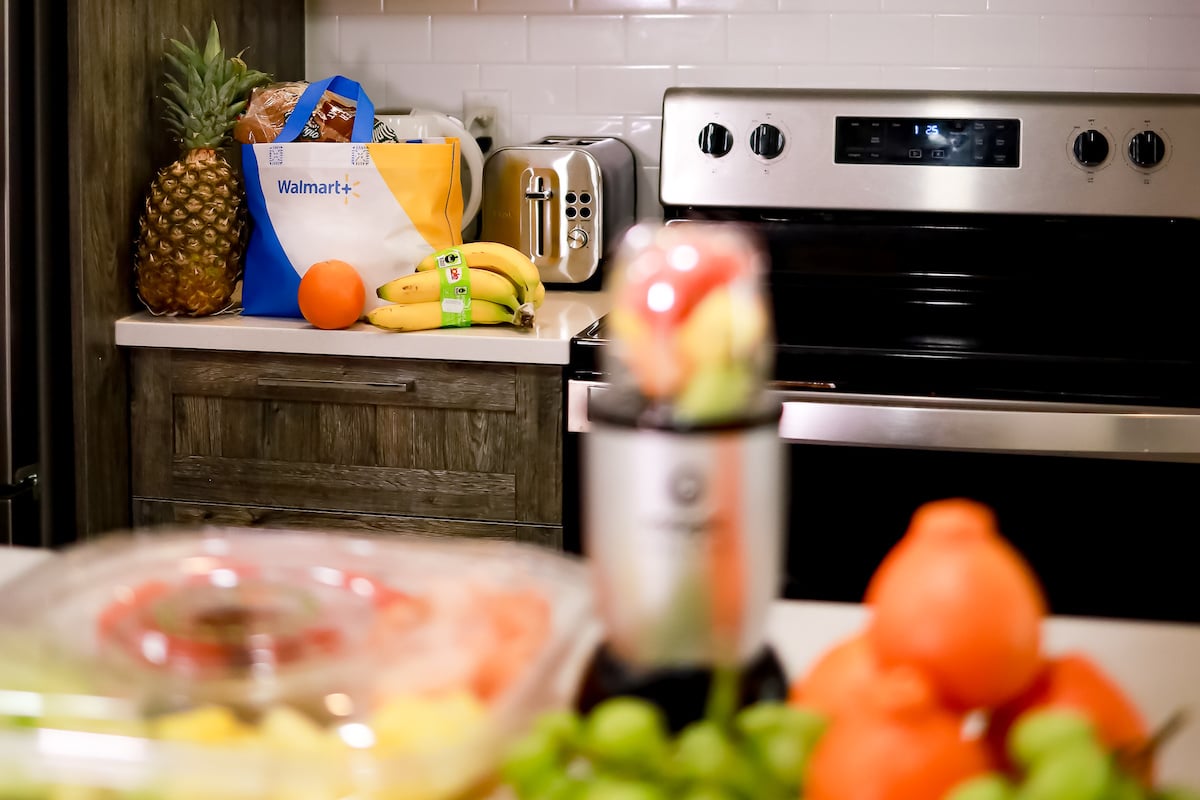 FAQ: What Is Walmart Plus Membership?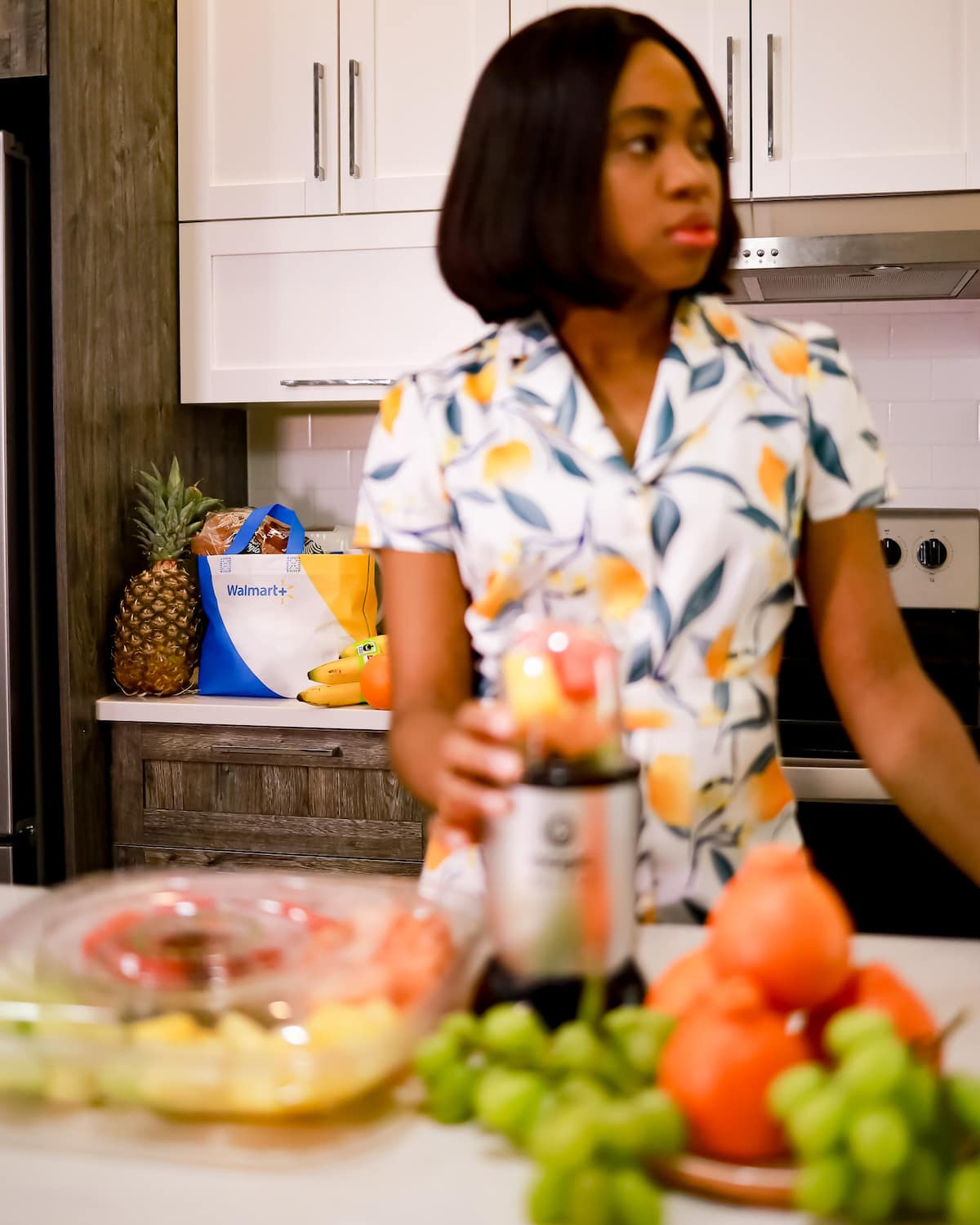 Is Walmart+ right for you?
With Walmart's unmatched retail presence, you'll put your Walmart+ membership to the best use with the Free Same Day Delivery your love fast and convenient grocery delivery.
Also, if you do a lot of shopping online, you'll quickly fall in love with Walmart.com and maximize the no-minimum free shipping on products shipped by Walmart.
The Scan & Go feature on the mobile app comes in handy when you're in a hurry or during rush hour. This feature expedites your checkout process.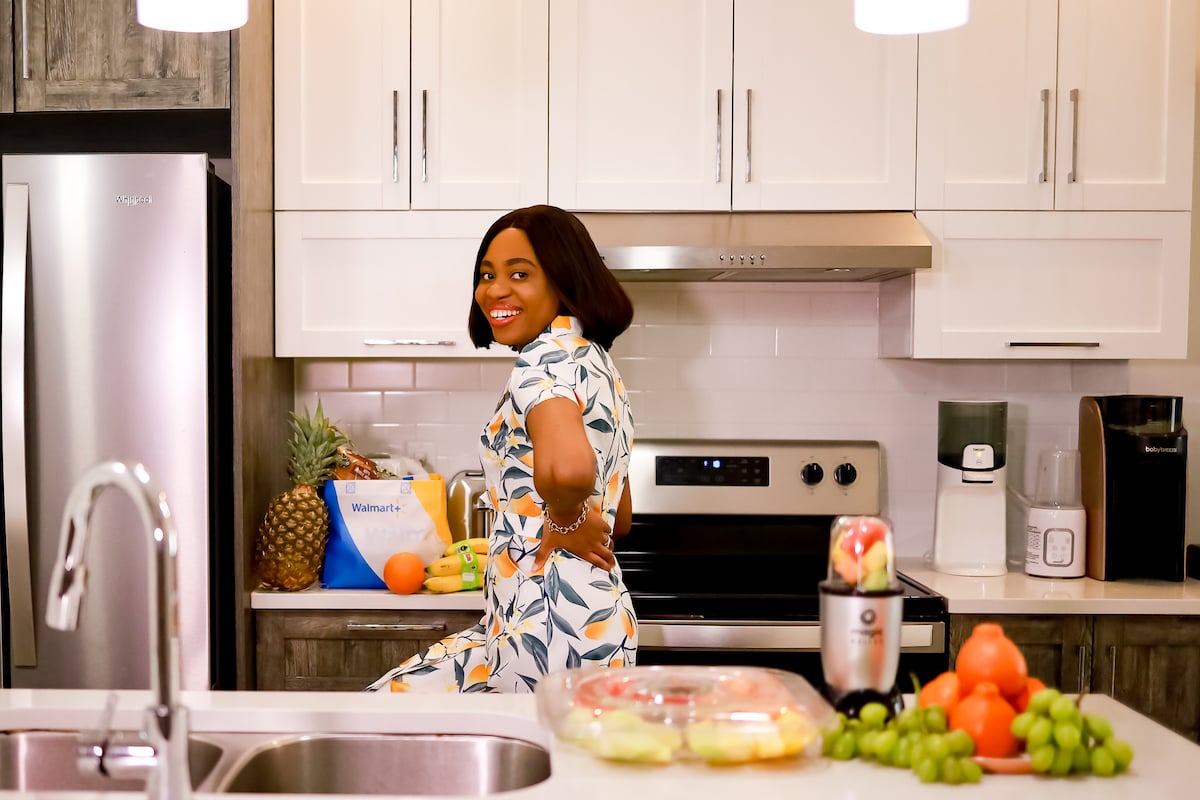 And if you bring your own reusable bags, you can bag your groceries as you take them off the shelf. So once it comes time to checkout, you simply scan the QR code, process payment, and leave. So good!
Another group of people that will love Walmart+ are those that have long commutes. With member prices on fuel, the savings add up quickly at more than 2,000 Walmart, Murphy USA, Murphy Express, and Sam's Club fuel stations.
You already know my opinion about the grocery benefit: for just $98 a year and $0 delivery fees and no mark ups on items, you can see why Walmart+ is a great choice (whereas other memberships cost more, charge delivery fees, and often mark up their products).
Is Walmart+ right for you? I'll let you be the judge.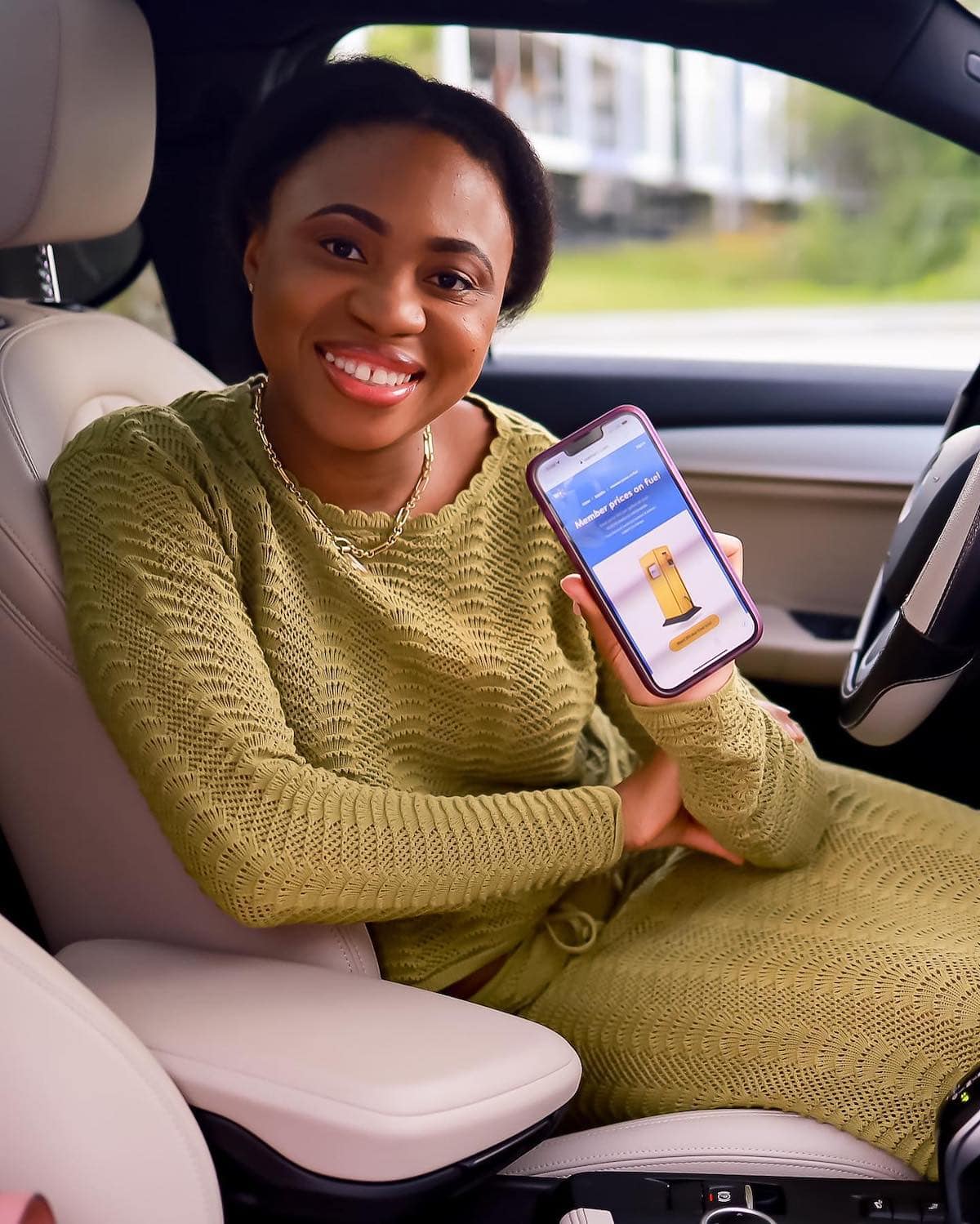 NEW Benefit (9/9/2022): Video Streaming with Paramount+
I signed into my mailbox today (9/9/2022) and read the exciting email that Walmart+ now offers FREE video streaming with Paramount+ for Walmart+ members (no pun intended)!
If this is not exciting news, I don't know what is! I've always considered the lack of video streaming as one of the few downsides of Walmart plus.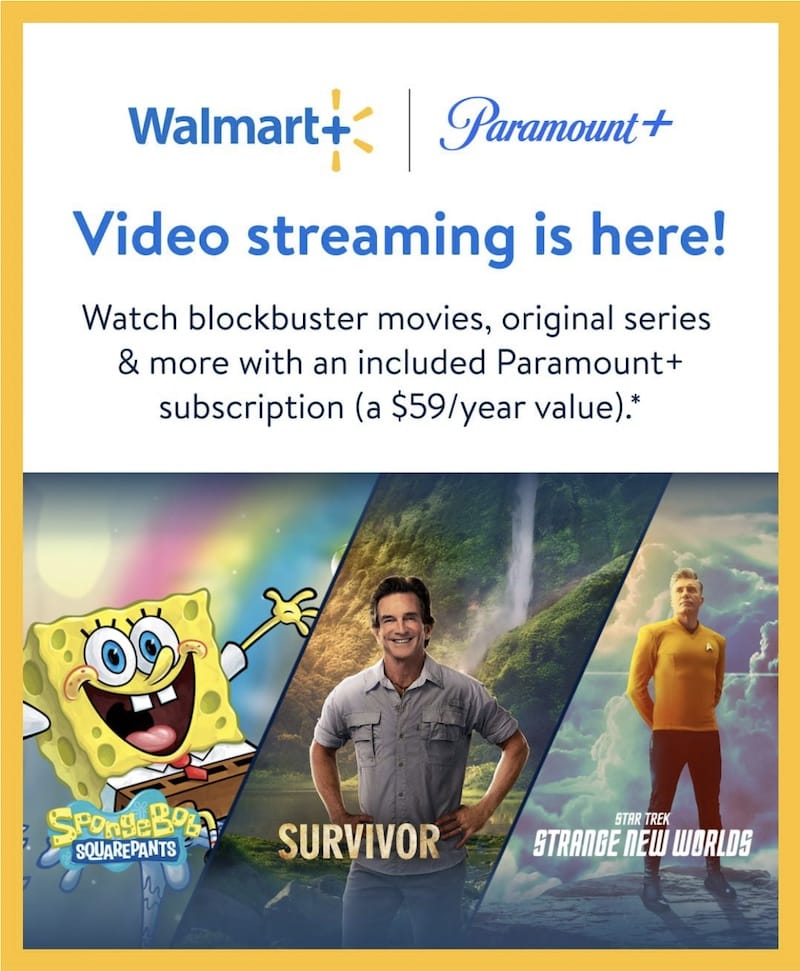 Now with Paramount+ Essential, we can stream family favorites, hit dramas, reality series, and live sports from Nickelodeon, CBS Sports, and more. And it's super easy to claim this new Walmart+ benefit:
Sign in to your Walmart+ account, sign up, or reactivate your account here
Next, create a Paramount+ account here
Personalize your Paramount+ experience and start streaming
And guess what? Active trial and paid Walmart+ members can stream Paramount+ at no additional cost. This means you get to enjoy the perks of Walmart+ before converting to a paid Walmart+ member.
Current Paramount+ subscribers can take advantage of this benefit by canceling their existing Paramount+ subscription (more details here).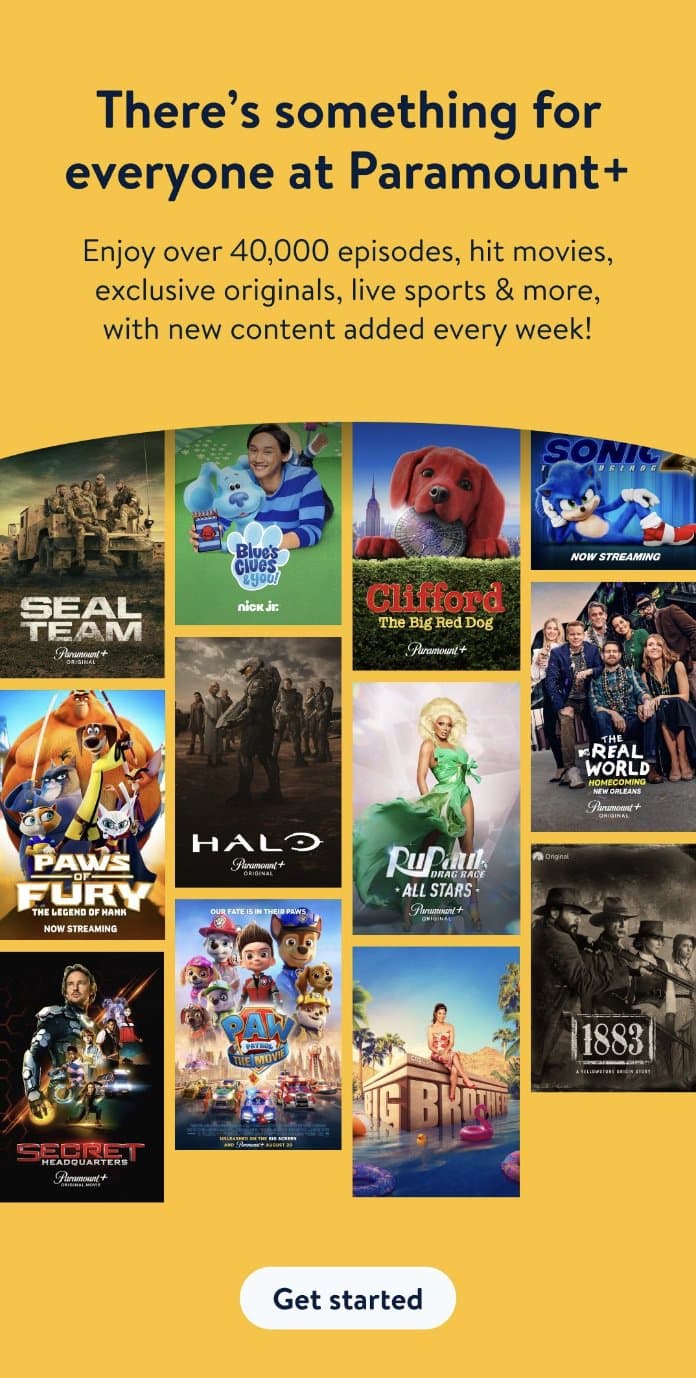 But now, these guys just outdid themselves. Let's break down the Walmart+ benefits:
Free Paramount+ Essential plan ($59/year)
We save up to 10¢ per gallon of gas at Exxon, Mobil, Walmart, & Murphy stations
We get free grocery delivery and $0 delivery fees on groceries with the same in-store price with a $35 order minimum (competitors charge $9.99+/delivery)
We get free shipping with no order minimum on items shipped by Walmart on walmart.com (~$5.99/order savings)
We get 6 free months of Spotity Premium ($59/year)
We get early access to special promotions, events, and Black Friday deals, product releases, & more ($$$)
And let's not forget Item Rewards that we can redeem towards future purchases!
All of these for one low price of$98/year! Since I converted from a trial member to a paying subscriber back in January 2021, Walmart+ has not increased the price of their membership.
Your turn! Have you tried the new Walmart+ membership? Share your thoughts and experience below.
If you found this post about my honest thought about whether Walmart Plus is worth it, you'll love these related posts: