A Weekend at 5th Avenue Mall Anchorage | Cardigan Outfit
This post may contain affiliate links which means I will get a commission if you make a purchase at no additional cost to you. As an Amazon Associate I earn from qualifying purchases. Please read my disclosure for details.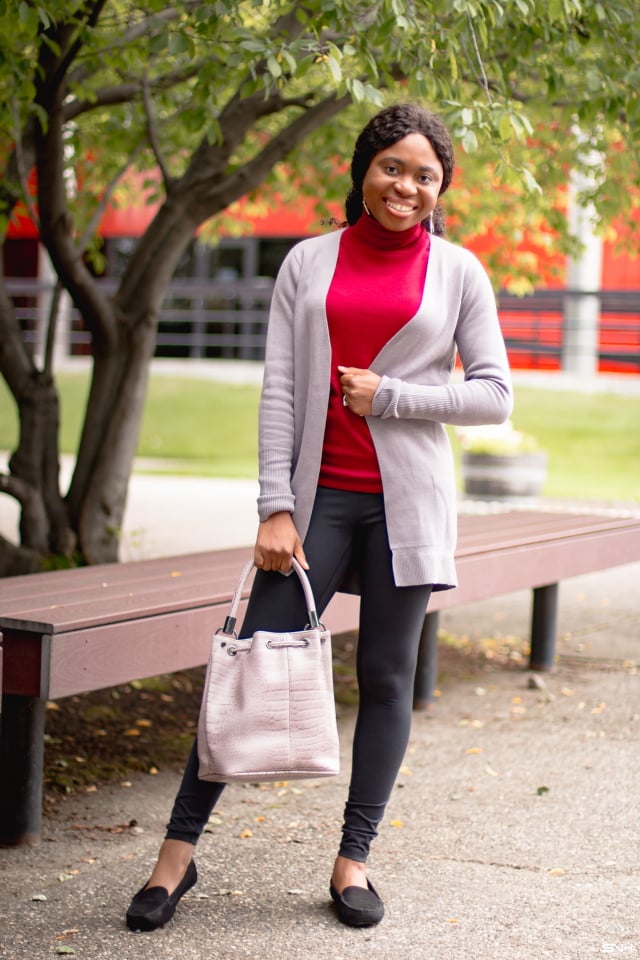 Dear summer, stay a little while longer. I feel like I say this all the time. But, time goes by way too fast… especially when you're having a good time. And summer in Alaska is second to none.
Just before the back to school rush, I visited Anchorage for a little detox from Fairbanks. Friends, family, and readers always ask about what there is to do in Alaska.
Aside from the extraordinary beauty known as the Northern Lights, the great Alaska outdoor adventures and the cultural beauty of Alaskan natives, you can find great shopping in Alaska.
Yes, we have our local brands, and mom and pop shops. But you'd be surprised to know that we have other household brands like Nordstrom, Aerie, Sephora, Banana Republic and more in Alaska.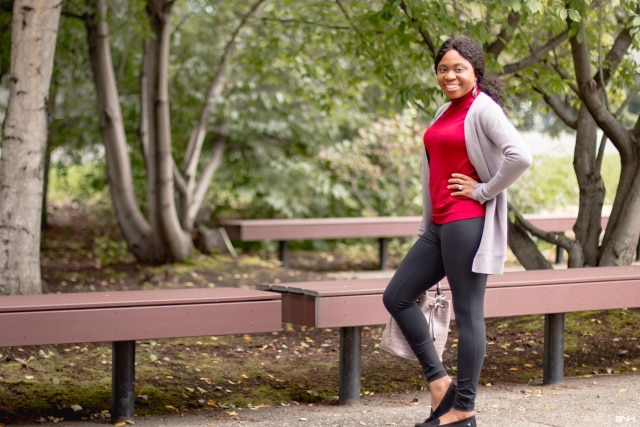 And you can find all of these amazing retailers at Anchorage 5th avenue mall. When my sister visited from New York, we made a trip to Anchorage.
She had a great time shopping and getting a makeup session at Sephora. The atmosphere and overall experience shopping at Anchorage 5th avenue mall were perfect.
With a mall that hosts over 85 retail partners, an entire level of food courts, and special events sprinkled throughout the day, there is plenty to do at Anchorage 5th avenue mall.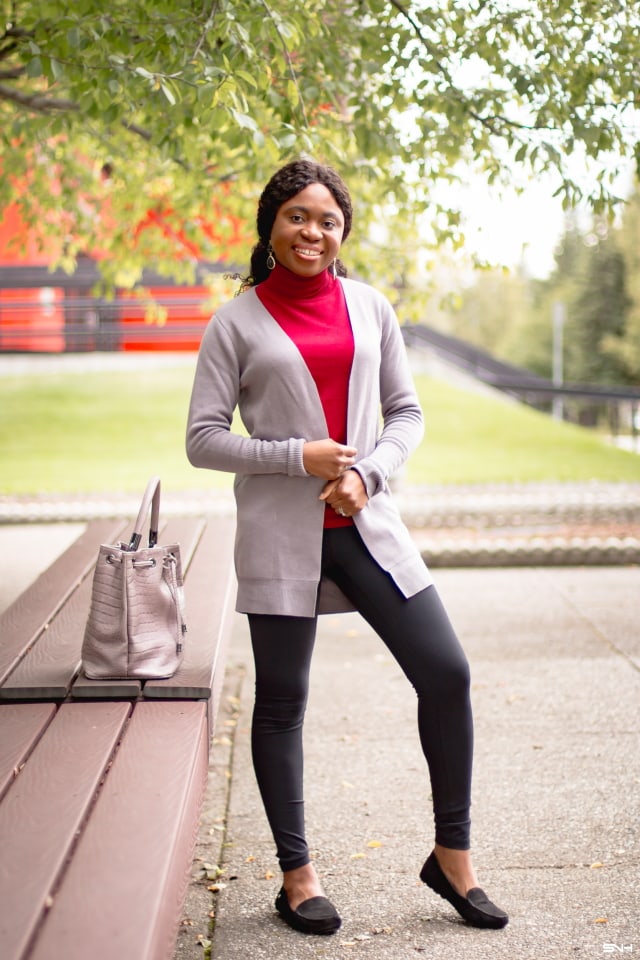 This time, however, I dedicated the majority of my time to three retail partners:
Keep on reading to get the full scoop about what to expect and to learn more about my experience shopping at Anchorage 5th avenue mall.
As with previous trips to Anchorage, I did not want to come back to Fairbanks ha!
---
SEPHORA AT 5TH AVENUE MALL ANCHORAGE
I love, love, love Sephora! Any time I go to Anchorage 5th Avenue Mall, a visit to Sephora is almost always on my list. I knew that the Sephora Beauty Insider Appreciation Event was coming soon. So I took advantage of the Beauty Studio at Sephora by getting a mini makeover.
You can check out my full face Sephora Beauty Studio makeover from my previous post. This time, I needed a little touch-up and tips on getting polished brows and concealing hyper-pigmentation.
Anny, my Sephora beauty consultant, gave me the full lowdown on how to correct and conceal the dark areas under my eyes. And she shared some tips and favorite products for eyebrow application on the go.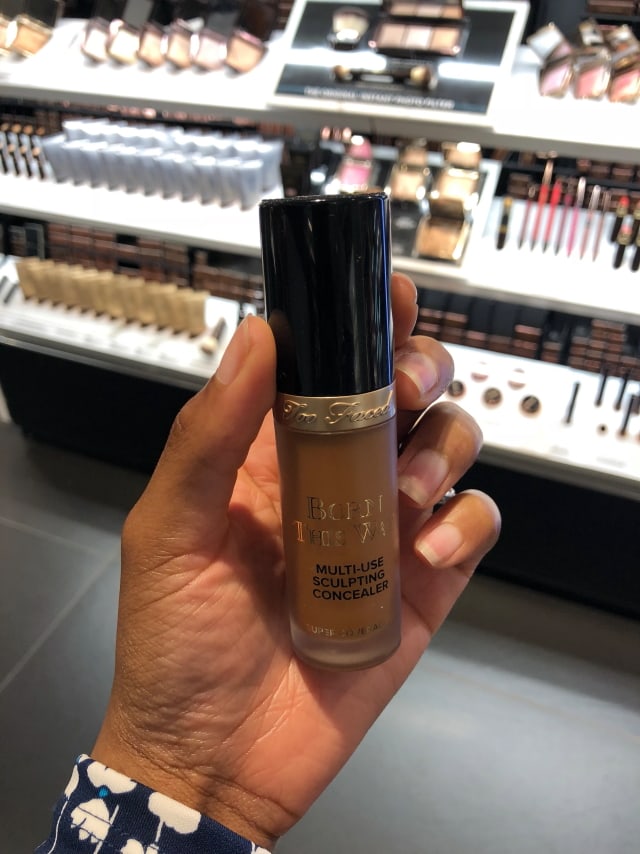 I already had some of her recommendations thanks to a previous consultation at Sephora and the fantastic results from Sephora Skincare IQ. To achieve that barely-there natural-looking eyebrow finish, Anny recommended: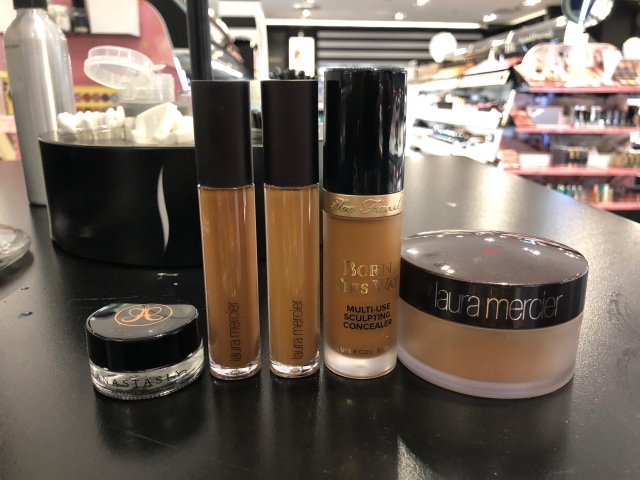 The two products I own are the Laura Mercier Setting Powder and Anastasia Beverly Hills Dipbrow Pomade. I've been dying to try the Too Faced Born This Way Foundation, which was a collaboration between one of my favorite YouTubers, Jackie Aina and Too Faced. Thanks for the recommendation, Anny!
In preparation for the Beauty Insider Event, I have added a few more items to me cart. This includes products I'm running low on. Ah, I'm tempted to make another weekend trip to Anchorage to shop this sale.
If you're not yet a Beauty Insider, sign up here. It's free plus you will save 10% off your purchases during the sale event.
The Sephora Appreciation Event is the best time to get those skin care and makeup products you have on your list. However, you can only use the discount code once online. But you can apply it an unlimited number of times at most Sephora stores, like the Sephora store at 5th Avenue Mall Anchorage.
Sign up for Sephora beauty classes, custom makeups, mini facials or mini makeup overs. And enjoy a day of beauty glam at Sephora.
---
LULULEMON
This year, I made it a goal to be more intentional about staying active. My mindset shift started towards the end of last year but, took off in January. If familiar with Lululemon, you understand my excitement to find out that Lululemon has a storefront at Anchorage 5th Avenue Mall.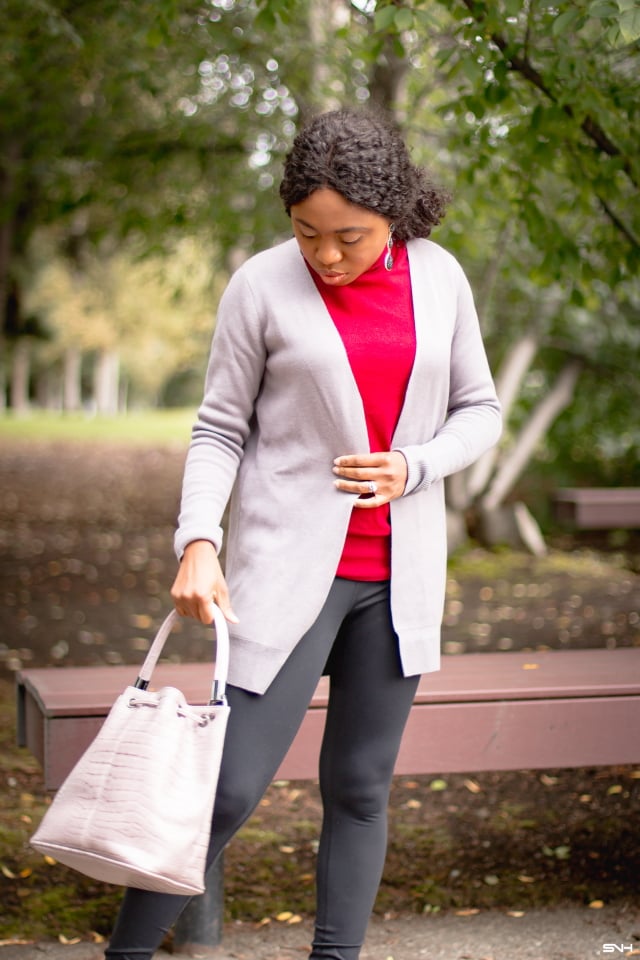 Lululemon was founded by Chip Wilson in Vancouver, Canada in 1998. Lululemon is a yoga-inspired, technical athletic apparel company for women and men. I had a great time learning about their apparel and trying on some unique pieces.
D, my stylist, was a joy to work with. As this was my first time shopping at Lululemon, I let D pick out a few pieces for me to try on. Have you tried the Lululemon Align pants?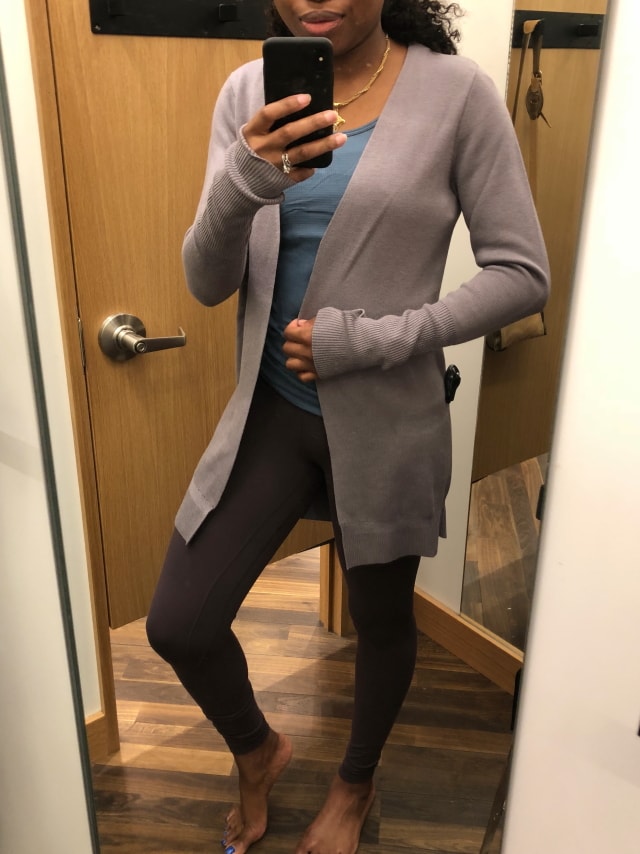 Goodness! This buttery-soft pant is probably the softest yoga pants I've ever worn! It is made with a proprietary sweat-wicking fabric that lies flat against your skin.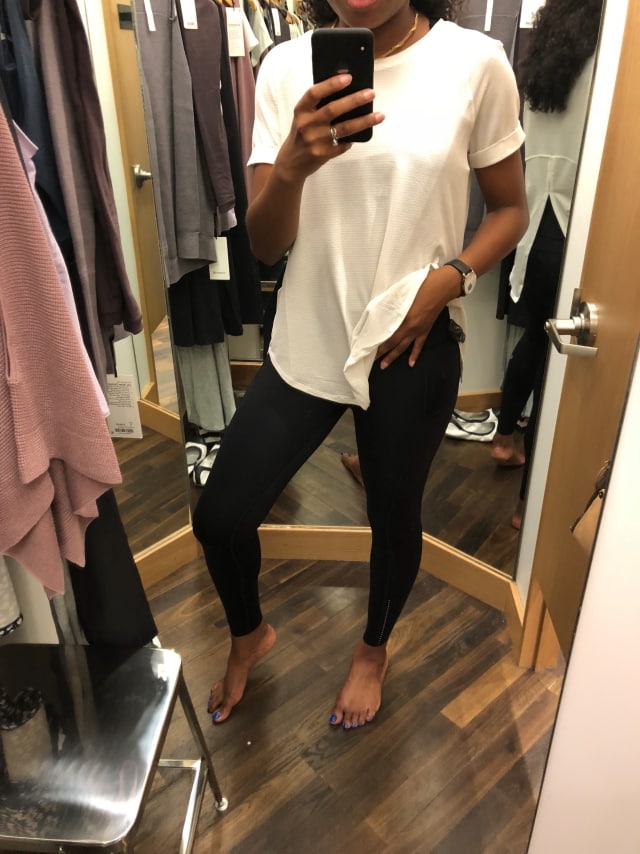 They are a little pricey, but if you live in yoga pants and don't mind paying a little more buttery-soft, top-notch pants, this is the pants for you.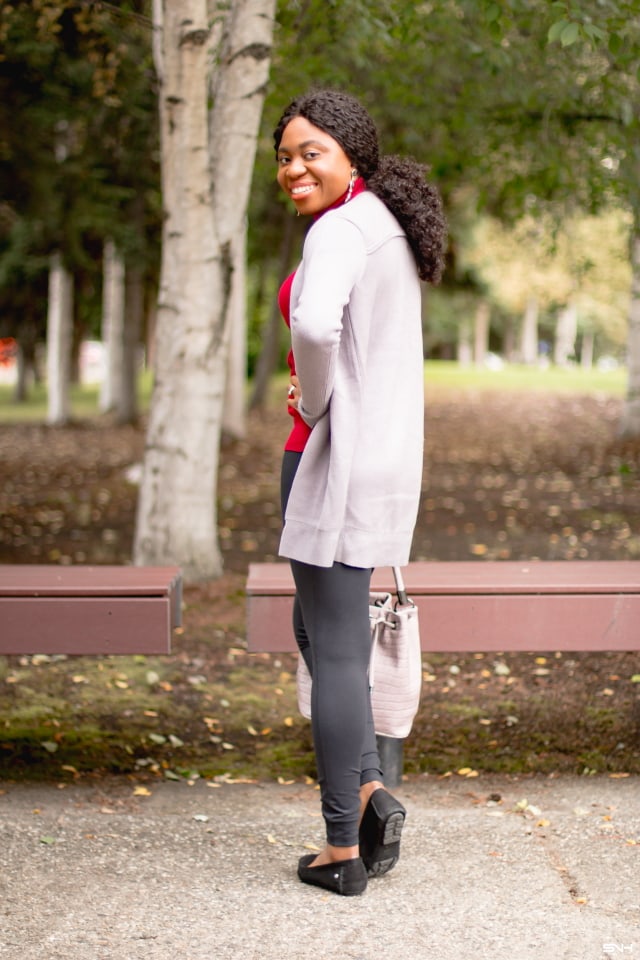 They sell like pancakes! If you're ordering online, you would have to do a little picking as many of the sizes, and versatile color options are sold out online. However, you get more options and sizes at Lululemon 5th Avenue Mall Anchorage.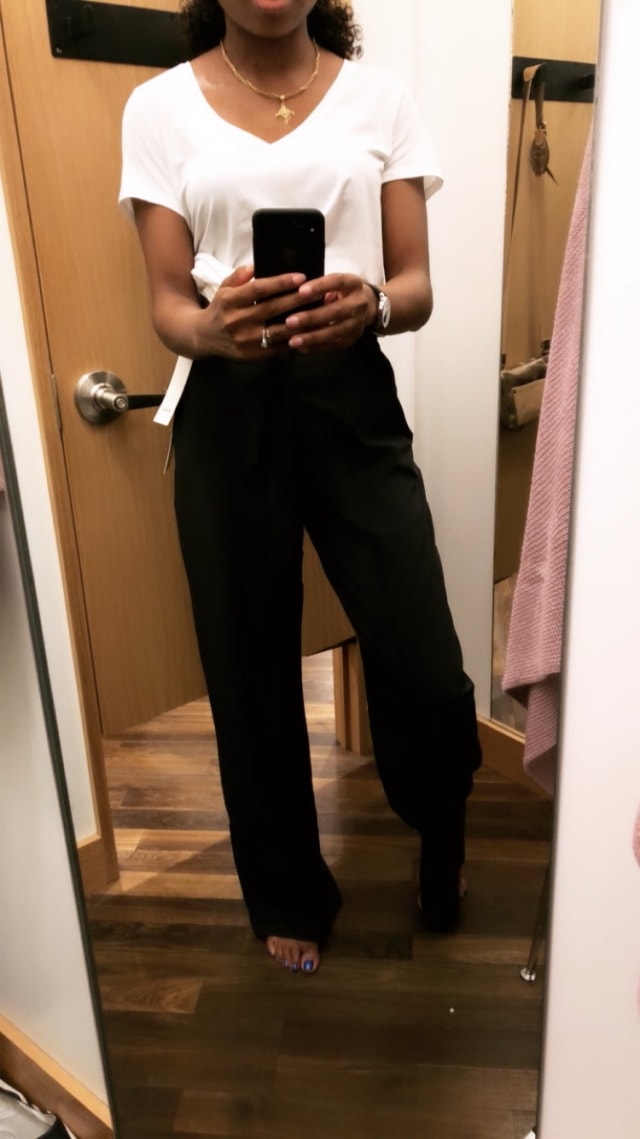 Before I left the store, Julia the store manager informed me that Lululemon will be celebrating their 20th anniversary on August 23rd. So be on the lookout for what this brand has to offer.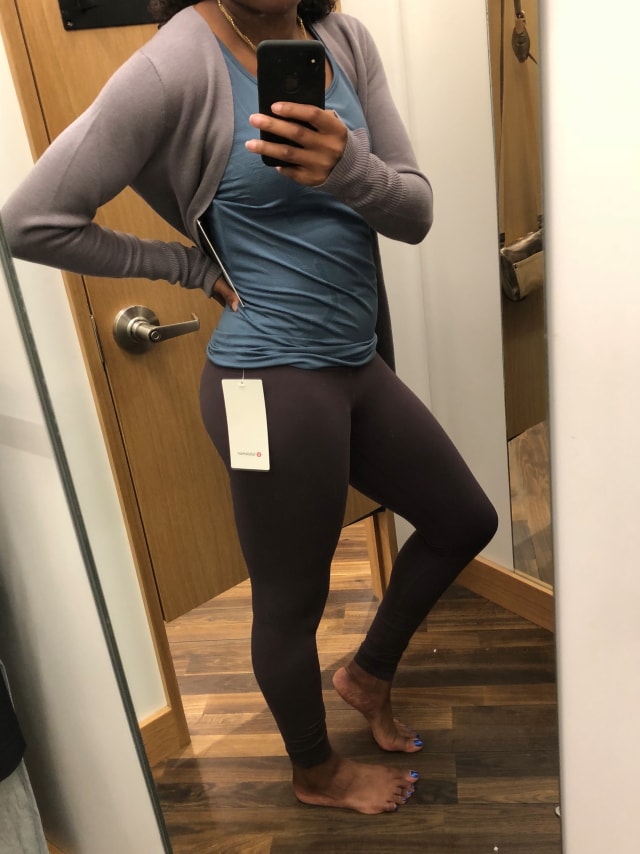 As pictured, these are a few of the pieces that I loved during my VIP Fitting Session with D:
---
BATH & BODY WORKS
My last stop was at Bath & Body Works at the Anchorage 5th Avenue Mall. I'm usually one to go into a store, get what I want and check out.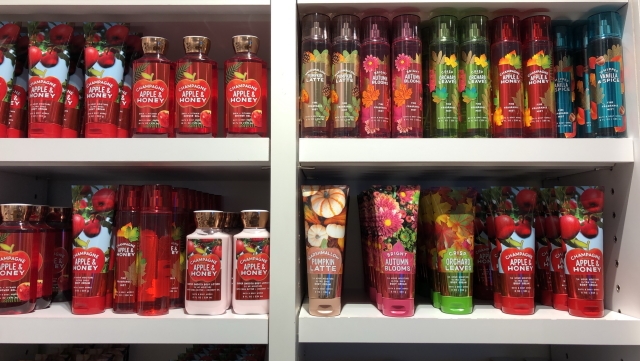 This time, Cody the store manager gave me the layout of the land. From candles, lotions, and soaps to essential oils, wallflowers and facial masks.
I was thrilled to see so many products that I've often overlooked. In Cody's words, "There is something for everyone [at Bath & Body Works]."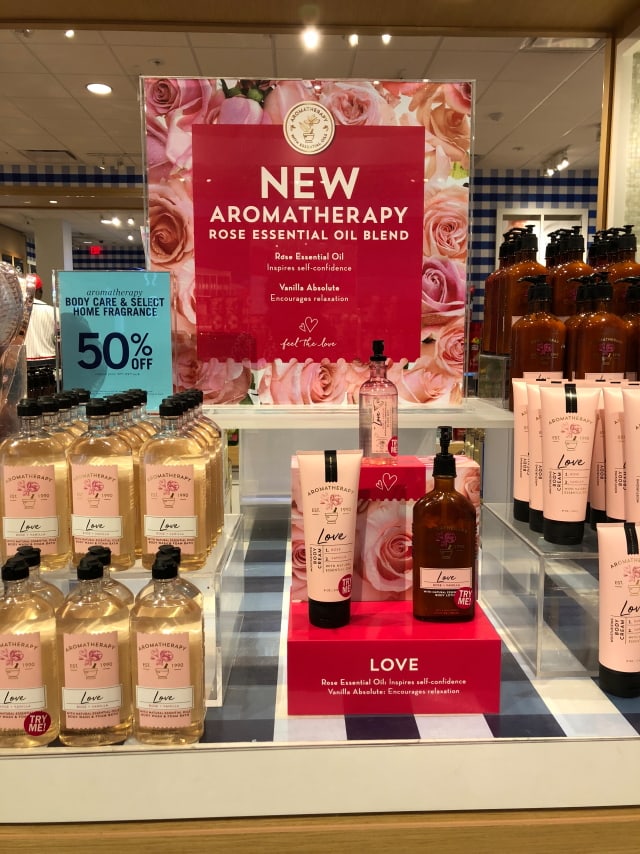 Ashley, one of their blue apron specialist, was the jolliest and bubbly person I've seen. Her passion and excitement about Bath & Body Works will rub off on you.
With how passionate Ashley was about Bath & Body Works, it was difficult to resist the temptation to get everything she recommended. Don't believe me? Ask for Ashley on your next visit to Bath & Body Works at 5th Avenue Mall Anchorage.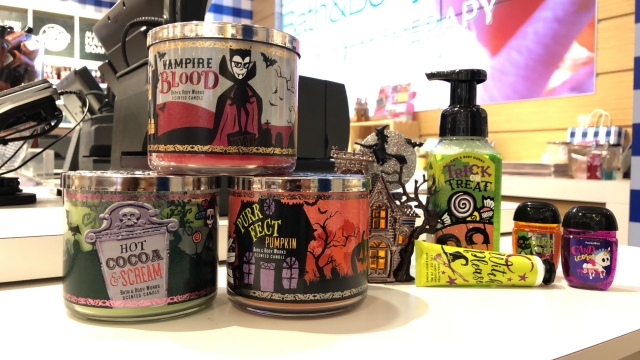 I also got to preview Bath & Body Works Halloween collection for this year. My eyes lit up when I spotted their Halloween-inspired wallflower. Before I left the store, I snuck in a quick selfie with Cody. Yup, the staff is cool like that 🙂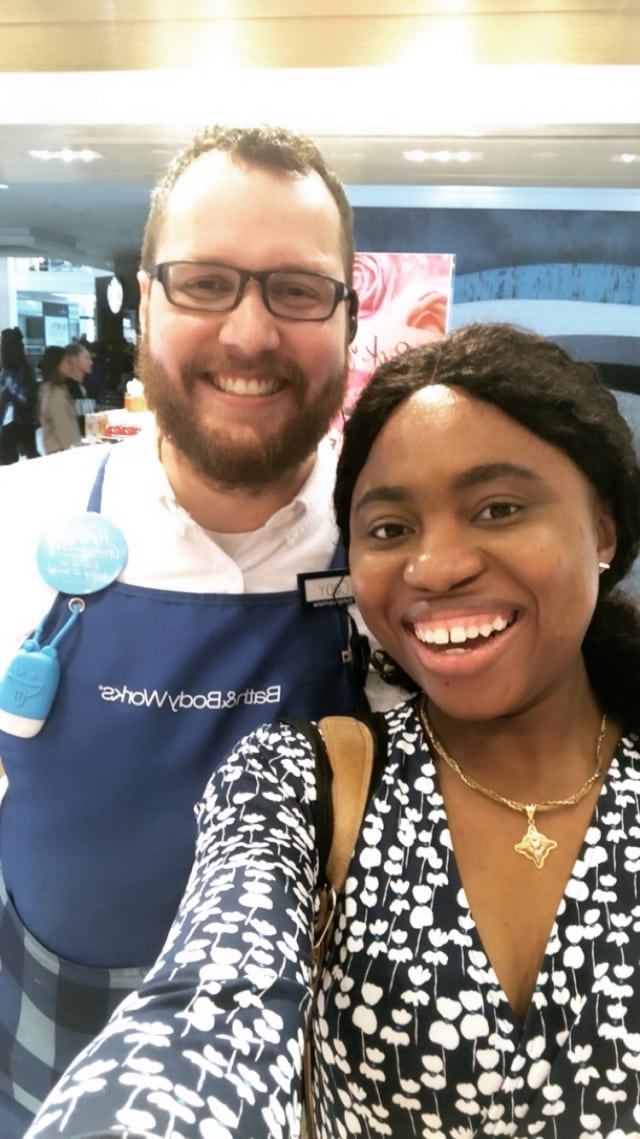 I left with a bottle of Lavender 3-in-1 Aromatherapy Essential Oil and Cocoshea Intense Moisture Body Butter. I've used the essential oil blend? A few nights already. And the body lotion almost every.single.day since my return back from Anchorage.
---
BACK HOME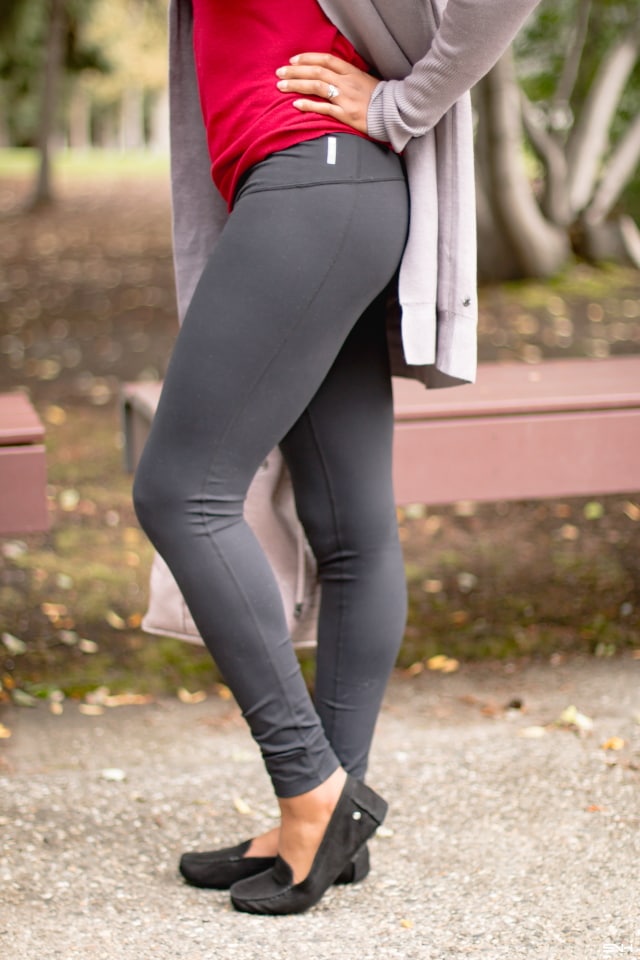 Back in Fairbanks, I captured this outfit wearing my Lululemon cardigan. The weather here has been a little chilly and rainy with temperatures hovering around 65 degrees. We are indeed in sweater weather season now.
I paired the cardigan with my new wardrobe staple, the Zella leggings and UGG loafers (currently on sale). The Zella leggings is a best-seller on Nordstrom.
If you're looking for a no-show, thick, medium compression leggings, I highly recommend this Zella leggings. This stretchy and figure-sculpting leggings is made of sweat-wicking fabric that keeps me cool and comfortable all day.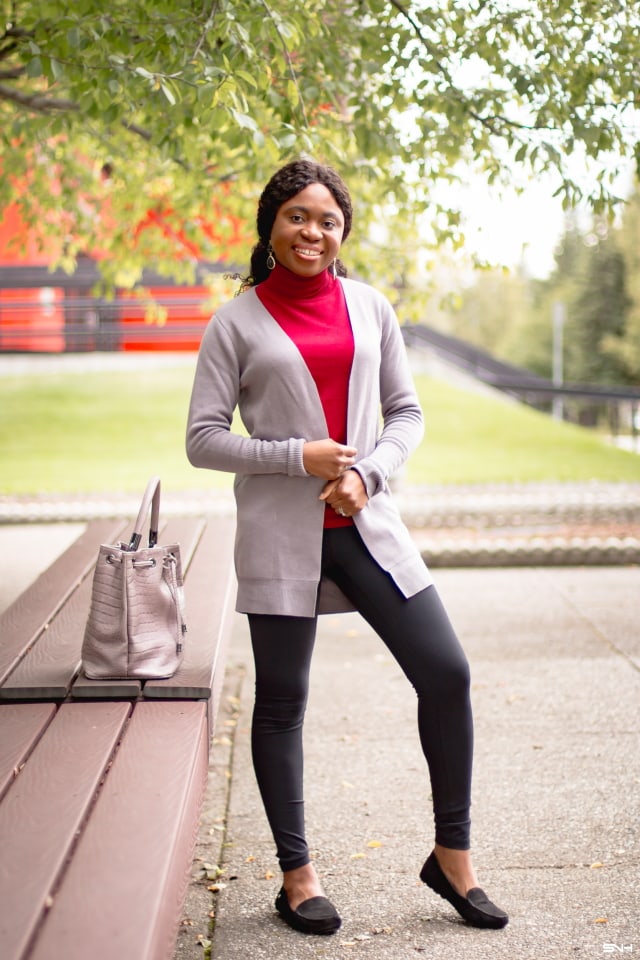 The UGG loafer flats is the also a top-seller on Nordstrom. It provides the ultimate comfort and support for your feet. It sold out fast during the Anniversary Sale. Luckily, many of the sizes have been restocked, and it is on sale, the Anniversary Sale price! Get it here.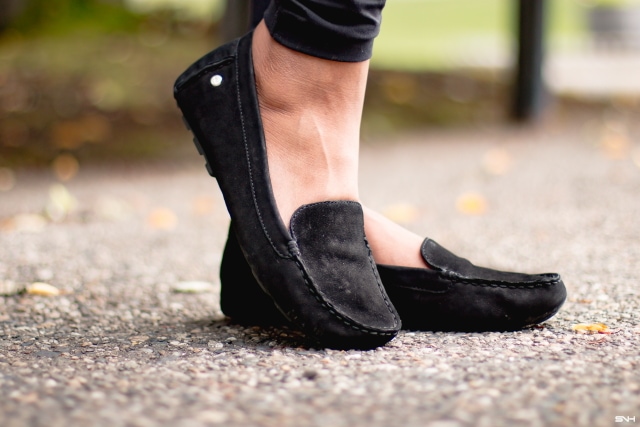 I loved it so much that I ordered the loafers in a second color. I know, it's that good! Can't wait to receive the burnt orange color I just ordered (again). Don't sleep on getting these super soft loafers. You can find both of these items at Nordstrom (also at 5th Avenue Mall in Anchorage).
I am wearing:
Cable Knit Sweater | c/o Lululemon Cardigan | High Waist Leggings | UGG Loafers (on sale) | Amrita Singh Earrings | Bucket bag (similar) |
Professional photos by SNH Photos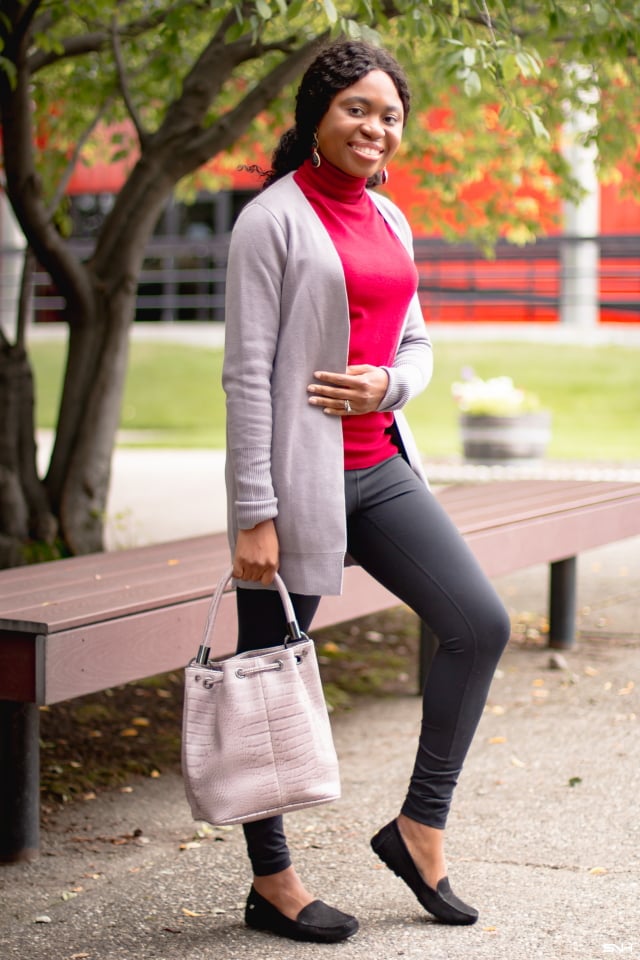 I've been to 5th Avenue Mall Anchorage several times over the years. There's always something new at the mall or retailer to visit. I can get everything I want and a bonus weekend escape from home.
For all your makeup needs (think prom, graduation, weddings and special events), schedule a makeup session at Sephora. For your athleisure and comfortable attires, Lululemon is a top pick.
And for fragrance upgrade for your home, car or pampering session Bath & Body Works at 5th Avenue Mall in Anchorage got you covered.
Anchorage 5th Avenue Mall is also a one-stop shop for locales and should be on your list if you're in Anchorage.
Thanks to Anchorage 5th Avenue Mall (a Simon Mall) and all the retail partners for hosting me. And as always, thank you for reading!
Click on image to shop

Interested in more Alaska-related topics? Check out these popular posts:
Thanks to Anchorage 5th Avenue Mall for collaborating on this post. All opinions expressed in this post are my own.