2 Simple Ways to Wear a Navy Floral Wrap Dress
This post may contain affiliate links which means I will get a commission if you make a purchase at no additional cost to you. As an Amazon Associate I earn from qualifying purchases. Please read my disclosure for details.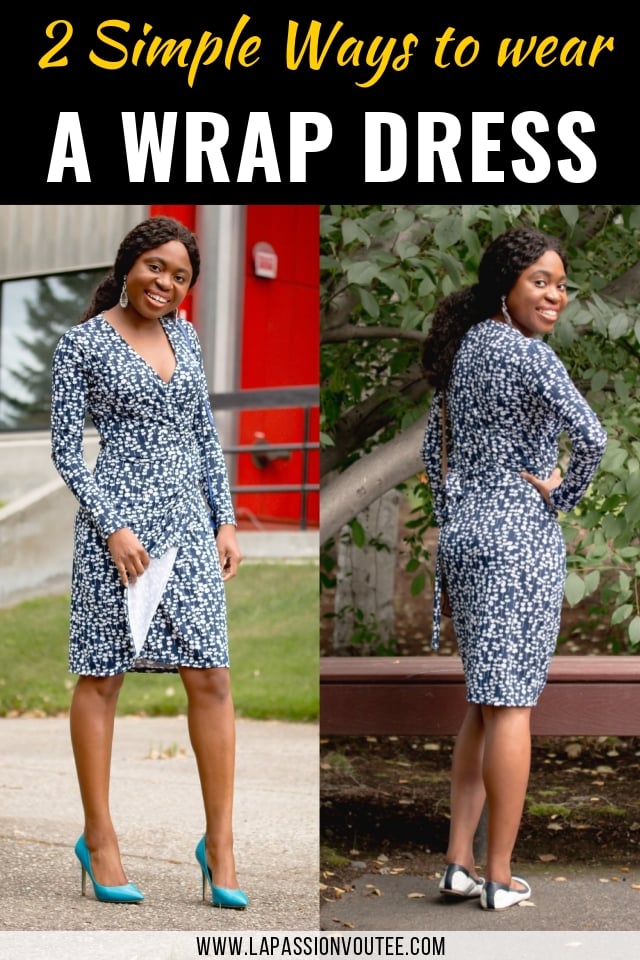 It's hard to believe that we've already exhausted the first week of September.
Outfit Details: Click on Image to Shop


I'll admit that fall is already here in Alaska. But after the heat wave I experienced in New Jersey, I can see why most people are still talking about summer weather. To this regards, I'm sharing two ways to wear a navy floral wrap dress today.
If you're like me, you want to maximize the wear-ability of individual pieces you have in your closet. This post will show you how you can easily transform this navy floral wrap dress from daytime to nighttime in no time.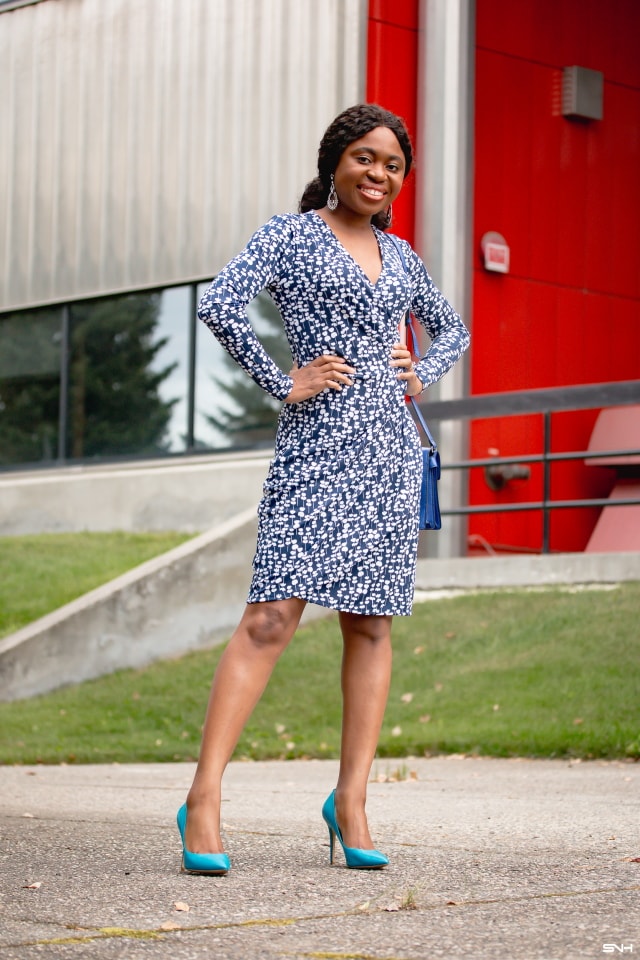 Would it surprise you if I told you that this floral wrap dress is from Amazon? I know, I know, it's insane! Who would have thought that a retailer known as the hub for books would become a destination for all-the-things including women's fashion? I didn't!
I'll be honest, I was a little skeptical of Amazon Fashion. I like to think of myself as a person who would choose to shop online than in-store more than 90% of the time. It is much more convenient to sift through an entire catalog of clothes and try them on at the comfort of my house than in a tiny change room.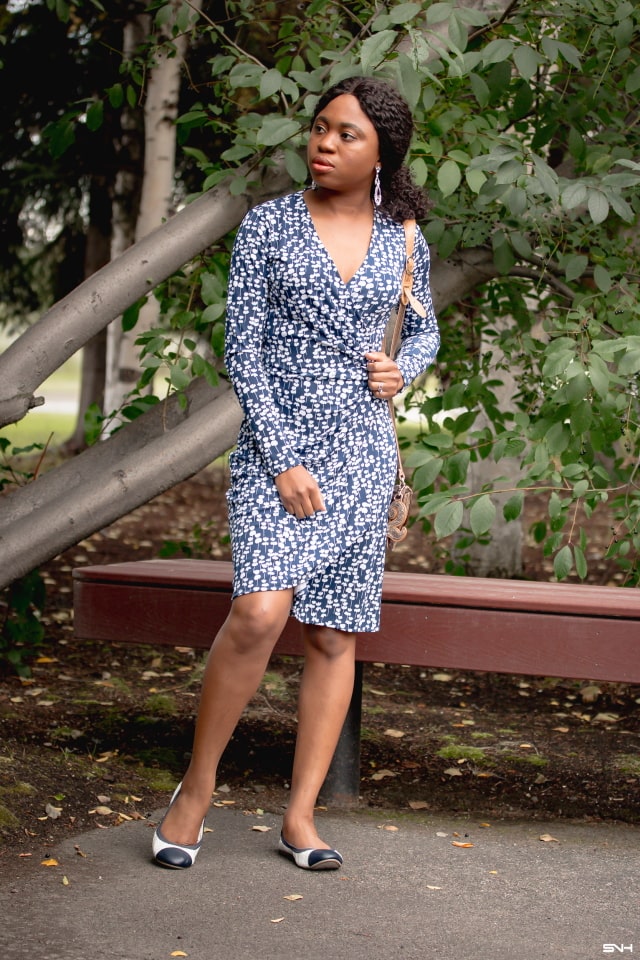 I've had more hits than misses shopping at Amazon. And this floral print dress is an example. Did you know that Amazon now has its own fashion brand for women, men, and children? And they carry plus sizes too!
This Lark & Ro navy floral wrap dress is a classic example of the unique pieces that Amazon label carries. The versatility of this wrap dress allows it to easily be worn for almost any occasion.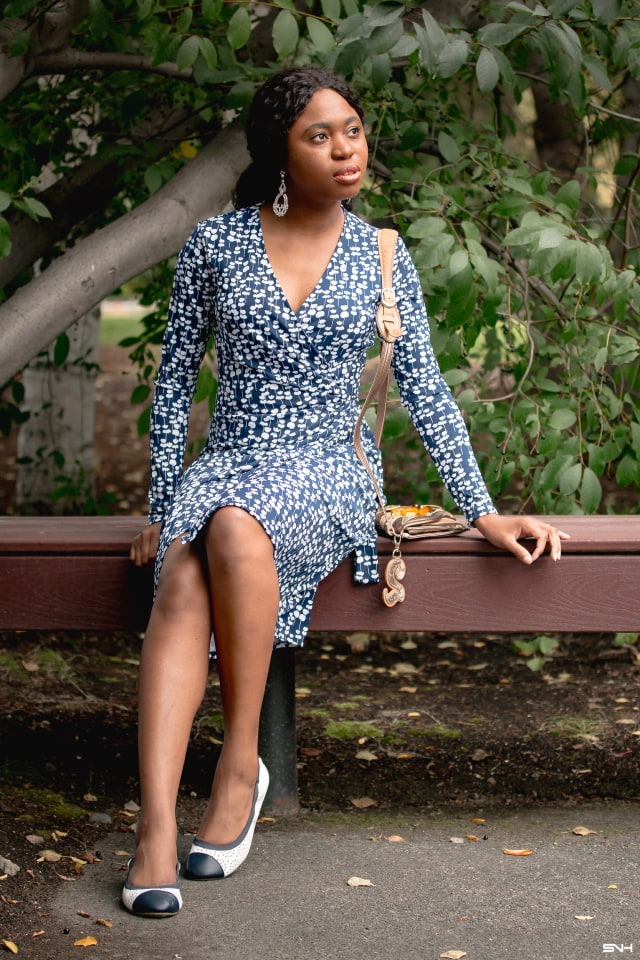 A timeless elevated essential that is figure loving and accentuates your figure? Talk about getting your money's worth. I can already picture 3 other ways to rock this faux wrap dress.
This Amazon wrap dress actually features a faux wrap design that is super stretchy. If you're looking for a dress that suits most sizes and body types, wrap dresses are the way to go. They almost always offer a perfect fit because of their flowy form.
For reference, I am a size 4. 130-ish lbs, 5"5, and 8.5/9 in shoes.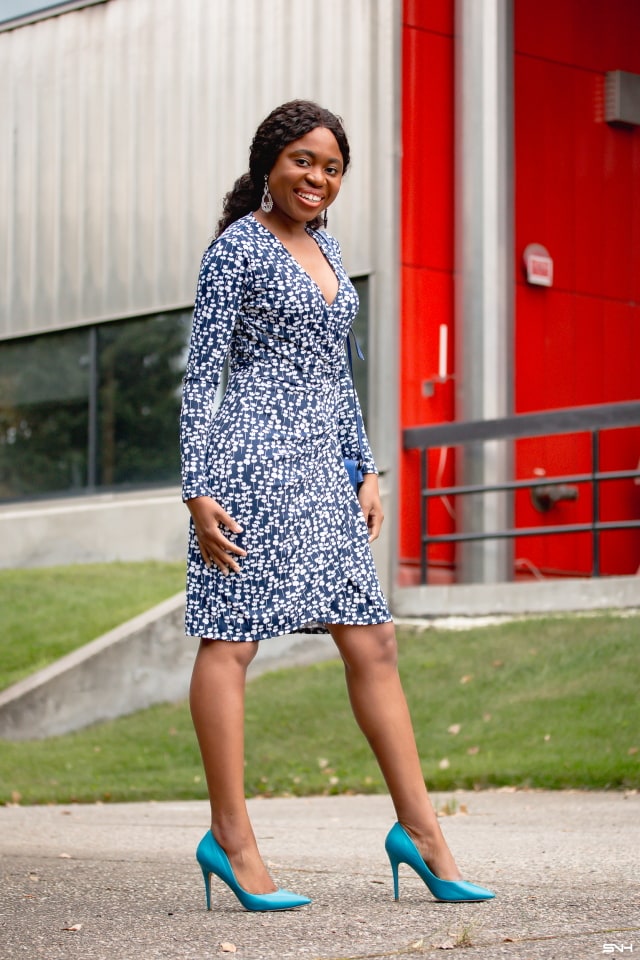 I ordered a size small, which fits true to size. This navy floral wrap dress is available in sizes XS through XL in 6 color options (solid and floral prints).
This beautiful dress is available via Amazon Wardrobe so you can try it for free from the comfort of your house. And you also get free shipping with Amazon Prime. You can learn more about Amazon prime here.
2 Simple Ways to Wear a Navy Floral Wrap Dress
Although I love dressing up, sometimes I'm more interested in a simple and laidback look. For this outfit, I kept my ensemble super simple and practical for everyday activities like running errands.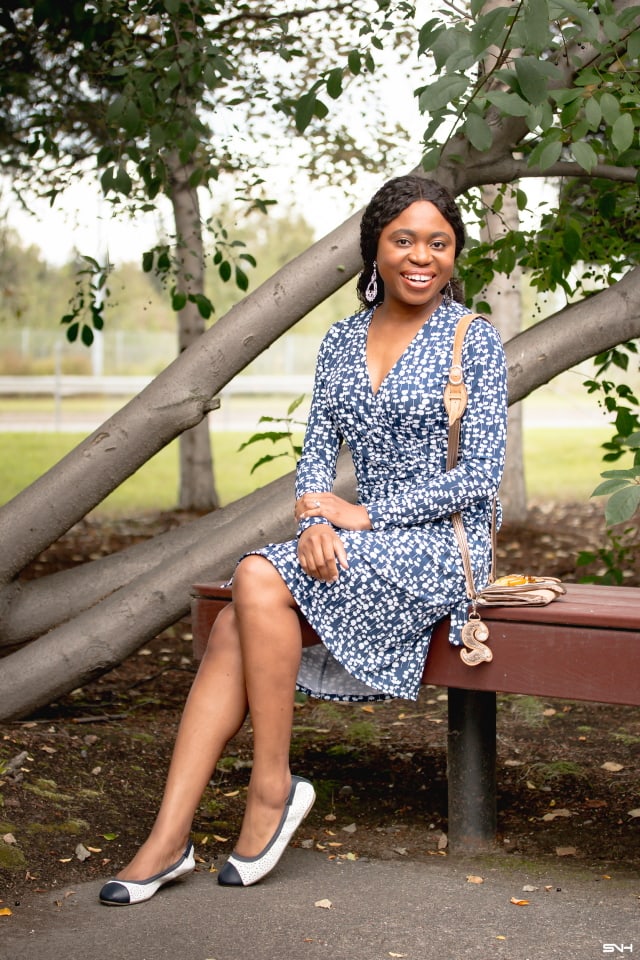 For a day-to-day outfit like this, it is vital for me to be comfortable on my feet. I paired this navy floral wrap dress with a pair of scrunchies that I also bought from Amazon (surprise! surprise!!).
This flat has two layers of memory foam insoles and a flexible footbed. These features make this scrunchy shoe an obvious choice for convenience on almost any day. The perforated detail creates the illusion of floral patterns that match the faux wrap dress.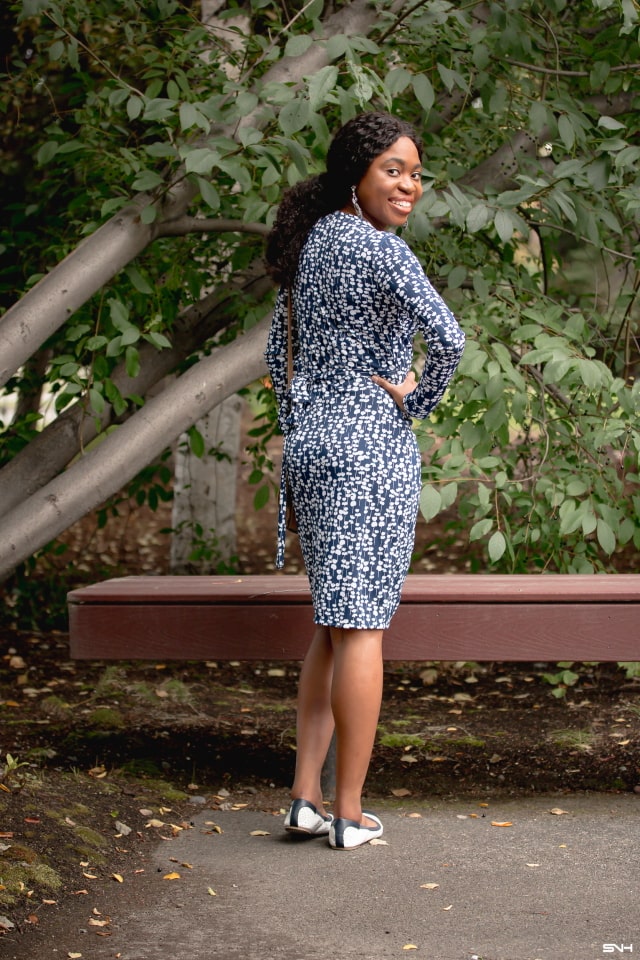 I got this flats for $20, but it is currently on sale for $10!! Get this shoe while you can on the sale price. The shoe is available in 5 different solid and combination colors.
I completed this daytime look with a pair of lightweight chandelier earrings and a crossbody bag to hold my essentials.
I am wearing:
Crossbody bag (similar)
Lark & Ro wrap dress (exact)
Amrita Singh earrings (exact)
Dexflex scrunch flats (exact + on sale)


For the second look, I pulled out a pair of classic heels. Platform shoes, sandals, and pumps make it easy to transform a look from day to night.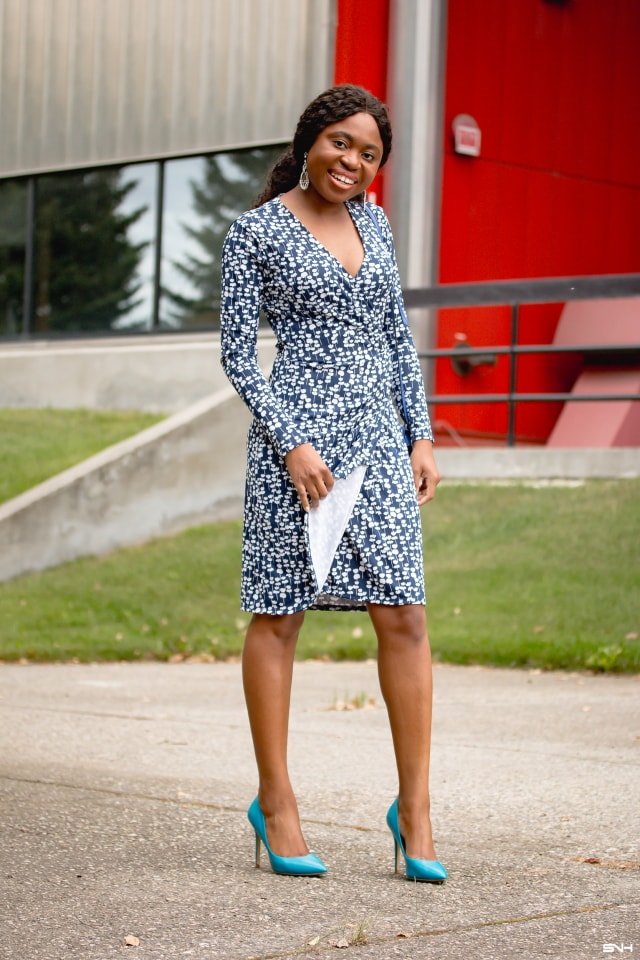 Staying away from the matchy-matchy look, I opted for a lighter shade of blue heels. If you look at the fabric, you will notice that the wrap dress also has the same light blue color from the shoes. It is a less dominant color.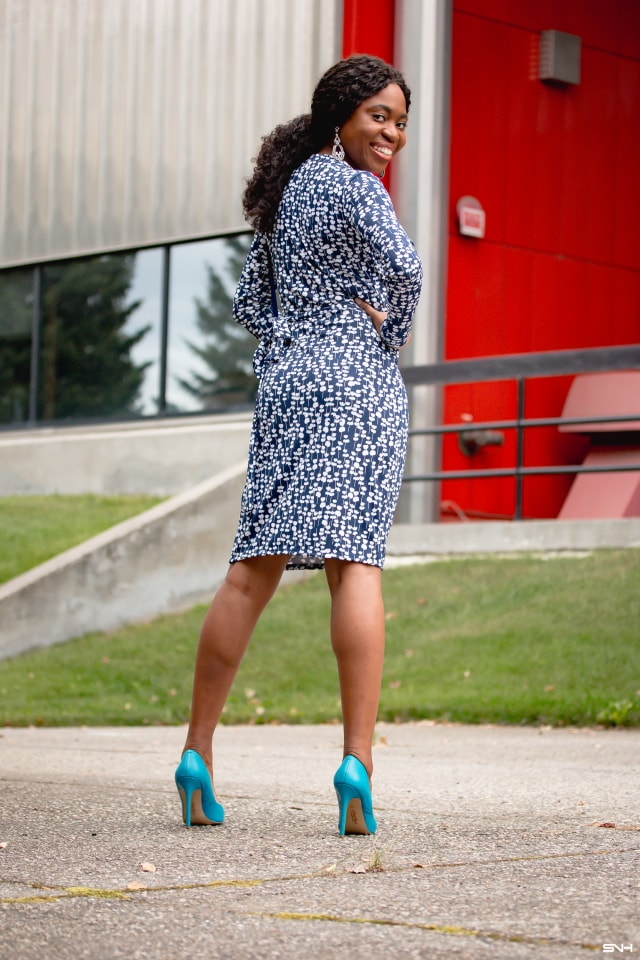 My stiletto pumps by Charles David is an oldie, but you can find similar options from Nordstrom and DSW on sale. As always, thank you for reading!
I am wearing:
Shoulder bag (similar)
Classic pumps (similar)
Lark & Ro wrap dress (exact)
Amrita Singh earrings (exact)


Your turn! How would you style a wrap dress?
MORE WRAP DRESSES FROM AMAZON
Interested in more fashion posts? Check out these popular posts:
PIN FOR LATER!