Mustard Yellow Sweater Outfit | 15 Unique Yellow Sweaters This Season
This post may contain affiliate links which means I will get a commission if you make a purchase at no additional cost to you. As an Amazon Associate I earn from qualifying purchases. Please read my disclosure for details.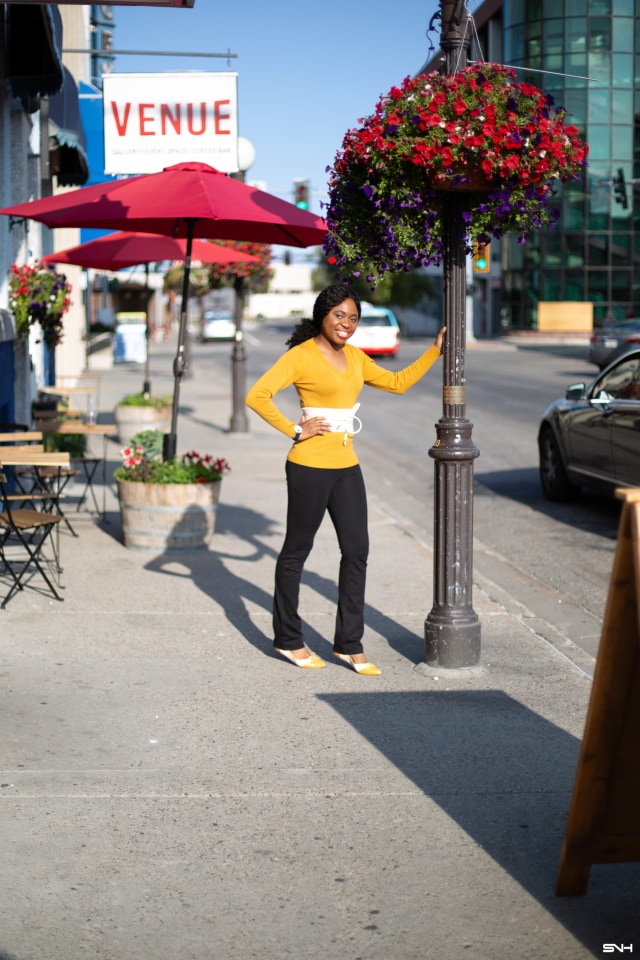 Happy new week, friends. I'm always in awe of how fast this month has jetted by. So many people stay away from yellow outfits because they find it too bold or too difficult to style. Today, I'm styling a simple mustard yellow sweater outfit for you.
Click on image to shop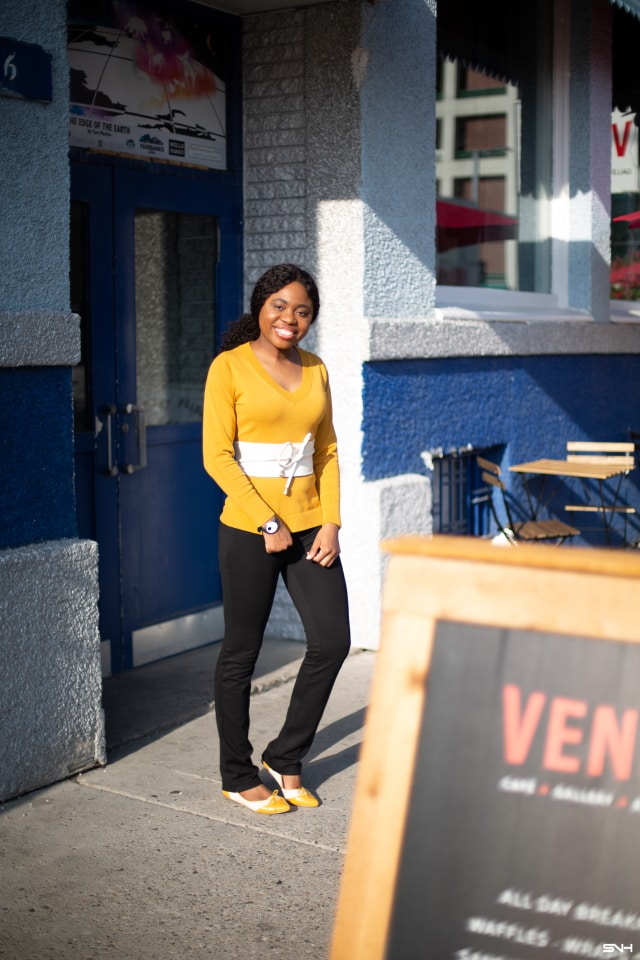 As we head into fall, yellow, orange, brown and red outfits are prominent colors of fall and the holiday season. This mustard yellow sweater outfit is appropriate for casual outings like work, school, and Sunday service. And most importantly, it'll keep you warm as the weather transitions from summer to fall.
I always get asked about my favorite color. To be honest, I can't pick a favorite, at least not yet. Generally, I gravitate towards bright colors. But, I also go through phases where all I wear are darker shades or neutral color.
I hear it's like my personality, quiet and chill when I meet someone for the first time. Then I warm up and my bubbly and energetic personality jumps out.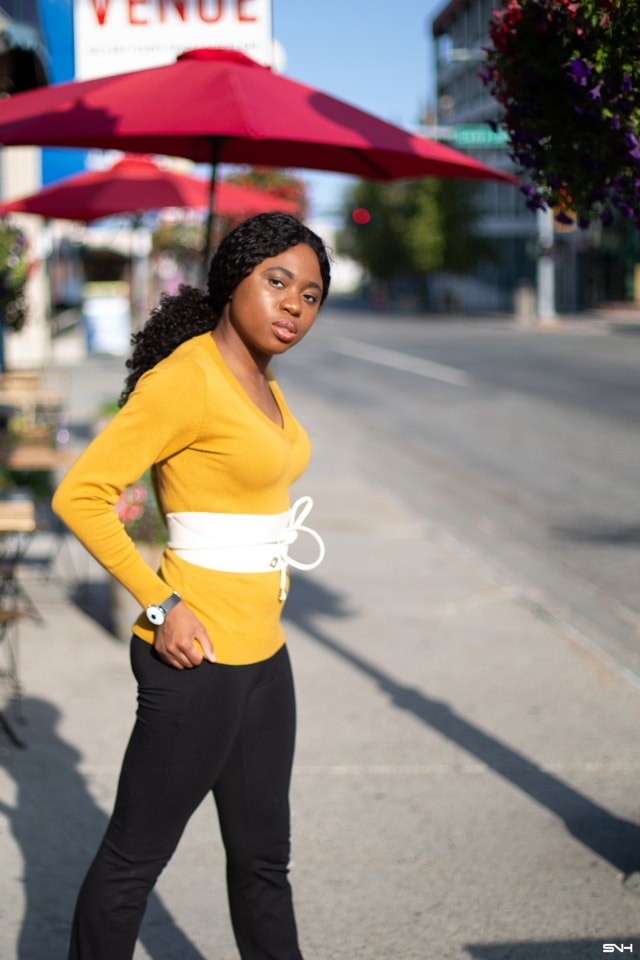 This mustard yellow sweater was an accidental love at first sight. I was scrolling through the sweater department on Amazon Fashion and decided why not? So, I bought it. I received the sweater and absolutely loved it. The sweater even made my list of Best Purchases of 2017!
Up until now, I thought the pullover sold out. I just checked, and it has been restocked. Now, you can get this soft knit sweater in 17 different colors.
For reference, I am a size 4. 130-ish lbs, 5"5, and 8.5/9 in shoes.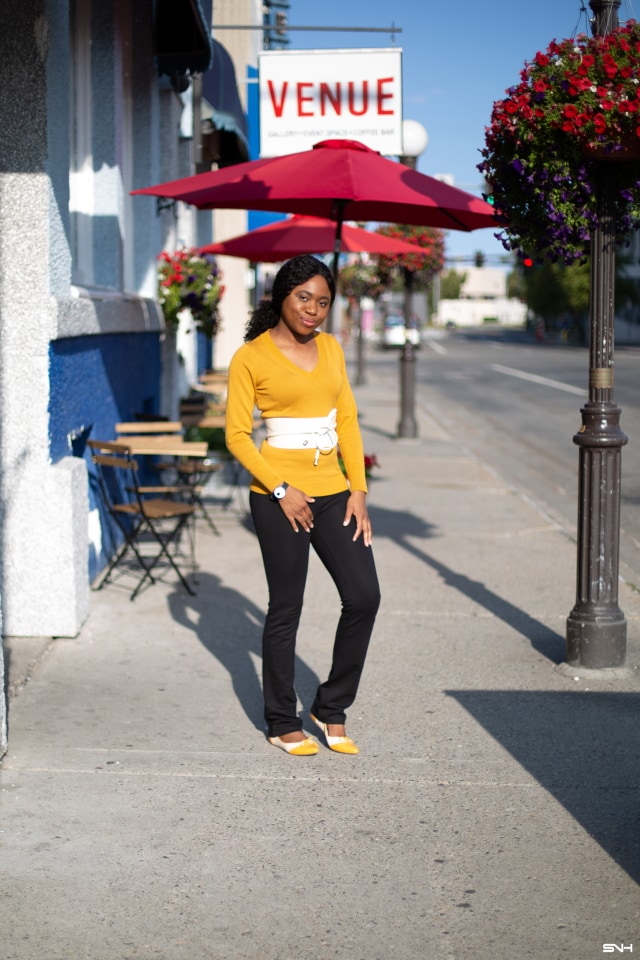 I love the v-neck cut and ribbed cuff of this yellow sweater. I've worn it a few times with the cuff pulled up for a three-quarter sleeve, and it snaps back in place without stretching out 🙂 This knit top is cozy and incredibly versatile.
And let's not forget how affordable this sweater is! Depending on the color and size you order (oh, Amazon!), you can get this sweater for $16 to $24. Not bad right?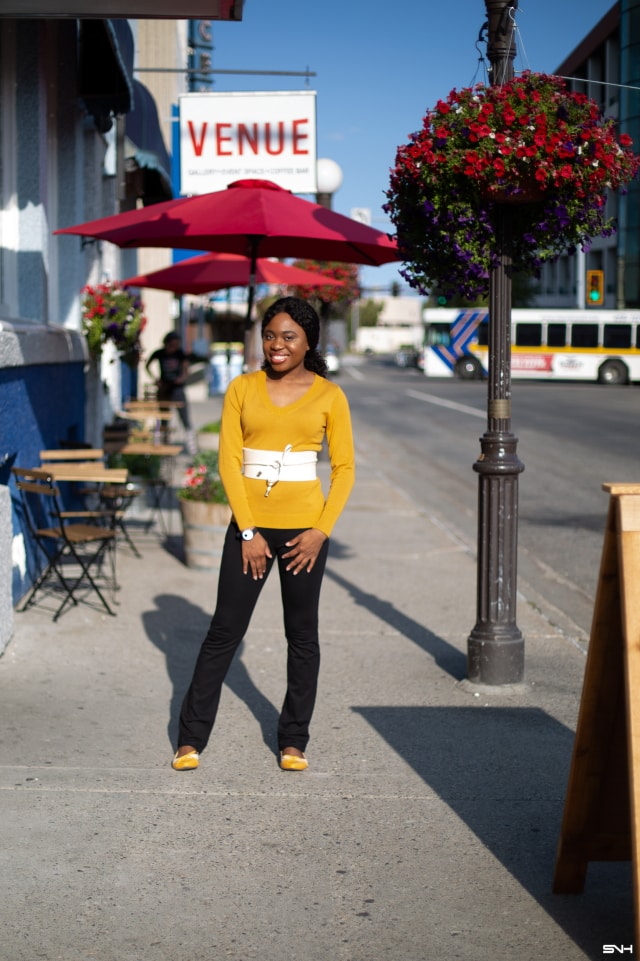 I decided to keep this look simple for this mustard sweater. I wanted to wear it a little differently than I had done before (as seen here). So, I traded the boots and 3/4 length pants for flats, belt, and full-length pants.
I thought about pairing the sweater with denim, but that seemed like an obvious choice. I also thought about wearing it on top of a dress shirt as a completer piece, but the weather was not cold enough as of the time of this shoot.
And because we already know that styling yellow clothes is already hard enough, I kept this outfit simple with a waist belt.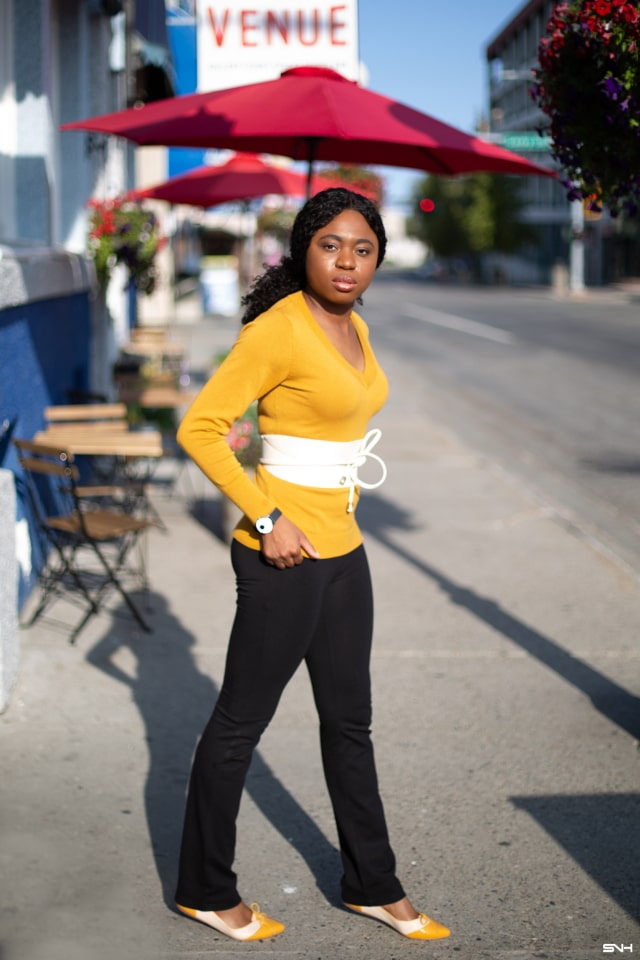 Here are some other ways to rock a mustard yellow sweater/cardigan outfit this season:
Pairing a long sleeve mustard sweater with a hat and riding boots

Combining a cable knit sweater with skinny jeans and a printed purse

Wearing a cowl neck sweater over a dress shirt paired with oxford flats

Going the cardigan route with a yellow sweater as a completer piece over a tee or tank top, skinny jeans, and ankle boots

Pairing a fitted mustard yellow sweater with black skinny jeans
Not sure where to get mustard yellow sweaters? Here are some affordable options available on Amazon.
MUSTARD YELLOW SWEATERS ON AMAZON
And here are 15 more unique knitwear from some of my favorite retailers.
Click on image to shop


These are the Betabrand yoga pants dress pants that I wrote about a few weeks ago. They are a signature product from Betabrand and sell out like pancakes. I bought mine on preorder, and it shipped out within two weeks.
At the moment, many of the sizes are on pre-order for petite, regular and tall. They have quickly become my go-to work pants because they fit well and are super comfortable.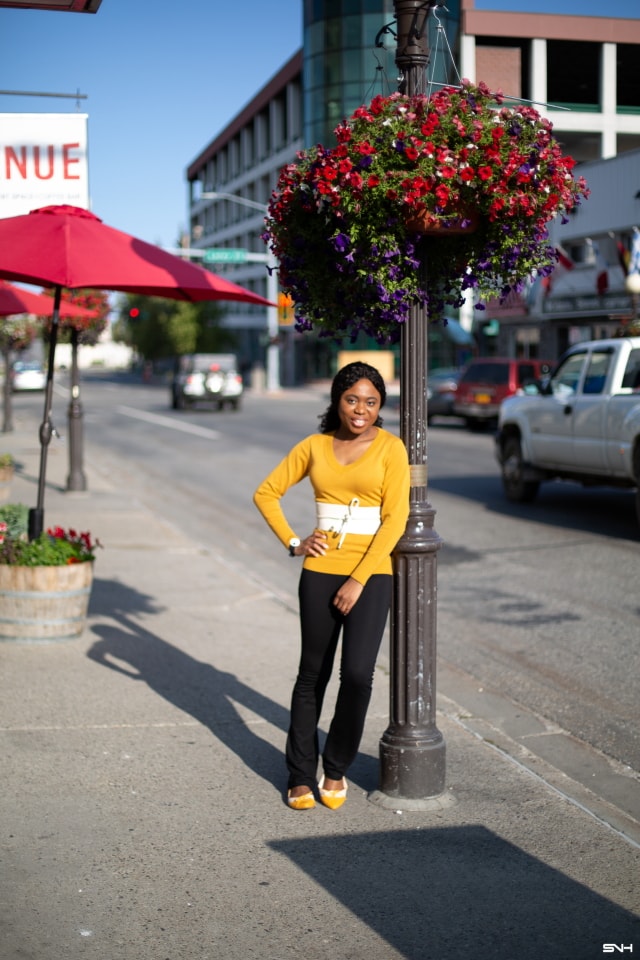 I wrote a detailed review of my Betabrand yoga pants dress pants. Today, I'm styling the second pair of pants I bought from their collection. It feels just as amazing as the tuxedo pants.
I've had a few coworkers obsess over the tuxedo pants than the dress pants version. However, if you're looking for a pair of classic black pants that are as comfortable as yoga pants, these pants has your name written all over it.
Also, my two-tone flats (similar) is from ModCloth. Unfortunately, it sold out a long time ago. The radiant mustard yellow and cream is a sweet treat for the dressed up casual outfit.
Moving on! I thought it would be fun to accessorize this mustard yellow sweater outfit with a cream colored obi belt. Cream complements yellow well and the combination with the black pants work great together.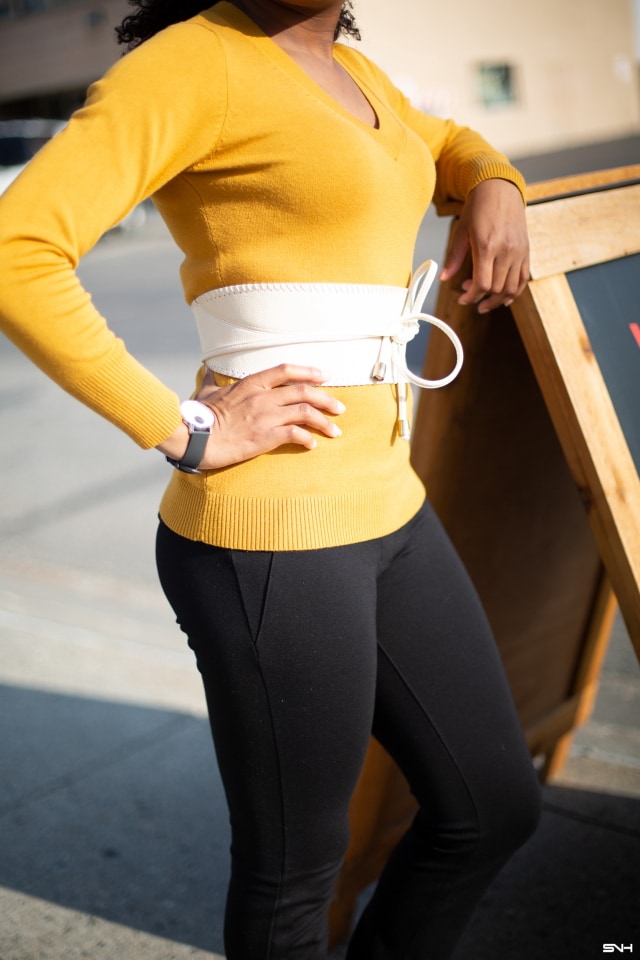 I bought this faux leather obi belt (similar) a few years ago. I've worn it many times over the years. I rely on pieces of jewelry, belts, scarves, glasses, and hats to spice up my outfit. This obi belt has excellent reviews and is on sale at Modcloth. And this a two-in-one reversible obi belt to give you more options.
Ok! That's all I have for this mustard yellow sweater outfit. As always, thank you so much for stopping by. Catch you on the next one 😉
I am wearing:
Nokia Activity watch (exact)
Faux leather obi belt (similar)
Yellow-cream ballet flats (similar)
Amazon Fashion yellow pullover (exact)
Betabrand yoga pants – dress pants (exact)

Photos by SNH Photos

Interested in more ways to rock sweater outfits? Check out these popular sweater outfit ideas:
PIN FOR LATER!