Day 28: Stylish African Print Dress
This post may contain affiliate links which means I will get a commission if you make a purchase at no additional cost to you. As an Amazon Associate I earn from qualifying purchases. Please read my disclosure for details.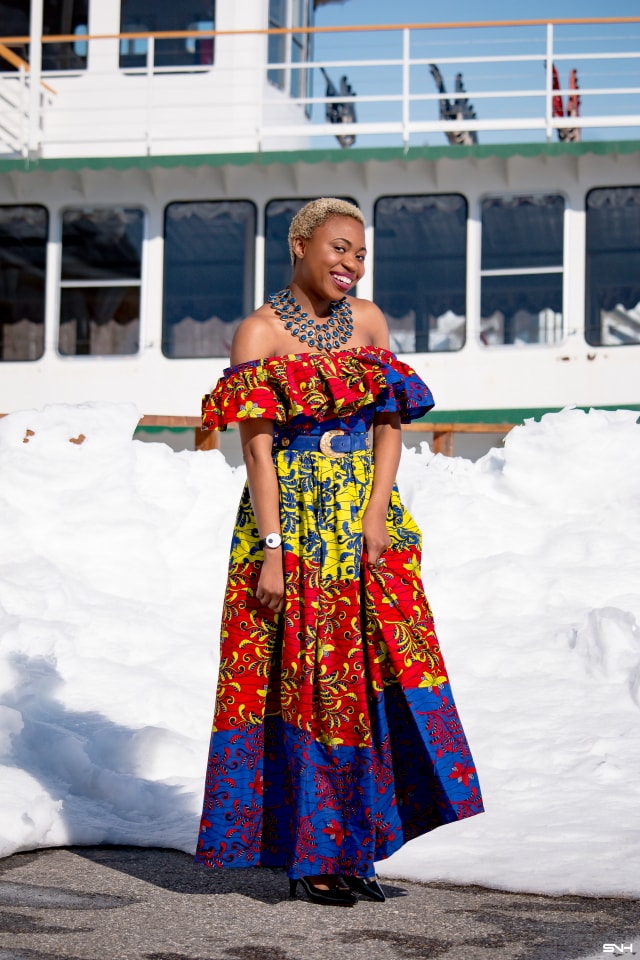 Happy Tuesday friends! I am super excited to share this stylish African print dress from day 28 of the African print series.
Shop The Look

I hope the scenery from this look is not a stark reminder of the impending arrival of fall in a few short weeks. At the very least, this realization holds true for Alaska.
I know, I know, winter is the furthest thing from your mind. But if you live in Alaska or in an arctic region you understand the struggle. Yesterday, warmest we got to was a sweat-inducing 59ºF! Let that simmer down for a second.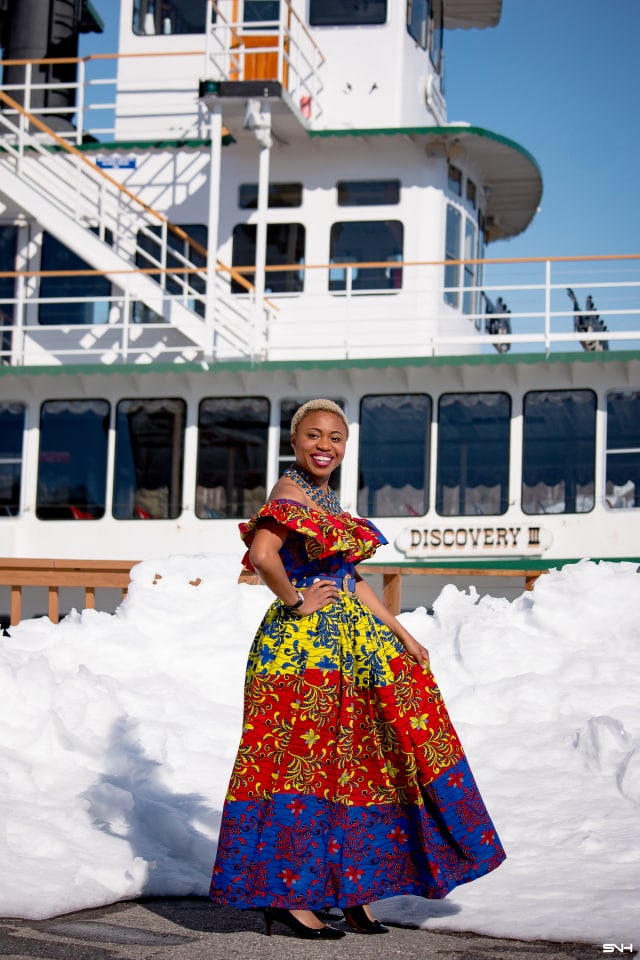 My sweet coworker teased me about sharing winter looks in the summer. she referenced our interview from a few months ago about Alaskan native fashion that I'm yet to share. Ha I'm hopeless!
Anyways, if you have not started preparing for sweater-weather, now's a great time. The Nordstrom Anniversary Sale is going on right now. It features amazing brand-new, wear now and later pieces and a greatly discounted price.
You can view the catalog, my Anniversary Sale picks, or simply shop the 2018 Nordstrom Anniversary Sale right now.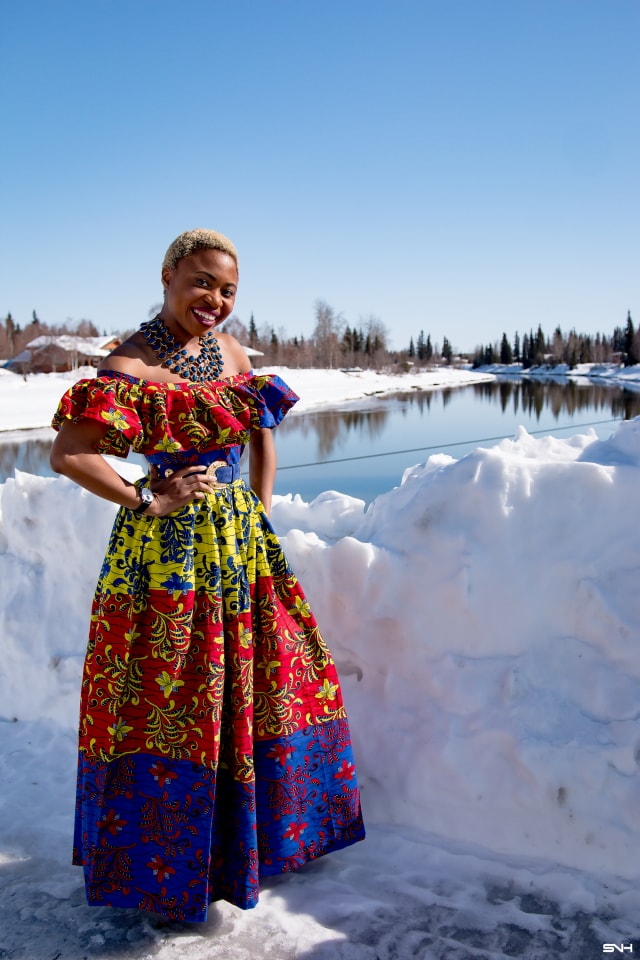 Combine the 2018 Nordstrom Anniversary Sale and the just concluded Amazon Prime Day (and a half) and we are talking Christmas in July.
I've had this thought on my mind over the past few days:
Social media and influences from those around affects the way we see ourselves. When you put yourself out there like I do through blogging, you'll inevitably run into jerks (whether you like it or not). Comments on your pictures like:
"You should have a better body to wear that dress"
OR
"The space between her teeth is like a football field" [ouch!] 
Will have you looking at your flaws rather than celebrating beauty.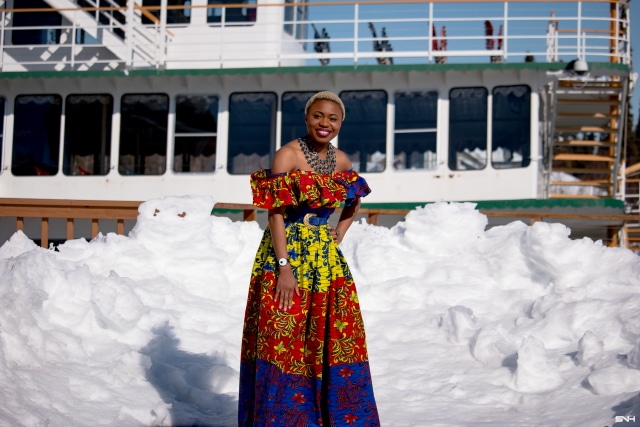 So something happened this past weekend. As I stood in front of the mirror dressing up, I silently muttered to myself,
"I like my body."
This was a shocker to me. It was the second time in a month that this thought crossed my mind. It made me wonder why we look for validation from outsiders about our worth. I'm still a work in progress and I'm happy with the person I am (and hope to keep it that way).
It is easy to say, "Louisa you can say that because you're a size 0."
I'm actually a size 4. My point is, it all STARTS.FROM.WITHIN. Inner confidence. Self-worth. Self-love.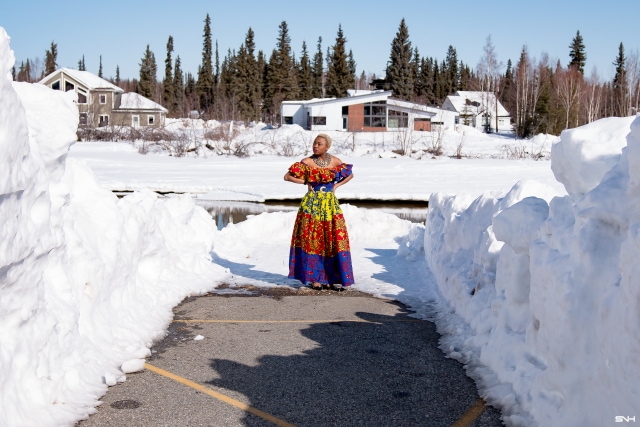 Ha! I've drifted off the subject of this post for a little too long. So lets get back into it. This spectacular layered African print dress is my Maggie Gold. This is actually the third piece from Maggie's collection that I've shared in this African fashion series.
I took this beauty to Nigeria in May. The ruffle off-shoulder detail creates the illusion of a more slender figure. Cinched at the waist and then full below the bodice. I sure felt like a tall drink of water wearing this African print dress.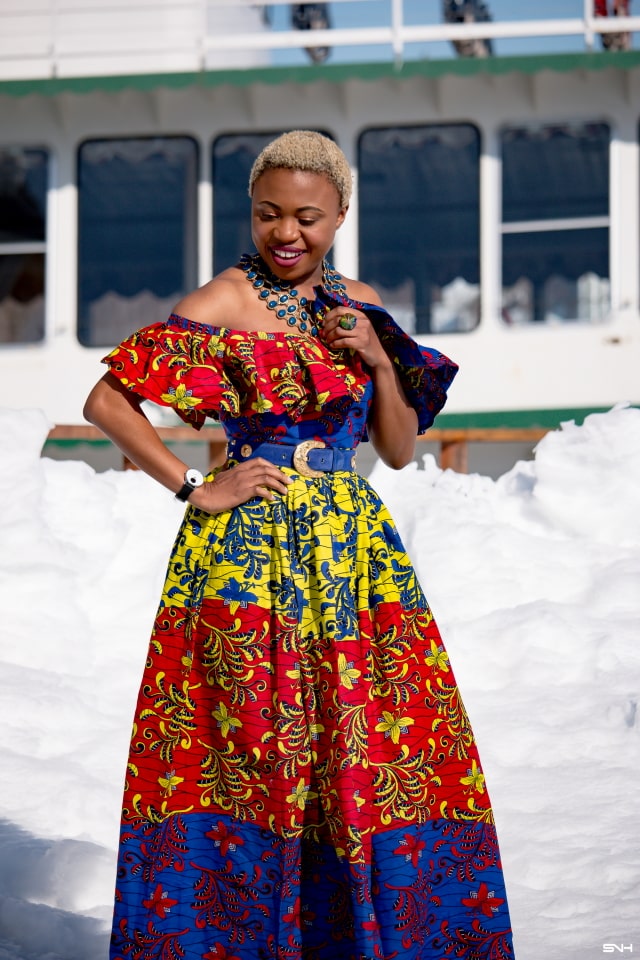 The yellow, red and blue layers of the fabric makes it look like an African print patchwork layered dress. Surprising, the layers were not made from patching different colored pieces together.
My guess is that this African fabric is popular. I saw someone wearing the exact fabric (different style of course) the same day I wore this African print dress.
I thought my Maggie Gold outfit was cuter though 😉 I also spotted the fabric at a fabric store. What's better? This dress and in this same fabric is still available from Maggie Gold! You can get it here. With African print, it can be hard to find a style you like in exactly the fabric you want.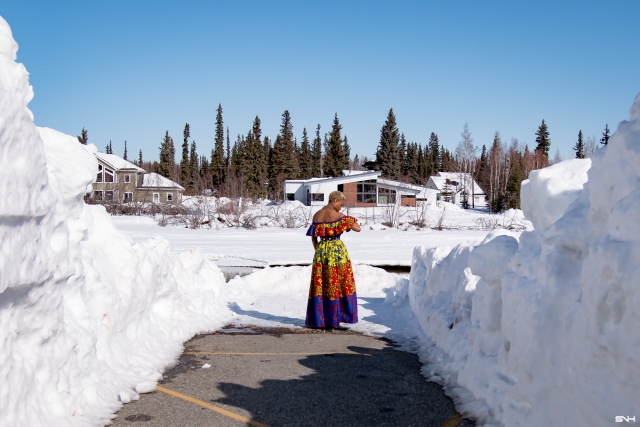 So if you like this breathtaking African print dress, don't sleep on it!
You can also check my Amazon Shop for a selection of affordable African print clothes and the latest Amazon Fashion pieces I've added to my closet.
A little warning, the quality of the African clothes on Amazon is not half as nice as the authentic pieces found on designers' websites and Etsy. I bought and really liked this dashiki fitted dress from Amazon for under $25!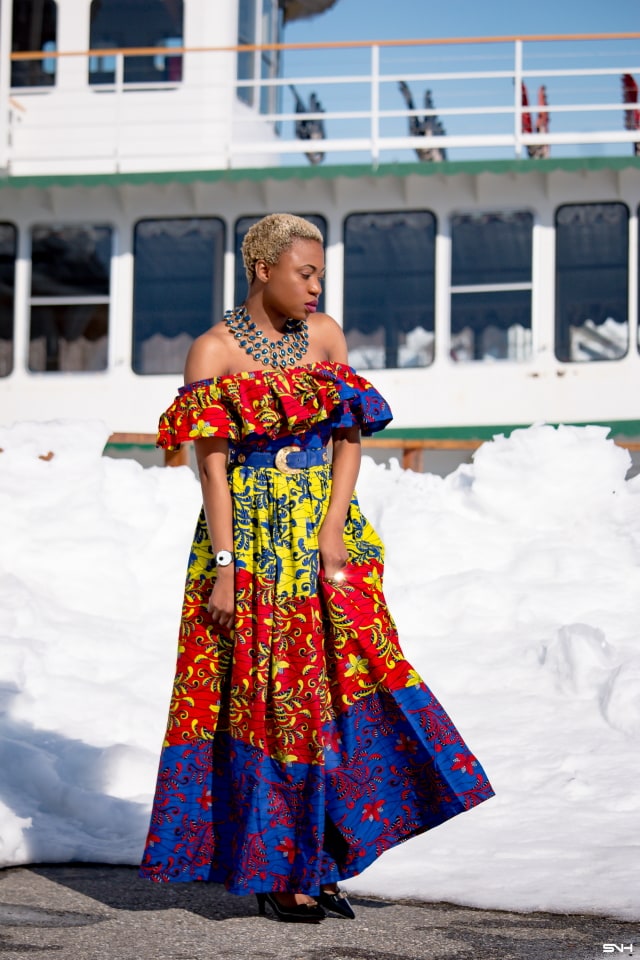 As always, thank you so much for reading! You can read a full spread of today's designer, Maggie Gold over here and here.
You may also like these posts: Day 27: Colorful African Print High Low Top | Day 26: Scuba Sheath Dress with Bell Sleeves |
I am wearing:
Chunky waist belt (similar)
Nokia activity and sleep watch (exact)
Amrita Singh reversible necklace (exact)
Kitten heels pointed toe pumps (similar)
Dress c/o Maggie Gold African print dress (exact)
Photos by SNH Photos
MORE AFRICAN PRINT DRESSES