Day 29: Breathtaking African Print Skirt
This post may contain affiliate links which means I will get a commission if you make a purchase at no additional cost to you. As an Amazon Associate I earn from qualifying purchases. Please read my disclosure for details.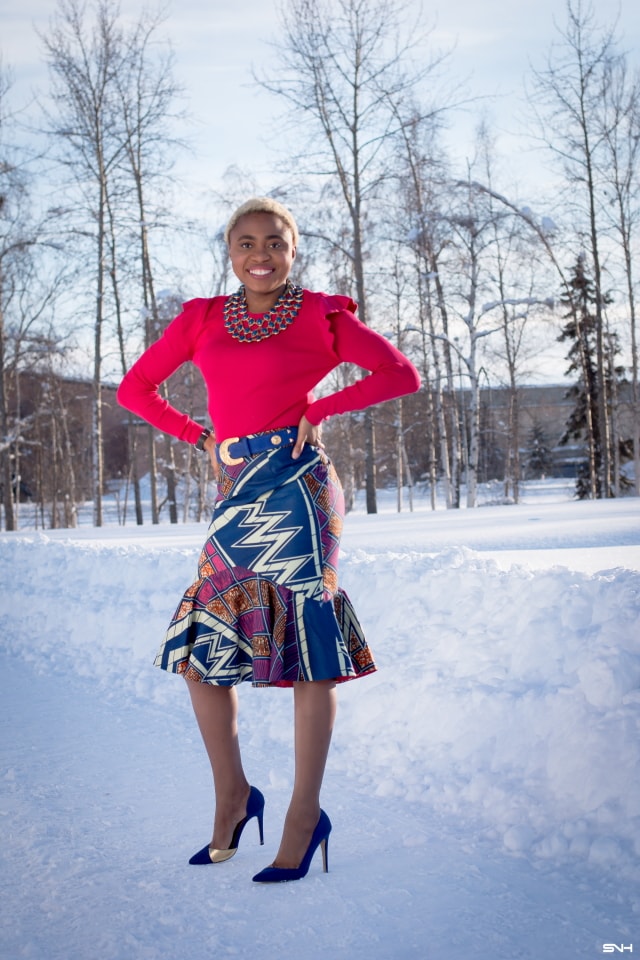 Did someone say Wednesday? I have a new African print skirt outfit for you today.
Click on image to shop

This is a continuation of my African print series featuring 30 unique African attire for women. 
One more look left to complete this series, say whaatt!! Today's African print skirt outfit was designed by a mom and daughter duo you are already familiar with. Simone and Delores of Lady Chang created this fabulous ankara print peplum skirt.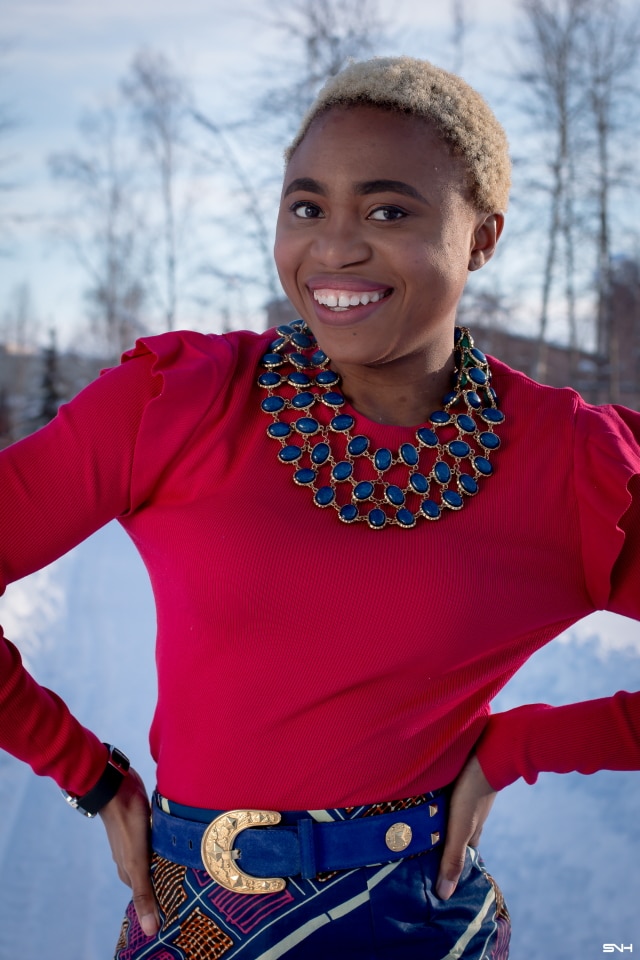 And if you this is your first time hearing about these talented ladies, you can get the scoop about them in these posts: Fashionable Ankara Print Duster Skirt and Preppy Ankara Printed Skirt.
This African wax print skirt features a knee length design that is flattering, modern and stylish. One thing I love about African skirts and clothing, in general, is that the pattern and color of the fabric play a significant role in the overall look of the finished product.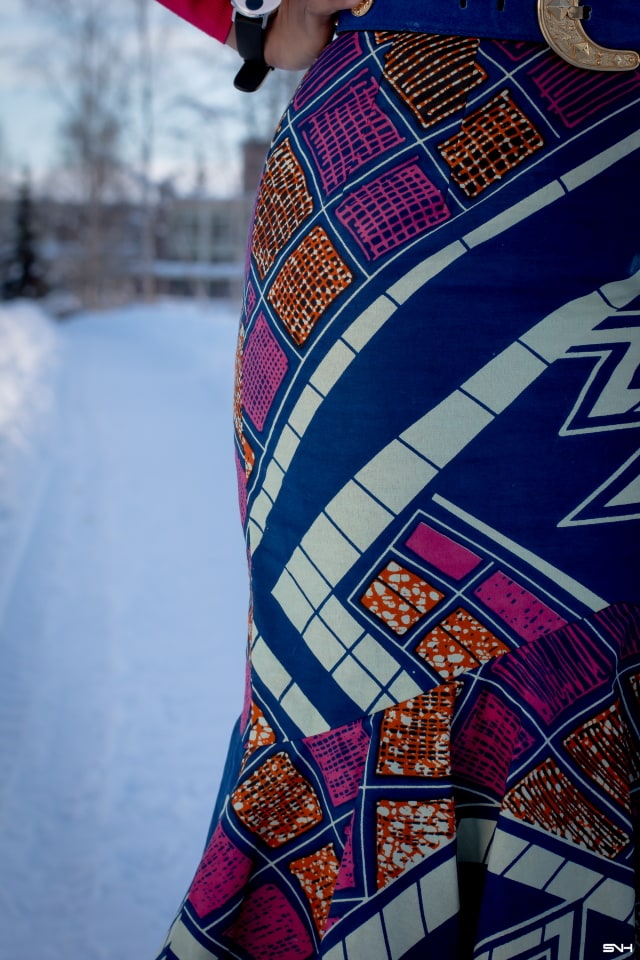 An African print skirt made with dark wax print material will look completely different than the same skirt made with a brighter wax fabric. I've noticed that designers put almost as much time into choosing an ankara fabric (or dashiki fabric) as they do in designing the clothes.
And this people is one of the major attraction I have with African outfits. So, let's cut to the chase. You can find this African print midi skirt and more stunning African dresses over at Lady Chang's Etsy Store.
HOW I STYLED THIS AFRICAN PRINT SKIRT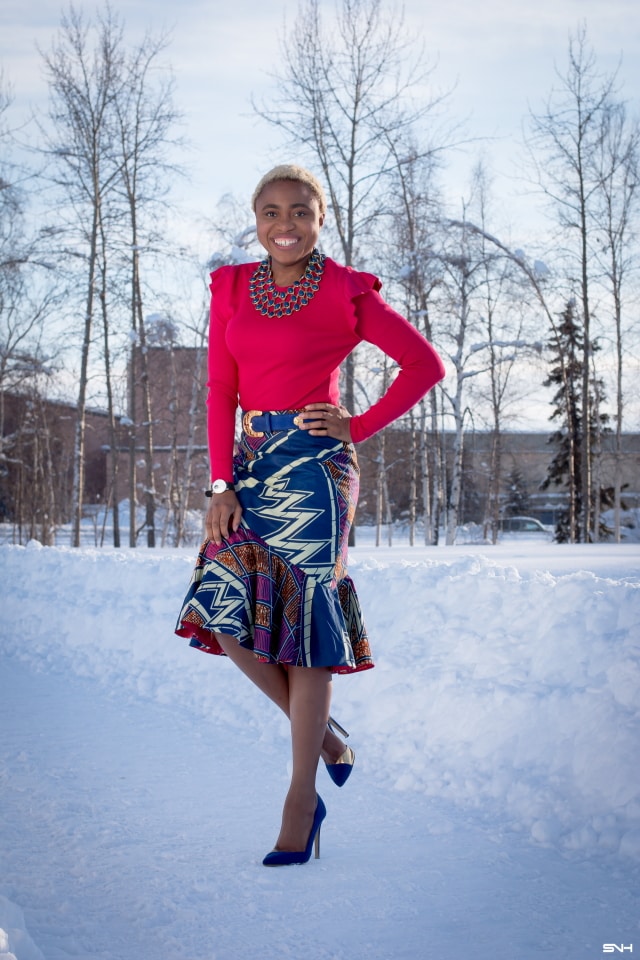 For this midi skirt outfit, I wanted to keep the focus on my Lady Chang skirt. I played off the pink and blue colors on the wax print. I opted for a long sleeve ribbed top (similar) because of the weather. A fitted short sleeve or tank top would look amazing with this skirt too.
For a seamless continuity between the ribbed sweater and flounce midi skirt, I cinched my waist with a blue and gold suede belt (similar). To avoid leaving my neckline bare, I reached for one of my all-time favorite necklace, Amrita Singh reversible necklace (exact).
This reversible necklace also has the same contrasting blue and gold colors like my belt and stiletto heels (similar).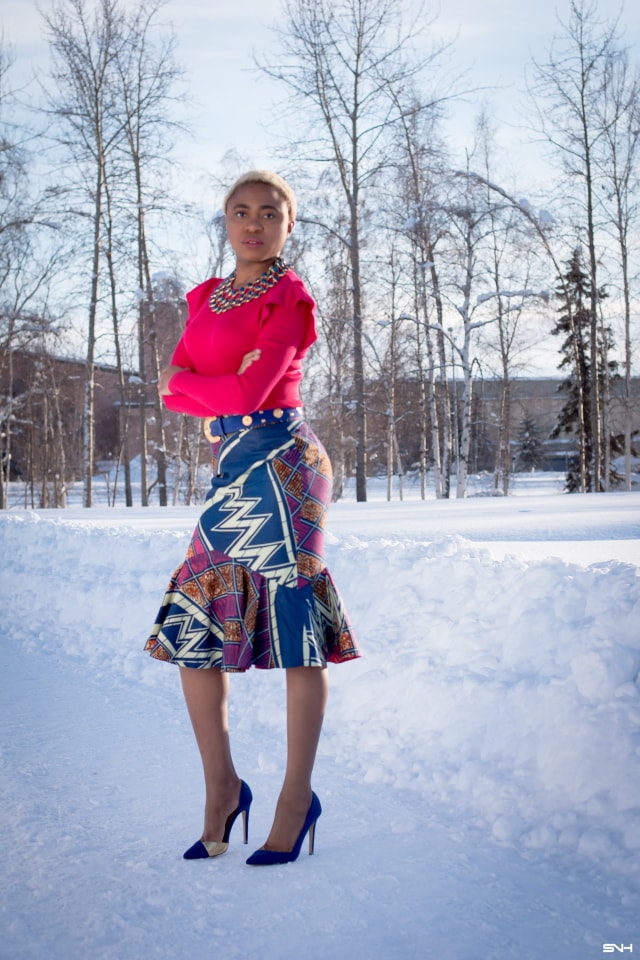 And that's it! The beauty of African clothes is that you can look great without being overdressed. The bold wax print alone takes your entire look up five levels. So expect to get lots of compliments on them.
Even renowned brands and stores like Aldo Shoes, Asos, and Stella McCartney have sold pieces made by or inspired by the beauty of African print.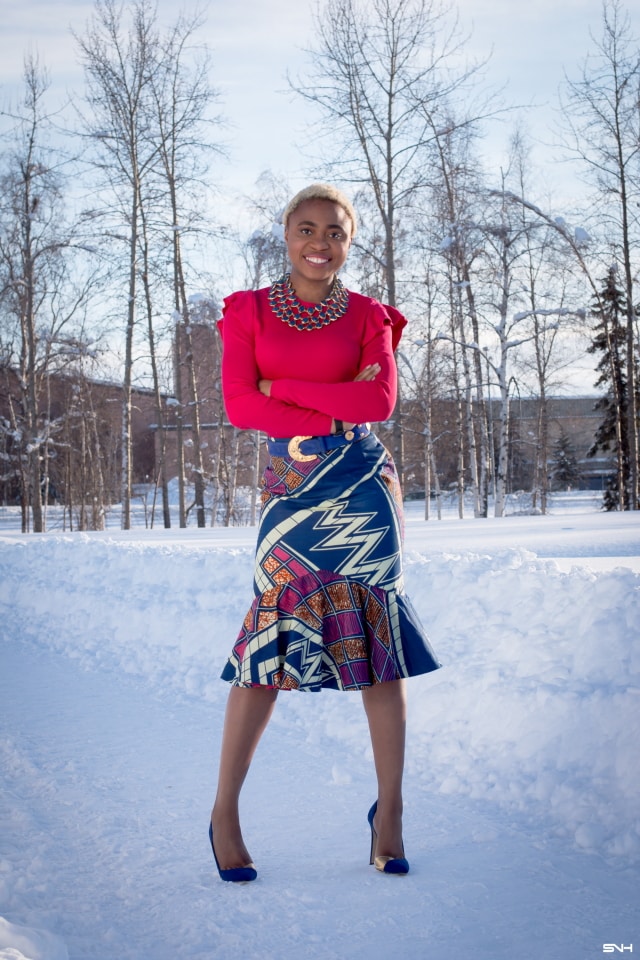 In truth, genuine African print skirts can be pricey, but that's to be expected for clothes that are handmade with love. If these bespoke pieces are out of your budget, I suggest saving up and investing in an authentic wax print style that you'll love for years to come.
WHERE TO FIND AFFORDABLE AFRICAN PRINT SKIRTS
However, if you're on the search for affordable African print skirts right now, Amazon might be your best best.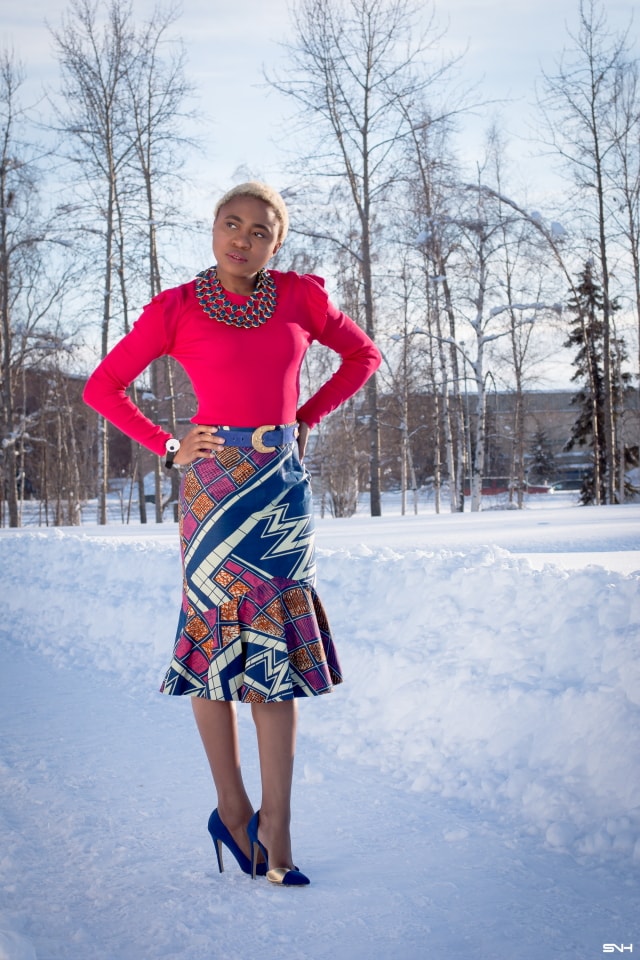 A word of advice, I've shopped for African clothing on Amazon and while the prices are unbeatable, don't expect to receive the same quality of products that you would receive from designers who use authentic wax print fabric.
I've found that most of the ankara clothes on Amazon are mass-produced in industrialized areas like China and made with polyester material. And polyester fabric does not have the same weight and substance as dyed cotton fabric.
AFRICAN PRINT MAXI SKIRTS ON AMAZON
That said, I've lucked out on a few occasions and purchased decent quality ankara clothing on Amazon. Here are a few top-rated African print skirts that you can find on Amazon:
AFRICAN PRINT SKIRTS ON ETSY
See below for genuine wax print skirts available on Etsy. Most of these styles are handmade by designers located in and outside Africa. I recommend contacting the seller for special requests or custom order. 

Discover more African styles from the 30-day African fashion series if you're craving for more :). You can connect with Simone and Dolores on Etsy or Instagram. As always, thank you so much for reading.
You may also like these posts: Day 28: Stylish African Print Dress | Day 27: Colorful African Print High Low Top |
I am wearing:
Waist belt (similar)
Reversible necklace (exact)
Blue stiletto pumps (similar)
Ribbed long sleeve shirt (similar)
Nokia activity and sleep watch (exact)
Skirt c/o Lady Chang ankara midi skirt
Photos by SNH Photos
MORE FROM LADY CHANG