Day 15: Trendy African Print High-low Dress + Bow Pumps
This post may contain affiliate links which means I will get a commission if you make a purchase at no additional cost to you. As an Amazon Associate I earn from qualifying purchases. Please read my disclosure for details.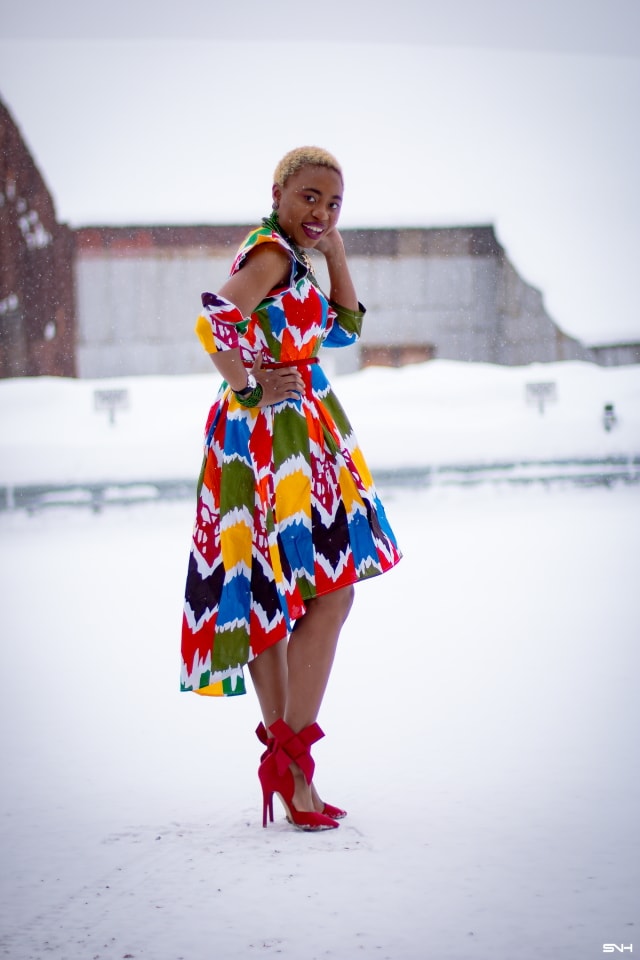 Hello gorgeous! We are officially half way through the African print series. Day 15 features another banging dress from Rahyma.
Shop The Look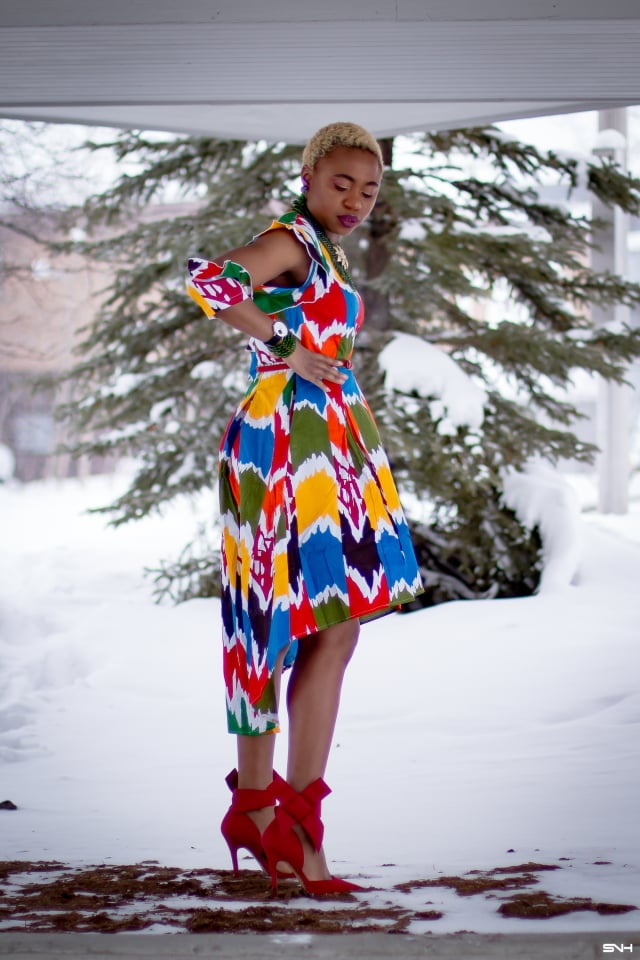 I've always had deep love for African print styles and designers that bring this beauty to limelight. This African print high-low dress is another sexy number from the same designer from day 10, Rahyma.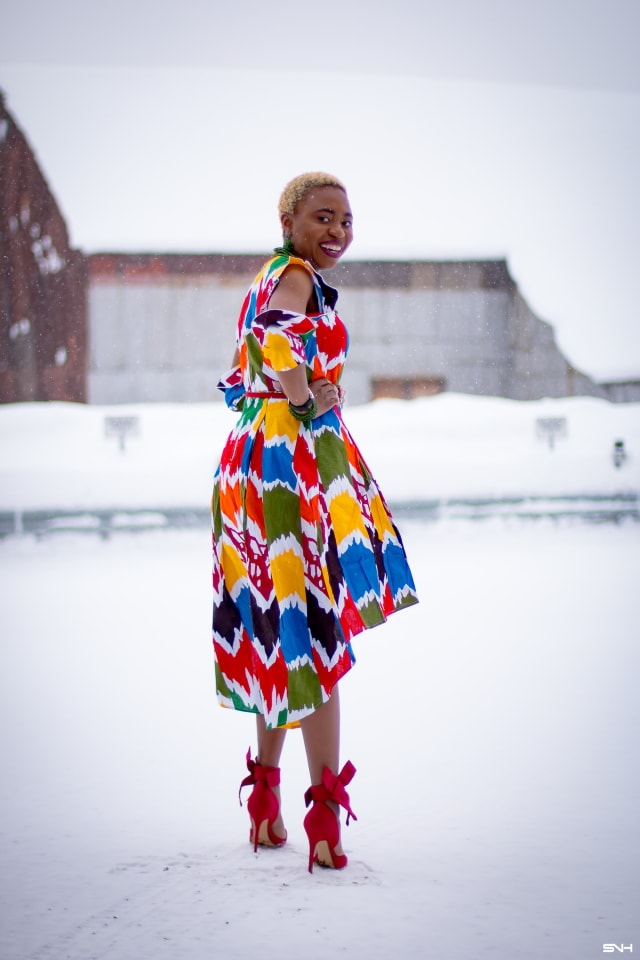 If you follow me on Instagram you've already seen this outfit. I'm a little behind on the blog posts since they take significantly more time to edit the photos, create the blog post content, optimize for search engine, create unique captions for my newsletter, Facebook and Pinterest. So thank you for your patience.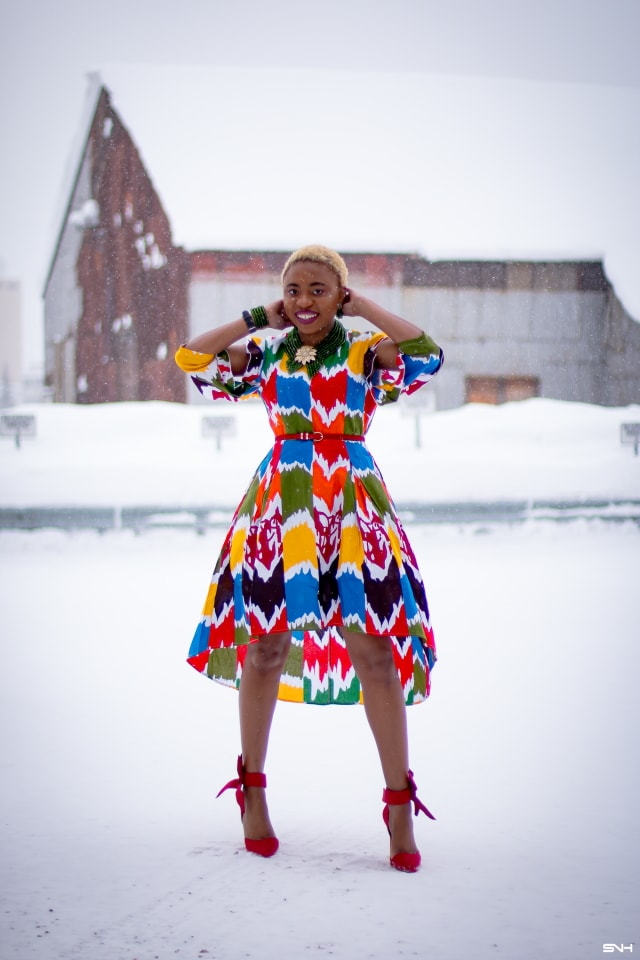 I shared all about the Rahyma brand in the post titled, African Print Wrap Blouse. The only drama you need in your life is dramatic clothing that express who you are and how you feel. And thie afircan print high-low dress is a true expression of my personality.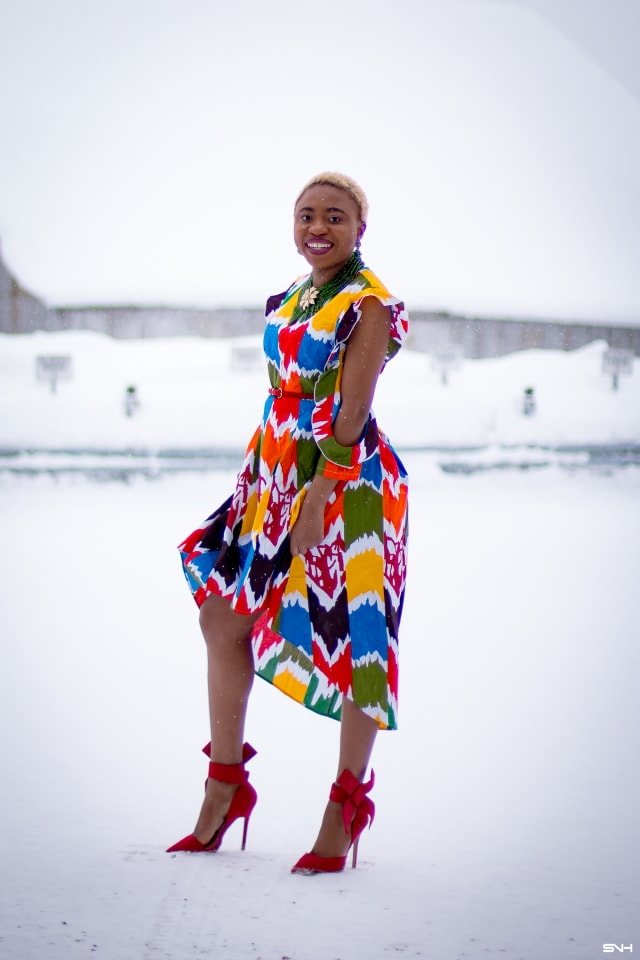 This African print high-low dress is oozing with glamorous ruffles, cold-shoulder and asymmetrical cut. The dress is a statement piece that can quickly become a wardrobe staple. Though the print is rich in vibrant colors, it does not particularly scream African. The pattern gives it a subtle or understated cultural appeal.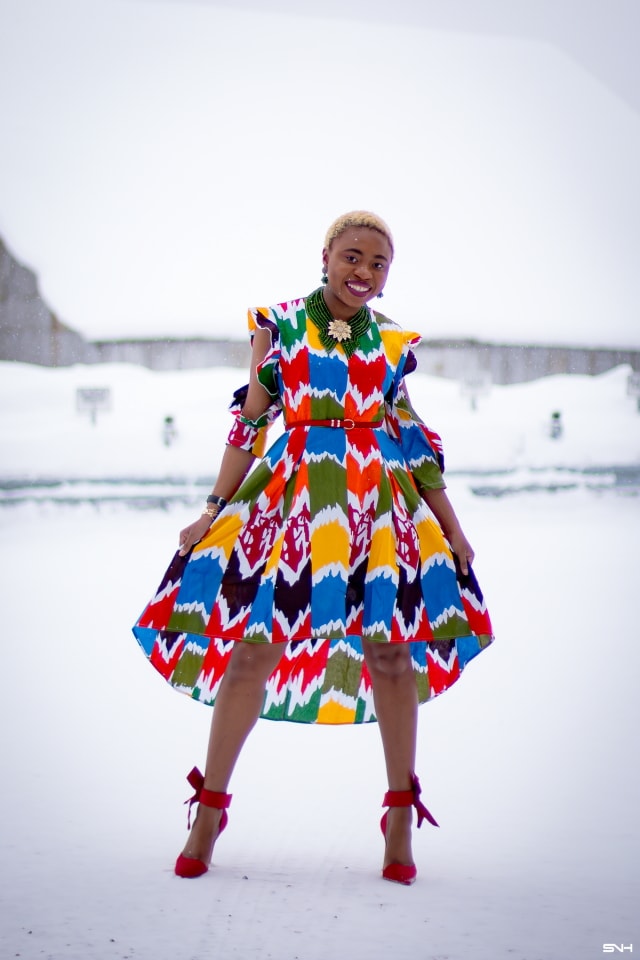 For those who want a less obvious way to rock African clothing, this one is for you. The high-low cut also makes the dress a trendy piece. And the dress is also appropriate to be worn to more conservative places/events as it sits just about the knee.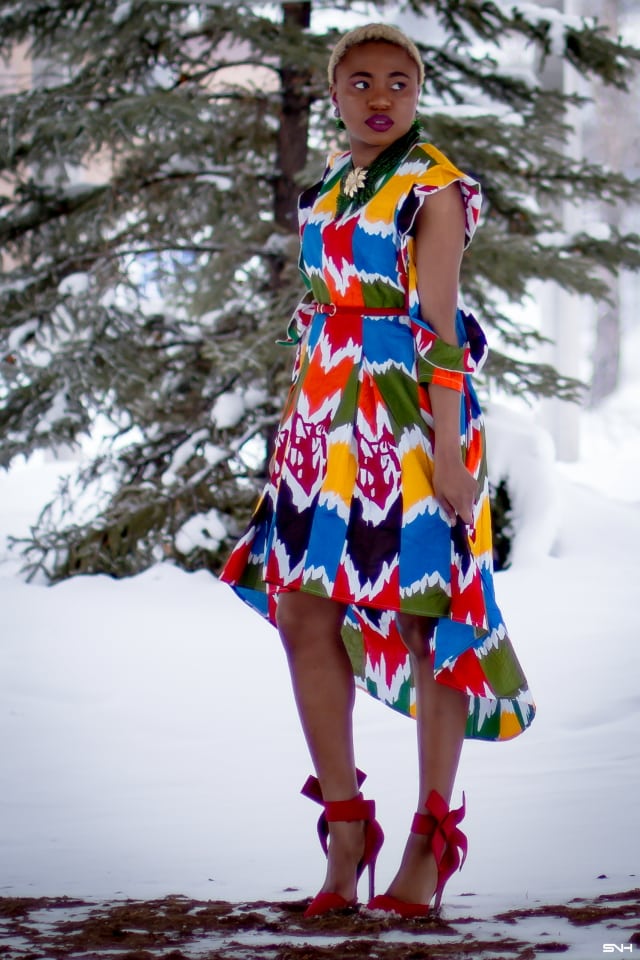 The high neckline also evokes that conservative appeal with the cold-shoulder and ruffle details giving a little sexy touch. Elevate the sensual appeal of the dress with statement heels like this red bow pumps and define your waist with a skinny waist belt.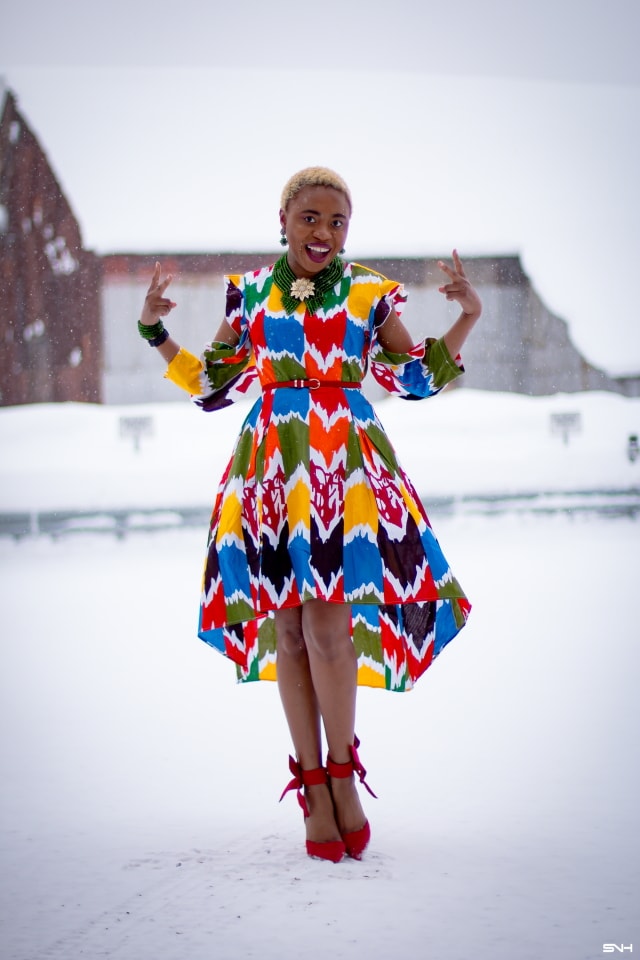 I completed the outfit with a green statement necklace (similar) to add some sass to the upper one-third of the outfit. As we head into a new season, a few other Rahyma pieces I have my eyes on are the Kiki Leaf Blouse and the Blossom-leaf long High-Low Dress. 
Do check out the other outfits from the 20+ days of African print styles to see more elegant styles and featured designers. Cheers to 15 more stellar outfits in the series!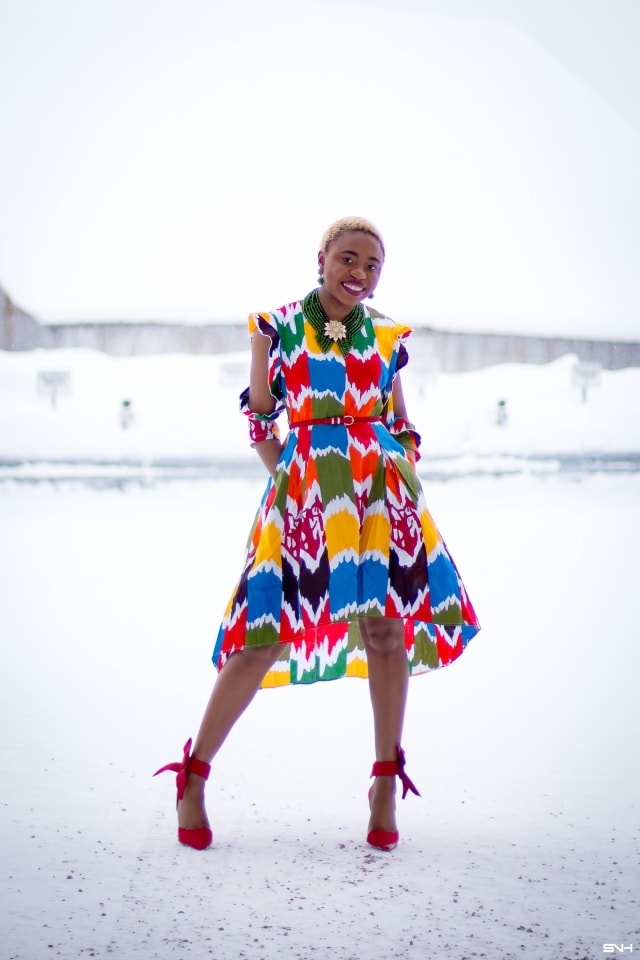 Rahyma pieces remains evocative, unmissable and one-of-a-kind. Shop my dress directly from Rahyma (new collection) or on Etsy and connect with Rahyma on Instagram.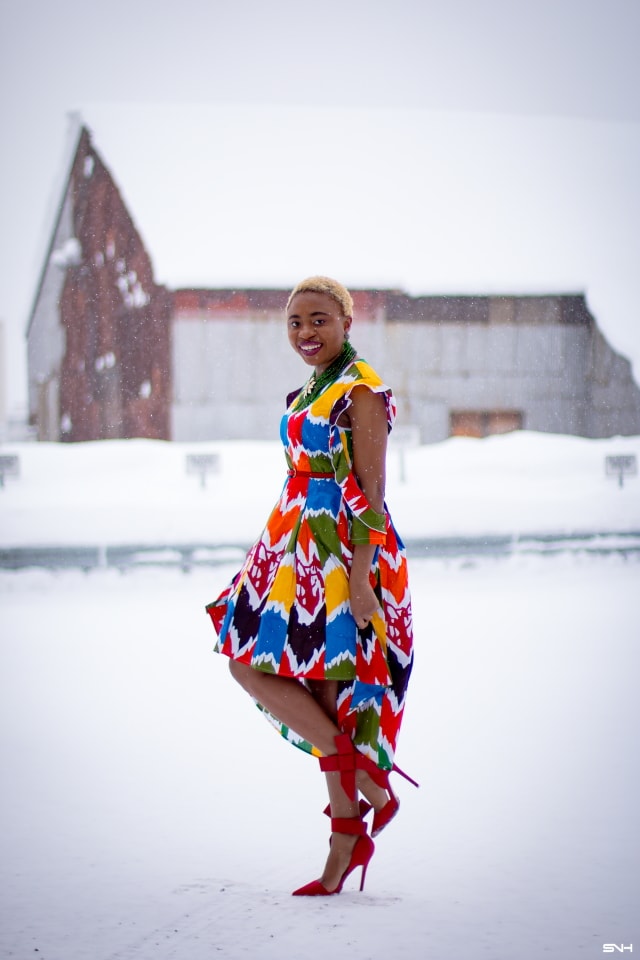 You may also like these posts: Day 14: Fashionable African Print Layered Skirt | Day 13: Romantic African Wax Print Maxi Dress |
I am wearing:
Skinny red belt (similar)
Nokia activity and sleep watch (exact)
Multi-layered beaded necklace (similar)
Dress c/o Rahyma African print high-low dress
Photos by SNH Photos
MORE FROM RAHYMA