If you missed the recently concluded Ulta 21 Days of Beauty Event and the Nordstrom Spring Sale, you'd be delighted to hear that the LTK Spring Sale is here!
And if you ask me, I'd say this exclusive in-app event is right on time. Ready for a seasonal refresh? Think transitional styles, colorful accessories, and lightweight beauty from brands we know and love.
Like the Fall Ready, Set, Gift LTK Sale, this rewardStyle sale, I'll be dishing exclusive must-haves from fashion to beauty that are actually worth buying. My goal is always to highlight wearable style, attainable luxury, and tried-and-true beauty finds.
So, Why Should You Shop the LTK Spring Sale?
This is a global shopping event happening exclusively on the LiketoKnow.it app. But even better, you can stack on these exclusive discounts on top of most sales already happening at participating retailers store.
Give me more, Louisa!🙏 The 2021 LTK Spring Sale event starts April 9-11, 2021. This 3-day shopportunity is a great time to get a steal on brands you already use ahead of summer. Flats, babydoll dresses, decor, gardening, and lightweight makeup are all hot right now. And I expect they'll become even more people as fashion lovers and beauty enthusiasts catch wind of this trend.
How good is the LTK Spring Sale? Think up to a massive 45% off on nine major brands. There's something for everyone.💃


What is the LTK Spring Sale?
First time shopping this rewardStyle app-exclusive sale? Here's what you need to know about this LTK App Event (and most LTK Sales).
This spring LTK Sale is a 3-day shopping event for fashionistas and trendsetters to get exclusive in-app discounts from participating brands (think Elemis, Victoria Emerson, and Abercrombie & Fitch, Madewell, and more. You can download the app for free here and join over 6 million app users!


When is LTK Spring Sale 2021?
The 2021 LIKEtoKNOW.it LTK Sale event kicks off on April 9-11, 2021. This sale is going to be an exciting three-day event that will stretch your dollar while shopping for spring essentials and gifts (like Mother's Day, Graduation, and Wedding gifts) this season.


The Spring LTK Sale ends in
2021 rewardStyle LTK Spring Sale Brands & Discounts
With brands like Tarte Cosmetics, Colleen Rothschild, Elemis, Madewell, Abercrombie & Fitch, and more participating in this unique in-app sale, this app-exclusive sale will maximize your saving as you shop for spring and summer. Do all your shopping completely online or shop online with curbside pickup for participating retailers.
PARTICIPATING BRANDS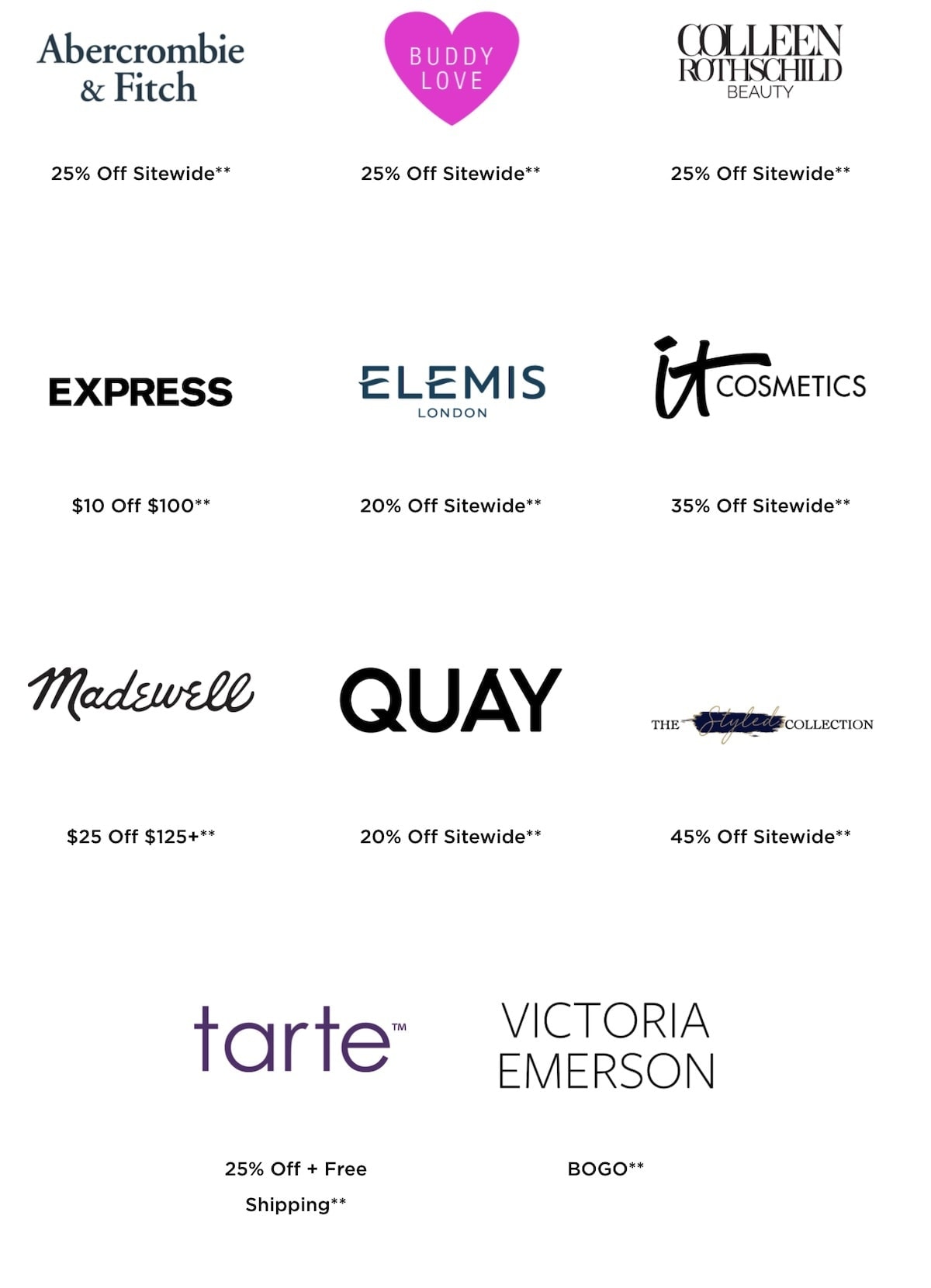 These retailer promo codes will be active from April 9th through April 11th, 2021.


Ready to make money blogging?
Here's EXACTLY how to launch your fashion blog in under 30 minutes! (P.S: I now make over $17,000/month fashion blogging).
How Does The LTK Sale Work?
On April 9, 2021, every LTK post from your favorite influencers (ahem! follow me @lapassionvoutee) tagged with a participating retailer's product will be called out via a red "LTKSpringSale".


You'll see the red 'LTKSpringSale' tag on relevant LTK posts.
Clicking the post will open up the shoppable area section. Products from brands participating in the sale will have a red tag.
Tapping on the product(s) for additional details will pull up the unique LTK Spring Sale offer along with the option to copy the promo code.
Simply paste the promo code while checking out to take advantage of the sale.
LTK Spring Sale 2021 Shopping Tips
1. Download the LTK app now
The first thing you need to do is download the LTK app right away. And start using the app so you're familiar with the layout of the app before the sale starts. Don't forget to follow me on the app as I'll be rounding up the best finds now throughout the sale.


Here's a quick video on how the LIKEtoKNOW.it app works.

---
2. Create a Wishlist
While exploring the app, you can create a wishlist or two called "Collection" to save photos from your favorite influencers or products that you are interested in directly in the app. Saving items you want in your LTK Collection will prepare you to shop on April 9th when the sale is live.


---
3. Follow me "@lapassionvoutee" on the LTK App
Need a roundup of the best sales worth shopping during this LTK Sale event? Be sure to follow me on the Liketoknow.it app for exclusive app-only picks right now and through the end of the 3-day sale. I cover affordable fashion finds, beauty, and skincare from top retailers like Colleen Rothschild, Walmart, Tarte, Amazon, Nordstrom, DSW, and more.
I'm constantly trying new products and sharing my honest thoughts and opinions. Psst! Thinking of shopping the Colleen Rothschild sale, check out the 3 best Colleen Rothschild products I recommend from Colleen Rothschild.
I also rounded up my favorite Victoria Emerson bracelets and wraps in this detailed post. You already know that I'll be rounding up the best pieces from participating brands ;) First time trying Elemis? These are the best Elemis products (review and recommendation).


---
Ready to make money blogging?
Here's EXACTLY how to launch your fashion blog in under 30 minutes! (P.S: I now make over $17,000/month fashion blogging).
2021 LTK Spring Sale: Brand Exclusions
---
Finding this post helpful? You'll love these related posts:
---
Frequently Asked Questions about LTK Sale
What is LTK day?
The 2021 LTK Day sale will take place sometime in July 2021. LIKEtoKNOW.it app users get access to exclusive sales and promo codes from top brands. The LTK Spring Sale 2021 is a 3-day shopping event kicking off April 9-11, 2021, and boosts top brands like Madewell, Elemis, Express, and more!


Is the Liketoknowit app free?
Yes, the LiketoKnow.it app is free to download and use. Think of the LTK app as a shoppable version of Pinterest free of clutter. You can create a wishlist (items you like) and collections (aka boards on Pinterest) of styles you love. Follow as many tastemakers and bloggers as you want. There's no pressure!
How does like to know work?
The concept behind LiketoKnow.it is simple. Shoppers download the rewardStyle LikeToKnow.it on their iPhone or Android device, create an account, and discover influencers that resonate with their style or need. Right from the app, you can like, wishlist, or shop exact product details from photos. Think of it as Pinterest on steroids!


Who owns Like to Know it?
Amber Venz Box is the President and Co-Founder (alongside Baxter Box, her husband) of rewardStyle. LiketoKnow.it is an exclusive monetization platform for fashion, beauty, and lifestyle content creators (bloggers, Youtubers, Instagrammers) around the world. The company hosts an annual rewardStyle Conference for top-publishers yearly in Dallas, Texas.


A CHANCE TO WIN $300+ COLLEEN ROTHSCHILD PRODUCTS
I have teamed up with Colleen Rothschild to give YOU a chance to win: one of three (3) Colleen Rothschild's Luxury Skincare Products to kick off the spring season!
Simply enter below by completing the giveaway form below. You'll receive one entry per completion (do as many or as little as you want). This giveaway runs until April 12, 2021. Winners will be announced here and prizes will be shipped directly from Colleen Rothschild. Void where prohibited. Good Luck!
Win $350 Worth of Colleen Rothschild Skincare in 5 Days