Spanx Moto Leggings Review: Seriously A Nordstrom Bestseller?
This post may contain affiliate links which means I will get a commission if you make a purchase at no additional cost to you. As an Amazon Associate I earn from qualifying purchases. Please read my disclosure for details.
There are so many clothing pieces you can scoop from Nordstrom. A quick glance at the current bestsellers list will open your eyes to classic and new brands/styles arguably worth the splurge.
But one item that keeps popping up around the internet is the Spanx Moto leggings. So for today's post, I'll be giving you a quick Spanx moto leggings review to help you decide if this Nordstrom bestseller it promises and more (12+ months later).
There is a reason many women (and men) love Spanx lingerie. But one thing that resonates with most is the smooth contour the brand delivers every single time.
so it's only natural that Spanx would expand their contouring technology to leggings and pants. If I'm being totally honest, I thought there was just too much hype noise about it.
As a fashion blogger, I knew it was only going to be a matter of time before friends/family would start asking about my opinion about faux leather leggings. Over a year ago, I splurged on this pair of Spanx leggings.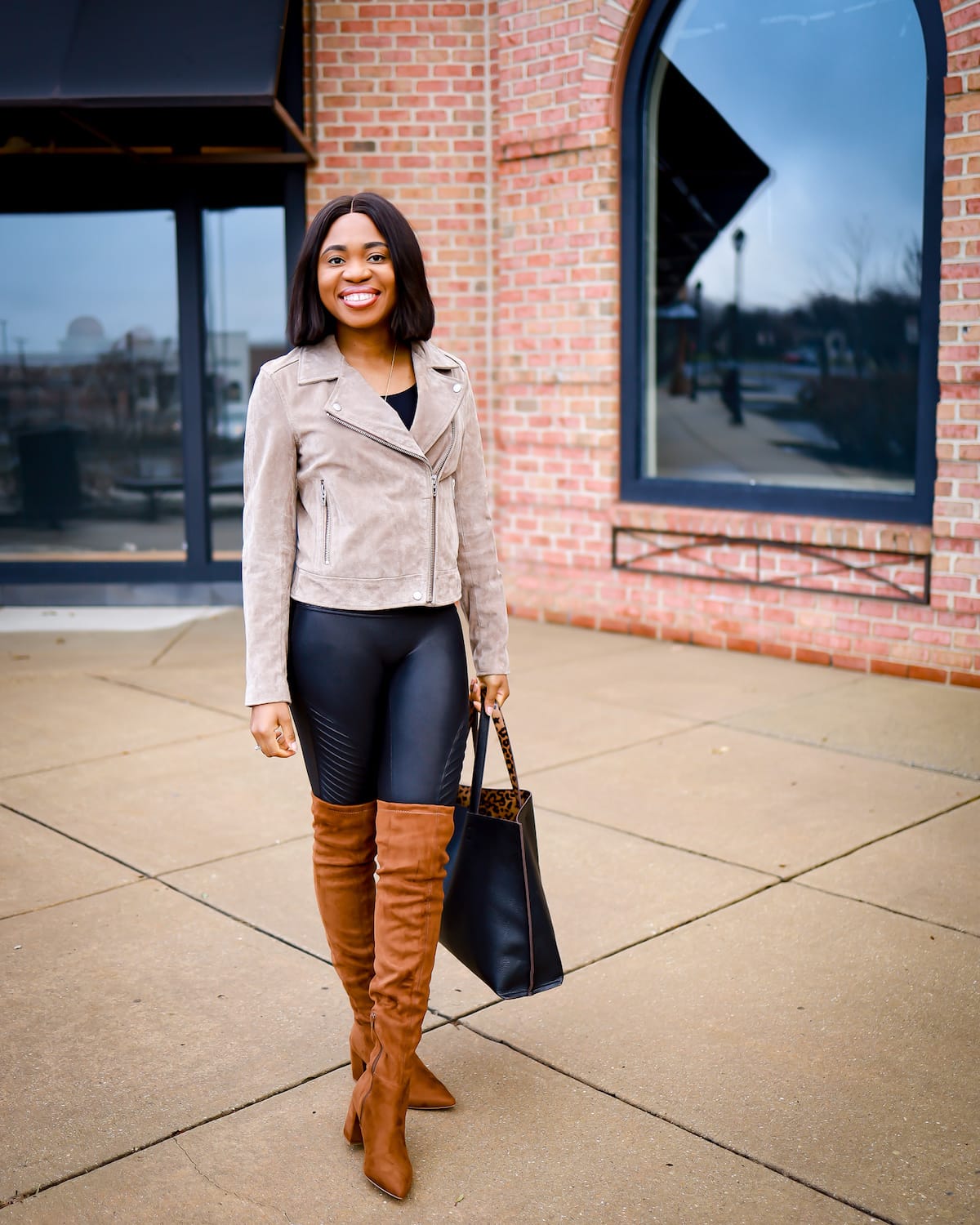 In partnership with Nordstrom, I'm sharing my thoughts about these pants in this Spanx moto leggings review.
And yes, these Spanx moto leggings are the most expensive pair of leggings I own to date. Standing tall at a price tag of $110 on Nordstrom. And sales on these leggings are few and far between if you're lucky. At least you know you're getting the real deal from Nordstrom.

Spanx Moto Leggings Review
As with all things fashion, these Spanx Moto leggings caught my attention because of the rave reviews it already had. Thanks, Nordstrom!
If there was one thing we know about Spanx is that the brand does not compromise on the quality of their shapewear. And they extend that quality to their leggings with contoured Power Waistband.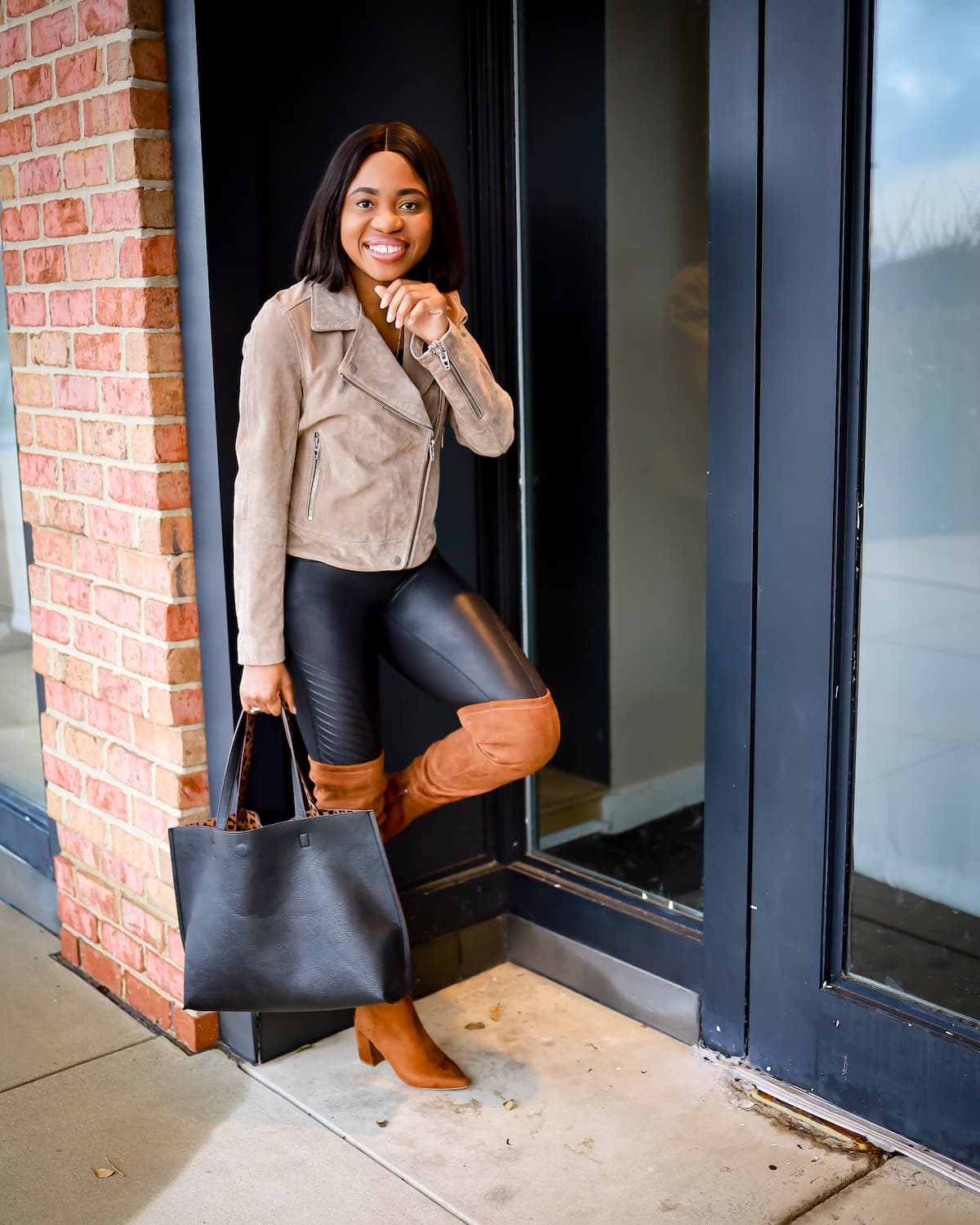 An if you're looking for a pair of leggings that has a bit of character with all the contour that is synonymous with Spanx, you'll love:
Spanx Moto leggings!
The Moto design on these leggings spoke to me. It has the perfect amount of edge that gives off a biker-chic vibe without being over-the-top.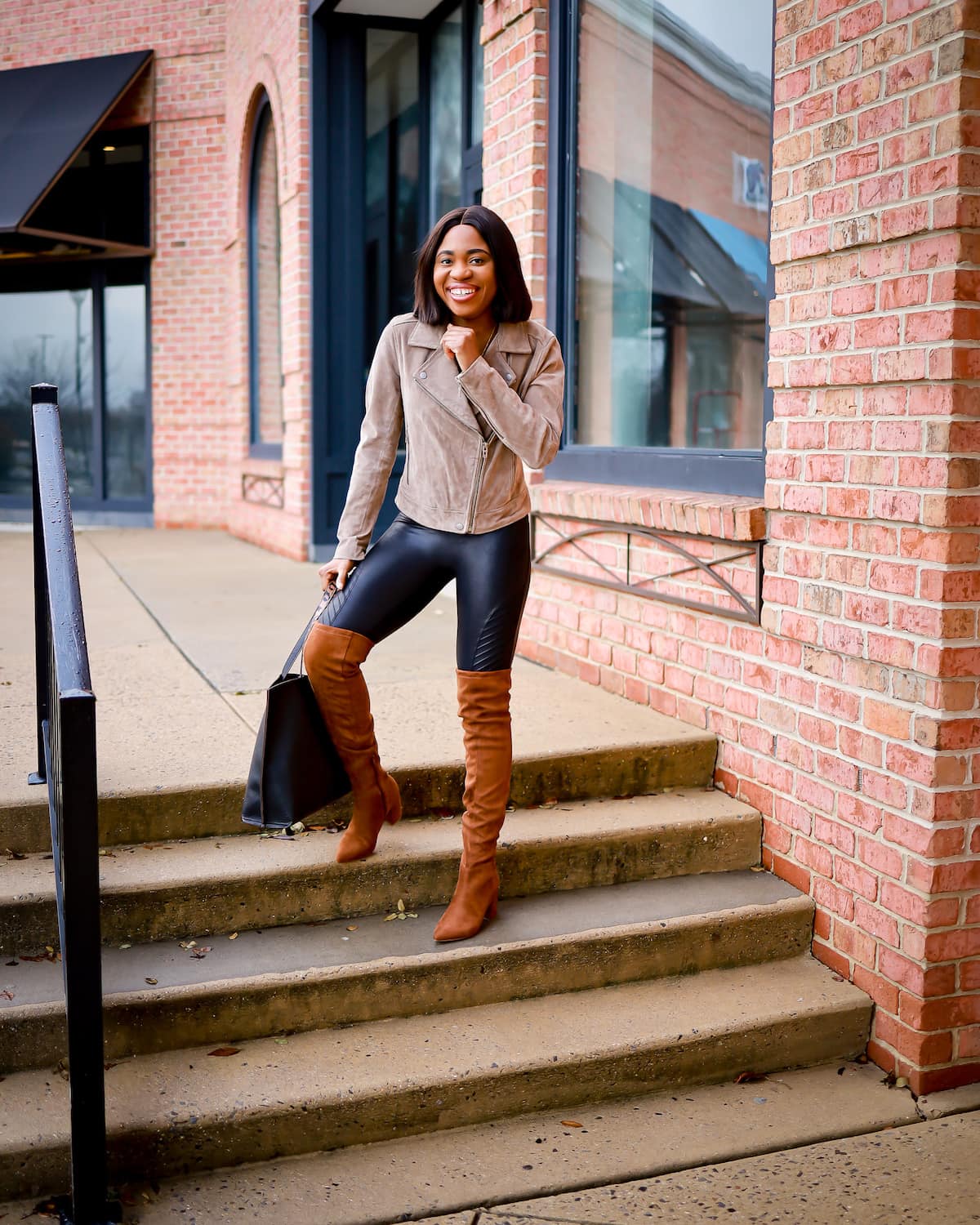 Spanx leggings come in several styles. The most popular styles are:
For reference, I am 5″5 and roughly 135 lbs. I typically wear a size 4 (S).
I am wearing a size small Regular, my usual size, in the SPANX Faux Leather Moto Leggings.

---
Loving this Spanx moto leggings review? You'll love these related posts:
---
For this particular style, I recommend you get your standard size. This is unlike the plain SPANX Faux Leather Leggings, which runs small. Take advantage of Nordstrom's free shipping and return policy and order two different sizes to compare the fit.


PROS: Spanx Faux Leather Moto Leggings
Stylish
Amazing compression
Soft and non-constricting
Durable
Stretchy
Size inclusive
Opaque (not see-through)
Built-in tummy control & butt-lift
No pilling
Compared to some other leggings that I've tried, the SPANX Faux Leather Moto Leggings feels great on the skin. No unnecessary itch or excessive compression.


Just like we expected from SPANX, these moto leggings have fabulous compression and smoothening effects. The first few times you were these pants, it might feel tighter than usual. But after repeated use, the leggings will mold to your body. And best of all, it doesn't ever sag.#win


For today's look, I settled on this combination with moto jacket and OTK boots. If there's one thing I learned from living in Alaska is that nothing beats staying warm and looking stylish (even at -40ºF).

CONS: Spanx Faux Leather Moto Leggings
Price
Sometimes rolls down (on the waist)
Although the legging does not sag as you walk, I've noticed my SPANX rolling down if not pulled high enough.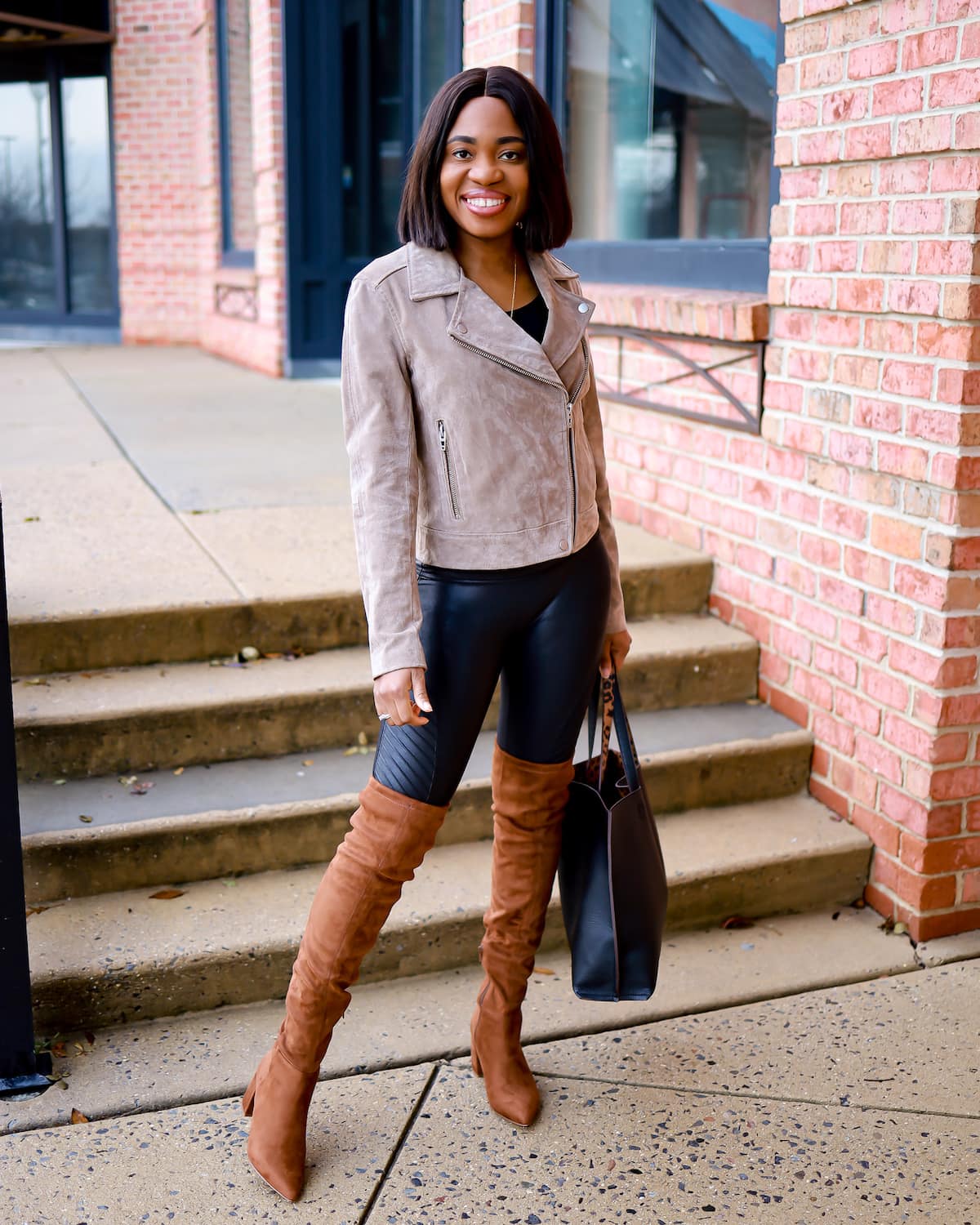 What about camel toe? Spanx has "reverse-engineered" their leggings to reduce/minimize the likelihood of getting a camel toe. How? There are no seams in that area!


And let's not forget about the price. These faux leather leggings will set you back $110 apiece.


Are Spanx Leather Leggings Worth the Hype?
Yes, Spanx leggings are worth the hype… BUT that depends on how comfortable you feel splurging on a pair of leggings.
Trust me, I tried looking for a more affordable alternative but ended up making a full circle back to Spanx leggings (after spending my coins on less-deserving options). Like the saying goes:
Penny-wise, pound-foolish.

#LessonLearneed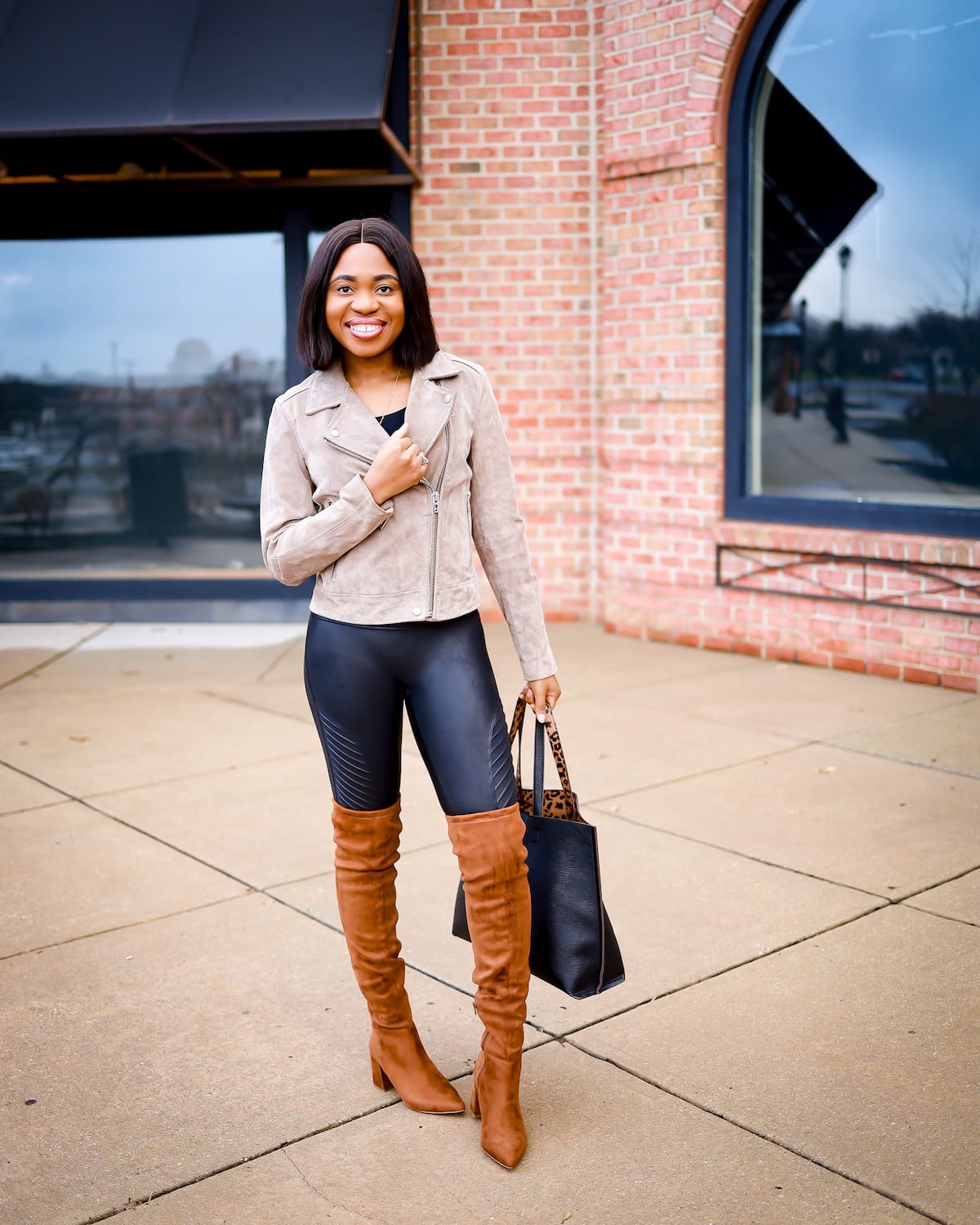 This legging is not made for winter. However, with simple layering techniques, you can wear these faux leggings almost all-year-round. Another worthy splurge from Nordstrom is this BlankNYC moto jacket. And if you guessed it, BlankNYC moto jackets are also a top seller on Nordstrom :).
I love the buttery-soft feeling of the suede fabric. It is versatile and easy to wipe down stains. (Read: BlankNYC Suede Jacket Review).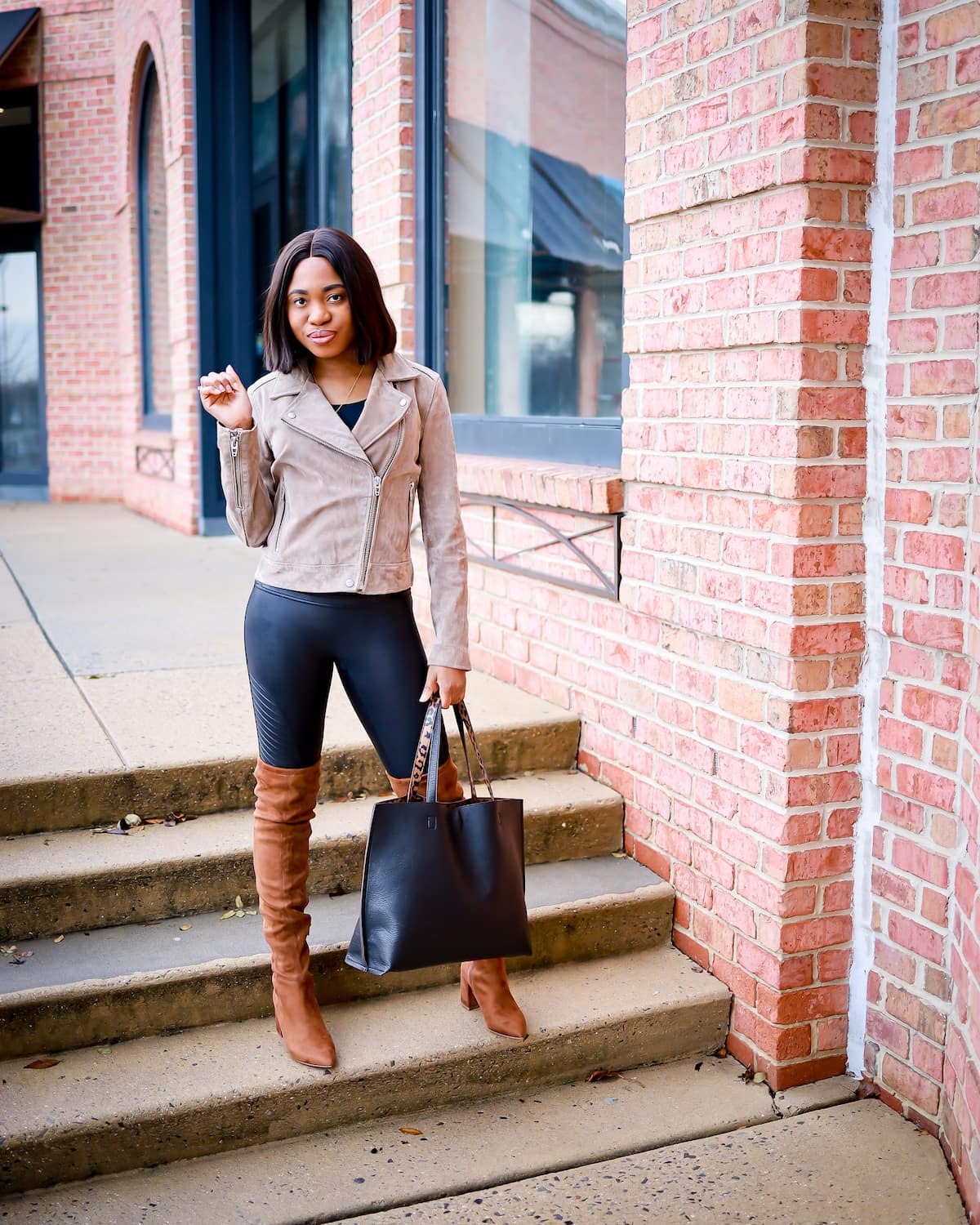 I've noticed that over the years, most of the staple pieces I order from Nordstrom last longer than products from fast-fashion retailers. So I'm trying to be more intentional about the clothes I add to my wardrobe.
Another great find I'm wearing today is the tried-and-true Commando seamless bodysuit, which the perfect top for the faux leather leggings. And if these OTK boots look familiar it's because I got them in another color. They're just that good. Scoop up a pair before they sell out here.
And let's not forget about this reversible Nordstrom tote.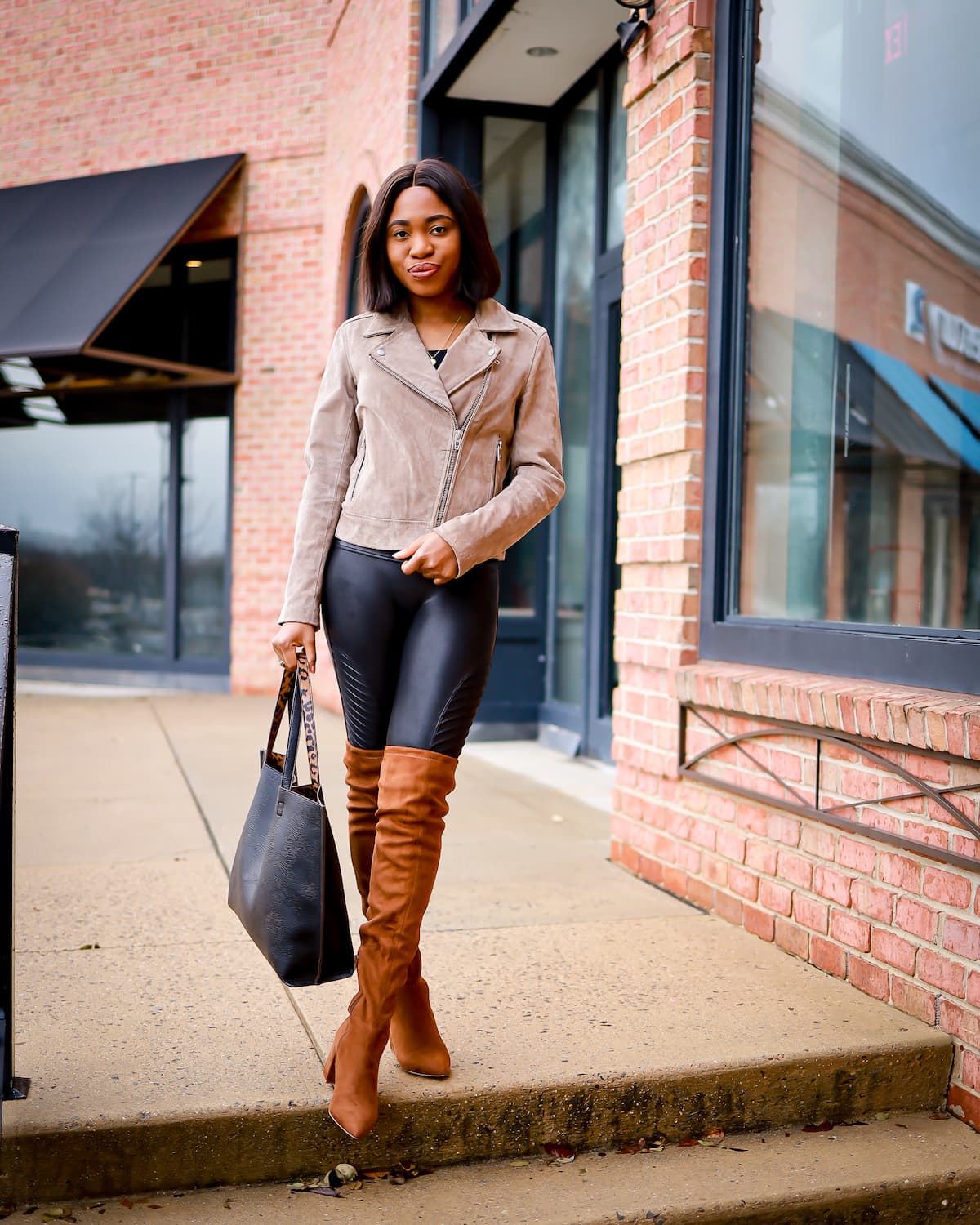 I am wearing:
Spanx leggings (exact) | BlankNYC moto jacket | Commando bodysuit (exact) | Reversible tote (exact) | Madewell necklace (exact) | Steve Madden OTK boots (exact)
Frequently Asked Questions About Spanx Leggings
Do Spanx Moto Leggings Run Small?
No, Spanx Moto leggings do not run small. The first few times you wear a new pair of these leggings, it might feel snug. But after repeated wear, it will expand and mold to your body. Get your usual size.
Which Spanx leggings are the best?
Are Spanx leggings worth the money?
Absolutely! Usually, my inclination to a product this expensive would be a resounding no. But after trying Spanx leggings for a second time, I definitely think Spanx leggings are worth the money. I ordered this pair in my regular size. I now own several Spanx pants and leggings.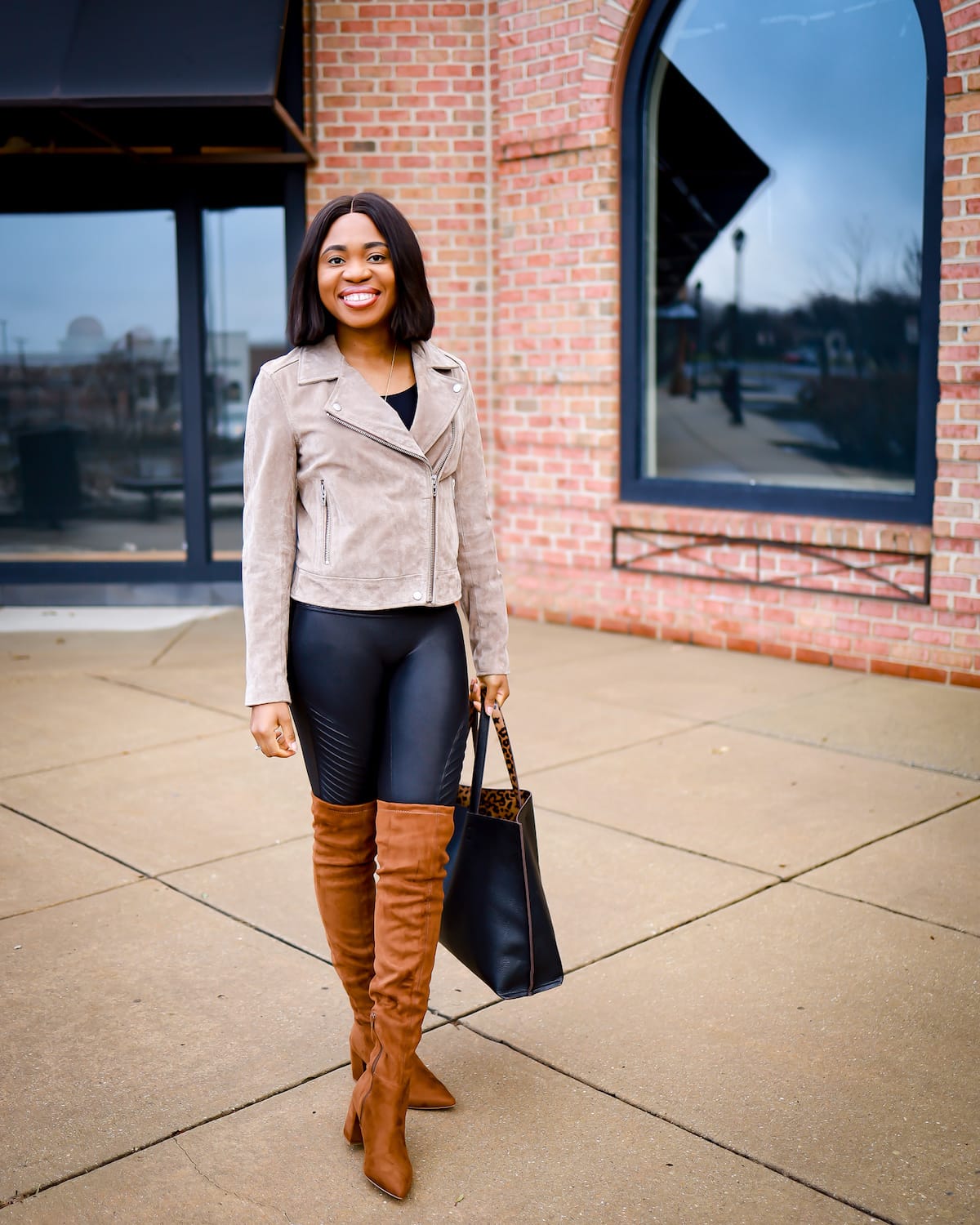 As always, thank you so much for stopping by. And if you have any questions, leave a comment below. I hope you found these SPANX Faux Leather Leggings review helpful.
Liked these Spanx Moto Leggings review? You'll love these related posts:
Your turn! What's the best clothing you've ordered from Nordstrom?
This is a sponsored conversation written by me on behalf of Nordstrom. All opinions expressed in this post are mine. Thank you for supporting the brands that support this site.
PIN FOR LATER!