Why is Barefoot Dreams so Expensive? The 10 REAL Reasons!
This post may contain affiliate links which means I will get a commission if you make a purchase at no additional cost to you. As an Amazon Associate I earn from qualifying purchases. Please read my disclosure for details.
As someone who loves sleeping, I do not joke around with the quality of blankets I use.
Why? Because blankets are a BIG DEAL when it comes to getting a good night's sleep. Who wants to toss and turn all night because of a scratchy or lumpy blanket? No, thanks!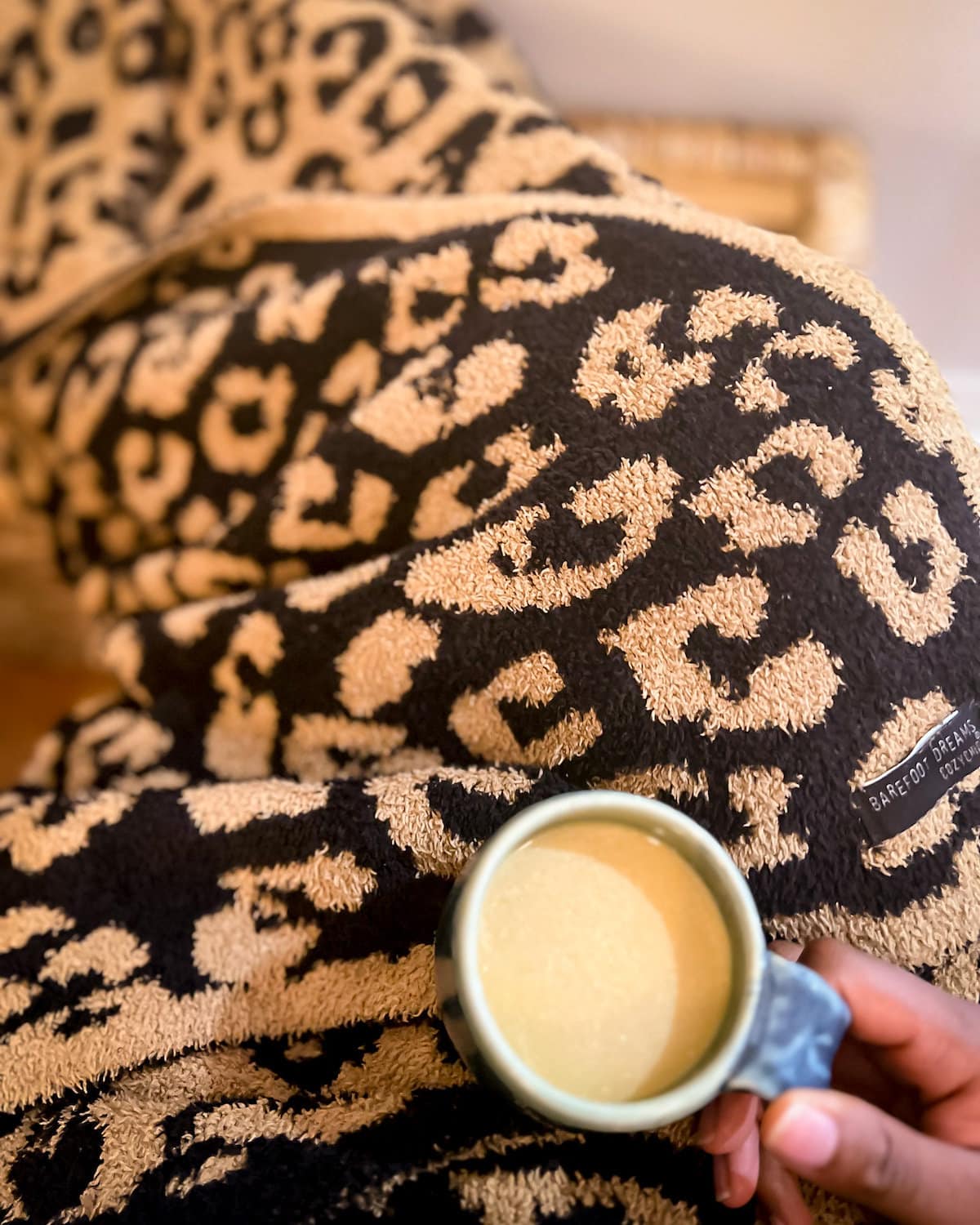 And you know what I've been eyeing on recently? Yup! It's the esteemed Barefoot Dreams.
Louisa has a few Barefoot Dreams cardigans and a blanket she splurged on while pregnant.
But are Barefoot Dreams products worth the price? And more importantly, why is Barefoot Dreams so expensive?
Keep reading!
For starters, Barefoot Dreams is known for its ultra-soft fabrics resulting from its commitment to using the best materials available.
Annette Cook, a mom of three, started Barefoot Dreams in 1994 out of a desire to create super cozy children's products.
After her passing in 2012, her husband Stan continued her legacy and turned it into the brand we know and love today.
The prices of their popular blankets and loungewear range from $90 to almost $200 compared to this $25 look-alike!
What makes Barefoot Dreams exactly pricey?
Well, grab a cup of cocoa, sink into your coziest armchair, and discover the top 10 reasons why Barefoot Dreams is so expensive!
Why is Barefoot Dreams So Expensive?
1. High-Quality Materials
Okay, get this: have you ever heard of a fabric blend so heavenly it'll have you rethinking everything you ever thought you knew about blankets?
That's exactly what you'll find with Barefoot Dreams' CozyChic line! This stuff is the real deal!
As someone who hasn't owned a Barefoot Dreams blanket, I can't really determine if that is true. So, how do I know that you ask?
Because I did my little research. And guess what? The reviews are outstanding! Check the reviews from Amazon.😉
Well, of course, it wouldn't be a perfect 100. But hey, 89% vs. 9% isn't so bad, right? Just tossing my grain of thought!
Not only is Barefoot Dreams known for its renowned CozyChic fabric, but the company offers a delightful array of other materials to craft its exceptional products!
One such option is CozyChic Lite, a unique blend of nylon and rayon from bamboo.
And if you want something different, try CozyChic Ultra Lite — a delightful fusion of nylon and viscose.
They also use Luxe Milk Jersey, made from a blend of modal, spandex, and acrylic from milk fiber. Yes, you read that right: milk fiber! How cool is that?!
All of these premium fabric costs moolah. So this could very well explain, to an extent, why Barefoot Dreams is so expensive.
2. Wide Range of Sizes
Barefoot Dreams got you covered if you're looking for a cozy blanket to snuggle up with on the couch or with your loved ones during blanket weather!
Their blankets come in various sizes so that you can find the perfect fit for your needs.
The standard size is 54″ x 72″, while the queen size is 90″ x 92″, and the king size is 108″ x 92″. They also offer smaller sizes like the throw blanket, which measures 45″ x 60″, and the baby blanket, which measures 30″ x 40″.
But hold up; there's more! It's not just applicable to their blankets but also to their clothing!
Regarding clothing, Barefoot Dreams has a range of sizes from XS to XXL so that everyone can find the perfect fit. Louisa swears by her Barefoot Dreams cardigan.
Whether you prefer a relaxed or more fitted look, their clothing line has something for everyone!
I love brands that promote INCLUSIVITY. If inclusivity resonates with you, you'll love Barefoot Dreams.
But let's be real, offering a wide range of sizes is no easy task.
It requires dedication and extra resources to ensure every size meets its quality standards. Just another reason why these babies cost a pretty penny.
3. Giving Back to the Community
Barefoot Dreams is not just any brand – they have a heart for giving back to their community.
They donate their time, products, and resources to organizations and hospitals in need, like Baby2Baby, Operation Smile, and Susan G. Komen.
They recently teamed up with (RED) to support equitable access to healthcare because they believe everyone deserves access to quality healthcare.
With the Covered in Prayer Collection, not only can you snuggle up in a cozy blanket, but a portion of the proceeds is donated to The WunderGlo Foundation!
This charity supports doctors and researchers who are working hard to find a cure for colon cancer.
And with these charitable initiatives comes an additional $$$.
But hey, when you purchase from Barefoot Dreams, you're not just treating yourself to the softest blanket out there but also helping cancer patients battle cancer!✨
4. Exclusive Designs
When it comes to unique designs, Barefoot Dreams takes the cake.
Have you seen their exclusive designs, from classic stripes, leopard blankets, and playful polka dots to whimsical animal prints and sophisticated floral blanket patterns?
Just a total cutie, if you ask me!🤭
I have been eyeing their CozyChic Abstract Camo Throw Blanket for a while now, and I guess it won't be long before I give in to this baby!
And guess what? Barefoot Dreams just leveled up their game by collaborating with none other than Disney!
Now you can wrap yourself in the coziest Disney magic with their collection of blankets featuring your favorite characters!
The desirability of these exclusive designs is what adds to their price tag. But I'm not complaining.
It's like a dream come true for Disney fans (like me) who crave both comfort and a touch of enchantment!
Last update on 2023-09-30 at 17:11 / Images from Amazon Product Advertising API
Last update on 2023-09-30 at 17:01 / Images from Amazon Product Advertising API
Whether you're looking for a plush blanket for your living room or that Disney magic to add to your collection, Barefoot Dreams has something unique and exclusive that you won't want to miss out on!😉
5. Brand Name
Ah, Barefoot Dreams – two words that can immediately trigger your sensory nerves.
The brand reputation of these bad boys is no joke that when we hear Barefoot Dreams, our mind automatically associates that with luxury blankets.
Barefoot Dreams. Luxury Blankets. Barefoot Dreams. Luxury Blankets.
….sounds about the same 🤷‍♀️
No wonder it's quite pricey. Owning one of these is like owning a medal! Something you could proudly flex to your girlfriends or family.
Because let's admit it, we tend to take pride in the brands we have in our household, more so if it's one of the best-known in the field!
And surprise, surprise! We can feel confident in our purchase knowing that Barefoot Dreams has a reputation that is second to none!
6. Limited Editions
Let me just tell you in advance. I'm the type to get hyped when it comes to one-of-a-kind items.
Imagine knowing there's only a number of that certain product at a certain time, and you were able to procure one. Exactly!
And I'm starting to get that feeling for Barefoot Dreams limited editions!
Check out their CozyChic Barefoot in the Wild Collection:
Barefoot Dreams' limited editions are perfect for those who love to stand out and have something that no one else does.
With new items being released regularly, there's always something exciting to look forward to.
This means these bad boys would also be an amazing gift for any upcoming events!
But then again, limited editions = dollars dollars dollars. How about you, do you think it's worth it?
7. Luxurious Comfort
The value should justify its quality, am I right? With these pricey products, many of us expect superb quality.
Well, guess what? Barefoot Dreams does not disappoint!
From their buttery-soft fabrics to their cozy designs, they're a brand that knows how to make you feel good. It's like wrapping yourself up in a warm hug.
Their microfiber blankets are perfect for snuggling up on the couch with a good book or simply having a just-wanna-lay-down-all-day moment!
Believe me; I know that feeling all too well since I also have those moments quite a number of times this week.
And it wouldn't have felt better without fluffy blankets (I wish it would've been Barefoot Dreams, though).
They just simply understood the importance of feeling cozy and comfortable and made it their mission to provide the ultimate relaxation experience!
8. High Demand
With their reputation, everyone seems to be jumping on the Barefoot Dreams bandwagon!
Why, you ask?
Well, who wouldn't want to experience a blanket deluxe edition at least once in their life, right?! Because I do!
Whether you're shopping for yourself or looking for the perfect gift, it's no surprise that Barefoot Dreams is at the top of everyone's wish list! (mine included)
Even Chrissy Teigen understands the hype for these bad boys.
If you are struggling for a Christmas gift for someone, get them a barefoot dreams blanket. I use mine 365. It stretches and wraps over your shoulders and feet and nothing else compares.

— chrissy teigen (@chrissyteigen) December 9, 2019
But with Barefoot Dream's limited production runs and exclusive designs, the pricier they [likely] get.
It really causes your bank account to do a double-take when you invest in one.
9. Celebrity Endorsements
It's no secret that Barefoot Dreams has a huge following, including celebrities.
And when choosing something cozy and comfortable, would they choose something substandard?
ABSOLUTELY NOT.
And that alone contributes to Barefoot Dreams' name and price!
Celebrities such as Chrissy Teigen, Oprah Winfrey, Hailey Bieber, Brie Larson, Kate Hudson, and Khloe Kardashian have all been spotted wearing or raving about Barefoot Dreams products.
But you don't have to be a celebrity to enjoy their products – anyone can indulge in Barefoot Dream's luxurious comfort.
Celebrities or not, we're all on the same page with our obsession with Barefoot Dreams! ✨
10. Longevity
Another reason for Barefoot Dream's hefty price tag is the longevity they could offer.
The durability of their blankets is a testament to the quality of their products. They ensured their offers wouldn't just be a one-time thing; it is built to last!
And Louisa can vouch for that.😉
I was worried that my Barefoot Dreams cardigan and blanket would shed a lot. But surprisingly, they do not shed a lot. And the shedding does not affect the quality of the items.

Louisa
And the best part? Barefoot Dreams constantly evolves and adapts to its customers' changing needs and wants as well!
Stan Cook did not come to play. He really made sure her wife's legacy was here to stay. So, we are paying more to get a brand and a product that will stand the test of time.
Barefoot Dreams Bestsellers
Are you still with me? I know it can be tough deciding where to start with so many cozy options to choose from.
New to Barefoot Dreams? Here are the best Barefoot Dreams products I recommend getting first:
This CozyChic Marbled Blanket is a real showstopper!
The unique marbled pattern is eye-catching and stylish, making it the perfect addition to any living space or bedroom.
You won't want to get out of bed or off the couch once you're snuggled up in this actual blanket. You'll be obsessed from the moment you wrap yourself up in it!
The CozyChic Fauna Blanket is a jacquard knit blanket with a unique textured pattern inspired by natural elements like wood grain and tree bark.
It's made from Barefoot Dreams' signature CozyChic fabric, which is ultra-soft and cozy, making it the dream blanket to snuggle up with on a cold day!
Plus, it comes in various beautiful earthy tones that will complement any home decor.
The CozyChic Safari Blanket from Barefoot Dreams is a luxurious and cozy option for those who love a touch of the wild.
This blanket is stylish and comfortable and features a classic animal print design! This is the same blanket Louisa used during her pregnancy.
The CozyChic Ocean Reflection Blanket is a luxurious, soft blanket with a beautiful, ocean-inspired design.
With its soothing colors and calming pattern, this blanket is perfect for adding a touch of relaxation to any space.
The Ocean Reflection Blanket is a must-have for anyone who loves the ocean (like me) or simply wants to bring a little bit of tranquility into their home.
The CozyChic Ribbed Bed Blanket is the perfect addition to any bedroom!
Made from ultra-soft CozyChic knit fabric, this blanket features a stylish ribbed design that adds texture and dimension to your bedding.
It's lightweight yet warm, making it ideal for year-round use!
Is Barefoot Dreams Worth the Money?
Yest, Barefoot Dreams is definitely worth considering despite its high cost for those seeking a blanket with quality and a luxurious feel.
Many of us may wonder what the hype is about Barefoot Dreams, even though they're known for using synthetic materials.
It really comes down to how incredibly soft their polyester microfiber fabric is – they're just THAT blanket.
As Kelsey Boyanzhu, blogger for Blondes & Bagels in San Francisco, said:
"I haven't felt a fabric quite the same as that."
Barefoot Dreams products may come with a higher price tag than other brands, but many customers swear by their quality and luxurious feel, making them a worthwhile investment for some.
Do I think this brand is expensive? Yes.
Would I choose other brands with cheaper prices over Barefoot Dreams? Probably.
Would I consider buying Barefoot Dreams, though? Definitely.
However, if Barefoot Dreams resonate with you and the price tag does not hinder your finances, I recommend getting a CozyChic blanket or cardigan.
Not in your budget?
There are many other brands with lower prices and similar products and vibes.
Barefoot Dreams Alternatives
Barefoot Dreams is definitely a splurge, but that doesn't mean you can't get that cozy feeling without spending a fortune.
Check out some of these Barefoot Dreams alternatives:
FAQ About Barefoot Dreams
Are Barefoot Dreams breathable?
Yes, Barefoot Dreams are breathable. For example, their blankets are carefully crafted using a luxuriously soft polyester microfiber blend, guaranteeing a feeling of pure coziness and snugness.
While it's important to note that this material may not be as breathable as natural fibers like cotton, countless fans of Barefoot Dreams blankets absolutely adore them for their exceptional warmth and unparalleled comfort, especially when the chillier seasons roll around.
How to take care of your Barefoot Dreams?
Taking care of your Barefoot Dreams product is crucial to maintain its incredible softness.
Barefoot Dreams products are machine washable, but avoiding high heat is important.
I suggest washing your item on a delicate cycle in cold water using a gentle detergent to keep it in tip-top shape.
You can then tumble dry on low heat, but air fluff or flat drying is the best option.
To preserve the softness, avoid using dryer sheets or fabric softener.
Read this post on how to care for your sherpa blanket to learn more about how to wash your Barefoot Dreams blanket.
Final Thoughts
To sum it up, there are quite a lot of factors that contribute to the luxury price tag of Barefoot Dreams.
From the incredibly soft polyester microfiber fabric, commitment to durability, brand name, etc.
Barefoot Dreams blankets and cardigans may have a higher price tag, but their exceptional quality and meticulous craftsmanship make them a worthwhile investment.
Regarding cozy and comfortable blankets, Barefoot Dreams undoubtedly stands out as one of the best contenders in the market.
All of these reasons explain why Barefoot Dreams products are so expensive.
Your turn! Why do you think Barefoot Dreams is so expensive? Drop a comment below to share your thoughts.
Not a Prime member yet? Get all the perks of Amazon with this Amazon Prime 30-Day Free Trial. Are you a student? Lucky you! Use this link for your Prime Student 6-month Trial.