50 Trendy Fall Booties under $50
This post may contain affiliate links which means I will get a commission if you make a purchase at no additional cost to you. As an Amazon Associate I earn from qualifying purchases. Please read my disclosure for details.
As a fashionista on a tight budget, I still want to stay stylish from season to season. Although I live in Alaska, I put in the time to look fashionable because it makes me feel great. With fall only a few weeks away, I scoured the web and found these 50 trendy fall booties that are under $50! Contrary to popular belief, you do not have to spend your entire rent money on a pair of designer shoes to achieve a luxury appeal.

Depending on your location, it may be prime time to show off some toe cleavage by wearing lace-up booties. Or it may be the time to wear closed toe shoes. You'll find a selection of cute fall booties in different styles. One thing to note is that many stores and brands generally consider booties as shoes that are mid-thigh length or lower.

My goal is to keep this list updated as often as possible with the latest available and affordable ankle booties. My biggest nightmare is to find a pair of shoes that I love without knowing where to get them. So, I have added links to where you can get all these fall booties. I will also update any sold out style with another available option. Here we go!
---
1 Open back ankle booties $39.95 – Expect to wow people with this unique bootie. The adjustable wrap-around strap and stacked heels makes it uber chic and trendy.
---
2 Cylinder Heel High Shaft Boots $44 –  Cylindrical chunky heels were all the rave during Spring/Summer London Fashion Week 2016. Crafted as a mid length sock-style, this bootie will get heads turning!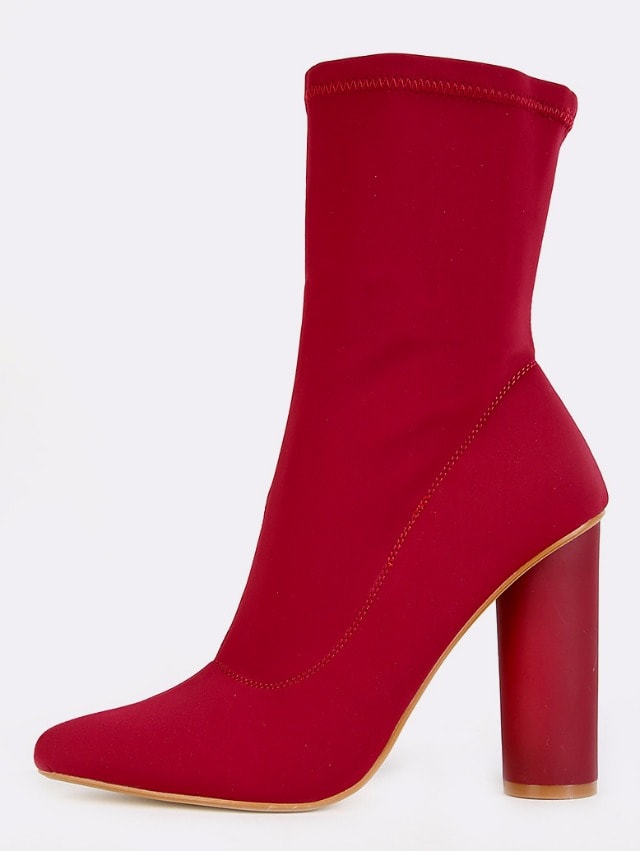 ---
3 Velvet fringed tassels boots $36.97 – Velvet never gets out of style. So it's only right that we include this beautiful belted ankle boots with stacked heels in this round-up. And those tassels? O.M.G!!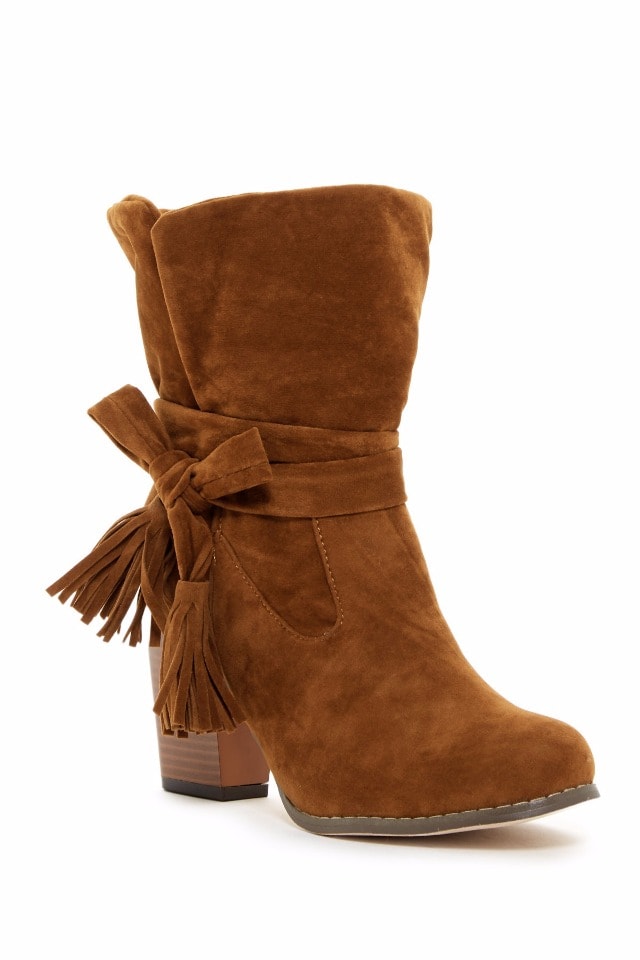 ---
4 Pastel cut out peep toe booties $33.10 – You can do no wrong with a badass pair of cot out pep toe booties. Pastels are always in for fall and winter. This pair will get you noticed!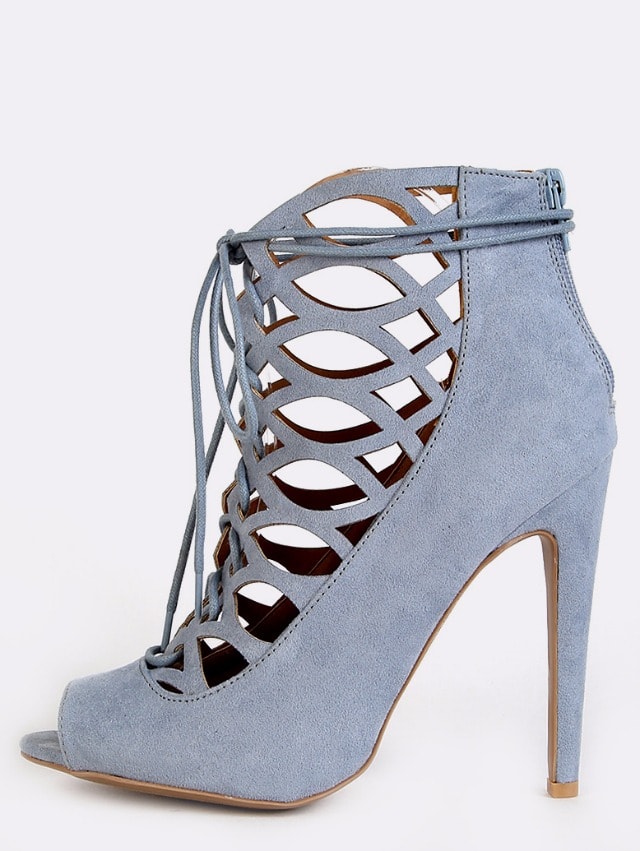 ---
5 Buckle style bootie $49.99 – This faux leather boots is a palmful of goodness. The semi-covered chunky heels transforms a simple style to a must-have piece.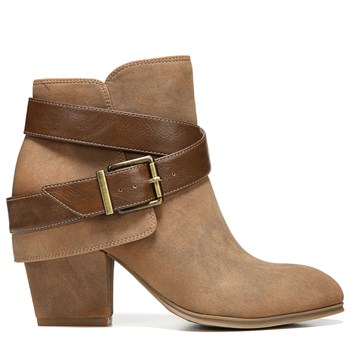 ---
6 Cut-out ankle bootie $36.97 (on sale) – A classic pair of cut out ankle booties is like having the perfect little black dress. It goes with almost any outfit. Not sure what to wear this fall? No 'blem! Throw on this round toe turners!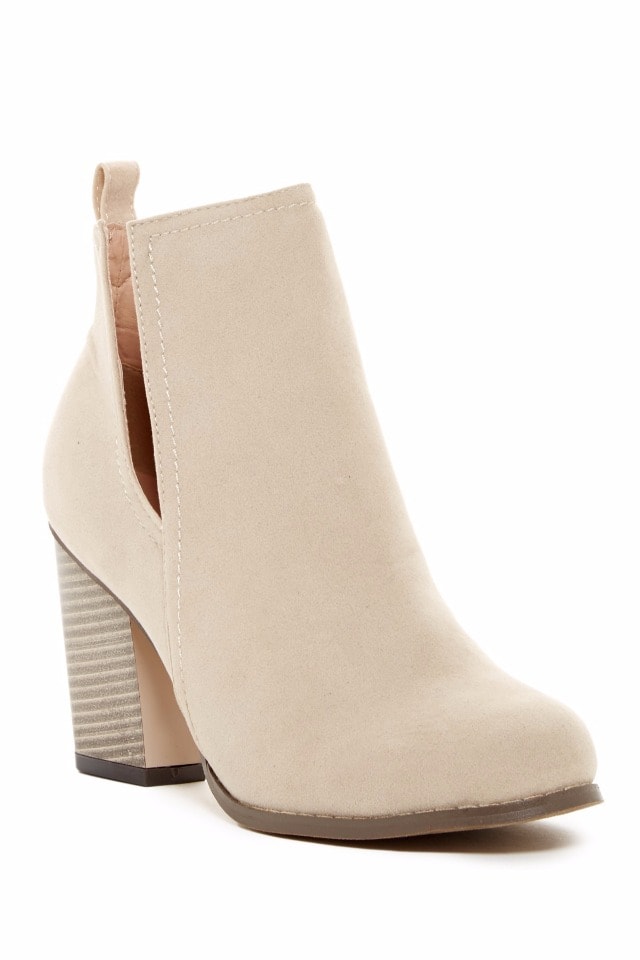 ---
7 Pointy velvet booties $33.46 – A moment of silence please! Let this velvet hottie marinate in your mind for a second. Now go ahead and get this plush velvet baby before it sells out. You can thank me later.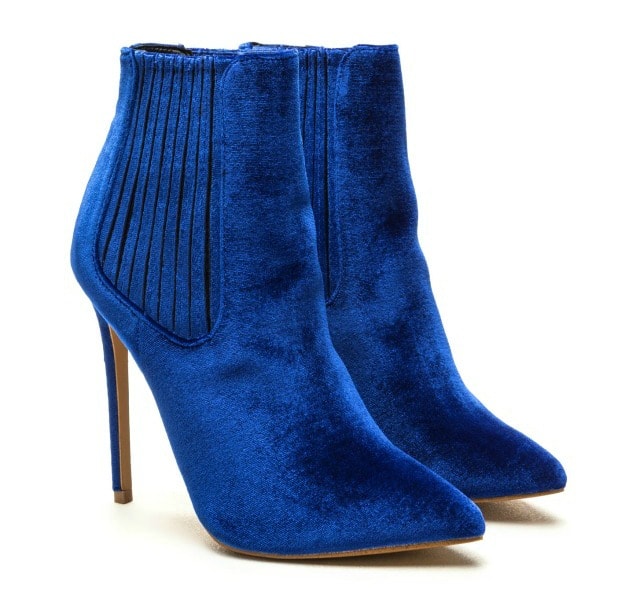 ---
8 Black open toe bootie $30.99 (on sale) – We all need that pair of simple black bootie that goes with everything! If you don't already have one, this chic open toe bootie will be a perfect addition to your fall wardrobe this season.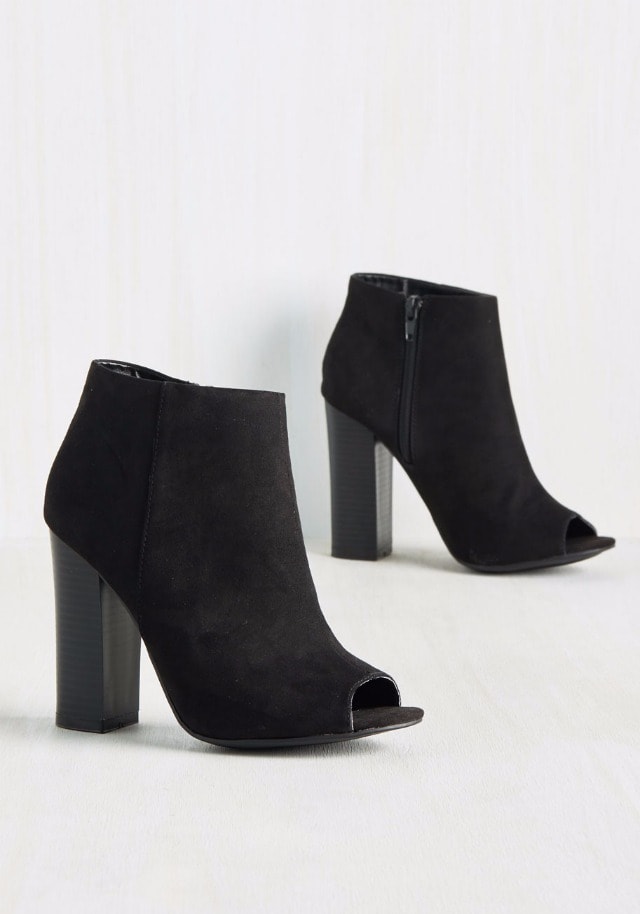 ---
9 Front lace up suede bootie $18 (on sale) – Lace up heels were hot this summer and we are definitely going to see this trend transition into fall fashion. This neutral colored heels is the perfect blend between summer and fall styles… and it's on sale!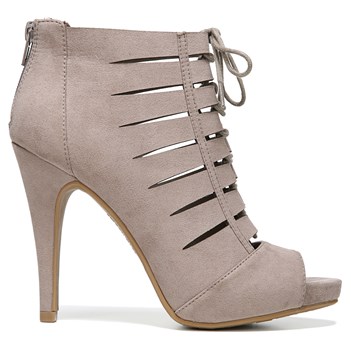 ---
10 Peep toe belted ankle booties $27.29 (on sale) – This ankle high suede booties with a western flare creates a winning look. The open counter adds even more chicness!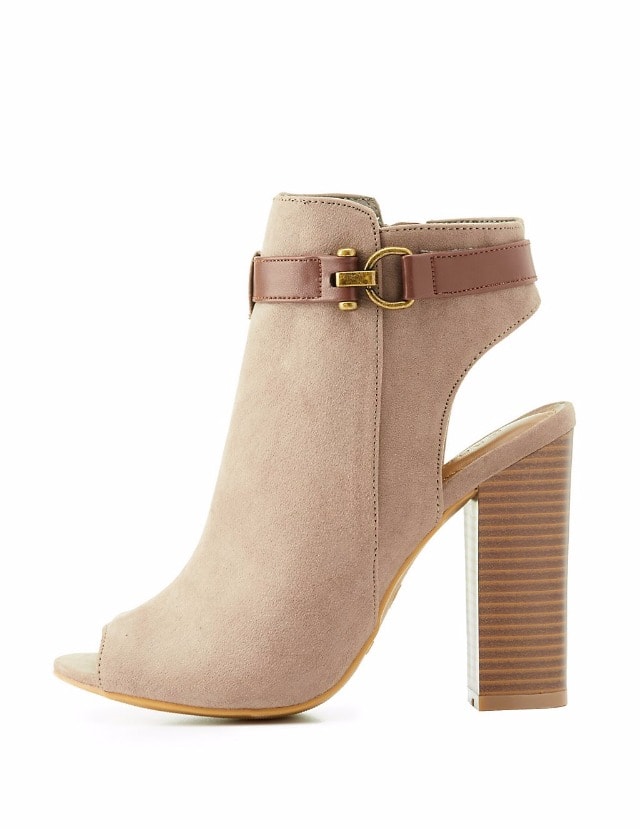 ---
11 Closed pointed toe wine booties $15.75 (on sale) – Get into the groove with one of fall's hottest colors, wine (aka burgundy or bordeaux). This quilted mid-length booties will keep eyes on you!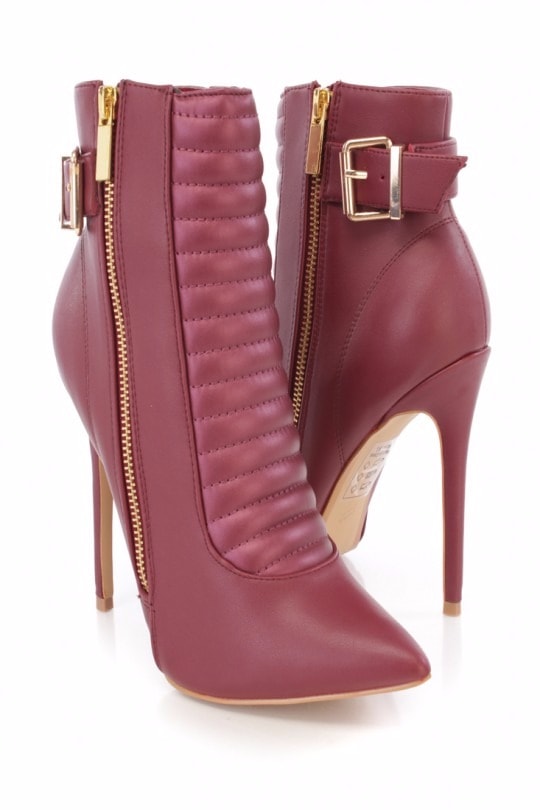 ---
12 Lace-up round toe boot $30 (on sale) – Seeking warmth and comfort? Try this double collar flannel lace-up boots. And for $30? Yes please!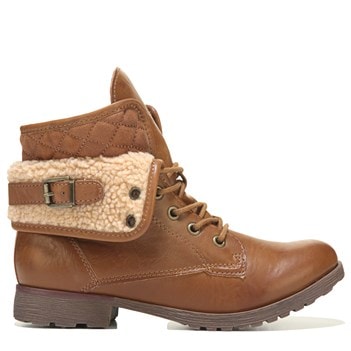 ---
13 Zip detailed olive ankle boots $39.95 – If you're all about sleek and minimalistic looks, you'll want to get your hands on this sunshine. Stay fall forward by getting it in olive color (also a fall color).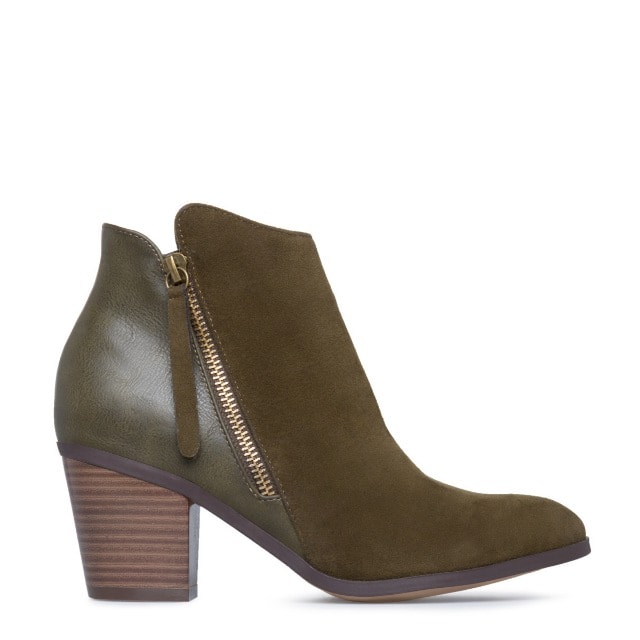 ---
14 Sam Edelman fringe ankle boot $40 (on sale) – Designer boots √ Fringe √ Comfort √ This genuine suede fringe ankle boot is the winner!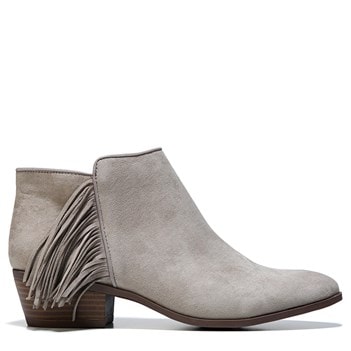 ---
15 Laced-back ankle boots $34.99 – Strappy boots gives you a right balance between classic and modern styles. Lace everything is trendy and so is this style of boots.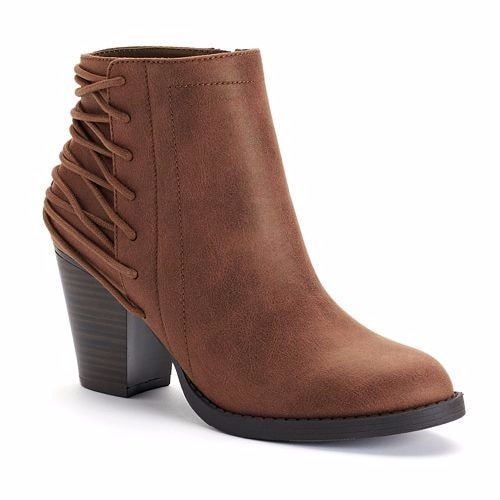 ---
16 Western fringe booties $49.99 (on sale) – Western look with a twist of fringe because you can do no wrong in fringe.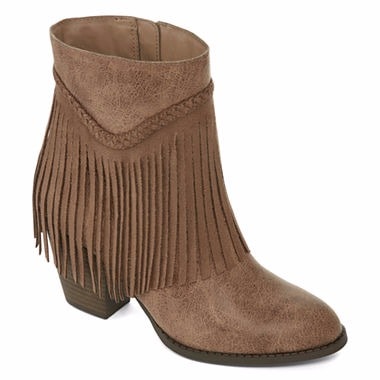 ---
17 Chain link bootie $39.99 – It's ok to get excited about this badass bootie. I'm still pretty stocked about the cut out side and the generous display of chain links married with buckle straps.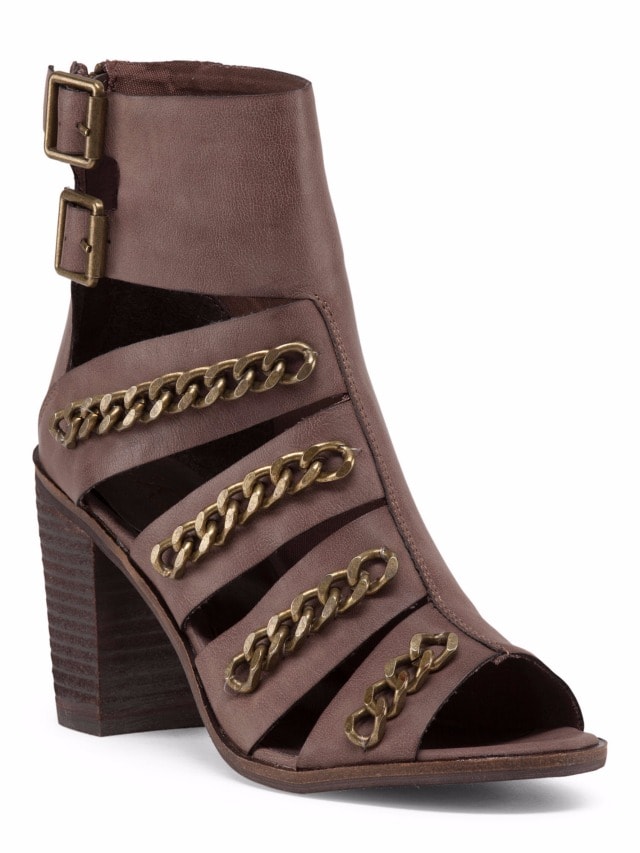 ---
18 Peep toe lace up heeled bootie $24.99 – Bring sexy back this season with this stylish lace up mid-calf boots. A little peek-a-boo with toe cleavage!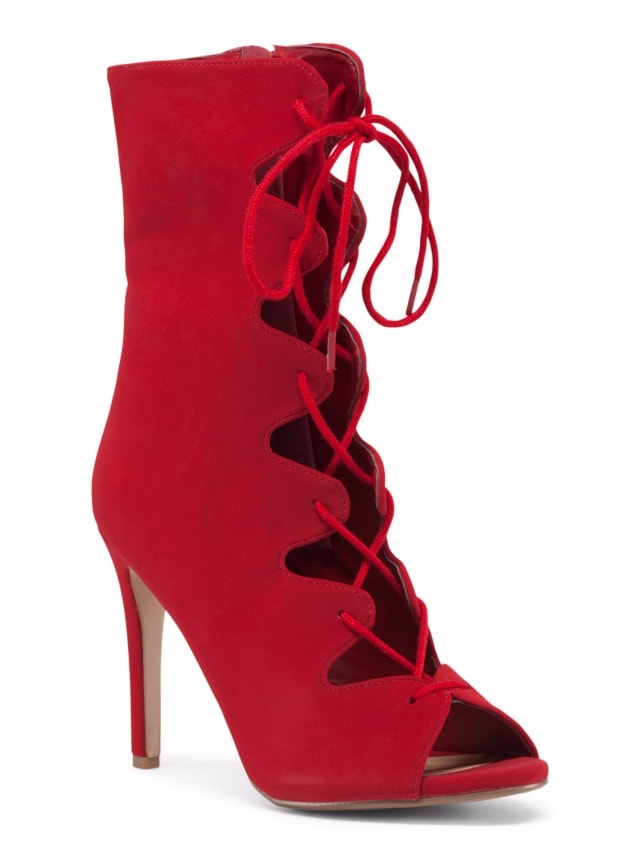 ---
19 Mixed pattern heeled bootie $24.99 – This patchwork style mid-calf bootie makes the perfect trendy fall boots for work with the ultra comfortable chunky heels.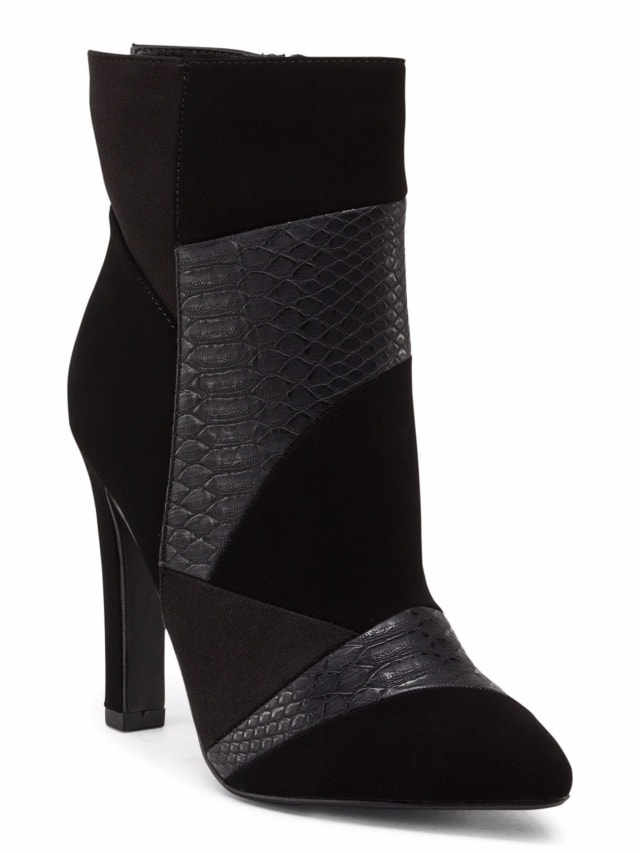 ---
20 Suede leather ankle boots $48 (on sale) – This clean cut fringe ankle boots will get you sitting pretty with those gorgeous cascading fringe details and vintage-like beading.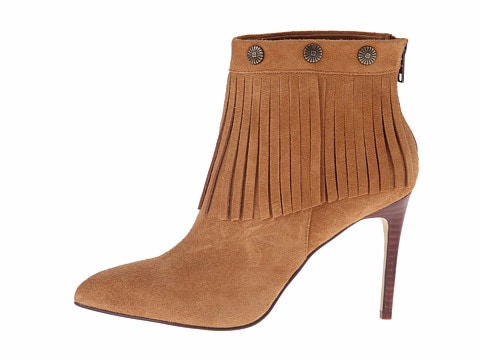 ---
21 Leather ankle boot $49.99 (on sale) – The leather boots by Mango spells business. The wooden heels and elastic side panels lends this simple and trendy style for work or casual outings.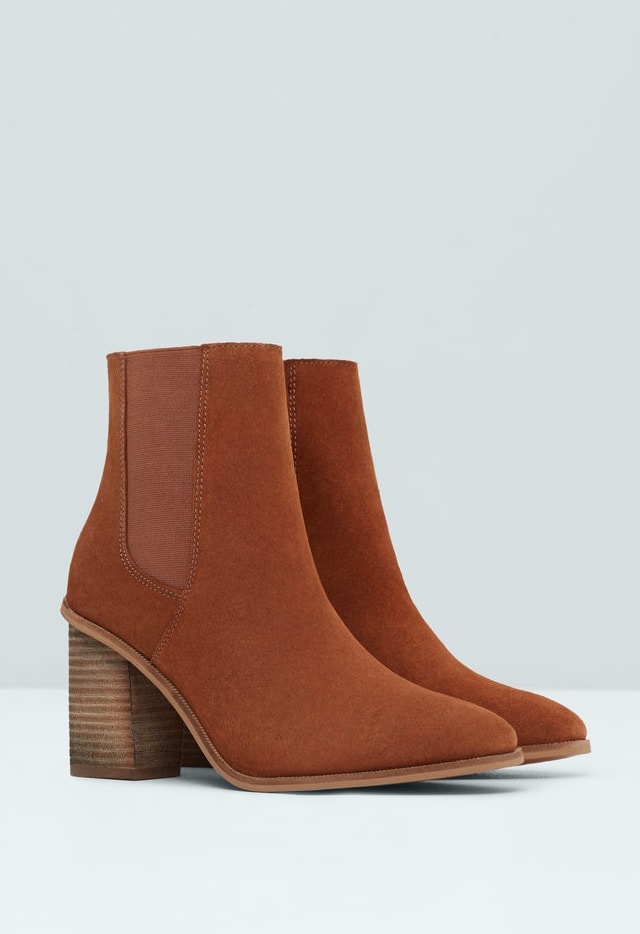 ---
22 Peep-toe fringe bootie $45 – Shut the front door! Everyone will want to know how you scored this sexy vegan suede booties for under $50. The lace-up pattern, fringe details, and peep toe style screams sexy in many ways!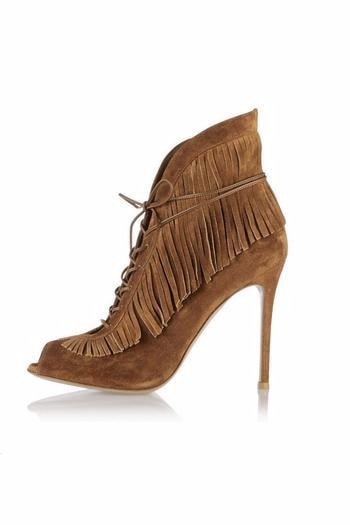 ---
23 Pointed toe ankle bootie $23.60 – Pointed toe never goes out of style. Spice up your fall wardrobe with this stylish faux leather bootie. 
---
24 Faux fur ankle bootie $34.95 – Oh My God! For real Fur real you can't deny the sexiness of this wine zip up bootie. Available in fall's bordeaux color, this bootie was without a doubt crafted on a good day. Strut this beauty on a cold fall or winter night.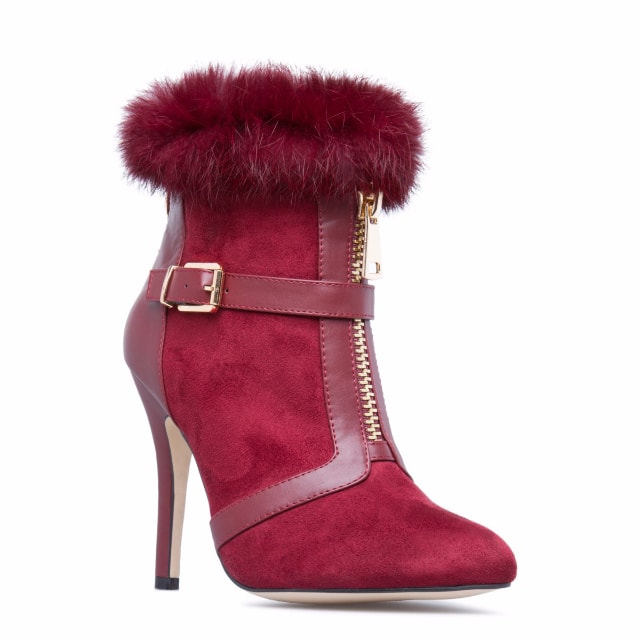 ---
25 Ralph Lauren printed pony bootie $43.99 (on sale) –  All about the print in this amazing Ralph Lauren bootie. Give off luxury appeal on a shoe that's on sale for less than $50.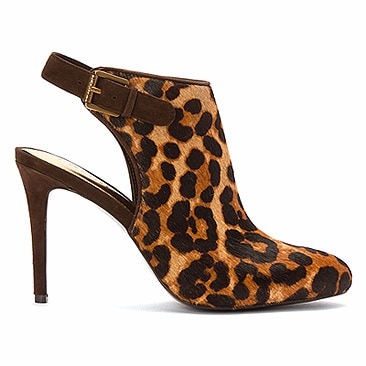 ---
26 Pointy stiletto Booties $32.86 (on sale) – Taking it to the streets in the chicest booties. This leg-lengthening vegan bootie with lace-up overlay will knock their socks off. See how I rocked a similar lace-up pointy toe bootie here.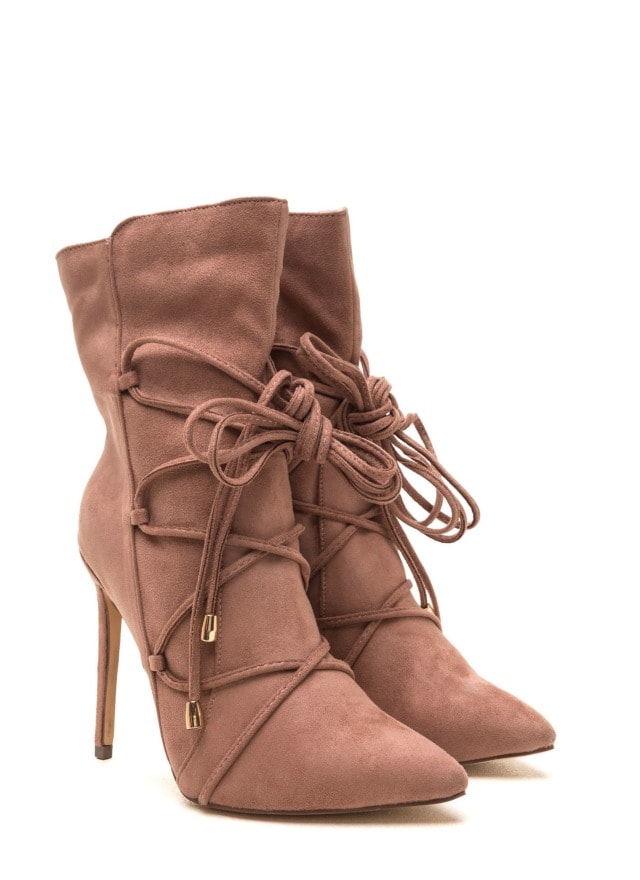 ---
27 Ankle strap boots $39.94 – Rock this decorative ankle strap bootie all day, every day this fall. The mixed pattern design is extremely stylish!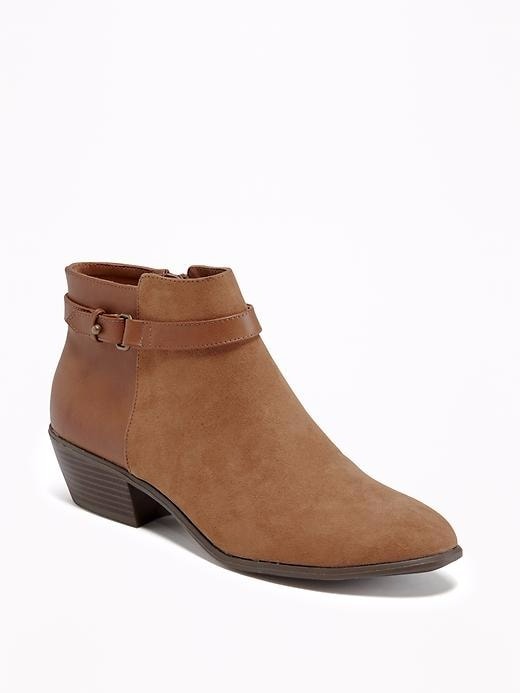 ---
28 Steve Madden military boots $39.98 (on sale) – Steve Madden always sizzles with the most trendy shoes. Nail fall and winter fashion with this military-inspired cap-toe boots. The pastel blue color jives perfectly with the season.
---
29 Flat chelsea boot $30 – Year after year chelsea boots remain a classic. Expect this fall to be no different. A truly timeless piece.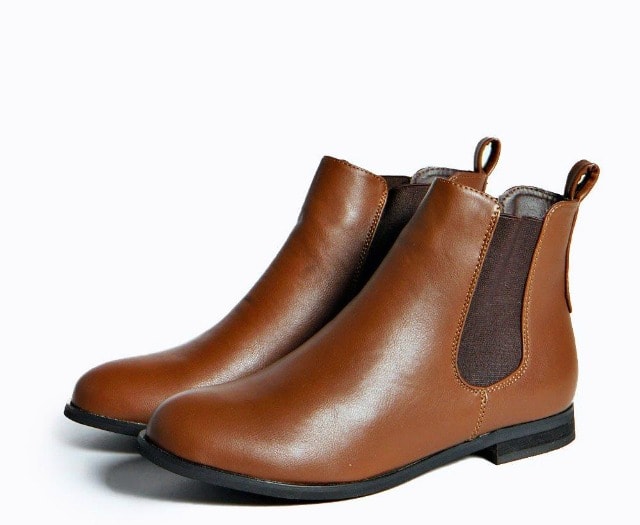 ---
30 Close toe zip up booties $18 (on sale) – Go big and go home in this statement cut out criss-cross booties.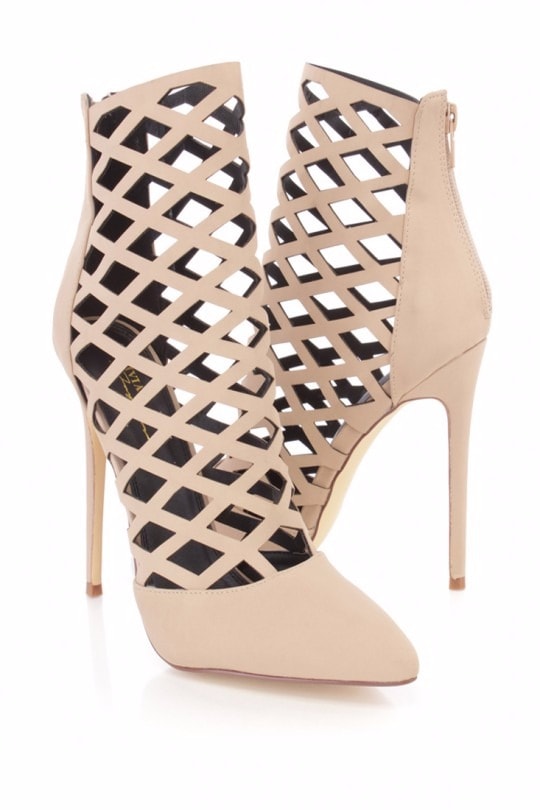 ---
31 Almond toe notched booties $27.29 (on sale) – Slip in and out of this almond toe booties. The notched sides and chunky heels will make it your go-to pair this fall.
---
32 Peep toe fringe bootie $24.97 (on sale) – All I see is fringe. Peep toe and fringe are like wine and cheese. Alone? They are nice. Together? Sheer awesomeness!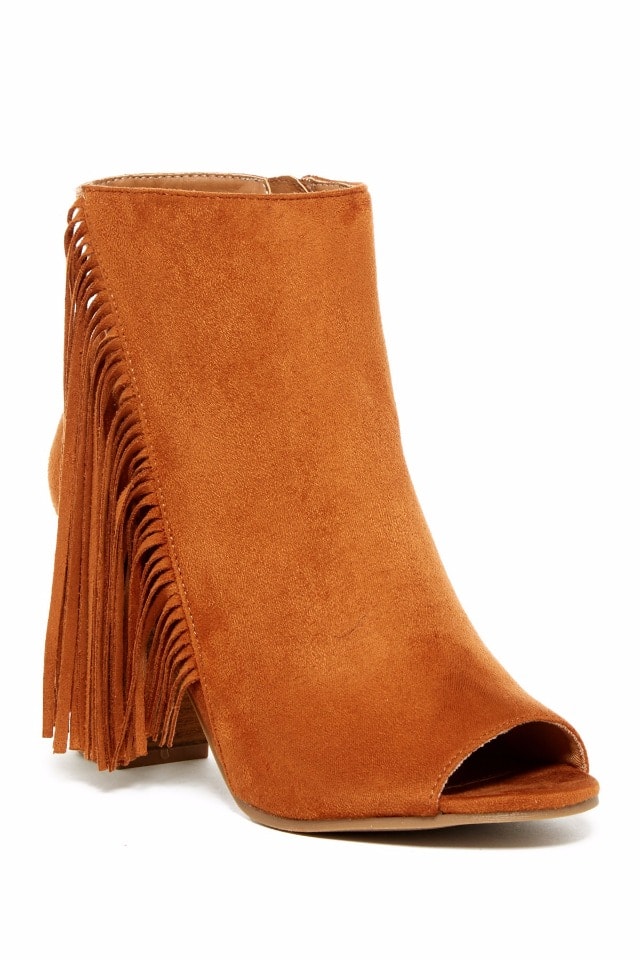 ---
33 Ankle heeled boots $46 – Another cute almond toe ankle boots that can easily be worn with different types of outfits. The subtle neutral color makes this heeled boot a fall favorite.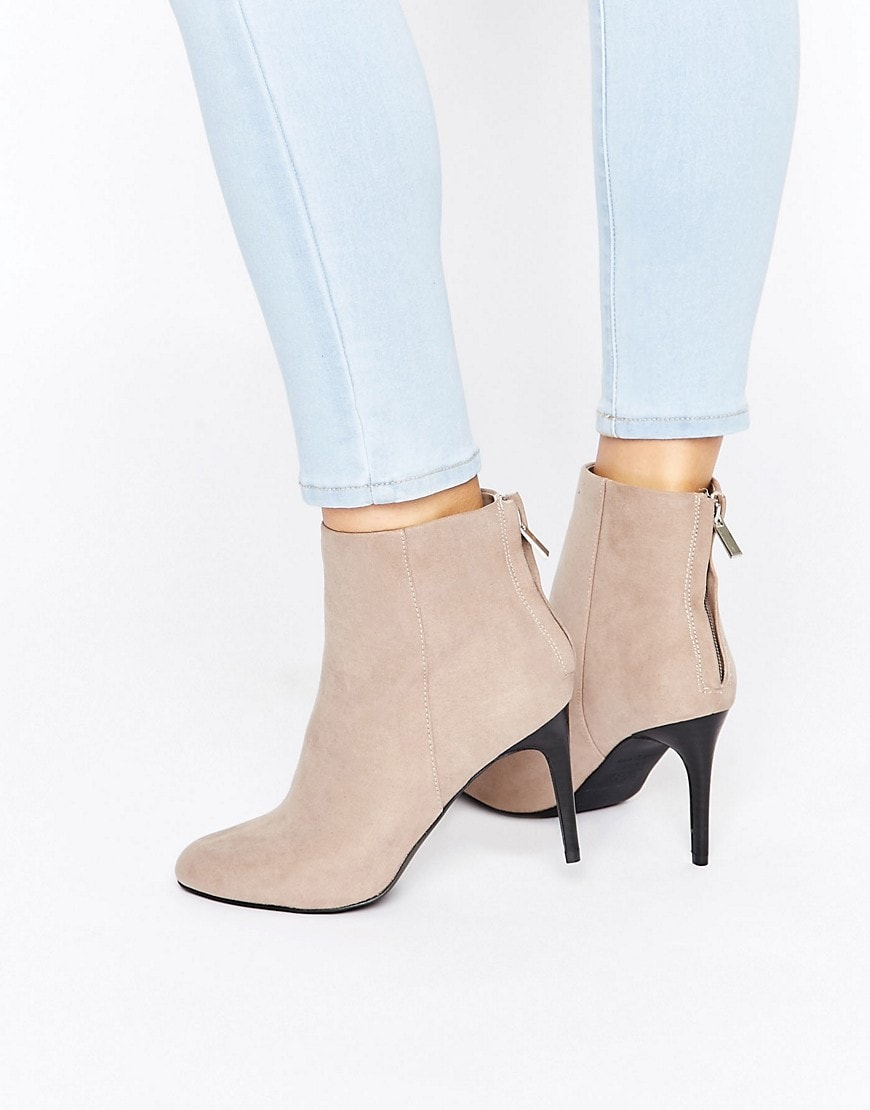 ---
34 Slit ankle boots $39.99 (on sale) – This fall booties is both simple and stylish. The wraparound harness makes it stand out. Win!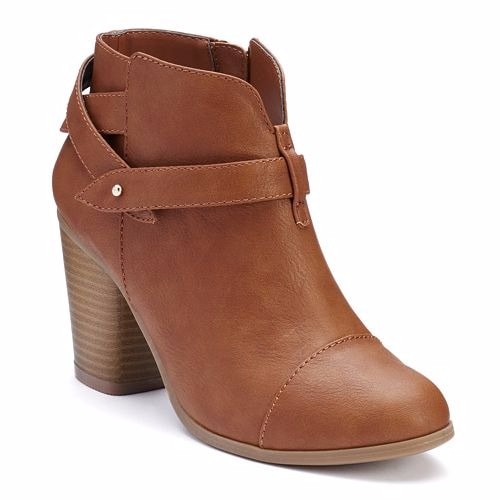 ---
35 Brown buckled bootie $38.97 (on sale) – Get inspired this season with this sleek fall booties. Gotta love the chunky heels and the clean design.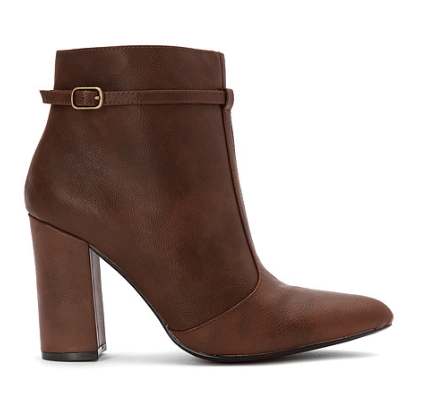 ---
36 Cutout lace detail bootie $42.95 – "I'm sorry miss Jackson", I'm keeping this cutout fall booties. The rich blue color and modern twist makes this style a must-have in every fashionista's closet.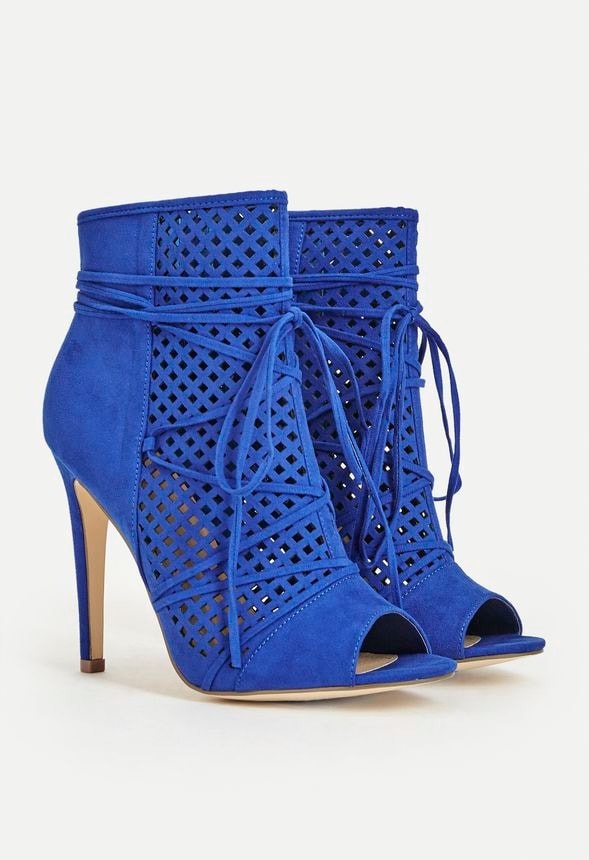 ---
37 Nine West ankle collar boots $36.09 (on sale) – Head over heels in love with this interlocking chain gold detailed fall booties. The suede finish refines this Nine West ankle boots.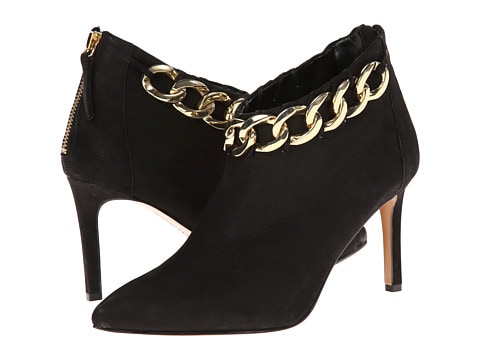 ---
38 Braided tassel booties $27.29 (on sale) – This braided tassel fall booties takes the cake for fun, comfort, and stylish. The wraparound fringe tassels takes the booties to another level.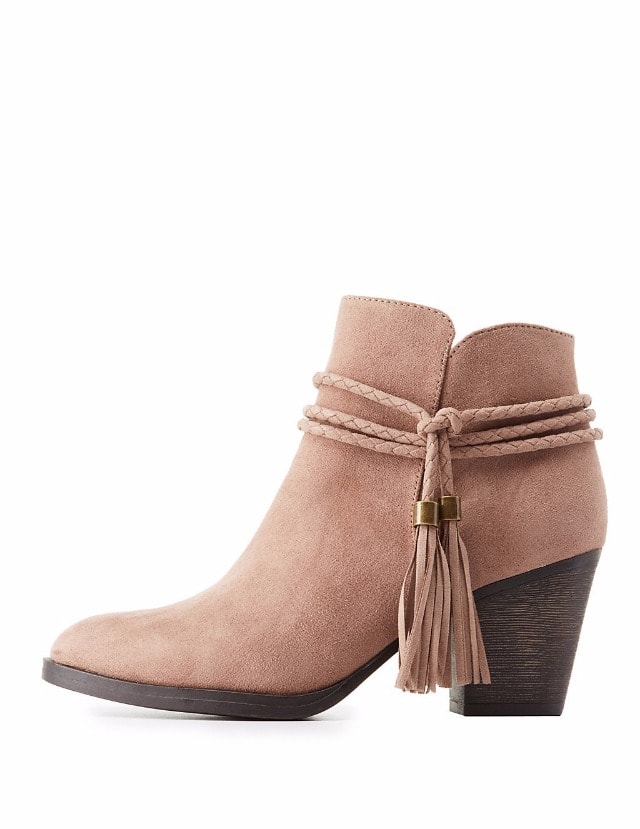 ---
39 Faux suede open toe bootie $39.95 – If you've not gotten enough of fall this fall, check out this open toe fall booties. Faux suede x open toe perfection!
---
40 Fluff Up Pom-Pom Peep-Toe Booties $37.70 – Steal the show this fall in this fashion-forward, attention-grabbing fluffy suede bboties. So many lovely words to bestow on this stunner but I'll leave it at that.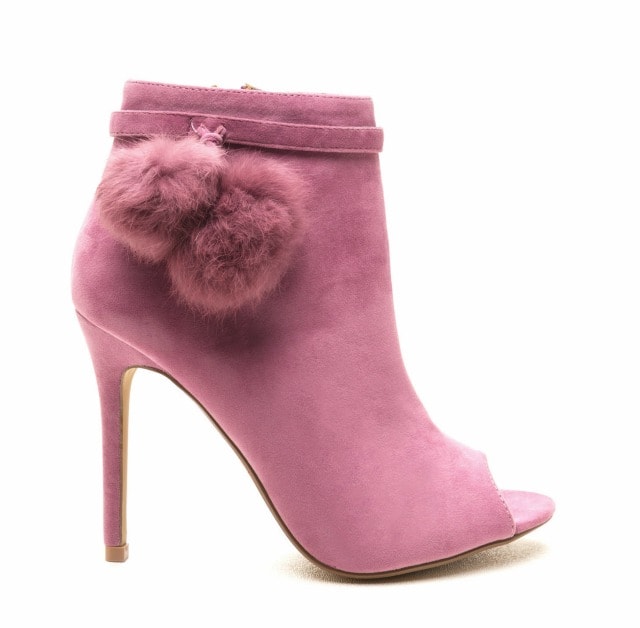 ---
41 Fringe detail heeled bootie $42.95 – Stop the search and buy this stiletto heeled booties. The rustic fall color and fringe overload makes it a fashionable and super chic pair.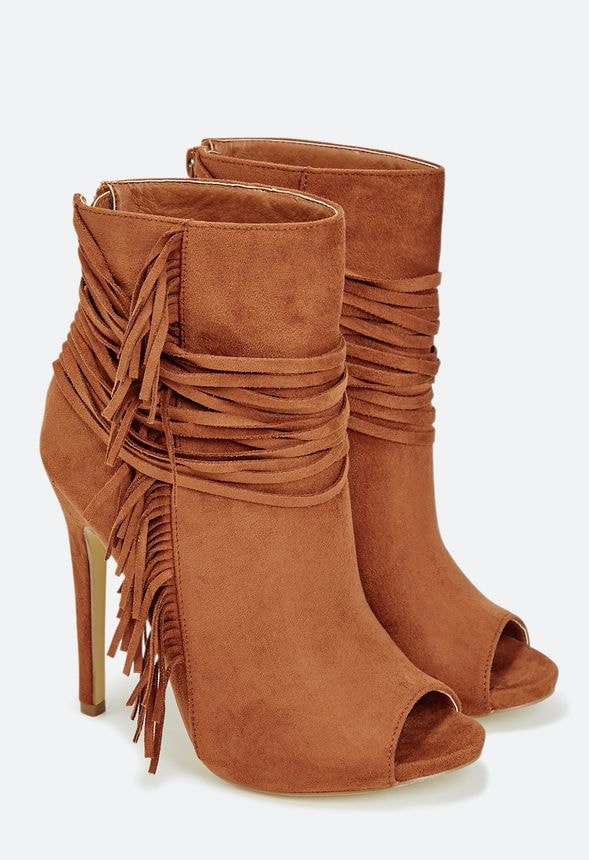 ---
42 Brown ankle boots $49.99 – The textured appeal of this flat boots makes it a game changer for the stylish diva looking to add a faux suede ankle boots to her collection. Definitely a classic with a spin.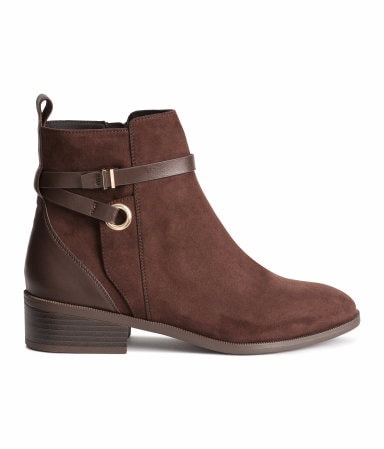 ---
43 Faux suede tasseled booties $21.36 (on sale) – You'd be talking money in this vegan suede mid-length bootie endowed with a unique stitched trim. The chunky heels and the touch of tassel makes it a trendy pair this fall. And for $21.36 your friends will ask you to hook them up!
---
44 Denim booties $25.46 (on sale) – This roundup will be grossly incomplete without a trendy pair of denim fall booties. Whether your going for a triple take of denim on denim or not, denim is a fall stable and this beauty will put a tasteful spin on the usual fall look.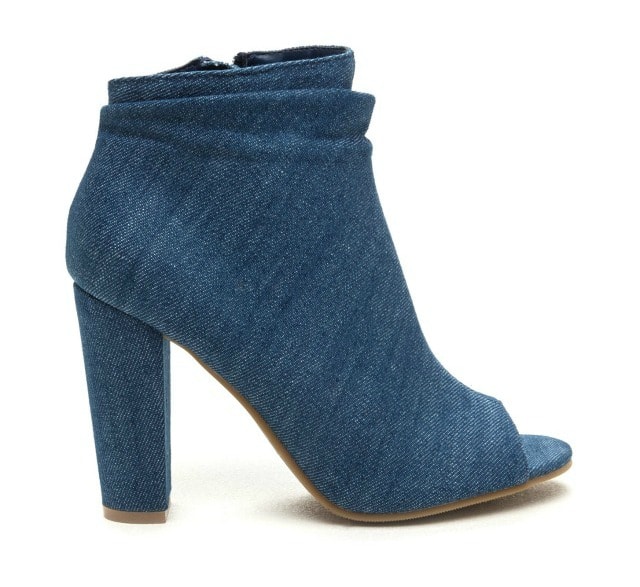 ---
45 Cowgirl booties $24.96 (on sale) – We saw high-low clothes make a big splash this summer and it looks like the trend will continue this fall. Get this cowgirl-inspired high-low detailed fall booties a shot this fall  and you'd be happy you did.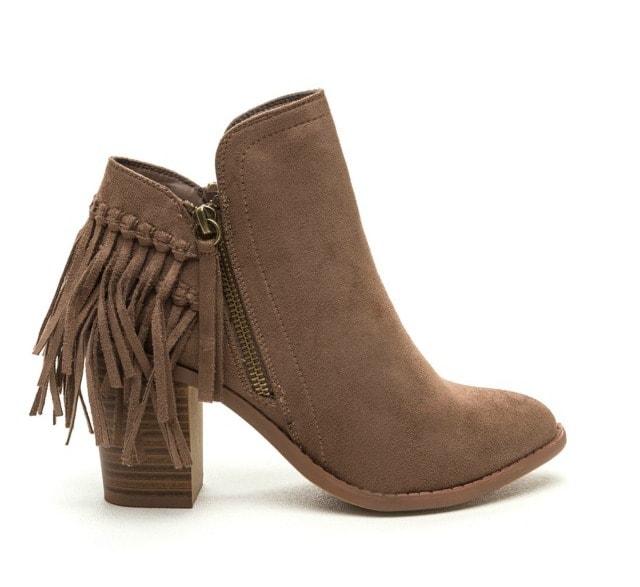 ---
46 Faux suede wedge ankle boot $34.90 – Looking for high heeled booties that are also very comfortable? A wedge ankle boot is your best bet plus this baby has a silver zipper detail that adds a lovely touch to it.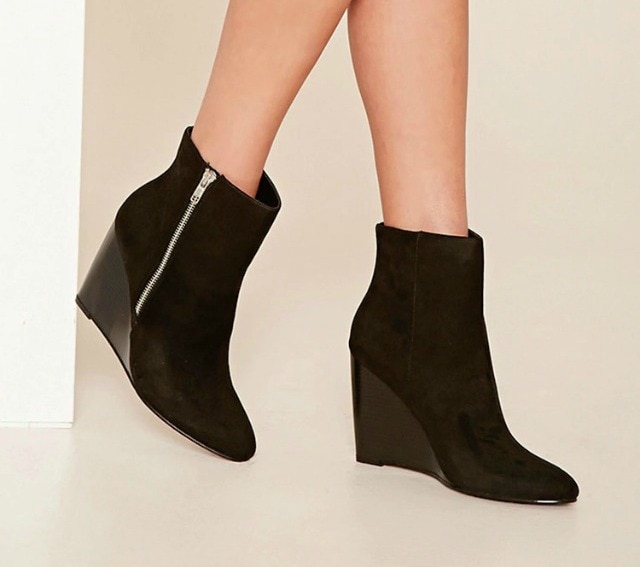 ---
47 Block heel ankle booties $49.99 (on sale) –  Love this fashionable caged booties. Pair with your favorite pair of skinny jeans and be ready to conquer your day. This is one chic fall booties!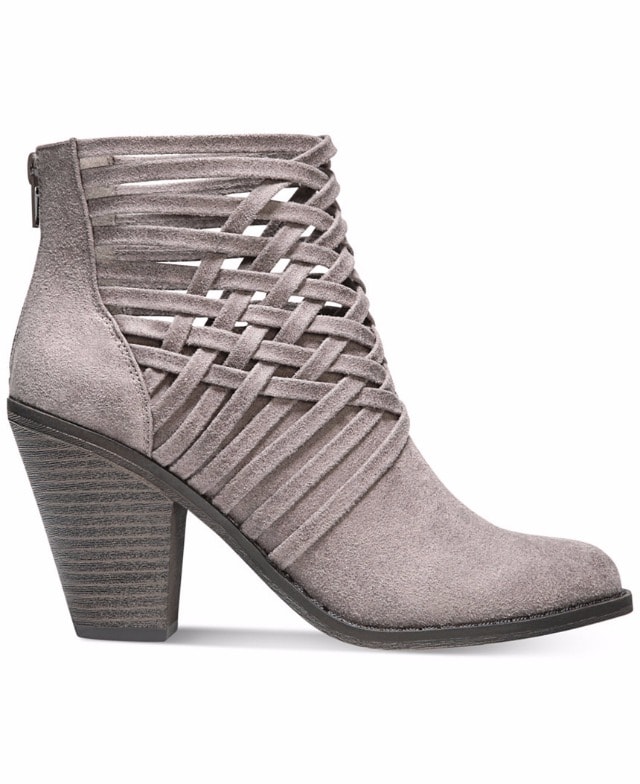 ---
48 Woven lace-up bootie $39.95 – Be the trendsetter that you are in this woven lace up booties and show off some toe cleavage with the peep toe details.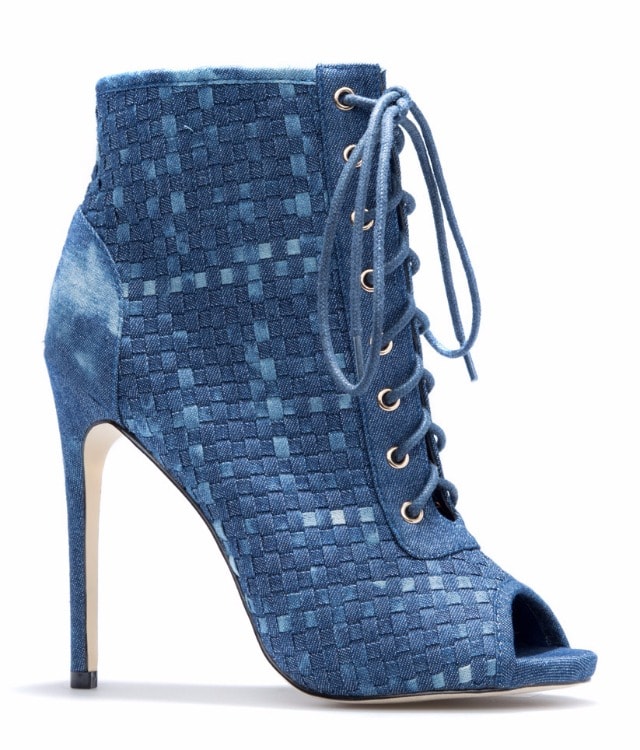 ---
49 Metal studded bootie $47.99 (on sale) – Turn up the heat in this fall booties with ornamental accents. You'll surely stand out in this unique style.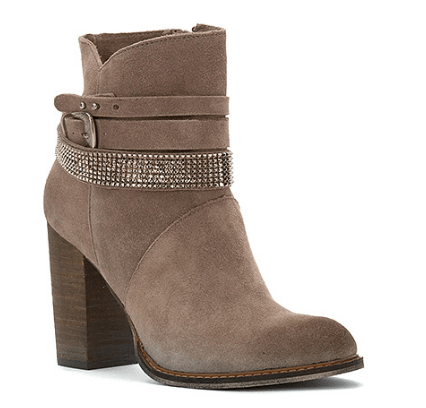 ---
50 Almond toe bootie $17.99 (on sale) – No is not an answer in this affordable pair of modern almond toe booties.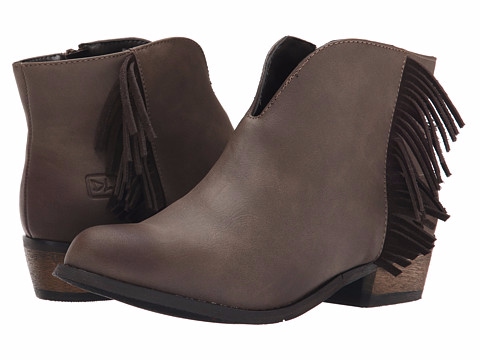 Still craving for some more fall inspiration? Check out these fall outfit ideas.